We're not an alternative. We're the solution
There are a lot of pre-built orthopedic EHR systems - either all-in-one EHRs with orthopedic templates, or exclusively orthopedic EHRs including: Practice Fusion, CareCloud, AdvancedMD, NexTech, Kareo, Greenway Health, Nextgen Healthcare, Curemd, Aprima, WRS Health, ModMed, ChartLogic, Prognocis, Sevocity, Advanced Data Systems, Praxis EMR, EMd, Micromd, SRS Health, Exscribe, Phoenix Ortho, Chartperfect, AllegianceMD, and RevenueXL.
How to select the right Orthopedic EHR system? What Orthopedic EMR system is going to work the best for your needs?
Our Solution
1. to help you Select the Right Orthopedic EHR System from various ready-to-use alternatives to Match Your Needs
2. to help you Implement/Customize your selected EHR System to Match Your orthopedic-specific needs
3. to help you Develop/Integrate a Custom Orthopedic EHR from Scratch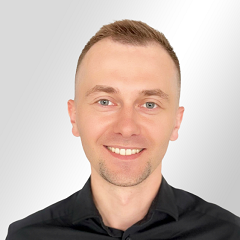 Get a Free Orthopedic EHR Selection Consultation
With
Alex Shestel
, DEPUTY BUSINESS DEVELOPMENT DIRECTOR AT BELITSOFT
On How to select an Orthopedic EHR system and What is the best Orthopedic EHR system for you?
Contact us to get up to 20 hours free consulting about your Orthopedic EHR project.
Our Orthopedic EHR Implementation Services
HIPAA Audit of the Orthopediс EHR System. Reduce the risk associated with inappropriate accesses, addressing compliance with regulatory and accreditation requirements.
Meaningful Use & Orthopediс EHR Certification Consulting. Looking to adopt an EHR for achieving MU? Trying to get your Orthopediс EHR certified? Contact Belitsoft if you would like to finalize your Orthopediс EHR to meet all required MU3 certification criteria.
Legacy EHR System Support. If you already have an EHR system in place that often has issues cropping up with problems, it could hinder your daily activities. As we have experience in working with various EHR systems, we will identify and resolve the issues. We offer expert resources to maintain and support your legacy EHR application, while your own staff can focus on the new orthopedic EHR application.
Migrating Old Records to your new Orthopediс EHR. We can migrate the historical data from the legacy EHR to the new Orthopediс EHR so it is accessible to your doctors before the patient's first visit. You'll get your records transferred safely and on time.
Orthopediс EHR System Integration. Need a partner to easily integrate EMR with other health IT systems (practice management system, picture archiving and communication system, referral management system, labs, billing, patient portal, etc. or to meet the requirements of an external system)? Our APIs provide access to patient records in a required format (including FHIR).
Orthopediс EHR System Ongoing Maintenance. If your EHR system needs to be customized or scaled during implementation, we will do that for you. You will get full EHR support services that will allow you to work with the system without a hitch.
Orthopediс EHR Training. When everything is ready for the launch of your new orthopedic EHR system, Belitsoft's team of EHR experts will be there with you to assist with live training, ensuring that everything goes as smoothly as possible. The specific order and manner in which staff members are trained will be customized depending on the individual needs of each involved person.
Orthopedic-Specific Features and Capabilities we can implement in your EHR
Orthopedic Customizable Template Library
We build systems that include premade orthopedic-specific templates and forms. This allows clinicians to create the treatment plans, reports, orders and more with a single click. The template library typically includes the following: chief complaints (CC), history of present illness (HPI), review of symptoms (ROS), diagnosis with ICD-10 codes, lab & imaging orders, and more. All the templates can be easily customized to fit your practice's unique workflows and needs.
Flexible E&M Coding system
The EHR with this feature can automatically suggest orthopedic-specific ICD-10 and CPT codes based on logical history questions. And should the physician need to look up a specific code, the system lets them do it in a breeze.
Quick Charting & Drawing Tools
The scribing and drawing tools let doctor write and draw directly on notes and diagnostic images, making their job much easier. And the speech and handwriting recognition allows for faster data entry so the clinician can spend more time with the people they're treating. The patients, on the other hand, can get an option to fill many details in the waiting room and get straight to dealing with their health issue once the appointment starts.
Order-sets for Orthopedic Problems
Orthopedic-specific order sets contain a list of recommended steps to take regarding a certain diagnosis such as Osteoarthritis, Rheumatoid Arthritis, Ankylosing Spondyloarthropathies, Brain Tumors and many more. The feature supports lab and radiology tests, medications, office procedures, follow up and care plans, etc. With specialized order sets in place, it is easy to standardize care and communication so clinicians are better able to follow orders as they're legible, clear and are less likely to contain errors. Instant availability of advised plans right at the point of care also significantly reduces the chances of missing an important order.
Osteoarthritis
Rheumatoid Arthritis
Ankylosing Spondyloarthropathies
Brain Tumors
---
Orthopedics-specific patient history
Orthopedic-patient history charts provide a clear view of all medically relevant events that have happened to a person, including brief demographics, patient medical, surgical and family gastroenterology history, current medications, lab results, allergies, appointment history, etc. You may also quickly identify patients that are candidates for clinical or medical device trials. It also provides vital information allowing orthopedicians to make sound decisions and provide appropriate clinical care - from diagnosis and investigation through treatment and long-term care - based on the data contained in the record.
Demographics
Current medications
Lab results
Appointment History
---
Patient progress tracking
You can use automated progress charts postoperatively, during and after rehabilitation to monitor patients' overall outcomes as well as changes in certain lab & radiology tests, and orthopedic examinations over a period of time. For example, EHR can demonstrate patients' results in general and specified by body region physical tests including Range of Motion, Flexibility and Strength assessment. An integrated patient's longitudinal chart allows tracking the individual's condition from the initial visit throughout treatment and follow-up. The patient record, historical dosage changes, lab trends, cancer staging, chemotherapy, adverse events throughout the treatment life cycle, and other pertinent factors are displayed to enable data-driven decisions. The system automatically incorporates progress data into the patient's treatment plan, saving time, and reducing error-prone manual entry. Progress notes charts help to maintain a consistent approach to the collection of critical oncological information, make timely treatment adjustments and reduce the likelihood of the clinician overlooking items of importance.
Lab trends
Cancer staging
Dosage changes
Chemotherapy
---
Image management
Belitsoft recognizes that orthopedic specialty greatly relies on visual image representation. That is why we make sure that your EHR allows for seamless and intuitive image-guided treatment with data from X-rays, MRIs or electromyograms that are integrated into your orthopedic practice. Electronic images and reports are transmitted digitally and can be accessed from anywhere with an Internet connection. Moreover, the image management module ensures the elimination of surrogate markers, gives the ability to reduce the imaging dose and overlay structures defined in the treatment planning system. Orthopedic image integration provides for centralized access to paperless patient diagnostic images and reports with the ability to view, compare, annotate, manipulate, and transmit them. Сombined EHR and imaging system saves providers' time and increases patient safety, as direct linking ensures the data can not be associated with the wrong person.
X-rays
MRIs
Electromyograms
Orthopedic-specific templates development and customization
We can customize your Orthopediс EHR for your practice's workflows or medical specialty, improve UI/UX Design and develop additional functionality if the base features are not enough for subspecialties including:
Hand and Wrist Surgery;
Shoulder and Elbow Surgery;
Upper Extremity Surgery;
Foot and Ankle surgery;
Hip and knee surgery;
Lower Extremity Surgery;
Spine surgery;
Orthopedic Trauma Surgery;
Surgical Sports Medicine;
Total Joint Replacement & Reconstruction;
Pediatric Orthopedics;
Musculoskeletal oncology;
Orthopedic physical therapy;
Orthotics & Prosthetics;
Orthopedic Radiology
Custom Orthopedic EHR Development
Pre-built Orthopedic EHR systems have numerous disadvantages. You will not be able to easily modify it over time to maintain a high productivity rate. The ready-made EHR software targets a wide range of consumers and it is not cost-effective for EHR product vendors to customize it for specific customers.
The boxed systems developers charge a lot in part because of the high hourly rates of programmers in the USA and the UK.
As a result, if a practice purchases a ready-made solution (because their competitors across the road have done so or because they weren't able to find a better alternative in time) the doctors suffer from it (see the reviews written by the physicians who have purchased boxed systems and used them for some time).
After buying a ready-made system the painful decision about switching comes up, which leads to double or even triple purchases. This practice is so widespread, there are scientific papers written about it.
Here's an excerpt from a report titled "Why physicians switch electronic health record vendors," presented on the "Business and Health Administration Association Annual Conference 2017."
" System functionality and cost were the two largest deciding factors in switching vendors. Shifting regulatory standards require additional functionality to fulfill quality reporting measures including the Meaningful Use and Physician Quality Reporting Systems standards and many physicians and health systems have decided to switch vendors in order to accommodate these requirements. Despite the associated costs with switching, many physicians and health systems have decided to switch vendors in order to receive the additional functionality, reporting, and platform benefits associated with a new vendor or records system."
A custom-built EHR and the complementary support prevents the switching problem because you can just update the system you already have.
This is what the reliable researchers from KPMG say:
"Many of these "out-of-the-box" EHR implementations, which were often fast-tracked in an effort to meet meaningful use requirements, typically restricted providers from realizing a clear return on investments (ROI). Healthcare leaders understand that developing and implementing a post-EHR implementation strategy under the auspices of a change-management model has become a pressing need. When organizations work under a change-management model such as lean – a long-term approach that seeks to achieve small, incremental changes in processes in order to improve efficiency and quality – they can continually leverage technology to create more value. This approach also enables organizations to fine-tune their EHRs in response to changing healthcare regulations, new technologies, evolving patient needs and a growing aging population. Without change management, however, the EHR operates in a silo and doesn't align with the way clinicians practice medicine or with new industry demands, which creates dissatisfaction and underutilized technology.".
Change Management in Healthcare Organization is the controlled identification and implementation of the required changes within health IT systems in accordance with the changes within a business. It's only possible with custom EHR development since it's based on the so-called Agile approach At its core, Agile is based on the assumption that circumstances change as a project develops.
If you've decided to develop your own EHR system, it would be meaningful only if you choose a responsible EHR technology developer which has experience with custom software development.
Belitsoft develops healthcare applications and has been working on the custom software market for over 15 years. Our rates are lower than that of the American or British companies.
The features you probably would like in your Orthopedic EHR system
Electronic Document Management
EDM allows to securely store and exchange important documents in various formats - from a Word file to a PDF or even a scan. It usually has a role-based access built in to ensure that the information is accessed only by those authorized to see it.
Workflow & Schedule Management
This solution allows to create and establish efficient role-based protocols, manage surgical, physical & occupational therapy and other orthopedics-related workflows helping practice running smoothly. An intuitive appointment module helps staff quickly and effortlessly manage the scheduling process on a single screen and allows to seamlessly organize appointments, chart encounters, reserve specific rooms or equipment, send reminders and more.
Medical Billing & Claims management
This is a critical part of a PMS, dealing with processing insurance claims, billing, and payments. It helps reduce reimbursement denials thus improving the practice's bottom line. This module automates the creation of attorney, disability, impairment, workers compensation, and personal injury protection (PIP) cases, statements and claims.
Revenue Cycle Management
RCM aims to track the revenue from patients, from their initial appointment or encounter to their final payment. This feature allows to visualize your cash flow, track and benchmark your estimated financial performance on a daily basis.
Reporting and analytics
With access to a robust set of orthopedic-specific automated reports and interactive dashboards, you can have deep insights into the operational, clinical and financial performance of your practice. Billing, payments, workflow, KPIs analysis as well as reporting of Clinical Quality Measures (CQM) help uncover new ways to close gaps in care, improve outcomes, stop overtreatment, wasteful spending, and revenue leaks.
MIPS automation solution
This feature helps the practice optimize their MIPS payments by tracking the fulfillment of the criteria, demonstrating the benchmarks, generating reports for CMS and more. This is done via a dashboard that allows easy access to all the necessary features.
Artificial Intelligence Capabilities
Empower your EHR with a learning-capable AI. This kind of systems can suggest the most likely diagnosis and the most effective treatment plan. Moreover, the AI can determine the post-intervention risks for a patient based on the gathered data and the person's conditions, thus improving the quality of care they receive.
Medication Management and E-Prescribing
This module allows practices to precisely track controlled substances, check the drug and allergy interactions, reduce cases of double-entry and improve the care that patients receive.
Mobile Version
Belitsoft can develop orthopedic EHR/EMR systems that run on mobile devices: including tablets, smartphones, and wearables. Thanks to the user-friendly design and secure connection, the physicians can conveniently access the information while being away from the computer (e.g. in the patient ward).
Patient progress tracking
Use automated progress charts postoperatively, during and after rehabilitation to monitor patients' overall outcomes as well as changes in certain lab & radiology tests, and orthopedic examinations over a period of time. For example, EHR can demonstrate patients' results in general and specified by body region physical tests including Range of Motion, Flexibility and Strength assessment.
Belitsoft Blog for Entrepreneurs
Let's Talk Business
Do you have a software development project to implement? We have people to work on it. We will be glad to answer all your questions as well as estimate any project of yours. Use the form below to describe the project and we will get in touch with you within 1 business day.