With the advances in technology and a pandemic raging on, distance learning (including dedicated mobile apps) gained widespread recognition and popularity. The number of orders for mLearning apps increased accordingly. So to give startup founders a better idea of what to expect, I prepared an article describing the popular learning mobile app features.
Before we dive deeper, let's see what is currently trending.
Mobile App Trends
There are several things that have been popular for some time already, others are new additions to the pack.
Personalization. Moving from a "one-size-fits-all" approach to the one that adapts to the needs of each individual user.
Digitization of Instructor-led Training (ILT). Live classes can be dangerous during a pandemic. Moreover, there are only so many students one can teach in class, so in many cases, digitization is based on commercial reasons.
Gamification. Adding game elements to a serious environment as a way to increase engagement.

Microlearning. Breaking the learning content into short chunks. This is especially useful for just-in-time learning and on-the-job aids.
There are more trends that can be mentioned, however, these ones are the most important. For more information on what's in vogue in eLearning, see the relevant article.
eLearning App Types
These are some of the most widespread kinds of apps on the market:
Language learning. As the name suggests, these applications aim to teach users one or more foreign languages. They differ in the teaching approach, features, and language set. Examples include Duolingo, Mondly, Babbel, and others.

Course-based. These apps are based on single or multiple courses. Examples include the microlearning app we've developed for one of our customers, Lecturio, Coursera, etc.

Webinar apps. Software that connects teachers and students and helps conduct online classes. This category has apps like GoTo Webinar, ClickMeeting, etc.

LMS mobile apps. Software to complement learning management systems and make those LMS' more accessible to smartphone and tablet users. The feature set is usually almost the same. See apps like JoomlaLMS, LMS365, OpenLMS, and others.

Exam preparation. Apps that help users prepare for certain tests. Examples include Exams Today, Testbook, IELTS Practice, etc.
Core Features - General
These are necessary for most applications, if not all.
Registration. Creating a new user account.

Sign-in/Authentication. Ensuring that the user is who they claim to be. There are many ways to implement this: through an email-based login, social networks, Google authenticator, etc. The more options you include, the more expensive it will be to develop.

Dashboards. These would be different for teacher and student accounts. The latter could contain a list of available courses, ones that the student is already enrolled in, and other relevant information. The former could have tools for working on courses, grading, communication, etc.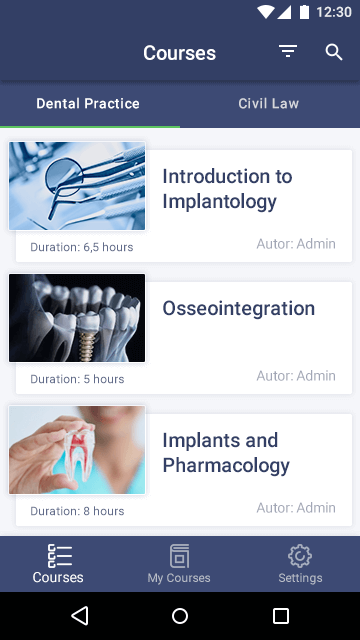 Student dashboard example
Notifications. Push notifications are a relatively simple way to alert users to new in-app events.

Push notifications in JoomlaLMS mobile app
Exercises/Lessons. The "meat and potatoes" of the course, actual learning content in various forms.

eCommerce. Payment options or other forms of monetization.
Core Features - Teacher
These features are important for apps that have a teacher role.
Assignments. Tasks that the students need to do.

Grading. Evaluation of a student's performance.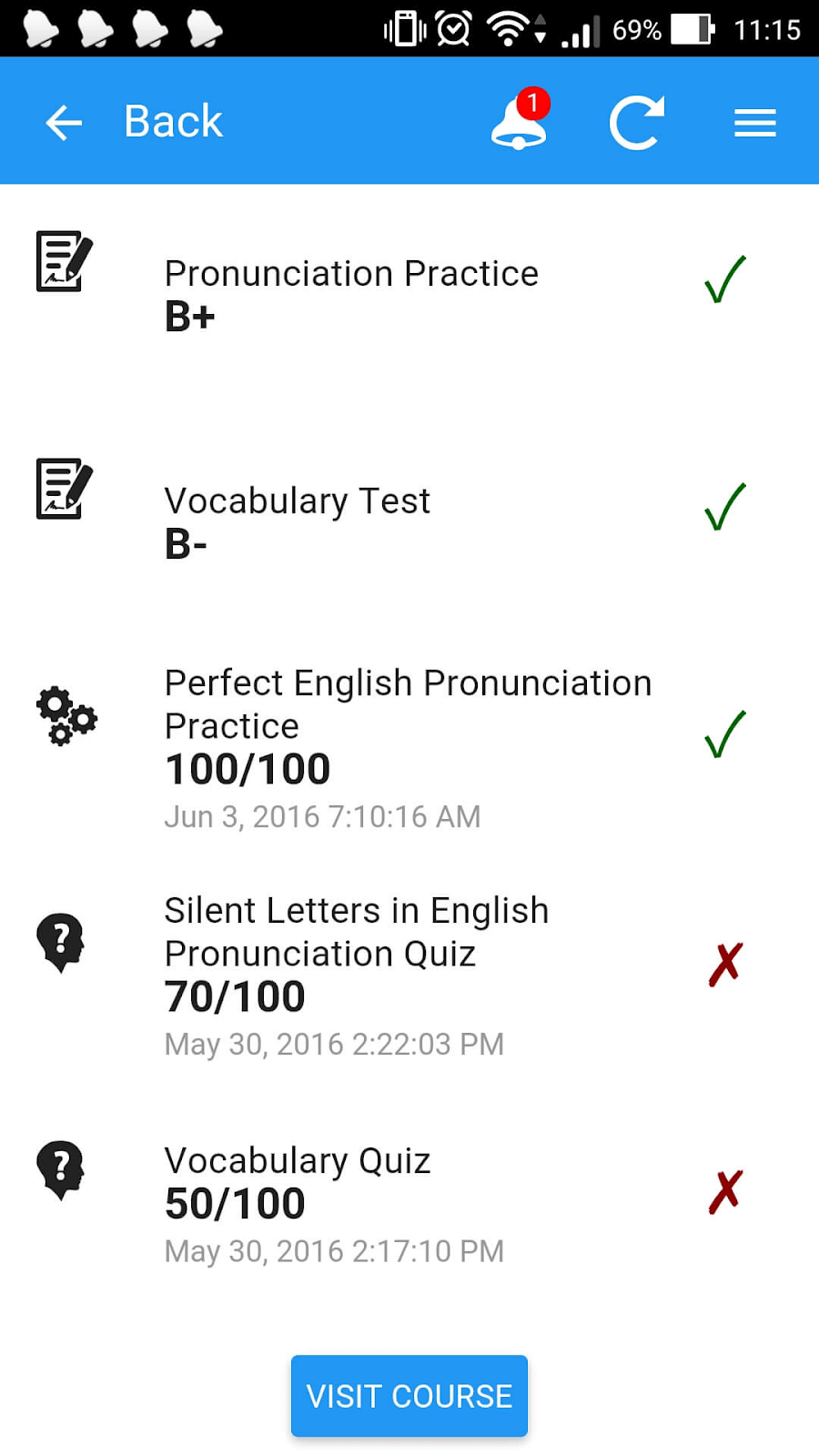 Gradebook in JoomlaLMS mobile app
Scheduling. A special calendar to manage online lessons, deadlines, etc.

Core Features - Administrator
The application can have an admin panel to manage the learning process as a whole and its participants. This is what it usually includes:
User management. Creating accounts, changing access rights, grouping users, etc.

Course management. Creating/updating/deleting courses and individual lessons.

Analytics. Reviewing attendance, downloads, academic results, revenue, and other aspects.

Extras
These features can be included in the app depending on your exact needs.
Gamification. This type of motivational system can really boost your learner's productivity and engagement. However, it needs to be well-designed, otherwise, it might actually harm your app. Read more about gamification, its benefits and drawbacks in our article.
Serious games. Game-based learning could either be an approach that the entire app is based on, or an element of the whole. E.g. Ticken (a touch-typing course) uses learning games to help students unwind and solidify their skills in a fun manner.
Storytelling. Basing your learning course around a single story makes it more engaging.
Offline mode. Let your users study without an Internet connection and update the information once this connection is available.
Feedback form. Gather reviews from your users directly from the app.
Communication/Social. This is a group of features ranging from a simple chat between students and teachers or an in-app email system to clubs and even elements of a social network.
What Affects the Cost of Elearning Development?
There is no "average" price for development because there are no "average" apps. Here is what the costs of development depend on:
The feature set and complexity. A simple eLearning course using the standard "video - quiz" format would be much cheaper than a game-based mobile learning platform integrated with social networks.

Cooperation model. If you and your software development vendor agree on a "fixed price" type of contract, expect the quote to include extra costs as a safeguard against unexpected changes.

Supported platforms. An iOS-only app would be cheaper than the one which would run on both iOS and Android. However, there is a caveat: using hybrid development technologies (e.g. React Native or Xamarin) would dramatically lower costs for cross-platform apps.

Developer location. Companies based in Eastern Europe, for example, can afford to charge less for the same level of quality, as the average cost of living is lower in these countries. Moreover, some governments offer IT businesses preferential tax regimes, allowing them to decrease costs even further.

Developer expertise. Companies specializing in eLearning have organizational experience allowing them to be more cost-effective. Moreover, they might have premade code snippets for specific features, which helps their customers get more bang for their buck.

Conclusion
Each mobile app is unique in some way. This means that before making one it is best to consult with professionals. Luckily, we provide an initial consultation for free, so use this article as a guide and don't hesitate to get in touch.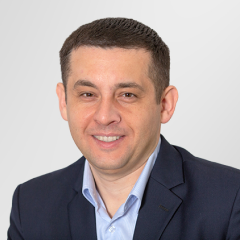 Written by
CTO / Department Head / Partner
I've been leading a department specializing in eLearning applications and Business Intelligence for 14 years.
Belitsoft Blog for Entrepreneurs
Let's Talk Business
Do you have a software development project to implement? We have people to work on it. We will be glad to answer all your questions as well as estimate any project of yours. Use the form below to describe the project and we will get in touch with you within 1 business day.