Instructional design is a thing that every course-builder uses, knowingly or not. In this article, we will explain what it is, give examples of popular approaches to it and suggest strategies that will improve your training process.
Instructional Design for eLearning: Methods and Strategies
Instructional design is a thing that every course-builder uses, knowingly or not. In this article, we will explain what it is, give examples of popular approaches to it and suggest strategies that will improve your training process.
How Belitsoft Can Help
We can leverage our 10+ years of experience in eLearning to assist you with the following:
Course Design and Development. If you have the knowledge you want to share and profit from it, we can help you create a course that would teach people efficiently.
Consulting. If you aren't sure which of the many models are right for you, let us know. The first consultation is free.
What Is Instructional Design
Instructional design (ID) stands for planning out and developing digital and physical products and experiences that promote the effective and engaging acquisition of knowledge and skills. In plain English, this means that this term covers everything that has to do with learning materials.
An instructional designer is, obviously, a person who does all of the abovementioned things. However, the title is often confused and used interchangeably with curriculum developers, instructional coordinators, and other similar job positions.
For example, an eLearning developer implies more hands-on work. An instructional designer researches the subject matter and outlines the methods needed to achieve specific learning outcomes. Then the eLearning developer creates actual courses that fit the plan. In smaller organizations, all of this can be in the purview of the same person, which can result in some confusion.
Instructional Design Models and Theories
These are some of the common approaches that instructional designers use in their work.
ADDIE
The acronym stands for the five phases of this process: Analysis, Design, Development, Implementation, and Evaluation. This is one of the most widespread approaches and often is the foundation for others of its kind.
Analysis. This is the phase where the instructional designer defines the problem to be solved, estimates the learners' skill level, and sets the goals for the course.
Design. This stage is for planning the content and its format and partitioning it into lessons. It also includes choosing the evaluation methods, designing the interface, and (possibly) prototyping.
Development. Once the course is planned out, it is time to actually develop it. This can be the shortest or the longest part of the process, depending on the nature of the content.
Implementation. At this stage, the course is put into practice. However, it also includes training the instructors - explaining all the bits and pieces of the course to them. As a result, they should know both the subject matter and the specific teaching methods used.
Evaluation. This is a strange phase: some of it goes on continuously throughout the whole development process, but there is also a dedicated evaluation stage at the end to ensure that the course achieves its goals set up at the analysis phase.
ADDIE seems reasonable, but it actually has significant flaws.
ARCS
This is another acronym, that stands for Attention, Relevance, Confidence, and Satisfaction - the four things that this model focuses on. It was developed by John Keller, a prominent scholar in the field of instructional design.
Attention. The first step is attracting the learners' attention and making sure it remains focused. This can be done in many ways: active participation (e.g. games, practical exercises, roleplay, etc.), content variability, humor, and more.
Relevance. The second step is demonstrating that your content will be useful to the learners. This can be done by showing examples of how this will help them today or in the future, being successful in the field you are teaching or inviting successful guest speakers.
Confidence. The learners need to understand that the success is definitely possible. Their confidence can be reinforced by setting incremental goals, providing encouraging feedback, giving the learners some measure of control over their studies, etс.
Satisfaction. There is scientific evidence showing that enjoyment is a major success factor in teaching. This means it is important to make the learning process fun to improve the outcomes. This can be done by giving people an option to use their skills in a real-world setting, rewarding success in challenging tasks, or even adding elements of entertainment.
Dick and Carey
This model was developed by Walter Dick, Lou Carey, and James Carey. It builds on ADDIE by adding the behavioral elements.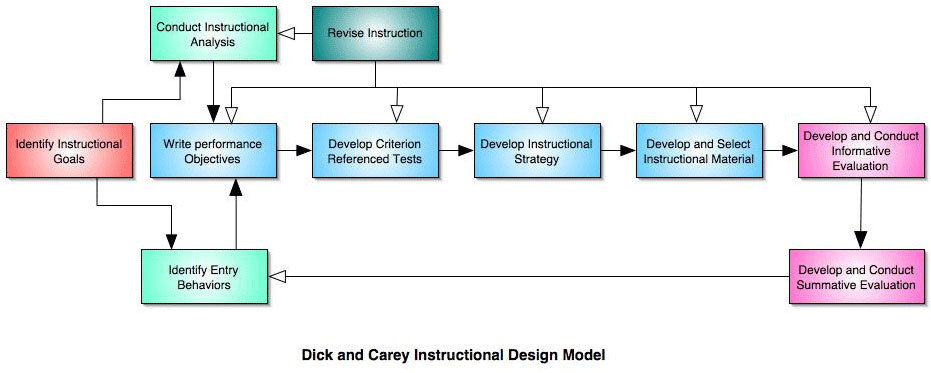 Dick and Carey model consists of 10 steps:
Identify instructional goals. These goals are the expectation for the learners at the end of the course. They can be broad and describe what your students should be able to do.
Conduct instructional analysis. The first step is to find out what do your learners need to know and be able to do to achieve the desired results. After that, you can plan the steps that lead the learners to the goal.
Identify entry behaviors. Gather the relevant data, including your learners' demographics, skill level, motivation level, domain knowledge, etc. Then use it to set up the learning process in a way that doesn't have them revisiting what they already know but also lets their existing knowledge support the new information.
Set up performance objectives. Such objectives need to include the description of the skill to be learned, the metrics to evaluate these skills, and the conditions under which these skills are used.
Develop assessment tools. This is the stage where you should develop tests and quizzes that evaluate both the learners' progress and the instructional process.
Develop an instructional strategy. This means planning out the activities that will help the learners achieve the instructional goals from item 1.
Develop and choose learning materials. Reuse the fitting learning content to save time or create new modules.
Design and conduct a formative evaluation. This means checking whether your course is good enough while it's still in development.
Conduct a summative evaluation. Once your course is live, monitor the learning outcomes, and see if the course achieves its goals.
Revise instruction. Use the data from the evaluation to improve the course, if necessary.
Merrill's Principles of Instruction (MPI)
This approach was postulated by M. David Merrill, Professor Emeritus of Utah State University in his paper. The principles mentioned are the fundamentals of effective teaching.
Learning is promoted when learners are engaged in solving real-world problems. Adding meaningful context (like showing how geometry is useful for architecture) improves the learning outcomes.
Learning is promoted when the previous relevant experience is activated. If learners already have knowledge and skill that would help them, start with engaging it. If they don't, give them this foundation.
Learning is promoted when the instruction demonstrates what is to be learned. Show the learners what they will be able to do over the course of the course and by its end to reinforce motivation.
Learning is promoted when the learners are required to use their new knowledge or skills to solve problems. Include practical exercises after the theoretical lectures to increase knowledge retention and demonstrate the application of the knowledge.
Learning is promoted when learners are encouraged to integrate their new knowledge or skill into everyday life. This is pretty self-explanatory - if a person keeps using their new skill daily, it will only improve their efficiency.
Which Instructional Design Model Is the Best To Go With?
All and none. As usual, the answer depends entirely on you, your goals, and your conditions. However, we can give some pointers.
Account for your experiences. If you already had encounters with certain models, you probably know their advantages and disadvantages. Some of them might be just what you need or might become what you need with a little tweaking.

Keep in mind, that you should also note the prejudices that might keep you from selecting approaches that would suit you.

Start with your goals.The objective comes before the means to achieve it. Thankfully, pretty much any model includes setting goals as a starting point. Go to it and choose the approach that will give you the results you want in the best way.
Evaluate all the elements of a model. You might find yourself attracted to a certain element from ADDIE and ignore the negative ramifications of the rest. That's why you should evaluate the approach holistically. Also, there is nothing stopping you from combining several of them, if it suits you.
Consult your eLearning team. Your combined knowledge and experience would be more than the sum of its parts. Besides, they would be the people implementing the model you've chosen, so it would be wise to consider their opinion.
Consider your audience. Your learners will be the recipient of everything developed with your model, so pick the one that suits their preferences.
Plan in advance. The world is changing rapidly. Make sure you will pick a model that would lead to lasting content, applicable in the long term.
Instructional Design Strategies for eLearning
There are potentially hundreds of viable strategies and their combinations that you can use to enhance your learning process. We will describe a couple of the ones that have proven their effectiveness so you will have a good starting point.
1. Narrative
Having a story behind your course helps improve the learners' engagement and turns a boring "listen-and-click" program into an adventure. All the creative methods that work for a book or a movie would work for a narrative-based course as well.
This strategy is often used in sales training, leadership training, compliance training, and other niches. For example, there is a GamiCad - and interactive training program for using AutoCAD that has the learners build and launch a spaceship over the course of their learning.
2. Scenario-based
Similar to a narrative approach, this strategy has learners use their knowledge and skill in a simulation of a situation they might actually find themselves in. This allows them to adjust their behavior and increases their motivation by showing them real-life examples where they would be able to excel.
The most important aspects of this strategy are:
Practical situations
Relatable characters
Appropriate challenge level
Individual feedback.
As an example of such an approach, take a look at the "Road Warrior" - a sales training game at SAP.
3. Microlearning
Microlearning is a method of breaking up content into bite-sized chunks. This is very useful for just-in-time learning, giving the student the knowledge they need here and now. It also works well as a supplement to the formal course.
Microlearning can be presented in many formats, including AR/VR, videos, infographics, etc.
The main things to do in microlearning are:
Remove all the unnecessary content
Present information in a conversational tone
Focus on 5-10 minute lessons that answer a specific question or solve a specific problem.
YourPrimer, a business skills training app, would be a good example of what is microlearning and how it can be used effectively.
4. Gamification
Gamification is using game elements in a serious environment. It is a popular trend that has research backing up its effectiveness. Note that it is different from game-based learning, where a game is used as a primary instruction method.
It is widely used in both corporate training and elsewhere. Examples include Deloitte Leadership Academy, Duolingo, Bridgestone Compliance Battle Royale, and more.
To learn more about this approach read our article on it.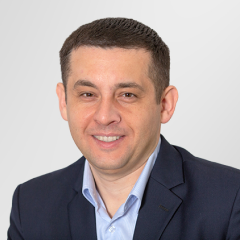 Written by
CTO / Department Head / Partner
I've been leading a department specializing in eLearning applications and Business Intelligence for 14 years.
Belitsoft Blog for Entrepreneurs
Let's Talk Business
Do you have a software development project to implement? We have people to work on it. We will be glad to answer all your questions as well as estimate any project of yours. Use the form below to describe the project and we will get in touch with you within 1 business day.