It is an Eastern European country that is bordered by Poland, Lithuania and Ukraine. Today, many private businesses and IT companies take advantage of IT outsourcing to Eastern Europe and Belarus, in particular. Our country has many highly qualified IT experts with outstanding education and qualification (check out why Belitsoft is featured among top software development companies in Europe).
years on the market
Belarus adopts new rules and laws to attract startups, especially in FinTech
The Law introduces an action framework to liberalize the business environment for the innovative and high-tech sectors
Investment according to English Law is allowed
Now HTP residents are allowed to sign agreements with third parties that are actively implemented in international business. For example:
Agreements on granting the right of first refusal to execute contracts.
Convertible loan agreements.
Property loss indemnity agreements.
Agreements, stipulating liability for labor pirating.
Non-compete agreements with employees with payment of compensation for the period of non-compete obligations.
Agreements to issue the irrevocable power of attorney.
An unprecedented regulatory environment for the circulation of cryptocurrencies and tokens is created
Major provisions include:
The rights of physical and legal entities in terms of token circulation are defined. Legal entities are entitled to possess tokens, create and list their own tokens through HTP residents, buy and exchange tokens, and perform other operations using tokens only through the cryptocurrency exchanges and cryptocurrency exchange operators.
Individuals are entitled to possess tokens, perform mining, exchange tokens, buy and sell them for Belarusian rubles, foreign currency and e-money, as well as to present and bequeath tokens. The mining activity of individuals, tokens purchasing and sale shall not be considered entrepreneurial activity.
Tokens and revenues from operations with them shall not be subject to declaration by the individuals.
Turnovers, profits (income, proceeds) from various operations with tokens are not recognized as taxable items until January 2023.
Famous Companies Outsource To Belarus
IT outsourcing companies from Belarus have clients in more than 60 countries all over the world, where 43.2% of the clients are from the USA, 49.1% - from the European countries, and 5.3% - from Russia and the CIS countries (according to the official information, 2017).
According to the report of Bloomberg, Eastern Europe software outsourcing firms from Belarus work with such world's largest companies as Google, Halliburton, Chevron, Citigroup, Sears, Colgate-Palmolive, Thomson Reuters, and Viacom, as well as Siemens, Mercedes-Benz, Bosch, Philips, Samsung, Barclays, and the London Stock Exchange.
Well-known Belarusian software products
You can discover a solution-focused culture in Belarus - not just an ability to write pieces of code on request.
Ernst & Young Outsourcing Survey recommends Belarus
In 2017, London-headquartered Ernst & Young Global Limited (EY), an international auditing and consulting company, has prepared a comprehensive report on the IT industry in Belarus.
EY experts marked "a qualification level, low cost, and availability of technical staff in Belarus". Belarus "managed to build a mature export-oriented software development industry" and became a significant player on the IT services market in Europe in just 10 years. Belarus is ranked among best outsourcing shops in Europe, the Middle East, and Africa region.
availability of technical staff
Highly skilled and cost-effective workforce
Gartner, the world's leading information technology research and advisory company, has been including Belarus in the TOP offshore custom software development locations due to "the highly skilled and cost-effective workforce".
As Martin Zwilling (Founder & CEO of Startup Professionals, the USA) put in his column for Forbes: "Labor rates are lower in some countries, but culture and language match are the real keys to productivity. Countries near you may be in the same time zone for easy communication, but lack the skills you need. As with real estate, it's still about location, location, location."
There are plenty of locations where world's software development companies are based. The American information technology research and advisory company Gartner revealed TOP locations for the offshore software development services, including BELARUS.
Gartner has analyzed 30 offshore services locations and rated each using 10 criteria: (1) range of services; (2) quality and professionalism; (3) domain expertise; (4) responsiveness; (5) innovation; (6) pricing; (7) delivery process/methodology; (8) knowledge management; (9) contracting practices; (10) commercial flexibility and maturity.
Gartner experts say: "Our assessment of Belarus reveals a highly skilled and cost-effective workforce... Consider Belarus, particularly if you are looking to choose an Eastern European country with a broad selection of multinational and local providers in Eastern Europe. The capital city, Minsk, is home to a high concentration of large IT service providers."
Valery Tsepkalo, the founder of Belarus Hi-Tech Park, says: "In 2010, in response to our request, Gartner suggested compiling an analytical report on Belarus for $250,000. In 2015, the agency contacted us upon its own initiative and the report had already been prepared. Belarus is one of the top ten countries of Europe, the Middle East, and Africa, which are covered by such reports. It means that the agency could not but notice Belarus as the part of the IT industry. Failing to do that could be detrimental to the agency."
Travel to Belarus is 1-3 hours from European capitals
The location of Belarus is also an advantage: our geographical position makes it easy to reach us by plane, just within 1-3 hours from any European capital.
Foreign citizens of 80 countries can enter Belarus for up to 5 days visa-free. The list includes all EU countries, the USA, Japan, and other states.
If you are considering a partnership with an IT company from Eastern Europe, take a deeper look at Belitsoft from Belarus.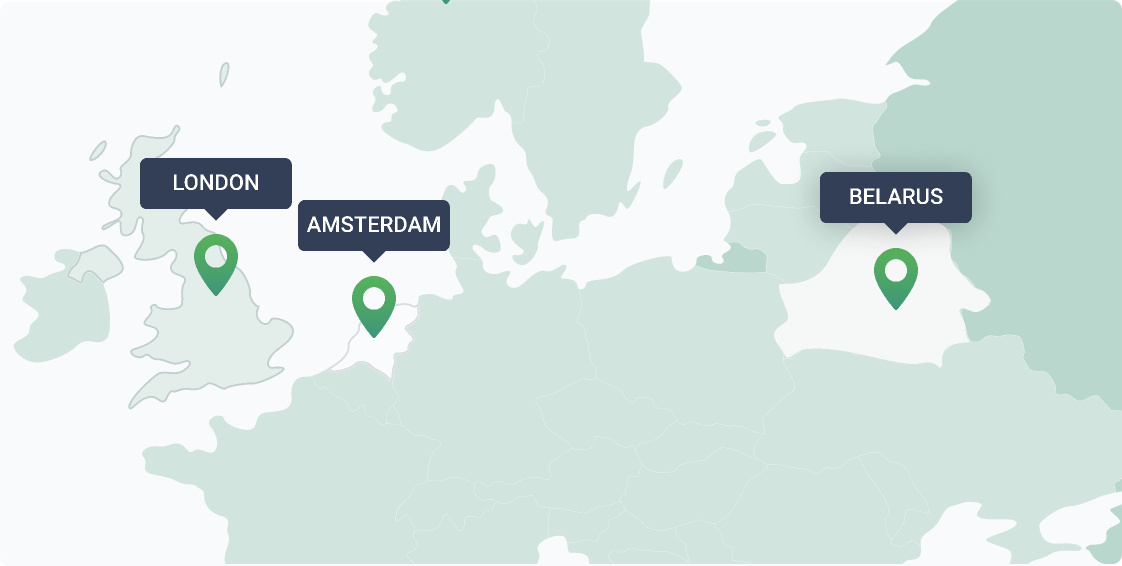 London - Minsk: 3 hours
Amsterdam - Minsk: 2.5 hours
Cost of outsourcing software development to Belarus is twice cheaper than in the USAs
In 2016, according to the data of Belarusian Hi-Tech Park, the export of Belarusian software products and services totaled $820.6 million (+16% to the previous year's result). American companies buy almost half of the country's software products and IT services.
Developers in the USA and many other countries are expensive. The cheap cost of operating out of Belarus has allowed entrepreneurs from the USA to fund their company's expansion with no outside investment.
As an example, let's take a role of a customer, who is located in the United States and requires software development outsourcing (12 months long engagement). Let's say, this project requires 10 engineers with different skills levels (.NET, or PHP, or any other technology).
We calculated what it takes to develop such a project. A yearly cost of a software development team in the US will cost you 1,085,000 USD and 670,000 USD in Germany per year, while only about 450.000-520.000 in Belarus. The cost ranges depending on skill-set needed and time frame to compile a team, but still, in terms of pricing, Belarus is 50-60% cheaper than the USA and 30-40% cheaper than Germany.
Belarus software outsourcing is widely supported by the Government. In 2005 the High Technology Park (HTP) was created to support the software industry and increase the software development export. About 30.000 software engineers are employed under the system.
Belitsoft became a part of HTP in 2009.
HTP provides outstanding conditions for its residents and lets them be competitive in the world market due to the favorable taxation. Tech companies are exempt from corporate taxes, including value-added tax and income tax. Due to the governmental support, Belarusian IT companies offer competitive rates lower than neighbor countries in Eastern Europe.
Within the framework of the special HTP legal status, the existing tax and National Social Security Fund (NSSF)
benefits include:
Exemption from VAT, based on the use of foreign entities to provide marketing, advertising, consulting and some other services to HTP residents
NSSF fees are calculated according to the average country wages, instead of actual wages (average country wages are 3-4 times lower than average wages of HTP residents).
Additional benefits, aiming to stimulate Product
Development IT companies,
include:
Exemption from VAT, based on the use of foreign entities to provide marketing, advertising, consulting and some other services to HTP residents
Belarusian programmers' high standard educational background gives more opportunities to cut costs by faster delivery.
One more reason to outsource your software projects to programmers from Belarus is that our Government stimulates software development companies to get quality ISO 9001 certificates to assure you that you are working with real professionals. Belitsoft successfully passed all the ISO 9001 certification stages, including staff education, quality management system development, and testing certification.
Belarusian Developers Are Culturally Compatible With Americans
As Forrester (an American independent technology and market research company) stated, "to succeed in their offshoring efforts, sourcing professionals will need to include cultural alignment as a key selection criterion".
First of all, Belarus is famous for its people. Hospitality, open mind, diligence, high level of education are the main values you can use to start successful cooperation with Belarusian IT companies.
While companies from the U.K. are focused on productivity and the U.S. business is all about time and money, what are the key features of Belarus people's work culture? Is it a common practice for that country's software development suppliers to declare publicly about their work ethic?
For example, specializing in software outsourcing, top-management of Belitsoft company developed the declaration of professional values & ethical standards published on our corporate website.
Anyone can find reviews about Belarusian software development companies on sites like Clutch (Washington, DC-based analyst firm that identifies top service providers able to deliver valuable results for their clients).
Below are some of them:
Product Manager (Australia)
I've worked with other offshore providers, and we seem to have a much better cultural fit with the Russians and the Belarusians. It's been a very fruitful partnership.
Founder (Switzerland)
First of all, they're Belarusian and they have very strong social skills. They love to talk, they love to visit and to have them visit you and vice versa. So, they're very social, unlike outsourcing in China or India, which is more paper pushing.
Working hours in the USA overlap with those in Belarus, but not in India or China
Time zone is UTC+3, thus Belarus works with the USA and European clients during overlapping working hours.
For CIOs in North America, offshoring means working across different time zones. But the huge difference in time zones makes daily face-to-face communication with the development team challenging. When outsourcing faces the lack of real-time communication with remote developers, it can lead to misunderstandings, mistakes and, as a consequence, a serious increase in product price (time is money) or software failures.
Table of overlapping hours with TOP offshoring destinations
| Offshore country | Time difference in between NY and offshore country | If it is 9:00 am in New York, what time is in... | Overlapping hours before it is 06:00 pm in New York | Time difference in between London and offshore country | If it is 9:00 am in London, what time is it in... | Overlapping hours before it is 06:00 pm in London |
| --- | --- | --- | --- | --- | --- | --- |
| Belarus | +7 | 4:00 pm | 2 | -2 | 7:00 am | 7 |
| Mauritius | +8 | 5:00 pm | 1 | -3 | 6:00 am | 6 |
| India | +9.30 | 6:30 pm | 0 | -4.30 | 4:30 am | 5.30 |
| Sri Lanka | +9.30 | 6:30 pm | 0 | -4.30 | 4:30 am | 5.30 |
| Bangladesh | +10 | 7:00 pm | 0 | -5 | 4:00 am | 4 |
| Indonesia (Jakarta) | +11 | 8:00 pm | 0 | -6 | 3:00 am | 3 |
| Thailand | +11 | 8:00 pm | 0 | -6 | 3:00 am | 3 |
| Vietnam | +11 | 8:00 pm | 0 | -6 | 3:00 am | 3 |
| China | +12 | 9:00 pm | 0 | -7 | 2:00 am | 2 |
| Malaysia | +12 | 9:00 pm | 0 | -7 | 2:00 am | 2 |
| The Philippines | +12 | 9:00 pm | 0 | -7 | 2:00 am | 2 |
Let's imagine that your product team is based in the USA and the development team is in India. India is 9 hours and 30 minutes ahead of New York. When it is 9:00 AM in New York, it is already 6:30 PM in India.
To use virtual face-to-face communication with the development team in India through Skype, entrepreneurs need to either begin their working day earlier or look for an outsourced software development company in India that requires from its employees to work longer hours and work off-hours.
Otherwise, your communication will only consist of asynchronous email correspondence. It can be difficult to get the answers you need when you need them. If your problem or question is not understood, the back and forth can result in days passing before a problem is resolved — a disastrous situation for a project-critical issue.
The study «Global Software Development Challenges: A Case Study on Temporal, Geographical and Socio-Cultural Distance» reveals that limited overlap with colleagues – and therefore delay of responses – make people lose track of the overall work process, something that can pose severe problems in distributed, yet time-critical, work.
Two-Four Overlap Hours are Enough for the Success
Belarus is just 7 hours ahead of New York (most of the year, during daylight saving time* or 8 hours - during standard or winter time). When it is 9.00 AM in New York, it is just 4.00 PM in Belarus.
Daylight saving time 2018 in the United States of America will begin at 2:00 AM on March 11 and ends at 2:00 AM on November 4.
Belarus has remained on daylight saving time year round since 2011.
Usually, Belarusian developers work on projects of US-based clients till noon New York time or even longer if needed. It is a common rule for Belarusian offshore software development companies to adjust their business hours to adapt to customer's normal business day regardless where clients are from (USA, Israel, Europe or even Australia). Having 2-4 overlap hours is enough to ensure successful and smooth daily communication.
In fact, companies from any time zone can do business with Belarusian software developers. That's why Belarus is the perfect place where software development companies and IT start-ups open offshore and nearshore development centers.
What Do Real American and British Business Leaders Think about Software Development Outsourcing to Belarus?
"Very Educated IT Professionals"
Jason Van Dyke, President at Special Education Solutions (Fayetteville, Arkansas, the USA) marks that Belarusian
developers are
"very educated. Great skill sets at an affordable price. Great sense of urgency and time management in comparison to other IT professionals we have worked with."
Belarusian students successfully take part in many international competitions and win prizes. For example, Belarusians won the Facebook Hacker Cup, the Google Code Jam, and much more. If you have a look at the all-time medal ranking of the International Olympiad in Informatics, an annual programming competition for high school students since 1989, you will find Belarus is in the top 15 of the world's strongest nations (ranked 6th in Europe).
"The Next Big Labor Market for Programming"
Adam Nyhan, Business Attorney at Opticliff Law (Oregon, Portland, the USA) called to mind his client's words about Belarusian developers:
"A client of mine, a software developer in New York City founded by a European and a Latin American, tapped Belarus for their programming talent. They have about 40 programmers in Belarus and have been delighted with them. The client has told me that they and others view Eastern Europe in general as the next big labor market for programming".
"When it comes to finding an offshore partner in Eastern Europe, Belarus is a promising place to begin your search," clarified Joshua Margolin, Senior Analyst at Clutch (a Washington, DC-based analyst firm that identifies top service providers able to deliver valuable results for their clients). "While the development firms highlighted in this newest update represent only a fraction of the options available to buyers, these particular companies have a demonstrated history of working successfully with Western clients, and that's a major factor to consider."
In March 2017, Joshua Margolin said: "Things have improved noticeably during the last decade or two for tech suppliers in Belarus. National emphasis on STEM education, thoughtful economic development programs, and a commitment to superior customer service, are what seem to be responsible for their booming tech industry. "
According to the Bloomberg: "The nation has been a high-tech magnet ... local universities still turn out 4,000 information technology grads every year... Belarus also produces world-class specialists in Mathematics and Physics. That's an attraction to companies such as Invention Machine, a Boston-based group."
"A European answer to Silicon Valley"
As Brad Krevoy, President and CEO of Motion Picture Corporation of America, noted in his video interview: "Belarus Hi-Tech Park is a cutting edge European answer to Silicon Valley. Very intelligent people, enthusiastic workforce. It's the one place in Europe where skilled engineers, developers in web and the Internet come together to create new ideas. HTP is a perfect place to involve investment because people from resident companies here are very experienced in programming. I think it is a place to be for the future..."
"Realistic and Responsible Developers"
Jack Thorogood, CEO at NOVP (London, United Kingdom) says: "I've been working with BY partners for about 8 years, and they are great. […] developers who are realists (i.e. can provide accurate timelines) and responsible (i.e. they'll endeavor to deliver to the timeline they set out".
"A High Proportion of English Speakers"
According to the CIO Magazine for technology executives, the skills of Belarusian software developers "coupled with a high proportion of English speakers and only a few hours time difference have made Belarus an attractive proposition for the UK companies looking to solve their development problems by offshoring. The establishment of the Belarus High Tech Park in 2005 has provided a real focus on IT skills in Belarus and has enabled the IT market to develop at a breakneck pace without any loss of quality" (according to Neil Turvin, the CEO of Godel, a software development company with offices in the UK and Belarus).
Check out more testimonials from the American and British business leaders.
Portfolio for software development












Let's Talk Business
Do you have a software development project to implement? We have people to work on it. We will be glad to answer all your questions as well as estimate any project of yours. Use the form below to describe the project and we will get in touch with you within 1 business day.