Client
Our client is a startup owner who came to us in 2017 with the idea to develop a new Business Intelligence System for hotels. He needed more than just senior-level experts who are able to choose the right architecture of the new system - he needed a dedicated team that could deliver enterprise-level analytical products.
Challenge
Hotel leadership teams are demanding greater control over their inventory, room rates, and marketing.
Revenue managers of the small and mid-size hotel chains are struggling to optimize their net RevPAR (revenue per available room) and GOPPAR (gross operating profit per available room) KPIs.
But collating, verifying, and analyzing revenue, property, and guest data takes significant time and effort. These data are often kept in separate systems because each team - from sales and marketing to operations and food & beverage uses different systems and spreadsheets to store their data.
Examples of such systems – PMS like OPERA Property Management System, channel management system, CRMs and sales, guest, food & beverage and marketing systems.
The manual work makes it difficult to recognize demand trends in time and forecast them effectively. The potential for human error during the data entry stages is also increased.
Solution
The key aspects of his idea of a hospitality business intelligence system were:
A suite of dashboards with reports where revenue managers get a full picture of hotel performance.
The data for these dashboards should be automatically combined from separate systems the hotel has.
The data should be presented in a way that lets revenue managers easily identify opportunities to improve performance and optimize revenue and profit throughout each room, as well as other departments (e.g. food & beverage, spa, or casino).
The data should also be available for the hotel owners and chief operating officers so they don't need to manually review the historical reports from their general managers, revenue managers, and sales & marketing teams.
The data should also be available for marketing teams to help them get insights at any given time on whether it's better to run a promotion or change rates for guests to increase direct bookings on their corporate website, building loyalty to encourage return bookings and recommendations.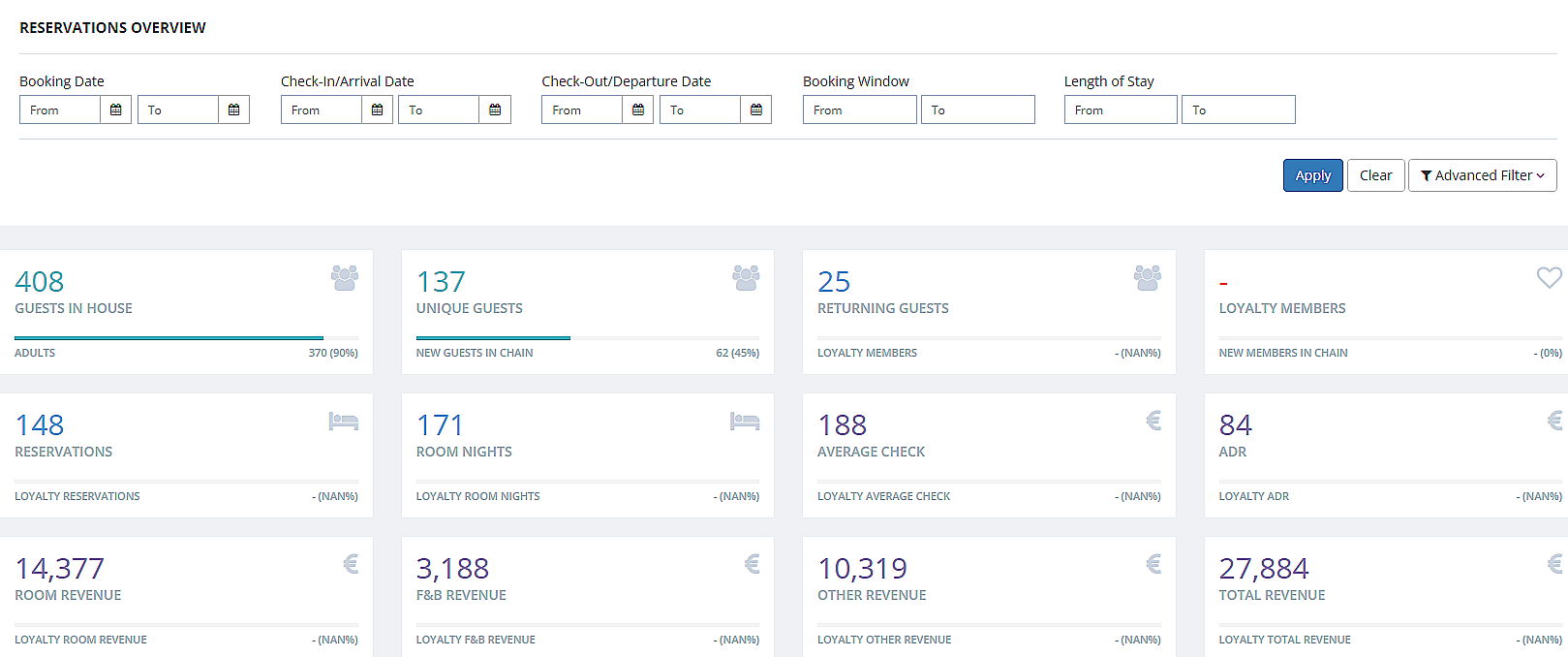 Process
Using focus groups
The key to marketing success of a startup is using a focus group. Our client came to us with the early adopters - hotel managers from a worldwide chain that operates 39 hotels. This approach let our client build a Business Intelligence Product which is able to stay at the forefront in satisfying hospitality industry requirements.
Owners of this hotel chain allowed our client to use their real hotel data while developing this BI tool in exchange for a discount for purchase of this product when it is available on the market.
The hotel managers also validated the final success metrics they wanted to see in this BI software: occupancy rate, average daily rate (ADR), RevPAR, average rate index (ARI), revenue generation index (RGI), market penetration index (MPI).
Loyalty management
The early adopters asked our client to add a new feature to this BI tool: custom loyalty management. Here is how we implemented it.
The system tracks spending of all hotel guests including loyalty program members. If a number of conditions match, the system automatically gives the quests a certain number of loyalty points.
Hotel guests can use these loyalty points to make direct bookings from the hotel website or to pay for using partners' services (for example, airline tickets).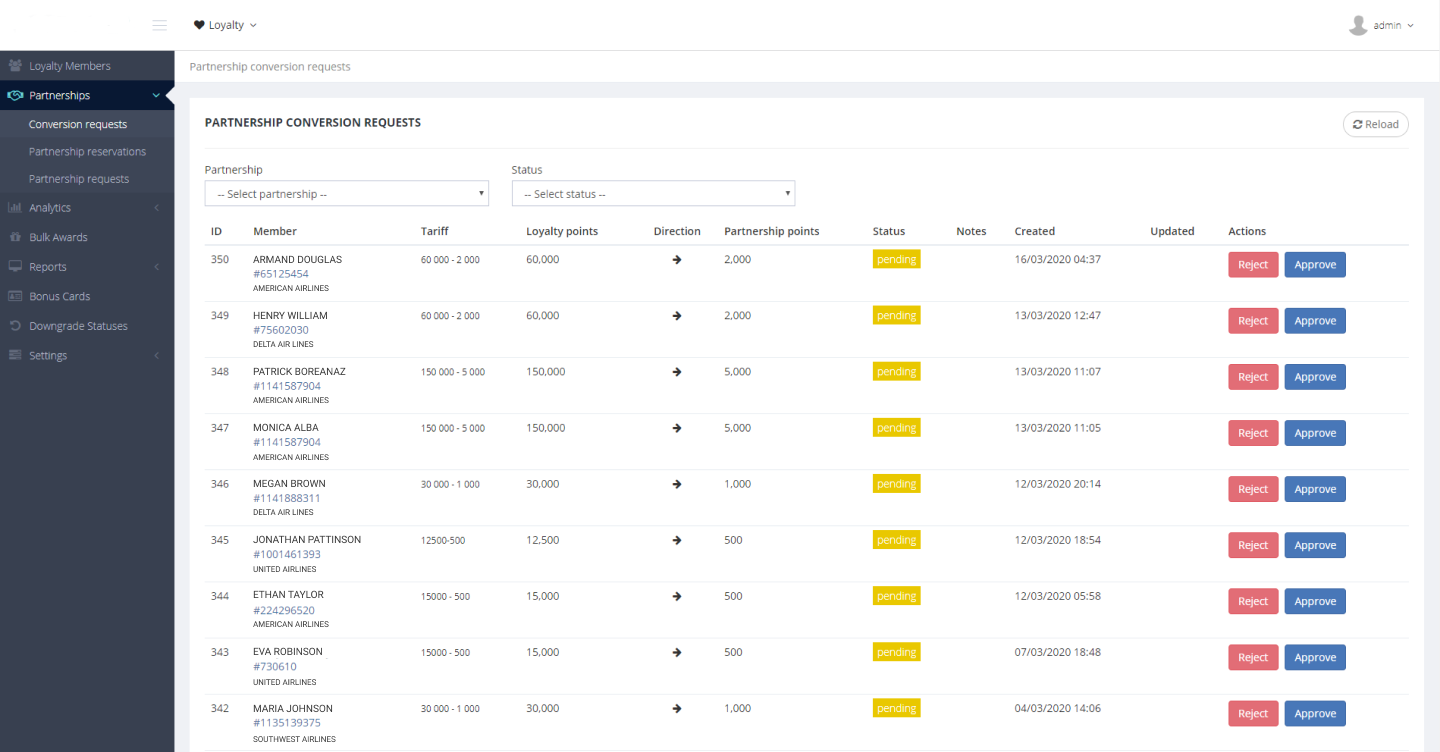 Hospitality data benchmarking
Competitive benchmarking is the process of comparing your hotel business against competitors using special metrics.
STR provides hotels with anonymized data from 67,000 hotels across 180 countries and primarily focuses on historical data around revenue and occupancy. Hotel managers use reports from STR to compare their performance to their rivals.
STR does not provide API access, so we had to create scripts to parse and import data from PDF reports into the Business intelligence tool's database.
Results
By using our business intelligence software development services, the client got this BI solution.
Insights hotels can get and use from analyzing guest data using this Business Intelligence System include:
Historical data show, for example, that families tend to book seven weeks ahead of school holidays. Marketing campaigns can be timed accordingly.
Hotels observe a spike in website views without increasing conversion into bookings. Price may be an issue, and sometimes concessions may be necessary.
Historical data show periods when occupancy is consistently low. On such days, the chain can run offers, a flash sale or increase the hotel's prominence on social media, OTA channels, and metasearch. The same tactic can be used if an unexpected drop in occupancy has been spotted to take steps to fill the rooms.
Here are some illustrated use cases for the Hotel BI tool.
Hotel Occupancy Report
What pickup trends do we have?
Let's define the date range that we need.
Let's make the chart more visually appealing.
The number of reserved rooms dropped 11% on March 19, 2020
Hotel Pickup Report
What occupancy rate trends do we have?
Let's explore trends for future periods. Today is 23 March 2020. Let's compare from April 2020 to April 2019.
The occupancy rate dropped significantly: up to 90% on some days. It corresponds with the whole hospitality industry trends and direct competitors' situation (data from the STR).
When did this negative trend start? Let's compare March 2020 to March 2019.
The report shows a huge canceled reservation trend in March 2020.
This BI solution was in such demand that a year after the release it was acquired by a large hotel software provider who develops global distribution systems for hotels (total funding amount is about $26M).
The new client would like to increase its market share by adding BI solution to its suite of products for hotels.
Our new goal became integrating the BI solution, that was developed by our team, into the product of the new owner, that was created by other developers.
Tech stack
AWS
Nginx
PHP-FPM
Php
MySQL
AngularJS
Yii












Let's Talk Business
Do you have a hospitality software development project to implement? We have people to work on it. We will be glad to answer all your questions as well as estimate any project of yours. Use the form below to describe the project and we will get in touch with you within 1 business day.