Client
As an LMS development company, we began the collaboration with the client when they were a startup, tasked with developing a SharePoint LMS. Today, they have evolved into an international enterprise with a global market presence, including offices and partners in the US, the UK, countries of the EU, Switzerland, Australia, and beyond. Our client has established itself as a Microsoft Strategic Partner, Microsoft Gold Partner, and ISV Partner.
Challenge
The Client wanted to build a Learning Management System (LMS) based on SharePoint that integrates into Microsoft 365 & Teams to deliver and manage both training and certification in the educational and corporate sectors.
The challenge was to create a learning platform with maximum functionality and easy-to-use UI at a reasonable cost to integrate smoothly into Microsoft products (Microsoft 365, Azure, SharePoint, Microsoft Teams). Such a full-featured, broad-function LMS with mobile access simplifies learning processes for corporations and to scale up training services for training companies.
Process
To develop an LMS from scratch, the Client wanted to engage an outsourcing nearshore partner as costs for developers are high in the Northern European countries. The customer needed a reliable software development company from the Eastern European region.
They chose Belitsoft for these reasons:
There was positive experience and trust built while working with us before that project.
Belitsoft could start development quickly as we provided 2 experienced .NET/ SharePoint developers within two weeks after signing a contract.
Belitsoft was able to supply competitive costs as the customer wanted to build a long-term full-time team working only on his projects.
Team augmentation and the entire process of work were transparent. This assured the Client that he would get good specialists at the pre-agreed rate.
Belitsoft had proven experience in building dedicated teams and domain expertise in eLearning.
We can divide our working process into 4 stages:
The discovery phase when we discuss the project, its requirements, and provide an estimate.
The preparation stage when we sign a contract, determine the project's architecture, design, and features.
The development stage when we build the complete version of the solution, test it and prepare the documentation.
Deployment and support when your solution is published, so we maintain and update it.
The development process started with 2 developers involved in the project. They started developing using the SharePoint platform.
Currently, the team is 36 people with
2 x Project manager
2 x Scrum Masters
12 x Developers
7 x QA Specialists
8 x Support Engineers
2 x Visual Designers
2 x Technical Writers
2 x People and Culture Specialists
Belitsoft uses their pool of available .NET developers, front-end developers, designers, and other available specialists where additional efforts are needed.
Solution
How does the SharePoint LMS Work?
The SharePoint LMS simplifies training by automating the key learning processes:
1. Training delivery
An admin (L&D manager or training provider) creates a course with the help of the Learning Module Editor, using any type of content, including videos, PowerPoint decks, materials from third-party LMSs, webinars, or other external resources like YouTube. A simple drag-and-drop design allows creating courses with no technical background.
The system automatically enrolls a learner in a relevant course based on their training needs. Also, an admin can link several courses into a single series thanks to the Training Plans feature. So they will recommend a student a second course from the created chain after completing the first one.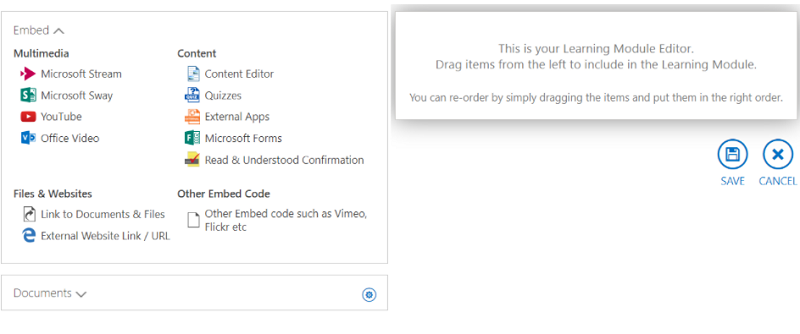 Example of Sharepoint LMS course creation tool designed by Belitsoft
2. Progress tracking and knowledge assessment
An admin (L&D manager or content provider) creates a series of quizzes and assignments for knowledge assessment and learning progress tracking using Quiz Builder and Assignment Manager.
The LMS automatically calculates overall performance in complex courses in a Grade Book, passing all the data into the BI dashboard.
A ready-made powerful BI dashboard shows an intuitive overview of the learning progress and other statistics, such as a course completion rate.
The system automatically delivers scheduled reports with learning statistics (course completion rate, time spent on training, course registration and completion comparison, etc.).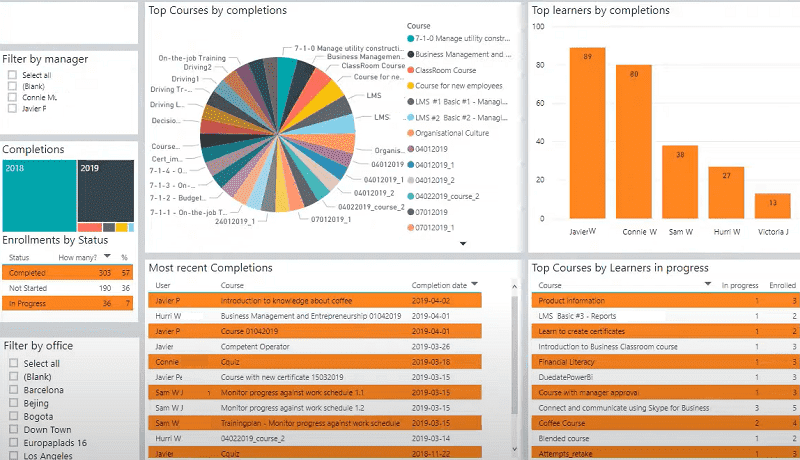 Example of SharePoint LMS tracking tool designed by Belitsoft
3. Increasing the effectiveness of training
Integrated with Microsoft Teams, a SharePoint LMS turns into a hub for collaborative and social learning where colleagues or students can create groups of interest, share courses, and discuss them.
To motivate learners to keep on track, an LMS sends reminders about exams, upcoming deadlines for assignments, etc.
During the learning process, an LMS creates a leaderboard based on learners' progress, as a part of gamification.
A SharePoint LMS also has custom certifications that are created and delivered automatically to a learner after course completion.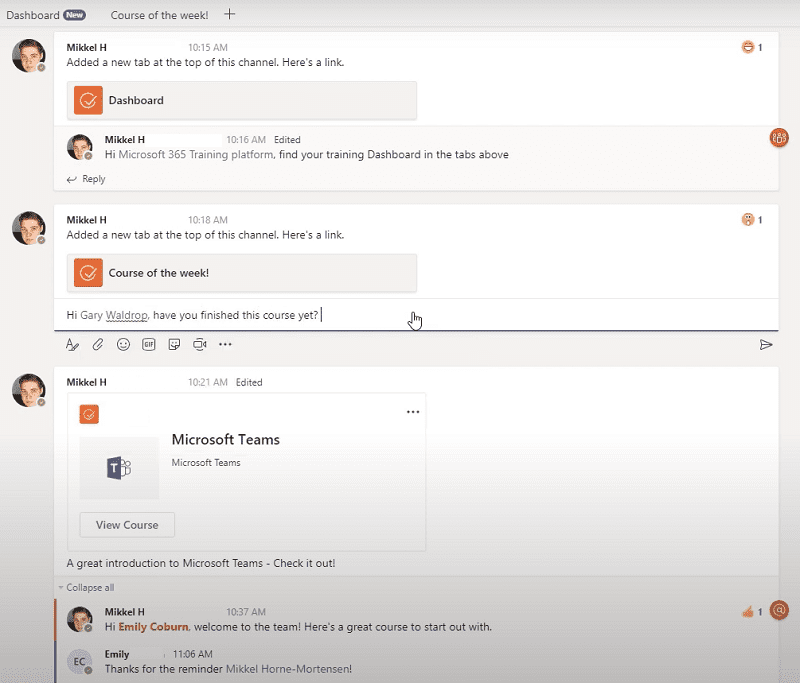 Example of social learning through a SharePoint LMS integrated in Microsoft Teams
Features of the Sharepoint LMS
Simple content management. The SharePoint LMS allows importing all SharePoint materials, as well as third-party materials (through SCORM/AICC player), including videos, photos, and texts.
Mobile accessibility. Learning is possible from computers and smartphones. The mobile version is as intuitive and easy-to-use as the desktop version.
Advanced integrations. The SharePoint LMS works smoothly together with all kinds of software used in the workplace, for example, CRM, ERP, HRIS, not to mention the variety of Microsoft products.
Communication tools. A SharePoint LMS provides tools for learner-learner and learner-teacher communication through live chats, forums, discussion boards, and other tools.
Progress tracking and assessment. Through Quiz Builder and Assignment Manager, a SharePoint LMS supports various types of quizzes and assignments to assess learners regularly and track their learning performance.
Single Sign-On (SSO). One-click access to all LMS services saves time and allows learners to remain focused on their training. Log in once and get signed in to all integrated apps.
Detailed statistics and reports. Statistics will help you monitor the strengths and weaknesses of learners, get valuable insights to improve the course, and create the right assignments.
Multilingual support. The SharePoint LMS supports nearly any language, letting learners choose a preferable course's language.
Technologies and platforms:
SharePoint, SharePoint Online, Office 365, ASP.NET, ADO.NET, AJAX, MSSQL, WebParts, MS VisualStudio, SharePoint Designer
Results
Belitsoft and the Client started collaboration in 2007. The successful launch of the SharePoint LMS helped the Client become Microsoft Strategic Partner, Microsoft Gold partner. The company also received many awards from Microsoft.
Based on our analysis of Northern European expenses for full-time employees, we can proudly say that we could decrease yearly client's expenses by 40-50% of the development costs, which are over 600,000 USD currently.
The SharePoint LMS has been adopted by organizations like Florida Department of Agriculture, Pabst Brewing and JFK School of Business at Harvard.
All in all, the system currently has over 5 million users in businesses, governmental organizations and educational institutions.
We are still working on this project, improving and expanding it, as the number of installations constantly grows.