Hire dedicated dot NET developers to deliver your software product on time thanks to Belitsoft's rapid scaling capacity and years-long expertise of the dedicated .NET team creation and management. Our developers have robust skills to create a NET-based solution for your specific use case.
When Hire Dedicated .NET Developers
Have a specific project that requires the .NET skills your team doesn't have? Or need to speed up the delivery of your software product and look for top talents that will push forward the delivery without sacrificing the quality? Outsourcing .NET development often becomes the most viable and cost-effective option in such scenarios.
The 4 major tasks that dedicated .Net developers from Belitsoft can successfully accomplish for your business:
Build a .NET web application either on-premise or in the cloud, with powerful back-end, secure databases (MS SQL, MySQL, PostgreSQL, MongoDB, etc.), and responsive front-end, and apply REST APIs and microservices to scale the app faster.
Develop a .NET mobile application on .NET MAUI or Xamarin frameworks. Our developers will write clean code on C#, create an engaging client-side web UI (.NET MAUI Blazor and rich UI component ecosystem), store data securely and use authentication flows with .NET MAUI cross-platform APIs, libraries (Xamarin.Forms, SkiaSharp, etc.), and much more.
Migrate your .NET application to the cloud (Azure, AWS, or others), perform load balancing (ALB, NLB, etc.), configure cloud infrastructure, handle storage solutions using database services (e.g., Amazon RDS, Amazon Aurora), and supervise automated backup, recovery, and scaling.
Modernize your .NET application by upgrading the tech stack, optimizing databases, performing query profiling, targeted refactoring of the legacy code, or software architecture redesign when needed.
Advantages of Hiring Dedicated .NET Developers at Belitsoft
You save budget. On a long-term basis, it is often more cost-effective to hire dedicated dot NET developers than to hire a full-time employee or use a consulting firm, as they are usually paid on a monthly or weekly basis.
You scale the team quickly. The team size can be quickly adjusted to the changing requirements and timelines of the project, which is far more troublesome with in-house developers.
You get access to a wider pool of specialists. When you hire dedicated dot NET developers, you are not limited to your city and even country. You get the best talents with specialization in the technologies and tools that your project requires, which makes software development more efficient.
Check out how we've scaled a team of dedicated NET developers for enterprise from 2 to 19 specialists.
How to Hire Dedicated .NET Developers
The core benefit of a dedicated cooperation model is skipping the burden of searching, sifting, and hiring dedicated developers, because Belitsoft as your software development vendor fully takes on the responsibility, using its own HR resources.
Define the skills and qualifications required for the project
Depending on your project requirements, we make a list of skills to test during technical interviews and tests. Here is an example,
Core Skills
Strong knowledge of the .NET framework and its components, such as C#, ASP.NET, and ADO.NET
Familiarity with web development using HTML, CSS, and JavaScript
Knowledge of database management systems, such as SQL Server
Understanding of the Agile software development methodology
Advanced Skills
Experience with .NET Core and ASP.NET Core
Knowledge of Azure cloud computing platform
Experience with mobile app development using Xamarin or UWP
Soft Skills
Strong problem-solving and analytical skills
Strong communication and teamwork abilities
Attention to detail and ability to write clean and maintainable code
Ability to learn and adapt to new technologies quickly
Interview and shortlist the top talents
The goal of this stage is to provide our clients only with a few best candidates from dozens or even hundreds of the sifted ones.
To evaluate a .NET developer's technical skills and experience based on project requirements, we use a combination of methods including technical interviews, practical tests, code reviews, and live coding during an interview.
These evaluations help us identify the best candidate for the job and ensure they have the necessary skills and experience to work on the project and understand the requirements. Additionally, it helps understand if they can work with minimal supervision and will be a good fit for the team.
As a result, our clients hire dedicated dot net developers they prefer, stepping into the recruitment pipeline only at the final stage and skipping the tiresome and costly HR process.
Success Stories of Businesses That Hire Dedicated .NET Developers at Belitsoft
Skilled .NET Developers to Develop Highly Secure Enterprise Software with Scalable Architecture and Fast Performance
Our client, an international enterprise, had a legacy Resource Management System with slow web access and limitations in functionality. The enterprise didn't have its own in-house developers, so it decided to hire dedicated .NET developers from Belitsoft in order to modernize its IT infrastructure fast and resolve the pressing issues.
Their request was a high-performing and easily scaling team that can be involved in the project on demand. Belitsoft fulfilled the client's requests by maintaining the core of 8 back-end and 4 front-end .NET developers on the project that showcased high performance and fast delivery of results.
Belitsoft has taken the responsibility for the full-cycle software development process. Together with .NET developers, Belitsoft's team involved a Business analyst, Project manager, Designer, Frontend developers, and QA engineers.
Our .NET developers resolved slow performance issues by optimizing databases, transferring the business logic to the backend, automating complex processes, and migrating the software to Azure.
After resolving the first challenge, our dedicated team went on to develop a custom app to give the enterprise's top management full visibility across the organizational workflows and the possibility to step in strategically important tasks.
Find the full case study in our portfolio – Custom Development Based on .NET For a Global Creative Technology Company. Or let's talk directly about your case.
15+ Stellar .NET Developers to Meet High Investors' Expectations in Tight Deadline
Our client, an Independent Software Vendor, built a B2B BI software for digital employee experience management. After gaining a $100M investment, the business stakeholders got not only the budget for further evolution but also multiple responsibilities that had to fulfill in tight terms to meet investors' expectations.
The current in-house capacity of the ISV was insufficient for the suddenly increased new workload. The business had to expand its workforce by 40% in one year to fulfill the plan.
To urgently hire dedicated .NET developers for the project, the ISV needed a reliable partner with strong project management and problem-solving skills and a well-organized recruiting process. Having received a positive reference about Belitsoft, the ISV partnered with us.
The request was to recruit only senior-level, top talents with years of hands-on expertise. Another must-have was a high retention level within a team.
Belitsoft set up a steady, step-by-step pipeline to meet the client's request:
Interviewing and filtering dozens of .NET developers to shortlist the best ones,
Onboarding the new specialists using the knowledge sharing and mentorship best practices,
Scaling up the team quickly by supplying the client with 2-3 shortlisted candidates for the client's personal interview every week.
All in all, Belitsoft has built a team of 16 senior, highly experienced .NET developers in less than a year. Besides, we ensured high retention as the key to achieving great domain expertise, which leads to rapid web development and outstanding results.
Thanks to Belitsoft's recruiting and team management best practices, the client has got a high-performing team that improved the software to make it competitive and fulfilled multiple investors' requests meeting tight deadlines.
Learn more in the full success story – 15+ Senior Developers to scale B2B BI Software for the Company Gained $100M Investment. Let's talk to see how we can help in scaling your business.
Senior .NET Developers to Make EHR Cross-Platform and Grow a Client Base
Our client, the Healthcare Technology Company, provides customized EHR solutions. Their core product was built on the legacy .NET Framework compatible with Windows OS only and couldn't be sold to medical organizations using macOS. It held back the business growth plans.
To reach and retain healthcare organizations worldwide without technical limitations, the business stakeholders decided to make their software product cross-platform. It required migrating the EHR to .NET Core.
As the in-house team of the HealthTech company was fully dedicated to software customization, they teamed up with Belitsoft to hire dedicated .NET developers for the software migration tasks. Outsourcing software migration to Belitsoft brought the business a series of tangible benefits:
immediate start due to the fast onboarding process, smooth integration of the remote specialists with the in-house team, and quick understanding of the project and its requirements,
expertise in both .NET Framework and .NET Core, which favored high-quality and quick delivery of the results,
the capability to scale the team as needed throughout the project
Dedicated dot net developers prepared the software for migration by checking the dependencies compliance and fixing incompatibilities, migrated libraries, ensured steady API support, and finally, migrated the backend to .NET Core.
With .NET Core, the software became available not only for Windows users but also for macOS, attracting more customers and favoring the client's business growth.
See more details about the case Migration from .NET Framework to .NET Core for a Healthcare Technology Company. Let's partner to grow a client base for your business.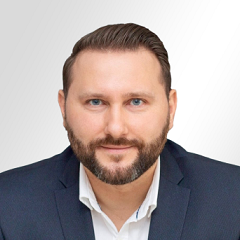 Written by
Business Development Director at Belitsoft
I build dedicated teams and manage a vendor network.