The shift to a dedicated remote development team has forged ahead evidently. As a result, the companies gain to allocate their resources to more vital business strategies and focus their efforts on core services and competencies. Finding a dedicated team that can fulfill project visions within budget and timeline can be a challenge. In this article, we highlight the key points to consider when opting for dedicated remote development teams. Belitsoft has over 17 years of experience in providing dedicated development teams and dedicated developers to clients, integrating remote specialists into existing projects, and delivering successful software solutions globally.
When to Hire a Dedicated Remote Development Team
A remote dedicated development team is a group of outsourced developers who collaborate with a client for extended periods. Tailored to meet specific business objectives, this group operates similarly to in-house teams and effectively integrates with a company during project execution. Mid-sized businesses and enterprises often turn to dedicated dev teams to develop new products or tackle technical tasks they lack expertise.
It's a good fit when you already have an in-house or outsourced team but need extra support. This model is also suitable when you have business goals and technical specialists in place but needs additional experts like web/mobile software developers and QA specialists to build a sub-project during a specific period.
Both startups and established enterprises can benefit from a remote dedicated team. Here are some situations to consider:
Quick product development for a startup
A remote dedicated team can save time and money compared to building an in-house software dev department. Local talent can be expensive, and a dedicated team model allows you to pay only for what you need.
Additional expertise for a company
When existing tech expertise is insufficient or entering new industries, a dedicated team provides access to a global talent pool for cutting-edge technologies like AI and ML.
A remote dedicated team provides quick entry to experienced developers, allowing the company to grow and secure clients.
Extensive project for a tech company
If plans change and there is a need for an extra workforce, a dedicated team offers a flexible solution without recruitment and infrastructure expenses.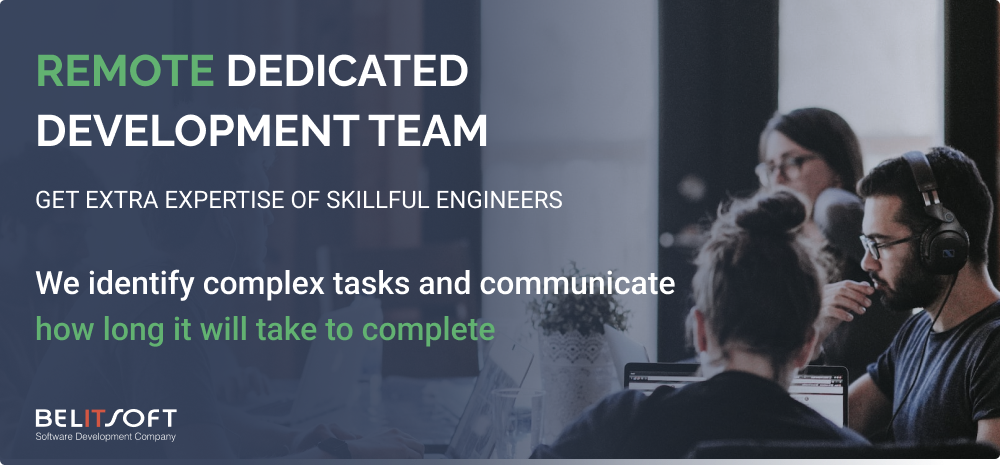 Save time and effort and access a vast pool of experienced developers. Reach out to get your remote dedicated team with Belitsoft.
Structure of a Remote Dedicated Development Team
Remote Business Analyst
A business analyst interprets business needs and translates them into technical specifications for the experienced software development team to build the app. They ensure the eventual outcome aligns with the business stakeholders' needs and follow the overall business strategy.
Remote UX/UI Designer
A UX/UI designer is crucial to the success of app development. They design the user interface and experience, conduct user research, and create wireframes, prototypes, and mockups for the dev team. They ensure design feasibility and alignment with budget and time constraints. A good UX/UI design leads to high user satisfaction, increased conversion rates, and improved business reputation.
Remote Software Developers
Front-end developers specialize in interactive web UIs using HTML, CSS, and JavaScript to interact with your data models. They are well-versed in popular frameworks such as React, Vue.js, and Angular. With a dedicated front-end developer, your website/application will have a responsive design that looks and functions great on any device, and a competitive user interface operates seamlessly across multiple platforms.
Dedicated backend developers, whether you hire a dedicated Java developer, .NET developer, Laravel development company, or a specialist in other backend technologies you need, create the business logic essential for data manipulation received from client-side interfaces, such as web pages or mobile apps. This expertise extends to managing the purchase flow, payment processing, backend data repository and more.
Dedicated backend developers possess in-depth understanding of SQL Server, MySQL, PostgreSQL, MongoDB, Redis, Azure Cosmos DB, and other databases. They follow an MVC design pattern and are skilled in protecting your application. API developers should have experience in decomposing monoliths into microservices, creating RESTful services, deploying, and updating web applications from GitHub.
Hire dedicated mobile app developers for the design, build, test, and maintenance of applications across multiple mobile platforms. iOS developers use Objective-C and Swift, while Android developers prefer Kotlin and Java, Xamarin, Ionic, HealthKit. For cross-platform application development, frameworks like React Native, Ionic, and Flutter are more suited. Mobile app developers are responsible for crafting efficient mobile applications compatible with various hardware, and integrating them into existing networks. They leverage mobile apps to create immersive experiences with features such as cameras, Bluetooth, Near-Field Communication, or augmented reality. Moreover, they ensure the optimization of applications in accordance with security standards and business practices, maintaining compliance within local, state, and federal guidelines.
Remote Tech Lead
The tech lead ensures technical aspects of the project are executed effectively. They oversee the technical direction, design, and implementation of the project and mentor the dev team.
Remote Project Manager
A project manager is essential for the success of remote software development. They coordinate the dev team, manage tasks and the budget, identify and mitigate risks, and ensure the final product meets client requirements and exceeds expectations. Investing in a PM ensures timely and budget-friendly completion.
Remote Quality Assurance Testers
QA testers ensure the app functions correctly and meets quality standards. They test the app, check compatibility on various devices and browsers, and collaborate with the dev team to settle defects. They perform functional, integration, system, and acceptance testing to detect and report any issues or bugs.
Remote DevOps Engineers
Dedicated DevOps engineers ensure the app is deployed and functioning properly, continuously monitoring its performance and fixing any issues that arise. They use tools such as version control systems, containerization platforms, and infrastructure as code.
Benefits of Hiring a Remote Dedicated Development Team
A remote dedicated development creates a viable solution for business for several reasons:
Cost reducing and time saving
Companies view outsourcing as a cost-saving measure. Thus, the US companies can cut expenses by 40% through dedicated team hiring. As local expert recruitment demands more time and extra costs, it may be bound with: high salary, a need for recruiting specialized experts, and associated expenses such as office & employee training. Whilst the local talent pool is limited and high staff turnover can disrupt stability.
Considerable efficiency and agility
Agile development approaches support better collaboration within the dedicated teams. They need little time to learn and adapt to a new project since they produce high quality and well-trained talents with predictable costs with pre-agreed hours rates. It allows to cease or exclude the risks of mistakes and to improve overall efficiency. Moreover, there is an option for a 24/7 office with flexible time zones.
Focus on the sole project
A remote dedicated development team concentrates on the sole project. It allows you to get an easy start and eliminates the delays. These are so common for multitasking freelancers since they can depart.
Regular project updates
Hiring a dedicated software development team makes supervising transparent and on schedule.
Focal point on business activities
Hiring remote dedicated teams releases the time and efforts of companies to refocus on the core business competencies and assure better results in delivering customer value.
How to build a Remote Dedicated Development Team
Sign NDA for IP Protection
Protect confidential information and IP by reviewing the IT providers' IP policies and NDAs before the project starts. Sign a personal NDA with each software developer.
Define Requirements
Provide detailed requirements to your development partner to help find relevant developers.
A dedicated team is often built from scratch based on project requirements. Hire specialized remote developers, designers, or tech architects to assemble a team. Some of our clients organize their remote development team based on the product development stages.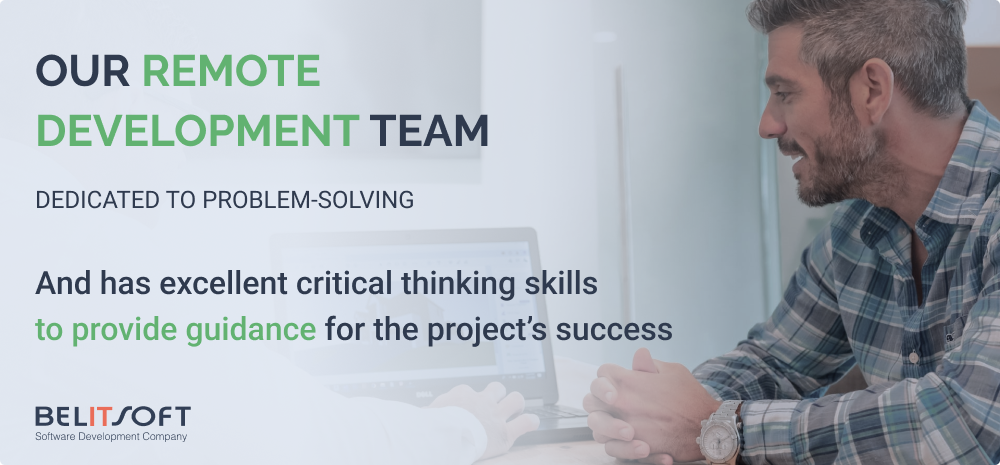 Interview Experts
After screening by the vendor, you will receive a list of candidates to evaluate. You can take part in the interview process to assess the company's approach.
Launch Remote Development Team
If interviews go well, launch the team to focus on other goals.
Ensure Detailed Contract
Sign a contract with a clear description of development rates, discounts, payment and invoicing protocols, credit periods, and warranty conditions.
Manage Remote Team
Choose a management style and receive updates as needed. Enhance remote team management with an effective centralized model using proper tools and technologies. It allows you to track the progress without no need for updates from remote developers.
Release & Contract Renewal
Evaluate the performance of the dedicated team model after completion and enlarge the scope in future contracts if it is successful.
Tips We use to Hire and Manage Remote Development Teams
Select Trustworthy Candidates
While remote work increases productivity for disciplined, driven and skilled employees, we ensure to hire those you can trust to finish the job in time, within budget and with top quality. We tailor your recruitment process for remote hiring, prioritizing candidates with strong communication skills, fast response time, and expertise.
Set Clear Guidelines and Expectations
To get the liable performance, we ensure the development team with time tracking, communication channels, documentation, goals, work hours and expectations for updates and communication frequency. We consider daily check-ins to build team spirit.
Establish Reliable Communication
Effective communication is critical for remote development team success, so we implement multiple reliable communication methods. We use internal messaging for direct team communication, email for team-client communication, and project-specific tools such as Slack.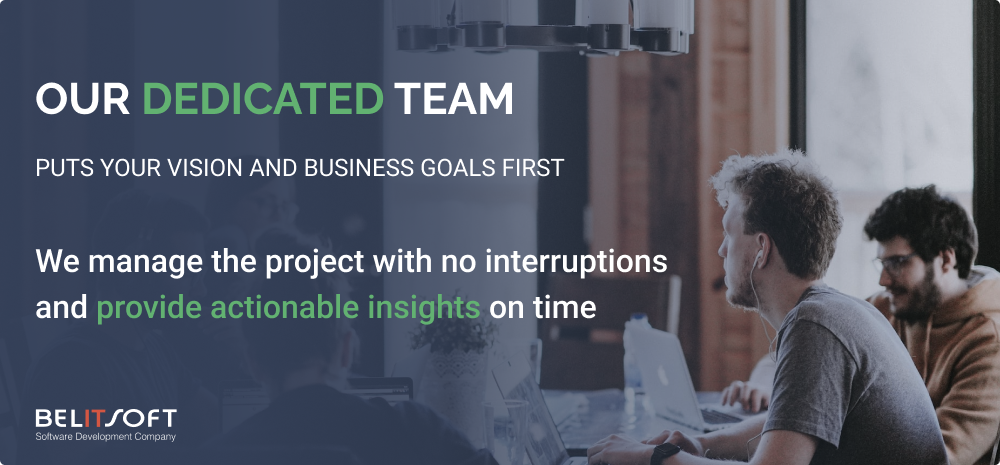 Why Dedicated Remote Developers from Belitsoft
Proactivity
Problem-solving skills distinguish effective solution providers from average performers. Our remote dedicated development teams comprise experts with a problem-solving mindset with agility prospects.
Domain Expertise
We have a successful long-term experience with various companies and it allows us to feel their business needs. This cooperation has reflected in their better outcomes. We have a remote developers pool that is proficient in delivering solutions for any field.
English Proficiency
Effective communication is key for remote software development teams. 100% of our employees are confident English speakers with experience working with clients worldwide. We test all candidates for English proficiency.
Formal Technical Education
Formal education, such as a degree in Computer Science or Software Engineering, is a marker of skill and career-driven candidates and a key requirement for our clients.
Continuous Learning
To stay sharp is essential for professional development. We motivate our remote developers to learn continuously and we provide retention services to keep their skills up-to-date and drive growth.
Belitsoft has over 17-years of experience in bringing the dedicated teams together. We work to cover the tech talent shortage and build a skilled centralized remote development team with top management professionals to reach your business goals in any industry solution. We guarantee full control over the remote development team to build your software products faster and ensure clear and loyal communication between the remote development team and your in-house team.
Reach out to us for a detailed consultation if you want to opt for a dedicated development team.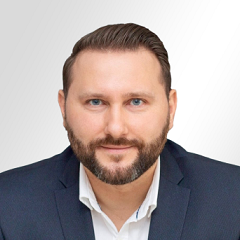 Written by
Business Development Director at Belitsoft
Recommended posts
Belitsoft Blog for Entrepreneurs
Portfolio
Portfolio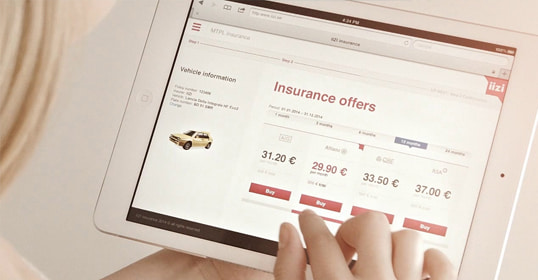 Our client is a global insurance custom software development company (1.6M+ EUR in revenues in 2016) with the teams in the USA, the UK, Estonia, Latvia, Lithuania, and Poland. The Client asked us to enlarge his team with dedicated software developers to speed up the process of maintaining his system and adding new complex custom features to it.