Outsourcing software development saves businesses up to 70% of the budget. Even such giants as Alibaba, Google, Skype and WhatsApp use it. Discover what software development model fits you most and when to choose a dedicated team model. You will see the list of countries where you are most likely to find a reliable outsourcing company to work with. And will learn how to make such a collaboration well-organized and budget-saving. Keep reading this guide to hire dedicated developers, to discover more insights and get an extra tip from Jeff Bezos, the founder and CEO of Amazon.
Dedicated development teams are a popular business model. It implies the agreement between the service vendor and the client. The vendor provides the client with a team of professionals with the skillset required to handle tasks within the client's company. Such a cooperation model gives you full control over the project. And permits avoiding the burden of hiring new specialists and daily team management routine.
A dedicated software development team compounds of high-skilled talents. They supplement your in-house staff in positions your business requires.
Working with a remote software development team is a wise and beneficial business approach in multiple situations. For example,
You are expanding to the new industries or markets;
Your employees don't have the necessary skills, and you don't want to go through the tiresome recruiting process of the required specialists;
The project scale expanded and you need flexible and fast team scaling;
Your in-house team is already engaged in other projects;
Your staff doesn't have enough time to meet the project deadline, to create a demo, or build an MVP in short terms;
There are tasks that take much time of the in-house team and could be outsourced for raising efficiency (for example, QA testing);
You need to get specific domain and technology expertise quickly;
You need an additional workforce for a long-term project, but want to avoid recruitment.
Dedicated Development Team Outsourcing in Numbers
35% of companies worldwide, from small to large, prefer to outsource software development. It frees up resources and permits C-Suite to focus on the core business goals and processes. And here are the major reasons for outsourcing dedicated development teams.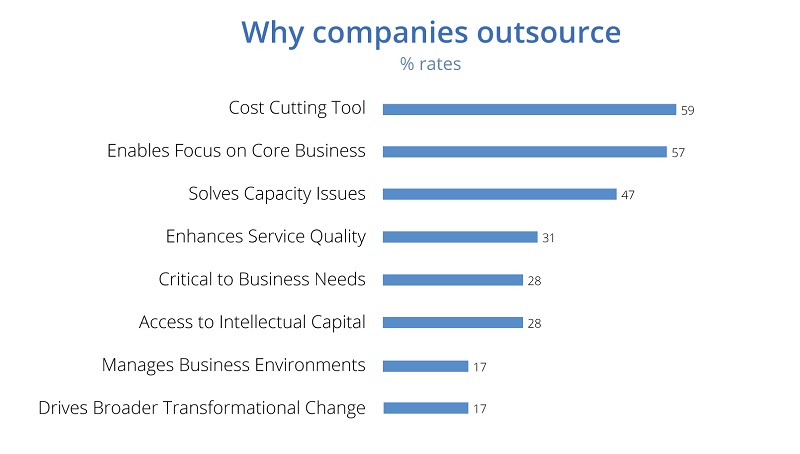 Approximately 300.000 positions are outsourced every year. And 57% of businesses expect their outsourcing experience to increase.
The numbers say that by working with a dedicated development team, businesses save up to 70%. Dedicated teams don't require as many resources as internal developers. You save on hiring new specialists and the project setup. You also cut costs of team integration and management keeping the project under your control.
Working with dedicated software teams is more cost-effective for your business than hiring freelancers. Sometimes it's even more efficient than working with the in-house workforce solely.
See below short comparison among the dedicated team, freelancers, and in-house team.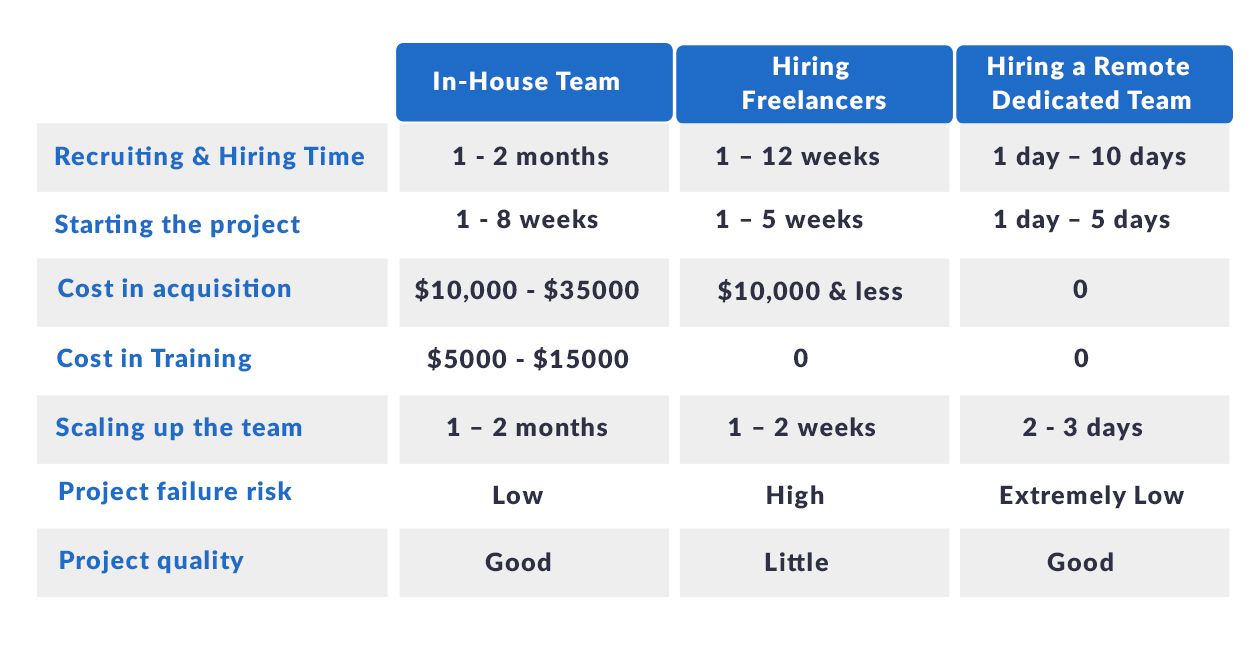 Dedicated Software Development Team Structure
When you hire a dedicated team, you get an extension to your in-house workforce. Consider them remote employees selected for your project based on the skills they master and the requirements you have. As a result, you get tech experts fully focused on your project.
This cooperation model includes the following parties:
A CEO or a business owner as a client of the outsourcing services.
A vendor of outsourcing services who gathers and manages a dedicated development team.
Dedicated team members that work remotely but fully engaged in the client's project.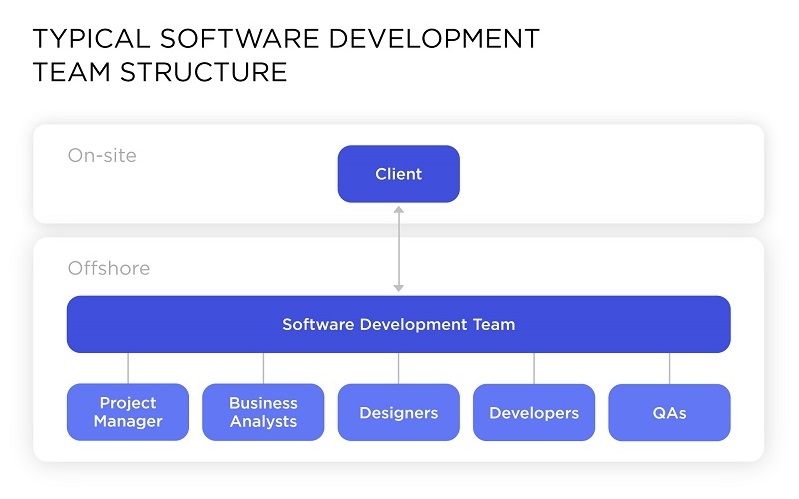 The dedicated development teams typically include the roles agreed for a specific project. It means that this structure may differ. Usually, a dedicated team includes:
Front-end engineers. Experts who are responsible for coding and testing the elements and functionality of the user interface - the "visible" part of the product.
Back-end engineers. Experts who are in charge of developing the inner part and the background components.
DevOps. Professionals working with the development teams and IT operations teams to coordinate the development, operations, and testing processes.
UX/UI designers. Professionals who are responsible for making the user experience simple, intuitive, and engaging.
QA engineers. Experts who are responsible for ensuring the optimal quality and bug-free functioning of the product.
Project managers. The team leaders who mitigate risks, plan, manage, track, and optimize the entire development process. Responsible for delivering project requirements to the team and reporting to the client.
Business analysts. The mediator between the development team and the business. They determine requirements, evaluate processes, make reports, and offer suggestions to CEOs, business owners, and other stakeholders.
As a result of such cooperation, you get a ready-to-go product with all the technical specifications and documents, and product intellectual property rights.
Your role as a client in the project is really convenient in comparison with other outsourcing models. You can interact with the team, regularly monitor their activities and progress within, adjust the process. But you don't need to search, hire, and onboard new technical staff. You don't need to supervise the new hires.
The outsourcing vendor, their project manager, and business analyst are responsible for the entire process. Besides, they evaluate the KPIs of each team member, control the overall performance and ensure the efficiency of the hired team. This permits you to focus on high-level business tasks, as well as control and adjust the workflow if needed.
Dedicated Team Model Key Parameters: Time, Cost, and Scope
There is a strong demand for a dedicated team cooperation model, which is explained by its high ROI. Besides, considering the availability of project management tools and online communication, you get a similar level of control as with your internal employees.
Cooperation with a dedicated software development team is more straightforward and flexible than it may seem. Let's evaluate the key parameters of such a collaboration model: time, cost, and scope.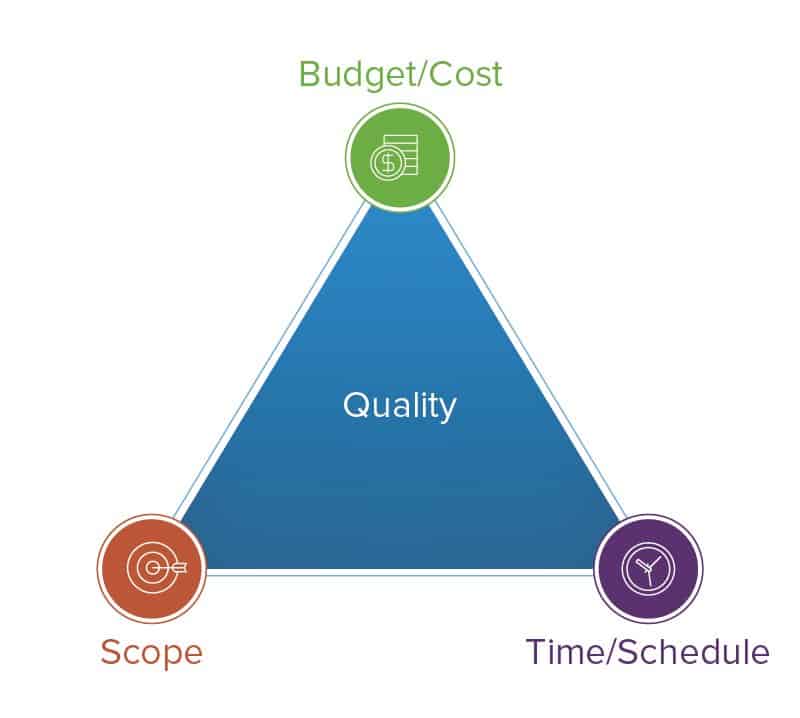 Time
You and the outsourcing vendor together agree on how to set and handle deadlines. Usually, a dedicated team comes to a specific project, job, or period that is agreed upon in advance. In case you want to continue your cooperation, you can always negotiate it.
Cost
Every member of a dedicated development team has a monthly salary. Just as you pay your in-house workforce, you pay remote workers monthly as well. Plus, the vendor's fee for administrative, overhead, and infrastructure expenses. The total cost of your project depends on the duration and scope.
Scope
In terms of your business requirements, a dedicated development team is the most flexible cooperation model. You can adjust the workload and scope of a project anytime. The members of a dedicated team are your employees, so you can communicate with them directly to report changes.
When to Choose a Dedicated Development Team
Before you decide which cooperation model to choose, it's essential to identify and analyze your business needs and to evaluate risks. The dedicated team model perfectly fits the following use cases:
Large projects with changing scope
Hiring a dedicated software team for large growing projects will allow you to skip a time-consuming hiring process and build a professional team quickly. You can also optimize the working processes by assigning more important, business-oriented tasks to the in-house staff and passing additional work to the remote team.
The launch of a new product
Hiring a dedicated software development team is an effective way to create and launch a new product. Usually in such situations, your company lacks technical specialists with the required skills. So you have to spend a lot of time on recruiting. It automatically delays product launch. When you decide to work with an outsourcing vendor, it becomes far easier to hire a professional team quickly.
Long-term projects with updates
Flexibility is crucial for the rapidly developing tech industry. Otherwise, you risk missing great business ideas and losing opportunities in the end. And that's what a dedicated development team gives you - flexibility. You can update your requirements and communicate with them to keep up the high quality throughout the software development lifecycle.
Projects with a constant sizable workflow
Hiring a dedicated development team, you pay them a salary monthly. So it's wise to start such cooperation only if you have a constant considerable workload. In this case, the staff can work within one project or switch to another one. The key point is not to stop the process. Otherwise, your remote team will lose motivation, and you will waste the budget.
When your business is growing, you need to hire more people. It's not obvious at first glance, but a hired team that has already been working with the project can help you onboard the new hires. Besides, if your software dedicated team works in the country where your company is expanding, you already have a trusted partner that can share with you some insights about the new market.
Companies with a low budget
When you cannot or don't want to pay high salaries to local technical experts, the ideal way-out is outsourcing. The salaries of remote employees from Europe and Asia are lower and fit even in a low budget. Also, it suits companies that don't want to go through the hiring process that requires not only time but a significant amount of money.
Advantages of Hiring the Dedicated Development Team
So you have decided that the dedicated team model suits you. And the reasons are a large and long-term project, no fixed budget or deadline. Actually, you've made a great decision. Hiring a dedicated development team has a lot of advantages.
Let's see the major 8 reasons to choose a dedicated team model.
Top talents at your disposal
Hiring a dedicated software development team you can select from skilled experts from a wide talent pool. And you are not restricted by the experts who live in your city. Besides, this cooperation model gives you a wide range of technology expertise. You can make your business agile and your products versatile because through outsourcing vendors you can find talents in mobile apps and web apps, blockchain, IoT, DevOps, and AI.
Saving time & resources on hiring
Addressing the outsourcing vendor, you skip the expensive recruitment process. You get talents hand-picked for your project and based on your requirements. To build such a team, you would spend lots of effort, time, and resources. And in the fast-paced competitive world of software development, you cannot afford to lose time on gathering a team that would fit every new project.
When you opt for the dedicated team model, you have the outsourcing vendor who is in charge of finding the right candidates to meet your requirements. The dedicated team model implies your participation in hiring as well. But this duty is limited to selecting the best candidates from the shortlist suggested by the vendor. You benefit from a quick and simple workforce augmentation.
Clear and not time-consuming management
You are managing and communicating with a dedicated development team directly. They are a remote workforce that works in a separate office. You manage and adjust the team size, the timeline, and the budget. So you are always aware of the project progress, development schedules, deliverables, and the process overall.
The best thing is that managing dedicated development teams doesn't mean your daily focus on the project and routine. As a part of your remote team, you have a project manager who controls the workflow day-to-day and reports to you or your in-house project manager. The entire process is transparent to you but doesn't require your constant attention freeing up for other business tasks.
Flexibility in time, materials, and scalability
With dedicated development teams, you get the best of all the cooperation models. You get flexibility in time and material together with predictability in cost.
Also, this cooperation model allows you to increase or decrease the team based on the current needs of your business or project.
Cost-efficiency in comparison with in-house model
There are no single statistics, but an average outsourcing rate is $35/hour compared with the average in-house rate of $70/hour. Sometimes, the difference in the rates is not so large. But such vendors usually offer the top efficiency that could hardly be reached with the in-house workforce. Also, you don't need to spend extra money and resources on equipment, office, and infrastructure. Leaving out the organizational part, you get more time and resources for important business processes such as competitor analysis and technology research.
100% focus on the task & adaptability
Your remote team is 100% dedicated to your project. The increased immersion often gives diverse insights into the possible solutions and provides the best results.
Together with a 100% focus comes the increased adaptability and timely response to any changes. You can reconfigure the dedicated team at any project stage based on the current project requirements, market performance, or budget constraints.
Adaptability to Client Needs and Goals
Your company has its own culture, communication model, and mission. A well-arranged dedicated team integrates into these processes adopting your rules. So you don't need to adjust to a remote team, they tune all the needed aspects to collaborate with you with the greatest efficiency.
Regular feedback and full transparency
The outsourcing vendor assigns a project manager who manages the project. However, working with a dedicated team implies regular feedback and reporting from the project manager. So you are always aware of the current situation and progress. The complete transparency throughout the development process allows you to stay in control without spending time on direct development management.
Disadvantages of Hiring the Dedicated Development Team
Every model of outsourcing cooperation has its pros and cons. The idea is to understand the negatives before you start working. And to choose the model that brings major benefits and minimal risks to your business.
Hiring a dedicated development team isn't a good fit for you in the following cases.
Insufficient resources
Working with a dedicated team is like working with your in-house workforce. You need to manage and track the workflow, communicate with them, and inform them about updates. Will you manage all these activities? Or do you have a manager for this task?
Your project is simple and short-term
The time and resources spent on hiring a dedicated software development team are not irrational if your project is only 1 or 2 months long.
Short overlap time with the vendor
Be ready that most outsourcing vendors work in different countries. So you need to choose the one that offers convenient working conditions in terms of availability and response time. Agree with your prospective vendor about the minimal overlap period. Otherwise, the working process won't be smooth for either of you.
Your deep involvement in the workflow
Working with dedicated development teams implies your complete involvement in all the team processes, starting from hiring to evaluating the results. Otherwise, you risk getting disappointing results. Of course, you have a project manager who is in charge of all the daily routines, but your participation and control are a must. So if you want to give a task and forget about the project, this cooperation model isn't the best fit for you.
How to Find a Dedicated Development Team
Step 1. Searching for a reliable service vendor.
Now you are sure that a dedicated team model is your fit. The next thing to do is to find a suitable and reliable outsourcing vendor.
But there are so many results that you will definitely need to narrow down the search. And here are great ways to do this:
Searching in Google works the best.
B2B portals such as Clutch
You will find outsourcing vendors with pricing, descriptions, and real reviews from other clients. It will facilitate your choice.
Step 2. Evaluate a potential vendor.
Before establishing a communication, check reviews about the vendor from its previous clients. Also, check their website and study the offer. What guarantees they give, what experience they have in your industry, and the overall impression from their website. If all the information is clear and coherent, pass it to the next step.
Step 3. Building a consistent interview process.
Build transparent communication with the vendor you are considering. Make sure that the selected vendor understands your strategy and goals and has a clear idea of how to deliver the result. Keep your goals clearly prioritized. Personally check the candidates for the future team, their experience, and skillset. All this gives you a clear and complete vision of your future partner and team.
to-Set-up-Dedicated-Team-Workflow" class="h2-title" data-title="How to Set up a Dedicated Team Workflow">How to Set up a Dedicated Team Workflow
The next step after selecting an outsourcing vendor is to set up the workflow with your new team. That's how we recommend arranging the process:
1. Outline your requirements
To start the work, you need to present to the vendor your requirements. They usually include a project description, job descriptions, preferences for arranging a workflow, a preferable team size, the necessary tech skills, etc.
2. Let your vendor assemble a team
Usually, outsourcing vendors have professionals ready to start working on your project immediately. If the project requires hiring an additional workforce, the vendor takes all the responsibility to find professionals that have the experience and expertise you need for success and hire them in a short term. The HR team selects candidates based on their proficiency, hard skills, English level, and soft skills. Your task is to approve or not the candidates from the shortlist.
3. Integrate the dedicated team
The vendor integrates the dedicated development team into the project. At this stage, you agree on the preferred management approach. Decide what tools your remote team will use, and other details for streamlining the workflow. You have full management control over the team and can adjust the process if needed.
4. Check and manage the process
The dedicated team starts working on your assignments during regular hours. The project manager reports you regularly and you give feedback to ensure that all the project requirements are fulfilled. If your requirements change, you agree with the team and the project manager to adjust the workflow to the updated conditions.
5. Get the first results
Now you have a team of specialists working on your project under your management. The software outsourcing manager runs administrative tasks and reports to you directly. You assess the first results and give your feedback. Now thanks to the dedicated team, you've freed up your time for other business tasks.
Legal Details to Consider Hiring a Dedicated Team
The outsourcing vendor deals with the legal nuances of your cooperation. The set of documents usually includes:
Non-Disclosure Agreement (NDA). As a rule, a dedicated team works with sensitive internal information. That's why such cooperation normally starts with signing an NDA. The document outlines what material and knowledge should be considered confidential and what the penalty for its disclosure will be.
Master Services Agreement (MSA). It's a contract specifying most of the terms of the cooperation. Usually, it covers payment terms, protocols for invoicing & payment, dispute resolution, available volume discounts, product warranties, credit limits and credit periods, intellectual property ownership, and liabilities. And the critical thing to mention. To grant all the rights for the developed product to you and your company, this condition shall be clearly stated in the MSA.
Statement of Work (SOW). This document describes and defines all terms and conditions of your project. It clarifies deliverables, timeline, costs, project conditions, and special requirements. It's essential to make the SOW clear to every party, which will help avoid misunderstanding and possible disputes.
How to Onboard a Dedicated Software Development Team
The process of selecting an outsourcing vendor, hiring a team, and signing all the documents is over. Now it's time to onboard a dedicated team. And here a lot of questions may arise. How to start the work? How to introduce them to your in-house staff? And overall, what to do next?
Going through the onboarding process is a necessity for setting up fruitful cooperation. And here is what you can do to favor quick onboarding.
1. Introduce a new team into your business.
No matter in what country and time zone your new team is working. They need to understand the goals and strategy of your business. Who your competitors and customers are. What markets you cover. What your strengths and bottlenecks are. When team members understand your business context and culture, they can work with your business strategy in mind.
2. Talk with your in-house staff.
Your primary goal now is to create synergies between your remote team and in-house staff. Sometimes in-house employees don't understand why remote members are needed and may feel tension. Or they may feel superior making the dedicated team member feel left out. To avoid such tension that leads to the unproductive working process, it's recommended to talk with the in-house employees. Highlight that you don't doubt their competencies and don't replace them, but aim to scale up your business together.
3. Share the documents
To start working, your dedicated team needs access to all the needed documents and resources. Start with the common things, for example, technical documentation, a backlog, the code repository. At the same time, it's no need to overwhelm them with extra information if there is something that they will need later on.
4. Arrange an offline meeting
You can perform the entire process of hiring and onboarding online. However, personal communication is a key to long-lasting relations. So it's recommended to arrange at least one real-life meeting. It helps to form a bond and trust between you and your new employees.
How To Manage a Dedicated Software Development Team
Managing a remote team is not as troublesome as you may imagine. Follow the guidance below to streamline the management of your dedicated team.
1. Arrange regular meetings
Video conferencing and online calls let you arrange scheduled meetings regularly. During such talks, you can verify what they did and what the team plans for the next few days are. Or what problems they have faced.
Such regular meetings will keep every member of the team updated. Based on this information, the employees can effectively structure their work and plans. The advice here is to ensure that these meetings are short and to-the-point.
2. Use tools to keep track of the team's activity
Managing the activity of the dedicated team is essential. And there are many tools for this purpose.
To manage tasks: Jira, Trello, Taskworld, Worksection, Fusioo, Twoodo, Avaza, Wrike.
To manage documents: Google Drive, Bit.ai.
To arrange team communication: Skype, Slack, UberConference, Zoom, SocialChorus.
All-in-one tools: Hive, Troop Messenger, Paymo, BasicOps Hibox.
3. Organize a workflow
New team members may have many questions when starting a new project. For example, who handles what? How to share documents and create new tasks? Whom to contact in case of problems? And it's necessary to guide them through all these processes for the first time.
4. Give feedback regularly
Giving your feedback regularly is crucial for managing any team. Your developers need to know if the product meets your requirements and expectations. And your feedback will guide them in the correct direction. While the absence of contact with a product owner leads to employees' frustration and slows down the workflow.
5. Treat the team as professionals
Some business owners make a mistake treating the dedicated team as a junior assistant of the in-house team. Don't make this mistake. Both teams comprise professionals that complement one another. Remember that you selected them for their tech expertise. Each of them is an expert, so consider their ideas and opinions as well.
Division of Responsibilities
Vendor
hiring talents with the skillset required for the project;
building a dedicated team for the project;
planning resources and workflow;
setting up an effective communication between the team and the client;
providing all the necessary equipment and infrastructure for the team;
seamless knowledge and roles transfer within the project.
Client
outlining clear strategy, goals, and methodology for the project;
approving the members of a dedicated team;
managing and monitoring the product development;
providing regular feedback and reviews to the team, motivating the staff;
accepting the results.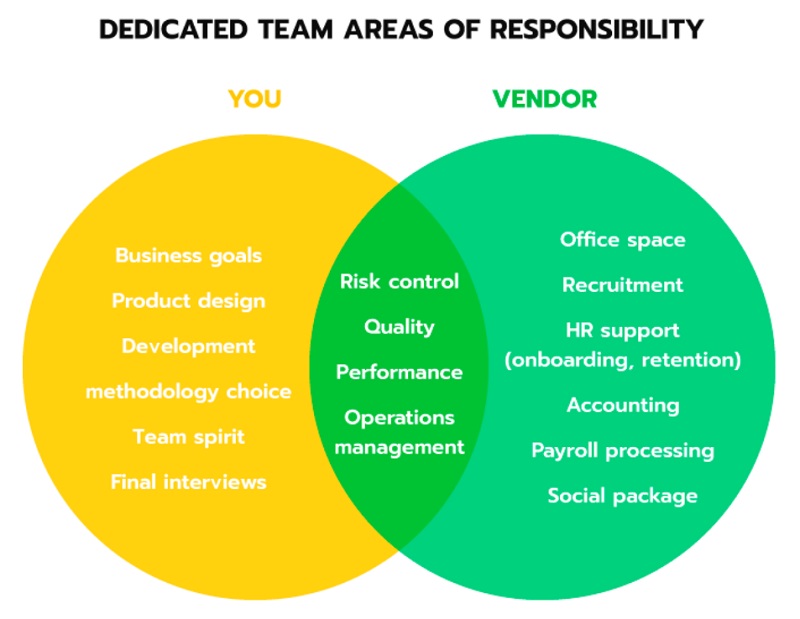 Why Dedicated Development Teams Can Fail
A dedicated software developers team is a true helper for a business owner when it comes to a large project or when you require a skillset your in-house team doesn't have. However, some business owners fail to arrange a workflow and effectively manage a dedicated team. Pay attention to the following signs showing the current and potential problems within your team.
Outsourcing of core functions
Let's start with a warning, not a failure sign. The recommendation is never to outsource your core business functions. Managing them is your competitive advantage. So it's essential you keep on doing it by yourself, no matter how good and reliable your hired team is. The idea is to outsource lateral functions that unfocus you and take your time.
Product strategy failure
As your dedicated team works remotely, you need to keep track of their workflow. It helps you make sure their activity aligns with the product strategy and they haven't lost the focus. Usually, this is a task of a product manager, but you as a product owner can take responsibility for keeping your dedicated team on track as well.
Communication issues
The absence of regular communication between you, the in-house workforce, and the dedicated team leads to misunderstanding and procrastination of the employees. That's why it's crucial to arrange scheduled meetings and make your communication clear and to-the-point.
Poor motivation
You communicate with the in-house team in person in the office or at corporate meetings. But the dedicated team members often feel like outsiders. Such a feeling leads to demotivation. And you perfectly know that demotivation lowers the efficiency of work. That's why together with the importance of regular communication, it's essential to praise your remote workers. Think about bonuses as well.
Failing to be agile
Being agile means adapting quickly and easily. If your product or job requirements change, you react accordingly right away. Compared with all other cooperation models, working with a dedicated software development team is the most flexible model. However, often it cannot compare with the agility of in-house staff due to delays in communication. You can avoid it by giving feedback and communicating with your remote team regularly.
Extra Tip from Jeff Bezos: a "two-pizza" team rule
The Amazon founder, Jeff Bezos, believes that no matter how large your company is, individual teams shouldn't be larger than what two pizzas can feed.
The cost of coordinating large teams snowballs so much that it lowers individual and team productivity. While small teams are transparent, effective and easily managed.
The idea of a "two-pizza" team, invented by Bezos has proved its efficiency in the IT world. And has become a mantra for project managers, CEOs, and business owners all over the world.
And the rule works for dedicated software development teams as well. People working on one general idea within the project need to collaborate effectively, which is optimal if the team is up to 10 teammates.
Passed some time, the idea evolved into single-threaded leader (STL) teams. The key to efficiency and workflow transparency lies not only in the small team size but also in the idea to work on one thing at a time.
Here is an example of building a "two-pizza" team in software development:
Developers who write the code.
UI/UX designer who is in charge of the visual part of the product.
QA engineers who test the performance of the product.
DevOps engineer who coordinates development teams and IT operations teams to manage code releases.
All the other positions are optional and depend on the project scale and specifics. So you as a client may prefer adding a business analyst or a project manager to reduce your workload and assign daily control and management to a dedicated person who will report you.
So summing up the "two-pizza" concept, the recommendation is to break your large teams into small ones or create sub-teams. Thus you eliminate the communication gap between teammates.
What Famous Companies Successfully Work with Dedicated Teams
The dedicated team model suits businesses of different scopes, from startups to large enterprises. Many famous and successful companies opt for this cooperation model as well. Among those who resorted to dedicated development, there is Alibaba, WhatsApp, GitLab, Skype, Verizon, Slack, Zapier, and many others. Here are some examples.
WhatsApp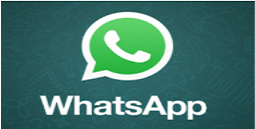 WhatsApp has grown into one of the most popular messengers in the world. But the company didn't experience this growth by relying on its 35 in-house employees. To decrease operating costs, WhatsApp outsourced software development to Russia.
Skype
As a leader in its domain, Skype has changed the way companies do business. And they didn't limit themselves when hiring the right talent. Skype has outsourced the back-end development of the app to Estonian developers and that was a winning approach.
Zapier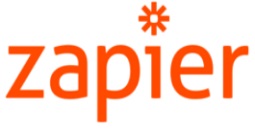 Zapier has a workforce in 13 countries over the world. Wade Foster, Zapier co-founder, says that hiring a dedicated team is the best software development model. It allows getting top professionals to work in your business's favor regardless of their location.
Dedicated Team vs. Time & Material Model
Software development companies usually suggest three models of collaboration: a dedicated team, the time & material (T&M), and the fixed price (FP) models.
Now let's compare a dedicated team with other software development outsourcing models starting from the time & material model.
The time & material model means that the client pays only for time and resources spent on the project.
The key advantage of the time & material model is that this approach is result-oriented. While the key disadvantage is the difficulty to plan and control the budget.
This model is suitable for projects where Fixed Price can't be given and for clients who are willing to invest in a gradual and continuous development of the quality product as they understand that the creation of a new product is an iterative process where the development has a large number of rounds. Here the main basic factor is the team that is a carrier of all the technologies, architecture, experience, and knowledge in project development.

The advantage for customer of the Time & Material or Dedicated team model that it's almost the same as managing local staff but distantly:
If it's a small project and you work using the Time and Material model, then you receive software development experts available for you some hours in a month. Development can be planned for several months.
If it's a long project and you need full-time or part-time experts for 12+ months then the most effective solution is a dedicated team model as you receive experts selected by you at the lowest available price.
In both models, you have a right to have your own project manager, dictate the methodology, development practice, technical platform, and even corporate culture and policies for long-term dedicated teams. The remote team will be the like extension of your technical local team.
When to Use Time & Material or Dedicated Team Models
During long-term projects when the current plan means the attraction of additional long-term full-time resources and the use of new technologies.
When the original needs and goals are unclear, and you cannot predict the final result (i.e. in case of a start-up).
When you know in advance that requirements or task priorities will be changed (changing the course won't become too hard, since you're running a dedicated team).
In Time & Material or Dedicated Team models it's good for a customer to:
Use short 1-3 weeks releases during the solution development. That will show the current progress, help to adjust the product, and stimulate your team to work effectively.
Pay according to short release results (some specific Time & Material) – this helps the customer to see what he paid for. Source code and program are available for the customer and available according to his needs.
Use other good Agile software development principles.
To select a model that is most suitable, you need to discuss a number of details in every case. Some of these details worth discussing directly with the contractor.
Dedicated team vs. Fixed-price Model
A fixed-price model is a cooperation based on a fixed budget for the project, regardless of the time and resources needed to complete the project.
It means that you and the software vendor agree on the price, deadline, project scope, technologies, and detailed product requirements in advance. However, the vendor will need much time to prepare the detailed specifications.
The key advantage of a fixed-price model is skipping budget-related surprises. The key disadvantage - you cannot make changes in the workflow. Actually, you can work it out but be ready for extra pay and moving the deadline.
Firstly I would like to answer my favorite question: «What customer problems can be solved using Fixed Price? Why so many clients are trying to work using this model?». Then I came to the following points:
It's easy to control your budget and cash flow: you can know exactly WHEN and WHAT to pay.
The customer doesn't take any project risks, because all project risks will be transferred to the team.
According to customers, deadlines, responsibility, the fixed budget will stimulate team members. They'll work hard and answer for the results.
When you are using the Fixed Price model (as a customer), it's easy to say why it suits you. After all, when you come to the restaurant you want to know the price in advance to make sure what to order and what will be the final price. Thus the exact price is the key to any purchase deal of other simple services.
When to use a Fixed Price model - Some examples:
When it's a short-term project.
When you have a full project description with clear goals, working procedures, and results.
When you are working with a new contractor (a pilot project with a fixed price can be a good test for the contractor to become a permanent partner)
The fixed price model requires carefully compiled documentation. I mean documentation requirements of which will not change lightning-fast or will not depend on the mood, in any way. Of course, if you've decided to change some requirements in a Fixed Price project you can negotiate this with the contractor, but in this case, a project release can be delayed and the budget can be changed.
The stumbling block in the cooperation of fixed price model is the unwillingness by contractor or vendor to be responsible for the risks or in other words to pay for these risks.
The contractor can't put all risks in the bid (one of the reasons is that the Customer usually selects an inexpensive option and thus often works with the vendor who presumes that it will not be affected by all the risks or with the vendor which lacks quality). As the result, both parties might lose.
The customer's possible losses in the Fixed Price model:
Using Fixed Price some teams will not do "properly" their projects, and they will act according to the principle: if only the Customer accepts it. They are not interested in their work being performed well. After all their interests are limited to make everything easier in order to have a budget for the risks, which might occur or they didn't take into account.
Due to the first reason, further product support will be much harder. There is no point to talk about efficiency, reliability, and stability because it is not the interest of such teams.
The projects, based on the fixed price model often cause problems for support teams. Nobody writes comments, structure, and elegance of code are beyond "must-have". Obviously, the first support team's desire is to ask: "Who developed this product? It is impossible to support it!"
Sometimes, some teams will not solve the problem, but they will try to work "according to specification". Why do they need to try to develop a better product if they don't make a profit on it or even reduce their income?
It's in the interest of some teams to conceal the potential problems of the product. If the problems are not obvious and there is a chance to complete the project successfully, the Customer will never know about problems.
If there are some problems during the project execution a lot of time will be spent on a deep analysis of correspondence, promises, and documentation. When all that time could be spent on developing the product. Sometimes, even all discussions take more time than system revision.
Therefore, the cost of project ownership increases.
The contractor loses in the Fixed Price model:
If the contractor's team (or team member) didn't take something into account during the project planning the performing company could suffer serious financial losses (or even become bankrupt). Each project is a risk for the team and the company.
When team members are forced to compromise with an inner understanding of quality, this sharply reduces the motivation to develop this product and thus the quality of the final product is decreased.
As soon as project profit approaches zero, a team starts to slur over the mistakes, instead of bug fixing, which leads to product quality degradation.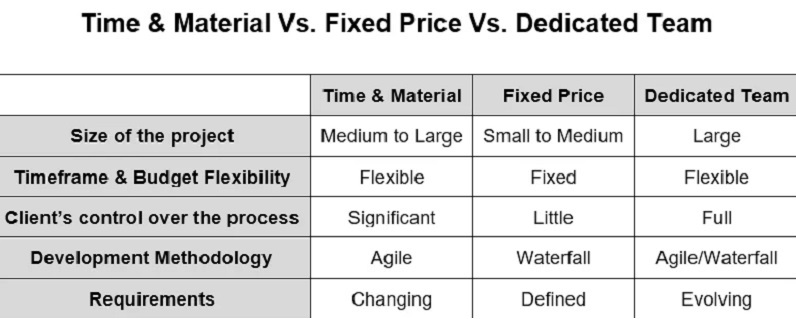 Dedicated Team and Team Extension Difference
Team expansion is a type of outsourcing software development service when an outsourcing vendor provides their experts in the form of external hire. Such cooperation is usually based on the Time & Materials model.
The common feature with the dedicated team model is that you get skilled professionals with the right expertise required for a specific project.
However, they have a significant difference. Within an extended team model, you hire a remote team or even an individual developer that works as an extension of the in-house team. While a dedicated development team is a separate entity with its frameworks and management that is entirely responsible for the project.
Build, Operate & Transfer (BOT) and Dedicated Team Model
This model of dedicated team building and running is a perfect choice if you plan to set an IT department in your company to serve in-house needs or even plan to extend the list of services your company provides to the clients with software development.
The Build, operate and transfer model is much similar to the Offshore development center model. The main difference of BOT is the possibility to transfer your dedicated team of programmers and IT staff into your own company and set up an offshore / nearshore subsidiary in Eastern Europe usually within two or three years.
Build, operate and transfer team advantages are as follows:
Set up of an IT department or a dedicated team offshore using IT outstaffing and offshore software development company infrastructure.
Stable and scalable software developers group creation for long-term work with a possibility to transfer and own them as an offshore subsidiary in a couple of years.
The financial benefit you can save on software development by establishing a BOT in our offshore development company.
Full control over the team and workflow organization, transparency of processes and prices, no hidden expenses.
You choose each member of the team by recruiting in-house developers or hiring programmers with our HR managers' help from the local market.
Special equipment rent and specific environment creation for big projects.
BOT model is recommended when you want to set up an extended team of developers and IT experts for the long term. It suits you too if you need big software product development but have no clear plan of the project implementation.
Belitsofts standard model of building a BOT dedicated team:
We provide workspace and inventory in our software development office.
You choose the team members from our in-house developers and staff. Our HR managers recruit people in the local market too from the most suitable candidates. The team is extended by people you choose, clients participate in interviews.
Each team member has a fixed monthly cost.
The team management can be done by your in-house Project manager or by a Team lead / Project manager you choose to hire at Belitsoft.
You can communicate with each team member using email, Skype, phone, online conference and other means. You can get access to the team's server via VPN and a protected connection.
Each team member signs NDA to secure your confidential information and intellectual property rights.
We take all tasks of the client's team maintenance like facilities provision, accounting, utility, beverages and light snakes, other support and management duties.
BOT is a type of virtual captive offshoring / nearshoring. Depending on your plans you can set up a BOT dedicated team that provides full-cycle software development services including analysis, product architecture development, design, implementation, project maintenance, and customers' support of products, or choose the range of service you would like to outsource to the team.
Outstaffing, Dedicated Team Model
Outstaffing is a form of cooperation when we employ your software development staff and Belitsoft becomes the official employer. Our experience helps us to accelerate the implementation of any IT project and quickly gather a team of qualified experts for you. We invite you to start a mutually beneficial collaboration. Just contact us!
There might be different reasons why you need outstaffing. For example, if you have qualified staff working not officially for you. In that case, outstaffing is a good idea for you as it will help to:
Avoid any labor disputes and paperwork – we have professional accountants, lawyers and HR managers for this;
Propose your staff white salary and official employment;
Propose your staff good social program and working place of Belitsoft company.
If Outstaffing is not the right option for you and your aim is just to get a good and reliable long-term team of software developers then look at other models of creating dedicated teams in Belitsoft.
What is a conclusion?
Every of the software development models is always a balance of money, quality, and timeline. Often the customer's goal is to save money. In this case, some teams can offer only a low-grade product or delays in delivery. A very good illustration of this balance is in the following picture: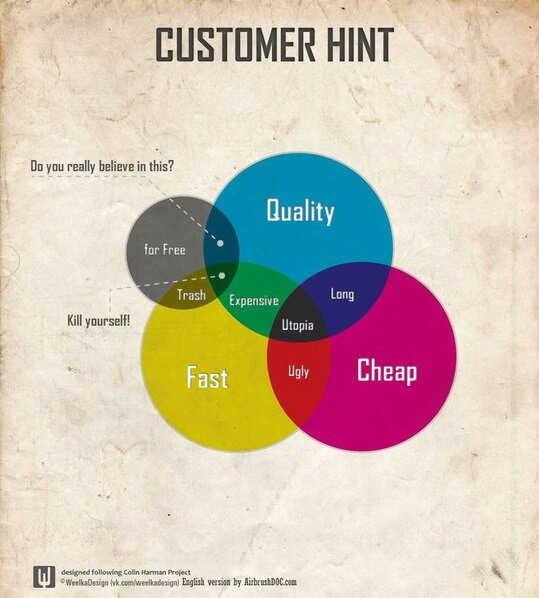 (Click to enlarge)
Anyway, the customer is a king and he should choose the model that suits him better. And it will be really great if the customer considers creating a positive and friendly atmosphere for contractor/developers working on his projects and try to temper disadvantages of chosen models and work out solutions if problems arise. Anyway, no one wants to shoot themselves in the foot and release a product of bad quality or create a product, which will be expensive to support in the future. So, talk with your contractor, discuss the details and make rational decisions!
For additional information about the Pros and Cons of the Dedicated team model please refer to the following link.
We've highlighted why opting for an outsourcing software development vendor is a good idea. What steps to take for setting up profitable cooperation with a dedicated software development team. And how to find, manage and get the most of such a cooperation.
To sum up, here are the key points:
Outsourcing software development saves up to 70% of the budget;
Hiring a dedicated team is your fit if you have a long-term project, no predefined deadline, and flexible requirements;
Finding a reliable and experienced software development partner is essential;
Working with a dedicated team, you manage the team workflow but you free up time for other business processes;
Standard model to set up a dedicated team in Belitsoft
We provide a location/workspace in our company's office.
We ramp up your team using candidates from our company and from the 20,000 developers market.
The client participates in hiring interviews, chooses the best candidates, and has full control over the team's daily work.
For each new member of the team, we provide 3 months trial period.
We help efficiently to build and maintain the clients' team in terms of ongoing payroll, accounting, stationery, hardware, internet, rent, utility, coffee, tea, and other administrative duties.
The team and each employee works at a fixed monthly cost, with no hidden expenses.
The team activities are managed by a Project Manager or a Team Leader the client chooses.
Ready to start working with a dedicated team? No need to spend your valuable time searching for a reliable and experienced partner? At Belitsoft we offer top technical talents and 10+ years of expertise. With us, you will reduce costs on software development by more than 40%. How can we help you?
Joint Stock with Offshore Software Development Company
When for some reason you refuse standard software development outsourcing we invite you to become our partner and establish a Joint Stock with Belitsoft - a stable software development company from Eastern Europe
You can become a partner of our stable offshore company by establishing a Joint venture with us and create your development office or open a sales office abroad to sell Belitsoft's software development services.
For some reasons, companies may refuse standard software development outsourcing to third-party companies today and prefer to use in-house resources or invite experts with the necessary skills in local markets. That gives the feeling of total control, security, complete synergy, a merger of mindsets, and easy adoption of the corporate culture.
Actually, all of this is achievable in subsidiary offices set up in any country around the world.
And Joint stock creation for software development and maintenance can be an advantageous solution too when you choose a stable company with a long presence in the market, solid projects, and examples of long-term cooperation with the clients.
All of these characteristics are applicable to Belitsoft.
The advantages of a Joint stock are:
100% control over all operations is in your hand. You decide who works for you, how daily operations are managed, what tools to use, how the workflow is organized.
Your company's book value growth.
No need to make a significant initial investment as you can trust it to Belitsoft.
Low risk of operational failure as you have significant control overall.
You can get custom software product development or service provision at lower costs. Nearshore or offshore development company can bring 40% savings and even more.
Fast deployment. Using Belitsoft's skills and resources you can set up a Joint venture very fast and continue its extending as such need comes.
Joint venture company created with Belitsoft gives you a reliable partner based in Eastern Europe, who operates in the software development market for over 10 years, has many long-term clients, and a solid portfolio.
We invite you to partner Belitsoft and set up a subsidiary in Eastern Europe or in your country. Let's talk!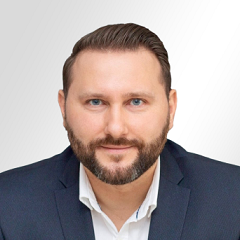 Written by
Business Development Director at Belitsoft
I build dedicated teams and manage a vendor network.
Recommended posts
Belitsoft Blog for Entrepreneurs