Outsourcing software development services saves businesses up to 70% of the budget, especially if you hire a high qualified offshore dedicated development team. Even such giants as Alibaba, Google, Skype, and WhatsApp use it. Discover when to choose a dedicated team model and how to make such a collaboration well-organized and budget-saving.
What Is a Dedicated Software Development Team Model?
A dedicated development team is a partnership between a client and outsourced developers. This kind of model works like having your own in-house team, but without the extra hassle, like administrative, HR, tax, and social benefits issues. You can focus on important business tasks while your dedicated development team takes care of the rest.
Areas of Responsibility
Your Software Development Vendor:
hire skilled talents for the software development project
build dedicated team for the project
plan software development resources and workflow
set up an effective communication between the dedicated software development team and you
equip and supply infrastructure for the dedicated team
seamless transfer knowledge and roles within the project
Your Company:
approve the members of a dedicated team
monitor the product development
provide feedback and reviews to the dedicated development team
accept the software development results if they meet your expectations
Hire dedicated offshore developers from Belitsoft to reveal your full business capacity. Talk directly to our specialist on building a dedicated development team.
The Structure of a Dedicated Development Team
A highly performing dedicated software development team comprises specialists with strong professional skills, motivation to achieve the goal, transparent communication, and a clear understanding of their roles and duties.
The dedicated development team typically includes the roles agreed for a specific project. In practice, this structure may differ. A dedicated team includes:
Front-end engineers. Companies hire dedicated front-end developers if they want to get experts who code and test the elements and functionality of the user interface—the "visible" part of the product.
Back-end engineers. When you need experts who are to develop the inner part and the background components, you can hire dedicated backend developers.
DevOps. If your processes require the involvement of skilled professionals who specialize in coordination of software development, IT operations, and testing, hire dedicated DevOps engineers.
UX/UI designers. Specialists who make the user experience simple, intuitive, and engaging.
QA engineers. Software product businesses often use a dedicated testing team model to ensure the optimal quality and bug-free functioning of their main assets.
Project managers. The team leaders who mitigate risks, plan, manage, track, and optimize the entire development process. Responsible for delivering project requirements to the dedicated team and reporting to the client.
Business analysts. The mediator between the development team and the business. They determine requirements, evaluate processes, make reports, and offer suggestions to CEOs, business owners, and other stakeholders.

The dedicated development team size varies based on your specific needs. We can start a project with 1-2 specialists, adding more along with the project evolution.
We have also built dedicated development teams of 100+ developers and IT experts in an extended period for our clients.
Dedicated Development Team Services
Custom web and mobile development
Testing and QA
UX/UI design
Data backup and migration services
Product engineering services
Big Data analytics
Remote hosting services for IT infrastructure
Maintenance and support for IT infrastructure
When You Should Hire Dedicated Development Team
Early-stage startups
Assemble the required dedicated software team quickly for an early-stage startup with growth aspirations. Hire dedicated developers to save money and speed up the software development process without resorting to full-time in-house developers.
Large projects with changing scope
To skip a time-consuming recruiting process and build a professional dedicated team quickly, opt to hiring a dedicated software development team for large growing projects. Optimize the working processes by assigning more important, business-oriented tasks to the in-house staff and forward additional work to the remote team.
New product launch
Hiring a dedicated software development team is an effective way to create and launch a new product. In case your company lacks technical specialists with the enforced skills. So you have to spend a lot of time recruiting. It results in product launch delays. When you decide to work with an outsourcing software development vendor, it speeds the recruitment of a professional dedicated team.
Business scaling
While your business enlarges, it demands more dedicated developers. Connect to those companies with access to a large pool of proficient engineers. They can supply rapidly extra resources and adjust them to your existing procedures, while offering a thorough experience for every stage of development.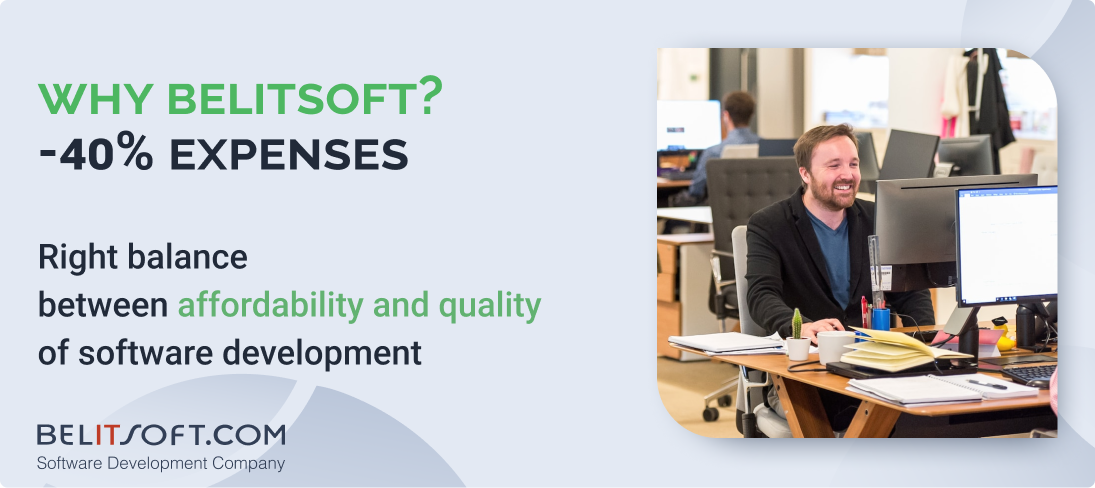 Lack of unique skills
When there's a realm that requires specific expertise you don't have inside your company, or you need to engage specialists who may be limited in your region. With a dedicated development team model, all talents are available to you worldwide.
Urgent need for scaling the development capacity
An increased scope or unexpected changes to your current development team may cause difficulties with handling the project. Hiring dedicated development teams is an alternative solution, it saves you time and effort on recruitment and HR processes, while providing a functional line-up immediately.
When You Should Not Hire Dedicated Development Team
Short and middle-term projects
If your project is not large and has well-defined requirements, it may not be urgent to hire a dedicated development team. More likely, you need an in-house team to carry out the outlined tasks. For short-term projects, a fixed-price model is suitable, whereas the Time & Material approach is appropriate for medium-term projects.
Projects with a full defined scope
Projects with well-defined requirements and a rational plan of execution don't demand a dedicated development team. The choice between a fixed-price or Time & Material model should be based on the size and scope of the project.
Short overlap time with the vendor
Most outsourcing vendors work in different countries. So you need to choose the one that offers convenient working conditions in terms of availability and response time. Agree with your prospective vendor about the minimal overlap period. Otherwise, the working process won't be smooth.
How Much Does It Cost to Hire a Dedicated Development Team?
The pricing model in a dedicated development team is quite simple.
Every member has a monthly salary. Just as you pay your in-house workforce, you pay remote workers monthly as well. Plus, the vendor's fee for administrative, overhead, and infrastructure expenses. The total cost of your project depends on the duration and scope.
No extra expenses such as renting an office for a dedicated team, purchasing equipment, paying taxes, electricity bills, taking care of sick leaves, etc.
Benefits Of Hiring Dedicated Development Team
Hiring a dedicated team with Belitsoft ensures you control the development while we guarantee smooth integration with other teams in your company.
Access to global talent
Hire dedicated developers at Belitsoft and select skilled experts from a wide talent pool. Do not be limited to the experts within your city. Get a wide range of technology expertise. Make your business agile and your products versatile through outsourcing vendors with talents in mobile apps and web apps, blockchain, IoT, and AI.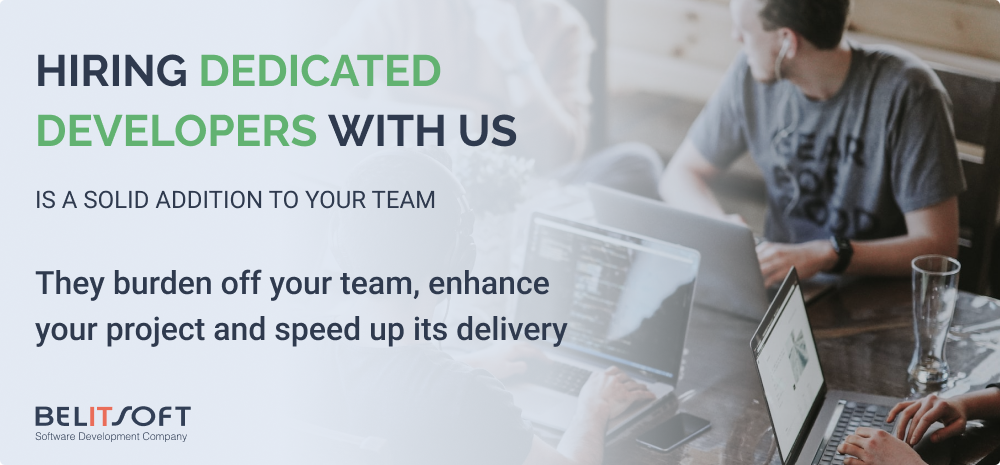 Time & resources savings on hiring
Collaborating with outsourcing vendors, you skip the expensive recruitment process. Bring in talents hand-picked on your requirements for your particular project. The dedicated development team model implies your participation in hiring as well. Your role is to select the best candidates from the shortlist suggested by the vendor. Benefit from a quick and simple software development staff augmentation.
Transparent and effective management
Effective communication is key to the success of an outsourcing model. With tools such as Skype, Basecamp, JIRA, and GoToMeeting, you keep informed and in control of the project's progress. Regular communication and collaboration between the client and the development team ensure transparency, boost productivity, and create a smooth workflow.
Flexibility in time, materials, and scalability
With a dedicated development team model, you get the best of all the engagement models. You earn flexibility in time and material along with predictability in cost.
Cost-efficiency in comparison with in-house models
There are no single statistics, but the average outsourcing rate is much lower compared to the average in-house rate. Sometimes, the difference in the rates is not so large. But such vendors usually offer the top efficiency that could hardly be reached with the in-house workforce. Cut extra expenses and resources on equipment, office and infrastructure. Apart from arrangement activities, release more time and resources for important business processes such as competitor analysis and technology research.
Dedicated team scalability
Access the flexibility to determine the size of the dedicated team on their project. Throughout the development process, you can increase or decrease the team as required.
Quality infrastructure
Setting up a full IT department is expensive for startups and mid-sized companies. Hiring a dedicated development team offers a cost-effective solution for creating complex tech products with the best resources without additional investments. A software development vendor is already well-equipped to handle projects of varying sizes or complexities, and deliver optimal results.
Continuous integration
Ongoing evolution and enhancement are crucial for large project success. A dedicated team model is effective for projects that need growth and evolution. Keeping the dedicated team intact avoids the need to expand or set up a new one.
What Are the Challenges When Hiring Dedicated Development Teams?
Finding remote developers matching company values
Finding a development team that aligns with your company's values and approach to software creation can sometimes pose a challenge. While industry standards and recommended methods are widely known, not all practitioners follow them.
Setting up effective communication
Commonly, dedicated development teams are composed of remote workers who may be co-in a shared office, but not necessarily at your physical location. As a result, managing remote teams presents typical challenges such as maintaining effective communication and keeping dedicated team members motivated. Fortunately, these difficulties are less pronounced when you hire remote dedicated development team with a higher level of experience.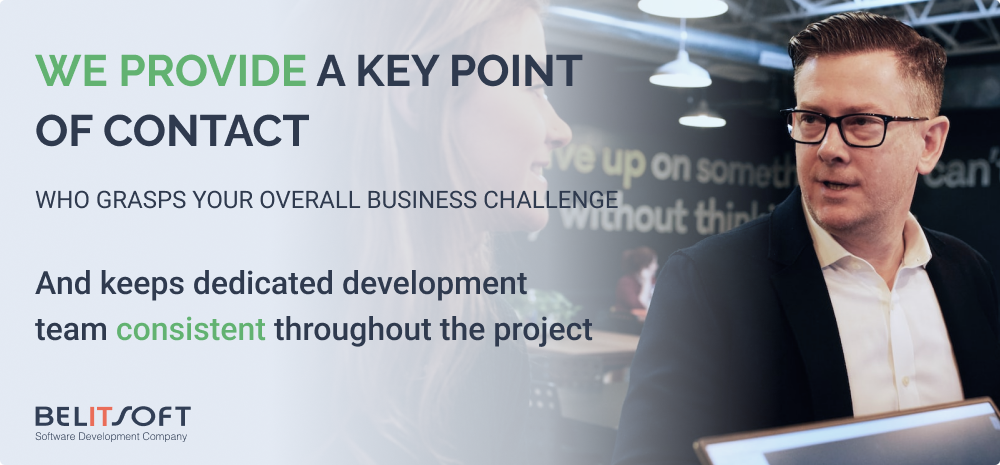 Ensuring high level of security
For security considerations, especially during the early stages of working with a specific development team, we advise to keep critical projects and software development processes in-house. Over time, as you build a relationship and gain a deeper understanding of the team's capabilities, you can determine the extent to which you can rely on outsourcing.
How to Build a Dedicated Development Team?
Define requirements and estimate the scope
Although changes during the development process are inevitable, it's important to have a well-defined framework in place. It may include the type of solution you need (such as web or mobile), the problem that this solution should solve, and the timeline.
To ensure they meet the requirements, the software development vendor needs to understand clearly the tasks and the specialists required. A business analyst works with the clients to determine their needs, and then define the project requests and scope.
There are two potential scenarios in determining the project scope:
The client has a predefined scope. Here the budget is discussed with the client, considering the priorities and estimated or given timelines.
The client does not understand precisely the exact scope. Then, a discovery stage may be conducted to make hypotheses and test them through prototypes. Based on the test results, they analyze the existing scope to determine if it meets the objectives. If not, they conduct further discovery and research, until they identify the needed scope.
Choosing a reliable software development vendor
We recommend you to pay attention to 3 important aspects, like experience, portfolio, and level of communication.
But there are so many results that you definitely need to narrow down the search. And here are great ways to do this:
Searching in Google works the best,
B2B portals such as Clutch,
References from other clients.
Find outsourcing vendors with pricing, descriptions, and real reviews from other clients. It facilitates your choice.
Searching and interviewing team members
The software provider selects suitable candidates for every needed role and interviews. It gives you the option to take part in the interviewing process, providing a valuable opportunity to clarify expectations for the project goals and each development team member's role and responsibilities. By being involved in the hiring process, you can select dedicated software developers who not only possess the technical expertise, but also align with the company culture and exhibit strong soft skills.
The goal of this stage is to build a team of highly skilled and motivated professionals to work on your project.
Before you hire a dedicated team
Before hiring a dedicated team, it's important to agree on the responsibility distribution. Clearly understand the development process and determine in advance who will be responsible for each task to avoid conflicts during critical moments of the project.
At this step, the outsourcing vendor deals with the legal nuances of your cooperation. The set of documents usually includes:
Non-Disclosure Agreement (NDA). A dedicated team works with sensitive internal information. That's why such cooperation normally starts with signing an NDA. The document outlines what material and knowledge should be confidential and what the penalty for its disclosure will be.
Master Services Agreement (MSA). It's a contract specifying most of the terms of the cooperation. Usually, it covers payment terms, protocols for invoicing & payment, dispute resolution, available volume discounts, product warranties, credit limits and credit periods, intellectual property ownership, and liabilities. And the critical thing to mention. To grant all the rights for the developed product to you and your company, it shall clearly state this condition in the MSA.
Statement of work (SOW). This document describes and defines all terms and conditions of your project. It clarifies deliverables, timeline, costs, project conditions, and special requirements. It's essential to make the SOW clear to every party, which will help avoid misunderstanding and disputes.
The development team is given the go-ahead, and the collaboration begins with a call to meet the team, discuss responsibilities, receive access to development tools, align project and business priorities, and establish regular check-ins.
Managing the development team
To ensure a successful development process with your dedicated team, it's important to stay involved and maintain open communication. Some actions you may take for that include:
Holding regular online meetings to review progress and address any issues.
Encouraging development team members to ask questions and provide feedback.
Staying in touch with the vendor's project manager to ensure everything is on track.
Consider holding an offline meeting with the dedicated team to build personal relationships and foster a positive work environment.
By actively participating and being available to the team, you can help ensure a successful outcome and build a positive reputation as a supportive client.
Why Hire a Dedicated Development Team from Belitsoft?
Tangible cost reduction
Hiring dedicated developers with Belitsoft allows you to cut your software development costs due to lower rates compared to the US, UK, Israel, and many other countries. You also save on creating IT infrastructure, as well as hiring and onboarding costs.
Faster time-to-market
Belitsoft's ability to create a dedicated development team within a shorter timeframe and scale it up promptly afterwards helps reduce your solution's time-to-market.
Team scaling speed and capacity
In a matter of weeks, we can assemble a top-notch, multidisciplinary team of 6–8 dedicated software developers and other specialists to work on your project. To get things started quickly, we can even provide you with 1–2 developers right away. For example, in one of our major long-term projects, we have started by providing the enterprise with a dedicated team of 5 specialists, and then gradually expanded the team up to 100+ software developers and QA testers.
Multidisciplinary & cross-domain expertise
We have created Dedicated Teams for startups, well-established clients, and projects that aimed to merge multiple other standalone projects. Our dedicated development teams comprise skilled professionals in a variety of technologies, including Java developers, .NET developers, including those proficient in SharePoint development, Python developers, PHP developers, C++ developers, and more. As for domains, our team has strong expertise in eLearning, Healthcare, Business Intelligence, Insurance, Logistics, etc.
Great flexibility
Wherever our clients are located, we make our schedule with at least several hours of time overlap. When you require closer collaboration, our dedicated teams adjust their working hours bound to your schedule.
Effective management and regular communication
Our dedicated teams are self-sufficient and expertly led by experienced Project Managers with years of managing expertise. By assigning a dedicated project manager to oversee the day-to-day operations and workflows, we ensure that the project is transparent and aligned with your goals. The project manager will keep in regular contact with your in-house project manager or product owner to keep you informed. This allows you to focus on the key aspects of the project while still retaining full technical ownership. Gain access to our company's best practices and the project artifacts and knowledge accumulated during the project. Control the results without spending time on daily management.
Quick start
To assemble a tailored dedicated development team for you promptly, we refer to the extensive pool of over 400 in-house Developers, Product Managers, and Business Analysts. This vast network and access to top talent from major software development hubs also helps us create dedicated teams that meet your specific needs. Efficient recruitment processes and fast turnaround times allow us to quickly add more skilled developers to your team as on demand. Most times, we can provide an additional 1-2 software developers almost immediately.
Years of hands-on expertise
Belitsoft has been in software development and IT consulting for 17 years. We've received experience in various business scenarios and environments, including mergers and acquisitions, project recovery, and collaboration with both in-house and third-party development teams, among others. These experts have honed their skills in overcoming challenges and delivering successful outcomes.
Reliable support
Our dedicated development teams provide support services during and after product implementation. You get technical support and backups for your product. This ensures exceptional customer service in the long run.
Total security and compliance
All the dedicated teams at Belitsoft have a proven track record of delivering successful projects that meet the needs of our clients. Now that we use our ISO 9001 certified quality management system, we ensure that projects are executed with a focus on meeting our customers' expectations for quality, time, and budget. Additionally, Belitsoft provides assurance that our customers' data is protected and secure.
Invest in a dedicated development team with us for a smart and profitable solution and get top-notch results at a fair price. Let's talk.
5 Factors That Make Dedicated Development Team Work
Define requirements and goals
Before assembling a dedicated development team or outsourcing to a third-party provider, it's crucial to take the time to assess your business needs. From there, establish well-defined goals based on these requirements, including the project's scope, desired outcomes, and potential benefits.
Do your own research
Before hiring a dedicated development team, it's crucial to conduct a thorough background check. This includes reviewing references, experiences, portfolios, and client testimonials. Assess the team's expertise in handling projects similar to yours, including the number of projects they have completed, the types of clients they have worked with, and the technology they use. With this information you have a better understanding of the development team's ability to meet your expectations. When it comes to long-term projects, consider conducting interviews and skill assessments for each dedicated team member to ensure they are the right fit for the job.
Maintain transparent communication
Effective communication is crucial for the success of your project and outsourcing relationships. Before deciding, consider the cultural differences, common language, and time zone differences. For example, if you are based in the US and looking to hire a dedicated development team based in India, these factors can greatly affect the outcome of the project. Misalignment in these areas can lead to difficulties in feedback and communication, thus hindering the progress of the project.
Build trust
To ensure the success of remote projects, establishing trust is essential. Building trust is a gradual process and requires continuous effort from both parties. One way to foster trust is by offering flexible work arrangements, clearly communicating project expectations, being transparent in payment processes, and avoiding changes in project requirements without proper compensation. By making credit a priority, you can ensure a strong and productive relationship with your dedicated development team.
Start small
To get initiated with hiring a dedicated development team, set up with a small project. This allows you to assess the viability of this model for your needs and determine if you can form a long-lasting relationship with the dedicated team. Starting small reduces risks and helps manage costs effectively, which is beneficial for startups, as well as small and mid-sized businesses.
Dedicated Development Team VS Fixed Price Model
A fixed-price model is a cooperation based on a fixed budget for the project, regardless of the time and resources needed to complete the project.
It means that you and the software vendor agree on the price, deadline, project scope, technologies, and detailed product requirements in advance. However, the vendor needs more time to prepare the detailed specifications.
The key favor of a fixed-price is skipping budget-related surprises. The major disadvantage—you cannot make changes in the workflow. Actually, you can work it out, but be ready for extra pay and moving the deadline.
The fixed price will work for:
MVP development
Short-term projects
Projects with clear deadlines
Projects with determined specifications
Dedicated Team VS Time & Material Model
The time & material model means that the client pays only for time and resources spent on the project.
The leading improvement of the time & material model is the freedom in changing project requirements and scope of work alongside the development. While the key obstacle is the difficulty in planning and controlling the budget because of such changes.
This engagement model is suitable for:
Projects where requirements can change
The market is not thoroughly explored
Product market fit is yet to be determined
Belitsoft's Engagement Models to Choose From
Belitsoft offers several engagement models that ensure an efficient solution to your software development needs, whether it's to expand your in-house team, acquire specialized technical knowledge, or speed up the development process.
The Dedicated Team model provides access to Belitsoft's top-notch software development professionals on a long-term basis.
The Team Extension model ensures you receive a highly skilled software development team that aligns with the required expertise and cultural fit for your project.
The Project-based model offers a dependable collaboration between you and Belitsoft specialists who are focused on delivering specific project objectives.
Ready to work with a dedicated team? No need to spend your valuable time searching for a reliable and experienced partner. At Belitsoft we offer top technical talents and 10+ years of expertise. With us, you will reduce costs of software development by over 40%. Need assistance?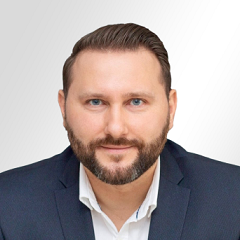 Written by
Business Development Director at Belitsoft
Recommended posts
Belitsoft Blog for Entrepreneurs