Healthcare app development is a steadily growing niche, with over 40k mobile applications offered through App Store and Play Store. So how do you know that your app will beat the competition and bring you a growing income? Learn now about best practices, must-have features, challenges, and real-life use cases that will help your Health Tech business thrive.
The Potential of Healthcare Mobile Application Development
Healthcare app development services are a prosperous and rapidly evolving business with a projected market value of USD 293.29 billion by 2028.
Supportive government initiatives to the healthcare IT industry and growing awareness among the individuals favor healthcare apps usage and overall growth of mobile medical app development. Moreover, in 2021, venture funding into mobile health app development funding increased by 94% year-over-year and 107% quarter-over-quarter, equaling $1.4 Billion in Q1 2021.
Multiple healthcare mobile app development companies offer their services now. But how do you know which healthcare mobile app development company to choose for beneficial mutual work?
This end-to-end guide will give you a viable strategy and insight into how to hire dedicated healthcare app developers to ensure the best choice for your business.
What Is Healthcare App Development?
Healthcare app development is the process of developing medical applications for healthcare to help meet health and wellness goals more effectively.
Custom healthcare software development brings value to healthcare professionals, healthcare providers, and patients.
The key and most significant benefits of custom healthcare application development include:
Healthcare app development automates medical processes, minimizing medical errors and offloading medical personnel;
Health care app development improves health data accessibility, which allows enhancing communication between doctors and patients;
Healthcare mobile app development helps improve patient experience and increase patient satisfaction, in particular, thanks to 24h remote delivery of healthcare through mobile applications with telehealth functionality.
The variety of health mobile apps includes exercise and weight loss apps, practice management and insurance verification apps, medical coding and billing apps, telemedicine app, and many others.
Among the major factors impacting the popularity of apps are their usefulness and user-friendly interface that makes it easy for the target audience to navigate and use the technical potential of the app.
The Critical Role of Healthcare App Development
Adoption of Medical Apps during COVID-19
The demand for mobile app development services among healthcare organizations was steadily increasing yearly. However, a true surge in popularity and demand for healthcare applications happened when the pandemic started.
In the COVID-19 pandemic, healthcare mobile application development has expanded throughout both developed and developing countries. All in all, the survey showed that 41.9% of adults in the EU (Germany) started to use a pandemic medical app for patients, while 66.3% of app users agreed that using a pandemic app is a social duty.
Multiple medical apps have been developed to identify prevalent symptoms and trace contacts, advanced telehealth solutions and online therapy came to the forefront for self-assessment and reducing face-to-face interaction between patients and health workers.
Today, mobile health development is aimed at delivering patient health services of higher quality through healthcare mobile apps for patients. The COVID-19 made medical applications, in particular, a remote health monitoring system, secure online payment, virtual consultations and electronic prescriptions, have become a part and parcel of the medical industry.
Benefits of Health Apps for Patients and Medical Professionals
The offerings of healthcare app development are limitless and bring a variety of valuable opportunities and benefits to healthcare providers, patients, and medical staff.
Companies hire dedicated mobile developers to resolve some biggest hurdles and get a bunch of valuable benefits.
For patients:
24/7 access to health care. Such medical apps for patients as telehealth solutions enable medical consulting services to remote areas, to patients with chronic diseases or disabilities, and to millions of patients overall. Apart from virtual consultations, health care applications give access to personalized care solutions, prescription reminders, and more;
Timely help and support.Healthcare web development brought to the market patient engagement systems that allow patients to manage medication regimens, reschedule appointments, alert care teams to concerning symptoms, and report adverse events. Such healthcare provider solutions ensure getting critical assistance in time;
Affordable health services cost.Healthcare web applications development removes the fear of facing high medical expenses. Now, patients can compare prices online through a patient mobile app and opt for an affordable option.
For medical professionals:
Removing diagnostic errors.Mobile medical application development minimizes errors and increases accuracy by automating patient data analysis. It helps examine large datasets of health information, find trends in health records, and give accurate insights to doctors;
Automating manual workflows.Hospital apps transform paper-based manual processes into a workflow that requires a couple of clicks. For example, a hospital app gathers unstructured electronic health records in a single database thanks to integrated healthcare solutions, manages medical appointment scheduling, By removing multiple administrative tasks, doctors allocate more time to patients thanks to using patient engagement systems.
For healthcare providers:
Optimizing everyday processes. Healthcare software development has provided healthcare organizations with viable tools for high-quality and timely care delivery. For example, a wide variety of hospital mobile applications help manage inventory, optimize medical coding and billing processes, enable secure payments, claim submissions and reimbursement, and more.
Medical Apps vs Health Apps
Not all apps for healthcare serve both patients and medical professionals. Let's see 2 different types of applications in the healthcare industry.
Medical apps are an mHealth solution aimed at helping healthcare professionals optimize and improve healthcare delivery. Among examples of such a medical app, there are:
Remote patient monitoring apps;
Telemedicine applications;
Chronic disease management apps;
Patient records monitoring;
Health data gathering and tracking via IoT technology;
and many more.
Health apps are usually HIPAA-compliant solutions aimed at a general smartphone, tablet, o PC user who cares about their health and wellbeing. Such applications focus on improving health and fitness habits of users, for example:
Apps for exercising and working regimens;
Search and appointments booking in ambulatory clinics or labs;
Apps for physical activity tracking;
Nutrition and diet applications;
and many more.
Most Popular Types of Health Apps
Health apps cover all aspects of healthcare and wellness, and typically, don't require recommendations or approvals of a medical professional. Below, you will see which health apps have gained major popularity among fitness fans.
Fitness App
Fitness applications connect fitness trainers with users in a video format. You train under the guidance of a certified trainer and get a healthy, lean physical state or reach other fitness goals.
The emergence of fitness apps has popularized personal fitness worldwide. And there is no wonder, because this type of app for patients doesn't even need you to leave home or miss out your workout routine when you travel or need to reschedule. Whenever you have enough open space and stable internet — you are ready to go!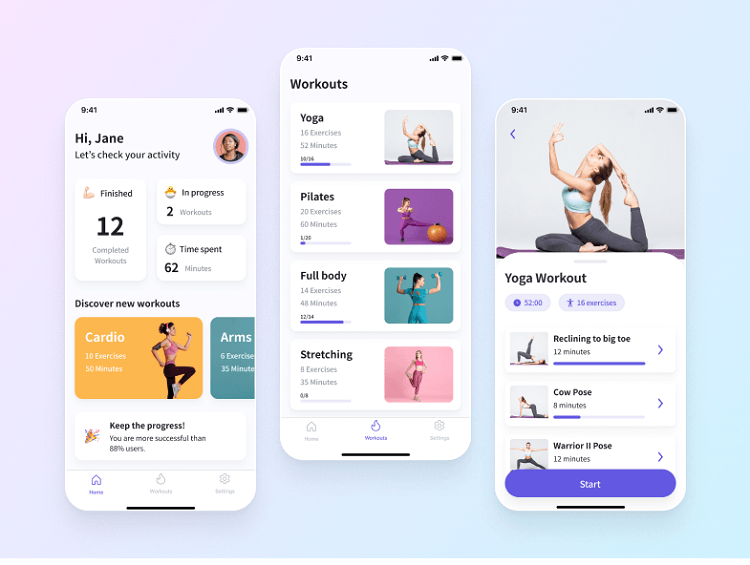 Example of a fitness application with user's activities history, workout schedule, and detailed workout routine
Weight Loss App
An app for weight loss guides a user through critical lifestyle changes that allow getting into shape and keeping fit. Such a patient app instills healthy eating and sleeping habits, help with calorie counting and fasting schedules, remind about water intake, and much more.
What is important, tips and routines in weight loss apps are built based on experts' consultations. They effectively help millions of people worldwide stick to healthier habits. As a result, people manage to avoid serious diseases caused by obesity and cut down their medical expenses.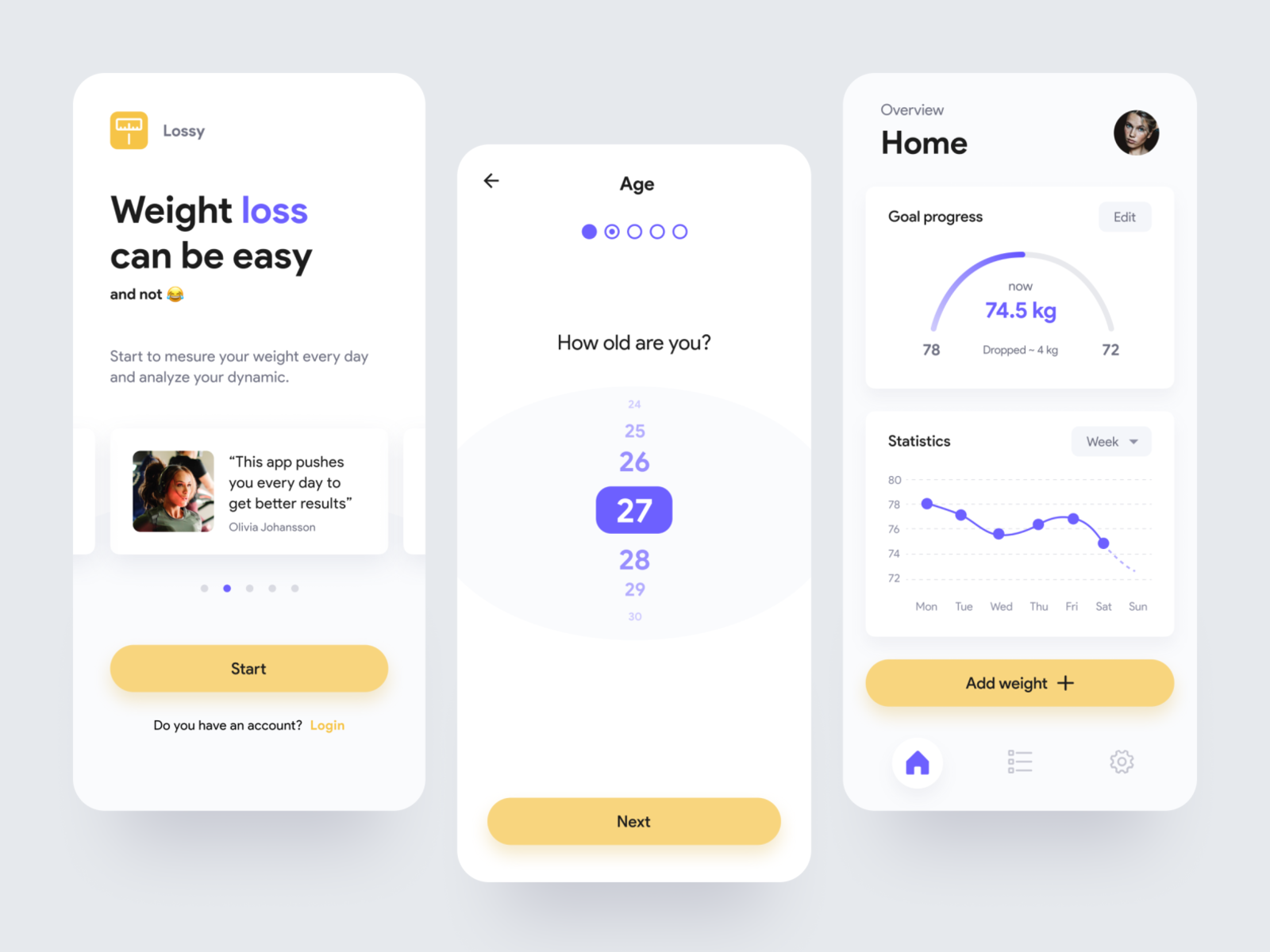 Example of a weight loss application with user's personal health data, goals, and the current progress
Nutrition App
Nutrition app covers one of the most confusing aspects of healthcare - personal nutrition. Experts' opinions and recommendations differ and change regularly, leaving people without a clear vision of a healthy daily diet. It demotivates and frustrates a lot.
Healthcare mobile apps for patients focus on creating personal profiles for users. Such a profile evaluates personal data, such as weight, height, age, medical background, lifestyle habits and goals, etc. Based on this information, the nutrition app recommends a suitable diet, calorie amount, the right combination of nutrients, and even ready-to-use menus.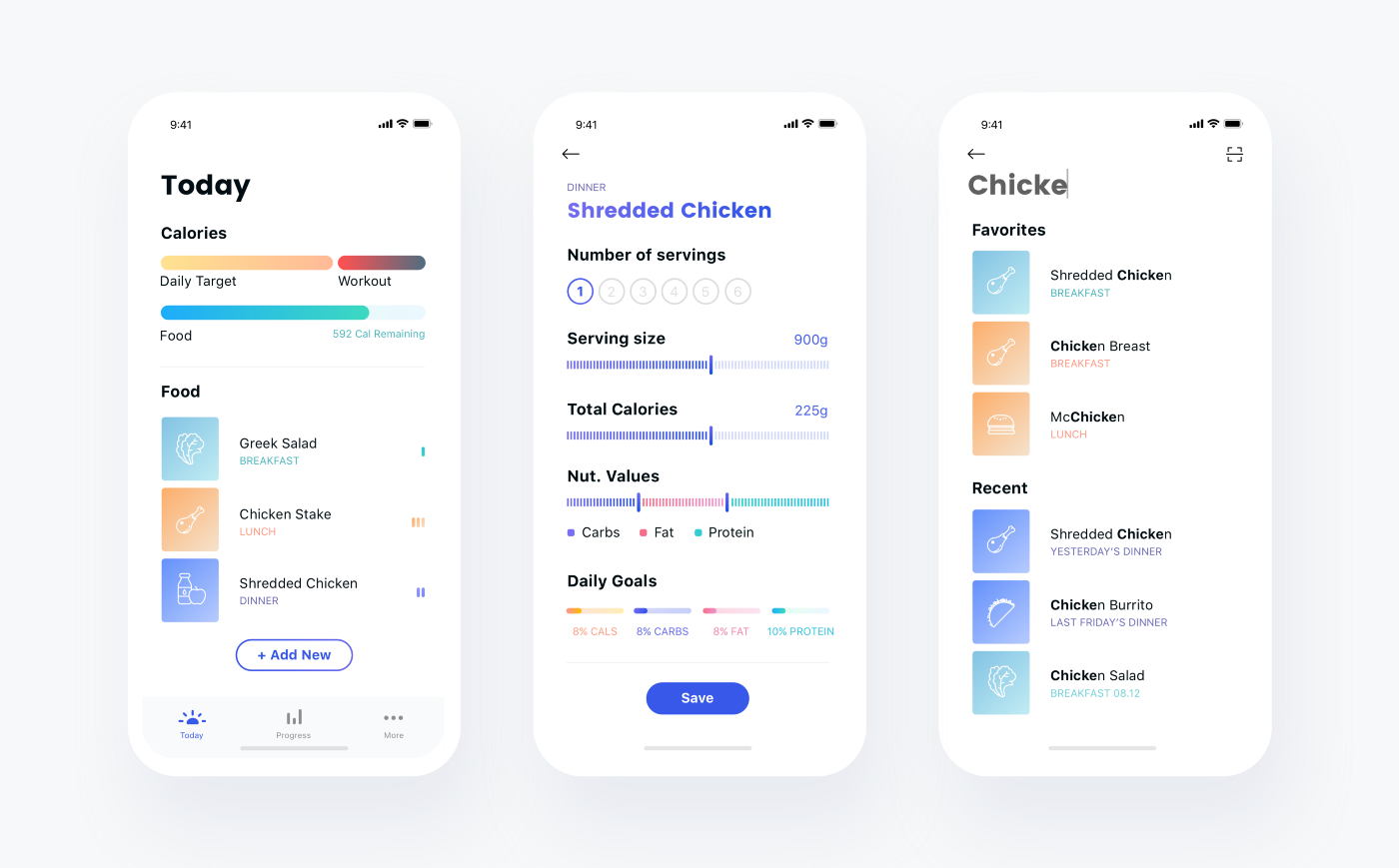 Example of a nutrition app with a daily calorie limit and nutrients goal, based on personal health data
Meditation App
Meditation apps connect users with experts who help start practicing and guide through the process. The key utility of such a patient app is the possibility to practice meditation anywhere you feel relaxed and comfortable — home, park, backyard, or even a hotel room.
Even though meditation is often perceived as a buzzword, multiple studies have proved its beneficial influence on mental health. And taking into account that mental health is one of the neglected aspects of healthcare, meditation apps take the lead in bringing positive impact.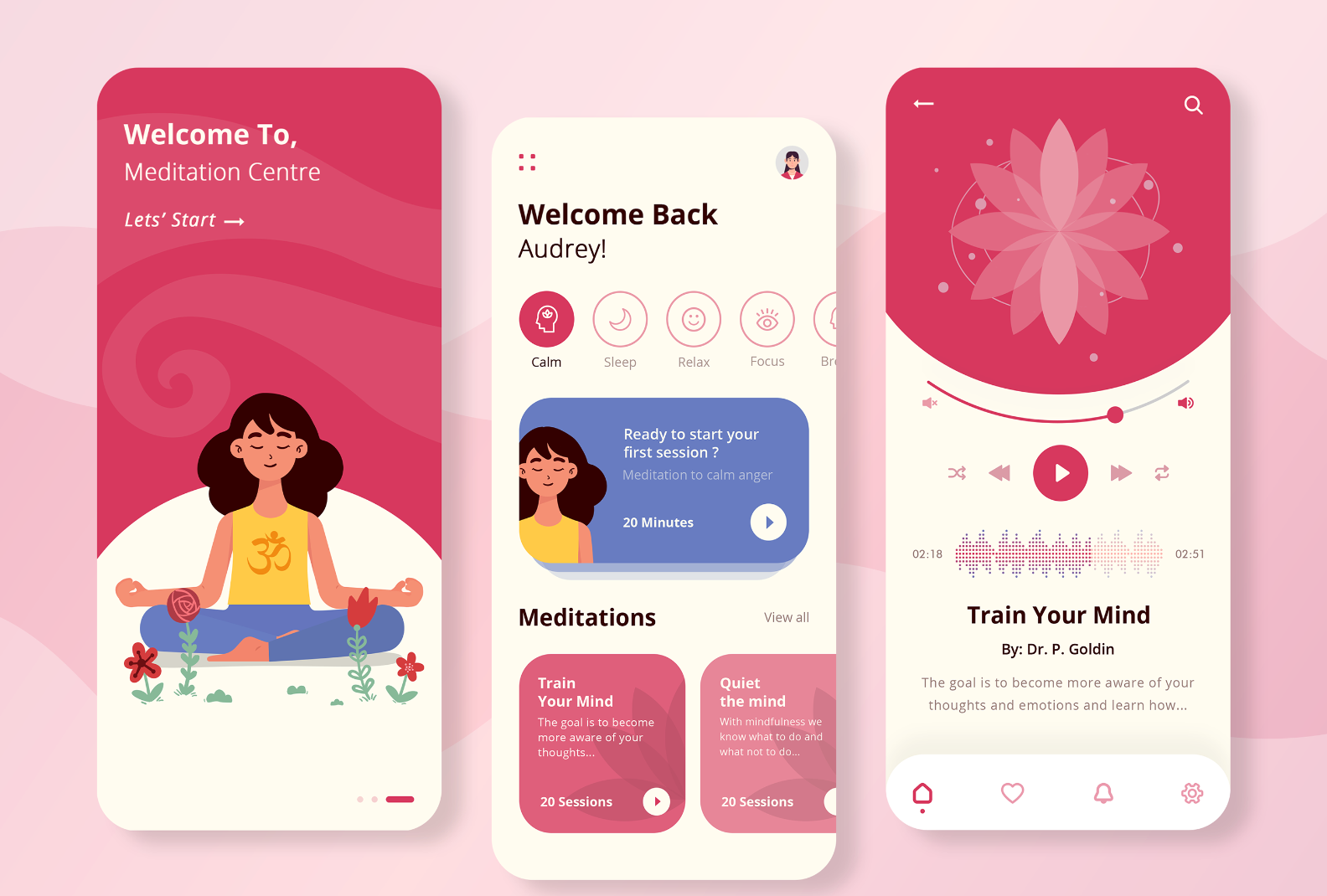 Example of a meditation app with programs customized according to user's goals – sleep, motivation, relaxation, etc
Most Popular Types of Medical Apps
Medical applications are created specifically for medical professionals – doctors, nurses, caregivers, hospice workers, and others. They help optimize both medical and administrative workflows, leading to improved health care delivery to patients and higher productivity of healthcare providers.
The COVID-19 revealed that medical apps are effective tools for addressing the problem of inequity in healthcare that exists globally.
Telemedicine App
To help you evaluate the potential of telehealth as a key segment in healthcare mobile application development, here you have some numbers by McKinsey (the trusted advisor to the world's leading businesses and governments):
The pandemic increased the use of telemedicine solutions by 38 times;
Investment in digital health almost doubled – from USD 6B up to 14.6B;
The revenue of telehealth players showed an 83% growth, up to USD 5.5B;
The telehealth market in the US is expected to reach USD 25.88 Billion by 2027.
A telehealth app virtually connects patients with doctors for a consultation. For that, only the internet connection and a smartphone or tablet are needed.
A telehealth app can be integrated with a practice management solution, which allows a doctor not only to communicate with a patient, but also to manage daily activities, such as appointment scheduling, billing, and other administrative tasks.
Telemedicine solutions have become critically helpful during the pandemic by minimizing face-to-face interactions. Moreover, they created favorable conditions for patients to open up to medical professionals, positively impacting patients' mental health.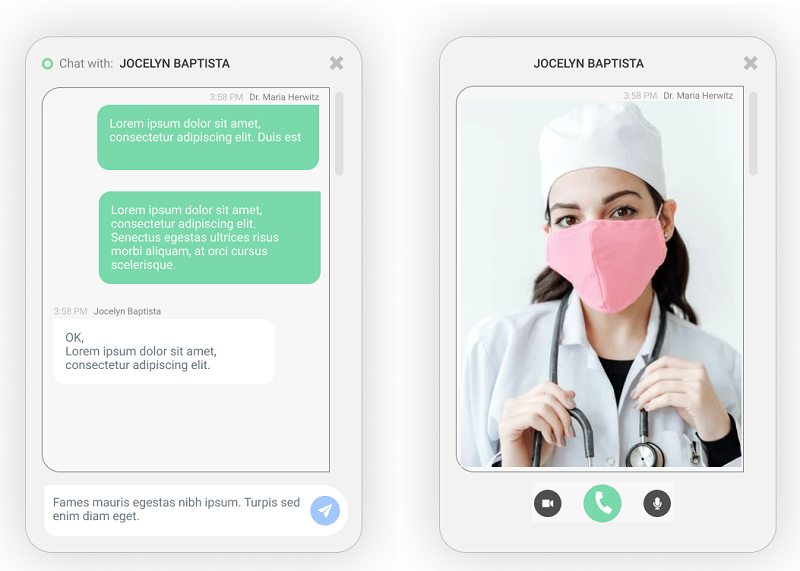 Example of a telehealth app by Belitsoft for online consultation with a doctor
Remote Patient Monitoring Solutions
Remote patient monitoring is aimed to monitor, report, and analyze patient health anytime and anywhere from the outside the hospital or other clinic setting.
For that, RPM application are linked to IoT-based smart wearables that collect patient health data around the clock. Then, patient's patient vitals, such as blood pressure, heart rate, glucose level, and other health information, are analyzed by medical staff with the help of medical informatics solutions.
As a result, a doctor makes preventive analysis and gets insights about early signs of diseases, which is critical for timely proactive health care delivery. Similar to this use case, the usage of RPM linked with smart wearables is also highly helpful for chronic conditions management.
All in all, remote health monitoring system paired with IoT technology makes up highly effective healthcare analytics solutions, which have gained huge popularity both among patients and medical professionals.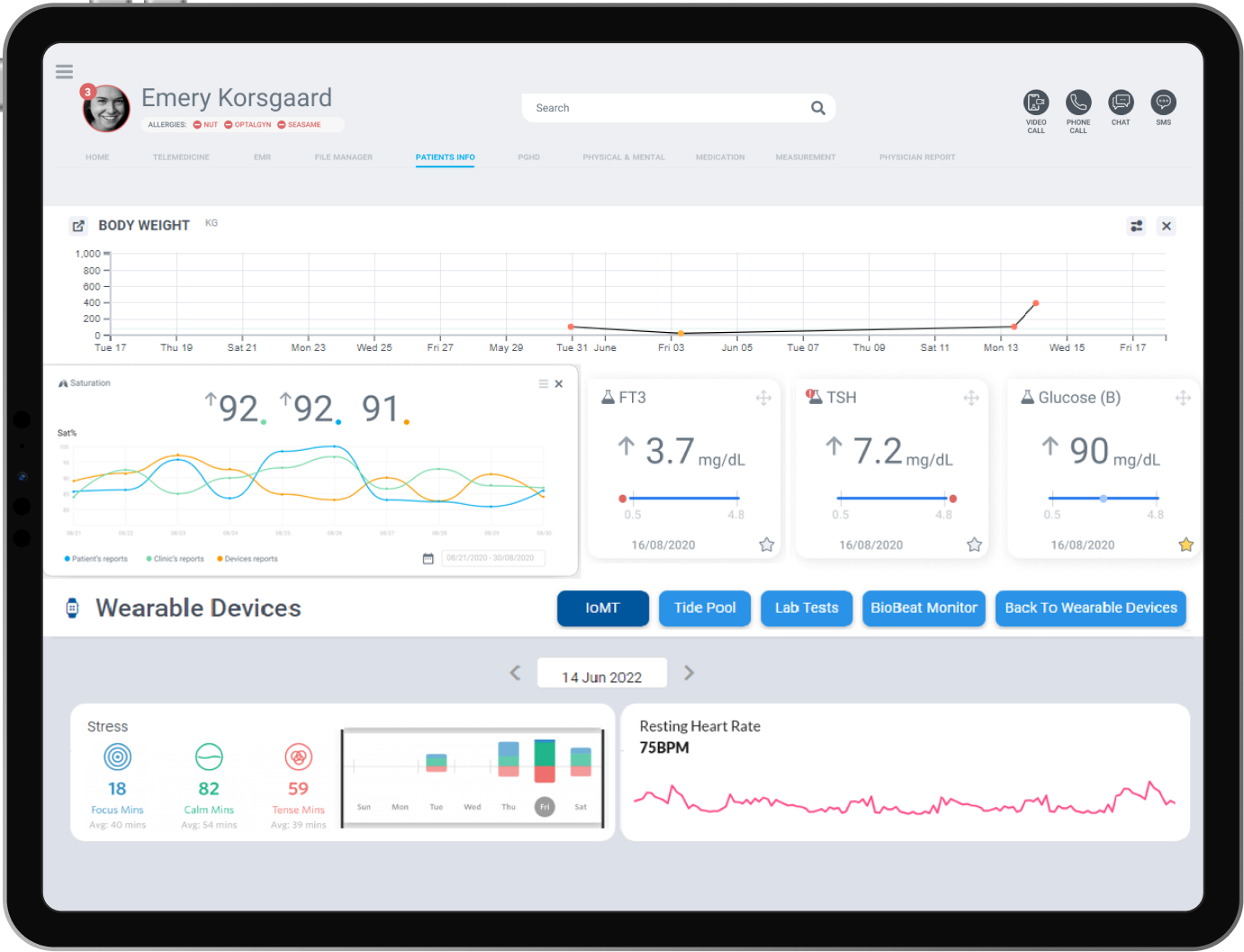 Example of a remote patient monitoring solution by Belitsoft with health data received from wearable devices (IoT)
Patient Engagement Solutions
Patient engagement is encouraging patients to manage their health more effectively. Check out our special offer for patient engagement software development.
Apps for Chronic Disease Management
Chronic diseases are health conditions that typically cannot be cured, but require ongoing medical attention or limit daily lifestyle activities. Among the most widespread examples of chronic diseases, there are heart problems, diabetes, obesity, and many more.
Chronic disease management solutions offer the required support to such patients. One of the benefits of these patient apps is that they provide expert recommendations and educate patients about the medication, diet, and activities based on their conditions. Another benefit is that these apps serve as patient engagement systems that remind about medication intake or appointments and improve doctor-patient interaction.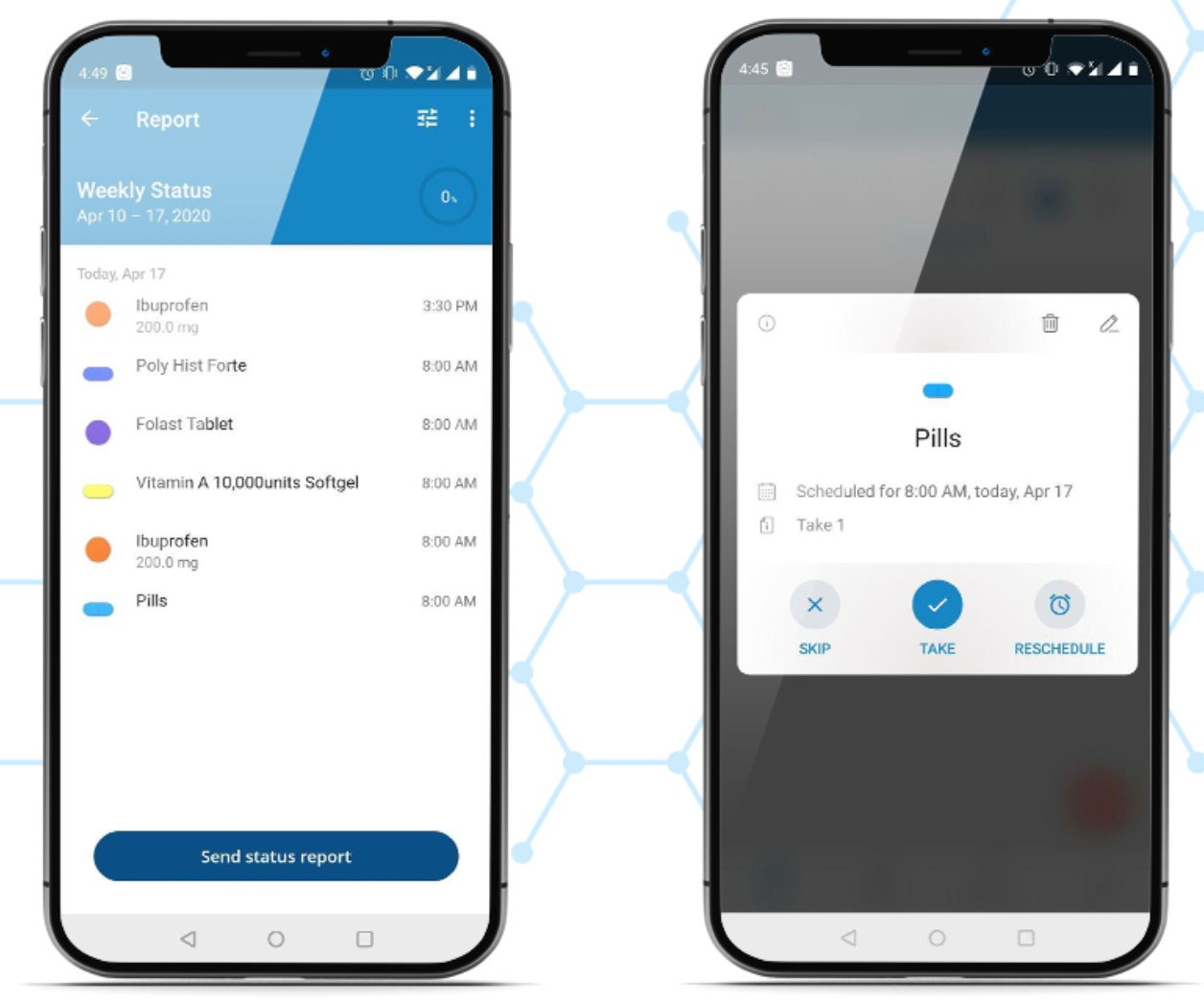 Example of an app for chronic disease management, aimed to manage daily health routine of a patient for improving or maintaining their condition
Top Challenges in Healthcare Application Development
The importance and practical advantages of applying healthcare applications, both for patients and healthcare providers, cause no doubt. The mHealth solutions have proved to be efficient tools for addressing the issue of healthcare inequity in the United States and worldwide.
However, despite the rise in demand for healthcare app developers and healthcare mobile app development in general, the process itself still features particular challenges.
Challenge 1: Patient Data Security
Personal data has turned into an extremely valuable product that is the target of multiple cyberattacks these days. Together with personal and financial data, health information is also under threat.
Medical records contain all the health information that healthcare organizations collect throughout the years, including diagnoses, treatments, and health vitals. So if this patient medical data is leaked, lost, or altered, it will have a direct impact on clinical outcome.
For this reason, a healthcare app development company must strictly follow such data security measures as HIPAA (Health Insurance Portability and Accountability Act) compliance, when developing a medical app.
Adherence to HIPAA regulations ensures quite a reliable security level and minimizes the threat of data loss. The companies that don't follow these rules are subject to massive legal penalties and even imprisonment.
Challenge 2: Integration with Third-Party Applications
Integrated healthcare solutions play a critical role in patient experience by delivering better health care. However, integration issues exist, and they refer both to medical apps for doctors and mobile health apps for patients.
From the healthcare provider's side, to deliver comprehensive care, a practice management application must work with a telehealth platform, patient scheduling solution, and software for medical coding.
From the patient's side, to make the maximum use of patient apps, they must work with phones and deliver patient data to medical staff in real time. Such integration allows managing chronic disease more effectively and improves population health management overall.
However, each solution is developed by a different medical app development company. Moreover, various technology stack for mobile app development is typically used. To enable smooth electronic data exchange and seamless work of integrated applications, Application Programming Interface (API) is used.
If both patients and doctors will be deprived of such comprehensive solutions, the utility of medical apps will be really limited. That's why each forward-thinking medical application development company prioritizes integration with third-party applications.
Challenge 3: Security and Compliance Testing
Testing software is a core part of the app development process. It helps assess functionality, scalability, speed, user interface. During the testing process, you reveal and fix issues that could potentially dusrupt the performance and security of your solution, resulting in poor user exerience and even exposure of patient data.
Apart from that, software testing ensures digital security and compliance, which is critical in building a health app. So the challenge that each healthcare app developer faces is meeting full regulatory compliance. Otherwise, strict punishment will be applied, such as huge penalties and even prison.
Challenge 4: User Interface
The user interface is the means of interaction of a user with a mobile application.
A good user interface (UI) in a healthcare app is of paramount importance. It should be easy to use for people of all ages and technical abilities, providing a superb user experience and requiring no effort in navigating and using.
Even if medical apps for patients have decent functionality, their poor interface may impede attracting a large base of users.
For this reason, healthcare app developers must excel both in creativity and technical expertise to deliver a well-thought and simple-to-use UI.
The 12-Step Proven Strategy for Medical Application Development
Healthcare application development is a highly competitive industry, where multiple companies try to gain a bigger share of the market. To successfully enter this niche and win a significant share, you need a proven framework for medical application development.
Our healthcare experts have compiled 12 expert-proven steps to develop a medical app.
Step 1. Define Your Business Needs and Goals
To wisely select healthcare mobile app development services for your project, start with analyzing the market.
For that, clarify such fundamental aspects for healthcare application development as:
challenges that you want to resolve with the help of this app;
what gaps in the market you are going to fill in;
your target audience;
your competitors, etc.
For example, for creating profitable healthcare apps for patients, it's essential to examine the specific needs of the patients that you are targeting and choose the app functionality accordingly before you start healthcare application development.
Step 2. Identify Your Users
Custom healthcare software development will succeed on the condition that you understand who you are targeting.
Once you've determined whether you create mobile healthcare apps for patients or for medical professionals, study the goals and needs of your end users. This will give you a clear vision of what they expect from a health care application.
Step 3. Understand the Needs of Your Users
The goal of healthcare web application development is always resolving a certain issue. While a healthcare provider should understand what the patients need, the healthcare web development team should clearly see the needs of both patients and healthcare providers. This is the only proven way to develop an end-to-end solution that will succeed.
Often, healthcare software product development targets several problems at the same time. In this case, integrated healthcare solutions become the best option.
Step 4. Choose a Monetization Model
The ultimate goal of healthcare mobile application development is to bring revenue. That's why, before starting the mHealth app development, define the best monetization model for your app.
Among the monetization models typical for mobile health application development, you can select in-app ads, subscriptions, premium access, or others. We've described the most popular ones in our guide on How to Choose the Right Monetization Model.
To achieve optimal results, make sure that the healthcare mobile app development company that you work with, clearly understands your requirement. And the medical software programmer team follows the selected model throughout the process.
Step 5. Decide What Integrations You Need
Before you dive into mobile health application development, it's essential to decide what integrations your solution requires. It might be separate features or entire EHR systems.
For that, a medical software programmer and all the development team must comprehend well the requirements of both patients and healthcare organizations. The medical app development, based on this approach, will allow delivering a holistic product.
Also, consider healthcare cloud computing as a perfect tool for custom mHealth app development.
Step 6. Build the Framework
Developing the framework is the core of healthcare product software development.
Note that your healthcare app development team should find the golden mean between commonly accepted standards and their own creative vision. It allows mHealth app development team to create an app that has a user-friendly design, on the one hand, and requires minimal actions to do a certain task, on the other hand.
What's no less essential in healthcare software product development, it's a clear and intuitive design with an empathetic response to the user.
Step 7. Carry Out Coding
When the app design is ready, the coding process starts.
The earliest thing to do at this step is to choose a technology stack. After that, the development team splits the tasks and sets deadlines that permit delivering the product in time.
Step 8. Adhere to Compliance Regulations
The mHealth development requires adherence to rigid compliance standards typical of the healthcare industry.
Privacy regulations usually differ for iOS and Android healthcare application development. Also, there are differences in mobile health application development for various regions. So if you undertake the app development for healthcare in several states or countries, make sure to adhere to the standards of all the target regions.
It's recommended to make sure that your healthcare mobile app development company understands and strictly follows HIPAA compliance requirements. In case you develop healthcare software solutions that imply the use and management of patient data, be sure your tech partner follows NIST and CCPA privacy frameworks as well.
Step 9. Perform Software Testing
A healthcare mobile application as well as any other software, whether it is in the cloud or on-premises, requires thorough software testing.
Software testing is performed on the basis of proven parameters, which assess functionality, usability, speed, and many more aspects. Moreover, software testing in healthcare ensures that the application adheres to HIPAA regulations. Otherwise, developers will face severe penalties.
Once bugs are detected, they are documented in detail for mobile health app developers to take into consideration.
Step 10. Perform app debugging
Debugging in health app development involves detecting an issue, isolating its source, and then either correcting this issue or finding a way to resolve it.
During the process of debugging, the bugs that impede normal app functioning are corrected. Each correction is properly documented. After that, the app goes through another testing cycle and gets debugged again if needed.
Step 11. Implement the application
The healthcare application can be implemented at healthcare organizations as soon as you remove all the detected issues.
Be ready that the app adoption will take some time, because typically the app users, whether it's healthcare staff or patients, require time to get accustomed to the new software.
Step 12. Continuous Support
The cooperation with a medical mobile app development company continues after the app implementation. The company usually offers continuing support that comprises resolving any possible issues, providing updates in time, and more services at any operation stage.
4 Proven Best Practices For Medical Mobile App Development
Medical applications are a booming niche in the healthcare and wellness industry. Considering such rapid growth, it's essential to understand best practices that ensure building profitable medical applications. And even though the industry is going through constant changes and innovations, there is a list of proven best practices for successful medical mobile application development.
Platform Agnostic Approach
Platform agnostic is the ability to support literally any device and Operating System.
Appointment booking applications, apps for patient engagement or remote patient monitoring, and multiple other medical apps have both patient and doctor sides. A patient often books an appointment using a smartphone. Then a doctor hypothetically needs to reschedule the visit and uses a computer or tablet version of the app for that. A platform-agnostic app coordinates such activities seamlessly, providing a better user experience for all users.
System Interoperability
Health systems get developed by numerous companies. To make their solution compatible with existing software, health app developers have to ensure the interoperability of each hospital mobile app.
Healthcare interoperability among health systems allows pulling out and structuring patient records, finding test and lab results quickly, scanning orders, and performing many more tasks conveniently. Such seamless interoperability among medical platforms removes delays in care delivery, which is particularly important in time-sensitive treatment cases.
In case developers don't provide decent healthcare interoperability, using such a system becomes problematic to clinical decision-making providers, patients, and other healthcare payers.
Feedback from Patients
Any person regardless of their current role (patient, customer, or passenger) wants their suggestions and opinion to be heard. So an app with the possibility to leave feedback from patients impacts the overall patient experience about medical care, together with clinical outcomes.
As for hospitals and other healthcare providers, feedback from patients is the easiest way to improve their working processes. It assesses all aspects of medical care, from the attitude of medical staff and food quality to billing convenience and insurance verification policy and procedure.
All in all, the option of providing feedback builds trust in a patient application.
Push Notifications
One of the key reasons for the deterioration of chronic conditions is forgotten medication intake or missed consultations with doctors. That's why it's a smart approach for healthcare mobile app developers to create push notification feature in applications. They can remind patients about an upcoming appointment, prescription refill, medication intake, and other treatment aspects.
Overall, healthcare mobile apps for patients that feature push notifications favor doctor and patient engagement.
15 Must-Have Features for a Healthcare Application
Despite a variety of healthcare applications, healthcare professionals and developers agreed that having certain features are essential for user retention.
Here we've compiled the 15 must-have features for a healthcare application:
Feature 1. Great User Experience
The healthcare industry is highly competitive nowadays. It obliges mobile health app developers to add more complex and advanced functionality to an average health app. However, in line with adding new features during mobile health app development, they must keep hospital apps for patients simple-to-use and intuitive. In other words, the major challenges in health application development are the creation of a good patient experience and the delivery of quality care through mobile healthcare app.
Feature 2. Data Privacy
The number of people who manage their health using healthcare apps is growing exponentially. The amount of generated data is increasing as well. Consequently, data privacy is turning into the primary concern for every digital service provider during the process of mobile healthcare application development.
In case the health data is compromised or lost, it directly impacts the ability of a doctor to assign and manage patients' treatment. That's why, the major requirements for medical apps today are full protection of health data and compliance with Health Insurance Portability and Accountability Act, known as HIPAA.
Feature 3. Helpful Physician Search
Searching for a competent doctor, especially after moving to a new place, is rather troublesome and frustrating. And online search through an app can be highly helpful for such patients. Besides, it saves patients' time by removing the need to go to a general doctor and get a referral.
A medical application with a physician search feature usually shows the list of doctors, their qualifications, the hospitals where they work, and available services. A patient can find a suitable professional and book an appointment through the app.
Feature 4. Simple Patient Registration
Traditionally, patient registration is a tiresome, time-consuming process that implies much paperwork. When registering a new patient, the medical staff gathers and fills in the patient's medical history, personal data, chronic conditions and diseases, and much more data.
Hospital apps for patients optimize the process, which turns patient registration into an easier and more convenient process both for medical staff and patients. For example, patients can use the app to fill in certain details before coming to the hospital. The clinical staff gets this data immediately, without the need to waste time on paperwork after the patient's arrival.
Feature 5. Online Appointment Scheduling
For years, booking an appointment required calling up healthcare centers, staying on hold while waiting for an administrator, and deciding upon a suitable time slot without having enough time to think it over.
Online appointment scheduling is a win-win solution. With a healthcare application, a patient can book an appointment anywhere and anytime. At the same time, healthcare organizations get the possibility to reduce staff and save their budget.
Feature 6. Convenient Appointment Reminders
Typically, patients forget about appointments due to workload or personal stress. Or this event simply slips their mind. The problem is missing doctor's appointments is recognized to be one of the reasons for worsening chronic diseases.
That's why, a hospital patient app with appointment reminders is what all medical app users love to have, as it helps manage their health in a more effective way.
Feature 7. Electronic Prescriptions
Electronic prescription software permits medical professionals to create prescriptions using smartphones, tablets, or PCs and send them directly to the pharmacy staff.
Compared to traditional handwritten workflow, e-prescription considerably speeds up handing out and refilling medication, as well as prevents fraud, misuse, or legibility issues with handwritten prescriptions.
Feature 8. Timely Medication Reminder
When a patient misses a medication intake, it significantly worsens such chronic conditions as blood pressure, diabetes, or heart disease.
A hospital app for patients featuring medication reminders contributes a lot to better health management and helps cut healthcare spending in the long term. Patients get reminders through messages or alarms.
Feature 9. Healthcare Chatbot
Usually, to clarify any doubt or ask a question about treatment, medication, or anything else, a patient is obliged to visit a doctor.
With healthcare chatbots, getting advice or resolving any doubt is a few clicks away only. It's no wonder, they are increasingly gaining the trust of both doctors and patients. Chatbots favor patient engagement, building a supportive relationship between patients and doctors and helping patients make informed decisions about their health and care.
Feature 10. Doctor-Patient Video Conferencing
Video conferencing is a feature that favors impactful interaction between doctors and patients, similar to the chatbot feature.
However, the difference is significant. Medical apps for patients with video calling or conferencing feature allow patients to see a doctor during the conversation. Thanks to this, a video-calling feature is believed to give patients trust and comfort, especially to patients with chronic diseases and elderly people.
Feature 11. Cloud Integration
Consider implementing cloud integration during healthcare software product development. Cloud integration provides smooth electronic data interchange, data accessibility, and collaborative environment for patients and medical staff. In the long run, pivoting to a cloud environment ensures lower costs and more satisfaction among patients and medical staff.
Cloud-based healthcare product software development allows creating software that allows transferring medical data and granting quick access to health records either to patients or to healthcare providers.
Feature 12. Secure Payment Integration
Healthcare payment is a recommended feature that is particularly beneficial for patients who cannot guess their out-of-pocket expenses. The good news is payment options adopt technological advances as rapidly as other aspects of healthcare.
Thanks to online payments gateways, patients can schedule a remote consultation with a doctor from another city or their own family doctor, and pay online in several clicks.
Besides, healthcare application development should prioritize data privacy. For that, developers apply secure payment processing and protocols that enable simple and convenient payments, yet keep all sensitive health data secure.
Feature 13. Analytics Integration
Analytics integration is a powerful tool that increases the effectiveness of healthcare mobile app development. To illustrate, it helps analyze users' needs, the demanded functionality, market trends, and many more aspects.
Note that as sensitive health data are used in healthcare mobile app development, it´s critical to apply proper permission parameters.
Feature 14. EHR Integration
EHR integration plays a pivotal role in health apps. Telehealth apps are a good example. Their integration with electronic health records facilitates health data access and data exchange. As a result, doctors can better handle patient health by getting the possibility to study patient details before an appointment.
Feature 15. Health Progress Tracker
Mobile health apps with the function to track patient progress are highly helpful for doctors.
They can better manage patients' health conditions, using the tracking functionality to monitor the necessary patient's vitals, such as glucose level, blood pressure, heart rate, and much more.
How Medical App Development Benefits from APIs
Application programming interfaces (APIs) are a way for two or more software programs to communicate with one another.
Today, interoperability among diverse EHRs, mobile health apps, or other data exchange tools is increasing in demand among healthcare providers. The reason is APIs help them handle a constant flow of data between different health apps.
In addition, the shift toward value-based and patient-centric care coordination and population health management requires access to electronic health record data from the patient and physician side. This challenge in mobile health app development can be easily resolved if you integrate APIs into your solution.
Also, note that if your software functionality is based on the constant data exchange between sources, API takes the lead. APIs allow you to save storage space and shorten development time. By applying APIs in the healthcare industry, health app developers manage to achieve swift data exchange.
API resolves one of the biggest challenges in data integration in healthcare - the diversity of data formats, particularly in EHRs. APIs help avoid differences in programming languages, facilitate, and speed up data retrieval. It enables mobile health app developers to unify information from various sources, creating a single and comprehensive data set thanks to API integration.
Another benefit of APIs in custom health app development is protection from malware and other threats. APIs provide healthcare organizations with a multi-level protection scheme, acting as reliable storage for patient health informatics.
Top APIs for Successful Custom Healthcare Development
APIs significantly facilitate and speed up custom healthcare development by reducing the amount of coding from scratch. When medical application developers apply the ready-to-use code of APIs, they can build a mobile app faster, saving your resources. Moreover, API facilitates the processes of fixing errors, debugging, and software support.
We've gathered some top APIs that are used for custom health app development, and will explain in short the application and significance of these APIs.
Apple HealthKit API and Google Fit SDK. The two top API solutions for mobile health apps are Google Fit SDK and Apple HealthKit. Both software development kits act as a secure health-related data repository, which allows users to safely store and manage their health data. Apple HealthKit is used for iOS and watchOS-based health and fitness apps. Google Fit provides Android and REST APIs to help developers build smarter health and fitness apps. All in all, these solutions help create seamless user experience and deliver a highly informative custom health app.
Google Cloud Healthcare SDK. Google Healthcare SDK focuses on seamless electronic data exchange among healthcare applications and other software stored in Google Cloud. Among distinctive features of the Cloud Healthcare API, there are FHIR de-identification and automated DICOM.
Human API. Human API is a health data platform ере can be managed by consumers. It allows users to securely connect and share their health data with health applications. Human API handles data integrations from diverse third-party sources.
BetterDoctor. The BetterDoctor API offers access to a database of doctors and insurance networks, which makes care access and decision-making more convenient and effective.
Doximity. As the leading digital platform, Doximity offers online networking services aimed at helping medical professionals. Doximity simplifies patient-provider interaction by providing telehealth tools and collaboration functionality.
Box API. By applying Box APIs in custom health app development, you can get any functionality you and your users want. For example, Box API supports any tasks with documents management, such as adding collaboration tools or the option of documents sharing.
To sum up, APIs enhance patient experience, by facilitating the integration of mobile health applications with proprietary or 3rd-party software of a healthcare provider.
The Key Role of User Experience in Healthcare App Development
Experienced health app developers understand how indispensable user experience for the success of mobile health app development solutions is. A good UI/UX design makes mobile health applications useful for patients and helps them stay competitive on the healthcare market. While poor UI/UX negatively affects the overall health delivery, patient experience, and the performance of such a mobile app for healthcare.
Mobile health application development should have a patient-centric UI/UX to efficiently deliver health care. For example, while developing a telehealth application, designers should take into account patient demographics during hospital app development to create relevant categories for the best user experience.
When building a health app with advanced functionality, work with a team of qualified UI/UX designers and medical mobile app developers. Their expertise will help create mobile apps for patients with the UI/UX design that makes patient experience convenient, intuitive, simple, and efficient.
In addition, during hospital mobile app development, your developers should ensure data accessibility. It means that the patients using the app can get access to their health data whenever they need it, which creates better user experiences as well.
To sum up, as a result of health mobile app development, you should get an app with advanced functionality and a simple user experience, which will make the adoption of any new technology or features quick and simple for users. This will favor the popularity of your app development solution and generate high ROI.
5 Tips to Improve Your Custom Healthcare App UI/UX
Medical mobile app development brings colossal revenue to the healthcare business. And sometimes, the bottlenecks during health app developmenthealthcare that mobile app developers make, directly impact the number of end users and the overall success of digital health apps.
The experts in mHealth app development and UI/UX design have enlisted 5 steps that will help you ensure that the UI/UX of your app will make it competitive and profitable for you.
Tip 1: Research healthcare apps in your niche
Before starting the healthcare application development process, it's wise to investigate the market. Research what makes other healthcare apps popular and what users prefer in the niche where you are going to provide healthcare app development services. Research popular features and UI/UX design to get an idea of what exactly is necessary for successful medical app development.
Also, note that usually the goal of mobile health app development is to create medical apps for patients, so the task of the development team is to address the needs of both user groups through the UI/UX.
Tip 2: Prioritize Functionality
Functionality should always go together with UI/UX design in healthcare mobile app development. The advanced functionality of healthcare mobile apps for patients directly impacts the overall user experience. And decent healthcare app design favors addressing users' challenges.
A good example is an option of creating and accessing a personal account in mobile health apps. It enables patients to see their appointments, recommendations, prescriptions, and other details anytime they need them. Or let's take encrypted communication features in medical application development. This functionality serves for patient-provider interactions, resulting in better UX as well.
Tip 3: Make it simple and Choose the right colors
The simplicity of the UX design is critical for the success of a health app. Minimalistic and simple design in custom health app development gives the impression of professionalism. And top healthcare applications prove this idea. That's why, during healthcare app development, simplicity of the design should be the goal of a good healthcare mobile app developer.
As for the color choice during custom health app development, their role shouldn't be underestimated either. The right colors in healthcare applications create the necessary mood and communicate a certain message. Besides, colors in healthcare app development are associated with the services you offer, and should be chosen thoughtfully for that reason.
Tip 4: Add notifications to health apps
During mobile healthcare software development, it's important to add notification functionality. Especially if you create health apps for patients with tracking, milestones, or reminders. For example, medical mobile apps developers add notifications about the time for medication intake.
The best practice in custom health app development is to add various design elements to different types of notifications. Mobile health app developers can use animation, color coding, gestures, and other elements. Such a UI/UX design approach in custom health app development prevents users from confusion.
Tip 5: Perform QA
Quality assurance is a must-do step in medical mobile application development. Testing the healthcare app design will help you see clearly if your goals are achieved.
For getting real feedback for your medical app, engage medical professionals or your target audience. The feedback from people outside the project will give you a truthful evaluation of the result of the custom health app development.
Pivotal Regulatory Standards to Follow in Healthcare Application Development in the US and Canada
Hospital apps for patients and medical professionals undergo rigorous approval before launching. The procedure ensures that custom health app development has been performed according to the Canadian and US healthcare standards and your mobile health app guarantees data privacy and protection.
We've enlisted the core healthcare standards in the US that you need to know and follow when building a health app.
HIPAA
HIPAA is a standard for protecting sensitive patient health information.
Compliance with HIPAA is a process that all health tech entities follow to secure patient data in accordance with the Health Insurance Portability and Accountability Act (HIPAA).
In case of non-compliance, a health tech business faces serious penalties. Depending on how severe the medical data breach is, some stakeholders may even face imprisonment.
Each workflow during health application development must meet HIPAA privacy and security rules.
If we consider the privacy rule separately, HIPAA requires observing certain safety measures that guarantee patients' health data privacy. In addition, this privacy rule limits the usage and disclosure of any health information without prior patient's permission, and grants patients the right to get a copy of their health information anytime. This rule typically applies to healthcare clearinghouses and health plans.
The HIPAA security rule considers interstate norms protecting electronic health records that can be viewed and managed by a healthcare facility. This rule comprises a series of digital, policy, and administrative measures for protecting sensitive health data.
It's fully up to medical app developers to ensure compliance with HIPAA privacy and security rules. Maintaining the privacy of personal data is the key to protecting patients' health and avoiding penalties.
HITECH
The HITECH Act (Health Information for Economic and Clinical Health Act) was launched as an incentive for integration and use of EHRs (electronic health records).
Only 10% of healthcare providers used EHRs before the HITECH Act. That's why, the administration of Obama introduced the HITECH Act to promote healthcare technology, specifically EHRs. The legislation is critical as the use of EHRs also enhances data privacy and security.
GDPR
GDPR (General Data Protection Regulation) sets up norms for healthcare businesses to gather, use, and store patient data.
According to the GDPR regulation, the collected data are categorized as health data or personal data. Health data comprises information about patient health, including patient vitals, biometric data, or genetic records. Personal data identifies a patient through the identification number or demographic details.
All in all, GDPR makes data usage absolutely secure, protects user privacy, and enables managing voluminous personal data—all of which benefit the healthcare sector.
HL7 and FHIR standards
HL7, which stands for Health Level Seven, is one of the international standards that are built for medical data management, integration, and data transfer between software applications that are used by various healthcare providers.
As an alternative to the existing HL7, FHIR standard which stands for Fast Healthcare Interoperability Resources, resolves the same tasks, yet allows health app developers as well as end users to avoid operational challenges that HL7v3 had.
CCPA
CCPA (California Consumer Privacy Act) provides ultimate consumer data protection in the US. It protects patient health data from being shared without their consent.
CCPA regulation gives patients the right to know if healthcare businesses collect their data and how they are going to use it. Patients can also restrict or fully stop the gathering, usage, and sharing of their data if they want it.
PIPEDA
Taking into consideration Canadian legislation, PIPEDA (Personal Information Protection and Electronic Documents Act) comes as the leading law for consumer data privacy.
PIPEDA regulations set up privacy standards that guarantee patients that their data won't be collected, stored, managed, or transferred without their consent. The law also controls patient privacy that safeguards medical and billing information. So, all healthcare businesses acting in Canada and managing consumer personal data, must adhere to PIPEDA regulations.
6 Pricing Factors to Consider When You Develop a Healthcare App
Building a mobile healthcare application comprises 3 major stages:
pre-development;
development;
post-development.
At each stage of healthcare application development, you need to consider certain factors and typical industry challenges that affect the final cost. Let's see these price-setting factors in detail:
Factor 1. Application Design and Features
The more elaborate design and extensive functionality the app has, the higher the development cost is. In particular, it refers to adding such advanced features, as Machine Learning, Artificial Intelligence, or bio-vitals assessment.
For example, if you decide to add a bio-vitals assessment functionality in your healthcare app, it will require a development team with unique skills and extensive capacity of the server storage to store and manage voluminous data sets. All of this drives up the development cost exponentially.
The fewer app features you add and the simpler design you make, the cheaper the app development cost will be. For example, developing a simple health app that calculates distance and calories will fit even the minimal development budget.
Factor 2. Android or iOS
The fact is developing an app on the Android operating system has higher costs compared to iOS platform development. However, the Android platform is known to have a larger user base, which is likely to result in more effective market penetration.
The most popular strategy for application developers today is to build apps for both platforms. However, note that application development for Android and iOS might require two development teams for creating different front ends, which rockets up the cost in the end. Or, consider a cross-platform development to save the budget.
Factor 3. Development Team Size and Experience
Hiring a development team that consists of highly competent mobile application developers is a proven way to build a superior application. However, the best talents will cost more, impacting your overall budget.
Another factor is the development team size. It's logical that the larger your team is, the more you pay. The best practice in building a balanced team is to hire several senior-level developers that will lead and manage a team of developers with lower experience. This helps you not only build a high performance team, but also save the development budget.
Factor 4. Development Process
Regardless of your previous estimates, the realistic evaluation of time and cost reveals when the development process starts. It will include a more accurate estimate of hardware costs and a better vision of APIs for the required integrations.
Moreover, unexpected changes will also step in due to the updated market research, revision, or urgent necessity.
Factor 5. Deadlines
After you agree on the app design and build the development team, the next step is setting deadlines. This is an impactful factor in pricing, as the development costs are calculated based on the achieved progress and delivered results by the agreed deadline.
In case of a missed deadline, the app development cost is likely to exceed the initial estimation.
Factor 6. Testing
Testing is a central part of the post-development stage in application building. Testing ensures impeccable functioning of the app features, loading time, speed, and other parameters.
If the checked things meet the requirements, the medical application is ready to launch. If certain issues are detected, they are documented and fixed first, then the app undergoes another testing cycle.
Overall, the estimated cost of developing a full-functional healthcare application, from design to testing, equals approximately $500k.
Belitsoft has a team of experienced healthcare developers that know how to build profitable healthcare applications. Talk to them directly to discuss your idea.
Custom Healthcare Applications vs Off-the-Shelf Healthcare Applications
A healthcare professional who needs a healthcare application to simplify working processes can either buy an off-the-shelf software or build a custom application according to individual needs.
Drawbacks of Pre-Built Apps
❌ Unlike in the case of a custom solution, buying pre-built software implies the high risk of getting a general-purpose solution that doesn't resolve your specific healthcare organization's needs. It often leads to the waste of time to train your medical staff or even altering the workflows in your medical organization to meet the functionality of the pre-built software.
❌ The system compatibility can become another unexpected challenge. In case your IT infrastructure doesn't support a new pre-built application, you will be obliged to waste time revoking it and finding appropriate pre-built apps.
❌ As opposed to custom-developed software, off-the-shelf software cannot be scaled in line with the growth of your business. So if your ambulatory clinic expands to new services, the previously selected commercial software will not cover new workflows.
However, purchasing pre-built software has a well-known advantage – it takes minimum time and money to implement it. Besides, pre-built software can be easily researched, which allows comparing different offers and finding the best one for your organizational needs. For example, you can use multiple reviews of other customers about pre-built applications or join a corresponding forum or community to find out more before you make a decision.
Benefits of Custom Apps
✅ A custom application is built specifically for the needs and business goals of your organization. Instead of resolving general-purpose tasks, such a customized platform focuses on automating and optimizing your current workflows, which pays off in the long term.
✅ Custom healthcare appscan be adapted to your changing needs. This is especially helpful when your business grows and its needs are evolving. For example, a custom application created for a single-physician practice can be scaled up to cover the needs of ambulatory care organizations with several facilities.
✅ A medical application growing in line with your needs saves time for your medical staff. Otherwise, you would need to switch to new software, educate your staff, and wait until they will get accustomed to the new software.
Some people find bottlenecks in developing a custom application from scratch. For example, if you build a complex app in a tight term, quite a large upfront investment for hospital application development is needed. Also, you cannot expect an immediate result.
The good news is Belitsoft has over a decade of expertise as a medical app development company. And our experts know how to avoid these challenges.
👉Expert tip! In case you have tight terms and a complex product to develop, we recommend dividing the entire process into simpler and cheaper tasks. Decide what features you need first, and start with MVP development. Then, keep on working on your app, while your app is already in use and brings benefits.
5 Factors for Choosing a Technology Partner for Custom Healthcare App Development
The number of companies that offer first-class application development services is quite extensive. It makes selecting the right mobile health app development company that will build your healthcare application a challenging process requiring research.
We understand how important it is to choose a reliable and competent partner who will develop a custom healthcare application based on your individual requirements. So our experts have generated a strategy that will help you make the informed decision.
Factor 1: Previously Developed Solutions
The competency of mobile application development companies can be easily evaluated based on their previous track record. So the number one recommendation for a healthcare professional interested in building a custom healthcare app is to make extensive research.
Evaluate what history a company has, do they deliver in time, what medical applications they have already built, or much more helpful information.
Together with such track records, your research will also give you a better vision of how other healthcare organizations launch and use such software. In addition, you might get valuable insights about your future app.
Factor 2: Experienced Leadership
We highly recommend choosing a healthcare software development company with experienced leadership as your technology partner for medical app development. Here are the major reasons for that:
Experienced leaders have great domain knowledge. In healthcare application development, this is especially critical, as the industry is changing rapidly. And all these novelties require deep and quick understanding.
Experience gives thorough know-how for selecting a viable strategy and the correct healthcare technology stack, as such a leader understands well the workflows in medical facilities that have to be automated.
Competent leadership knows how to build a balanced and highly productive mobile healthcare application development team. They are skilled in identifying talents and creating a balance of creativity and expertise within a team. Such a team is sure to deliver a high-quality custom application and meet deadlines.
Factor 3: User Interface
The user interface is a fundamental part of any application, as this is a point of interaction of your users with the app functionality.
So the core factor to evaluate when choosing a partner for custom app development is previous interfaces in their portfolio. If a tailored application has great functionality but completing a task through it is a complex and unclear series of steps – such a medical application is doomed.
Factor 4: Compliance with Data Security Measures
Protecting patient data is a priority for a reliable and competent medical application development company because if patients' health information is lost or compromised, it will impede doctors to treat patients, especially those with chronic conditions.
A healthcare application that doesn't adhere to data security measures not only endangers patients' health, but also puts a tech company at risk of legal punishment. In case of a digital breach, a tech company is investigated thoroughly. And if the violation of security measures is detected, such a company faces serious penalties, including as severe as a company shut down.
Factor 5: Company Awards
Another form of recognition is awards. A medical application development company awarded for its work should be your first choice. The more awarded a company is, the better its work typically is. However, with such a company, expect higher development costs for custom software.
Real-Life Cases of Healthcare App Development by Belitsoft
During the last 7+ years in the healthcare industry, Belitsoft has developed a series of both web and mobile healthcare applications that successfully resolved the business challenges of our clients. Here we'll showcase a couple of such success stories.
Success Case 1. Web and mobile app for EHR integration with patient-generated data
Client's Challenge:
The Israeli-based digital health software company came to Belitsoft with an MVP of SaaS software that had to be customized according to the requirements of the first paying customers.
How Belitsoft helped:
The MVP version of the web and mobile applications was upgraded with advanced functionality and new features. For example:
Belitsoft's healthcare team automated a new medical workflow. Now, scheduling and rescheduling of a treatment plan is made automatically, based on a particular date (surgery, check-up, etc);
We ensured exceptional healthcare app security by applying refactoring;
Our specialists integrated the healthcare organizations' proprietary software with the application with the help of custom APIs;
We improved User Experience by upgrading a User Interface;
and a wide range of other upgrades and customizations.
Belitsoft also dedicated required specialists for software testing as an essential part of healthcare application development to ensure smooth work of the applications.
Result:
In the end, the Client has received both web and mobile applications that are fully-functional and can be adapted to the requirements of healthcare organizations with various workflows.
Such scalable and highly customizable apps have become a profitable product for the Client.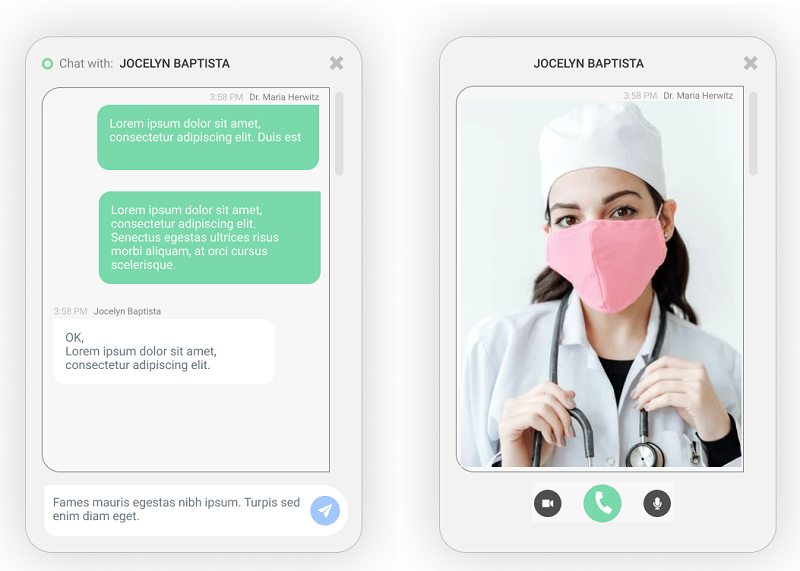 The UI of the mobile app for video or text communication with a doctor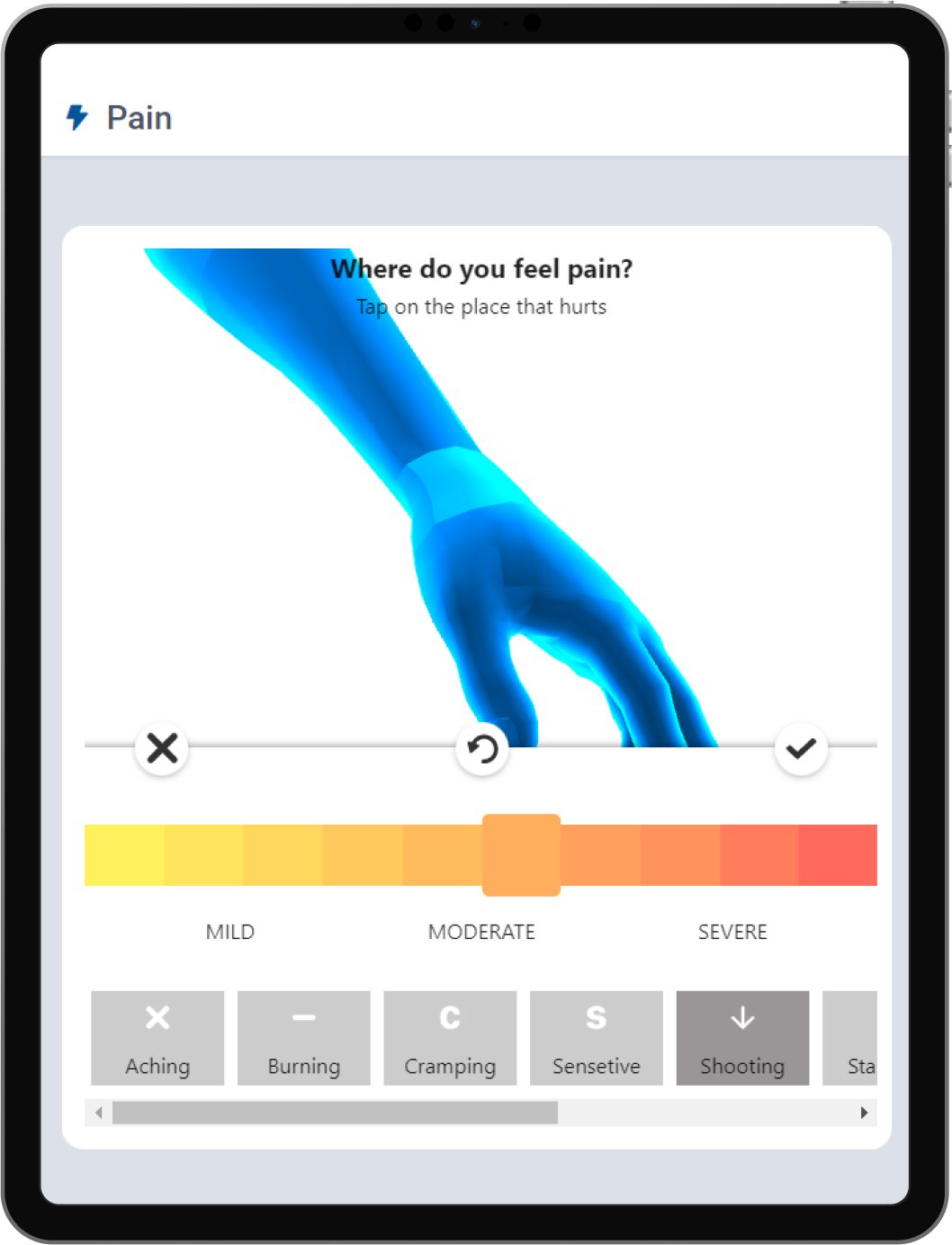 A pain assessment feature in a mobile healthcare application
Read about Customization of ready-to-use EHR for individual needs of particular healthcare organizations in more detail.
Success Case 2. Custom EHR App Development
Client's Challenge:
The US-based tech company partnered with Belitsoft to create an MVP for an Electronic Health Records (EHR) application.
How Belitsoft helped:
To cut the custom healthcare application development costs and launch the app in the short term, at the 1st stage, Belitsoft decided to develop an MVP with the essential features that end customers were ready to pay for. At this stage, we had to convert business requirements into technical features and prioritize them correctly. For that, Belitsoft assigned an experienced Business Analyst with deep knowledge of the healthcare industry to the project.
Then, new features were added to the app regularly. For that, the developers had to detect potentially conflicting software requirements and resolve them, before they start the development process.
All in all, the Client received a full-featured app with multiple interdependencies.
Belitsoft automated the billing process and integrated the app with various online payment systems;
Our development team made safe data synchronization between a device (smartphone or tablet) with the app and the cloud storage to prevent patient's data loss in case of the Internet connection interruptions;
Belitsoft's developers created the HIPAA-compliant server architecture to ensure that the healthcare application meets HIPAA's technical requirements;
The developers built data collection forms and dashboards for managing collected data;
Belitsoft's team created the benchmarking functionality, showcasing the difference between treatment results of a certain patient and other similar medical cases;
and many other helpful features.
Result:
The EHR automated manual and repetitive tasks, which reallocated the time of healthcare professionals to interacting with patients.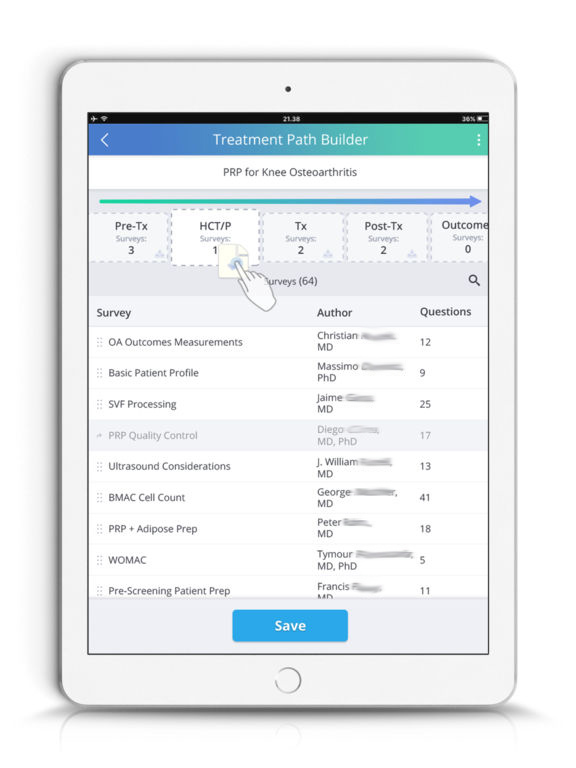 A dashboard for building a personal treatment path for a patient with knee osteoarthritis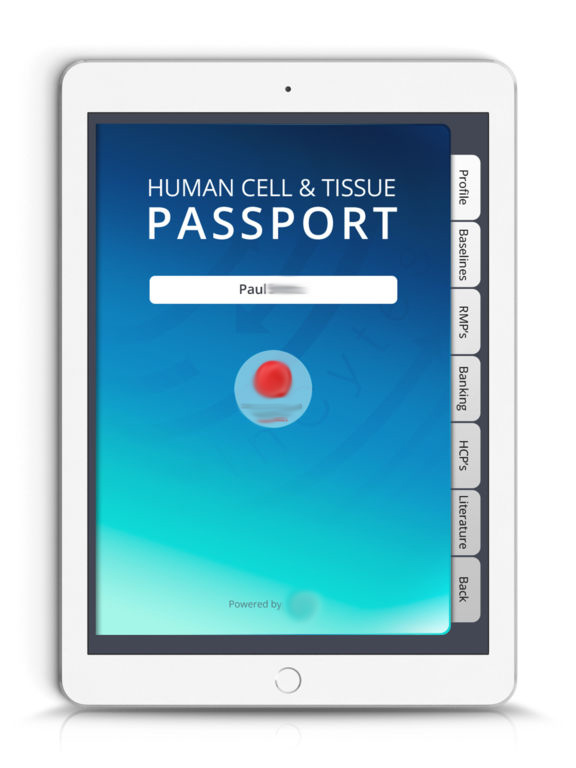 An interface delivering a Patient Passport with all the individual medical data to a patient with the aim to engage and educate them
Read about Custom Electronic Healthcare Record SaaS Development in more detail.
Belitsoft is a reliable tech company with 7+ years of expertise in healthcare. Our skilled team will build you a simple-to-use and engaging healthcare app, fitting your deadlines and budget. Contact our healthcare experts for an individual free consultation.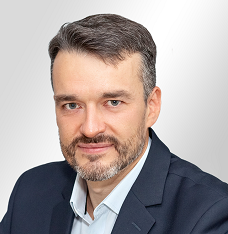 Written by
Partner / Department Head
Recommended posts
Belitsoft Blog for Entrepreneurs