In healthcare having relevant knowledge can literally be a difference between life and death of a patient. That is why many countries, e.g. USA, UK, and Canada, require medical professionals to continue learning throughout their whole professional career. In this article, we will explain how using a Learning Management System could be useful for your medical practice, which issues it can address, and which features your prospective system should have.
How Belitsoft Can Help
Choosing the right LMS for healthcare and implementing it can be a daunting task. But it is a challenge that we can help you overcome.
Ready-made LMS. We can furnish you with an LMS that could be used almost immediately - just upload the content you need.
Turnkey LMS. If none of the existing LMS' fit your requirements, we can develop a new one from scratch. This system would be tailored to your business needs.
LMS Customization. We can modify an open-source LMS by adding the features you require or adapting the UI to your branding.
Course Development. We can develop educational content that you need and in a format that you need: from simple lectures to simulations and learning games.
Consulting. Belitsoft has over 15 years of experience in eLearning and more than 5 years in Healthcare. We can use the knowledge we've gained to help you choose an LMS, structure your training, or secure the information.

Why Use LMS in Healthcare?

Just like in any other domain, an LMS is an efficient and relatively simple way to organize training.

It can host all kinds of learning content: text-based, audio, video, learning games, etc.
It provides tracking of user activity, from logging in to course completion.
It allows sharing learning materials and other documents between learners and between a learner and an instructor (if applicable).
It is a convenient platform for online discussions.
It allows all kinds of tests to assess the learner's knowledge.

There is a variety of LMS' on the market, so each practice, no matter its size, specialization, and budget, can pick one for themselves.

Issues an LMS can Address

There are a number of peculiarities that an LMS must be prepared to face if it is to be applied in a healthcare environment.

Examples of courses that the British NHS provides

Accreditation

A continuing medical education (CME) course must be approved by the appropriate authority to count towards CME credits as required by law. In the USA this authority is the Accreditation Council for Continuing Medical Education (ACCME).

While there are 12 criteria for accreditation, we will focus on those that directly correlate with the benefits an LMS can provide.

Criterion 5: "The provider chooses educational formats for activities/interventions that are appropriate for the setting, objectives, and desired results of the activity." A modern LMS can incorporate pretty much any electronic format, from text and webinars to interactive videos and learning games.

Criterion 12: "The provider gathers data or information and conducts a program-based analysis on the degree to which the CME mission of the provider has been met through the conduct of CME activities/educational interventions." Thanks to the advanced tracking and reporting available today, you'll be able to gather the required data on the improvements in the knowledge level of your learners.

Criterion 13: "The provider identifies, plans and implements the needed or desired changes in the overall program (eg, planners, teachers, infrastructure, methods, resources, facilities, interventions) that are required to improve on ability to meet the CME mission." The flexibility of modern LMS' allows making quick changes with minimal involvement of the IT-staff.

Overwork

It is no secret that US doctors are swamped with work: 80% of them are working at full capacity or above and 78% are experiencing at least some degree of burnout. Between seeing patients and being slaved to an EHR they barely have time to breathe, let alone learn.

This is why eLearning is a better fit than traditional or even blended format: information is accessible anytime and anywhere as long as there is access to the Internet.

A modern LMS is also uniquely suited to providing microlearning - education through bite-sized materials and brief activities. A medical professional might not have an hour of time to watch a learning video but finding a few 5-minute windows to do a couple of quick quizzes is much easier.

Relevance

While compliance with regulatory standards is important, providing up-to-date information that medical professionals can apply to their daily jobs is no less so.

Thanks to modern technology like Learning Tools Interoperability (LTI) you can make sure that your learners get what they need.

LTI is aptly compared to a USB stick: it allows you to connect any learning tool (e.g. a course from a top educational institution) to your LMS. Valuable information can be added to the knowledge base whenever there is a need or an opportunity for it.

Trends in Healthcare Learning

There are two leading trends that shape continuing education for medical professionals.

1. Microlearning

Burnout is one of the main problems plaguing the modern doctors. About 2% of the US physicians want to leave the industry entirely, in part due to having to spend too much time doing clerical tasks and not enough - actually working with the patients.

"EHRs contribute to burnout by turning physicians into unhappy data-entry clerks, and also by enabling 24-hour patient access without any system to provide compensation or coverage," Dr. Robert Wachter, professor and chair of the department of medicine at the University of California, San Francisco, said.

This is why microlearning - training with bite-sized lessons that can be consumed quickly - is gaining popularity in the Healthcare domain. Medical professionals can work toward their continuing education credits while standing in the traffic jam, on their morning commute, or whenever they can find 5-10 minutes for it.

2. Gamification

Gamification is using game-design elements in a non-game environment, e.g. giving learner points for completing lessons or awarding an achievement badge for passing the quiz on the first try.

It has been a staple in corporate training for the last decade, and its use in Healthcare is steadily increasing. Studies show that gamification helps improve learning outcomes, increase precision, and motivate the learners better - metrics that translate to saved lives.

For more information on gamification and how to use it, see our relevant articles: Gamification in eLearning and Gamification in Healthcare.

Healthcare LMS Features

What functions you need to get the most out of your LMS for the medical field.

Cloud Deployment

A cloud-based system is one accessible through the internet. You don't need to spend time installing it on the devices in your organization - just open your browser and type the needed address. This also eliminates the need for upgrades and maintenance - all these things are managed by the provider.

Cloud deployment ensures your LMS is accessible whenever it is needed.

eLearning Standards Compatibility

Unlike EHR/EMR systems, where interoperability is still an unsolved problem, the distance learning industry has several popular data formats that make information exchange easier.

SCORM - an older standard that is still widespread.
xAPI - the newest format quickly growing in popularity. It was designed to replace SCORM.
LTI - as mentioned above, this is a standard that allows connecting various learning tools.

The first advantage these standards provide is the availability of learning materials. If your LMS is SCORM-compatible, for example, adding a SCORM-packaged course becomes a matter of a few clicks.

The second advantage is tracking capabilities. xAPI, for example, is praised for the many things it can monitor and report on. MedStar Health (a provider in Washington DC and Maryland) used this standard to track the training of resuscitation medics by connecting it to several apps including a defibrillator simulator.

Analytics and Reporting

Measuring the learners' progress is not only a certification requirement but also a valuable tool for managing your employees' competencies. An LMS usually has a number of prebuilt reports and often allows the creation of your own custom ones.

Reports that could be useful for you include:

Participation/Performance/Completion - these reports show how much time the learners spend in the system, how well do they perform and whether they finish the chosen course.
Certification/Compliance tracking - these reports help monitor, where your employees stand regarding the compliance requirements. They could also be helpful to the employees themselves.
Satisfaction reports - demonstrates how happy your learners are with their course, instructor (if applicable) and the system in general.

Creating and adjusting the reports is a large topic, so feel free to consult with your LMS provider on how to approach it.

Blended Learning Support

Fully online learning might not be the best tool for anything. Some training formats literally require a hands-on approach. This is why having an LMS that supports offline and mixed learning is important - it allows the greatest diversity in knowledge transfer.

Take a look at the case of Bryan Health, for example. They have developed a mannequin-assisted simulation training for postpartum hemorrhage and successfully delivered it live. A good LMS will allow you to include the info from that training, monitor your learners' effectiveness during the course, and add the credits to your employees' profiles.

Performance Management

The goal of CME is to improve medical professionals' performance and, consequentially, patient outcomes. Without monitoring the said performance there is no way to know whether this goal is being achieved.

Adding performance management capabilities to your LMS solves this problem, along with many others. For example, if you need to provide documentation for state officials or a grant committee, you can just print it out from the LMS data. If there are several employees in a department, who are lagging behind in certain competencies, you can assign additional training only to them rather than the whole department.

In addition, you don't have to track assessment dates anymore, as the system would be able to do it automatically.

Gamification

Gamification is introducing game elements to a non-game environment, e.g. giving a user an achievement badge as a reward for completing a quiz successfully on the first try. It has been a popular and proven method of increasing motivation in learners, which is why you should use it in your LMS too.

While there are studies showing the positive effect gamification has on the effectiveness of learning, as well as the motivation, engagement, and enjoyment of the students, it requires careful planning to achieve the desired outcome.

Popular LMS' for Healthcare

Let's take a look at the LMS that are most often used by medical practices.

Top 3 LMS for Healthcare according to Capterra

Blackboard LMS for Business

Blackboard is a reliable and feature-rich LMS that is available in SaaS, on-premise, or self-managed hosting versions. It boasts a flexible course management function, in-built gamification, and robust tracking capabilities.

However, it has a number of disadvantages:

Slow. "It's also painfully slow to use, as it does constant server requests (just paste the URL for a Blackboard connection into http://www.webpagetest.org/ for testing). Sometimes one single click every 15 seconds is all the system will react to when I'm using the grade book, etc. -- in the "real" world, without captive users, no one would ever return to a site with those response times."
Counterintuitive. "While the features are wonderful, they are somewhat convoluted to properly utilize, requiring more steps than I would like, and can sometimes be "hidden" in such ways that I have to refer back to user guides because it's not a very intuitive integration."
Giving students unrealistic expectations. "The law of unintended consequences applies directly to blackboard. The same convenient and varied options that make the product great also give students more access (and wildly unrealistic expectations) to their professors. This is great for the 5% of students who have helpful and legitimate questions, but obnoxious for those who expect instant responses, midnight submissions, and A grades for D papers because "they clearly are trying. Just look at their blackboard logs and see!"

Medical Lab LMS

Medical Lab LMS is a cloud-based solution that focuses on compliance training, continuing education, and other learning important for lab employees.

And this is what they think should be improved:

Inconvenient mobile app. "The app version always requires me to enter a password again and again. It is very annoying. It would be great if the app can save my password. It becomes worse when it requires me to enter two password for a single login. It takes me a lot of time because I always login and logout of the app while I am studying on the train. Also there is not a search function for finding all relevant material for a single topic."
UX Issues. "The thing I like least about the software is sometimes the pictures for hematology in microbiology questions are too small, leading to wrong answers. On some phones I've had trouble loading questions that contain blood bank charts."
Subpar analytics. "I would like to see more on the analysis portion of the certification exam. Specifically, if a student takes the exam, there would be an option to possibly assign a quiz based on the area that the student was most deficient. Currently, I rely on the student to look at the results and assign themselves another test on just that area."

Skillport

Skillport is a cloud-based LMS developed by Skillsoft, which is why the names of the company and the software are sometimes used interchangeably. It focuses on corporate eLearning, including training in the Healthcare domain.

This is what the users consider its disadvantages:

Outdated admin panel. "The admin side of the software is extremely convoluted and dated. It is hard to keep the back end organised based on how the system is set up - this makes it very challenging to manage a large employee base. The reporting functionality is very limited. Often the same report will produce different results and it is challenging to pull accurate data. I would go with one of Skillsoft's updated softwares."
Lack of important features. "There are a few missing critical features in the basic Skillport LMS. The primary missing feature is the lack of manager tracking dashboards outside of the reporting tool."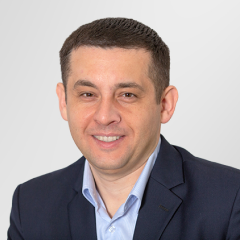 Written by
CTO / Department Head / Partner
Recommended posts
Belitsoft Blog for Entrepreneurs