There are training programs that work best when delivered by an instructor. Those include creative writing and medical education, for example. With a global pandemic making live classes risky, however, it becomes much safer and much more convenient to switch to virtual instructor-led training (VILT). This kind of education can be done through a learning management system and with much better effectiveness than via simple video conferencing software. Read on for details.
How Belitsoft Can Help
We are ready to extend your VILT with an LMS.
We offer:
Integration LMS with Video Conferencing Tools;
LMS with Zoom integration;
LMS video platform development.
Difference between Video Conferencing Platform and LMS
Virtual instructor-led training includes any educational activities done live through video conferencing tools like Skype, Zoom, GoToMeeting, etc.
Various sources differ on whether to include webinars in this definition. On the one hand, they are also delivered live and online. On the other, full-fledged VILT makes full use of two-way communication between presenter and learners, while webinars tend to be more one-sided.
A learning management system (LMS) is a piece of specialized software for storing, administration, and tracking various training programs. Examples include JoomlaLMS, Canvas, Blackboard, etc.
We have written many articles on LMSes, from choosing the right one to preparing a specification for a custom one, to building a turnkey system from scratch. Feel free to explore our blog for more insights on the topic.
How LMSes extend the power of VILT
Learning management systems can really power up VILT in many ways. Here are some of them.
1. Archiving
Traditionally, recordings of live sessions remain available just for some time after the entire course is over. This means that you need to store these recordings somewhere, take time to upload them. Commonly this is done via a third-party video hosting service (e.g. YouTube) manually.
LMSes, on the other hand, have the capability to store the recordings in-system (without the need to manually upload the files). They also can automatically limit access, might include video-editing tools and other quality-of-life features.
All-in-all, this saves a lot of time that can be better spent elsewhere - for example, on preparation for new courses.
2. Scheduling
Usually, the timetable for learning sessions via traditional VILT tools is posted on a separate website or social media group. The reminders are sent through a third-party mailing service.
LMS unites this all in a single system. An inbuilt calendar is a convenient way to plan and possibly reschedule classes. And a notification system allows for automatically sending people updates and reminders.
3. Communication
The typical webinar/VILT software allows one or two ways of communication: voice chat and text chat.
LMSes have a lot to add to it:
Internal email;
SMS;
Social media;
Forums;
Etc.
This makes teaching much more flexible, allows for extra activities (e.g. group work on the forum), and supports innovative training methods.
4. Integration
If there is a particular VILT tool that you like, it is likely that there are LMSes that can connect to it. This will grant you both the benefits of the tool and all the good stuff that the learning management system has to offer.
Moreover, the functionality of an LMS includes features from many separate kinds of software, which means you will need only one tool for all your eLearning needs.
5. Examination
Every LMS has an inbuilt quiz feature. They can differ in details (e.g. the types of questions available) but there is always a way to test the users' knowledge.
This is a huge step forward from simple VILT tools that have nothing of this sort. The learners can get all kinds of tests without leaving the system which makes the process much more intuitive. Moreover, it saves the time of the instructors who will be able to quickly and easily create quizzes and modify them.
6. Analytics
Using an LMS will add an entirely new dimension to your VILT. Instead of manually calculating metrics like attendance and completion rates, you will have a suite of automated reports for everything that matters both academically and commercially.
In addition, LMSes compliant with modern standards like xAPI allow for even more detailed analytics and in more areas:
Completion tracking;
Offline learning tracking;
Game-based learning tracking;
Mobile learning tracking;
Etc.
Now you'll be able to beef up your presentation with extra activities that will take learning to a new level.
7. Elearning Features
In addition to improving the more traditional aspects of instructor-led training, an LMS can open new paths for making your courses more efficient and engaging. Gamification, self-guided learning, automatic certification… There are tons of features that common VILT tools don't provide.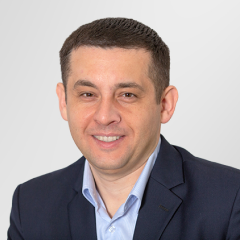 Written by
CTO / Department Head / Partner
I've been leading a department specializing in eLearning applications and Business Intelligence for 14 years.
Let's Talk Business
Do you have a software development project to implement? We have people to work on it. We will be glad to answer all your questions as well as estimate any project of yours. Use the form below to describe the project and we will get in touch with you within 1 business day.