In a small company, the duties of an instructional designer and an eLearning developer could be combined in one person. However, larger corporations prefer separating the two. Instructional designers handle the learning experience (curriculum, teaching methods, practical exercises) and the theoretical foundation. eLearning developer implements the design and ensures it works exactly as intended.
How Belitsoft Can Help
We can leverage our 10+ years of experience in eLearning development to assist you with the following:
Learning course development. Using our knowledge of modern authoring tools, we can make a series of interesting and effective lessons for your learners.
Custom eLearning development. Unique course development is our specialty. If you have an idea that no authoring tool can bring to life, that's something we'll be glad to help you with.
Instructional design. Choosing the appropriate methodology, setting reasonable objectives, and ensuring that the course will do what you want it to do.
Gamification. Designing a system of incentives that will keep your learners immersed and engaged.
Serious games development. If you have an idea of a game-based learning program, we can assist you with all the technical matters from game design to coding and post-launch support. We can do it for PCs, web, and mobile platforms.
Definitions
An instructional designer is a person who systematically designs, develops, and delivers instructional products and experiences, both digital and physical, in a consistent and reliable fashion toward an efficient, effective, appealing, engaging, and inspiring acquisition of knowledge. They are the person busy defining the objectives of a course, interviewing subject matter experts, planning out gamification incentives, etc.
In a digital course, an instructional designer will prepare storyboards, work with designers to set up the appropriate visual style, and explain to the developers how each function should work.
Put simply, an instructional designer lays the foundation of a course like an architect plans a building, although they might work on content.
An eLearning developer, on the other hand, is responsible for implementing the design. They will study the storyboard to locate problematic areas, for example, features that can't be implemented with the selected tools or functionality that would overextend the budget. Then they will use one of the authoring tools and potentially some custom programming to create the learning course.
One thing they both do is working with learner feedback. An instructional designer deals with changes to the lessons and the curriculum in general, while the developer handles the technical side of the things.
Instructional Designer's Skills Set
This is what an instructional designer should know and be able to do:
Working with subject matter experts. One can't be a master in everything. To create a good learning course, an instructional designer will interview people who have intimate knowledge of the subject and transform that knowledge into educational content.
Content creation. An instructional designer writes scripts for educational videos, creates texts, and plans out presentations. An eLearning developer will then turn them into a finished course.
Scientific approach. An instructional designer makes crucial decisions in crafting a course. These decisions should be based on solid research and reliable data to ensure the course's effectiveness.
Selecting the right learning methodology. For example, kids react better to game-based approaches than adults.
Team management. An instructional designer can lead a team that works on the course: eLearning developer, graphic designer, actor, etc. They are responsible for the entire project.
One thing both specialists work on is learner feedback. Instructional designers address the issues with the curriculum and the general direction of each lesson, while eLearning developers handle all the technical matters.
eLearning Developer's Skills Set
And these skills are in the purview of an eLearning developer:
Knowing the technical standards for eLearning software products
There are certain standards that define how eLearning content can be packaged and how its use can be tracked. They are supported by most modern learning management systems and are great for the reusability of content: if you decide to switch to a different system, you just reupload what you need in a couple of clicks instead of remaking it to fit different requirements.
The most popular standards are: SCORM, xAPI (also known as Tin Can API, Experience API), LTI, AICC, cmi5
Knowing how to work with SCORM is especially important, as it is still the most widespread of its kind. However, xAPI and cmi5 are the most advanced, offer the best tracking capabilities, and are compatible with SCORM-packaged content.
Utilizing authoring tools where possible to cut costs
Authoring tools are specialized software for making eLearning content. These tools dramatically decrease the development time compared to custom programming. Authoring tools have special features that make producing digital educational materials faster and with better results.
When checking out a candidate's CV, look for the following: iSpring, Articulate, Captivate, Elucidat, Gomo, etc.
eLearning Programming
Some custom courses can't be developed with authoring tools. They require programming knowledge (or hiring a custom eLearning development company).
Any eLearning developer worth his salt needs to have basic web development skills, as they are needed rather often in this line of work. So the CV should have at least these three skills on it: HTML, CSS, and JavaScript.
Simply put, these technologies are used for making visuals for web-based learning content. Even the best lessons would be ineffective if they are garishly colored, use mismatched fonts, and are difficult to navigate, so an eLearning developer needs to make sure the design is implemented perfectly.
Other skills in this area might include PHP, Java, XML, SQL, C#, .NET, and others. Look for the ones that are relevant to the task at hand.
Visual content editing
Sometimes a company doesn't have the budget to get an authoring tool license but has already bought the picture and video editing software.
All the assets may be provided by the instructional designer or a dedicated graphic designer. For all the other cases, eLearning developers also should know how to work with vector graphics, video editing suites, and Photoshop, Illustrator or Figma.
Knowing the principles of making good elearning UX
Knowledge of how to design a convenient and intuitive user flow is a major benefit for the eLearning developer. It allows them to make content that is accessible and easy to understand, which, in turn, makes the content more effective.
There is no uniform way to describe one's UX skills on a CV. So see if the candidate mentions anything that has to do with user experience design or just ask about this during an interview.
Participation in the project
We'll describe the stages of an eLearning product development and show where an instructional designer and an eLearning developer come in.
1. Preparation Stage
Before the actual work begins, there are matters of setting objectives, budgeting, and planning. This is when an instructional designer talks to the stakeholders, determines the needs, and starts outlining the course. An eLearning developer doesn't have anything to do at this point, so their work is not required.
2. Design Stage
The instructional designer, based on the goals and budgets, will put together a design document and a storyboard. Together with the eLearning developer, they will review it and make it more realistic. This is also the stage where the eLearning developer is given the required assets or makes them on his own.
The instructional designer's work on the learning content begins in earnest.
3. Development Stage
This is the time where an eLearning developer shines. With authoring tools (and sometimes custom programming) the course is brought to life.
An instructional designer could still prepare the content and provide it as it becomes ready. But most of the work is done by the eLearning developer.
4. Testing Stage
Both positions are involved in the process. Instructional designer watches mostly for the learning side of things: how well does the content perform, are the objectives reached, and how motivated the users are. eLearning developer is busy with the technical matters: do all the features work as intended and what needs to be fixed (if anything).
5. Post-Launch Support Stage
After the course goes live, the eLearning developer and the instructional designer can continue working on making it better. The latter could come up with new ways to improve KPIs (completion rate, knowledge retention, etc.) and the former will make them happen.
eLearning Development Portfolio
Experienced eLearning developers accumulate a portfolio, showcasing their work. This is one way it could look, based on our own eLearning development work.
TET - a driving theory course
TET is an online course that helps people prepare for their driving theory exam in the Netherlands. It's now a popular learning solution with over 22.000 happy users and an average rating of 8.5/10.
This is what the customer envisioned:
Mock Exams. Tests similar to the actual one are at the core of the course. They both help prepare for the questions and give explanations of why a certain answer is correct so that the user can learn better.
Gamification. A progress bar and various stats to motivate users and help them complete the course by adjusting their expectations.
Separate sections for different vehicles. The course targets those who want to pass the exams for car, motorcycle, or scooter.
The course had to be custom-built as its structure doesn't fit any existing learning platform.
The work required a redesign of the system's dashboard and making it look like a dashboard of the relevant vehicle.
The gamification system had to be built from scratch according to the customer's design.
The content for mock exams (e.g. animations) had to be developed from the ground up.
Extraas - a game-based learning platform
The customer wanted to launch an eLearning website that would help school students prepare for important exams. It would be a cheaper and more convenient alternative to private tutors.
This is what the client wanted for the course:
Game-based learning. Serious games are at the core of the experience. According to research, the target audience reacts better to them.
Two main elements: math and language. The platform was to be launched in the Netherlands, and the leading elements would be the most demanded there.
Currently, no popular eLearning platform supports game-based learning. So this one had to be custom-built.
The platform required us to create many learning games. To make this process more efficient, we developed our own engine that could be used as a foundation. This allowed us to save the customer's time and budget.
Extraas turned out to be a resounding success with thousands of users and an average review rating of 9.4/10.
Ticken - a touch-typing course
The customer had an idea for a course that would be more efficient than any of its competitors. The existing ones were either too boring, too slow, or too outdated in their methodology. Here's how the client decided to approach his course:
Practice first. Instead of the "video-quiz" pattern, it focuses on the exercises which have students start typing words early. It gives a feeling of usefulness and increases engagement.
Gamification. The course uses leaderboards points. They are intended to motivate users and foster a feeling of competition. In addition, there are several typing games that help learners relax while still using the skills they picked up.
Brevity. The course contains only the most vital information and exercises to save students' time. It is also rational from the business perspective, as it decreases development costs.
The core of the course required exercises that weren't supported by any major eLearning platform. So an eLearning developer was required to make a custom one.
The gamification system and learning games were developed according to the customer's guidelines. We used our technical know-how to implement them.
As a result, Ticken has become a huge success, gaining over 100.000 users and winning several awards.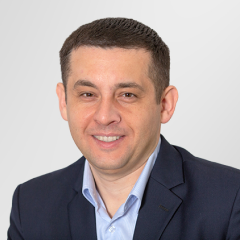 Written by
CTO / Department Head / Partner
I've been leading a department specializing in eLearning applications and Business Intelligence for 14 years.
Belitsoft Blog for Entrepreneurs
Let's Talk Business
Do you have an eLearning project to implement? We have people to work on it. We will be glad to answer all your questions as well as estimate any project of yours. Use the form below to describe the project and we will get in touch with you within 1 business day.