Although the goal is to teach people something, there are millions of applications that have their own approach to the matter. This is why we have prepared an article that will give you a better understanding of the kinds of eLearning software on the market. Speaking about the eLearning domain, we can distinguish 4 major categories of software: сontent-making, teaching, administrative and analytical. Let's go over each category in turn.
Content-Making Elearning Software
As the name suggests, these applications are intended to create learning content.
Authoring Tools
Authoring tools are meant to create all kinds of educational materials and structuring them into courses. The result can be anything: PDFs, videos, podcasts, or even learning games. The content can then be packaged into SCORM/xAPI format and uploaded to the learning management system of your choice.
These applications often replicate many functions of other programs (e.g. video or audio editing suites) but have additional domain-specific features. Thanks to them, authoring tools are more time-efficient than their non-specialized counterparts, especially if there is a lot of content to be developed.
Users of authoring tools include:
Professional eLearning content developers. They often work with multiple clients and need to maximize their output.

eLearning departments of large enterprises. They constantly need to create new learning content or update the existing one, so productivity is key.

eLearning developers/instructional designers for small companies. If there is one person handling both instructional design and eLearning development, they need to optimize their time.
Some of the most popular authoring tools are:
Captivate. A powerful and feature-rich authoring tool with a friendly community, large asset bank, and regular updates. However, it is also complex and costly.

Articulate 360. A cloud-based authoring tool with many useful features, a rich asset library, and a convenient interface. On the other hand, it is expensive and has an all-or-nothing approach - pay for the entire suite even if you need only a few features.

iSpring. This tool has a simple free version and an advanced paid one. It is easy to use and has good analytical capabilities, although there are some stability issues.
For more details on authoring tools in general and choosing the right one for you, see our article.
Learning Content Management Systems
A learning content management system (LCMS) is an LMS with an embedded authoring tool.
Popular LCMS include:
Xyleme. A flexible LCMS with some useful time-saving features (e.g. reusable learning objects). However, many of its functions are very basic.


Tovuti. A powerful and mobile-friendly LCMS. It is well-optimized but some users mention a steep learning curve.
Teaching Software
These applications deliver learning content to the users, analyze their performance, and facilitate the training process.
Learning Management Systems
The learning management systems (LMS) are probably the most widespread type of eLearning software. They store, play, and manage the training courses, record learner attendance and performance, allow various payment options, can include basic authoring tools, etc. The difference between LMS and LCMS is mostly in the focus: the former can support offline activities and instructor-led online training, while the latter is intended for self-guided online training only.
Examples of LMS' include:
JoomlaLMS. A flexible and cost-effective learning management system which is often used as a foundation for custom online elearning software.

Canvas. A popular LMS with many useful features, a user-friendly interface, and unique functionality for instructors.

Cornerstone. An LMS often used for compliance training. It is reliable, has great reporting capabilities, and regularly gets useful updates.
If you want to learn more about the LMS' read the relevant article in our blog.

The term "learning experience platform" (LXP) describes an educational application that automatically adjusts to the needs and demands of the learner. LXPs are usually compared to Netflix because of their manner in which they suggest the content that the user might be interested in.
LXPs are rather rare. Some of the more prominent ones are:
LinkedIn Learning. This system parses the user's profile and uses their skills, job title, work experience, and other traits to suggest the most fitting courses.

Valamis. A Finnish LXP praised for its flexibility and scalability. It is a bit on the pricey side, though.

Edcast. This system boasts a powerful AI that curates the content. It is also very feature-rich, although the administrative side is a bit lacking.
Read this article if you want to learn more about LXPs if you are more interested in specific solutions and market conditions.
MOOC Platforms
Even if you haven't used them yourself, you've probably seen an ad for one of them. These platforms host a large number of various learning courses that can be accessed by huge numbers of people. MOOC platforms often include basic authoring tools, eCommerce options for selling the courses, and marketing tools for on-platform promotion.
Examples of MOOCs include:
Udemy. A typical platform that supports the "video-quiz" style of courses.


Thinkific. This MOOC platform has an integrated authoring tool but is also receptacle to the content developed in the third-party ones.


MasterClass. A niche MOOC which focuses on courses taught by high-profile instructors: Samuel L. Jackson (acting), Neil Gaiman (creative writing), Garry Kasparov (chess), etc.
For more information on them, take a look at the following article.
eLearning courses
Sometimes a course works best as a standalone application, either web, mobile, or desktop. This is especially true in the cases where its instructional design decisions and the teaching approach aren't supported by the existing platforms (e.g. MOOCs). They can be developed entirely from scratch, or have an existing system as their foundation - for cost-efficiency.
Examples of such courses are:
TET. An eLearning platform for selling driving theory courses online. It is based on mock tests to prepare students for the actual one.


Ticken. An award-winning solution for teaching touch-typing. It has 15 hours of lessons which include practical exercises and learning games.


Extraas. A game-based platform for teaching mathematics and Dutch. It focuses on getting school students ready for important exams and intends to replace expensive private tutors.
Software to Manage Learning Centers
These applications focus on managing the training process.
School Management Systems
As the name suggests, school management systems (SMS), also known as student information systems, focus on running all the aspects of a learning institution. This includes scheduling, attendance, grading, informing, and more. SMS' aren't confined to schools and universities, though. They are just as viable for managing a corporate training center, for example.
Prominent SMS' include:
Infinite Campus. A flexible system that includes student and parent portal, as well as its own inbuilt LMS.
PowerSchool. An SMS that covers all the needs of a school and is liked by teachers, although it has a bit of a learning curve.


SkyPrep. This system mostly focuses on corporate customers.
Analytical Software
This kind of software is usually integrated with other systems to boost their reporting capabilities.
Learning Records Store
If you want to enjoy all the advanced reporting features provided by Experience API (tracking off-site activity, mobile app actions, learning games, etc.) - the latest eLearning standard, you have to have a learning records store (LRS). It gathers data from multiple channels, processes it, and turns it into meaningful insights.
Examples of LRS' include:
Watershed. A flexible system that includes both predefined standard reports and advanced customization capabilities.

GrassBlade Cloud. A user-friendly LRS with convenient dashboards and intuitive design.
Learning Analytics Platforms
Learning analytics platforms (LAPs) are basically LRS' on steroids. They include a lot of extra features and in-depth reporting capabilities. LAPs can uncover potential problems with students, mitigate risks, and gain more useful information from raw data.
Some popular examples of such software are:
Storepoints. A powerful LAP that prides itself on compatibility with numerous kinds of software, including non-learning ones.

Clever Goals. This learning analytics platform allows a personalized approach to each student and instructor.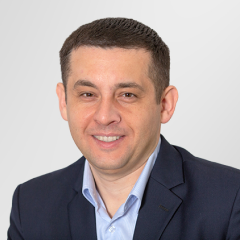 Written by
Chief Innovation Officer / Partner