Choosing the deployment mode (cloud or self-hosted/on-premise) can affect the security of your data, the costs of the implementation, and even the availability of the system. This concerns both new companies that are just starting to build their training program and established enterprises that are moving away from classroom-based learning processes.
How Belitsoft Can Help
LMS Consulting. Using our elearning software development and implementation experience for startups, SMEs, and large enterprises, we can recommend the deployment mode and the LMS that suits your company best.
LMS Migration. We can help your business to move from cloud to on-premise and vice versa.
Custom LMS Development. Thanks to 15+ years of building and maintaining eLearning applications and a proven experience in making LMS' from scratch, we can provide you with a unique and powerful system for improved learning outcomes.
Ready-made LMS. We have a boxed LMS solution that could be just what you are looking for. Available in both cloud and on-premise versions.
LMS Customization. Our team can tailor any open-source LMS to your requirements, whatever they may be.
LXP platform consulting, development and implementation. Learning Experience Platforms offer several features that are often not available in traditional Learning Management Systems to create a more personalized learning experience. We usually implement skill mapping to identify the skills present within an organization and mapping them to available learning resources; automatically customized courses based on individual learner preferences, skills, and career goals based on AI-powered recommendations, microlearning and gamification. We also provide career development tools such as career path visualization based on the skills and courses completed.
What Is a Self-Hosted LMS
The LMS part of the term is pretty clear - Learning Management System. The "self-hosted" is a bit trickier: it means that the company using the LMS also owns and controls the hosting server, whether on-premise or elsewhere.
Who Needs a Self-Hosted LMS
Now that these systems have become more of a niche option than a universal one, here's who can benefit from them the most:
Security-conscious companies. In the case of organizations that store very sensitive information in their system, even the best cloud-based LMS' become a liability.
Large enterprises. Big companies likely have the infrastructure and specialists that can support self-hosted systems without trouble. They can also benefit from the better long-term value of such LMS'.
Unique courses. If your company needs a custom workflow or a very special curriculum, cloud-based systems aren't flexible enough to support them.
Self-hosted LMS vs Cloud LMS
While self-hosted systems are losing in popularity to their cloud-based counterparts, they have a number of advantages over the cloud-based ones.
More Customization Flexibility
Custom functions are an Achilles' heel of the cloud-based systems. And it gets especially noticeable when the vendor is making updates.
Any update has a chance to disrupt the custom features and even third-party integrations a user has. Feel free to check the reviews of the popular LMS' to see what we are talking about. This is why the vendors of the cloud-based systems limit the users' ability to make changes - it's a one-size-fits-all approach.
On-premise systems don't have this problem. Your company would be an exclusive user of your version of the LMS and you'll be free to modify it as you see fit.
Better Data Security Possibilities
Any LMS vendor worth their salt will take steps to protect their product against malicious actors. While cloud-based systems are generally pretty safe, self-hosted ones have more inherent potential in this regard.
This ties in with the previous point on the list. For example, you need your system to be HIPAA-compliant. Implementing many of these security measures wouldn't be viable for a common cloud-based system, but there is nothing stopping you from using them on your own server.
Another part of the issue is that people using the same system share the same vulnerabilities. No software is unbreakable, and if a hacker locates an exploit that lets them access sensitive information, all the people on the shared platform become threatened. If your system has been modified, the vulnerability in question might not exist. Moreover, you can host your LMS on a server without access to the Internet whatsoever, negating the risk almost entirely.
Better Integrations
If you need to connect a self-hosted LMS to other software (HRM, CRM, ERP, etc.) you'll have a much easier time. The shared cloud-based systems typically have integration options, but they are more limited and less reliable.
More Independence from Vendor
If the LMS vendor goes out of business, people using the shared cloud-based platform can kiss their system goodbye. The on-premise systems, however, have a number of ways to ensure that they remain working no matter what happens to the company that developed them. Examples include giving customers perpetual licenses for free, making the system open source, or distributing the on-premise version of the LMS as open source by default.
Disadvantages of Self-Hosted LMS
This is where the self-hosted LMS' are inferior to cloud-based systems.
Higher Upfront Costs
Hosting an LMS yourself requires a substantial initial investment. This includes the payment for the perpetual license, as well as (possibly) domain name, hosting services, hardware, IT-team salaries, and more. The long-term total cost of ownership is lower, but the initial payment is much higher.
More Responsibility
Hosting and managing your LMS yourself takes much more effort than with a shared cloud-based system. You have to take care of maintenance, security, uptime, and many other things that are otherwise the provider's responsibility.
Updating Issues
Working with a cloud-based LMS allows you to get all the updates almost immediately. Yes, sometimes they can disrupt the work, but other times they bring useful new features and improvements. In the case of a self-hosted LMS you'll have to remain without updates entirely, pay for them, or have your IT-team work on upgrading the system.
Popular Self-Hosted LMS'
JoomlaLMS
JoomlaLMS is a powerful, yet easy to use software that is based on the popular Joomla! Content Management System. It is available in both cloud-based and desktop versions and has a mobile app.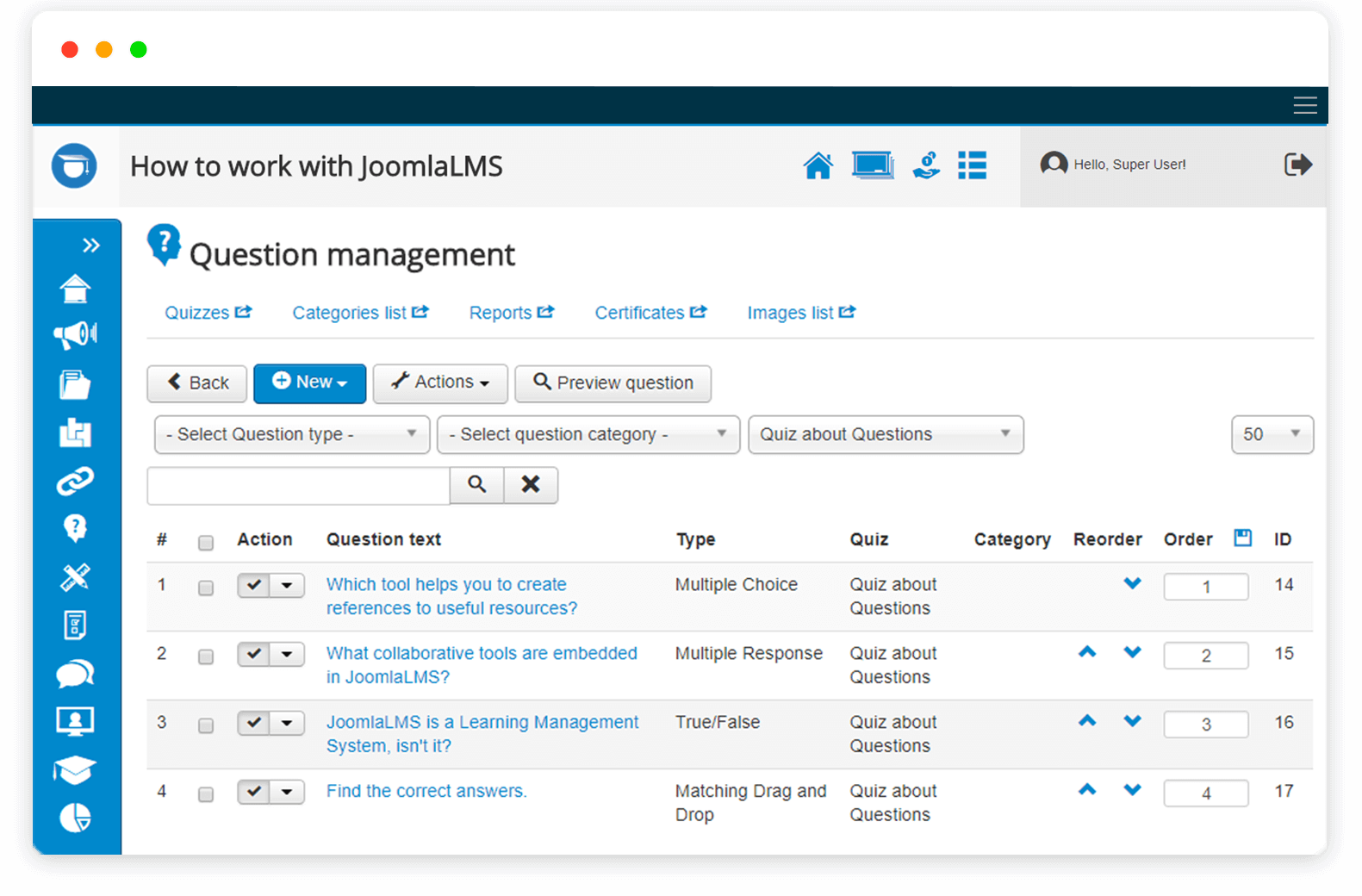 Core features:
Built-in authoring tool
Videoconferencing support
Mobile learning
Learner portal
SCORM compliance
Here's what the users praise it for:
Cost-efficiency.

"As a teacher, I appreciate when a platform I use is very user-friendly and cost-effective. I like that JoomlaLMS satisfies my professional needs. I am also very satisfied with the support team because they helped me a lot since my IT skills are not outstanding." — Ljiljana G.

Convenience.

"Super friendly and modern interface receives frequent updates including security. It has several free and paid templates to make the look professional. As well as extensions to add features to the website or blog." — Carlos R.

Flexibility.

"In every instance that we had, where customization was not possible, we were able to find a satisfactory workaround. For example, if students need to sit a final, external exam that is not part of the online training , the results can be manually added via JoomlaLMS. No other moderately-priced programme that we looked at was able to do this. This flexibility makes JoomlaLMS far more powerful than is seen at first glance." — Dile S.
But there are some disadvantages too:
Complicated maintenance.

"It is difficult to show someone else how to maintain the website, as so many features are organized in strange fashions. Also, you have to click many times just to get to one item, and often has very clunky ways to finish up a project. Also, after a while, many links were irreparably broken. I also got multiple emails from Joomla - sometimes every few minutes. That seemed to be a flaw" — Mary W.
Open edX
Open edX is a free open-source LMS created by MIT and Harvard University. It is mostly focused on delivering MOOCs.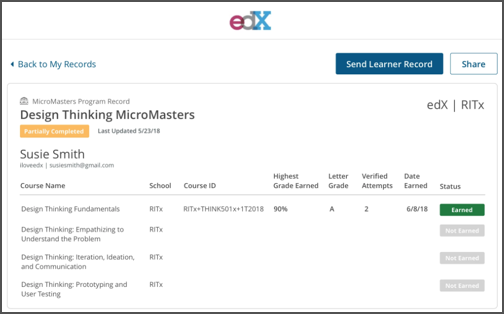 Open EdX. Source
Core features:
In-built authoring tool
SCORM support
Gamification
This is what the users like about it:
Convenient course management.

"It is easy to break long courses into manageable chunks and to check a learner's understanding at each step. Usually this would require me to fly to meet my new sales agents, but now I can simply sign them up for the course and track their progress." — Marianne L.

Powerful features.

"Awesome features... I use less dynamic LMS platforms and this one is one of the most engaging. It feels like a real classroom; students can engage in real time as long as they follow syllabi. If you fall behind you can reset your dates and your grades are rolled over from the previous date. I've used the live video conferencing feature which adds to real-life interaction. The discussion boards and forums are aesthetically pleasing. You can download the app and the features are equally good. You can audit the course." — Carol H.

Helpful community.

"Openedx has a wonderful community behind it - we have always got help from them if we ever get stuck. The product has evolved over the years and with a fantastic mobile app available - it has made learning and reaching the users far easier" — Million L..
And this is what they don't:
Access control issues.

"We had to find a work-around for being able to hide internal (Sales agent) courses from the general public. It would be nice to have an internal course option available." — Marianne L.

Complicated to install.

"The deployment can be a bit cumbersome since it's a fairly large project. Luckily you are able to get help from the community or reach out to vendors." — Luiz A.

Weak learner interaction tools.

"The tools for learner interaction (i.e. the forums) are fairly weak. They need more modern features, and especially more support for team-based moderation." — Reviewer verified by LinkedIn
Moodle
Moodle is a free LMS that is available in both cloud-based and on-premise versions. It is highly customizable and has a vibrant community around it.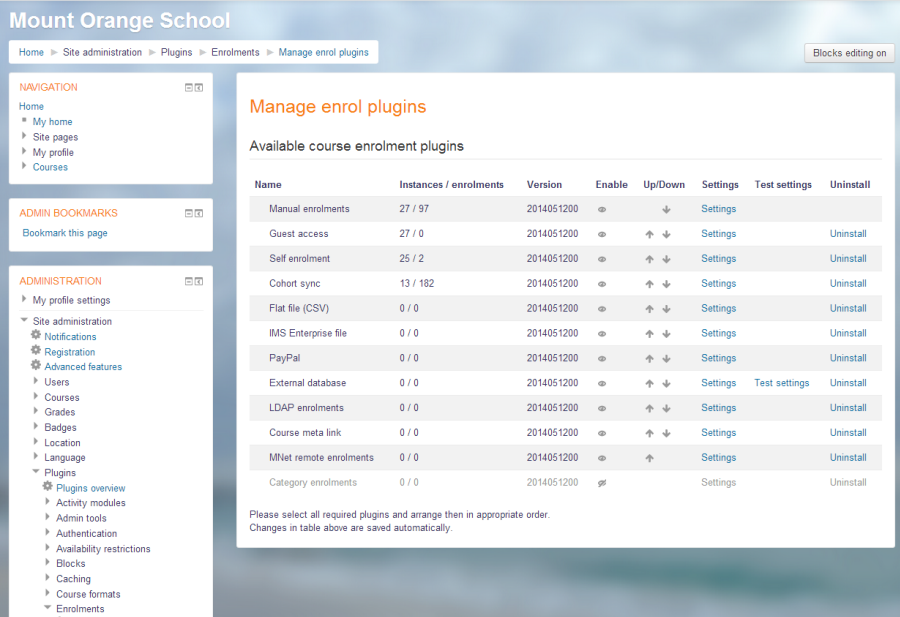 Moodle. Source
Core features:
Built-in authoring tool
Gamification
Videoconferencing support
Mobile learning
Learner portal
SCORM compliance
Moodle advantages:
Good documentation.

"There is a good amount of helping documentation with Moodle you can find almost anything on their documentation. I am happy to say that our students are still using it daily."

Good design.

"The design and layout is simple and the best part about it is that it makes learning fun and interactive for the students."

Low cost.

"Moodle is open source, and therefore inexpensive and low risk to test. If a company is considering eLearning, this should be your first option as a pilot. No pre-planning is as good as actual experience."
Moodle disadvantages:
Complicated implementation.

"This is difficult to set up, particularly if you want to make use of the assessments. You need to define your users and your strategy upfront or it can become a muddle with different departments adding "courses".

Buggy updates.

"Whenever updates for Moodle are released (six-monthly) there are always some problems with existing content, especially with non-standard features that have been designed exclusively for a course or institution. Sometimes they are not immediately evident and can cause issues during the teaching period."

Hard for newbies.

"Moodle is not intuitive to the novice. It took some time for me to learn how to use its many features and implement them well. I have been doing this for at least 8 years, but I am still learning more about the system and its capabilities."
Chamilo
Chamilo is an open-source LMS from Spain, which has been on the eLearning market since 2010.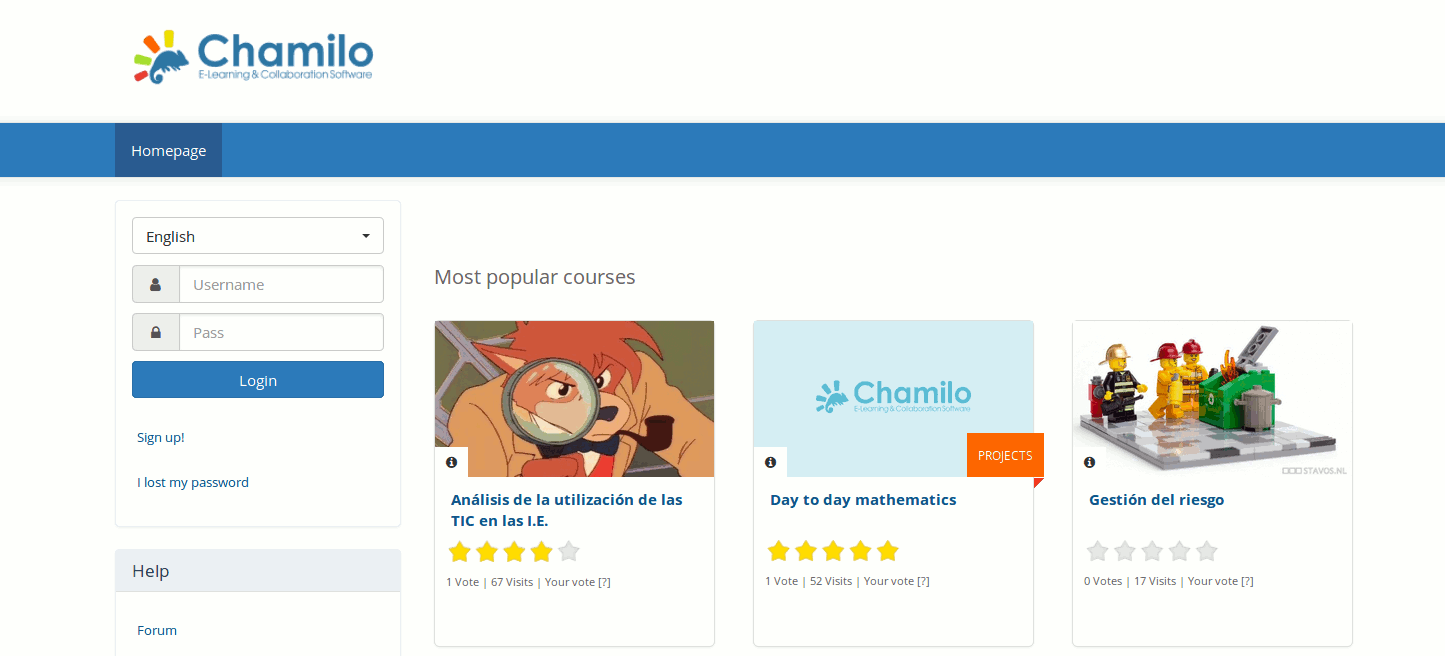 Chamilo. Source
Core features:
Built-in authoring tool
Videoconferencing support
Mobile learning
SCORM compliance
These are the Chamilo's advantages:
Flexibility.

"Stable, mature, solid software. You can use it as a fully working LMS or just as a framework to create your own solution. Also the possibility for gamification or selling courses/sessions makes it even more attractive for running your own online academy. And with the skill wheel, talent management got easier."

Good UI and UX.

"Chamilo is really easy to use as a student. As a teacher it is intuitive but very broad. You can create simple basic courses (text courses with multiple choice quizzes) or really advanced courses (conditional questions, wiki, assignments, group collaboration, forums, ...) It offers a huge set of features to organize students in classes, work with sessions (date based set of courses) or single courses. It fully pulls the card of open source and is thus invested in reaching out to open source solutions like Big Blue Button or OpenMeetings for webinar features."

Free.

"Chamillo is a free learning management system that has can be used for medium sized businesses. Installation is easy as it comes in Softacoulous bundle available in any standard hosting."
And these are its disadvantages:
Questionable architecture.

"At the team, we are not 100% happy with the architecture behind Chamilo. It's not easy to make modifications since the html code is distributed in hard to follow chunks all over the place. The fact that it's using an unsafe language like PHP doesn't make it easier."

SCORM compatibility issues.

"Although it supports SCORM content , some of the SCORM files I tried on Chamilo didn't work. That was the reason I had to move away . However , its internal authoring tool developed content functioned very smoothly."
iSpring Learn
This venerable system has been on the market since 2001 and has both cloud-based and self-hosted versions.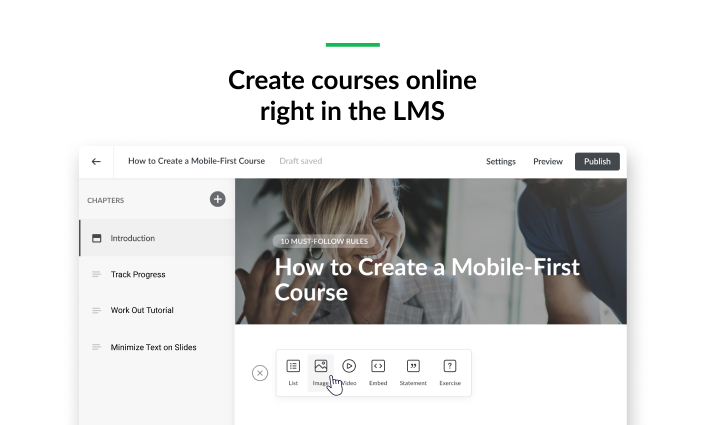 iSpring Learn. Source
Core features:
Built-in authoring tool
Gamification
Videoconferencing support
Mobile learning
Learner portal
SCORM compliance
This is what the users like about iSpring:
Ease of use.

"iSpring Learn is an affordable and easy-to-use solution. You don't need to be an expert to use it and you can set the solution in just a couple of hours! Thus, you can quickly offer e-Learning courses to your customers. The users can also access to courses on their mobile devices with the app, which is a really great feature. iSpring Suite is perfectly integrated with iSpring Learn, so you can directly publish your presentations to the LMS. That means time saving."

Offline mode.

"iSpring learn have the capability to track all my assignments and their completion statistics. the courses could be used offline. also the courses could adapt to any screen size. its a great platform for learning and enhancing one's skills."

Cost-efficiency. "Reasonable/fair billing No limit for on-line content I found this amazing when I first started using iSpring Learn in 2010. There seems to be no limit to how much content can be uploaded to iSpring Learn servers. I currently have about 10gb in the system. Other learning management systems I have used charged by the megabyte combined with the number of students. Great up-time track record. It goes without saying that students must have consistent access to the eLearning system."
And this is what they don't:
Slow to improve.

"New functionality has only been added piecemeal, presumably where a client has paid for a new feature to match their specific requirements. The new functions then aren't applied across the whole system (since the client didn't pay for that work). The result is a "swiss cheese" of a product, with huge holes. For example, the API doesn't allow you to retrieve attributes that were added in new functionality. The API itself allows you to set and retrieve (limited parts of) individual records, but doesn't let you get access to reports programmatically. SSO is all-or-nothing - you have to have the same SSO for all Organizations, which sucks if you're using the same course material in-house as well as externally. And SSO doesn't support the latest standards. Discussion forums are similarly only open to all and can't be limited to Organizations. Presumably both SSO and Discussions were added before some client paid for multiple Organizations to be added."

Limited features.

"eCommerce is limited. iSpring's definition of a "Course" is just about any content item (presentation, reading material, test, assignment, etc.). My "courses" typically have 10 modules and as many as 28 lessons. Each lesson contains about 5 content items. For eCommerce, it would be better to provide access to a full course (by my definition), instead of a single content item."

Weak reporting.

"A report writer has been identified as one feature which would greatly assist the administrator in creating reports on the fly according to requirements he may have to get a view of course progress. The available online reports are good but self-generated reports would be a great feature."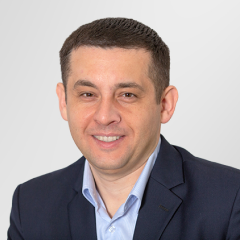 Written by
CTO / Department Head / Partner
Recommended posts
Belitsoft Blog for Entrepreneurs