Creating an eLearning course is a serious undertaking that takes time and money. So to save both it is wise to use templates that you can modify to fit your needs. In this article we will explain what eLearning templates are, give advice on how to use them efficiently, and describe how to create one.
How Belitsoft Can Help
We have cut our teeth on making custom eLearning software and content for it. Here's what we can do for you:
Consulting. Our experienced instructional designers will share their knowledge of template creation and help you make one that fits your target audience perfectly.
Custom course development. Our forte is working with non-standard content or instructional design decisions. So we rearrange premade code snippets in a way that both lets you realize your vision and shortens the development time.
What Is an eLearning Template
An eLearning template is a set of premade pages that can be filled with any content you need. The template will contain outlines for the typical elements of your training program (intro page, lesson page, quiz, etc.) and serves as a framework to build the course upon.
Making one of these is very useful if you are planning to create several courses for the same audience, as the template can be adapted to fit it's intended users. It doesn't mean, however, that you should build every lesson according to the template - it is just a tool to save you time and money in the long run and can be changed, if needed.
Here's why you should use templates:
Saving time and money. If you already have everything outlined, you don't need to repeat the process - just insert content and you're good to go. In addition, it will stop potential arguments within an eLearning development team on how to place the information in the best way.
Increased engagement. Templates are typically tailored to the needs of a specific audience. This will help people enjoy your courses more.
Flexibility. If the needs of your audience change or the course calls for something unusual, modifying a template is simple. It can even be done for serious games.
Branding.When users recognize the typical layout of your course and can remember its color scheme they can also associate it with your brand.
How To Use eLearning Templates
Besides serving as a foundation for multiple online courses, eLearning templates can be used in other ways. These are some of them:
Testing gamification. Gamification is not all fun and games. While it is an effective method of improving the learners' engagement and motivation, it can also hamper them, if used incorrectly. But you can make several templates of achievements, leaderboards, and points to try them out on different people and find the best option.
Quizzes. There are dozens of quiz variations: true/false, multiple choice, drag-and-drop, essay, etc. Making them all from scratch is a lot of effort that could be better spent elsewhere. Just make templates for the most common tests you use.
Characters.Using animated characters is a popular way to liven up your lessons. Having a premade set of characters with appropriate poses and expressions (e.g. a happy one to illustrate completion of the course and a strict one when warning about a mistake) will allow you to quickly present learning materials in the necessary way.
eLearning Template Creation Process
Now that you have a general idea of how you will use a template and for what purpose, you can start creating the template itself. Here's how it's done:
1. Choose an Authoring Tool
Given a variety of authoring tools on the market, selecting the one that is the best for you can be a bit tricky. We have written a whole separate article on this topic if you want to know more.
For now, suffice to say that you should choose one that has an appropriate feature set and a rich library of premade content. Firstly, the abilities of the tool need to be relevant to the job at hand - you don't need an advanced video editing suite if you are just looking to base your lessons on powerpoint-like presentation.
Secondly, the existing content could save you a ton of time, because you don't have to make your own. The assets are flexible enough to be adapted to the task and hand and can be reused for brand recognition or convenience. Moreover, these libraries often have premade templates that you can either adapt for your purposes or use as an inspiration.
2. Design Layout
This is one of the most time-consuming steps, as a general layout is the core of any eLearning template. Focus on the elements that will be reused often, work on borders, fonts, and branding.
Start with making a "master slide" that will serve as a base for all the others.
3. Make the Essential Slides
There are some slide types that are present virtually in every course. Including them in your template is a must.
Welcome slide. It should have a greeting for your learners and a brief description of the course.
Instructions. This slide should contain advice that will help learners make the most of your course. It is also a good place for course structure and the benefits one can gain from it.
Goals. List the objectives that the learners should achieve during the course and by its completion. Preferably, something tangible and quantifiable.
Activity. The slide with the learning content. Different formats might call for different layouts, so if you are planning to vary the type of lessons (video, PDF, sound only, etc.) it is best to prepare a separate template for each of them.
Quizzes. Testing is an important part of the learning process. So make sure you include slides with different kinds of quizzes (true/false, multiple choice, essay, etc.).
Recap. Make sure your learners can review the information they've received - that makes your course more convenient and effective. A recap page shown at the end of the course, possibly with external links to additional useful resources, is a necessity.
Next Steps. This is the page where you can advertise your other relevant courses, or direct your learners to other activities.
4. Add Placeholders
The purpose of the template is to be reusable. However, you need to have some kind of mock content in places where you'll add actual lessons and quizzes. Firstly, it will help you understand the looks of the course better. Secondly, it will make sure that there is a place for the content - otherwise you could have forgotten it. Finally, it will be useful if there is a team working alongside you.
Don't be stingy with placeholders - you can always remove them if they are out of place, but adding new ones when the template is finalized is much harder.
5. Test Your Template
Once everything is in place, you should review your work. Focus on the user experience, especially how convenient and intuitive the navigation is. If possible, bring someone from the target audience, failing that any fresh pair of eyes will do. This will help you find out things that you missed and give you a better idea on how to improve your course.
Examples
See a few examples of effective eLearning templates.
Adventure Orange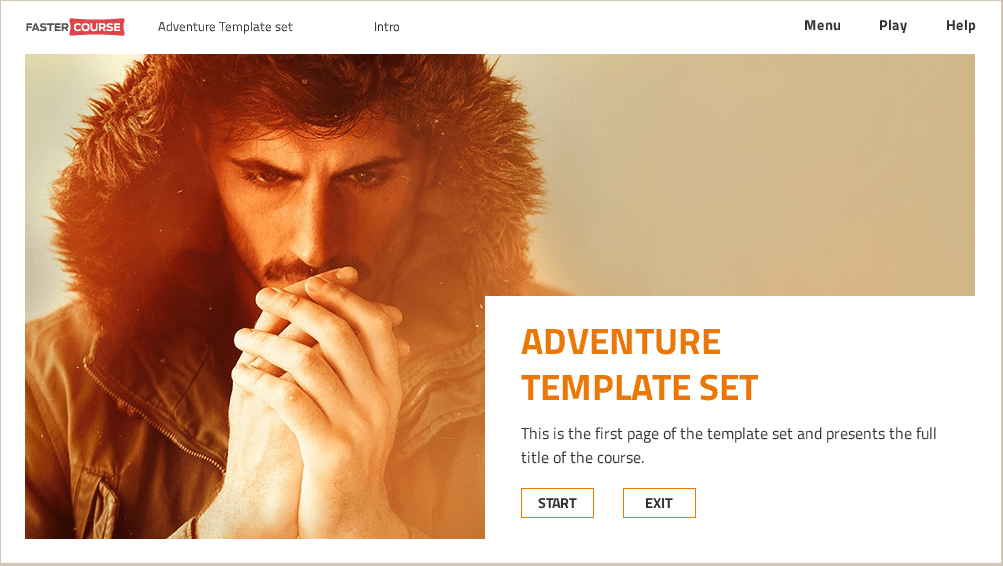 Adventure Orange Title Page. Source
Adventure Orange is a popular template designed for Articulate Storyline. It has all the necessary pages and is optimized for several kinds of content.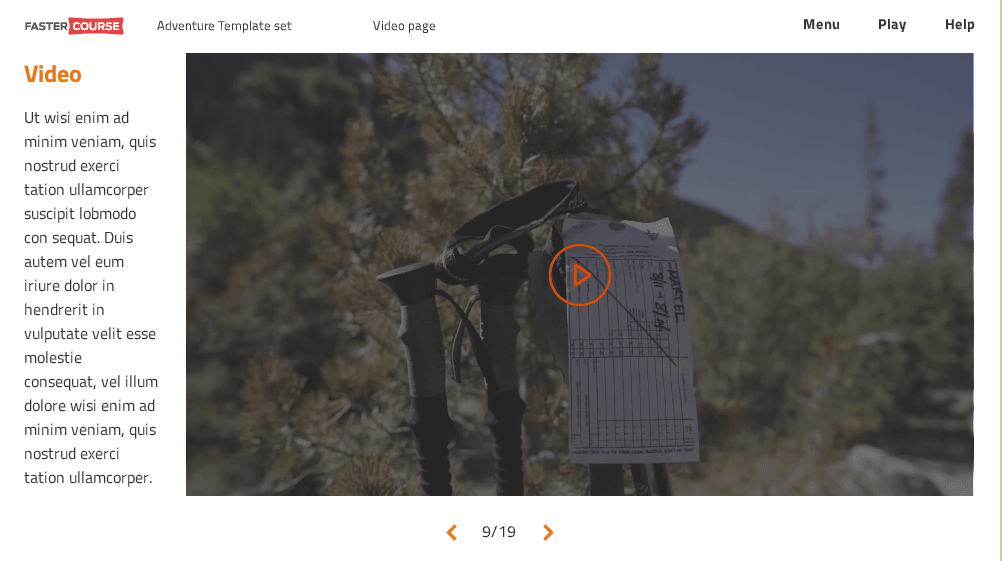 Adventure Orange Video Page.
This template is used for travel-related content, but the placeholders can be easily switched for anything from 6th grade English literature to JavaScript basics.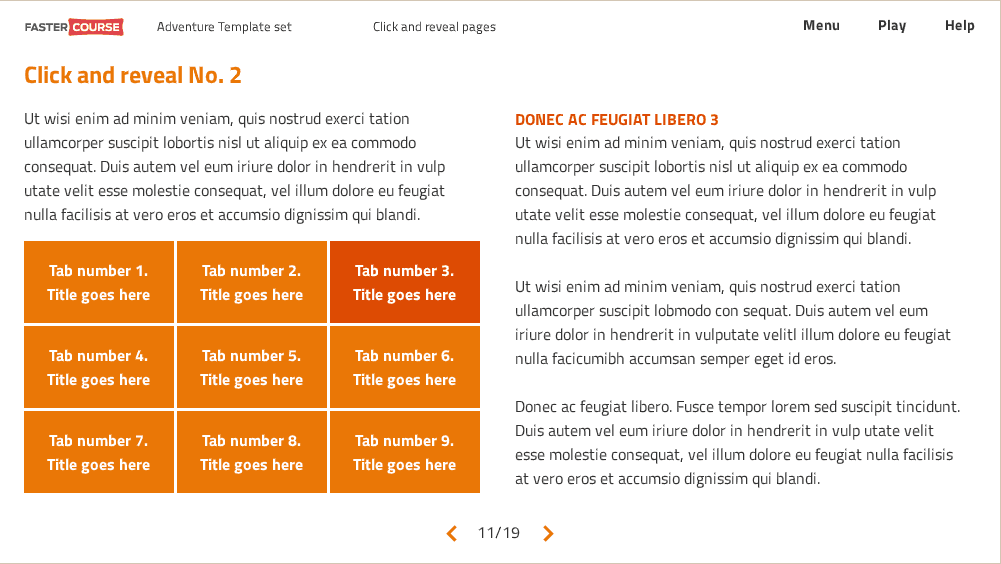 Adventure Orange Click and Reveal Page.
Big Data Visualization
This is a powerpoint template with 48 different slides and a custom-made series of icons.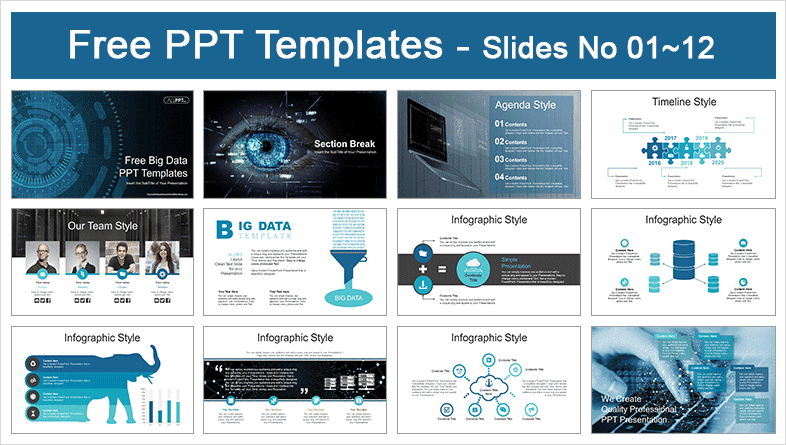 This template works well with any IT-related topics, especially if the presentation includes lots of infographics.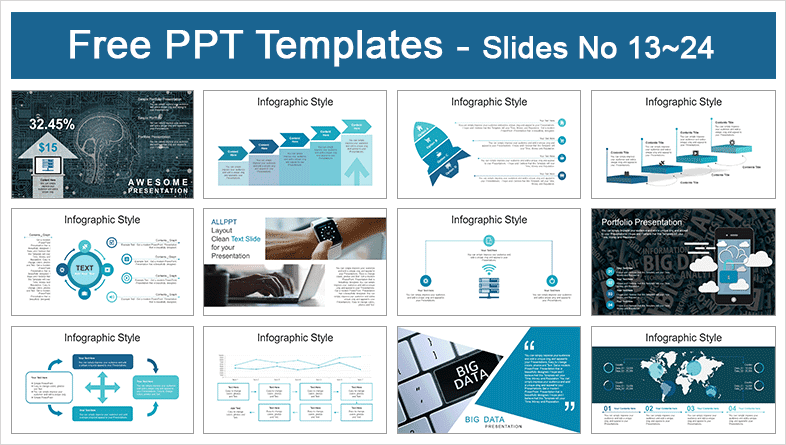 Blood Donation
Another free powerpoint-based template that was made for healthcare-related presentations.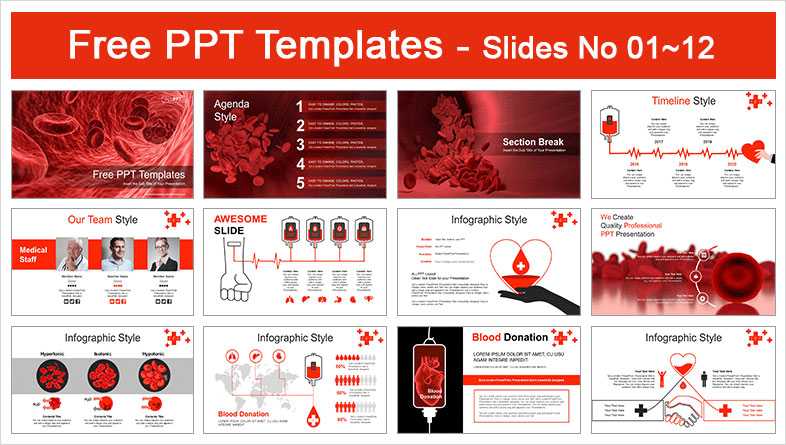 The red color scheme attracts attention and is automatically applied when you use this template for any course.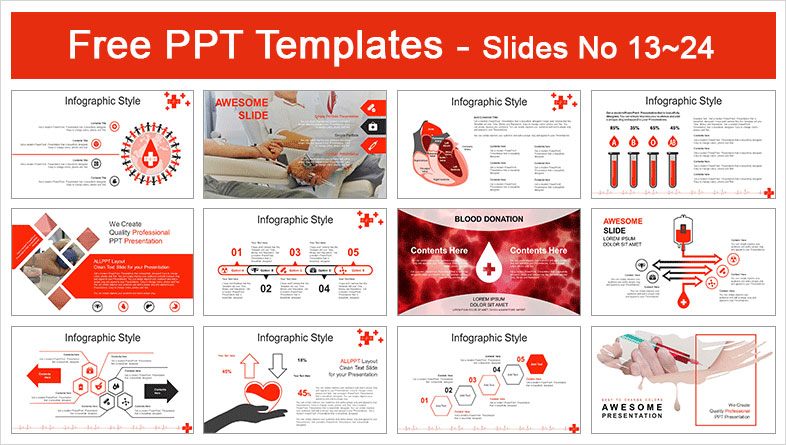 Conclusion
Templates are a convenient way to save time and money when working on multiple courses. However, they shouldn't be treated as something rigid and unchangeable - adapt them to your lessons, not the other way around.
There are also unique courses that have a totally different approach to teaching. In this case you would be better off hiring us to make you a custom course like the ones we've already delivered for our other customers. So don't hesitate to drop us a line - first consultation is free.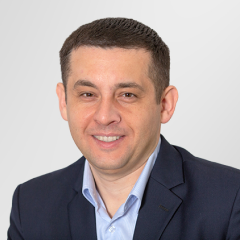 Written by
CTO / Department Head / Partner