In this article, you'll see the top AI EdTech startups that attract millions of users and dollars in funding. What the key trends and benefits of AI in EdTech are. What steps to take to apply AI in your project. What ideas top performers have already applied to hit the market with success.
Key Players Propelling AI in Education
There are 4 major players that share the overwhelming $250+ million of the AI-based learning market.
Top technology companies
Google, Microsoft, Apple, IBM, and Baidu are all heavily investing in AI in education.
For example, Google AI Education manages a library of AI experiments and provides courses, training materials, and guides on AI.
Microsoft AI School also offers learning paths for people interested in studying AI for education or a career.
Weakness: When applying AI in education, tech giants don't expect quick revenue. They invest their research, investigations, and technical capacities for a longer-term outcome.
Strength: While such companies are definitely not experts in education, their talents in AI allow them to test the unknown and expanding businesses.
Large providers of educational content
Pearson, McGraw Hill, Cengage, and Knewton are the most familiar names in developing AI in higher education and K-12.
For example, Knewton's Alta is a digitized platform focused on the AI-powered personalized learning experience.
Pearson has created an AI department that is working on building the right algorithms using Artificial Intelligence to become more efficient and attractive to their customers.
Weakness: Compared with the technological companies, the educational providers aren't specialized in technology.
Strength: However, they use their in-depth industry knowledge and robust user base to expand traditional education to new territories.
Higher Ed institutes
Massachusetts Institute of Technology, Harvard Kennedy School, Alan Turing Institute, the Oxford University are among the leaders.
They understand that in AI the early start is essential for success.
Harvard Kennedy School was among the first ones in 2015 to nurture the AI Initiative. They started to assemble researchers, students, and experts to explore and develop Artificial Intelligence.
In 2018 MIT announced an investment of $1 billion in a new AI college to prepare AI talents for the future.
Strength: Compared with tech giants and content providers, the universities have top talents in AI and impressive research fundings.
Weakness: The institutes don't create AI-powered software to sell. They are focused on training talents and upskilling society.
EdTech startups
Riid, Cognii, Elsa, Memrise, and Alef are only a few EdTech AI startups that have gained worldwide recognition.
The AI software for education is often focused but not limited to adaptive learning systems, tutoring AI, smart grading, chatbots for education, etc.
For example, Alef represents the application of Artificial Intelligence in K-12. With this AI-powered educational solution, students get personalized multimedia content, learn at their own pace. To support and assist students, teachers provide adaptive instructions along with AI-recommended interventions.
Weakness: Compared with other market players, startups are usually newer and smaller. It means they are likely to have unsubstantial or irregular fundings, small talents pool, and the absence of well-established positions in the industry.
Strength: EdTech startups are comparatively more market-oriented. They are more eager to experiment with new technologies and ideas. And they are more flexible in delivering their solutions.
Considering the pandemic influence and the fact that the global EdTech market is expected to reach USD 341 billion by 2025, it looks like a perfect time to get a share in this market pie.
To avoid common mistakes and grow your business, there are time-proven best practices describing how to successfully start an EdTech startup. Or get a direct FREE consultation from the skilled eLearning experts who have helped other EdTech startups to ground their ideas off the ground.
Top 15 AI Education Startups Who Won the Market
To successfully enter the market and revolutionize education with the help of AI, EdTech startups should consider two fundamental conditions.
Firstly, the robust educational system that allows new ideas to enter and bring changes in up-and-coming fields.
Secondly, the advancement of AI technology in your region, including the availability of AI talents and favorable government policies allowing the application of AI into the educational field.
To get a clue of the market needs and opportunities, let's see what AI education startups are the frontrunners and what the core of their success is.
Aleks
Funding: disclosed
Country: USA
AI application: knowledge check, personalized path

ALEKS (Assessment and Learning in Knowledge Spaces) is a research-based, web-based, artificially intelligent assessment and learning online math program. To suggest each student individually tailored learning path, ALEKS starts with an AI-enabled initial knowledge check.
The program is used by over 25 million students for Math, Chemistry, Statistics and Accounting.
ALEKS has received multiple prestigious CODiE Awards as the best solution for Grades 9-12 and Higher Education as well as several IMS Global Learning Impact Awards.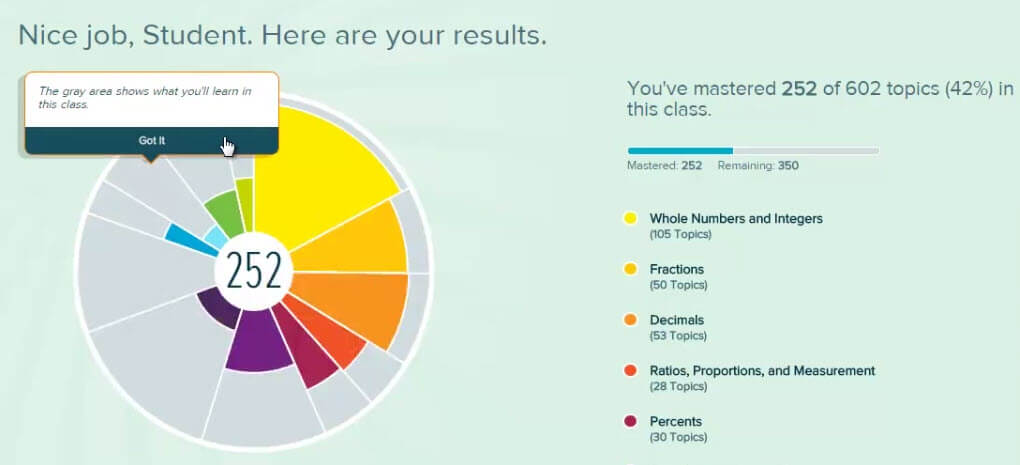 Riid
Funding: $248M
Country: South Korea
AI application: AI tutor

Recently included in CB Insights AI 100 list with AI Startups redefining the industry, Riiid has applied AI algorithms to create a perfectly tailored AI tutor. It teaches, assesses, recommends a learning path, and analyzes performance.
Among its multiple awards, there are Top 10 Edtech Startup in APAC, 2020 Brilliant People and Brand Awards - Education app, AI Korea Awards 2020, and others.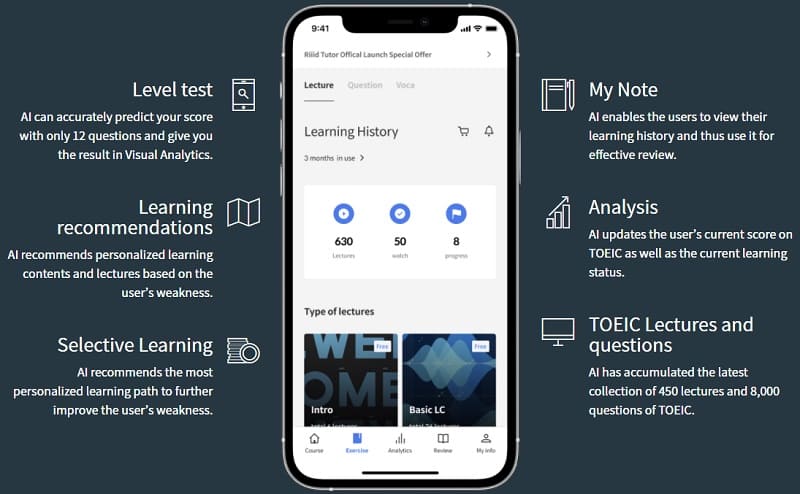 DreamBox Learning
Funding: $175.6M
Country: USA
AI application: personalized path, predictive analytics
DreamBox Learning offers elementary mathematics education through its intelligent adaptive learning platform. The peculiarity of the company is a new innovative reporting tool that can predict future proficiency for the end of the school year based on assessments throughout the entire year.
DreamBox Learning is in use in all 50 states and throughout Canada. The company's platform has won over 40 top technology and education industry awards.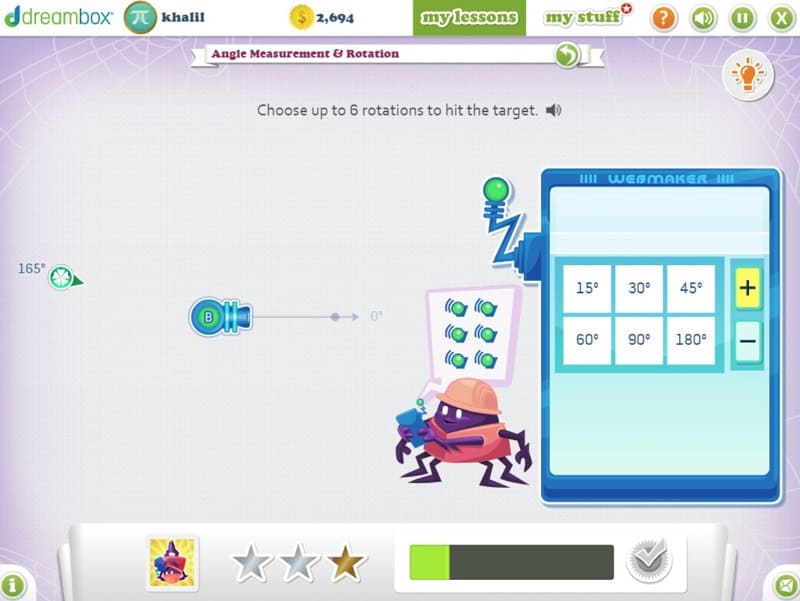 Squirrel AI
Funding: $141.3M
Country: China
AI application: personalized learning, tutoring
Squirrel AI is the first large-scale provider of AI-powered adaptive education in China with tailored lessons for each student. To train AI, the company uses its access to the world's largest student databases.
Squirrel AI won the GITEX 2019 Best Education Technology Award in 2019. And in 2021 they were awarded the $1 million prize for the AAAI Squirrel AI Award for Artificial Intelligence for the Benefit of Humanity.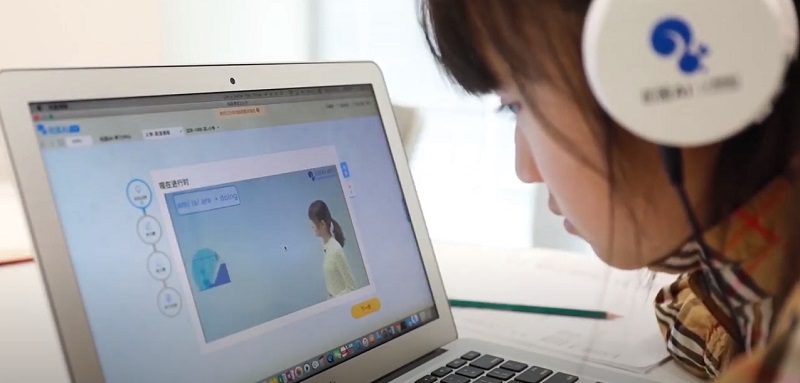 Kidaptive
Funding: $38.7M
Country: USA
AI application: game-based adaptive learning
Kidaptive's Adaptive Learning Platform creates a personalized learning path based on the learner's interests and skills. This game-based learning startup identifies learning-relevant behaviors over time to provide a report to the parent, tutor, or learner about progress.
Kidaptive is the LAUNCH Edu 2013, Winner, Startup World San Francisco 2013, Winner, and has got an Academics' Choice Awards for mind-building excellence 2014.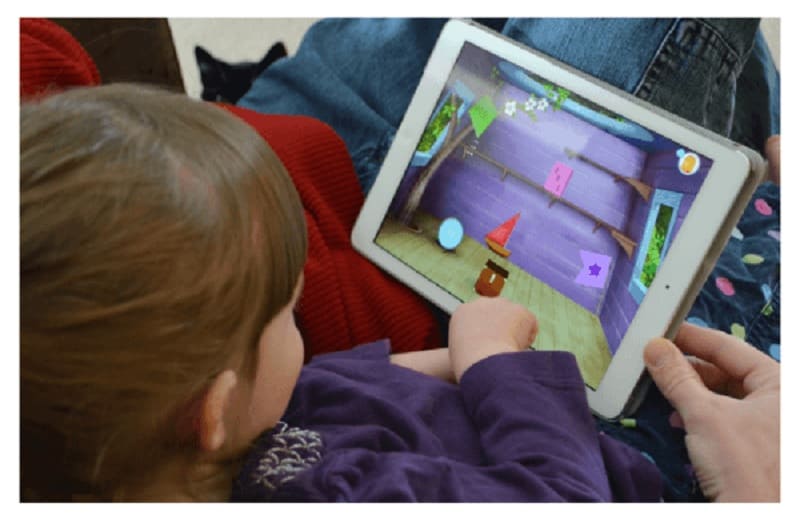 Osmo
Funding: $32.5M
Country: USA
AI application: game-based learning
Being a gaming company, Osmo built an educational games system based on Reflective Artificial Intelligence. A kid plays games using Osmo-created play cards, pen, and letters. The system scans these subjects, augments them with extra functionality, and reveals the result on the screen. Kids can do math, puzzles, draw, train spelling, and coding using Osmo.
To date, Osmo is a winner of the prestigious Oppenheim award, a Parents' Choice award winner. It has also been recognized as one of Time Magazine's Best Inventions, and a 2016 finalist for Toy of The Year.
Memrise
Funding: $21.8M
Country: UK
AI application: personalized learning path, photo recognition
Memrise language-learning app applies machine learning to build a personalized learning path based on your current level. Memrise also uses AI for picture recognition. When your camera captures an object, you see its name in a language you learn.
The app includes over 50k native speaker videos that show how natives use the phrases and learn their real accents.
Memrise is used by over 50mln users in 189 countries worldwide. The program was admitted to be the Best App winner of the second edition of the Google Play awards.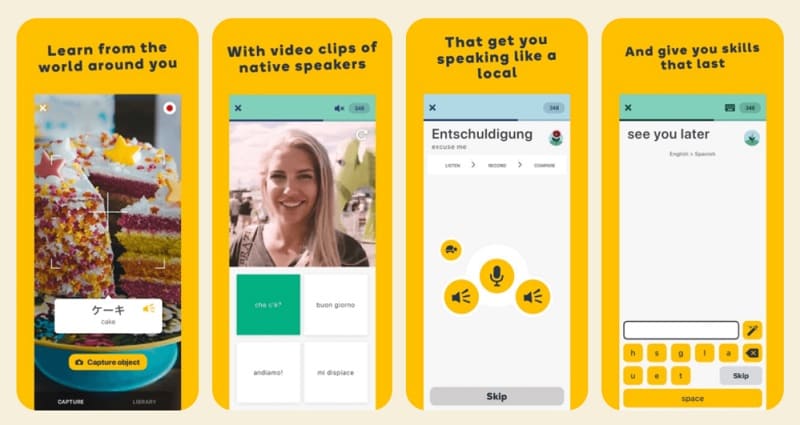 Amira Learning
Funding: $20.3M
Country: USA
Technology: Natural Language Processing
Amira Learning represents an intelligent reading assistant that accelerates reading mastery by listening, assessing, and tutoring. It can also screen a student for the risk of dyslexia.
Amira Learning has got the 2020 Award Of Excellence from Tech and Learning. The program was also a Codie nominee for Best Use of Emerging Technology for Learning in Education.
Knowre
Funding: $15.1M
Country: South Korea
AI application: tutoring, scaffolded support
Knowres revolutionary technology identifies individual student learning gaps and fills those gaps through algorithmically generated curricula and interactive, scaffolded support. Teachers get actionable and comprehensive data to support struggling students.
Founded in South Korea, it's expanded over the world. Knowre now partners with schools, private education companies, and other corporations.
Back in 2021, Knowre was awarded the grand prize at Global K-Startup, a competition sponsored by Google, the Korean Internet and Security Agency, and the Korea Communications Commission. Also, it won first place in the GapApp Challenge sponsored by the New York City Department of Education.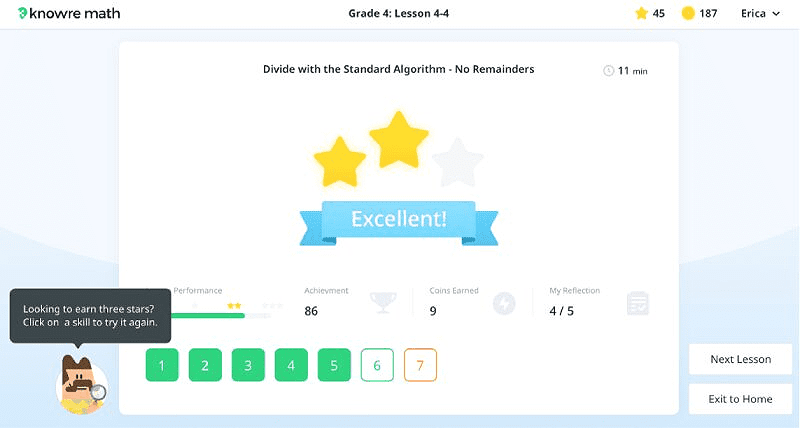 CenturyTech
Funding: $12.6M
Country: UK
AI application: AI-based learning
CENTURY is an AI-powered platform for schools, colleges, and universities. It uses learning science, AI, and neuroscience for developing customized teaching and learning plans. CENTURY helps teachers save time on marking and data analysis and make timely interventions to assist students.
Century is an AI Award 2020 Winner by Reimagine Education, TechCrunch Award winner in 2016, and Connected Society Award finalist in 2019.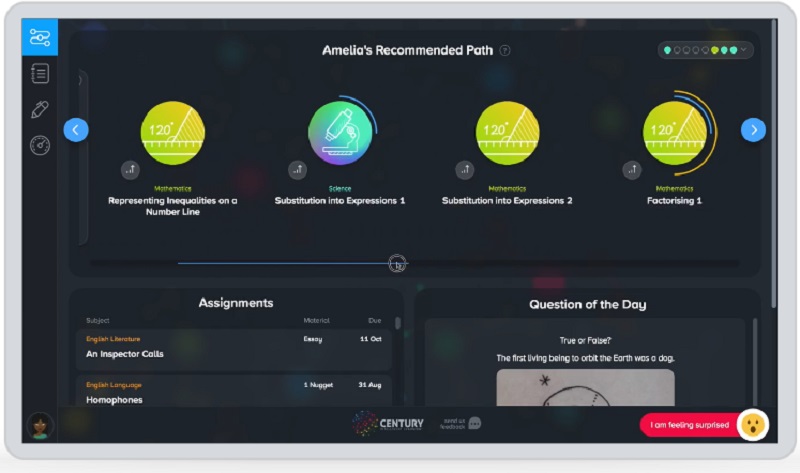 Elsa
Funding: $10.3M
Country: China
AI application: speech recognition
ELSA (English Language Speech Assistant) is a mobile application that uses speech recognition to train pronunciation and reduce accent in short fun dialogues. The program provides instant and precise feedback on every sound.
ELSA is available both for your businesses and schools. The learners' progress can be tracked in real-time from the teacher's or organization's dashboard.
With over 7mln of users, ELSA keeps on expanding to new markets. The company has a Fast Company's 2020 World-Changing Ideas Award and is included in a prestigious CB Insights AI 100 list.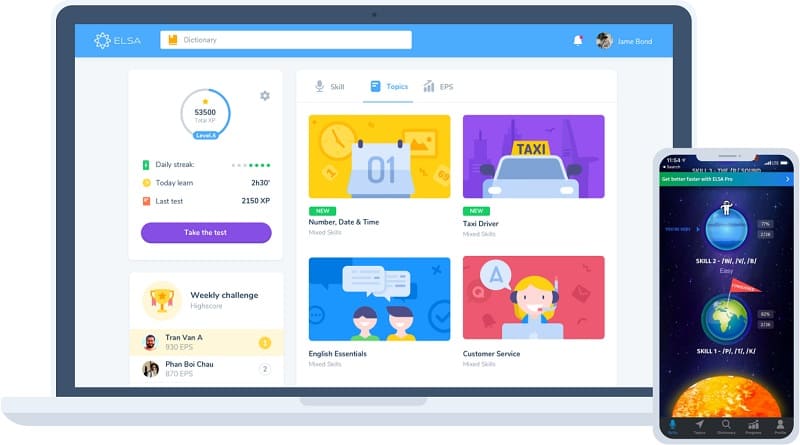 Querium
Funding: $6.2m
Country: USA
AI application: AI content recommendation and analytics
Querium has created customized STEM courses aimed at high-school and college students to master their skills and enable them to achieve their career goals. The AI software analyzes students' answers and the duration of time required to complete a lesson. These data then give profound analytics to teachers and insight into students' performance.
Querium has helped 24 million students and was recognized as the Most Promising IT and Web Company by the Rice Alliance for Technology and Entrepreneurship in Houston.
Thinkster Math
Funding: $4.3m
Country: USA
AI application: AI tutor
Thinkster Math is a math tutoring application. AI math tutor integrates one-on-one teaching and math curriculum and guides students in developing and mastering their math skills.
The program developers guarantee a 90% improvement in math within 3 months. It includes the initial knowledge check, custom-curated math worksheets, detailed and immediate feedback, and profound reports to teachers.
Thinkster Math Wins EdTech Award Recognizing Innovation and Impact on Learning, The National Parenting Center's Seal of Approval, and continues its successful pace.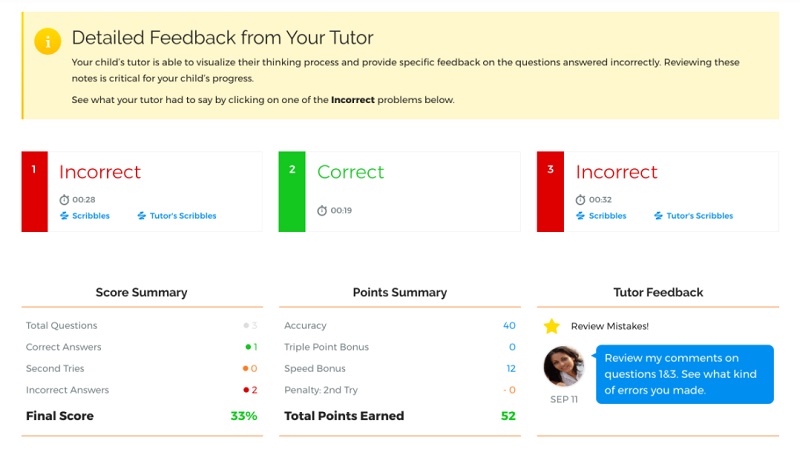 Kadho
Funding: $3.5M
Country: USA
AI application: automatic speech recognition (ASR)
The renowned product of the Kadho company is Kidsense.ai. This software uses revolutionary technology in children's embedded automatic speech recognition (ASR) and speech assessment.
With over five years of data, KidSense is the only voice AI tailored towards children in English, Mandarin, Korean, and more. Lately, the project was acquired by the leader in speech recognition Roybi.
Cognii
Funding: $118k
Country: USA
AI application: AI-powered virtual assistant
Cognii focuses on developing AI tools for higher education institutions and corporate training for organizations. The program is powered by a virtual assistant that uses conversational and interactive methods to teach learners. The AI virtual assistant guides a student in open-format responses that improves students' critical thinking skills. Besides, Cognii provides instant feedback, deep analytics, and automatic grading feature.
The company has got The National Science Foundation Grant, Best Learning Assessment Innovation Award by Reimagine Education, and EdTech Innovation of the Year in 2016.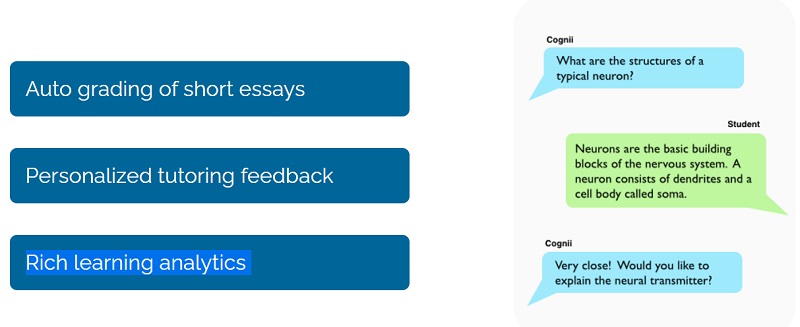 Early start in AI means a lot because the more input data you'll gather for AI till the launch, the better your product will harness its possibilities. So if you want to hit the market before AI becomes mainstream, it's smart to act now. Get a FREE consultation from our eLearning expert who works with EdTech startups to know where to start.
How is AI used in EdTech? Top 6 Ideas to Consider
Artificial Intelligence is a key to delivering online education with superior learning outcomes and cost-efficiency.
Here is what AI-powered tools successful EdTech companies apply to achieve these goals.
1. Knowledge check to customize learning based on the current knowledge level
When a student enters the Learning Mode for the first time, the system suggests taking a knowledge check that consists of a series of questions.
The application of AI consists in the fact that the consequence of these questions is not predetermined as in traditional eLearning software but depends on every student's answer.
Once a student gives consistently correct answers, they move on with more challenging questions. In the case of a wrong answer, the AI algorithm will shift them back.
The goal of a knowledge check is to assess the current level of students' knowledge and adjust their curriculum to fill in their knowledge gaps.
AI EdTech Startups Using It: ALEKS, Elsa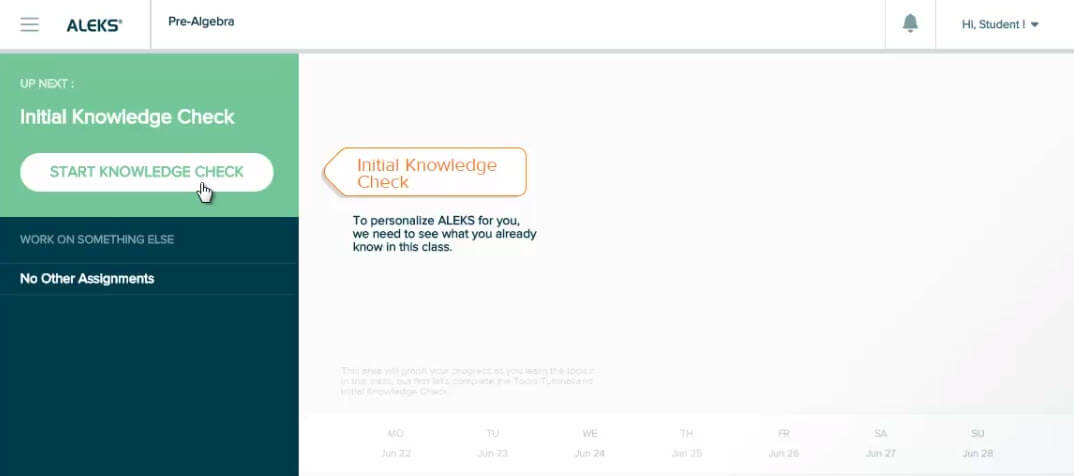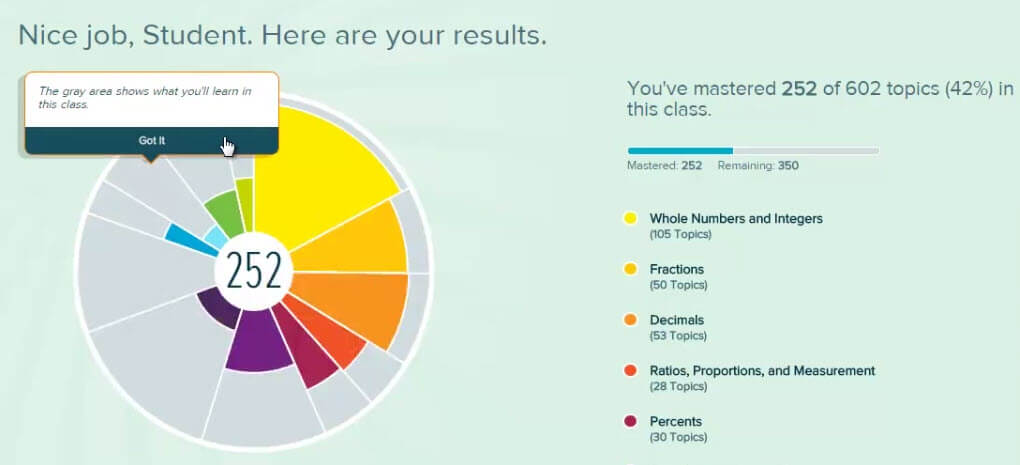 aleks.com
2. Personalized learning path to effectively close knowledge gaps
Based on the results of the knowledge check, the AI-based learning software suggests students their most ready-to-learn topic to master.
The process of learning resembles the initial check.
If a student answers correctly, the system moves them further to fully master the topic. In case a student answers wrong, the AI-enabled software gives a hint (allows revising the learning material or watching a short instructional video).
After studying the entire topic, the AI-based knowledge check will automatically reassess a student to see if the topic is mastered or still needs to work on.
AI EdTech Startups Using It: Century Tech, ALEKS, Carnegie Learning, Memrise.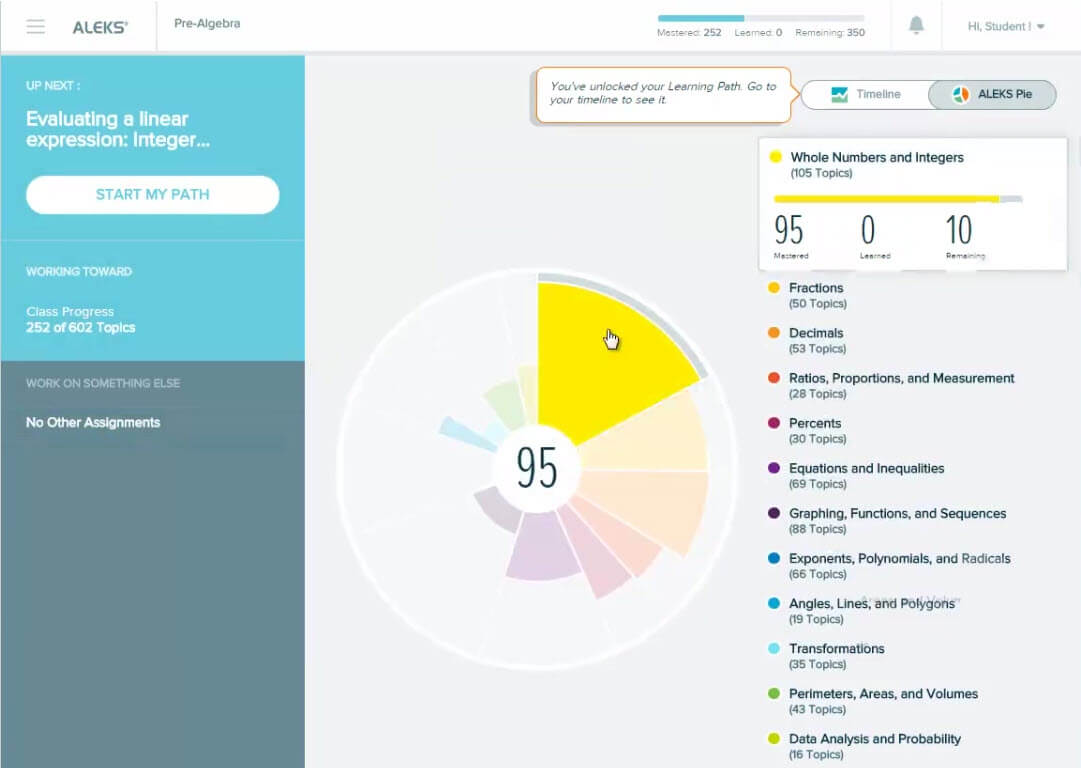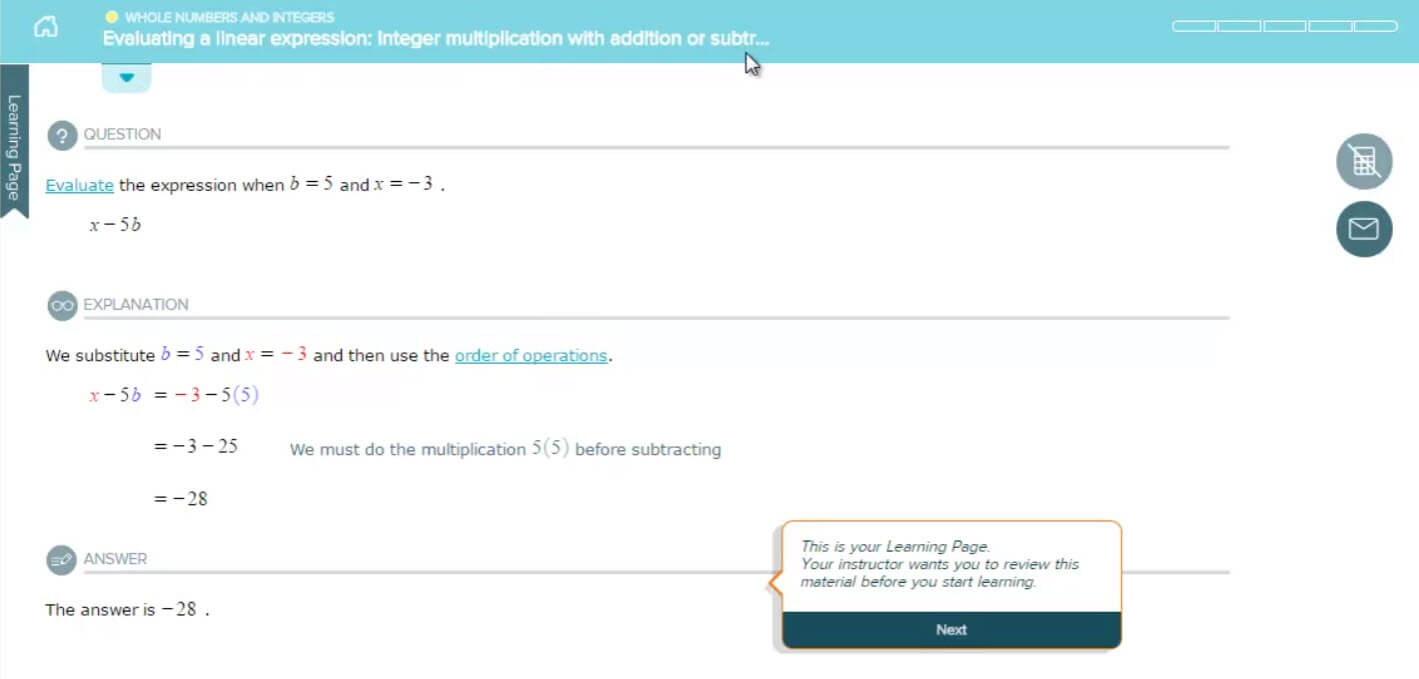 aleks.com
3. Virtual assistants and chatbots to perform as personal tutors
The chatbot-style learning is built as a conversation where an AI-enabled chatbot or virtual assistant imitates a human teacher in all key activities:
prompting students to answer a series of questions within the topic,
tutoring them with personalized hints and tips,
providing on-demand support in the moments of struggling,
giving instant formative assessment,
guiding students towards the topic mastery.
AI EdTech Startups Using It: Knowre Math, Cognii, Riid, Amira Learning, Querium.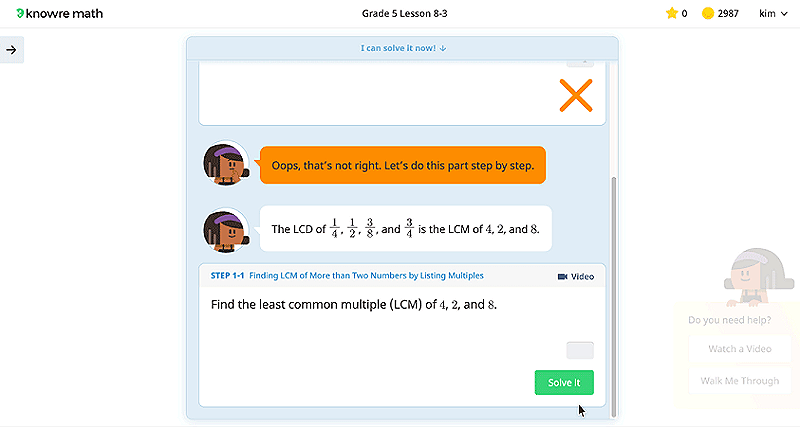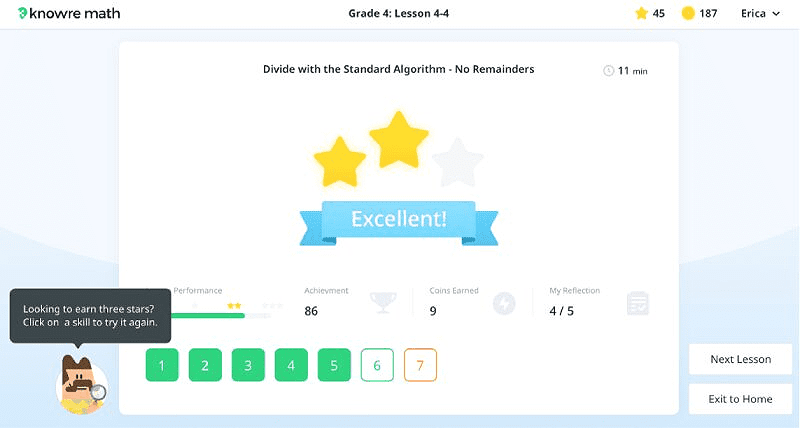 Knowre
4. Predictive analytics to forecast and timely address possible gaps
The AI algorithms analyze students' data along the learning process and detect underlying patterns in their performance.
Then the data are compared with a benchmark, which is based on a predefined curriculum.
Using the results of this analysis, the system makes a forecast of students' future performance.
AI predictive analytics helps teachers timely detect which students require their intervention or support. And address the increasing problem earlier in the learning cycle.
AI EdTech Startups Using It: Kidaptive, Dreambox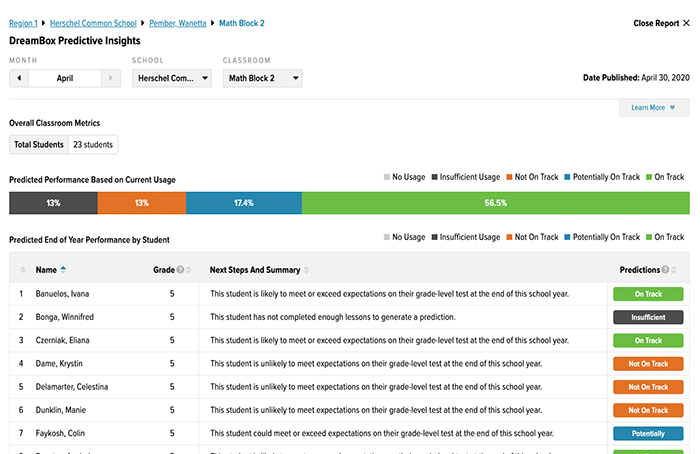 dreambox.com
5. Grading and assessment to automate repeated and admin tasks
To automatically grade assignments, at first, the AI software needs to learn from the available data.
For that, the software gathers the metrics for grading assignments from papers graded by human teachers.
Having these data, the AI engine learns to replicate the human grading process.
The process iterates and improves thanks to the possibility of AI to learn constantly. For this purpose, the software stores the manual grading information for updating its own grading metrics.
The advanced level of the automatic assessment process is hand-written paper grading as shown in the example below.
AI EdTech Startups Using It: Gradescope, CenturyTech.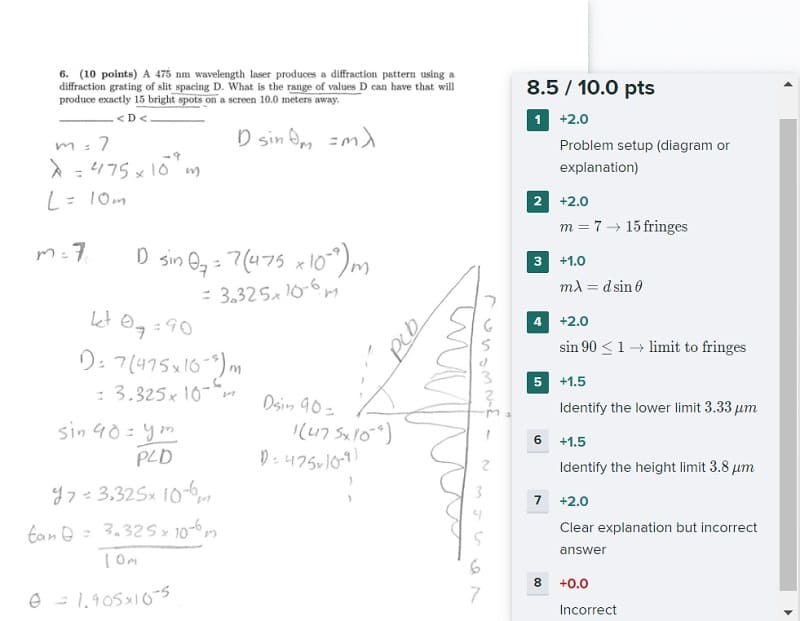 gradescope.com
6. Speech recognition to engage students and improve the learning experience
Speech recognition, as a subfield of AI, can be used for language learning, teaching kids to read fluently and debate, delivering lectures from teachers to students, tutoring, and other learning activities.
Let's dig into the speech recognition technique in language learning.
The engine "listens" to a speaker. Then compares the input data with the benchmark.
The benchmark, in this case, is the voices of native speakers.
Based on the comparison of the input speech and the benchmark, the AI assesses the speaker.
AI EdTech Startups Using It: Elsa, Nuance, Kadho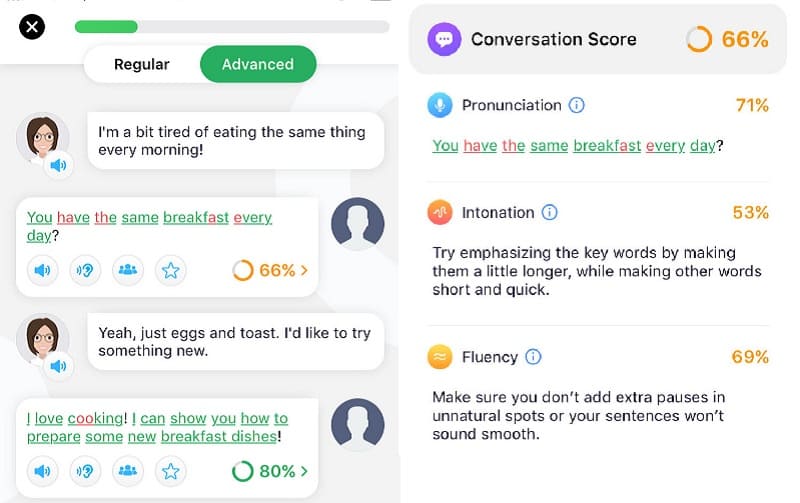 Elsa
Any of the mentioned tools can be embedded into the existing LMS, LXP, or learning application. Or serve as a basis for a new eLearning project. For that, you only need a skilled team that will fulfill your ideas fast, at a high-quality level, and at a moderate cost.Let's discuss your idea!
How to apply AI in Software for Education in 7 Steps
There is a quick overview of 7 major steps in developing comprehensive AI software for education.
Why only a quick overview?
In reality, the entire process for an EdTech startup boils down to choosing the experienced and skilled software development team that will assist and support you from the first step till the launch of your product.
So while your team codes, designs, and tests, the role of a startup founder majorly comes down to ideation, hiring the right talents in your team, supervising, and providing timely feedback throughout all the following stages.
Step 1. Making the concept of your idea
Start with creating a clear concept of how your software will improve the learning process, what it should do, how it will interact with students, and where the data will be stored.
Step 2. Hiring AI developers
After shaping your ideas into a well-thought concept, start searching for a development team.
Before you hire dedicated developers, it's recommended to examine reviews about the software vendor and check their experience in custom eLearning software development.
Step 3. Deciding on technological details
Again, having hired a good team, you get high-skilled specialists who will advise you on the right solution. So you don't need to be an AI expert to launch your EdTech AI startup.
Based on your project's concept with features and requirements, the team will select a suitable technological solution.
Step 4. Gathering input data
Most AI features, such as a personalized learning path, use existing algorithms and train them using your input data.
The more input data you provide, the better the AI algorithm will perform its task.
The input data can be in the format of text documents, excel files, FAQ, teaching programs, etc.
Step 5. Development of your startup
Your development team will perform several processes in parallel with your gathering input data.
Their tasks will include the development of the front-end and back components of your software.
The team of UX/UI designers will streamline the design to make it responsive, easy-to-use, and engaging.
Step 6. Testing of your AI software
Software testing is the next necessary stage before you receive your AI software for education.
To ensure that the algorithm works in the way it should, your team will test the model using a ready-made dataset.
Step 7. Integration into the education process
The development team will integrate your software into the actual educational ecosystems, such as a website or a mobile app.
Once the AI program is up and running, you can start measuring its KPIs to improve and succeed.
Do you know that our eLearning team has already helped several EdTech startups to develop and launch their projects? We have rich expertise and a corresponding team of talents. We'll help you bring your idea to life.
Benefits of AI software for Education
Decrease in routine tasks for teachers
Automated assessment, grading, grouping students, reports, and analytics of students' performance are all performed by AI algorithms. It frees up teachers' time for mentoring struggling students and improve in-person relationships.
Individual pace of learning
AI software adapts the learning process to each student's level of knowledge, speed of learning, and desired goals. Also, AI can identify student's weaknesses and offer courses that suit best for filling the gaps. So the learning experience becomes highly personalized, and students get the most out of their education.
High engagement rates
Personalization powered by AI tailors the course for each student addressing individual goals and weaknesses. The AI-based learning process flows at a pace that is natural for a certain student. As a result, education becomes relevant, to-the-point and leads to higher students' engagement.
Mentorship and tutoring for every student
AI virtual assistants and chatbots help students improve their skills and close knowledge gaps without the help of a teacher. AI tutors provide a one-on-one learning experience swift and anytime. In fact, an AI-powered chatbot can answer students' questions within 2.7 seconds.
Elimination of trial-and-error intimidation
Trial and error is an integral part of learning. But the idea of failing intimidates many students. AI software for education is a far better way to deal with the issue. It allows teaching students in a relatively judgment-free environment, especially when AI tutors can offer solutions for improvement.
All the mentioned benefits lead to a single and primary goal of applying AI in education: to increase the speed of knowledge acquisition and improve its retention.
With this goal in mind, the attention turns from traditional eLearning solutions to AI LMS, AI-powered language learning apps, and LXP that harness the power of data to bring better educational outcomes.
EdTech AI Market Trends
The fact that cannot be denied is a steady growth of investments in AI in education
The primary reasons for the focus on AI in EdTech:
growing need for automating administrative tasks;
rising demand for personalized education.
AI in Education Market size exceeded USD 1 billion in 2020. From 2021 to 2027, it's expected to grow at a CAGR of over 40%.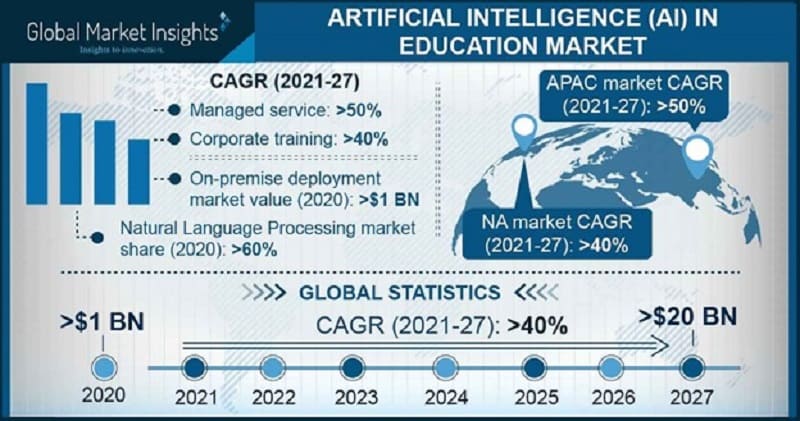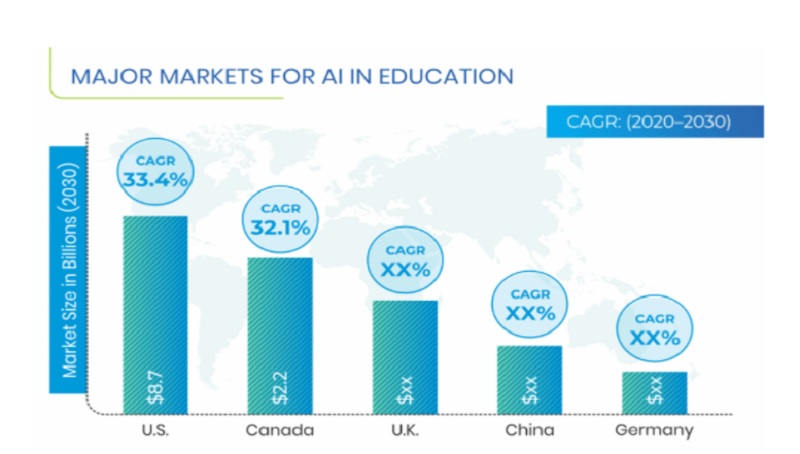 Among the drivers for the increasing demand for AI software for education:
the increasing demand for integration of Intelligent Tutoring Systems in the learning process;
rising research and development activities in deep learning;
the growing focus on improving the quality of higher education;
increasing demand for virtual classrooms across organizations;
By application of AI in education, the market is shared the following way:
Learning Platforms and Virtual Facilitators
Intelligent Tutoring System
Smart Content
Fraud and Risk Management
This is a perfect hint of what AI education startups should focus on to compete in the market.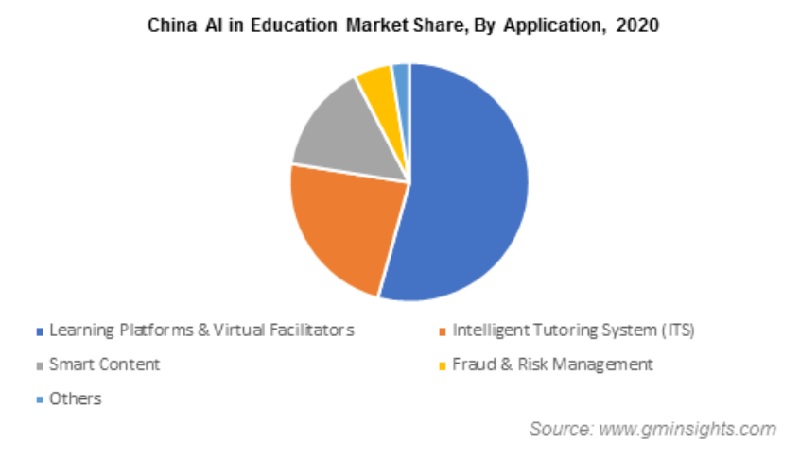 To be successful with AI in EdTech, what you need is a robust engaging idea and a skilled well-coordinated team. We are ready to take responsibility for the latter. Just come to us with your idea!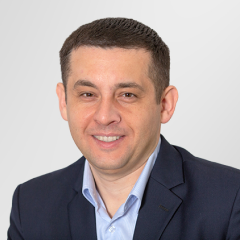 Written by
CTO / Department Head / Partner
Recommended posts
Belitsoft Blog for Entrepreneurs