Success in the corporate world requires optimizing workforce management skills. While there are many off-the-shelf skill management software solutions available, the real challenge, as highlighted by industry expert, Josh Bersin, the founder of the leading advisory company for corporate learning, lies in finding a software that acts as a single, centralized hub "capable of storing every skill for every job in the company". Our elearning software development company with an expertise in AI chatbot development has created a skills management software framework that emphasizes deep customization and streamlined implementation. Whether you're a software vendor planning a groundbreaking launch or an established enterprise seeking a custom solution due to the limitations of existing products, we can make your vision a reality.
The essence of a skills management system is not merely in its tracking capabilities—it's in how it discerns, assesses, and fosters employee skills, connects them with enriching training resources, and aligns talent with the most fitting projects and roles.
"To improve career management, talent mobility, or recruiting effectiveness and we need to know what skills people need in each job." Josh Bersin
Set of Criteria for Identifying Top Skills Management Software
Skills Inference
The system utilizes a machine learning (ML) model to identify, categorize, and assess skills. Data is gathered from job descriptions, courses, projects, reviews, career histories, and even the content users engage with. Once identified, the skill set is sent for the employee's approval.
Skills Verification
While the system automatically infers skills from undertaken projects or tasks, users can adjust these inferred skills. The skills endorsed by an employee are then confirmed in a work context by peers and managers. Such endorsements are instrumental in pinpointing genuine experts in certain fields.
Skills Strength Monitoring
If an employee hasn't used a specific skill recently, the system can detect a decrease in its strength. The system then suggests that the skill needs to be refreshed or enhanced. The duration after which a skill needs reinforcement can be customized as per requirements.
Upskilling and Reskilling
When the need to refresh a skill arises, the system recommends relevant training content. Typically, integrating the skills management system with a Learning Management System (LMS) or a Learning Experience Platform (LXP) addresses this need. Such integration promotes a continuous learning culture within the company and automates the entire learning cycle.
Job and Skills Matching
Through the use of APIs, skills management software can be integrated into any HR software. This provides HR managers with a centralized skills database, enabling them to align the right individuals with the most suitable roles. This alignment is rooted not merely in formal criteria like job titles, CVs, or interviews, but is based on authentic and validated skills.
Top 3 Ready-to-Use Skills Management Software
Cornerstone
Founded in 1999, US-based Cornerstone OnDemand has evolved from focusing on online education to becoming a global frontrunner in human capital management. Their suite now emphasizes contemporary skills management, overseeing the management, development, and utilization of workforce abilities.
Central to their approach is SkillsTech, an AI tool that discerns individual skills, refining its accuracy over time.
Cornerstone merges data from its skills management framework with diverse content libraries. As users engage in projects, the platform efficiently assembles teams, considering both skills and learning experiences, which enhances HR functions.
With a nod to integration's significance, Cornerstone boasts robust APIs and connectors, ensuring smooth collaboration with major HR tech entities. Their skills software also ties into their Content Studio and Learning Experience Platform.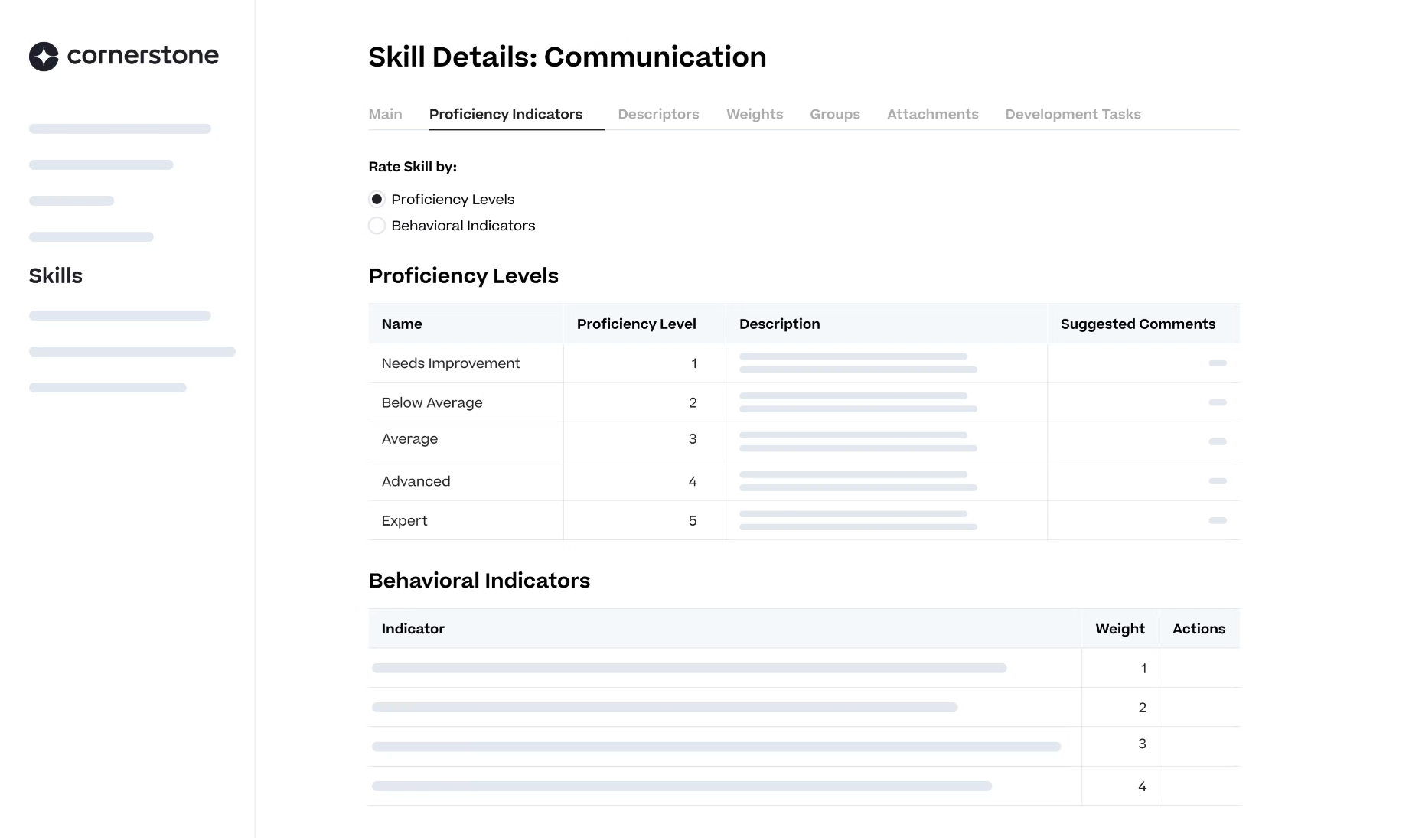 Cornerstone dashboard with skill levels for an employee
ServiceNow
Established in 2003 in Santa Clara, California, ServiceNow has diversified eLearning solutions. Their recent standout is a skills management application aimed at streamlining skill identification, management, and deployment, bolstering efficiency and productivity.
With ServiceNow, companies can delineate, sort, and assign skills. Distinct roles like Skill Administrator, Manager, and User are defined, each having unique skill management permissions.
Comprehensive dashboards and reports offer a clear view of skill deficits, aiding employee training planning. This software meshes flawlessly with other ServiceNow offerings, ensuring optimal skill application throughout the enterprise.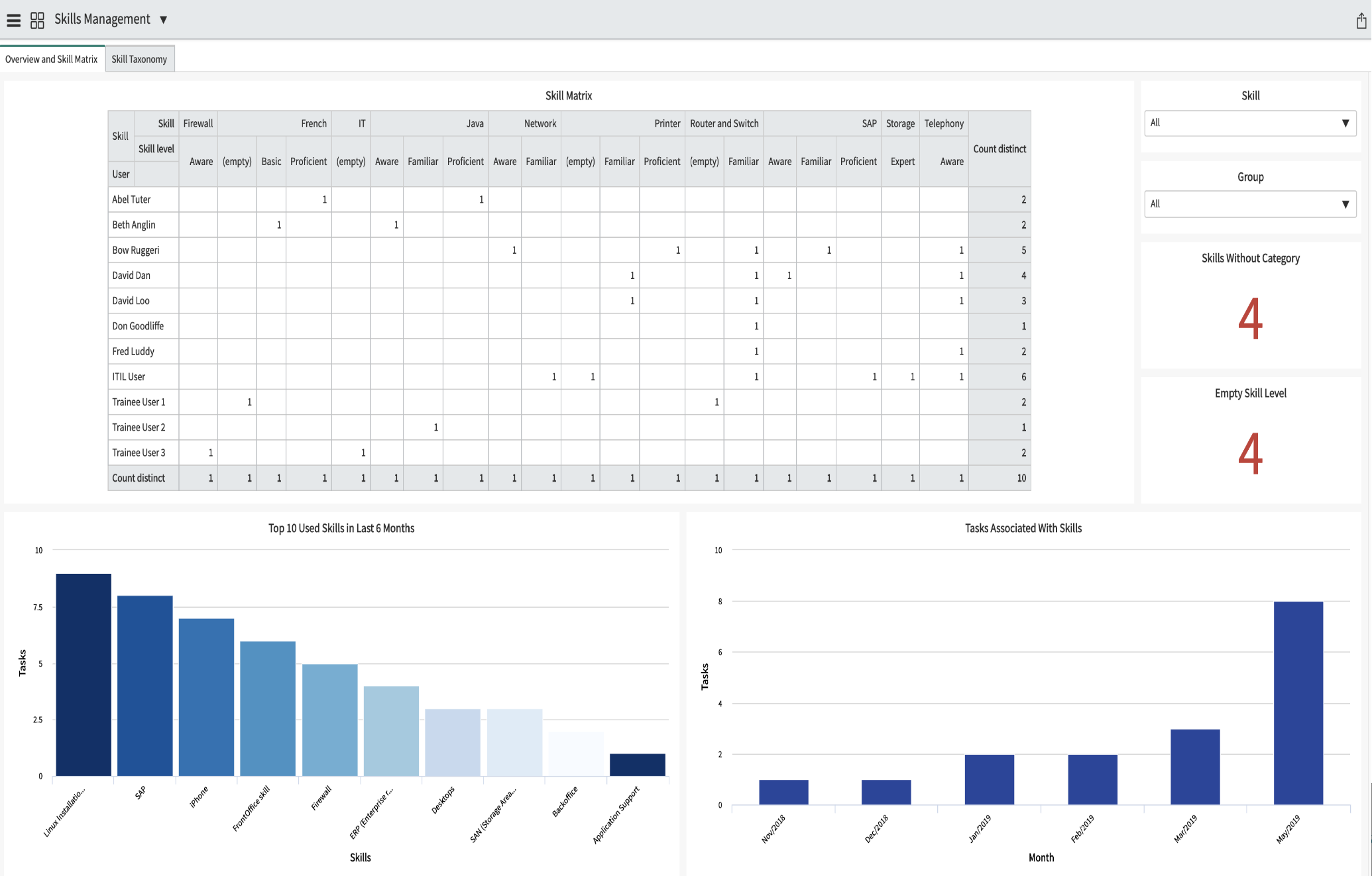 ServiceNow dashboard with a skill matrix
Workday
Founded in California in 2005, Workday is a premier enterprise cloud application for finance and HR. Their Workday Skills Cloud offers a holistic view of an organization's skill set.
The system discerns and organizes skills by evaluating job profiles, feedback, and more, facilitating an understanding of talent dynamics. Additionally, it supports peer validation, letting managers endorse specific skills. The tool recalibrates based on recent skill engagement and integrates seamlessly with other Workday modules to boost functionalities like hiring and training.
The platform quickly adjusts talent, such as finding replacements for employees who leave or are absent, and prioritizes the organization's collective capabilities over individual skill. It continuously updates required skills by analyzing job descriptions, feedback, and customer data.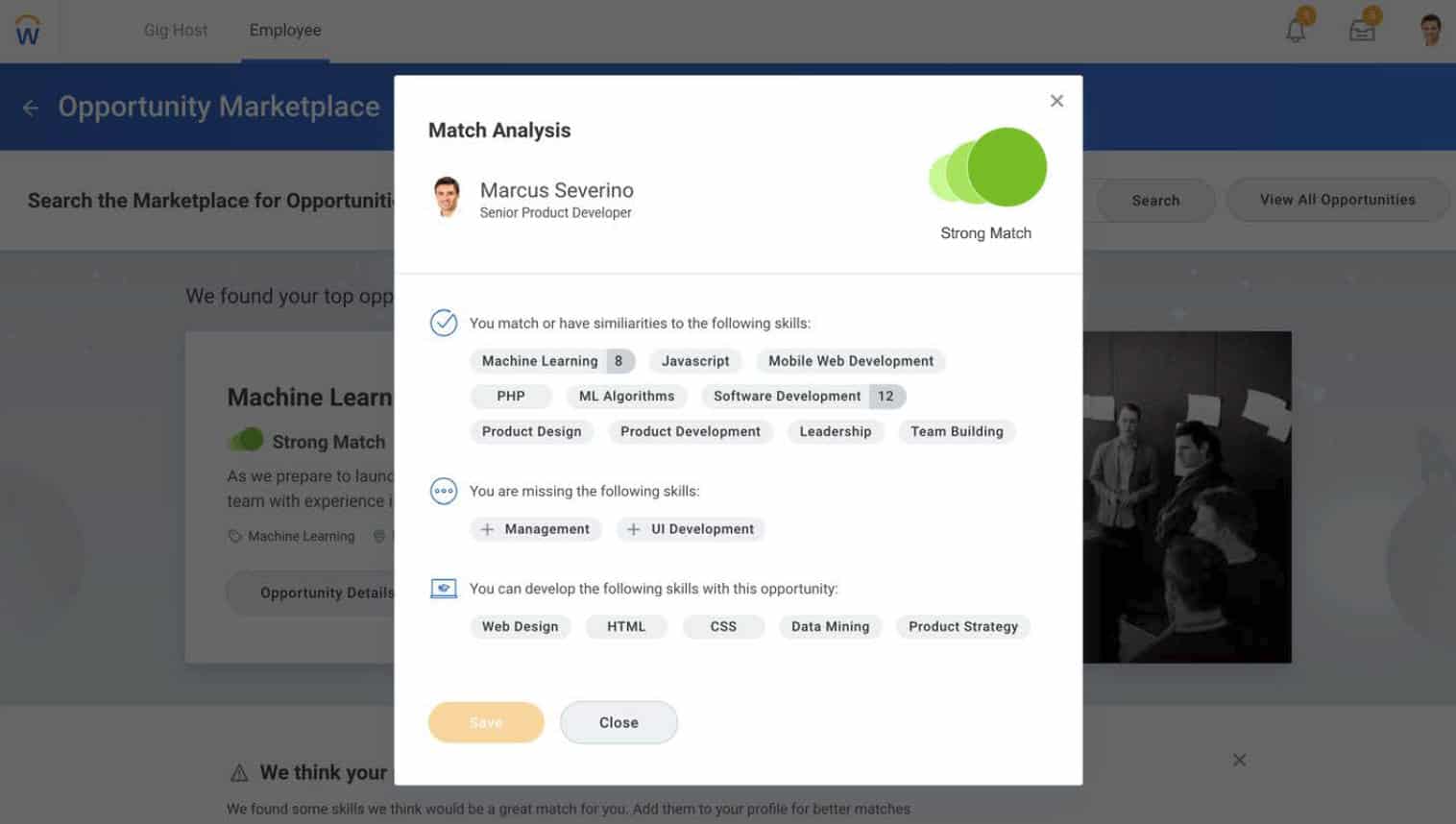 Workday's skill-centric job matching dashboard
Custom Skills Management Software vs Ready-Made
While the market is flush with ready-to-go skills management solutions, using them may present challenges.
Whether you've experienced these issues or are selecting your first SMS and wish to sidestep pitfalls, a custom SMS can be advantageous. It offers a tailored experience, ensures precise skill tracking, and enhances your return on investment.
Both an off-the-shelf skills management platform or a custom-made one have their distinct merits.
Benefits of Ready-Made Skills Management Systems
Quick and cost-effective deployment. These systems are pre-developed, allowing immediate implementation.
Vendor-backed support. Bypass the need for a dedicated tech team, as system maintenance is vendor-handled.
User community. Popular platforms foster large user communities, enabling knowledge sharing and maximizing system utility.
Common Issues of Ready-Made Skills Management Systems
While the skills management arena is rife with AI-driven vendors like Workday, Service Now, Eightfold, and Cornerstone, closer scrutiny shows a disjointed picture:
Narrow scope. Each system is tailored for distinct uses. For example, while Eightfold zeroes in on discerning skills in job descriptions, Cornerstone emphasizes highlighting skills in learning catalogs. But a complete solution that covers skills verification is still missing.
Absence of a unified skills database. The quest for a one-stop solution for all skills management persists unless developed in-house.
Functionality constraints. Leading players like Oracle and SAP are still refining their skills management offerings. Their tools often function more as skill data coordinators, using APIs for integration with specialized systems, rather than as an all-in-all solution for all corporate needs.
Top 4 Reasons to Get a Custom Skills Management System
1. Perfect fit due to personalized customization
Ready-made systems have challenges, so a universal solution may not work for all organizations. Instead, a custom skills management system, tailored to your company's jobs structure, will reflect the skills uniquely relevant to your industry, rather than just general ones.
2. Complete control and enhanced security
With custom software, organizations have full ownership and discretion over its functionality, design, and branding. Furthermore, you can fortify the security to meet your standards, ensuring data protection without third-party interventions.
3. Savings in the long term
While most Skills Management Software operates on a SaaS pricing model, causing regular subscription fees, a custom-built solution side steps these ongoing costs. After recouping the initial investment, your custom software evolves into a valuable, cost-effective asset for your organization.
4. Opportunity for product commercialization
Analysts, including the renowned Josh Bersin, underscore the growing emphasis on skill-centric organizations. This trend suggests an expanding skills management market in the coming years. Early entrants stand to benefit, presenting lucrative commercial prospects for custom solutions.
How Belitsoft Can Help
Belitsoft offers quick and cost-effective development of your own, custom skills management software that would seamlessly align with your specific requirements. For that, we have built a robust framework with all essential modules.
If certain modules are not relevant to your needs, they can be effortlessly deactivated. This adaptability ensures that you receive a tailored solution optimized for your organization's unique demands.
Skills Inference into a Centralized Skills Database
To timely detect employees' skills gaps, assign the right people to the right roles based on their skills, and optimize your workforce allocation, all the skills required in your organization should be structured and accessible through a centralized inventory.
The skills management platform provides a hierarchical structure of skills that serves as an inventory where managers can create, view, and manage skills. The skills can be assigned as skill tags to match job roles and training courses, providing versatile talent management tools for skill allocation and targeted training.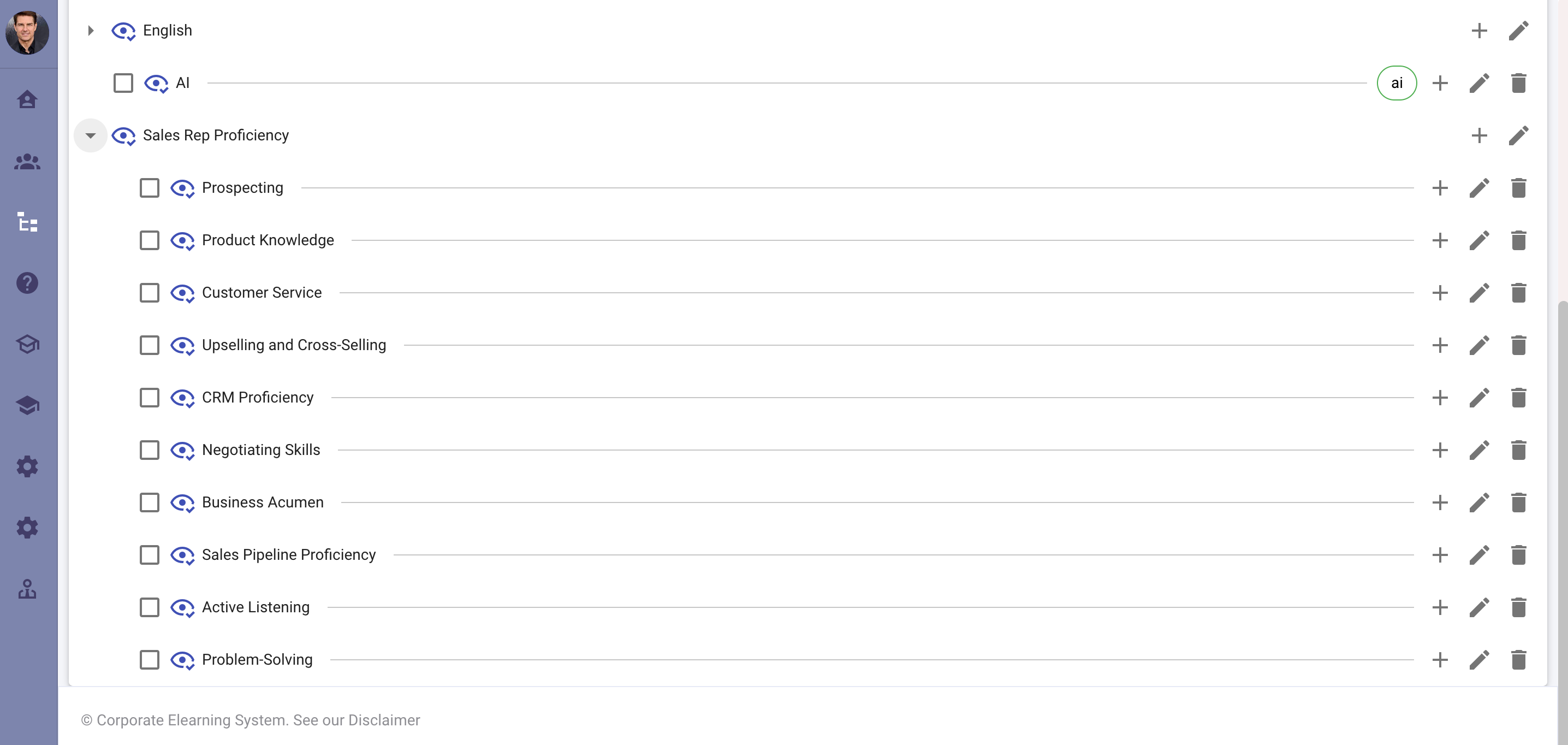 An example of a skills tree for a sales representative where skill tags are created by mentors or heads of departments and then assigned to employees and training courses
Skills Verification through Employees Assessment
Once the skills library, or skills matrix, is created, you can use it as a unified tool for identifying the competencies of each employee within the organization. For that, the skills management platform offers various assessment approaches. The employees can be manually assessed by mentors or managers, or the system provides quizzes and tests for automated knowledge testing.
Upon assessment, each employee gets a list of mastered skills that will later be used for the employee's job role assignment, closing their skills gaps, and building skill-based teams for projects.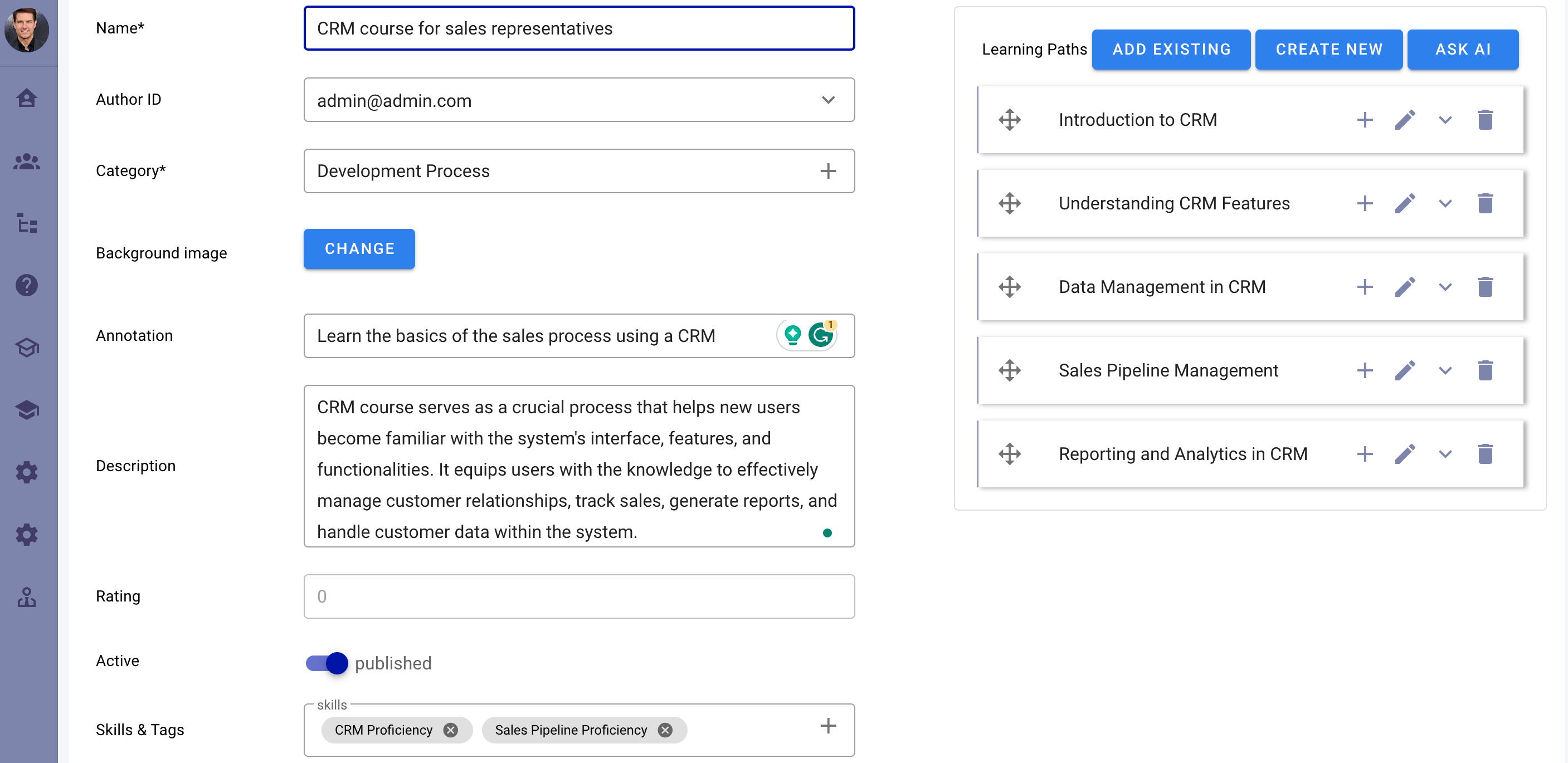 An admin dashboard where a head of the department assigns a quiz to an employee for assessing certain skills that the current employee's job role of sales representative requires
Tracking Employee Skills
Having a full picture of each employee's current competencies facilitates identifying skills gaps that may impede the company's growth, future competitiveness, and successful project completion. In order to effectively identify skill gaps within an organization, the platform provides a comprehensive dashboard that consolidates all the skills and training data of each employee in an easy-to-navigate view. It not only highlights the specific skills assigned to each employee but also pinpoints areas of skill gaps.
By tracking employees' skills and training data, the best skills management software can provide a clear focus for their work and development. Furthermore, it offers associated learning resources to help close skill gaps.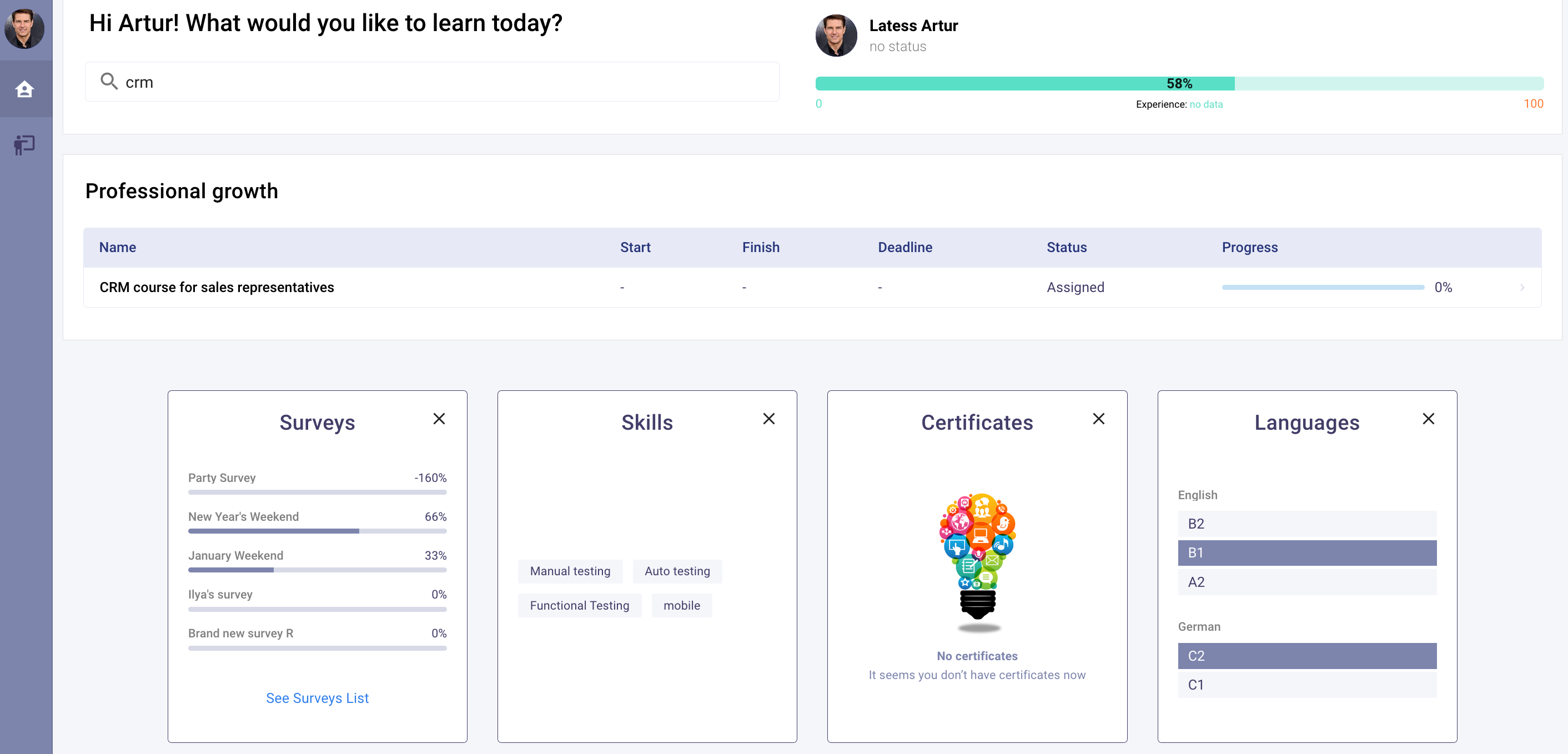 An example of an employee dashboard with information about mastered skills, current learning paths, and experience level. Based on the revealed skill gap (58% out of 100% expertise) we see a CRM course assigned by the head of the department for closing the skills gap
Upskilling and Reskilling Employees with AI Authoring Tool
To effectively tackle the identified skill gaps, it's essential to develop a learning path with the relevant content. For that, our new skills management system has advanced AI authoring tools that automate course creation.
An admin just enters a prompt and gets a ready-to-use training course with articles, images, videos, and other content formats of their choice for developing skills. The more specific prompt is entered, the more diverse, rich in content, and tailored-made content you get.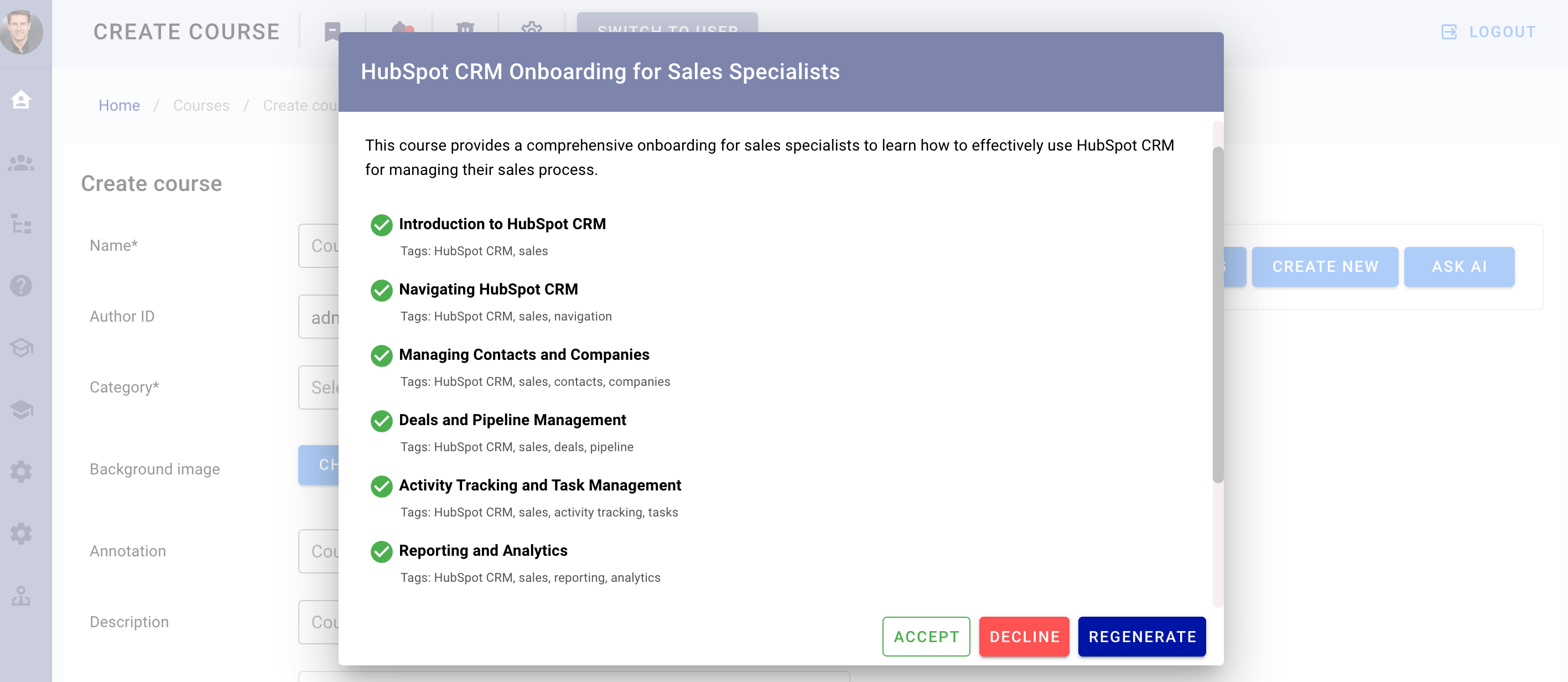 An example of a course outline generated by Artificial Intelligence integrated into talent management software, with the possibility to customize each content chunk manually
Matching Employees with Job Roles and Projects
The grading matrix serves as a powerful tool for aligning employees with specific job roles and projects based on their skills. It visually maps out your team's strengths and weaknesses, providing valuable insights that can guide strategic decision-making.
Managers can utilize this skill management tool to filter their teams by specific skills to match employees to roles and projects where their skills are most needed. This not only optimizes team performance, but also fosters individual skill development. In essence, the grading matrix is a strategic resource for effectively managing talent and driving team growth.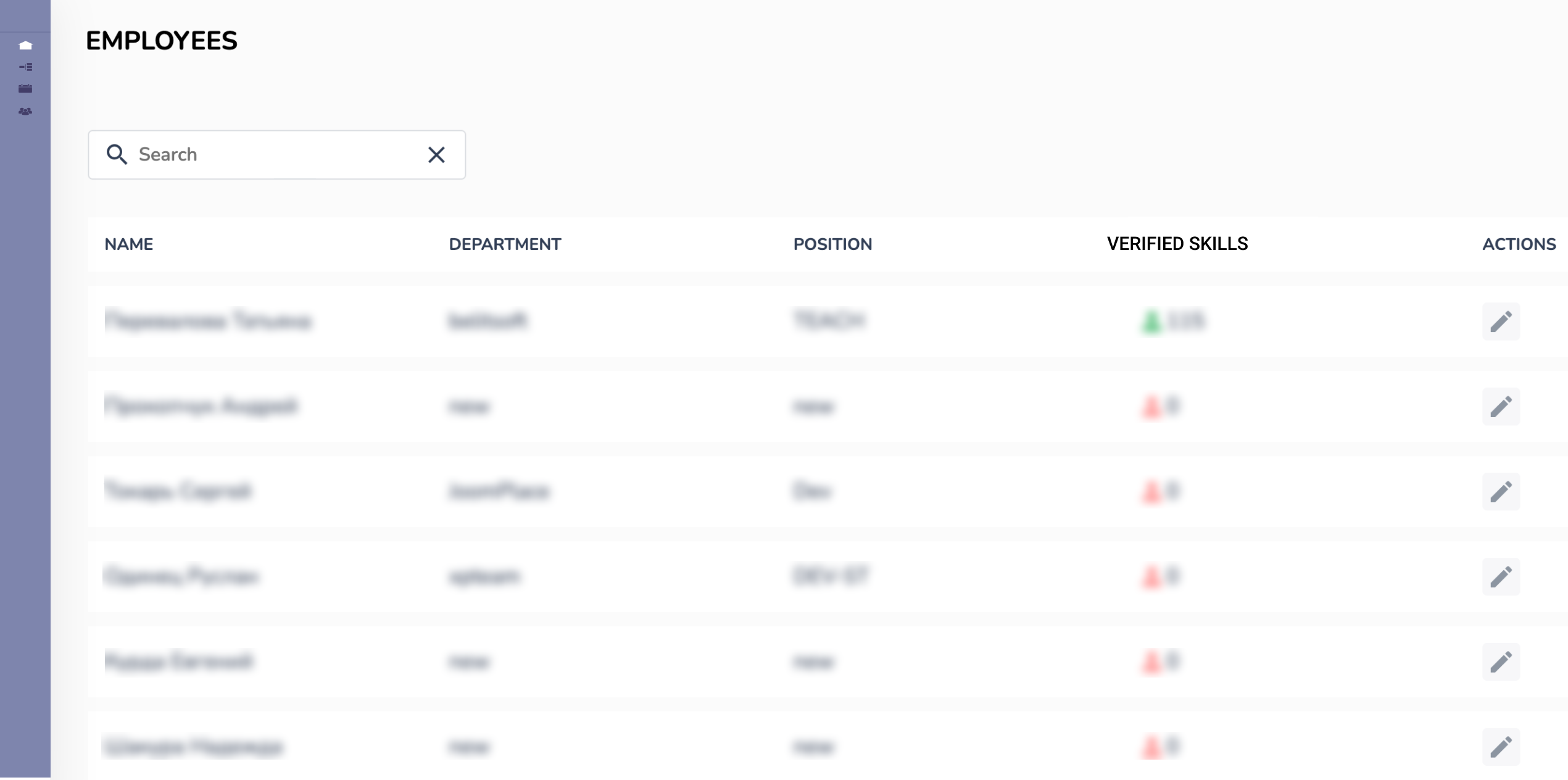 An example of a grading interface where business stakeholders get a full picture of the employees' skills throughout the organization to plan business growth, while managers can effectively gather teams and assign roles based on the mastered skills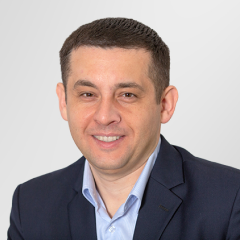 Written by
CTO / Department Head / Partner