Belitsoft stands out from other IT development companies by prioritizing healthcare software development. Benefit from 7+ years of our expertise in healthcare IT consulting services. Our medical software development company will help you decrease expenses on advanced technologies implementation, create a lucrative healthcare software product, or launch a cutting-edge IT initiative to streamline your business processes.
Create your technology strategy or launch/modernize your medical software with professional Healthcare IT consulting services from Belitsoft.
For almost a decade, Belitsoft's healthcare IT consultants have been acting as reputable and trustworthy partners to medical organizations, pharmaceutical companies, healthcare startups, and medical device manufacturers. Our team has successfully fulfilled 10+ large projects (2000+ hours each).
We Work With
Healthcare software product companies
Healthcare providers (labs, hospitals, ambulatories, and other outpatient clinics, etc.)
Pharmaceutical companies
Digital health startups
Pharmacy organizations
Medical device manufacturers
Belitsoft as a Healthcare IT Consulting Firm
18 years in the information technology market;
7+ years of expertise in the healthcare industry as a healthcare IT consulting company;
Deep understanding of internal workflows of healthcare organizations;
The guarantee of medical software development in compliance with the Council of the European Union and FDA requirements (ISO 13485:2016 certification). Leveraging major healthcare standards, such as HL7, CPT, ICD-10, XDS/XDS-I, and others, as well as core FDA, HIPAA, or HITECH requirements.
Healthcare IT Consulting Services
A Full Scale of Healthcare IT Services by Belitsoft
To ensure healthcare data security, seamless work of business processes, efficient resource allocation, and other benefits, Belitsoft offers a complete range of healthcare IT services. Our healthcare team has deep knowledge of advanced technologies, including Artificial Intelligence, IoT, blockchain, and others. We will help you both develop new healthcare software from scratch and improve your current solution.
Our 4-Step Medical IT Consulting Strategy
For healthcare organizations, we start with analyzing their existing IT ecosystem in line with the business needs analysis.

For software product companies, we carry out competitor research, market analysis, as well as identify target customers.

Then, our team gathers functional and non-functional requirements, specific healthcare software compliance requirements (for HIPAA, HITECH or other regulations) for further feature planning and prioritization.
We help you envision and define your healthcare software, including architecture design, tech stack, integrations, and many more critical details.
Project planning is essential at this stage as it helps ensure smart budget planning, calculate product ROI, plan a delivery schedule for your healthcare software, and more aspects.
We start with analyzing probable risks that can arise during healthcare software development and further product usage. Based on this information, we work out a risk mitigation plan.
Our experts recommend starting with
MVP development
if you need market validation or search for your first early stakeholders. It allows you to get a viable product with a simple UX/UI and key feature set. Upon validating your idea on the market and gaining stakeholders or investment, you simply keep on improving your software.
Healthcare IT Solutions from Belitsoft's Experts
Healthcare Data Management and Analytics Solutions
Belitsoft's IT consultants assist with integrating health data from various systems to give decision-makers valuable and data-driven insights about:
Financial data;
Staffing gaps;
Medical personnel performance;
Condition and usage of medical facilities;
Performance and usage of medical devices;
Current progress in research and development;
Patients' results;
Population health, and other critical healthcare business aspects.
Patient Engagement Solutions
Get professional help in planning and designing any patient-centered solution, including:
Healthcare mobile apps for tracking health parameters and nutrition, for a prescription refill, and other health aspects;
Patient portals for providing patients with convenient, 24h access to personal health data;
Appointment booking systems for easy online visit scheduling;
Medical websites for increasing visibility to potential patients and growing authority;
Web and mobile apps for chronic disease management;
Health education software for informing patients and preventing diseases.
Remote Patient Monitoring Solutions
Get expert advice on RPM software to be able to:
Gather and analyze patient-generated health data;
Share and use patient data among your integrated healthcare systems, such as EHR, EMR, HIS, HMS, and many others;
Create alerts and notifications for medical staff and patients in non-typical cases.
Telemedicine software
Get advanced telemedicine software designed by Belitsoft's healthcare IT team. You can get such functionality as:
Video doctor appointments;
EHR integration for automated billing;
Remote patient diagnosing and monitoring of health vitals, such as blood pressure, glucose level, etc;
Data analytics of medical staff performance, patient result trends, and other characteristics.
Digital Therapeutics & Chronic Care Management Software
Benefit from Belitsoft´s expertise in designing healthcare software with the features, including but not limited to:
Alerts and notifications on doctor's appointments, medication scheduling, laboratory results, and other events;
Scheme and scheduling for medication intake;
Exercises specific for particular diseases that are meant to relieve patient's symptoms;
Guidance on activities and nutrition routine.
Medical VR Software (Virtual Reality)
Get expert advice on implementing VR software that will be highly helpful for:
Educating and training medical students and newcomers;
Training and planning surgeries;
Handling chronic or acute pain from medical procedures;
Physical therapy and patient rehabilitation.
Image Analysis Software
Belitsoft consults and guides on implementing imagine analysis software for performing such tasks as:
Performing 3D image analysis for examining the cardiovascular system, brain, lungs, and other body parts;
Managing medical images analysis, including mammography, ultrasound, MRI, CT, SPECT, PET, and other imaging techniques;
Analyzing multiple image standards, including DICOM, NifTI, MINC, and others.
Digital Collaboration & Business Process Automation in Healthcare
Designing Learning Management System (LMS) for healthcare;
Creating Office 365-based multi-team system for patient care that ensures healthcare workflow automation and effective team collaboration;
Setting up a remote workplace for medical staff;
Guiding through Sharepoint policy management software;
Assisting with Sharepoint ticketing system.
Software as a Medical Device & Medical Device Software
Belitsoft helps seamlessly implement IoMT software by:
Designing Software as a Medical Device (SaMD) for outpatient and inpatient tracking using sensors and smart therapeutic devices (such as insulin pens or smart inhalers). It guarantees timely care delivery and improves safety and health care quality overall. Note that FDA registration is needed for applying certain SaMD functionality (e.g., using a cell phone for pulse monitoring);
Implementing software for medical devices for medical staff tracking, aimed at optimizing working processes and avoiding overload. It's also applied for RFID asset tracking in hospitals that ensures efficient usage of the equipment.
Patient Relationship Management Software
Our healthcare IT consultants assist with:
Planning and implementing a patient CRM for personalized communication with patients;
Integrating Patient Relationship Management software with EHR and other systems for effective gathering and structuring of all health data.
Don't see an ideal healthcare solution for your case? Share your ideas and needs with our healthcare IT consultants, and they will contact you back with a viable solution!
Healthcare IT Experts That Will Help You
Healthcare Department Head, Dzmitry Garbar
Dzmitry applies 14+ years of expertise for seamless healthcare workflow automation. He focuses on digital transformation in healthcare, leveraging advanced technologies to create EHRs, telehealth software, integrations, and other custom solutions.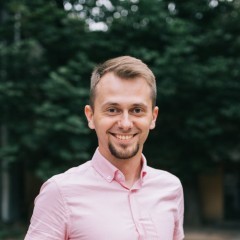 Deputy Business Development Director of Healthcare IT Consulting Team, Alex Shestel
Alex uses his strategical and business-oriented mindset to analyze clients' requirements and business goals and find comprehensive healthcare IT solutions. He will personally supervise all stages of medical software development.
Why Choose Healthcare IT Consulting Services from Belitsoft?
Years of Expertise in the Healthcare Industry
You will work with healthcare IT consultants that have expertise in health insurance, biotech and pharmaceutical domains, medical devices, clinical workflows, and other key aspects and segments of healthcare.
Full Scale of Healthcare IT Services
You will benefit from a one-stop-shop approach working with Belitsoft. Apart from healthcare software consulting services for software product companies and healthcare organizations, our team can help you develop custom software products, offer managed IT services, provide IT support, and overall implement your digital initiatives.
Quick Result Delivery and Early Benefits
You will get the MVP version of your software within several months. So you will start getting benefits from it, while we keep on adding further functionality and refining your product. Such an iterative approach permits us to bring better business results to healthcare organizations, pharmaceutical companies, healthcare software startups, and medical device companies.
Reduced development time and costs
You will save both time and money on healthcare software development with Belitsoft. We select suitable, proven software components, for example, cloud analytics services, to integrate them into a final product. On top of that, such an approach reduces the cost of ownership, helping you save in the long run.
Focus on Your Business Benefits
You can be sure that your medical IT solutions and healthcare software products designed with Belitsoft are backed by a well-thought business analysis. We focus on reaching KPIs, reducing IT operating costs, and enhancing clinical and business workflows, whether we work with software product companies or healthcare organizations.
Our Healthcare IT Consulting Services Improve Your KPIs
You will benefit from our experience in designing digital health software for multiple software product companies, healthcare startups, medical device manufacturers, pharmaceutical companies, healthcare organizations, and labs. Our IT strategy focuses on enhancing your KPIs and helping you reach business goals. We know how to:
Improve the quality of care and patient health outcomes, for example, decreasing the readmission rates and reducing complications rate.
Enhance the performance of doctors, nurses, and other medical staff to ensure quicker patient care delivery and to reduce hours spent on routine manual work, such as creating reports.
Minimize the cost of care, which focuses on reducing visit cost and ancillary expenses, as well as decreasing patient's stay length in hospitals.
Raise patient engagement through minimized hospitalization, higher visit attendance rate, and other means.
Increase patient satisfaction, in particular, the number of patients that use your healthcare app on a daily basis.
Improve medical asset management, which includes lower medical asset search time or higher asset utilization rate.
We Are Flexible in IT Project Pricing
We start with analyzing your healthcare project, budget, and other specifics to propose you the most optimal pricing model.
Time and Material Pricing
The go-to option for Agile projects with the changing scope of work.
Choose this pricing model when you are likely to alter the functionality of your product during the healthcare software development, or you don't know its final scope. In this case, you agree on an hourly rate for your dedicated developers and pay monthly, only for the time actually spent on your product.
Cost Plus Pricing
The go-to option for Agile, Kanban, Waterfall, or other projects that last 1+ years.
Choose this pricing model when you prefer to have total control over the healthcare software development, and when the domain expertise of team members is critical to you. In this case, you make a monthly payment that includes the developers' salary and the vendor's overhead, covering insurance, utilities, and other expenses.
Fixed Price Model
The go-to option for waterfall projects.
Choose this pricing model when the healthcare project scope is defined and clearly described in advance. In this case, a fixed quote is charged, and the payment is scheduled in accordance with the milestones of your project.
Recommended posts
Belitsoft Blog for Entrepreneurs