Android Native Development Services
Top Belitsoft Mobile App Development Company helps startups and large firms sharpen their competitive edge with the power of Android mobile technology. We make engaging and commercially viable native Android mobile applications for our customers. To better meet your requirements, our mobile developers can use whether native or cross-platform approach, as well as combine both. Using a custom native mobile app, your business can provide better user experience to your customers.
Each business realizes the importance of creating an Android mobile strategy because this platform is one of the most popular nowadays and helps to build revolutionary applications. Our Android developers have extensive experience in delivering scalable mobile applications, which increase profits and drive ROI. We build Android applications that are rather simple, but very powerful. Hire our Android developers to get a successful app to expand your business opportunities and reach your customers worldwide.
What are Native Android Apps?
Native Android app is the app that is built using platform-specific programming languages (Java for Android) and development environments (Android Studio for Android). Native Android applications can easily access all the features of the device and its operating system, such as camera or geolocation. At the same time, they more efficiently consume phone's resources (battery, memory, CPU). Native Android applications are usually downloaded directly from Google Play Store.
Why Developing Apps Specifically for Android?
Android is the world's most popular mobile platform, which retained it's number one position in the worldwide smartphone market with more than 80% share (2013-2017). If your target audience primary use Samsung or other Android devices and you need application with more than simple functionality and UI, probably, native Android app development will be the best choice for you.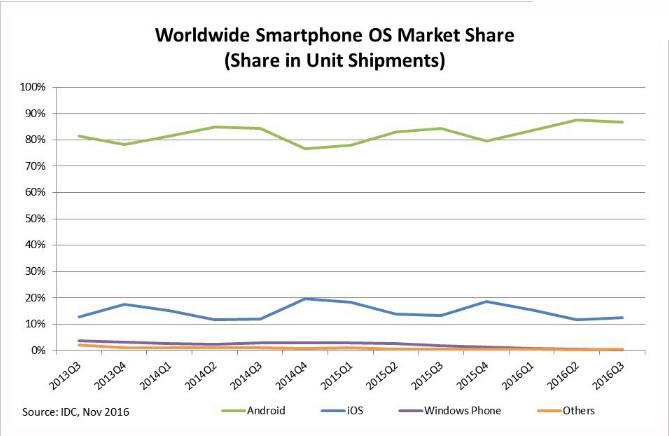 Benefits of Developing a Native Android App
High performance and speed;
Best User experience;
Full access to the device's services and features;
Fast integration with new features of the device;
Ease of testing, automatically monitoring application performance;
Full support of the Google Play Store.
How Long Does It Take To build Native Android App?
Back-end engineering typically consists of the following activities:
Data storage: in many cases, your application may have both client-side storage and server-side storage and your application will manage the flow of data between the client and server;
Server-side logic: how to handle requests from the app's front-end;
User management: creating user accounts, managing authentication, security and access control;
Data integration with third parties, including social networks.
Front-end engineering typically consists of the following activities:
Front-end logic: detailing what activities would be handled by code locally;
Caching: storing data locally to speed load time;
Synchronization: enable off-life usage and resolve data conflicts;
Wireframing, UI design (mock-ups), UI development, UI polish.
Native Android app development may be the top choice for your business. Contact us now to get a free consultation from our Android experts.