We pay special attention to best practices to design reliable, secure, and cost-effective SaaS systems tailored to your needs.
SaaS Application Architecture. Our expertise is in building multi-tenant SaaS systems, where each of your customers shares common resources, from compute services to storage and messaging. Depending on your SaaS business needs, compliance requirements, and the nature of your solution, we can deploy a mixed-tenant architecture. This approach allows some premium tenants to have their own distinct database or even a completely independent infrastructure stack, such as individual Virtual Private Clouds. Meanwhile, other customers or certain microservices can continue in a multi-tenant setup.
SaaS Onboarding and Tenant Identity. Our approach goes beyond just implementing an identity provider for authentication; we ensure you always understand the tenant association of each user. You'll possess the capability to update, manage, and operate all customers collectively through shared services like user registration, management, and provisioning; tenant management and administration; system administration; billing management, and metrics management. A frictionless, repeatable onboarding self-service or internally executed process to both B2C and B2B customers enables you to support rapid growth in your customer base without incurring substantial operational overhead.
SaaS Customization. Anticipating that some of your customers may seek customizations, we can integrate these as configuration options available to all your clientele. By embedding these features at the heart of your offering, your SaaS company can support unique customer requirements without compromising operational efficiency or your business's innovation objectives. Belitsoft has expertise in application modernization. We add the most requested features from your customers to your existing SaaS platform. For examples of our work, check out our cases on healthcare SaaS customization, insurance SaaS customization and cybersecurity SaaS customization.
SaaS Usage Metrics. We identify workflows and events such as consumption data, and latency metrics, and then publish them to a data warehouse for aggregation. Based on that data, SaaS operations dashboards will provide you with both global and granular views of the health and activity of your tenants. Your team can drill into the operational data for individual tenants like the features tenants use, the load they place on your system, potential bottlenecks, cost profiles, and more to identify opportunities to evolve the SaaS system. Detailed dashboards and visualizations will display CPU and memory usage, total data transfer and network costs, and total data and storage costs. Based on that data, we can build alarms and automation to heal the system without experiencing an outage.
SaaS Performance. We design SaaS systems to ensure basic tenants don't impact the performance of premium ones. It can be based on the principle that a tenant's resource allocation should correlate with the revenue they generate. To manage this, we use throttling policies for individual tenants. When a tenant reaches their limit, throttling is applied. We can use the API Gateway to implement this throttling based on usage plans with set SLAs. We take measures to prevent disruptions from noisy tenants and ensure resources are safeguarded from cross-tenant access, whether using a serverless application microservices or Kubernetes container-based model.
SaaS Billing Architecture. You will get a clear picture of how your tenants are influencing costs, enabling you to make strategic decisions about how to build, sell, and operate your SaaS application. We design and develop a consumption mapping model to illustrate how tenants utilize the resources of your SaaS system. This model facilitates the allocation of specific consumption percentages to each tenant. The group of clients generating the least revenue will receive a smaller resource portion, while those generating the highest revenue will be allocated a more substantial pool. To align costs with actual activity and ensure effective resource consumption scaling, we measure and attribute costs in a multi-tenant environment. Our focus is on gathering data from areas that significantly impact your cloud infrastructure bill. As a result, you can gain insights into the per-tenant costs. We can integrate consumption-based pricing or pay-as-you-go models with other pricing strategies, such as subscription models. By integrating metering data with a billing system and establishing limits, we ensure the SaaS application's infrastructure consumption remains consistent with real-time tenant activity trends. This visibility into tenant cost profiles enables you to offer differentiated pricing and experiences suited to diverse customer profiles.
SaaS Testing
With our software testing services, we are not just ensuring that the functionality of your application works as expected. We also focus on testing SaaS system reliability challenges, like how it responds to the unexpected and how effectively it scales. Automation testing allows us to handle unpredictable load in a multi-tenant context, identifying key load and performance issues before they affect your customers. Our testing areas include:
Cross-tenant Impact Tests
We simulate scenarios where one tenant group places a disproportionate load and determine how the system responds. If the system consists of separate services, we test the scaling processes for each.
Tenant Consumption Tests
We track resource and tenant activity metrics, determine the difference, and apply it to a monitoring policy to identify suboptimal resource consumption.
Tenant Onboarding Tests
A spike should not disrupt the onboarding process, especially with dependencies on third-party integrations like billing. We test to ensure fallback strategies handle potential outages for these integrations effectively.
API Throttling Tests
"Free" subscribers should not impose the same load as "gold" subscribers. We test that throttling policies are applied successfully.
Tenant Isolation Testing
We ensure that each client's data and infrastructure are secured and not accessible by other clients.
Tenant Workflow Tests
We select key workflows of your solution and focus load on them to identify if they cause bottlenecks or over-allocation of resources.
Healthcare SaaS Application Development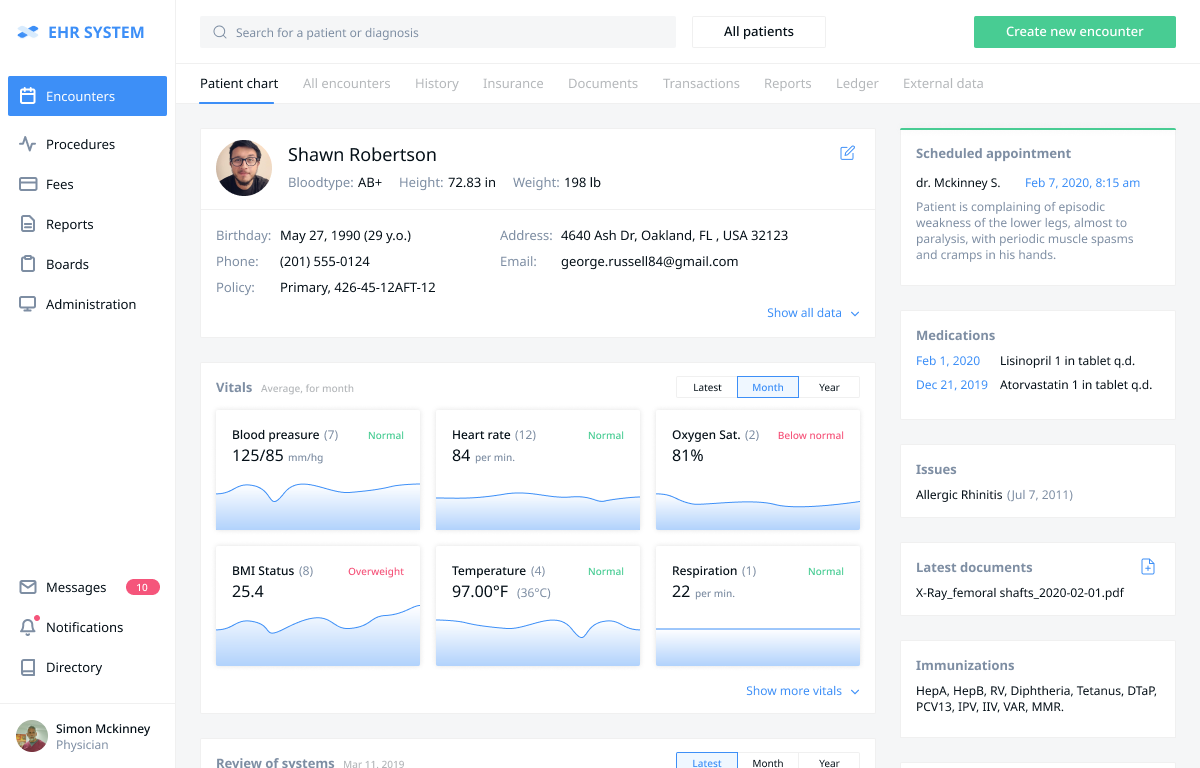 Example of a custom EHR SaaS software with health tracking, medication regimen notifications, appointment scheduling, and other functionality
We specialize in SaaS software development for healthcare. Partner with us to build EHR systems, clinical information systems, or remote patient monitoring solutions, and enhance patient care workflows, from hospitalization to pre-and-post-surgery care, as well as complications prevention management.
Use advanced technologies such as natural language processing for health data entry and prescription recognition, as well as AI to identify potential compliance risks and security threats. Connect with smart medical devices for remote patient care and continuous monitoring of vital signs.
API-based integration capabilities will help you automate data synchronization with other software tools, such as CRMs and HIEs.
We adhere to robust data encryption protocols for PHI and financial data, ensuring that your SaaS is fully compliant with HIPAA, FDA, and ONC regulations.

No Need to Explain Twice
Don't Stress About Work Not Being Done
We sign the Statement of Work to specify the budget, deliverables and the schedule.
You see who's responsible for what tasks in your favorite task management system.
We hold weekly status meetings to provide demos of what's been achieved to hit the milestones.
No Question Goes Unanswered
We are eager to explain how things work, not overwhelming you with technical buzzwords.
You will easily understand the technology and things behind the scenes.
So you can assign less technical staff to a project from your side.

Mentally Synced With Your Team
Work with individuals who understand the US and EU business climate and can easily adjust to US/EU businesses requirements.
Create a hybrid composition with engineers working virtually in tandem, side by side with your existing team members.
Augment your US-based team (or teams in other locations) with dedicated software developers from the outsourced SaaS development firm Belitsoft, and operate on a 24-hour basis!
Quickly and cost-effectively acquire key resources, onboard them, and scale your team with highly skilled members to meet emerging market demands.

Stay Calm with No Surprise Expenses
You get a detailed project plan with costs associated with each feature developed.
Before bidding on a project, we conduct a review to filter out non-essential inquiries that can lead to over-estimation.
Regular reports guarantee you control the budget.

Be Confident Your Secrets are Secure
With our comprehensive security protocols and advanced encryption technologies, we employ robust security measures to ensure the utmost protection of your intellectual property.
Our infrastructure is designed to withstand potential threats, and we implement multi-factor authentication and data encryption to safeguard your sensitive information.
Your secrets are in safe hands.
Technologies and tools we use
Belitsoft is your partner for both the design and development parts. Start by presenting us with your idea and then, we'll create a document outlining milestones to make the project happen.
Belitsoft provides UI/UX designers, senior architects, front-end and backend SaaS developers, lead engineers, scrum masters, product managers, cloud architects, delivery managers, and project managers.
SaaS Back-end Development
As a SaaS software development company, Belitsoft uses SaaS development frameworks to handle all backend tasks. We also develop an administrator portal to manage forms, communications, and other properties.
Be better equipped to secure funding
We understand your budget constraints and the urgency to get to market. Our approach starts with understanding the user journeys to create the wireframes, then convert them into mock-ups and tie them all into storyboards with interactive prototypes, enabling you to launch quickly with a Proof-of-Concept or MVP, according to the roadmap.
Receive the highest positive feedback
To help you get a high adoption rate from customers and users for your never-before-seen SaaS solution, we focus on the UI/UX for business users, not just technology staff. It's especially essential for mobile SaaS apps aiming at getting 5-star reviews on Apple App Store and Google Play Store. With an intuitive look and feel that aligns with your color schemes, our designs ensure a native performance on both iOS and Android devices.
Frequently Asked Questions
To choose a SaaS application development partner, consider their experience in the field. Evaluate their portfolio and case studies to see if they've worked on projects similar to yours. Also, read client testimonials and reviews on platforms such as Clutch and Goodfirms for insights into their reputation and work ethics. This information can guide you in making an informed decision when picking a partner.
Building and launching a product can take between 2 to 10 months, depending on factors like the application's complexity and scale, the technology stack, and the number of developers involved in the process.
The cost of developing a SaaS application can vary depending on the location of your team. Hiring from the US may cost around $120,000 per app, while outsourcing the development process to Eastern Europe could significantly reduce the cost to around $50,000.
Multi-tenant app architecture, in either single or multi-instance form, provides cost-effective and scalable solutions. It's easier to manage and accommodate new tenants compared to single-tenant architecture. This model allows the flexibility to start small and expand as needed, ensuring a seamless software experience for your clients.
Developing a scalable SaaS platform or app calls for careful attention to the architecture and infrastructure during planning. This includes optimizing the application's database and caching methods, and selecting a cloud-based platform capable of handling increasing traffic. Furthermore, adopting a microservices architecture is vital, as it enables developers to create and deploy individual application components, simplifying the expansion and modification of the program.
Safeguarding user data is a top priority when developing any SaaS application. Developers should employ a multi-layered security approach that incorporates encryption, access limitations, and frequent vulnerability assessments. It's also of utmost importance to comply with data privacy regulations such as the General Data Protection Regulation (GDPR) and to adhere to industry-standard security measures like the Payment Card Industry Data Security Standard (PCI-DSS).
When it comes to integrating third-party services into a SaaS application, careful planning is paramount. Selecting reliable services that align with your business needs is a must. Developers should ensure the integration is secure and doesn't compromise user data, and comprehensive testing of the integration is needed to confirm smooth operation before launch.
For effective testing and deployment of a SaaS application in a CI/CD environment, automation and collaboration between development and operations teams are necessary. Employing testing frameworks and techniques that support continuous testing and integration of new features is a significant aspect. Moreover, developers can take advantage of orchestration and containerization solutions to create applications that can be deployed swiftly and efficiently.
Recommended posts
Belitsoft Blog for Entrepreneurs