Digitize and Transform Business Workflows for Logistics & Transportation Industry with Custom Software Solutions
Get a scalable, fully-featured custom Logistics & Transport Management System to deliver freight quicker than ever before and mitigate the risk of human errors due to automation of the key business processes in the company. Use it as a single entrance point with all the necessary data for analyzing and optimizing business performance and profitability.
Custom Integrations with Carrier Onboarding Services
Safeguard your business against carrier identity fraud and save brokers' time by digitizing the entire process of carrier setup with the help of our software programming company. Your custom software will get an API integration with such services as MyCarrierPackets or others by your choice to automatically create carrier profiles and monitor their compliance.
Custom Integrations with Accounting Software
Mitigate the risk of accounting errors by automating the transfer of payment data and documents between a logistics & transportation software and an accounting systems, such as QuickBooks, SAP, Microsoft Dynamics, and others.
Custom Integrations with Document Management Platforms
Refocus brokers' time on working with customers instead of dealing with repetitive back-office tasks. The integration of your logistics and transportation software with Hubtran or other document management platforms automates the uploading and resending of the documentation for a delivered load to a customer and accountants.
Custom-built Detailed Reporting and Analytics
Make data-driven decisions about business optimization based on historical data. The custom logistics & transportation management system will gather and calculate the profitability of working with every customer and carrier, the performance of every freight broker, and other KPIs by your request.
Custom Integrations with Vehicle Tracking Systems
Improve the service quality level by notifying customers about every load status and location change in real-time. Thanks to the integration of your logistics & transportation management software with such services as Trucker Tools or others, both brokers and clients get full load visibility in one click instead of manually searching, mailing, or calling for every update.
Custom Integrations with EFS Money Transfer System
Let freight brokers manage and monitor drivers' on-the-road expenses directly through your custom logistics & transportation software. The integration with the EFS money transfer system enables brokers to issue EFS checks in one click and have the data visible and accessible for accountants.
Load Board Integration with Transportation Management System
Relieve freight brokers from manually posting requests for a new load in 3rd-party load board services. Give carriers more opportunities to see and sift available loads for "backhauls" to avoid the cost of driving empty. For that, your custom TMS can be integrated with the load board databases of trusted carriers, such as
Trucker Tools
,
DAT
,
TruckStop
, and others.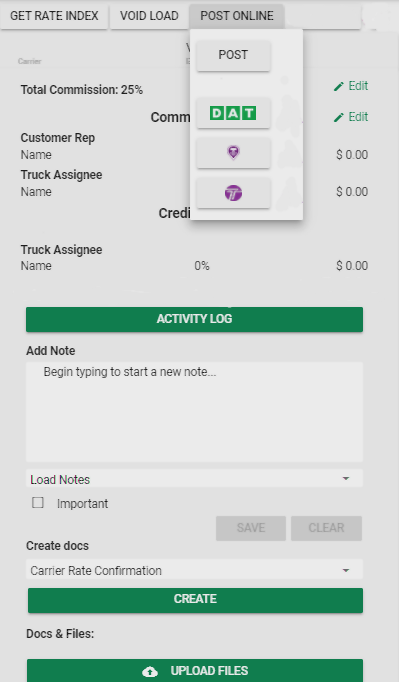 Load board integration into a custom TMS designed by Belitsoft
Integrated Load Posting. Freight brokers can post new loads directly in the TMS, with auto-filled data, and make the load boards visible to carriers with millions of trucks who are simultaneously looking for suitable freight.
Integrated Carrier Search. Freight brokers can find carriers faster by pulling from the TMS data about required origin/destination, equipment, and transportation rates, and see matching carriers.
Integrated Rates Check for Brokers. Freight brokers can enter an origin/destination and see both contract and spot market rates for the specific lane directly in a TMS, which is especially helpful for one-time shipments or new/rare lanes.
Integrated Compliance Check. Freight brokers can check carriers' compliance with legal standards, by qualifying carriers upfront, vetting them, seeing reviews from peers, and getting alerts about changes in carriers' statuses.
Integrated Load Search. Carriers view actual loads with rates and all the load information pulled onto load boards directly from brokers' TMSs in real time, and can quickly find a load to avoid "backhaul".
Integrated Rates Analytics for Carriers. Carriers receive actual data about thousands of contract and spot market rates, pulled from freight bills and transactions. The data gets updated daily.
Logistics Marketplace Development
Marketplaces in logistics serve as an intermediary between suppliers and end-customers interested in a delivery.
Mobile-first Marketplaces with Industry-Specific Integrations
Create an intuitive custom marketplace that allows drivers to instantly receive new delivery requests and manage orders, while enabling customers to monitor the drivers' status and locations on a map in real-time.
Support of real-time data updates to keep customers informed about a current delivery status. It can be implemented thanks to integration with libraries, such as SignalR and others upon request.
Prevention of data loss in case of internet connection failures. Performed due to the integration with special databases, such as Realm, SQLite, or others, for storing and managing data locally, on the users' mobile phones.
Providing analytics and reporting with the help of the integration with Firebase, etc.
Monitoring the current courier location by integrating Google Maps.
Supporting the ability of scanning codes on parcels upon pickup using the integration with code processing libraries like ZXing.
Portfolio for Logistics & Transportation Industry