Find out how load board software allows freight brokers to save hours by optimizing everyday routine, helps carriers increase profit, and lets all parties mitigate risks by finding reliable partners. See what benefits brokers and carriers can get by integrating load boards with a TMS and building a mobile app.
What is a Load Board in Trucking?
A load board is a service matching freight brokers/3PLs/shippers with carriers (trucking companies) with the goal to transport the freight.
Simply put, load boards are web-based publications where companies willing to ship freight meet carriers interested in hauling loads or truck loading.
The robust load board software has tools and functionality that make their cooperation convenient and profitable for both sides.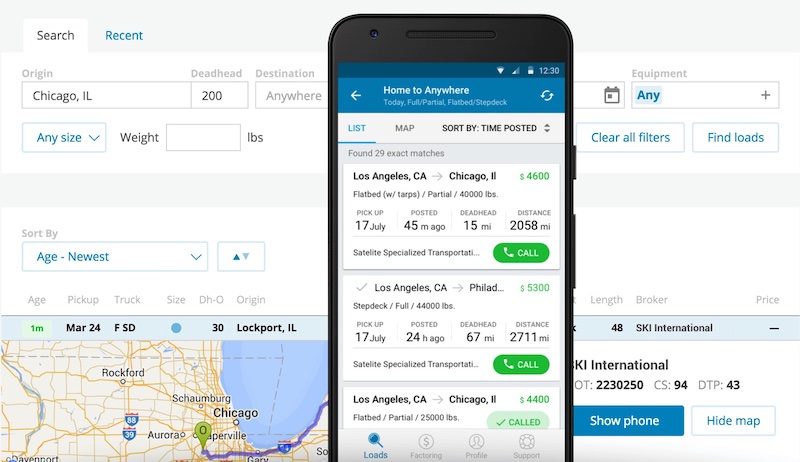 An example of load board software in web and mobile designs
Advantages of Load Boards
The load board software is aimed to help professionals in the logistics and transportation industry to optimize their workflows and increase profit.
How freight brokers benefit from load board software
Build new partnerships. In case current carriers have lowered their capacity or the work scope of a freight company has increased, load boards are a convenient and safe way to find new partners to smartly distribute the freight and deliver it safely and on time. Load board software automates and optimizes the paperwork and the entire negotiation process – checking carrier documents' validity, filling in electronic W9/W8 forms and a certificate of insurance, etc.
Handle specific freight deliveries outside the contract. In case a freight broker gets specific cargo and their regular partners cannot take on the delivery because such cargo isn't covered by a standard contract. Using load boards becomes a secure, quick, and efficient solution to finding a reliable carrier to deliver such freight safely and on time.
How carriers benefit from load board software
Avoid the cost of driving empty. After delivering the freight to a destination, a truck driver is forced to return home empty, which implies extra expenses and zero profit. Using load boards, a carrier posts a one-time shipping offer along the trucker route. It allows quickly finding a freight broker to arrange a deal and fill a "backhaul", avoiding the cost of driving empty. Such one-time freight shipment typically obeys the laws of the spot market, such as a short-term agreement and a spot pricing rate.
Load Boards for Freight Brokers
A freight broker acts as an intermediary between shippers and carriers who organizes transportation services. Typically, companies with freight address to brokers to find carriers that will transport their goods on certain conditions.
No matter how a standard workflow of a freight broker is arranged – cold calls, personal connections, emails, etc. – they inevitably need to do two basic tasks: post loads and find carriers. The load board software automates these tasks and provides extra functionality that saves brokers' time and helps avoid risks.
Key Functionality of Load Board Software
Post Loads
Every day freight brokers risk losing multiple shipping opportunities for the reason that carriers rarely post "backhaul" trucks. That's because carriers prefer to search for loads by calling shippers rather than receiving multiple inbound calls.
Using freight load board software, freight brokers can post loads and make their offers visible to carriers who are simultaneously searching for suitable freight for millions of their trucks.
The well-thought load board software allows posting load boards that help stand out and increase visibility. For that, developers:
enable the possibility to add rates and to sort load boards by rates, which helps load boards with attractive rates be at the top, remaining more visible to carriers and giving brokers more chances for a match;
create fields for detailed load description, including not only basic things like origin and destination or pickup and delivery dates, but also required equipment, cargo weight, specific instructions, and more, to let carriers understand if they match without spending brokers' time on clarifying all these details by phone or email;
add a search function so that freight brokers could not only post and wait but actively search for carriers that match the load, which lets quickly and effectively find solutions for specific or urgent shipments.
Find Carriers
Finding a carrier with a truck going to the necessary destination and having the necessary documents, required equipment, and transportation rates may take days, which leads to the risk for freight brokers to fail to deliver freight on time.
The load board software serves as a searchable database covering the rich network of trucking companies in the region, where freight brokers can quickly find a matching truck. This is especially helpful when a broker has a problematic lane or specific cargo.
To maximize the competitive advantage of using load boards, search for freight load board software with the following functionality:
Search. A freight broker can use multiple search options by equipment type, required lane, load date, and more – to see only the trucks matching all important criteria and save hours on manual search among thousands of offers;
Filters. After searching for available trucks and getting thousands of results, it's highly useful to be able to filter and sort the results to accelerate the process. Using freight load board software, a broker can filter the search results by equipment type or truck type. Filtering by the proximity to a pickup location is also of great help as the nearest carriers will also be more interested in a load that is nearby.
Notifications. Imagine that there are no suitable trucks and every next day a freight broker needs to start a search again and again. The robust load board software allows saving search results and getting a notification when a match is found. Some software sends real-time notifications even when a broker isn't logged in, which saves time, eliminates manual work, and guarantees quick results;
Analytics. The software can analyze past transactions to show accurate market rates for thousands of common lanes in the region, which helps freight brokers evaluate the delivery cost and choose a carrier having more data in mind;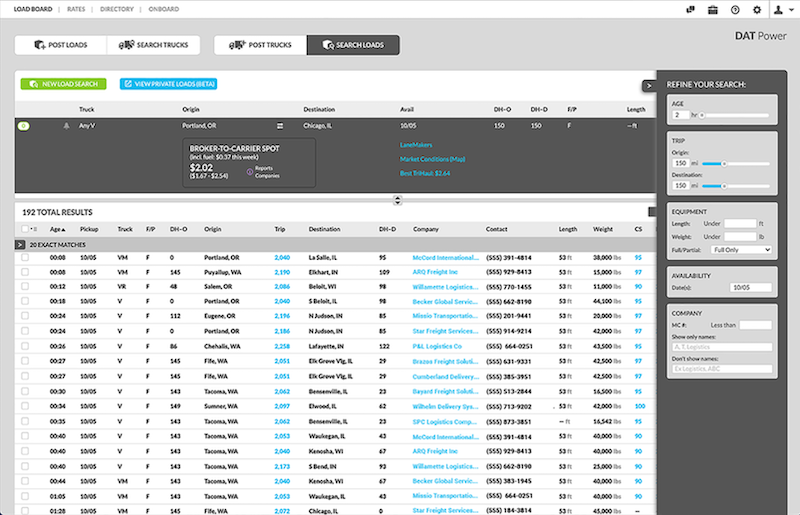 An example of a load board software where a freight broker searches for carriers and post loads
Carrier Compliance Check
Finding a reliable carrier is a challenging task. With small companies constantly going in and out of business, not a single broker can say right away which of them are worth working with. As a result, every freight broker daily faces the risk of contracting an unsafe carrier that may suddenly disappear. Considering the expectations of customers to get their freight delivered on time and without issues, such unsafe carriers put the entire business at risk.
The critical function of load board software is qualifying carriers upfront, vetting, and monitoring them to reduce risk and ensure partnering with reliable carriers only. For that, load board software provides the following functionality:
Vetting carriers to ensure compliance with legal standards. This includes checking a valid Federal Identification number, Motor Carrier (MC) number, and more. Some software allows brokers to save and print the carrier's actual insurance certificate;
Automated alerts after due diligence checkups. On a daily basis, the software monitors changes in carriers' statuses, including carriers' DOT profiles, authority, safety ratings, inspections, insurance renewals or cancellations, and many more. In case the status changes, a freight broker receives automatic emails or SMS alerts and takes the decision about cooperation with the carrier, which ensures safety and compliance with ethical standards;
The review option from peers. Thus, a broker can quickly identify carriers with a "history" of unethical behavior, and choose the reliable carrier that will fulfill the shipment as agreed.
Thus, brokers using load boards avoid the risk of load hijacking, fraudulent double brokering, and putting an unsafe carrier on the road.
Load Board Integration with Transportation Management System (TMS)
Even those freight brokers who use modern, comprehensive TMSs, daily spend hours on third-party websites and services to post loads, check carriers' backgrounds, and examine shipping rates. It requires manually typing in lots of data from the TMS to find the required data.
Load board integration serves as an essential add-on that eliminates these unnecessary manual processes and makes the freight management workflow more productive.
Advantages of load board Integration:
Integrated load posting. A freight broker doesn't need to manually create multiple load boards. Thanks to the integration, the majority of data (origin and destination points, required equipment type, load weight, etc.) automatically fills in during the load posting.
Integrated carrier search. Brokers can save hours if they can find available trucks directly within a TMS instead of searching for suitable carriers on third-party services.
Integrated carrier compliance check. All the functionality that provides load board software – checking carriers' DOT authority, CSA scores, insurance certificates, and more – can be available directly from a Transportation Management System.
Integrated spot market rates. When a broker posts a one-time shipment on a new or rare lane, they need to research rates. Due to load board integration, the spot market rates automatically get into a TMS. So a broker can simply enter an origin/destination and see both contract and spot market rates for the specific lane.
Integrated electronic document management. Load boards automate the onboarding of new carriers. By integrating this functionality into the TMS, freight brokers get the possibility to sign contracts electronically, and complete an electronic W9/W8 form and a certificate of insurance, without the need to send and receive faxes. In addition, such integrations allow receiving alerts about certification expiry or other status changes.

A custom TMS with load board functionality designed by Belitsoft
Transportation companies report a decrease in freight costs by over 10% after implementing a TMS with load-board functionality. This fact was proven by Belitsoft's client that got custom software developed from scratch with all the advanced features. See the dashboards and detailed description in the case study API Integration for Digital Transformation of a Freight Management Company.
Load Board for Carriers
A carrier is typically a trucking company or an individual owner-operator that is responsible for delivering freight to a consignee.
Find actual loads and the best brokers
All the loads, rates, and any other load information is pulled onto load boards directly from brokers' TMSs in real time. It means that carriers always view actual loads and avoid the risk of wasting time on a load already booked by another carrier. Once a load is booked, it's no longer available to other carriers.
On top of that, load board software allows carriers to see brokers' credit scores, average days to pay, and reviews.
Understand the best possible rates
The carriers who know market conditions can be sure they're getting paid adequately. Timely receiving the best pricing information available is the key to business growth and prosperity.
Load board software provides actual data about thousands of contract rates and spot market lane rates, based on actual freight bills and transactions. To remain actual, the rates get updated daily.
A good load board software allows carriers to make informed decisions and get the best deals accepting freight because prior to accepting the freight carriers can:
View shipper-to-carrier contract rates and spot market rates for certain lanes,
Check rates for different equipment types,
Monitor historical rate data for thousands of lanes,
Get access to the average rates that other carriers get on certain lanes,
See average fuel and per-mile accessorial charges,
Get analytical data on highly-demanded lanes, a supply-and-demand metric that shows the market's current condition, and forecasts based on historical trends,
Use a rate calculator to get a final price with accessorials and other charges,
Compare rates to industry averages or rates within a state, and more,
Get rates for possible intermediate destinations that can increase the overall profit,
And much more data that favors increasing carriers' revenue.
In addition, carriers can see shipping companies' reviews and credit scores to boost their negotiating power.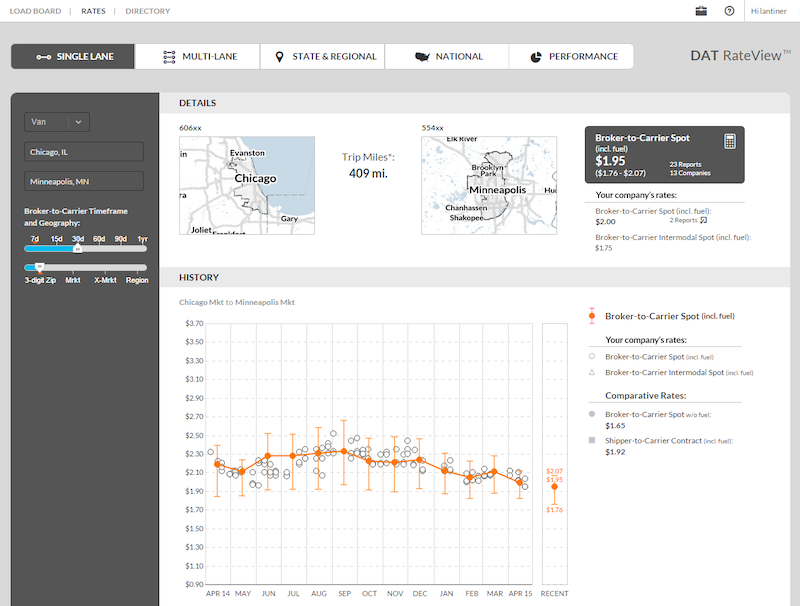 An example of a dashboard that allows carriers analyze rates
Mobile App for Truck Drivers Integration
Having a mobile app for data load software is a far-sighted decision that brings benefits both to carriers and their truckers.
Benefits of mobile apps for load board software for carriers:
Carriers can get real-time updates about new loads within a certain radius of their current location. Finding the next freight delivery using a mobile app is convenient thanks to search and filter functions;
A mobile app for load board software allows both carriers and freight brokers or shippers to track loads. For that, truckers share their location though mobile phones and keep all interested parties updated on delivery timelines without the need for check calls. The ability to track loads is highly useful when moving high-value freight, which increases the service level and customer satisfaction.
Benefits of mobile apps for load board software for truckers:
On their way, truck drivers can conveniently check fuel prices, find the nearest rest stops and hotels, and search for loads within 200 miles of their location;
Truckers can use the mobile app to quickly and easily find and reserve parking. For that, they simply put in the address where you want to park and see the nearest safe parking options directly in the app.
Need full-scale load board software? Or load board integration with a TMS? Or a mobile app for your existing transportation solution? Use our expertise with similar projects in the domain to get the expected result fast.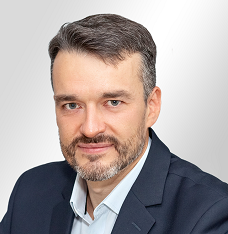 Written by
Partner / Department Head
Portfolio
Portfolio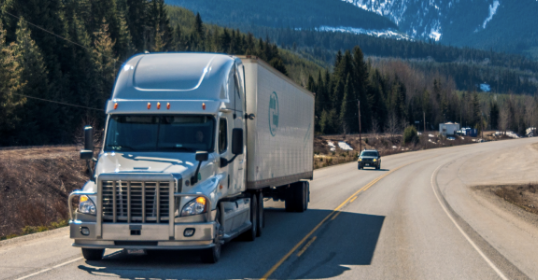 Our client is a software product company from the USA. They came to us with an idea of a truck load tracking web application (a custom trucking tracking). The target audiences of the application are customers from transportation freight industry, which need tracking trucks with their goods in real time from any smart device.