Cooperation with the client is not limited to product development, delivery and communication during the warranty period. Belitsoft goes beyond that by offering ongoing lifetime maintenance service for software products and solutions we build. We create custom software for mass use too, and in this case we provide technical support for its users or your clients' support.
With Belitsoft you will have confidence in your software environment or product 24/7 availability to its users. You will have timely upgrades of the software solutions you use or provide. Your users and clients will receive professional technical support on demand.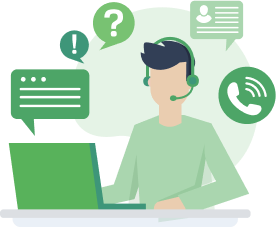 Software maintenance and technical support services we offer:
Ongoing product / system maintenance - troubleshooting, bug fixing, backups, stability monitoring, and 24/7 option is available
Application or system enhancements and upgrades, new functionality integration
Software solution reengineering to meet changes in environment and business needs
Product migration to another platform
Product / solution end-users' and clients' support (using online chats, ticket systems), 24/7 option is available

Belitsoft has in-depth knowledge of software maintenance and technical support service, owing to the fact many long-term customers
and end-users are satisfied with our work. We can help you run your business smoothly and make your system, website, or software
product bug-free and ensure up-to-date features.