Belitsoft has been delivering technology solutions and services for the healthcare industry since 2015. Our expertise in medical software development, accompanied by MedTech consultants, has allowed us to complete 10+ projects (2000+ hours each) .
We successfully engage with third-party security auditors, such as OWASP and TrueSec, to guarantee safety and compliance with health IT standards and regulations.
Our company focuses on long-term partnerships that is proven by clients from the United States, the UK, Europe and Israel who have been working with us for more than 5 years.
Our clients include
Healthcare startups
Medical ISVs
Hospitals, healthcare centers
Private medical practices
Pharmacy organizations
Medical and research laboratories
Healthcare Software Development Services
Custom healthcare development
We offer a complete range of product engineering services including custom hospital software development from scratch, prototyping, and add-on development. Our team of healthcare software developers gives equal attention to software usability and compliance with regional and industry standards.
We optimize the organization's workflows and create a highly efficient and unified healthcare business with ready-made solutions through their APIs by following Electronic Data Interchange (EDI) standards: ERPs, healthcare insurance databases, HRM software, etc. The microservices technique allows us to integrate any third-party solution as a next microservice.
Our experienced team builds complex cloud-based custom healthcare software products leveraging deep domain expertise in cloud-driven healthcare software engineering, including migration of existing software systems to the cloud platforms like Microsoft Azure, Amazon Web Services, Google Cloud platform, or others.
Medical big data and analytics
We develop systems to capture data, process it and give it back in a flexible and easy-to-understand interface. Data analysis and insights discovery help to provide better care and improve business processes and financial outcomes of the organization.
Healthcare Software
EHR/EMR Systems
We built
electronic health record (EHR)
and electronic medical record (EMR) systems that allow clinical staff to effectively manage sporadic patient data and establish a smooth workflow while improving overall productivity.
Patient Portals
Our team develops software to optimize patient experience. Thus, our customers are able to manage patient flow, maintain patient records and provide customized care. By synchronizing the system with health tracking devices, such as wearables and sensors, professionals can keep constant remote monitoring of patient vitals and conditions.
Medical Practice Management Solutions
Practice management software deals with complex everyday tasks of medical practitioners. We build solutions that track and optimize every facet of operational, financial, and clinical activities.
Other Healthcare Solutions We Develop
Medical Billing Solutions
Remote Diagnostics Systems
Healthcare Data Analytics Solutions
Continued Medical Education Platforms
Features for Healthcare Solutions
Speech Recognition
Artificial Intelligence & Machine Learning
Virtual & Augmented Reality
Gamification
Security
Other features
Mobile Apps for Healthcare Professionals
Belitsoft creates medical software applications, both for doctors and patients, and transfers the existing experience to a mobile environment. Our team is experienced in native iOS and Android development, as well as creating web and cross-platform mHealth solutions
Mobile Apps for Healthcare Professionals
Mobile Apps for Patients
How We Work
Work With A Focus Group
We have a positive experience working with a focus group of active users throughout the health software development process. For example, our team allied with hospital workers to improve a software prototype and find new and, above all, necessary features to include in the MVP release.
Comply with the Industry Standards
At the outset of the project, we coordinate with the client on software compliance with health IT standards. Our teams can work with different data exchange standards, such as HL7 and FHIR; DICOM and PACS for medical images; C-CDA for clinical document architecture and many others.
Uphold the Industry Security Standards
Belitsoft enters into an NDA before we know the client's project ideas. Experienced in working with security audit companies, we are able to confirm that the client's medical software solution meets HIPAA and GDPR requirements.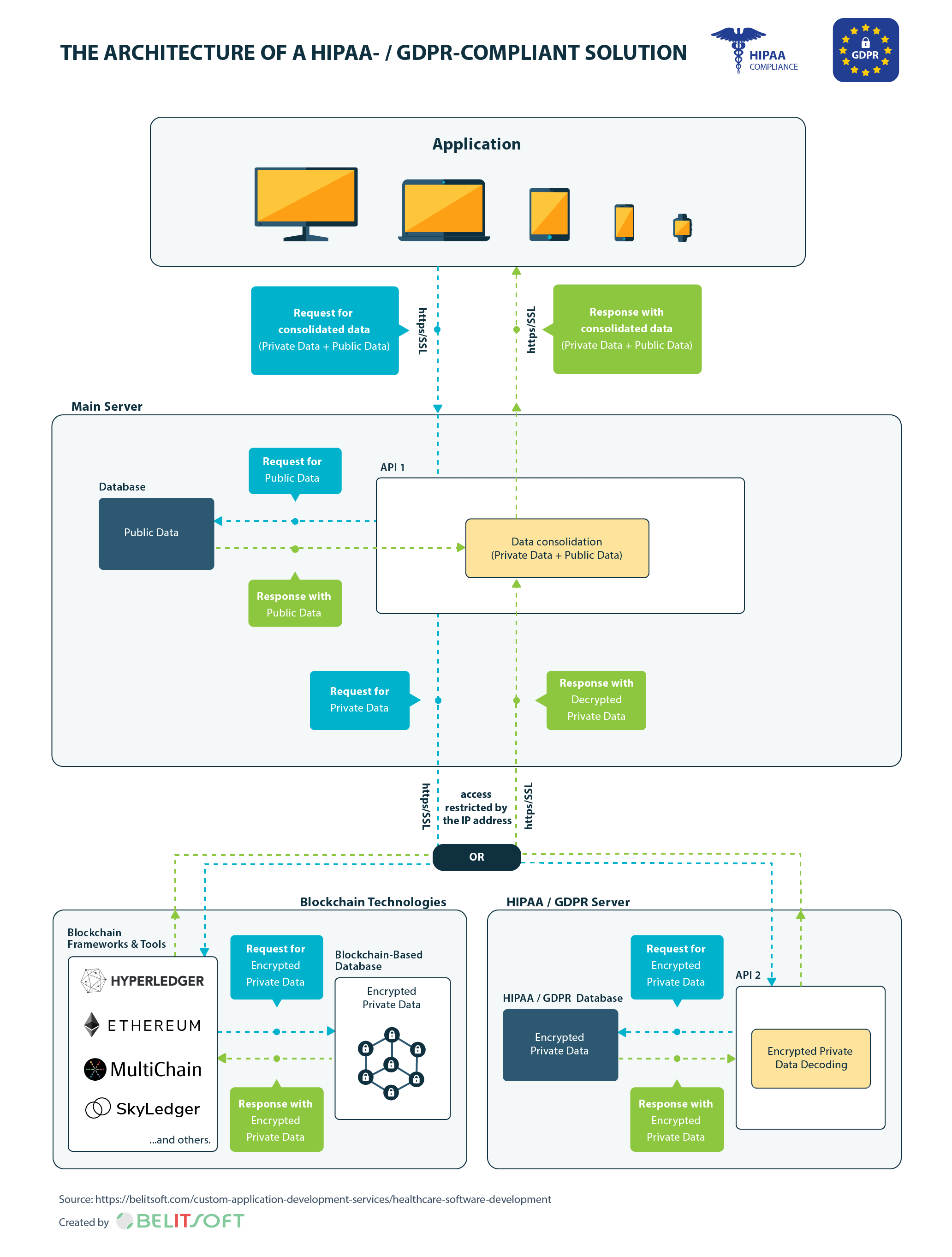 Hire Your Dream Team
Belitsoft development teams are built around key staff who have practice in healthcare software development. 80% of Belitsoft programming staff are mid/senior developers with an average of 4+ years of experience.
Our Business Analysts, technical experts and industry consultants work together to help to promote the idea when the client understands the business goals but could not define business requirements. They get rid of half-baked ideas that will not satisfy end-users, and thus could not pay off.
Frequently Asked Questions
✅ What healthcare software development do you offer?
We build electronic health record (EHR) and electronic medical record (EMR) systems, patient portals, medical practice management solutions. We can also help you develop inventory management systems, remote diagnostics systems, continuing medical education platforms and more. To date we have successfully completed 10+ medium-to-large scale medical projects (2000+ hours each). We also have experience working with MedTech consultants and in-depths domain-specific knowledge.
✅ Do you make custom healthcare software?
Yes. We offer a complete range of product engineering services including new product development, prototyping and add-on development. Our team of healthcare software carefully works to ensure that the software is both convenient to use and compliant with national industry standards.
✅ Are you developing mobile healthcare applications?
We create mobile applications for medical professionals as well as their patients. Our team has a proven track record in both native Android and iOS apps, as well as their cross-platform counterparts.
✅ What about security?
Besides rigorously adhering to the industry standards of data protection, we work with third-party security auditors to keep your information safe from accidents and malicious actors.
✅ What features you can implement in a healthcare software?
We can implement speech recognition, machine learning, gamification, interoperability, and much more.
Recommended posts
Belitsoft Blog for Entrepreneurs