Pre-built EHR systems have numerous disadvantages. The main thing is it forces your doctors to fit predefined limitations. You have to change your workflow to adjust to the new software. Moreover, you will not be able to easily make app modernization over time to maintain a high productivity rate. The ready-made EHR software targets a wide range of consumers and it is not cost-effective for EHR product vendors to customize it for specific customers. Medical software development focused on building your custom EHR system is a different thing entirely.
Contact us to know how our EHR/EMR experts could help you with custom EHR/EMR development or selection, EHR integration, EHR implementation, EHR data migration, training or support!
Epic EHR Disadvantages
Epic is the most widespread health record software with 28% of the market. It is used by many large hospitals across the US. However, it doesn't mean that the system is perfect:
Bugged Updates
Scott from Metro West was disappointed with the extra bugs each new update to Epic brings: "Their support is unhelpful. I work with EPIC exclusively at SSM facilities and could not be more disappointed. EVERY TIME, not sometimes, there is an update we are left with catastrophic problems with the system that persist for days. I do not understand why they cannot troubleshoot updates before they go live. If I was this effective in my job I would not have it anymore."
Confusing Records
Lisa from Wellness First calls Epic a "messy" EMR. It was quite complicated to work with: "The least likable thing about this software is how it ties everything into continuation. For instance, if you need to print an X-Ray report you have to print literally the entire record as it seems to always pick up where you left off, if you are seen on one day and come back in two weeks they just pick up where they left off so the notes are just confusing, what visit went with what. I don't like that at all about Epic"
Dorothy from The Family Foot Care Group didn't like the amount of time she had to spend on working with this EHR: "There is little benefit to patient care because of time in front of the computer is unusually demanding. This is ideally suited for the government gathering of information in public health data. It is not primarily for improving patient care, in fact, the opposite occurs."
Karen, a physician working for a large medical practice, thought of Epic as a health risk: "I am a physician and consciously avoid health care facilities that use EPIC for my own care because I think it is so bad. Access from home on call but any software does this. It is actually very cumbersome to log in from home."
She has further elaborated on that: "Insufficient space to list all the problems Great for people with OCD who just like to click boxes. Clunky, cumbersome, slow, cluttered and poorly designed screens After 7 years it just keeps getting worse. I have used much better EHRs in other settings."
Low-Quality Training
Audrey, a pediatric nurse, disliked the inadequate training she and the other users have received: "Why does it take weeks and weeks of training by red-shirts and we still don't know what we're doing? VERY user-unfriendly. I would never recommend this."
She has later expanded on it: "Too busy...like an unmedicated ADHD child. Not user-friendly. Not intuitive. Too many ways to perform one task. Half the time the trainers don't know what they are doing. Too many updates. This program slows down my patient interaction. Honestly, I could go on and on and truly believe this is an over-hyped EMR."
Cerner EHR Disadvantages
Cerner has the second-largest share of the US EHR market - 26%. The company's products are installed in over 27,000 locations all over the world. But, as a pre-built system, it doesn't exactly fit everyone's needs:
Poor Training
Raul from Granville Family Health was disappointed with the training Cerner has provided: "We transitioned to Cerner works in Nov 2016 in our output office. On sit, Cerner support had not been trained on our version and was not helpful. On one occasion the on-site support taught us workflow for prescription refills that was improper and left scores of prescriptions unfilled. The issues with the system are so widespread that each day presents a seemingly new issue. Chart tabs disappear... migrated medical history and allergy information is inaccurate. Lack of functionality was and 2 months in still is absolutely shocking... I would strongly encourage other health systems to go a different direction for your bottom line and for patient safety."
Cumbersome UI
Josh from St Francis Hospital thought that this EHR was developed by people who have never worked in a clinical setting: "The software is poorly designed, difficult to navigate, and generally feels like it was designed by engineers who have never worked in a healthcare setting. The software is not intuitive to use, creates extra steps to execute simple orders, and is filled with programming glitches that can't seem to be fixed by their "extensive" support staff. I found many of the MD support staff to not even understand or be able to navigate the program because they use Epic in their daily practice. Overall the software feels dated. The design team should spend some time using Apple products to learn about the ease of use."
Moreover: "The software is difficult to use. It is not intuitive. Simple commands require multiple steps to execute. You are required to manually "refresh" to send orders, even after signing. It has created more work for the doctors at my institution, taking simple tasks that previously could be performed by support staff and making them an additional responsibility of the MD."
Gary from Carmel Care PLLC also had a few things to write about it: "While the output of the EHR is definitely readable, and there are many modules available, this is one of the least user-friendly EHRs on the market today, in the opinion of this user."
Buggy e-Prescribe Feature
Nicolas from Puerto Rican Family Institute had trouble with prescription of both controlled and non-controlled substances:
"Amazingly poor UX/UI layout, and often confusing. The customer services has been a nightmare all along.
For more than two months initially in March 2016 when we wanted to start this system we were forced to keep calling in prescriptions to pharmacies & writing controlled medicines for 5 days because the system wasn't working - and Cerner telling us they didn't know what was the problem. Later on when we were eventually able to e-prescribe non-controlled substances still we were forced to get an NY State waiver for controlled substances because the company couldn't get it resolved in more than a month longer. Worse, they blamed our IT team here when it was clear it wasn't the case. This was more frustrating as this was happening while we're busy seeing patients.
Support was spotty at best, often the IT people were forced to resolve the problems themselves, or improvise, while the agency I'm working was paying Cerner money. Even now (10/18/2016), the e-prescribe system, that claims it has a renewal option for old medications, it doesn't work for controlled substances (some do, some don't), so many of us always have to rewrite as a new prescription for all the controlled medicines.
I'm a psychiatrist but I've also got some formal training in UX/UI design, and to write code, so I'm probably better understanding computers than the usual MD, and even for me, the system was an impossible crazy task.
I also work with other e-prescribe systems in other agencies and comparing apples to apples, the other systems are much cheaper and much, much better, and very much easier to use. It's amazing the kind of poor service you can get paying big bucks! And here, this is one glaring example. Buyer beware!"
Allscripts EHR Disadvantages
Allscripts is within the TOP-5 most popular EHRs in the US. With its 6% of the market, it is among the staples of medical software. However, there are users who had unpleasant experiences with it.
Bad Customer Support and Unfair Pricing
Helen from Women's Care OB/GYN Inc. called Allscripts "EHR from hell." She expands on it in the review:
"Terrible customer support, always have to wait for them to call back. Price gouging, charging extra for everything. Charging extra for what is supposed to be part of meaningful use. DO NOT USE THIS COMPANY! RUN AS FAST AS YOU CAN!"
The other disadvantages she has mentioned were: "very slow, freezes frequently, error messages. Poor customer support. Every time there is an update, we have issues afterwards. I have been using the system for 2 years and it's still creating lots of extra work."
Teresa from Parkway Medical Group, PC, also doesn't like Allscripts: "Not happy with the Allscripts System. I have been with the company for 16 years, started with Tiger then Allscripts Myway, now Allscripts Pro. Unable to get problems resolved in a timely manner. Problems understanding the customer service, overall language barrier. They ask when I call in (Have you checked the Allscripts Portal for the answer first before call customer service) We are a busy 4-physicians office and don't have time to search for the answer to our problems) We need an answer so we can continue on with our daily duties."
Other issues Teresa mentioned included: "Problems with e-Prescribe, allowing the physician to free text diagnosis, doesn't show social security numbers (which would be very helpful for the referral clerks), If correction needs to be made in PM the corrections do not cross over to EHR, so you have to go in and do an addendum"
Locked Contract
Pam from Greenville Health Care Center has had to resort to drastic measures to move from Allscripts to another vendor: "There is a long term cost for literally everything you want to do or change. Their contracts are so lawyered up they are impossible to get out of. We just terminated our service and we have struggled through with them since 2008. They were our first EHR company. They have now sent me my billing information through 2026. I left a voicemail Monday which as of yesterday afternoon had not been returned. I sent an additional email yesterday in regard to the bill which has not been answered. I also left my cell number since I would be out of the office and so far no word from anyone to discuss our bill. My practice is closing and opening up under a new name and tax ID. Not sure how to handle their bills for the next 9 years."
Dysfunctional Updates
Roy from IU Health Arnett felt immensely relieved after the practice has switched to another vendor. He wasn't a big fan of Allscripts' complexity: "I used it for two years and so-called updates caused so many problems the company I worked for had to offer classes on how to use it all over again."
There were other issues he has mentioned in his review: "There can be three or four places to enter the ordered screens (like colonoscopies) and only one will show up on the dashboard. The program crashes a lot."
Scott from Surgical Associates of North Texas also mentioned his displeasure with the system's updates: "Constant "upgrades" that didn't do anything to improve productivity, only made it more difficult to complete my daily work. Customer support was terrible. The biggest drawback, now in hindsight, is how incredibly expensive it is. We started with them early when there weren't many options. I'd keep hearing from other docs how much they were paying for their EMR's and be thinking "no way, they must not have what we've got". Turns out, I was the one being had. I now spend less than half of what Allscripts charged me, and get office management and billing support as well. I have trouble understanding how they are still in business with their model."
Price-Gouging
Amber from Iowa ENT expressed her displeasure with a long review: "It is so ancient. Not sure how they can say they are one of the best or leading in EHR?? Complete lie! Has any of the faculty or developers of this company ever seen any other EHR?? I'm guessing not. Maybe they should see some other EHRs or have experienced providers help them!
You also get nickel and dimed on everything even when you pay major dollars to have the program and have to continue to pay for services, monthly fees, and for every upgrade and added the feature. Their customer support is horrible because half the people don't know what they are doing."
In her opinion, the disadvantages of Allscripts were: "Everything from the layout, templates, workflow, e-scribing, how only one person can be in the note and you have to steal it or take it over in order to do your part. I can't even create a note on someone I saw last week because another provider had two charts open on this patient that needed to be finished. AND...I can't even view any of these open notes either even when I am following up on this patient and need to see some things. You have to enter each prescription and send it separately.
The search buttons for diagnosis, procedures, tests, education are horrible. You need to be able to find one thing with multiple names medical and layman, most commonly used. The nurses should be able to put in their vitals and go into medication, history, social, family, etc...at the same time I am getting into the HPI, exam, diagnoses and plan. I should be able to see the entire note, every section, on one page so I don't have to do a ton of clicking to try and see everything. I want to see the entire note.
I should also be able to see the problem list, medications, and other things off to one side. If someone is trying to open a section I am in the program just needs to let them know about it by saying "so and so is in this section right now do you really need to take it over as it wouldn't save anything." This was helpful with the last EMR I had at my last job as I could even ask the person it said was on if they could get out of the section if I needed them to.
When you have a template, you should be able to select something, but still alter it. E.g. if you choose one of the already made master list options you can't even put anything before or after or in between the sentence. Even when entering days or weeks to some of these sections you should be able to free text and even put 2-3 weeks or whatever you need to put in there. It should be very easy to make templates and edit things.
Have any of these developers ever went into a medical office to even see how busy and complicated it is. It needs so much work. It is SO old school!! I seriously am so frustrated, I can't even understand how this business is still successful?? I'm honestly going to spread the word on this program as it is the worst investment ever. Also when running reports it doesn't capture everything. Also it isn't very helpful for meaningful use."
Billing Issues
Nancy from FASV, PC, tells her story of working with Allscripts: "We are a small three doctor practice. Signed with Allscripts in 2013 as Bon Secours Hospital was contracting with them and offering to subsidize portion of the cost. Three years of struggling with customer support issues ranging from the downed system to billing disputes.
Our bookkeeper hired in Jan 2016 contacted Allscripts in January & was told the account was in good standing only to receive a notice in April 2016 that we owed "reopened invoices" in the number of dollars. We continued to pay current invoices and disputed the amount until they provided us with an audited AR history of our account. They responded by putting our account on hold preventing us from doing business.
We agreed to pay the disputed amount out of necessity in order to continue to see patients and generate income. They refused to provide us with an audited AR history of our account to review the charges only providing data in an excel spreadsheet.
Additionally, one of our partners is leaving the practice due to life-threatening health issues. Allscripts is refusing to let us out of the 2 years remaining on her license."
Expensive Interfaces
Dick from Northern Michigan Laboratory offers his own perspective on this EHR: "Allscripts touts connectivity as a strength. Of all the EHRs with which we connect, Allscripts takes the longest and at the highest cost. It appears Allscripts views interfaces as a cash cow for them."
Low Uptime
Nancy from Smaldore Family Practice Associates also has a few words to say about Allscripts: "Constantly get errors and system downtime. Some of the diagnoses descriptions do not match the ICD-10 book. We recently had an EHR upgrade and the following day after the upgrade, our system was down. Found out that they did not test before initiating the upgrade to clients."
Jim from Foot and Ankle Clinic aptly tells people to "Run, don't walk away from this garbage product." This is why: "Awful! The server is constantly down. Customer service takes 3-4 hours to resolve complaints. The representative they assigned to help us because of our constant issues does not return texts or phone calls. There are constant errors once inside the software (that is once in a blue moon when you could actually sign in). The fees continue at monumental cost once the software is paid off. I'm hiring an attorney. Did I mention it is awful?"
Inflexibility
Dennis from OMC Women Health Care calls Allscripts an "inflexible system." He claims that it: "Does not accept different file types (PDF, Jpeg) to be imported into the encounter. Too many clicks to accomplish simple tasks. Not Intuitive. Opening multiple windows is not allowed. Free text entry limited: No formatting, limited character entry."
Inefficient Data Entry
Buffy from Liberty Hospital gives a nurse's viewpoint: "The Allscripts EHR we are using is terrible, to say the least. Nothing populates to anything else in a meaningful way. If I give insulin, it should populate the diabetic flow sheet. But I have to double chart everything. It isn't capable of connecting to our telemetry, so again, another entry.
The physical assessment is ridiculously laborious to chart. It takes nearly 20-30 minutes just to open my patient's chart. As I move from room to room to chart at the bedside (per directive), the log in and out time is very long.
Once charting, there are far too many descriptors that mean nearly the same thing. The list of possible findings is so long that it takes forever to look through and it's not in any particular order that I can see (such as alphabetical descriptors so it's easier to find what I'm looking for). It forces you through some things line by line, while completely skipping others so I have to manually go back. For example - in the skin assessment, I am line by line forced through everything each time. But in the cardiac section, it skips right over the telemetry parameter if the patient's assessment was WDL. If I've added a tele parameter I probably want to use it.
There are so many columns across the page it's mind-numbing to look at and often leads to people inserting data in the wrong column. If a parameter is accidentally clicked but is quickly realized not to be the one I meant to click, there is no way to delete it, this leading to yet another grayed out but space-taking place. If there has been no data entered in a parameter, we should be able to delete or have an undo action option.
In short, we are healthcare providers, not IT professionals. I should never be spending more time charting about the care I am providing than actually providing care. And the worst part is that with all the endless clicking of boxes, I chart less meaningful things than I did paper charting! I have yet to find one person who likes our system."
eClinicalWorks EHR Disadvantages
eCLinicalWorks has been on the market since 1999 and boasts an impressive userbase of more than 850,000 medical professionals. Some of those users, though, find drawbacks in the system.
Inefficiency
Jay Joseph from Sparks Family Medicine considered eClinicalWorks a "money loser." According to his review, this EHR was very time-consuming to work with: "I have been using and developing EMR software since its inception. I even wrote my own EMR version using Microsoft Office Access in the mid-1990s.
The sales pitch is not made to the clinical user who does all the input but to the back office manager who keeps regular hours, does not see patients, and does not take calls. They make a fancy pitch on how they can make the business part of the medical office run easier and can save time for the office manager. Then they charge extra for the clinical part to run easier.
I used to be able to see 30 patients a day; one day I even saw 52. Now it is a real struggle to see 15. The Rx function is a real time-consumer. I need to look up what I want to do in my MPR, and then, if I am lucky, translate it into ECW speak. The ICD-9 codes do not match what is commonly used in the majority of other ICD-9 descriptors. I can find a better ICD-9 description of my diagnosis using Google."
Billing Issues
Andrea from Monroe Pediatrics had a lot of issues with the billing part of eClinicalWorks: "They are so fraught with billing problems, I have owned my practice for almost 18 years and they have almost bankrupted my practice, as soon as one billing problem is fixed we find another one. The representatives and Case manager at E Clinical say they have never seen anyone with so many problems, but somehow I don't believe them. When, now, going on 4 months into the process I am still only collecting 30 % of what I should be collecting, and I have borrowed more than the practice is worth to keep the cash flow going, and I ask them why I should pay them... They threaten to cut off clinical support. This was the biggest mistake of my life."
Bugs and Overpriced Data Transfer
Mark from Mark W. Niedfeldt, MD, kept being disappointed with eClinicalWorks even after he moved away from this system: "Terrible customer service. Outdated platform. Expensive. What's not to like? When I left I paid them $5000 to get my records to transfer into my new EMR, they sent me a hard drive with data in random arrangements and corrupted data. Nice."
He also highlighted other problems: "Wow, where to start. This is a spaghetti programming system that is so screwed up it will never work correctly. Every time there is an update, multiple things stop working. If you have problems good luck getting someone who speaks understandable English or even someone to respond to your issue. You may get a response several days later at 9 PM. The only people there who speak good English are the salespeople (shocker). Until I went with a different EMR I didn't realize how many workarounds I had been putting in place."
Glitches and Low Usability
Robert from PromptCareMD stated that he has "Never used more glitchy software, nor a more poorly designed UI." The list of problems he had was extensive, to say the least: "
As others have stated, the initial 5 day training period was mostly used by their staff to fix their own glitches and get the software to a base functional state.
2.5 of the 5 days training period was used to fix things like scripts which simply didn't work. So much of the provider training time was a total waste. We were then charged additional money to have them come back and spend more time with us.
Content is not provided. We were told the system can be used for urgent care. After all, one fo the largest chains in the country uses ECW. They didn't tell us that the chain spent a significant amount of time and money customizing the system to suit the urgent care need.
ECW is unable to provide suggestions for how their software should function in an urgent care environment. asking them which flow would be ideal for their software is a useless question.
Their software was designed by folks who have never heard of UI/UX or Human factors. As others have noted there is no consistent use of symbology between screens. There are often multiple ways to do the same function on one screen. Sometimes the label "close" means one thing one screen but another on another screen.
Tech support is obscene. We were unable to unfavorite certain meds from our list. It took them weeks to months to figure out why.
Multiple sections of the software are labeled "procedures". One area results in a CPT code being auto listed on the billing screen; one area does not. Many other illogical quirks exist as well. Good luck trying to teach every new provider these types of quirks.
If you are an RCM customer, many of the features they use to market themselves are simply nonfunctional. Patients of RCM clients can't use the patient portal to make payments since as an RM client, the software does not correctly send balance data to the portal. But if you call the "portal department", they are unaware of this problem. The web-based version of their software to this day (early 2019) does not receive correct balance information for patient accounts. So, even if the providers and the medical assistants use the web-based version, you still have to maintain the desktop version for the front desk staff. The UI is totally different between the two systems, so you effectively have to train your staff on two different systems. Ridiculous.
Their entire development team and tech support team is in India. Consequently, we had to spend significant time fixing the kiosk application since literally every screen in the app had typos, grammatical mistakes, and phrases that simply didn't make sense. I screencapped them to have proof. They simply didn't understand why I couldn't use the kiosk app as it was delivered to me. This means they never even bothered to have one of their US-based staff look at the product before it was released.
They wanted to change the pricing scheme in the middle of our contract due to legal issues they had in NY. So, they changed it in their favor without discussing it with me. Their financial analyst then used seasonal data, and ignored the peak season in doing so, to justify their new price. Had they been intellectually honest and used a full year of data, it would have altered their conclusion about what the new pricing scheme would have cost me. Dishonesty like that has no excuse.
Despite asking them if the price we would be paying for the software included everything as an RCM customer, and them replying yes, they then proceeded to charge me hundreds of dollars extra for each provider per year to use the escript controlled substance feature.
So yet another set of conversations resulted in a reduction in price for a period of time.
I can't even count the number of conversations I've had with tech support, their own billing dept, as well as their practice liaisons who knew nothing about urgent care. I want the year of my life I've spent with them on the phone back."
Bad Customer Support
Gina from Mid Ohio Medical Management considered eClinicalWorks too complicated even for their own team: "The program was so compartmentalized...each individual only knew about their part. One would spend weeks troubleshooting an error to find out that another had not turned on the feature.
The system is too complicated for those that programmed their parts! I then after approximately one year decided to transition to a more user-friendly emr...this process was just as problematic. They sent a disc that was not in the format needed and then refused to change it and refused to allow the new EMR company to access the EMR. We were told to download it in the format ourselves… when we tried, we had been disabled from doing so. We called to gain access from the project manager...again on hold for 45 minutes. Still waiting for a callback. Note that they are expecting pay for this 5th world EMR while we transition.
These people have unfair business practices and have been fined and sued repeatedly by the Department of Justice. Now I'm being held hostage paying for a suboptimal EMR that has done nothing but caused me grief."
Lots of Errors
Jay from Alamo Heights Primary Care Physicians had several issues with the implementation of ECW: "
I had to hire staff for all the errors eclinical has. They do not have support. When an issue comes up you have to leave a ticket, they call u 1 hour later and then your staff has to use their time and their computer to be walked through how to fix it. meaning each issue takes 2-3 hours of your staff time. Nothing is simple.
We finished and went live on May 14, 2018. NOTHING WAS LIVE!! 2 months later we still cannot get electronic prescriptions done. None of my old EMR imported, None of the referring providers were in for 2 weeks. Try running a business with patients and no staff because your staff is on the phone with support. 3 out of their 5 days of the trainer on-site are a joke. That was an extra member who was on the phone the entire time fixing implementation issues. NO ONE GOT TRAINED> NOTHING WAS READY. oh and by the way I signed up in Jan 2018 so I gave them 5 months to get all the data and this together..."
Terrible Interface
Brian from Tufts Medical Center found that ECW was error-prone and had numerous usability issues: "
Very slow to startup, and uses a lot of resources on your desktop computer.
Too many clicks.
Too easy to make mistakes and lose work (where did my 5-paragraph note go?!).
Not easy to customize.
eCW often generates medical errors.
the interface is terrible--why can I only see 5 lines of typed text at a time? Why are there 5 buttons on a view that are all labeled the same thing? (No...use the "scan" button in the upper left, not the lower right).
too many mandatory fields that are not relevant (I just want to see his past vitals...I don't want to enter a pain score right this second...).
low-quality document and photo uploads (I think that's a wound...but it's so pixelated).
Easy to lose formatting in templates (if you click here, it's ok, but if you click over there, then all hell breaks loose).
Anything that is not done in a billable visit has to be done in a telephone encounter.
E-prescribe module is difficult to use and not consistent. (Sometimes you can type in a box, sometimes you have to click on a little number pad, the options for prescribing are in a weird order (alphabetical, ordinal), complex dosing, like a prednisone taper cannot be done.)"
Illogical Workflow
William from Medical Hills Internists largely attributed his early retirement from his group to this EHR and listed a number of serious issues he has faced: "
Illogical workflow. I could go on for a long time about this but I don't have the room.
The web version and desktop version are significantly different so if you go home to finish notes, which I have to do almost every night, you have to remember to do many tasks in two different ways. Here's one frustrating difference. You can fax prescriptions from the desktop version but can not from the web version which means if I have a controlled substance to send in I have to wait until the next day when I get back to the office and can use the desktop version.
There are too many other cons to list. They are mostly numerous little things that slowly drive you mad. Morale at our office has been terrible since we changed to eCW."
Subpar Training and Meaningful Use Documentation
For Robin from Johns Creek Surgery the problems with this EHR began during the implementation process: "Troublesome from the start. The training was awful and we paid for 2 separate training classes for our employees. They were charging us for things that they didn't even have set up. We finally hired an IT/Rn person that could help us with this program. Our employee is constantly telling ECW tech people what they need to do because they have no clue and we don't have the access to make the changes. We asked ECW many times to open our system so we can do what we need to and they stated that we would have to pay an additional $7000 to $10,000."
The final straw came when the practice members filed their Meaningful Use documentation: "This is our breaking point when ECW employees do not know how to do their jobs and now has affected the reputation of our Surgeons by reporting our MIP's to a government office as a group when we were clearly supposed to be reported as individual doctors. So instead of our MIP's score being above 90 on all our doctors they are now publicly scored as 7.17. This will now not only make us lose money we should have received from the government but can actually cost us money on our reimbursements.
We have spent all morning on the phone with QPP to try to correct this error and are getting no support for ECW. We have tried all morning to reach out to people at ECW and no one will take our call. WE ARE NOW TALKING THIS IS OUR SURGEONS REPUTATION THEY ARE AFFECTING!!!!!"
Athenahealth EHR Disadvantages
Athenahealth holds the 7th place among the Top-10 most popular EHR systems in the USA. It occupies 2% of the market.
Billing and A/R Issues
Jon from Dr. Jon's Urgent Care Center had issues that affected his practice's financial health: "Billing follow up and working of A/R is terrible. After 4 months using Athena billing I can find no evidence that a single patient has been billed for their balance after insurance. Our Accounts Receivable is 50% higher than it has ever been in the 6 years we have been open.
There seems to be no one we can talk to except for client support, after a long wait on the helpline, and our account representative, who is available on the phone only by appointment, promises but does not deliver. The EMR is finicky and full of glitches. It requires countless clicks to get anything done. The embedded E&M coder is not reliable."
Heather from Anchorage Foot & Ankle Clinic has also faced problems with collections: "I was assured that this program had a lot of podiatry- based templates and that they were simple to modify. However, there are very few templates for my specialty, and trying to make or change a template is frustrating! It takes at least an hour to do one template. And, you cannot use the same template choice more than once in a template, so if you are trying to chart two feet, good luck!
The EMR takes forever to implement (11 weeks). I think that our implementation manager did not do a very good job of setting us up, so we have been having to try to learn everything on our own, which is frustrating and time-consuming when we are busy trying to see patients.
There is a lot of typing that has to be done during patient visits, which takes a lot of time and slows my pace and ability to see as many patients as I would like. Trying to just put in CPT codes takes forever. Also, save your work every minute because there is no auto-save on this program and I have lost so much information!
Do not believe it if you are told that Athena does your insurance credentialing for you. We have had to do it all ourselves. And you cannot pick and choose what claims are dropped for payment; it is all or nothing, so have a lot of working capital available while you credential. EFT (electronic funds transfers) have to be done through US Bank. We use Wells Fargo, so I have to do money transfers, which take a couple business days to process, and that is a real pain. We have also found out the hard way that unless we track each individual claim ourselves, secondary insurances may fall through the cracks, leaving money on the table that we have to find and process ourselves. I fear that our income is not going to improve (contrary to their claim that they improve collections by 8%) and, in fact, that we will potentially lose money.
Our paper usage has increased substantially. You cannot just scan documents into the program. You have to fax them to Athena, and they sort them and place them into the patient's chart. However, you have to have a front cover and back cover barcode for each fax you send them so that a one-page fax becomes three pages. E-prescribing is hit or miss, so I have to double-check that all e-scripts actually have gone through. Also, we get numerous complaints about how complicated the patient portal is."
Bad Customer Support
Jake from Dr. Steven Kushner DO was sad about the decrease in quality of support his practice has received: "Over the past 5 years we have been a client, our practice has had numerous account managers and every time they re-assign us to a new one, they get worse and worse. Less knowledgeable about the product, less responsive to our emails and calls, etc.
They've stopped doing regular check-ins every quarter or even year like they used to. They don't help us implement new features like credit card processing, the patient portal, etc.
Customer care call center is okay to answer some specific how-to questions but they're not going to hold your hand through a long process like setting up the very unfriendly patient portal. The system as a whole has a very steep learning curve with tons of menus and buried settings. And there's no "HELP!" button on any screen, just have to go into their humongous help site with a million questions posted, just to find out what one field on screen means."
Christina from Boulder valley Foot and Ankle Clinic also had trouble with the customer support of Athenahealth: "Lack of knowledge when you call for support at Athena. Many times I call for assistance and they have no answer and have to get back to you. Inefficient.
They state you make more money with them since they have a high rate of patient collection. However, we have more patients than ever before with outstanding bills and Athena fails to follow up on patients and these unpaid balances.
There is no support for that. Once you sign up for Athena they drop your support and will switch you randomly to new managers to start all over since they cannot follow through. It takes weeks to have a support session with anyone that has some knowledge of the system. They have too many clients and not enough support. After a while, you become numb to it all and give up hope that it will ever be efficient and make practicing easier."
Complicated UI
Jason from Jason Marchetti MD, struggled with the user interface of Athenahealth: "The system is not intuitive at all. I had to call customer support for just about everything including just to verify that I had done things correctly as I learned early on that even if it appeared like something was done correctly, it wasn't- I either wasn't in the correct "area" or I didn't then go to step 2 (for things that really don't need to have more than one step!) There are several areas in the system where you can leave notes that appear to be communication notes with the Athena staff- but NOOOOooo, these notes just sit there for your own amusement. If you want Athena staff to do something or be aware of something, you better call (and chances are you'll get customer support based in India FYI)."
Uncaring Attitude
Michael from South Florida Ear, Nose, and Throat witnessed the degradation of the company's attitude towards its smaller clients: "It was once a good company. Now they make unacceptably frequent (and serious) mistakes. They have also absconded on responsibility by doing away with individual account agents. There used to be one individual responsible for our account, and we went to her with any problems. Now they have teams of useless agents that are responsible for everything as a group. Which means no one is responsible. And nothing gets fixed."
In addition, the changes cause the need for extra labor: "They have apparently gone cheap on programmers and customer service agents, outsourcing to somewhere in southeast Asia. What used to be quick and easy now is time-consuming and laborious. We've had to hire an extra employee because of one unfortunate change that Athena made two years ago, getting rid of the calendar sidebar so that you have to refresh every time you want to go from a patient's chart back to the daily calendar to process all the patients. They promise over and over again they are working on fixing it. Two years later, they still have figured it out."
Unfit for Specialty Practices
Kristin from CompreCare Lymphatics found out that Athenahealth couldn't support her occupational therapy work: "Marketed as a product for multiple disciplines and specialties, however, does not support occupational therapy services. OTs are told to use PT templates and configurations despite (1) potential conflicts with documentation for reimbursement and (2) being initially told that OTs were a supported discipline.
Account managers are not useful as they refer back to the service center for all issues. It is an endless cycle. Not knowingly, we were not set up properly before launch, and despite repeatedly telling the AM that the system wasn't sufficient for us and that we had to work harder to make it work for us, 7 months later we find that ours is not configured as it should have been. There has been no response on this or even consideration of trying to keep a client happy by an account manager.
The system is severely lacking and counterintuitive, and if individuals make suggestions for improvement, they are "voted on" for consideration, even if the suggestions or requests are standard in the industry or required by governing bodies. Many requests and improvements are not made. We truly question is up to date and compliant.
Clients are told to create templates, or modify current (such as a standard facesheet), by coding them independently. Most medical practitioners (1) are not coders and (2) are not paying for a service that requires more time and effort than less. I was actually told by a higher level account manager that the solution could be to hire an outside coding agency to complete this task (vs it being standard in the existing product or have a dedicated person in Athenahealth that assists with coding needs).
The therapist reviews in the hub are not favorable. Individuals considering the purchase of the system would never know how many years of complaints and "make it work" scenarios exist. Unfortunately, changing EMRs is not simple and quick and is often costly. The billing portion is fair but mistakes are still made with submission requiring extra time in "hold" and delays in reimbursement. AthenaClinicals is just horrible. There is a definite environment fostered within Athena that is brush off, dodge issues, let clients figure it out, and if they leave "oh well."
We are disheartened and infuriated at the same time. If our practice had the same reviews, both public and internally, I would be very ashamed, take a step back, and wonder where things went wrong, let alone REALLY wrong. Bottom line: if anyone sees this who is considering Athena, regardless of discipline, go with another service provider. We as existing clients see A LOT in the community feedback on our resource hub. You will be entering something that you will then be prepared to get out of with excess cost."
That wasn't the end of it: "The clinical documentation product is terrible. Supports physician-based practices vs rehab/OT/PT (though clients can see comments on product for all disciplines). Lack of quality templates that are compliant with regulatory agency requirements. Lack of feedback options. Lack of support. Account managers do not actually help to manage any issues you have with the product. Very time consuming to call in for support repeatedly. Athenahealth clearly does not review feedback on the community resource hub. Individuals that process Athenafax can be lazy and not process items with documents clearly identified with Athena identifiers/ printing, leaving in review for practice to handle (extra work). Honestly...too many cons to list."
Practice Fusion EHR Disadvantages
Practice Fusion is the most popular cloud EHR in the USA, providing care to over 5 million people per month. It is still not without its flaws.
Contract Breaches
Justin from Asclepius Health and Metabolic Specialists called Practice Fusion "unprofessional, unethical, incompetent." His reasons were the following: "I gave them a list of my complaints, not the least of which was that my trainer couldn't even explain the use of templates on their system. Also, their knowledge base is completely unhelpful. Their response was to breach the contract by shutting down my access to the EMR. I have a full schedule on the next business day and now have no EMR. These people are criminals! Stay far away!!!!"
As the downsides of the system, Justin mentioned that they were "Too many to list. Their customer service is unprofessional and unethical. They have answers to nothing. They always refer me to the suggestion board when I ask about why a feature isn't present that is a standard part of medical practice since forever. The suggestion board is where suggestions go to die. Seriously, there are good suggestions there from 5+ years ago that have been ignored. All of my suggestions, again part of medicine since forever, have sat there awaiting the moderator to clear them for over a month!"
Contract You Can't Get Out Of
Suresh from Cornell Pain Clinic shared his negative experiences with the company: "I signed up for Practice Fusion on March 21st, 2019. Due to pending litigation, I was forced to delay the opening of my clinic and sent in an email as well as a physical copy of the cancellation notice on April 10th (well within the 30-day time window for cancellation without charge.
Despite several attempts to cancel service, the company continues to bill me citing I had a year-long obligation even though their contract clearly states that I can cancel within the first 30 days of signing up without any obligations. I recently received a notice that my account is being sent to collections in June 2019. I am trying to reach the company to find out why I am still being charged without any response from them. It seems their business model is to sign people up and keep charging them even after cancellation on one pretext or another. Horrible customer service and business practice! Judging by other customer reviews of a bad quality product I would dissuade anyone from signing up for their subscription software!"
William from Open Bible Medical Clinic warns that it is "easy to get trapped in the system." The exact reason for this is here: "Contract locks you into paying for a year regardless of problems encountered. Service agreement provides for contract cancellation without cause but the company refused to honor that and continued to withdraw funds from credit card in spite of my no longer using the system. I am a volunteer physician working in a safety net system paying for Practice Fusion out of my own pocket. They told me I needed to file a hardship request with Practice Fusion, however, when I did that they refused to consider it. Caution: BUYER BEWARE. These guys are ruthless."
Unprofessional Customer Service
David from Tidewater also has something to say about the Practice Fusion customer service: "Our training rep was gone for many weeks during our time-limited training period. While he was gone, we had no one to speak with. When REP returned, if we ever heard back from him, it was several days after the fact. He would say that he was too busy because of all the calls that had accumulated. No kidding, that's generally what happens when you take so much time off. The last straw with him was when we had him trying to solve an issue for us that lasted several weeks. He finally just gave up and said that it wasn't his problem.
Then I found out that the prescription format is illegal in my state. Dispense as written must be on the bottom left and in PF it is reversed. I've filed multiple tickets on this simple issue, and get no valid response. It's now been 6 weeks, and my emails now just go unanswered."
Michael from Beckham Clinical Services also listed customer service as the main drawback of this EHR: "We were not able to get past the horrific Customer Service experience while attempting to transition from ICANotes to PF. Could not move forward with setting up billing due to a clearinghouse issue which PF told us they would have to resolve and to call when we were ready to complete the transition. Called in to have a ticket submitted. I did not receive a response for over a day. We submitted another ticket and requested to speak to someone (Thursday morning). On Friday end of the day we received an email with links but no phone call. Links were not helpful. Submitted another ticket on Monday requesting to speak to someone. We received a call late Monday afternoon. The customer service agent was unapologetic that she did not know how to assist us and seemed indifferent to assist us to resolve the issue. At that point, we gave up on attempting to use Practice Fusion."
Poor Reporting
Lisa from Metrocrest Community Clinic wrote about feeling relieved by the expected switch to a different system: "We have had Practice Fusion for over two years. We are very dissatisfied with customer support, poor product management, and lack of robust reporting capabilities."
There were other downsides she wanted to mention: "customer support - nice people that do not know the product, lack of robust reporting, the introduction of new features, and the overall product road map or lack of a road map"
Buggy E-prescribing and Unreachable Support Agents
Michael from Burien Medical Eye Care compared Practice Fusion to "being served a really awful dinner that you don't have to pay for." Here's why: "No customer service. Glitches are unavoidable, but customer service is a value decision by the management. If you create a "ticket" for someone to address, you're screwed if you don't happen to be available at the moment that someone calls you. Forget about getting anyone on the phone or an online "chat" no matter how long you care to wait. I've been in a queue for hours and nobody ever comes to the chat. The "e-prescribe" worked for about three days. After that, no local pharmacies could be found in its database."
CareCloud EHR Disadvantages
CareCloud is a major EHR and PM solutions provider, managing millions of claims yearly. СareСloud has negative reviews.
Anyone Can Access Financials
Marie from West End Consultation Group had problems with access rights management: "Most EHRs and CRMs have the ability to create different access for different users and user types. Carecloud has a UserRights section that gives the illusion of being able to turn off access to different sections of a patient chart, but it is just an illusion. Any person who has access to the calendar/schedule for the day can click on a patient on today's schedule and have access to all financial information. Providers do not need access to billing but they do need to see the schedule of all patients being seen in the clinic on a day they are working. I would not recommend Carecloud EMR to any practice until they have figured out how to block access to financials from the schedule app."
Overcomplicated Interface and Lots of Paperwork
Ann from Ann Kim MD lost quite a bit of money when working with CareCloud: "I am a solo practitioner in internal medicine. I used Athenahealth before Carecloud due to the college's recommendation. But the feels for non-closed loop orders were getting expensive so I looked for a program that won't charge me a dollar for each prescription. I was interested in Carecloud due to their App settings and made it look easy to document/chart.
I should have known when they were trying to get me to sign their contract that I was in for a big disappointment. They, the sales rep gave me a deadline to sign the contract with an appealing price if I sign before the timeline. He got me on the phone with the big boss, also the same thing,' it's the lowest price so sign now', like a used car dealer to seal a deal. I was a fool, $36,000 lost due to my stupid action signing that day. I will regret it for the rest of my life.
After 1 month of use, I knew this isn't what I wanted to use going forward. I plan to make a youtube video showing how slow Carecloud is. Whenever a patient calls for an appointment or a refill, it takes a long time to pull up their charts and all patients complain ' why does it take so long to pull up my chart?' and we say it's our CareCloud program... But that's just the tip of the iceberg. Here are the reasons I gave them for terminating with them.
1 - Promise to incorporate clients' suggestions for improvement to their platform is an empty promise. We have offered them pages upon pages of suggestions, of which exactly NONE have been incorporated in their promise of "updates" every 3 weeks. When challenged on this, the company brushed us off, saying "do you know how many providers we take care of?" Pretty clear that we, as an individual client, are not important.
2 - It may look organized but when actually using it, it forces you to move back and forth all day long between different organizational icons. Even the simplest task of ordering a patient's lab requires at least 5 minutes. It is the farthest from "user-friendly" that we can imagine!!
3 - By definition, an EMR is an ELECTRONIC medical record. Despite this, any documents that require the provider to initial or sign (all home health documentation, labs to be reviewed, etc.) need to be printed, then hand signed, then re-scanned into the computer. Be prepared to have your support staff spend an extraordinary amount of time managing this challenge."
Subpar Training
Chris from Advantage Physical Therapy was dissatisfied with the quality of training he was given: "Training was almost all videos and we were released from training before we even posted our first payment in the system. It logs us out between uses and often doesn't load back up. Patient statements are very confusing creating increased calls and patient dissatisfaction. To add or change appointments takes 6 or more clicks when it should take 1 or 2. It's difficult to see multiple schedules at once. Automatic reminders have limitations that cause us to have a higher cancellation rate than if it was customizable. Billing functions require fairly extensive manipulations of posts that are out of ordinary."
Connectivity Issues
Brissa from Frisco Spine had complaints about the connectivity of CareCloud and the related problems: "Awful. Our original project manager left as soon as we launched the product. Then our lead contact left, then our sales rep, and they've continued to have HIGH turnover rates with their people, which is a HUGE RED flag for the overall reputation of the company.
They promised us all these changes would take place at the end of last year...has anything changed? No. We have had connectivity issues and when you call support they are completely useless and rude about the situation. It completely affects our operations and I would highly recommend you go elsewhere!"
There were more problems she wanted to mention: "Where do I begin? There are CONSTANT issues with connectivity, slowness, workflows that are completely inefficient, and so forth.
We were sold on the reporting, but then come to find out, it only works if you use the billing side of the product. All other reports are not customizable and you're stuck with them. On top of that, you get manipulated into this 3-year contract, and when there are changes you have to go through an entire process. I can continue but there is not enough room in this box…"
Underwhelming Functionality
Scott from Lafferty Family Care faced problems with both the EHR's functionality and its legal conditions: "Terrible functionality. The vital signs will not even populate the note. You have to rewrite the past medical history, social history, family history, etc every time. They do not pull up many routine symptoms for a review of systems, diagnoses for past medical or family history, etc.
And they automatically renew your contract each year for a year without a 60-days notice. So, if the frustration has become overwhelming because you finally realize they are not going to fix the glitches, and you are within 59 days of the end of the year term, they say "Too bad, so sad. You have to pay for a full extra year." No apologies. Do not waste your money on this software!"
Deteriorating Customer Service
Mila from Unique Pain Medicine was fine with CareCloud until the company abandoned them when the problems hit: "We purchased this system about 5 years ago and were very happy with its performance. Over the last 3 months, however, everything changed. The system fails every day on a continuous basis. Customer support is useless as they are reading off the script instead of actually trying to help. Noone is transparent as to what seems to be the problem and no one seems to be able to help. WE will be looking for other systems."
Barbara from Horizons Medical Care, PC has also faced this: "As I sit on hold for the 5th time this week, this system is always going down. Every time I've called in over the last month, I've been put on hold for over 25 minutes and a couple of times, I've been on hold over 45 minutes without ever talking to anyone. We can't even log in this morning. Some days we can't verify insurance through the Patient App. Other days we can't pull all of the diagnoses from the EHR portion of the system to the Billing portion. Horrible system. I'm not sure what system these other groups are using but it is not the system we have grown to hate!"
Company Issues Affecting Users
Steve from Randall Pain Management suffered from the internal turmoil at CareCloud: "We signed up and ended up going through the worst experience with any EMR and wasted $ and lost many, many hours of production.
We were starting implementation and to shorten the story, basically found out the hard way that CareCloud was in turmoil. Our original rep quit, they had no idea what they were doing and found out they had really not had pain practices as they stated. We were to be used for their beta project and it was a NIGHTMARE! STAY AWAY, I'M TELLING YOU!
I read these same reviews as well and went with them, but I can't even begin to tell you how bad it got. To this day, I still get bills even after them knowing for 8 months. I had one of their upper personnel call me and apologize and ask me to stay and still they can't get it right. I'm telling you they have internal issues and they are TERRIBLE!!"
Disruptive Updates
Melissa from Hand and Reconstructive Surgery had many problems with CareCloud: "I have had nothing but problems with this software. Tonight, I am trying to finish my chart notes from a busy day. It's 7.30 PM on the West Coast. They are doing yet another update and the note I was working on, (about 10 minutes of work) is gone...yet again. This is a recurring theme with them. I can't wait to see what doesn't work now when we try to use the system tomorrow.
Normal functions don't work routinely. I can't schedule patient appointments for any time other than on the quarter-hour. I've given up calling the helpline because every time there is a problem, you always wait on hold for at least 10 minutes, but usually more like 30. Then they want to remote into your computer. Which I never have time for during a busy clinic. They don't seem to understand this. Then when you demand to speak to a supervisor about something, they say they forward it on to someone, but then you don't hear back from them.
I have told them I am leaving for another company. I never gave them a date that I am leaving. But they shut off my access to my patient information and no one in my practice can access anything. I will be using the billing portion of the software (which my biller hates by the way due to multiple issues) in order to follow up on the revenue billed with them until my contract is up at the end of the year.
I will be switching to another EMR in a couple of months. I would advise you to find another company and don't even give this company your money. If for some reason you do, you need to have some type of clause in your contract that will allow you to be released from the contract if you are not happy. Companies that require you to pay out the remainder of your contract if you decide to leave should be a big red flag. Those that have a high turnover rate and need to keep your money from the contract should be a big concern for you. And, you would expect to see social media blow up from this. And after all the new reviews I'm seeing, with the same complaints from different practices, I'm guessing this is just the start with this for CareCloud. I honestly can't see how they will be around much longer if they continue to provide such poor service and operating platform for their customers."
DrChrono EHR Disadvantages
DrChrono is a popular platform, serving thousands of medical professionals and over 17 million patients.
Medicare Documentation Issues
Charles from Wellness & Prevention, Inc. had trouble preparing the Medicare-related paperwork: "Many promises were made prior to going on board and I was highly excited about getting up and going. There were a lot of difficulties reaching technical support for immediate and not so immediate issues. My staff had to spend many man-hours to get the proper paperwork for billing of Medicare once we found out that they were dragging their feet. We could no longer wait on them getting everything in order. The issue with Medicare still has not been completely resolved to date and Medicare is one of our major carriers.
Had we not intervened the present progress would not have been made. There were numerous emails and telephone calls placed only to get the usual response that they were sorry for the inconvenience and would solve the issues. You can believe that there were no problems charging the credit card on a monthly basis. The initial monthly contract agreement increased substantially and the service never came up to par.
I am totally disappointed in the company and will not be renewing my contract. Ample time was given to vent my frustrations on the phone and at the end of the conversation, I would be told the usual which is that they would resolve the issues. I can honestly say that DrChrono has caused us a lot of frustration, valuable time and waste of my money. Like others have mentioned, Buyer Beware."
Overpriced Support
David from The Weingarten Institute for Neuroscience felt disappointed with the support DrChrono provided: "Absolutely horrible service. They're GREAT during the sales process (of course), and they were initially helpful in setting it up, but they very quickly cut you off from regular support and try to charge you hundreds of dollars for support. We were a new company, not ready to implement all the features immediately, but when we got around to being ready to implement additional features, they told us that our support period had ended and it would now be (if I recall properly) $150/hr for support.
There is NO phone number to call. Their ticket/email service regularly failed to answer questions, or answered completely different questions than we had asked. They took several days (or even weeks) to send canned responses that did not address the questions, which then required us to write back, which then took MORE time for them to respond, and then they would respond with fairly useless answers or just "sorry, our product won't do that, but we'll pass it on to our engineers for possible future additions."
If you make the mistake of signing on with this company, READ THE CONTRACT VERY CAREFULLY. If you start out on a more expensive plan and decide to downgrade, THEY WILL CHARGE YOU THE HIGHER RATE FOR THE ENTIRE YEAR. Cancel early? CHARGE YOU THE WHOLE YEAR. Terminate a provider? CHARGE YOU FOR THE WHOLE YEAR. We hired an NP in January. They renewed the contract in August. We terminated him in December. They want to charge us for his account until next August."
While he liked the UI, there were more problems he wanted to mention: "Almost every time I wrote to the company with a problem, their answer (when I finally got one, which takes forever) was initially to blame me and my staff followed finally by an admission that we weren't doing anything wrong, but that their product didn't currently have those features or didn't work that way.
The way the product works also puts you at very high risk for data loss, which has happened to us multiple times. There is no local storage of the data, so if you lose internet connectivity after writing a big section of a note, your changes will all be lost. This, of course, is a stupid way to design EHR software."
Carleigh from Iris Wellness Center has also faced similar troubles: "It's confusing. Complex. Not easy to use. The implementation team didn't even know how to use features and would send us to specialists who were booked for days on end.
When reaching out after signing a contract good luck getting help. We feel like we have become a number and not a customer or an asset to them. It is one of the worst companies I have experienced since 1999.
What happened to quick, helpful and efficient customer service? It was on the front end to make us a customer and to sign a ridiculous contract. Once in, they disappear and say they can't help. They just send you from person to person. Then the person at the top is unavailable. It's 2019. This is the worst company I have used since Comcast. Even then Comcast is better."
Unfit for Aesthetic Medicine
Darren from RefinedImage learned that DrChrono is not the best option for his medical specialty: "This product was sold to us as being targeted towards aesthetics practices. Garbage. In virtually every instance medical aesthetics employees are commission-based and there are no provisions for that in the system.
You can also not effectively have your product inventory managed unless you never discount your products, and never pay commission to anyone who sold them. If you do, be prepared for lots of additional paperwork to keep track of it all. All of our complaints fell on deaf ears, and all attempts to get out of the contract even after explaining thoroughly what the issues were, resulted in ridiculous fees.
We were a new startup & trusted them when they said it had everything we would need. Now that we are in operation, it's a different story. I don't mind there being a misunderstanding in the sales department so long as they make it right, but they won't, so my review stands at 1 star, and only 1 because the option of 0 is not available. Stay far away!"
Time-consuming
Van from Carolina Internal Medicine and Pediatrics found out that a user had to spend a lot of time on many routine processes: "Tried to switch from Practice Fusion to it, but it has been a nightmare. Now we are stuck paying for a more expensive EMR for a year, during a year contract, that we will not use because it puts me behind in seeing patients by at least 30 minutes."
As for the drawbacks of the system: "Everything that was not note-writing. If they would have shown all the other things you do in day-to-day practice during the demo, I do not think I would have got this software. The guy doing the demo talked about other EMRs causing death by a thousand clicks. Well, this EMR may not cause death by a thousand clicks with the note-writing but everything else you need to do such as ordering labs, medications, billing, messaging, all take so much time that it eliminates any of the time-saving in the note-writing."
AdvancedMD EHR Disadvantages
AdvancedMD is used by 37,000 practitioners in 13,000 practices and 700 medical billing companies.
Overcharging
Akram from Elmira Urgent Care had a terrible experience with this EHR: "I own a walk-in clinic. I signed up for their service at the end of July and they overcharged me for the entire month of July. I made it clear, however, when I signed up, they should start the charges in August. In the first week of August they charged my account again. I kept calling them about the overcharges, they never addressed the issue. They would always say "we will have a manager call you" and it never happened.
My staff tried to go through the training - they were very slow, hard to reach, have very bad customer service and no tech support. You call, leave a message, and with all luck, you will get a phone call days later. My staff found their software very complicated. The practice management portion was difficult to learn. They would assign you live lectures that are spread weeks apart.
My billing company started to learn their system to do my billing using their software, they found AdvancedMD billing portion to be very complicated and cumbersome. That is when I felt I've had enough with them.
The process took 5 months, I cut my loss short and canceled their agreement. This was after several attempts to have them be more customer service oriented and help me finish the training. This was to no avail. This is by far the worst experience I've ever had. Up until today they still owe me the charges for one month from the beginning when I signed up. I wrote them several correspondences, no reply or answer."
Kimberly from CMHC experienced that as well: "Difficult to use, no customer support, I would call or email with a question and would not hear back for a week.
I was sold the product under false pretense and when I began to receive my monthly invoice it was much more than I expected. When I did speak to customer support they were, in short, not helpful. I was required to submit a notice 10 days prior to the end of the month to cancel the contract. I emailed my contact multiple times asking where I should send the email and never heard back. I attempted to log in at the beginning of this month and my account has been disabled with no notice, no response from anyone in customer service. For a small practice, stay far away from this product. Far far away."
Billing Problems
Rhonda from BILLING ESSENTIALS found out that AdvancedMD was negatively affecting her productivity: "I work every weekend (Saturday & Sunday) posting charges for 5 Physicians. AdvancedMD Billing software is almost impossible to use on the weekends. It is slow, dragging, freezes up and kicks me out, so that I have to log back in. I have to give up trying to work every weekend (which REALLY throws me behind)! The Tech team is "working on" the problem, however, it has gone on for over 2 years now.
They are trying to say it is a problem with my computer, but if that were true, I would have those problems all of the time. It's just Saturday and Sunday, which says to me that AdvancedMD's system is running some sort of back-ups, and/or Maintenance that is causing the system to be virtually unusable on the weekends, but they will never admit that. Had we known in advance that this would be a problem, we never would have signed up to use AdvancedMD software."
Diane from VIP Medical Group faced similar problems: "AdvancedMD tech support is poor. We first signed up for the billing so we could bill facility fees and professional fees. It turned out we couldn't bill facility fees because the UB04 was not set up correctly and they couldn't fix it.
The reports are terrible. They have updated them but we would have to pay more money a month for the update. That should be included, as it is with most software. We cannot write prescriptions for controlled substances, unlike we were told we could when we implemented the EHR.
We cannot get it to print on the forms required by California law. I called the tech and engineering people for 8 months trying to get it fixed and they never figured it out or got back to me. Now we are stuck with it, having to write out the RX by hand and then scan in a copy of it or manually add it, each time the patient is seen."
High Downtime
Nicole from Reyes & Associates felt relieved when their contract with AdvancedMD was over: "In the beginning, we were assigned a Representative who was very attentive, returned all calls and emails promptly. Once we were "Live", our Rep was "no longer with the company" and for months we could not get in contact with anyone to resolve all of our issues. So glad our contract is over."
This is why: "We originally chose this software because of all the features they offer. Although the features are physically there, 98% of the time they don't work. Our biggest issue has been appointment reminders. I can't even count how many "tickets" we filed for them to fix the issue. Needless to say, we just stopped trying to use the reminder system because we were wasting our time. As a result, 50% of patients per day were a "no show". For what this software costs each month is NOT worth it. They advertise how much it will increase revenue and it did the complete opposite. Onto of the PM features not working, the EHR and eRx have also been issues the entire time. We finally got tired of trying to get things switched and have since switched over to a much better program for 1/4 the cost."
Long and Complex Implementation
Jenna from CFWI thought that AdvancedMD overpromised and underdelivered: "First, it only works in Internet Explorer. Not only does this limit you, but it causes problems as well. For example, each workstation has to be configured with specific internet settings before the program will even let you log into it. This is rather cumbersome for our practice given that there are ten office locations throughout the state. It became problematic when IE released a new version, though. Settings had to be reconfigured. Since certain functionality is not built into IE, downloads were required, and even then, certain links would not launch. ADP customer service informed me that it was a software issue on my end, and gave no assistance beyond repeating the steps I had followed.
Second, implementations do not go quickly. At nearly every step, I had to wait three to four weeks for the next step. It wasn't because I didn't have the necessary data, but because that was when the next meeting time was available.
Also, the configuration and IT groups were not on the same page. Configuration was trying to give me a live date when IT had not even begun the conversion work. Finally, although willing to deal with the troubleshooting that was required to keep 25 clinicians and ten office staff configured correctly and to coordinate the implementation myself, I was not willing to sacrifice the efficiencies the sales team had promised.
In the sales pitch, the cost for EHR was beyond our price point, and we declined to sign. The ADP sales lead suggested "EHR lite," which meant purchasing just the PM platform and using the templates and electronic notes available on the PM side. Since we have no MD, we do not need high dollar add-on functionality like eRx, so it sounded like a great option.
I asked and the team verified that all the functionality I did need would be available in the PM platform, and it would just work a bit differently. Not so. As I got into the implementation phase, I was unable to create templates in the PM platform because my 2010 word processor was not an old enough version to work with the software.
I manually created custom templates that customer service agreed should have worked, but which would not function as forms for clinicians unless they completed every note or report in a single sitting. As a solution, customer service proposed our clinicians finish all documents in a single sitting. No edits allowed. This is actually impossible for some evaluations. So no templates for us, and, honestly, even if they had worked, sales forgot to mention that prior note data and significant data like Dx would not be available to populate future templates.
There was also no trackable workflow. Billers would not know if there were outstanding notes or when a note was completed unless they manually checked, which would have been possible because there was no way to limit access to the PM notes. You either have access to all notes (including office-related documents) or none."
Nextech EHR Disadvantages
Nextech specializes primarily in Ophthalmology, Plastic Surgery, Dermatology, and Orthopedics. It is implemented in more than 4000 practices.
Implementation Issues
Joe from KL, Ophthalmology practice got an unpleasant surprise during the implementation phase: "Nextech was paid >$25K for implementation of the software. The implementation was not completed when it was learned that the software was not going to perform as promised during the sales process without substantial additional investment. Nextech was non-responsive to calls and letters, until finally a lawyer's letter was sent to the company. The issue remains unresolved and the company has kept all funds for implementation that was never completed."
Expensive Upkeep
Anna from OPSC found out that keeping Nextech EHR working is very costly: "One glitch that is frustrating is name changes. Once a patient is in the system, you can't change their name or the system deletes their file data. Photos, op reports, everything. It's a frustrating process b/c to make any new documentation legally correct, you have to go in by hand and change it everywhere it's written, which on surgical consents can be almost 20 times. Then anything automated that goes out still has their wrong name. For divorced patients, this is a frustrating reminder.
Most importantly though is the yearly fee. Once you purchase this software, you then have to continue purchasing it every year or it doesn't work properly (no updates) and you have no support from Nextech if something goes wrong. I wasn't here when it was purchased, but our physician emphatically denies ever knowing this was going to be the case when he made the initial buy-in. We pay thousands a year for this system, but switching seems very daunting and they know that. You're basically trapped when you buy-in… Say you miss a year, you will have to pay for the year of service you DIDN'T get and then another year to get up to date. It's a huge ripoff."
Kile from MLMD Aesthetic Plastic Surgery considered this system expensive as well: "We have been using Nextech for more than ten years. In the early days, they would even come to our office.
The cost is extremely expensive. I have a very significant problem with the fact that they do not offer online scheduling. They have been promising for ten to eleven years they would have it. It is always just a matter of months or just around the corner. The system is not compatible with any other software so our hands are tied. Very expensive but we might be able to justify the cost if they had fulfilled their promise of providing online scheduling for clients."
Poor Customer Service
Fabrice from Entourage Medical Esthetic Solutions was disappointed with the level of support Nextech provided: "The SMS Reminder module doesn't work. The support team doesn't answer our emails. It's impossible to know who is in charge of a problem. Our requests are being forwarded from one service to another. No one takes responsibility. We have had open issues for over a year and there is no solution in sight. In the meantime, we lose a lot of doctors' time because of no-shows. We started with the basic settings and planned to buy several other modules. But we are considering other options now. My advice: hands off."
Ellie from Andrews Facial Plastic Surgery also had a few things to say about that: "Though we only use certain aspects of the software rarely, we either must pay the FULL support fee or agree to shut down that support of that component. If we shut down support of that component and then decide to use again in the future, we will need to REPURCHASE that component - even though we already paid the full purchase price for that component alone (EMR). If you make 10,000 EMR entries annually or 100, you pay the same fee for support. This is not attractive to lower volume practices."
Unoptimized Processes
Jennifer from Washington Pacific Eye Associates felt disgruntled with Nextech: "Dealing with this company has been frustrating at best and misleading at worst. The examination template is not at all "intelligent" and requires you to enter the same information multiple times.
It is also inflexible. It takes 4 mouse clicks and deletes to remove one diagnosis and plan. It requires 5 mouse clicks to sign and lock a chart. The online portal has a terrible user interface and has actually made my check-in and registration time for patients quadruple. The portal will often kick a patient out of the system after they have created a user name and password. Then the patient tries again and the code will not work. They call the office for a new code."
Kareo EHR Disadvantages
Kareo has over 500 employees who support a product used by 50,000+ healthcare providers.
Unexpected Charges
Jeremy from Taylor Made Integrative Therapy got billed even though he never made the actual subscription: "Red flag went up when they wanted my credit card information before I was able to use the free 3-month demo version. Well, I was busy setting up a new practice that I moved into December 1st and never used the software. I emailed them 8 days after the 3-month demo expired which was December 4th and that I wouldn't be able to afford the EHR just yet and to check back in February. No response from Steve Cohen, the sales guy.
But on January 10th I don't just get a bill but they automatically withdraw over $800 from my account for a service I never used. I called and left a voicemail, then I emailed Steve Cohen, no response back from either yesterday. I call again and the guy puts me on hold at least 4 times and his response is, "Well we tried to call you several times." I understand I went past the deadline so I was willing to pay for the 6 business days of use after the demo was over but that was over $500. And then I got hung up on. I guess I know why they get your credit card info. If you don't want the software they can find some way to charge you anyway!!!"
Questionable Data Practices
Dorothy from Bradford Medical Group was using this EHR out of necessity, but when she finally decided to switch, she was in for an unpleasant surprise: "My biller used Kareo. When her business closed I stayed with Kareo billing and started using the EHR because it was free if you used their billing services.
I never liked the actual EHR but its integration with the billing software was important. I previously used the old version of MISYS which was noncompliant with the new rules under Obamacare. In comparison to MISYS and like anything free, this program is far, far inferior. It was like going from a Mercedes to a bicycle. Some examples: Scanned documents are all lumped together in one box unlike MISYS where documents are sorted under consults, studies, labs, hospital, etc and easily found. The font on prescriptions is 6-8 and can't be changed. It's so tiny I'm embarrassed whenever I have to give a patient a script.
I'm in Ohio. Kareo was cited by the Ohio Pharmacy Board for noncompliance. E-scribing was shut down all summer. Now at the end of the day, I have to print out and maintain a list of every script I write. I can't see prescriptions from other doctors. They don't use Silverscript.
I could go on but the worse thing just happened. I was given a 28-day notice of a 40 % price increase in what they charge me for billing so I'm leaving. I discovered, as did another reviewer in this thread, that my data is a hostage. I'll have to pay monthly to JUST LOOK at the EHR data. Or I can print out every patient's chart before they shut me off. They are shaking me down and holding my data as a hostage. This is egregious but probably legal on their part and is probably in the contract I signed."
Dan from Daniel P. Nelson LPC PLLC had a similar experience: "If you decide to end your contract with Kareo, you will have to download your notes page by page after the initial 20 pages allowed in a pdf download. This makes it a daunting task to secure your data before you are locked out of their system. This amounts to extortion in my opinion as you are forced to pay because it is nearly impossible to retrieve your data."
Overcomplicated Billing
Melody from Walnut Street Health & Wellness had to overcome billing-related issues in Kareo: "Poor training. poor customer service. errors that I do not get answers on. Does not pull in appointment code & ending date of service, using Care360 for EMR. Pulling up info - not enough info shows. No place to make recommendations (like when pulling up the list of "encounters", which insurance is it). Too many steps to find the patient balance, why is it not on the first patient screen.
Also, copay, have to add an extra step in to find copay for insurance unless the patient has a card. Difficult to figure out what needs to be fixed on denials. No place to put the reason the patient is coming in that will cross over. So an "office visit" for any reason, we make a note and then have our staff print that day's appointments - or flip between systems. I have over 30 years of experience, the sixth system I have been on, and I am NOT happy."
Inefficient
Jeffrey from UC Davis Med Group found out that many features of Kareo were implemented suboptimally: "
Creating progress notes is frustrating. Must save notes before changing screens, otherwise, all information LOST. No auto-save. Saving data prior to a change in the screen, must save and CLOSE the document. Multiple steps to re-open again. Always inefficient.
DoctorBase is an "answering device for providers" to provide the caller's phone number. The glitch for NEW callers: NO NAME provided, no message recorded. 10-15 "unknown" callers by end of the day: 1/2 -3/4 were salesmen or bankers wanting to give loans.
When I changed companies, I was unable to transfer data in bulk. I had to transfer every patient individually. Other companies ALL had the ability for bulk transfer. I would have to transfer emails individually, all 15,000.
Limited & unsophisticated ability to create progress notes to limit keystrokes.
Requesting program upgrades: infrequent, rarely helpful, never quick or responsive even for minor change requests.
Initial support staff NEVER heard from again. I had to sort out problems through trial and error. I had 10 years prior experience in sophisticated programs before this disaster.
These are only a few of the problems I had before leaving. 6 months later, I received a call from Kareo asking how I would like to improve my experience & upgrade the system. They apparently did not know I was long gone.
Working with pharmacies is never smooth or easy.
Many more issues, unfortunately, that I have suppressed."
Compatibility Issues with iPad
Dr. Harshad Patel, a solo practitioner, faced problems while working with Kareo on the iPad. These problems have taken a toll on the doctor-patient time: "Our practice is located in Arizona, and the time on our EHR is incorrect since the base of Kareo is located in California our system is on California time as opposed to Arizona. We have brought this issue to Kareo, nothing was done there was no resolution to this matter and the time is still incorrect.
One major issue that we are having is, we use a desktop for the use of Kareo and as well as an Apple IPad. We are having an issue accessing "labs and studies" on the iPad and every time we open up this tab our app not only kicks us out but does not allow us to access the labs from the iPad thus causing Dr. Patel to then have to leave patients room come to the front to look at the labs, majorly taking away from Doctor-Patient time. This matter has been brought to Kareo's attention numerous times, and it is still not resolved. We have been having this issue now for a total of 3-4 months. We call and receive a very typical answer from them stating that "we have our engineers working on it and someone will give you a call" no one ever gives our office a callback. we are very dissatisfied at this point with Kareo and cons definitely outweigh the pros with this system."
Poor Integration and Implementation
Francis from Caring Partner Medical Clinic regretted using this EHR: "I am currently using this EHR because my billing company recommended it since they use the Kareo practice management. It has been a nightmare for me having used a much better EHR - Athena. The onboarding process was a disaster and after 3 months, the lab integration has not been completed with LabCorp and there are no follow-ups. I have to initiate every contact with my coach who should be reaching out to me to make sure that my transition to Kareo is seamless. There is no integration with Imaging centers so you have to order the tests and then manually fax them to the imaging center, unlike Athena.
When it comes to labs, you cannot find some of them like a common FIT test to screen for colon cancer. How about e-prescribing? Forget about prescribing common diabetes supplies like test strips, lancet or OTC medications, they are not there. With Athena, once you start typing the name of the supply you need, it pulls everything up and you can transmit those to the pharmacy electronically. For those you now want to fax to the pharmacy manually, the pharmacy name, phone or fax # does not even show on the prescription so you have to go back to the patient's chart and go to somewhere in the demographics to find the fax # and then write it down or memorize before faxing.
When you place a referral, you cannot attach documents such as labs, radiology reports to the referral before e-faxing. What is the point e-faxing just a referral and then printing out other relevant records that should accompany the referral to manually fax....so dumb.
How about releasing a patient result to their portal, you are not able to comment on the results that you are releasing to the patient. You have to send a different message to the patient after you have already released the results. Now, I keep getting an error sending a message to patients through the portal using Google chrome browser and Firefox with different computers and they don't have any clue what is going on. I can't get any help with the technical support or my coach. They created a case and that's it. I guess I need to be calling them and taking time from caring for the patients to be doing that before I can resolve any issues."
Underwhelming Customer Support
Anusuya from Windsor Internal Medicine thought that the customer support at Kareo leaves much to be desired: "I have been using Kareo for many years. The customer support is very frustrating. Hold time to speak to someone is more than 30 minutes. Today I tried to contact someone regarding EHR support. After waiting on hold for 35 minutes someone answered the phone. The line was not clear and I couldn't understand what she was talking about.
Further questioning lead me to understand that she was in Costa Rica and did not have any clue what I am talking about. She transferred me to someone and again another hold for 20 minutes. Finally, I had to hang up the line.
I am using another EHR for my nursing home patients MDLOG/MDOPS. Customer service is excellent. Get to talk to someone within a few minutes and the reply and help I get from them is very impressive. I wanted to talk to someone in Kareo who can help me. The answer is we will create a ticket and someone will contact me later. Never get a callback. I don't have time to write reviews but I am forced to do with the lack of knowledge their support staff has."
Greenway Health EHR Disadvantages
The products of Greenway Health are used by more than 10,000 organizations.
Implementation problems
Ruth from The Children's Clinic of Klamath got way less than the salespeople promised: "The salesperson did not know the capabilities of the system and misrepresented what it could do. It took 14 months to get to the point of trying to implement some of the elements of the package we purchased. We still aren't there. Trying to solve the discrepancies between what was purchased and what we got has been time consuming and extremely difficult. Like repeated emails daily, like sending emails to the CEO, CFO etc. multiple times, calling, faxing etc. We have been in that black hole you hear about.
We purchased this system after our total dissatisfaction with the Intergy system. When Intergy sold to Greenway and we were shown the PrimeSuite program we were so happy to think there was a system with templates that were relatively easy to use so the doctors would stop complaining. I like the idea that Greenway is trying to straighten out the problems with the product, it is just a very, very slow process. They do listen to customers with ideas for improvement.
First, RCM caused us to lose over a hundred thousand dollars in revenue, and I had to do the coding. We were sold a product that did everything our local billing company did and more. Using it was made a condition precedent to the purchase. It was a disaster that took a year to resolve. Every patient's account had to be reviewed and corrected.
The EMR portion of the program is a disaster. The front office staff were ready to walk out. Scheduling and rescheduling are very time consuming and multi-step processes. There is no way to print a month's schedule or even see a month which you couldn't see even if you did have that feature because the screen is so small it takes a magnifying glass to read it."
Poor Customer Support
Mark from Physicians to Women, Inc is tired of his employees always being put on hold when calling Greenway: "Poor, poor, poor support! I often have staff members running around trying to be productive while they wait an hour on hold each time they call. They have to use their own cell phones, then put them on speakerphone and put it in their pocket so that I'm not just paying them to sit on the phone for an hour. My nurse often walks around with Greenway On-Hold waiting music emanating from her pocket. It'd be funny if it wasn't so infuriating.
I get a nervous tic every time someone says the words "Seamless upgrade" to me. A recent example of our latest "Seamless upgrade" was the search function for diagnoses was just crippled. Now, I have to memorize the exact wording of the descriptor for the ICD-9 code I need. I can't just search for a keyword, I have to know how the sentence begins exactly. So now I have to pull out my iPhone, perform a ICD9 keyword search on a free app, then enter the ICD9 into greenway. Greenway's response, after listening to Greenway music for an hour, was I could send in an email requesting that the ability to search for ICD9's. I have little faith such an email would ever be read by anyone who'd give a care."
Complicated Implementation
Gerard from Foot and Ankle Associates of New Mexico found Greenway EHR too complicated both during the implementation and after it: "EMR side is long outdated with no apparent plan for modernizing. They are STILL working out problems as simple as getting it to have a functional spell check that is compatible with current operating systems. Specialty support other than ob-gyn is non-existent
On the provider side, EMR is very complicated to get up and running and needs a dedicated templates person for PE admin and templates both. Superbill does not show total charges for the visit. No easy report to even show a physician how much they billed that day. Lab interfaces and integration are available but very expensive to have built. Patient portal, mobile access and others are an additional add-on expense as are many of the other features they show when advertising the product."
User-Unfriendly
Romanth from APWI regrets committing to this EHR: "We have been using this product for over 8 years. While it does what we need, because we have had to find ways of setting it up to do so, it is certainly not user friendly.
It is an antiquated set-up; a windows based main server and a Linux-based image server. Hence, we cannot do hyperlinks (from the note to a specific image) and we have to look at all the images to find the relevant one. Furthermore- there is no way of knowing specifically, by looking at the documents section and seeing the description, as to exactly what the visit was about (procedure, suture removal, etc...). This is because the "reason for visit" is set up in an Intergy Module (a different module), which limits the description based on a CPT code. This is useless for me, as I cannot see at a glance the various visit reasons without having to look at each note.
I also cannot scan images directly into a progress note without causing significant slowing down of the system. This is because the note is only designed for text. There are many frustrations with this software, but once you are in it, it's expensive and you've already committed. The account manager changes like the seasons, and support does not get back in a timely fashion."
Hard to Use for Vaccinations
Susanna from Coastal Pediatric Group thought that Greenway isn't built to handle immunizations the way it should be: "Very difficult to use for pediatrics. Vaccine entry is very time consuming. Would take 1 hour per day for my nurse to enter the vaccines properly. The process to make templates is ok, but not great. Used this EMR in my previous practice and definitely did not consider it in my new practice.
The system cannot remember lot numbers and always asks for which manufacturer in a long list even though each vaccine is only made by one manufacturer. No barcode scanner for vaccines available. It is not easy to enter point of care tests such as urinalysis and strep tests. Portal system that links with it is not good either. A parent has to have a separate login for each child. My parents did not use the portal system at all."
NextGen EHR Disadvantages
NextGen boasts a rather large number of connected practitioners - over a million.
Difficult to Use and to Switch From
Afshin from Scottsdale Personal OBGYN had problems both when working with NextGen and when trying to replace it: "Do your research before purchasing this EMR, because once you sign up with them, it is very difficult to get rid of it. They make it very difficult to sever the ties with them, and costly to obtain your patients' records and will continue to charge you if you have authorized them to withdraw the monthly subscription from your credit card, which might be related to the lack of communication between their different departments, but nevertheless amounts to harassment and lots of time wasted disputing those withdrawals with your bank.
I also got charged twice in 1 month last year, and still waiting for a response from their accounting department to get a refund for the overcharge (despite multiple emails) If you use their efax service, make sure you get a list of efaxes you have received to verify the overage fees they charge you (so far they have not sent me the list of efaxes and continue to charge me for overage each month despite the fact I have canceled my services)
I started my subscription with meditouch/Health fusion, later changed name to NextGen office. The software is a billing platform with an EMR tacked on to it. I had used various EMRs during residency and in a group practice and this is the absolute worst product, most rigid software with lots of clicks and not user-friendly. Just reviewing a lab result is a hassle, needing to go in and out of the chart note, with numerous clicks in between.
On several occasions, I noticed Meditouch glitching and chart associated with the labs belonged to another patient, therefore had to double check all the time, an issue that I had never encountered with any other EMR (EPIC, Cerner ambulatory, Praxis, even NextGen Enterprise etc.)
Once the salesperson had sold the subscription to me he would not return my phone calls, and customer service was practically non-existent. Eventually I was assigned a new contact person who was a lot more responsive but unable to solve any of the product related, customer service related or billing related issues. Eventually, I switched EMR, and canceled my subscription with NextGen and received a confirmation that my services were discontinued, but their billing department continued to charge my credit card on file. Make sure not to sign any authorization for the billing department to charge your credit card. In order to export my patients' data to my new EMR, NextGen wanted $ 5000. My new EMR (Praxis) transferred the data for a fraction of the price."
Inefficient Features
Eric from Healthy Z Family Medicine also had a few words to say about that: "Wow, there is so much not to like...
Word searching for ICD10 codes, past medical history and problem lists returns hundreds of search items that have absolutely nothing to do with the words being searched. Also, if you enter the words out of the order in which they would appear, you will never find them.
Social History is much more than whether a person drinks alcohol or smokes. There is no way to put in valuable details of a patient's social history and automatically include it in your notes. A lot gets lost by having to adhere to some stupid engineer's formatting. Same with past medical/surgical/obstetric histories-you can't add any valuable details to anything (like which knee was replaced and what happened after their concussion, etc).
The charting is so useless that I have given up and gone back to paper charting. I start an encounter just to put my billing through.
Health Maintenance: I can't enter that a patient refuses to do a colonoscopy or mammogram. All I can do is "disable" that patient from being counted for meaningful use. Poor formatting: while they tout being iPad friendly, each page has lots of unused space, so there is a lot of scrolling just to enter data or get to the save button (and if you don't press save, you lost it). More poor formatting: entering vitals->information is so spread out that it takes two screens to enter. AND peak flow is on the first screen while height and weight are on the second "additional information" screen. Which is more important? Also watch out for the backspace button, sometimes it works like you would expect, and other places you will get logged out and lose all of what you were doing."
Unfit for Communication Between Physicians
Jonathan from Chest Medicine Associates used many different EHRs and NextGen doesn't shine compared to them:
"I am a Pulmonologist in a busy private subspecialty practice. I have experience using several different electronic health records. Our practice has been using the NextGen product for more than 7 years--so I can speak as a battle tested user of this product.
There are certainly some advantages to using any decent electronic health record including access to outpatient records across campus, handling of phone calls, archiving of information, etc. However, the NexGen product has a long, long way to go to catch up. For communication with other physicians the product is atrocious. Computer generated notes are laden with typographical errors, grammatical errors, truncated sentences, and at times gross inaccuracies.
For instance, our current template for physical examination puts no output into the office note for the pulmonary exam (and this is for a busy pulmonary practice!). Here is a recent example of text from a COPD follow up note template: Reason(s) for Visit: 1. COPD - routine follow-up -The patient is seen in follow-up for COPD. The COPD - routine follow-up began since the last office visit. The COPD - routine follow-up has worsened. It occurs daily. The patient rates the severity of the symptoms as mildly severe. Symptoms are aggravated by moderate activity. Symptoms relieved by resting and sitting. ....
On top of this there are nonsensical changes of font size and style in mid sentence that make office documents look like ransom notes. I care about the quality of my written work, so I literally spend hours on each, most of our template improvements are wiped out.
In my view, NextGen was clearly built first as a billing instrument, not as a robust tool to promote all aspects of physician practice. The awards are certainly not for the quality of office notes or layout of screens for the end user. Labs do not get imported into notes. Micro reports are difficult to read and necessitate scrolling through multiple windows. Data trending graphs are clunky, improperly scaled and often misplotted.
As a practice group, we have tried to work with the NexGen programmers and have been very dissatisfied over 7 years with their lack of responsiveness and seeming inability to fix identified problems. Often when one problem is solved many more are created. As a result, our practice has invested a large amount of funding to support a local programmer to try to correct many of basic flaws in the software that should be part of the package out of the box. Unfortunately, with major system upgrades most of our template improvements have been wiped out."
Detrimental to Productivity
Paul from Augusta Health, Inc saw a decrease in the number of patients his practice could serve: "The product support was horribly useless. The techs and their supervisors knew very little about the product.
The Nextgen system itself is the real problem though. It takes so many clicks to perform the very simplest retrieval of information or data entry. The windows to see information or enter are tiny, 1 cm in height and cannot be adjusted. After a full year, our office of 4 MDs and 3 NPs (all tech competent) were still only able to see 10 patients per 8 hour day, and still spend time after hours to document. Awful. In all honesty, I cannot find one redeeming quality to this EMR, compared to any of the others I've used extensively or on its own.
The answer to the problems were always: "It's being addressed in the next version roll out". This is a half-baked EMR. It's use is a danger to patient care and a real liability. We abandoned it.
The system is intended to have the clinician enter all HPI, IMP and Plan by point and click check-boxes. If these are not used, then it does not collect meaningful use data. However, the clinical utility of the text it generates is so generic, so hard to generate, and so cryptic that it is of no use to retrieve the facts of the case. The only way to enter your thoughts, history or plan is to free text it (in addition to the mandatory point and clicks), doubling your work. It doesn't even have a way to carry over information from past notes HPI or plan, so that it can be easily adjusted."
Aprima EHR Disadvantages
Aprima (acquired by eMDs) is a fairly popular EHR designed to fit over 70 medical specialties. It has won the prestigious "Best in KLAS" award twice. However, it is far from perfect.
Revenue Cycle Management crashes constantly
Debra from Eagle Pass Pediatric Health Clinic was disappointed in the way Aprima RCM works: "The EMR is difficult to maneuver for both providers and health support staff. The system crashes constantly and there has never been enough response from support to fix the situation. The verification process did not work most of the time. On the PM side, our staff did all of the work to prepare for claim filing. RCM virtually did nothing to earn the percentage charged. Unfriendly response from RCM managers regarding billing errors and invoicing errors. Never issued a credit for copays and self-pay accounts."
Adds Extra Work
Cristen from Lakeshore Surgical found the system extremely cumbersome: "Nearly everything. Everything takes a million clicks, and then the text that comes out is horrible. It looks and feels like a point-and-click system. The history has no flow when reading it. I am currently finishing my training with Aprima. My partner has used it for several years, and I really had no other options in this practice for my EMR.
So far I find it cumbersome and fairly difficult to customize. I just found out that for the simplest task (to modify a medication for a patient), it actually cannot be done. If the sig is entered incorrectly, you actually have to delete it then re-enter it. I have never heard of something so ridiculous in all my life. It requires being perfect with data entry, which is just not humanly possible. Not recommended."
Jeremy from Heart of the Rockies Regional Medical Center also had issues with this: "From the simple inability to auto-save, to the inability to put in simple error checks and stops, to the scads of extra fields and tabs that are not hideable cluttering up a simple and readable documentation process, to the slowness and propensity to stall/crash, to the strange text editing bugs - this software has more than doubled our documentation time…"
Slow
Shahriar from HouseCall MD complained that Aprima was both hard to implement and hard to use: "It started out ok with lots of support to start. A very complicated system to learn and set up and I took off 1 week to learn it and 2 months to set it up. I am the expert in our office and have a love-hate relationship. It helps us be compliant but it is extremely slow. They keep promising a fix and other things but at the end of the day, it slows your productivity really badly."
Janet from Mount Dora Podiatry also had this problem: The offsite server is extremely slow most of the time, and I am unable to wait for it to finish my note between patients. Recently, the server has been down for hours preventing us from finishing our work. It's very frustrating. Of course, Aprima always says it is our fault. We have upgraded all computers and internet without much improvement."
Bad Customer Support
Paula from Family Medicine Associates was unpleasantly surprised by the low quality of support. It was the main drawback she mentioned: "100% customer support! It might as well be none. They take no responsibility for it either. If we could afford to go to a different software we would. I have "cases" (problems) that are still open after a year. I have to call and leave messages or send emails to supervisors/managers to get any response and it is usually an email stating that someone will call me soon. I may get the call but not a solution. They do not care about the customer once you have bought it."
ChartLogic EHR Disadvantages
ChartLogic has been on the market for more than 24 years and gained a substantial customer base. But it is not without its flaws:
Buggy Updates
Eli from Morgan Hill Orthopaedics & Sports Medicine mentioned that the updates created problems rather than solve them: "The previous review was of Chart Logic 7, which I hear is great. Chart Logic 8? Not so much. Constant updates, each buggier than the last. Every time I think I'm settling into a rhythm, I get an email announcing a new update; which means in reality, hold your breath. We're rolling the dice again to see what new bugs pop up.
The list of "fixes" with each version begs the question, is this really being product-tested? If so, who's doing the testing? The worst part of it is that Chart Logic 7 is no longer available. If only they had worked out all the kinks before moving to a new version, but that's probably part of the financial model. Bring in as many practices as possible, and once they're inextricably tied into the system, hold them ransom. Monthly fees to host the data on a server. Much better than trying to sell a standalone product that actually works and doesn't need constant updating."
Unfit for Large Practices
John from Colorado Rehab thought that ChartLogic wasn't the best option for a practice as large as his: "Chart Logic seems like a nice intuitive product but the actual implementation left much to be desired. It seems like it would work fine for a smaller PCP but it just couldn't handle the complexity of our Docs' travel schedule. Plus, the inability of the implementation team to export/import our data was a major blow.
Tracking multiple Docs across multiple locations that change weekly is not possible, the implementation team had a very difficult time importing SQL database correctly - this was a real show stopper."
MIPS Compliance Issues
Kassidy from Southwestern Ohio Urology faced numerous problems, including those concerning her incentive documentation: "Not a good experience at all. Support can't answer your questions half the time. You can never get a projected time for anything. We can't get anyone to go over our quarterly MIPS to make sure we are on track. We weren't able to use the patient portal for over a year. We were told that MBS and ChartLogic were supposed to merge last year and now they say they don't have a projected time frame.
You can't fix charts once they are closed. Spell check doesn't recognize words even though they are spelled correctly it says they are spelled incorrectly."
WRS Health EHR Disadvantages
WRS Health is a cloud-based EHR/PM system that has been on the market since 1999. It has its fans, but also those who are less than happy about it:
Expensive Customization
Sangita from Advance Medical wanted to customize this EHR for her practice, but the costs turned out to be high: "I would not purchase this again. I requested a drop-down scheduling system and was told this would cost me a considerable fee. I asked for the company to coordinate with my phlebotomist so I could get labs uploaded automatically. This was another fee. The company has not strived to continually improve itself.
These are simple programming issues that have not been implemented although they could make my life easier. Customer service has been slow to respond to 90% of my needs. Spellcheck was added after several years of me asking for it. Spell check still does not work for capitalized words or titles. They need additional programmers to fix problems as they are noted by every doctor. Years is a long time to wait for improvements."
Unfit for Pediatrics and Psychiatry
Heather from WeeCare For Kids thought that WRS Health lacks many features that are necessary for her field: "Not very user-friendly for pediatrics. There is no creation of family accounts - we have to register each child in the family unit individually along with making sure all financial information gets to the parent for each child. This is the most inefficient way and causes more workload for my staff.
The "task" aka messaging system is cumbersome and not user-friendly either since it only alerts about the messages and not the patient-related tasks - I have to remember throughout the day to check my "tasks" aka messages.
There seem to be many systems that do not work properly - the system auto creates prior auths for all my controlled meds even though never needed, I am still waiting (1 month now) for the auto-posting of EOBs to happen (still paying for it though of course), some staff have problems signing on and permissions seem to come and go at will of the system - constantly having to take time to fix this.
The support is good and responds quickly but lots of answers are overall "this is the way it is" - I can "turn off" the function if I want. Overall not a great experience with this system and again regret getting it. Unfortunately, I am stuck with it since the company states that I would have to buy out the contract if I want to switch - a small, independent office that can't afford that so we continue to curse the system and see patients."

Jackie from the Center for Emotional Wellness was promised a lot but only got disappointed: "We are a psychiatric practice. Psychiatry is very different than any other specialty. We were promised the sun, moon, and stars. That never materialized.
We have been with WRS Health for over 3 years. Lots of promises to make improvements for our specialty but no follow-through. It is fairly easy to use. We do have slowdowns during the day and sometimes it will automatically log you out in the middle of something which can be frustrating when you lose part of a note. E-prescribing works on and off. We get a lot of calls from local pharmacies and mail-order that they did not receive a prescription even though our logs show it went through.
Customization by the customer is not available. If you have issues you must put in a "ticket". We have tickets, I finally closed out because there was no action on them after months, some even were open over a year. It may work well for family medicine or internal medicine but I would not recommend it for psychiatry."
ModMed EHR Disadvantages
Modernizing Medicine, the company that develops ModMed, has been on the market since 2010. While not being as popular as Epic or Cerner, it has a decent customer base. But their EHR has its share of flaws:
Overpromise and Underdelivery
Deanna from Urology Nevada found that the ModMed sales team promised far more than the practice got: "Sales promises you the world but watch out!
Poor implementation, never had a site visit nor did they gather my Interface requirements and when I asked about the requirements, I was told: "We have done this 1000 times we know what we are doing." I wasn't given a test environment with working interfaces to our PM system to test the interfaces in advance of go-live. When I asked for interface specs, I was told they don't have any and I still do not have them. I argued the point months in advance of Go Live and I was told that if they were to give me a test environment it would delay my go live until 3rd qtr 2018 instead of 1st qtr 2018.
Go Live, they decide to upgrade our Production Environment that morning without notifying me, we had blow-ups (errors) across 3 locations (80+ users). Since January 15th, I have 90+ issues I've reported to them and 46 issues still open, and the majority of the 46 issues are things that Development has to fix or Interfaces that need to be fixed because they are lacking data such as Date of Death, Our Doctor's Name, No Referring Provider Interface (and they charged me to upload a .csv file so I could have something in the EMR) and more.
It's been a nightmare and still is. I wouldn't select this EMR if I had to do it over again because the original quote is low, but then you get hit with "well if you want that feature you will have to pay X Amount per Month". A NIGHTMARE COMPANY to deal with. I can go on and on, but this will have to do. I think you can get off it."
Data Transfer Issues
Bob from Linda Woodson Dermatology faced a long delay in implementing ModMed due to problems with importing data from their previous system: "I would not recommend this system. The price is right, but they are unable to get us online and functional. Apparently, the programmers are not able to find a way to make the data conversion from another major company's database functional, even though they have hired a third party to make it work. Further, the communication between us and the various entities involved is impossible.
We signed a contract with the company to provide EMR services to our practice on May 29, 2014. Unfortunately, it is now December and they have been unable to complete the data conversion from our old system, and we are not yet live. We received assurances throughout July, August, and September that we were almost there, but we are not able to use the system at this time."
Subpar Customer Service
Kent from Midwest Skin Cancer Surgery Center was disappointed with the way ModMed support responded to his issues: "The company does not respond to real problems with the EHR. I have reported billing issues where incorrect modifiers are used for billing with no resolution in OVER A YEAR!
The software does not run properly on the most recent version of Firefox which is a browser required to be used by the company. When using this combination repeated delays occur when entering data with endless spinning wheels popping up. I reported the problem after spending months and $$ with my contracted IT people trying to figure out the issue (including swapping out my computer). A month later the issue is still "open" and unresolved.
Multiple problems including incorrect coding of modifiers, and incompatibility with more recent versions of Firefox which is the internet platform needed to run the program. Customer service is completely unresponsive when you can get a hold of them and drop issues without resolution. Requires having a full-time office person available to try and deal with the company."
Jeanette from Valley Dermatology Associates had similar problems: "It is easy to get through to the support department, but very difficult to find someone that understands the product enough to know what your issue is. The typical response is, "let me log in and see if I can repeat the problem." I know it is a problem. I'm not even asking if it is. I'm asking if it is a known issue and if so when in it will be fixed. If it is an unknown issue, I will gladly enter my own case. Enhancement requests are prioritized by the effect on all customers, not by the facility. We have yet to see an enhancement."
Prognocis EHR Disadvantages
Prognocis has been on the market since 2002 and is currently serving around 15,000 medical professionals. Just like other EHR systems, it has its advantages, but also flaws:
HIPAA Compliance Issues
Pamela from The Practice of Health and Wellness had problems keeping up with HIPAA due to the system's inflexibility: "With so many EMR/EHR systems to choose from, and conducting hours of research, I chose the worse of the worse. No ease of use. No logic in use. No VPN to maintain settings, instead, they expect a medical office not to update their computers in order to keep the original settings on internet explorer.
Cannot use chrome. Cannot keep up with HIPAA regulations due to the settings' inability to be updated. I felt like I was 30 years behind in computer technology. After 2 months of complaining and deciding to switch to a competitor, I received an email from the higher-ups. 100 emails too late. They charged out tens of thousands of bogus charges and collected 10%. They charged me a lot per month for this disaster.
I switched to Athena! Best thing I ever did! Prognocis aka Bizmatics, nearly closed my doors waiting an entire month to resubmit claims. I've been with Athena for 6 weeks and have not had one claim denied and payments are coming in. They only charge you 8% of what they collect. Prognocis, on the other hand, charges per month for poor service with no significant money collected. If it weren't for my office manager, I would have received no payments at all.
Learn from my mistake. Any positive reports about this system are submitted by their staff who were once medical office staff. I'm sure this system worked well 15-20 years ago. Computers have come a long way and Bizmatics/Prognocis simply did not keep up. Did I mention the amount in IT fees I accumulated trying to get this system to work? My IT specialist finally had a heart to heart talk with me."
Technical Problems
Diane from Diane R Krieger MD met with a lot of technical glitches in Prognocis: "Very unresponsive technical support. Every time there is a software upgrade, previously functioning unrelated elements stop working and it takes weeks to months to get them to function again.
Their server is slow and I am often documenting late into the night because the slow speed makes it impossible for me to finish my notes in real time.
My office internet is quite fast so the problem is not on my end. it's difficult to go from field to field - I spend my day in endless futile clicking waiting for fields to change. For example, If I am documenting the history and I want to see the weight change, I have to leave what I am doing to go to the face sheet or vitals page and it takes too long. The prescription module is not efficient."
Bad Support
Annette from Harrisburg Foot & Ankle Center was dissatisfied with both the functionality of Prognocis and its customer support: "Support is the biggest issue. I have issues that are still not resolved from 6 months ago. I'm told the issue is fixed only to find it is not. It gets sent to "the back," who fixes one thing, and then three other things that were fine get messed up.
They said we could customize reports, but we can't. They don't work. They told us they are accurate, but then I have to prove they are not. It's a huge problem when dealing with accounting and financial needs. We should be able to do more on our own and not have to wait for them to design a report. We need more stock reports that are basic so we can customize them for ourselves.
You can not apply the copay, deductible, etc. until after you hear from the insurance company, so if you have multiple patient payments, it is a lot of work to see what DOS they are waiting for."
Brian from The Kahan Center for Pain Management faced similar problems: "Originally I thought this would be a good system but have found it cumbersome and not easy to use.
I purchased it to use in a cloud format and have problems with printing notes, referrals, and prescriptions - and wind up getting blank pages. Also when trying to copy information from prior notes, I will get an ActiveX problem even though Internet settings are allowing ActiveX. Have to log out and log back in again.
I have tried customer support and their response time has been delayed. Underwent a CMS audit for meaningful use, and they could not help us. They finally got back to us, after the deadline. It's currently not offered as an integrated system with practice management, which makes things difficult because sometimes charges come across correctly and other times it does not.
I have had a lot of duplicate billing. Also, it will incorporate codes from prior visits that were not used on the current visit, so my billers have to delete codes. As far as flow, there are problems with it. The point and click system is slow and time-consuming even though we use a cloud. I have not benefitted from the system and even though I have met meaningful use I am switching EHR."
Sevocity EHR Disadvantages
Since getting its first customer in 2002, Sevocity has spread to over 40 states.
Inefficiency
Rachel from Schreiber Allergy admits that while this EHR is cheap, its inefficiency outweighs low costs: "If I could get out, I would. The fact that one person only can be on the chart is ridiculous. It will slow down your pace and make your flow less efficient. If I had to do it over again, I would not purchase this system.
Only one person can be in the chart at one time - so your staff cannot help you enter information if you are in the chart. Very inefficient!
No iPad or iPhone app
Every time an update is made the system becomes more burdensome
We give suggestions to improve the system - positive changes are never made."
Glenn from City Podiatry also mentioned a few things:
"a mild complication in billing when a procedure and distinct E/M occur on the same visit,
needs more efficient podiatric friendly charting,
very difficult to find appropriate ICD 10 codes,
often times need to go to the internet or other software that I use in another practice,
medication reconciliation is cumbersome and creates congested chart notes ".
Connectivity Issues
KK from Nutt-Walley Clinic experienced numerous connectivity issues with Sevocity: "The implementation program was great, but we have since learned that we cannot do many of the things we were able to do on our old system. And many of the work-arounds do not work for our clinic.
The program does work, but we have had a lot of calls to support for problems with connectivity, RCopia, etc due to the servers being down, HL7 issues with data not crossing over from our Practice Management program to Sevocity.
We also have issues with corrections not crossing over, but instead duplicating patients causing someone to constantly merge accounts. I also have a problem with everyone being able to get into functions that only Administrators should have, such as merging. We have had problems in the past with this sort of thing and it caused many headaches and months to correct it. Overall, it does do the basics and we are adjusting. We were used to more functions and possibilities."
MicroMD EHR Disadvantages
The company behind the MicroMD electronic medical records software has been on the market for more than eight decades. While its EMR is not as well-known as some of its competitors, it still has a decent user base. Medical professionals point out the flaws in MicroMD:
ICD Coding Issues
Amy from Regional Medical Center had trouble finding the right ICD-10 codes: "Very frustrating product. Not able to find a patient's main information on the same page. I have to close current notes in order to review the previous charting. The area for typing notes is really narrow and letters are tiny - which is very easy to generate typo. Trouble to find accurate ICD 10 code. Many different buttons have the same function, but it is not easy to locate them when you need them.
Has been using this product for 2 years. Just find out some new "tricks" to access the patient's info quicker. Not user-friendly."
Sue from Inner City Health Center also had a few things to say about that: "To create a phone message from a lab result screen requires ELEVEN clicks!!! The transition from ICD-9 to ICD-10 has been terrible - codes are not accurate and specific wording from the ICD-10 coding book is often nowhere in the EMR. Unable to minimize the current screen to look at other information in the patient's chart."
User-Unfriendliness
Nicole from Southern Illinois Regional Wellness Center had a whole slew of comments regarding the UI drawbacks in MicroMD: "This product is not user-friendly at all. The reporting systems are so antiquated and not easy to use. The reporting is not geared towards reporting outcomes for CMS (UDS reporting and meaningful use). To print reports Micro-MD requires you to use plus signs and equals signs, it is 2017. It should be a lot easier than that to print reports. Not UDS friendly, you cannot filter reports any way you want too.
Cannot build flat file transfers (interfaces with other companies). Reporting is antiquated.
Micro-MD does not have the ability to scrub invoices which create more work for our billing dept. We are an FQHC and have very specific billing and reporting requirements, Micro-MD has not been helpful with any of this.
The PM and EMR applications are not well integrated. When we asked them about UDS reporting and flat-file transfers they informed us that they could not do that it would take too many hours of work to create these interfaces. Their solution was a new add-on they creating might be able to help but it would cost extra and still would have the information we needed at our fingertips. And no one from the company even discussed what this new software add-on would do or presented it to us to see if it was something that could possibly work to resolve our issues with Micro-MD."
Clunky Reporting
Carol from Pediatric Associates of Franklin didn't like the reporting system in MicroMD: "Overall, the software serves our purpose but it has very limited reporting for benchmarking or population management reports without running several reports to obtain the data you need.
We have family charts and accounts and it is unable to print the entire family balance on the encounter form so it can be collected at the time of service. It will only provide a balance on the patient/child who is being seen. This presents a problem because another child in the family could have a balance but not be being seen on that particular day. Therefore, we have to check the entire balance in advance and write it on the encounter form in order to collect the family balance. A very manual system that is labor-intensive."
SRSPro EHR Disadvantages
SRSPro is a specialized Orthopedic EHR that has been acquired by Nextech. While it has its proponents, there are people who are less than satisfied with it:
Overpriced Customer Support
Gary S. Reiter, M.D. thought that the low level of customer support brings the whole system down: "When Customer Service is really bad, it is difficult for Ease of Use and Overall to be much better.
I am a doctor in solo practice. SRSsoft EHR was advertised as a turnkey solution to implementing EHR and achieving meaningful use.
Prior to implementing SRSsoft EHR, I was given poor advice on how to do the initial setup. This has caused a need for repeated further modifications of the system costing $225/hour. Every time there is an upgrade, there is an additional charge of $5000 for training. If you don't pay, your other software problems are ignored.
For example, SRS trainers had me program user logins and IDs that were specific to individual employees. When the employees turned over, it is $225/hour to change it. I have asked them to do this change for 6 over months and they are just getting around to it.
Our new employees have to sign in under old employee names. Getting them to help me is a constant daily struggle. They nickel and dime you to death. They do not respond to calls for help. They close out "work orders" before they are even started, so you have to constantly resubmit them. They return your calls when you tell them you are not going to be in the office. Save yourself. Stay away from SRSsoft."
ICD-10 Coding Issues
Shannon from New England Dermatology & Laser Center, while mostly fond of this EHR, had a few problems: "ICD-10 charge passage through seems to be an issue for our office. We will need to utilize a (large) paper superbill. SRS doesn't have the capabilities to utilize scribes like other software offers.
The biggest disappointment we have faced this year is the delay in turn around time for support whenever we have entered a trouble ticket. This is something we had not experienced in the past. This seemed to be a common theme/conversation of many offices while at the User Summit last fall."
Phoenix Ortho EHR Disadvantages
Phoenix Ortho is an orthopedic EHR that prides itself on providing specialty-specific experience to its users.
Bad for Handling Multiple Injuries
Kenneth from LSO thought that this EHR has potential, although it still requires a lot of work: "
Although one could never expect any one piece of software to be a perfect fit for everyone, I believe that my experience would be typical, because I have a general orthopedic practice. The opinions held within this review were based on my use of the software for almost a year (I have since discontinued the use of the software and returned to paper charts. I have also resumed my shopping for an EHR).
My first main complaint is that although the software can handle a patient encounter with more than one body part when you do have more than one body part, the software becomes much harder to use and errors get easily introduced into the record (mostly right <--> left). When entering the diagnosis, the side defaults to the body part selected on the "main" page. So if you want to enter a diagnosis for the right shoulder, left knee, right radiculopathy, etc., you either have to click back to the main page and select the body part or you have to make sure you change the side.
On a followup visit, I asked them why the computer doesn't already know that the shoulder diagnosis is on the right, they said that I have to fix that each time. In addition, my surgery scheduler tells me that if a patient has a bilateral problem (such as bilateral shoulder injuries) when surgery is recommended, there was no obvious indication in the reports or order as to which side upon which I desired to operate.
We had many complaints regarding the way the software handled patients with multiple problems at a single visit. For example, you couldn't post surgery on a knee and a shoulder at the same visit. You can't order physical therapy on more than one area without editing the prescription each time. There were many problems with right/left when a patient came in with bilateral problems. When we would call for support, they would tell us that most of their users saw patients with only one problem.
In my practice, I see a lot of major injuries. My patients rarely have one problem. It isn't uncommon for a patient to have a neck, back, knee and shoulder injury (as an example); this software was very difficult to use in that situation. Also, one odd problem with the software was that if the same exam applied to two body parts, sometimes the final report who show two different findings for the same exam. This is extremely embarrassing, especially when you have to explain this in a deposition.
For example: if a patient has a cervical injury and a wrist injury with medial nerve numbness. In the cervical exam section, the normal sensation will be documented; however, in the wrist exam, there will be numbness along a median nerve distribution. As far as documenting and reporting of the physical exam, there were several flaws with the software. With the cervical exam, it was difficult to document myelopathy. That had to be typed in the comment section each time. The physical exam section was minimally modifiable.
In addition, if I saw a patient with a neck injury, it was awkward to document abdominal or lower extremity reflexes. Those are documented in the lower extremity or lumbar exam screens. As a result, you would have to add the lumbar as a problem (even if it wasn't) in order to document those areas. When I suggested various modifications to the exam the developers created, support told me that I had to use the exam as they had it and add anything else in the comment section. Also, many of my patients' diagnoses are associated with a particular date of onset (or date of injury). I need that in the history (especially in work comp charts). To have a date of injury in the history, you have to "click" on their data entry tree. This is a problem if the injury was in another decade (such as 2009). When entering the date, you click on "Onset of Symptoms" then click on "Acute with Injury" then click on "On Date." Then you are defaulted to a calendar of this month and year. So you click on "Year," and it shows you a list of years in this decade (i.e.. 2010, 2011, 2012, 2013 etc.) so then you click on "Decade". Then you click on the 2000-2009 decade, then click "2009," then click the month, and then click the day.
I asked them why the computer can't remember that the patient fractured their forearm in 2009. Why do I have to remind the computer of that each visit? Things like date of onset and side should be associated with the diagnosis so they don't have to be entered each time. Another issue is that to use some of the functions of the software, you have to give the user local admin rights on the computer. This is lazy programming. Check with your IT guy; he won't like that at all! They should have set up the software so that it only required specific privileges, not Admin privileges.
Another major problem was that the reports had major formatting issues and they were not customizable by the end-user. So the office notes generated looked amateur. Chiropractor software was generating more professional reports than mine. I was so embarrassed, especially if my report was being used as evidence in a personal injury case.
Another problem was that each time I set up a surgery, I needed to send that "task" to a specific employee. So each time I'd have to select that person out of a 15 person pull-down list. Why can't the software remember that all surgery requests should go to employee A for scheduling? This may seem minor, but it is an example of how amateur this software feels. It is a generally accepted standard that when entering a username and password, the cursor starts in the username field. You type the username, hit the Tab key, then type the password and then press the Return key - not with Phoenix Ortho. After entering the username, the first Tab takes you to a useless checkbox, and the second TAB takes you to the password field. So you have to be cognizant of that when you are working in Phoenix Ortho because it is different than all other software.
Also, there was no internal consistency in the software. Certain activities had contextual pull-down menus, whereas others had pop-up dialog boxes. As a result, the software was very annoying to use on a large screen, because in many cases where a contextual menu would work great, they'd use a pop-up, and I found that my mouse was chasing down pop-up boxes all over my screen. It is true that you can scan in documents (such as imaging reports), but there was no way to search for them; there was no way to add keywords; you couldn't even sort them alphabetically or by date. So results were in random order, and it took forever to get information out of the software.
No Fax Acceptance
Katelyn from SDSM didn't like the extra work some of the Phoenix Ortho issues created: "The ability to obtain faxes through this system is nonexistent and very hard to set up. We are unable to route properly and waste a lot of paper having to manually scan into the appropriate patient. They do updates during open hours and we've had a few system breakdowns that caused interruption and deletion of faxes, new patient appointments, and even data."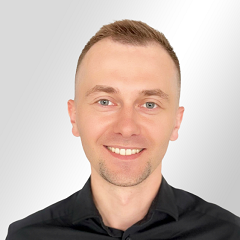 Written by
Deputy Business Development Director at Belitsoft
I am a customer's advocate and a manager of several key accounts.
Recommended posts
Belitsoft Blog for Entrepreneurs