Medical speech recognition is the program's ability to identify words of oral language and convert them into a machine-readable format. Speech technologies allow healthcare practitioners to save time on doing paperwork and thereby focus on patient care.
Since the benefits of using speech recognition technology in healthcare are notable, that trend continues in future years. Here is how startups have combined their solutions with automatic speech recognition.
Speech recognition for medical conversations: front-end and back-end types
Front-end speech recognition (SR) is the process whereby spoken words are translated into text in real time.
Back-end SR implies that conversations are recorded in digital form at the time of dictation, then the voice files are converted to a draft text document after which it is proofread by an editor.
Let's dig deeper into the differences between front-end & back-end SR.
In the first case, dictating users exploit any device running the front-end SR software. As they speak into a microphone, their words are converted into text making the report available immediately for their review.
To ensure accuracy in the front-end transcription, users have to correct errors manually so the program learns the nuances of custom speech patterns.
Front-end SR technology is implemented in applications such as Dragon Naturally Speaking by Nuance, Via Voice by IBM, etc.
Ben Brown, vice president at KLAS Research, confirms that time-saving is one of the main benefits of speech recognition in healthcare and gives preferences to front-end systems.
"When clinicians do speech recognition on the spot, they actually complete a patient report much quicker than waiting for a transcriptionist to create a document that then must be reviewed, edited, and finalized."
However, the medical community adopts back-end speech recognition as the most convenient way to maintain healthcare documentation. Thus, the actual speech-to-text conversion is carried out after the speaker has dictated, rather than simultaneously.
Back-end SR systems exempt doctors from verifying their records over and over again and manually correcting mistakes. Busy physicians can rely on trained eyes of the transcriptionists who improve quality control by efficiently filtering out transcribing errors made by the software.
How companies use speech recognition software in healthcare
Clinical notes
By using a listening device in the office, doctors are capable to capture their notes and receive clinical decision support during the appointment. Today's digital assistants are able to update EHRs with relevant information and submit prescriptions for doctor's review and signature.
Belitsoft has integrated a speech recognition system into the client's EHR. Thus, end-users are able to input text and numbers by using their voice, issue commands for navigation inside the system.
We also provide an option to use additional dictionaries for medical specializations. Each glossary contains data the system has to recognize and process the terminology relevant to the proper specialty. Thus, doctors can add vocabularies for general medicine, pathology, and CT/MRT.
Find out more details in our portfolio.
Notable, a digital healthcare startup, offers EHR-integrated voice recognition solution for wearables. By using Apple Watch as a microphone, physicians are able to automate and structure patient interactions as well as reduce the vast amount of clinical administrative tasks.

Source: notablehealth.com/product.html#how-it-works
Several startups are using speech technology as a virtual scribe to enable physicians to interact with devices in a sterile environment via voice. The most frequent concern is whether the surgical mask or ambient noise muffle the sound too much.
Kiroku is a smart editor for dentists to automatically generate clinical notes. The AI-based system learns from user records to make suggestions. For example, Kiroku may suggest a treatment plan depending on the results of the intraoral exam.
Hannah Burrow, Kiroku's co-founder, said the big challenge was to integrate their voice recognition system into the medical day-to-day workflow. The issue was resolved by communicating with and learning from potential customers as often as possible.
"Gaining such a close insight into the use of our technology has accelerated our development and enables us to focus on the necessary stuff."
Patient-practitioner communication
Many speech recognition technologies are simplifying and automating communication between patients and healthcare professionals. AI-powered bots can save clinical staff time and assume tasks like appointment scheduling in outpatient settings.
Aiva Health offers a voice-powered virtual assistant connecting patients with their caregivers.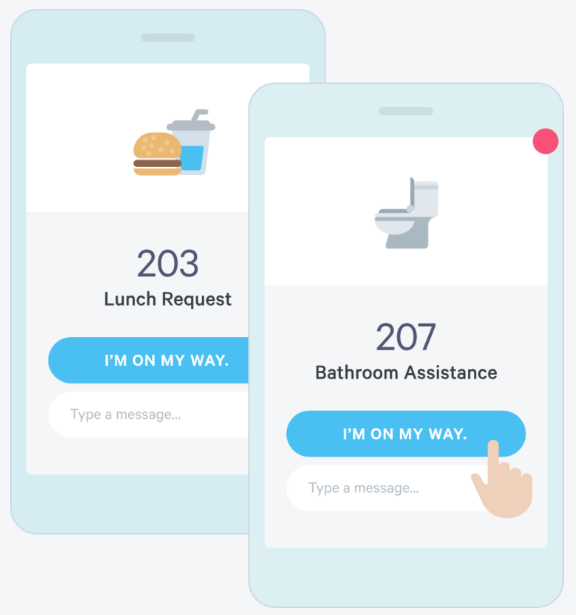 Source: aivahealth.com
Aiva uses Google Home, Amazon Echo, and other smart speakers. The speech OS is built on a suite of an enterprise tools set. This includes a mobile app for caregivers to manage patient requests, a dashboard for performance reporting, and a backend for managing the voice assistants' settings and controlling IoT smart devices like TVs, lights, and thermostats.
Patient engagement
Bringing speech recognition apps to the patient's home is another way for startups to use voice technology in healthcare. They develop a voice interface to keep patients engaged in their care in between visits with their doctors.
Many speech recognition systems are designed for patients with chronic conditions to close gaps in healthcare delivery for 99% of the time that they are not in the doctor's office.
CareAngel's virtual nurse assistant, Angel, conversationally checks-in with at-risk patients leveraging AI technology. Customers communicate with Angel via a simple phone call on any voice-driven device, like a smartphone. Healthcare practitioners can interrupt the conversation at any time and manage their patients in real time.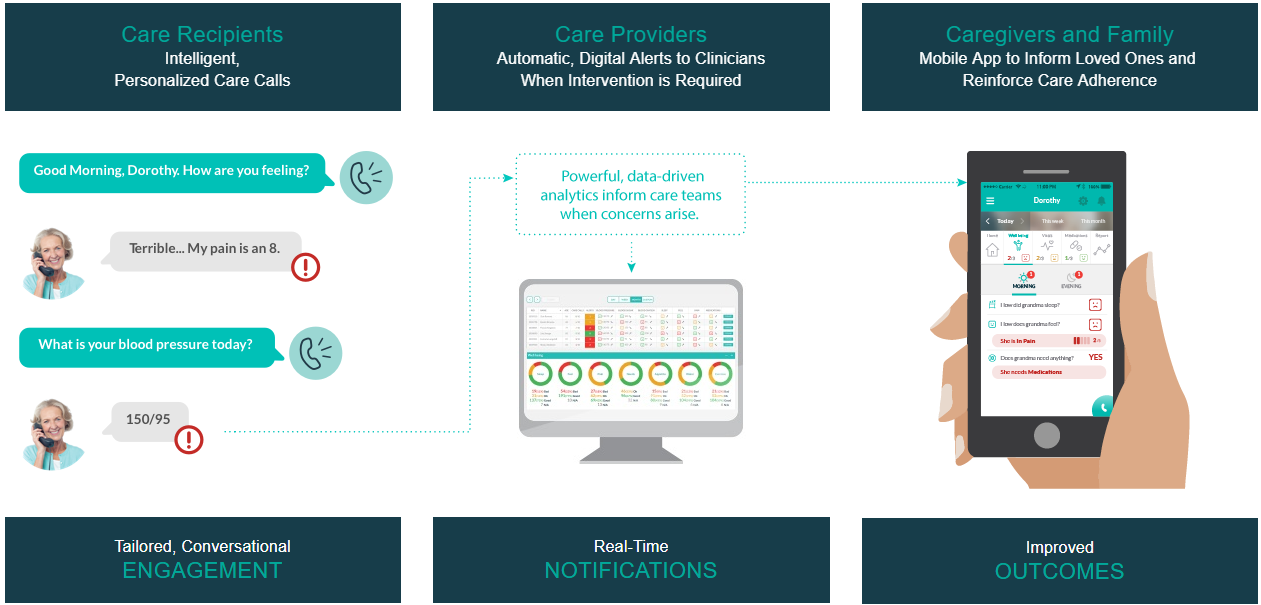 Source: careangel.com/ai-and-voice-powered-virtual-nurse-assistant
Some developers use natural language processing to assist patients with speech and hearing disorders.
Voiceitt builds the world's first speech recognition technology designed to understand dysarthric speech (slurred or slow pronunciation caused by muscle weakness).
Their hands-free speech recognition app, already in closed beta testing, will assist in face-to-face and real-time communication. The company expects to integrate the technology into smart homes, assistive devices, and smart speakers.
Ava, for example, enables deaf and hard-of-hearing people to see who says what via their mobile app. Detailed instruction can be seen in the video below.
Speech is promoted as a valuable tool for the aging population who prefer to stay at their homes, especially for those who are unable to maintain mobility, manual dexterity and good vision (to use mobile gadgets).
LifePod provides speech-based caregiving services to monitor and support old-age customers and their daily routines. The system automatically generates reminders, checks in on users and keeps them stimulated throughout the day with random events like singing, telling stories or participating in quizzes.
LifePod uses Alexa Voice Services and Skills Kit. However, the system is semi-autonomous and runs without any Alexa wake words.
Conclusion
Speech technologies have found a place in our homes with assistants like Siri or Alexa. Now healthcare practitioners are actively using it in clinical settings. As they benefit from speech recognition, software vendors can ride the wave.
Belitsoft, as a software development company, is aware of potential issues and pitfalls that should be taken into account when creating medical software. We cooperate with impartial security auditors and assist our clients in complying with HIPAA and GDPR regulations.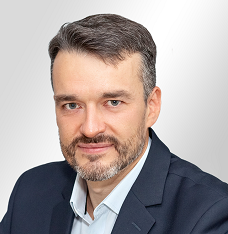 Written by
Partner / Department Head