Gamification is not the cure-all, but it can't hurt. Introducing fun and games to healthcare apps can motivate patients and collect essential data. After all, it helps to make informed decisions on daily activities that contribute to one's health.
What is gamification
Gamification implies integrating game mechanics and design techniques into non-game experiences. This process motivates audiences participation and engagement while making mundane tasks more fun and interactive.
'If you want somebody to do something, go to the next screen, or get them to physically go to a place, use the location services, have them check-in, and give a happy little exploding confetti reward for that on the phone, and you'd be shocked at how effective that is.'
Amanda Havard, Health: ELT CEO
For more information on gamification as a whole and the mechanisms behind its effectiveness, see our article.
In the context of health IT, gamification is typically employed in medication adherence, medical education-related simulations, fitness and wellness apps. The strategy is to use rewards for users who complete mandated tasks, and typically works in the following ways:
By filling a progress bar to measure success. Thus, developers invoke progress-related instinct.

'An estimated 50% of patients with chronic diseases do not follow the prescribed treatment. Gamified health tracking creates an environment that keeps the patient from straying from the appropriate therapy path.'
Dr. Bertalan Meskó, Director at the Medical Futurist Institute

By allowing users to share progress and results with their friends/other players or designing an "honor roll". Thus, developers create a competitive spirit to stimulating the use of the service.

Fitness App. Reword Unlock by Olha Hurenko
Source:dribbble.com/shots/4492657-Fitness-App-Award-Unlocked

By awarding points, medals, stars, achievement badges or giving virtual currency during each stage of progress. Thus, developers create a sense of accomplishment and increasing motivation levels.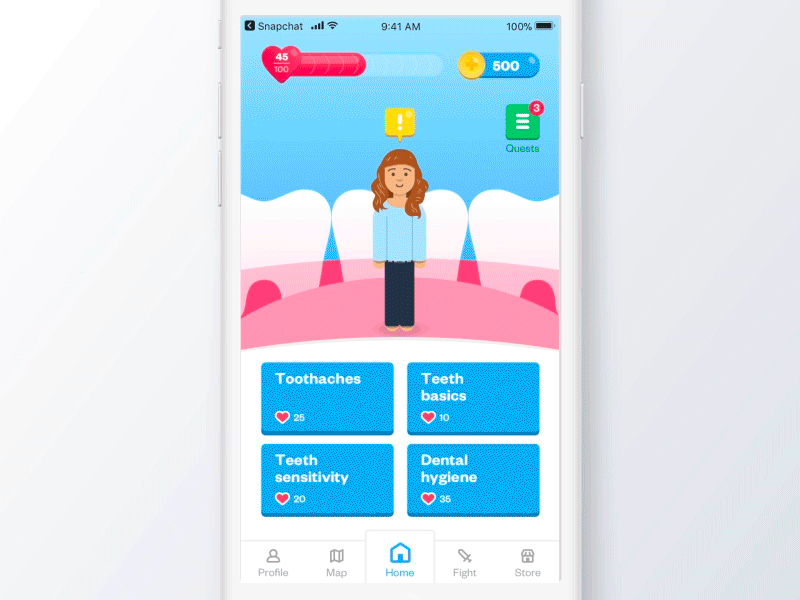 Kenko Health Avatar by Yoann Baunach
Source: dribbble.com/shots/4288089-Kenko-The-avatar-of-your-health
In specialized health apps targeted to older users, individuals with movement or sensory impairments, gamification experiences are created using real-time biofeedback from motion-capture sensors and gesture-control technology.
'Games don't need to be complex. We tapped into dance as a form of engagement.'
Dr. Doug Elwood, Executive Health and Wellness Leader
An often overlooked benefit of gamified healthcare applications is their potential for gathering relevant patient data. Software like this motivates users to give more feedback which, in turn, helps companies find trends, make products that address the needs of the target audience better, and even create new business models. However, due to legal restrictions in countries like Germany and France, gathering data requires the attention of the corporate lawyers, as well as developers. Moreover, it presents an ethical and a cybersecurity challenge.
Gamified healthcare is a big deal: one report predicts the market for it to reach 4.2 billion dollars by 2022. Another one forecasts it to grow to a whopping 13.5 billion dollars by 2025.
Look how gamification techniques can be used in e-learning projects. Or get help to implement game elements in your app.
Gamifying healthcare: case studies
The move to gamification of healthcare, however, seems to be a welcome one. According to PwC's Top Health Industry Issues of 2017 report, 78% of respondents aged between 25 and 44 said they would use some form of gamification in their treatment.
What software healthcare solutions are more relevant?
Fitness and nutrition apps
Self-management chronic condition and medication apps
Healthcare apps for kids
Physical therapy and rehabilitation apps
Emotional health apps
Motivating Wheelchair-bound Patients to Exercise
Many people suffering from spinal trauma or dysfunction and having to use a wheelchair are also at risk of cardiovascular diseases. Exercise is difficult for them and the fact that they are sitting for most of the time only exacerbates the situation. Daily activities don't help maintain the necessary level of activity.
Fortunately, there is GameWheel - an interface that allows connecting wheelchair to the computer as a controller in specialized games.
According to a study by scientists from several American universities, it proved effective in both motivating the patients to exercise more and in making the periods of exercise more productive. The study participants used GameWheel to play a racing game where pushing their physical push on the wheel translated to the speed of the car on the screen.
As a result, the heart rate, oxygen consumption, and ventilation were higher in the players than in their non-playing counterparts. Moreover, some reported that they were so absorbed in the game, that they forgot they were exercising.
Helping Cancer Patients
The "Re-Mission" game series has proven to be effective in helping children and young adults suffering from various forms of cancer.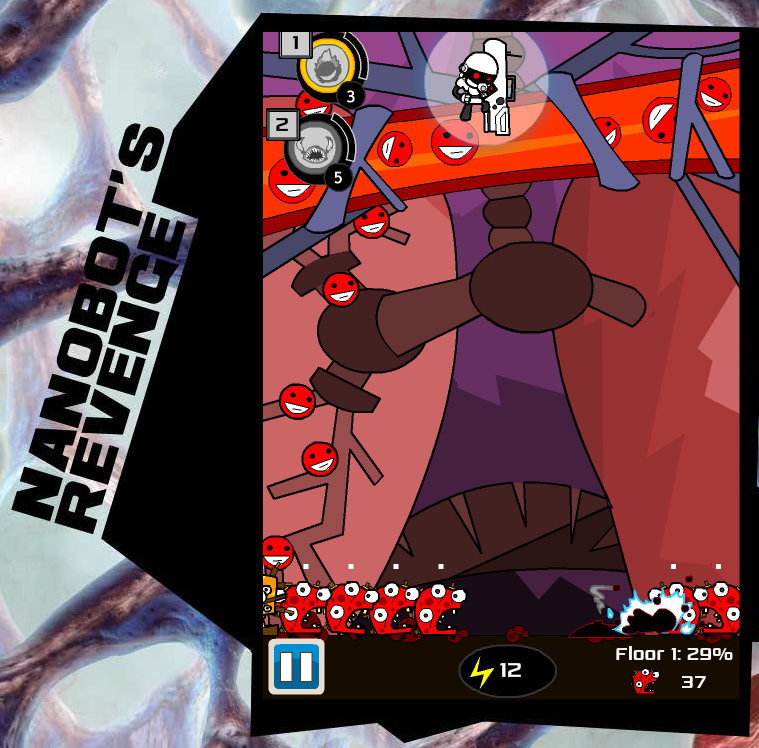 Re-Mission: Nanobot's Revenge
Not taking their medicines on time is a widespread problem in patients - up to 50% of them either fail to take the drugs regularly or don't file the prescription at all. In the case of life-threatening diseases, it becomes extra important to solve. That's why a non-profit HopeLab Foundation has commissioned a serious game to address the issue.
"Re-Mission" put the player in control of the "Roxy" nanobot that was to fight cancer with chemoblaster, radiation gun, antibiotic rocket, and other weapons derived from actual medical treatments. It proved to be a huge success, so "Re-Mission 2", a suite of free-to-play online games was launched.
These games improved the treatment adherence rates, and also increased the patients' self-efficacy - confidence that the disease can be defeated.
Fitness and nutrition apps
Apple's 2014 App Store review of 100+ health apps proved a direct correlation between gamification elements embed and high user ratings. MyFitnessPal used the highest number of gamification techniques.
We all know Fitbit as one of the early innovators in the wearables game. However, the company is positioning itself as the go-to device for employers. Fitbit has almost 1.500 corporate wellness program customers including BP, IBM, and Bank of America. Most of them give their employees Fitbit devices to track their workout progress and health habits.

Source: play.google.com/store/apps/details?id=com.fitbit.FitbitMobile
Fitbit is an example of how corporate partners are becoming more involved in mHealth apps. Such tactics, therefore, allows employers to reduce employee healthcare costs by improving lifestyles or providing instant access to non-emergency care.
However, one of the most striking examples of how companies accepting healthcare gamification is Apple. They award Apple Watch and iPhone users with badges for accomplishing workout tasks like hiking and cycling or surpassing daily totals like calories burden.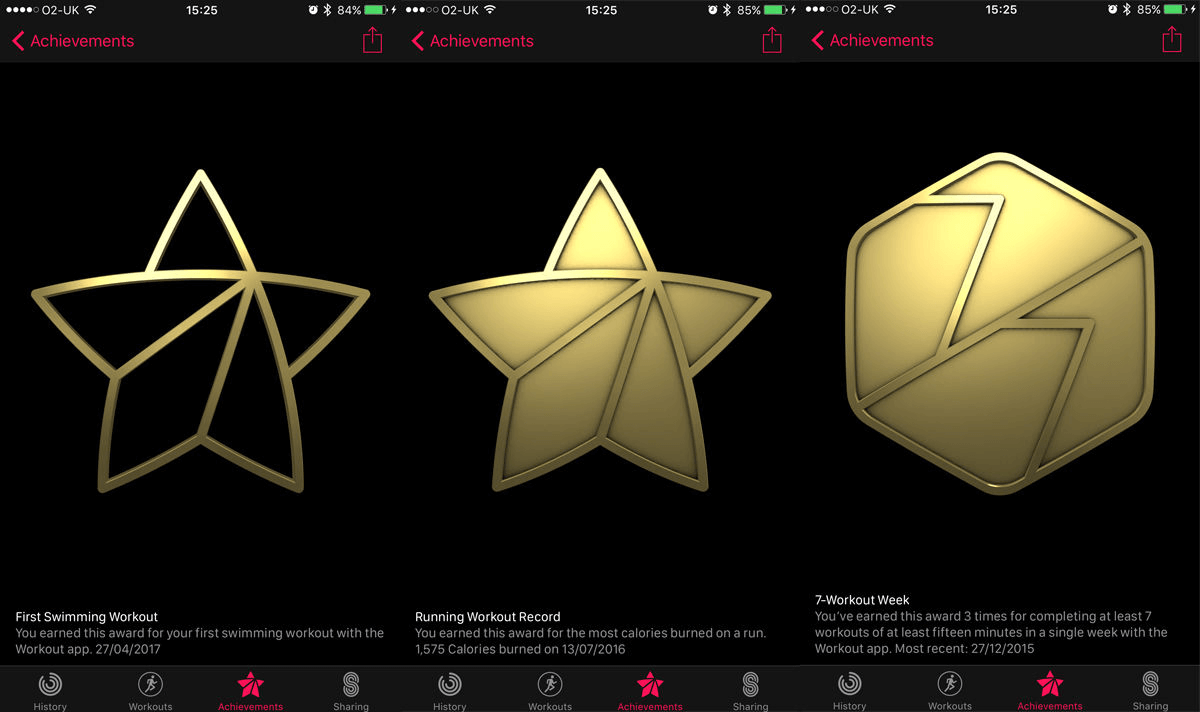 Source: macworld.co.uk/how-to/apple/apple-watch-activity-achievement-badge-3658788
Awarding badges is part of Apple's continued push into healthcare. The Health app on iPhone, Workout app on Apple Watch and Activity apps on both have distinct functions but can define user's health status in details. The strategy helped Apple boost Apple Watch sales and own 2017 wearables market.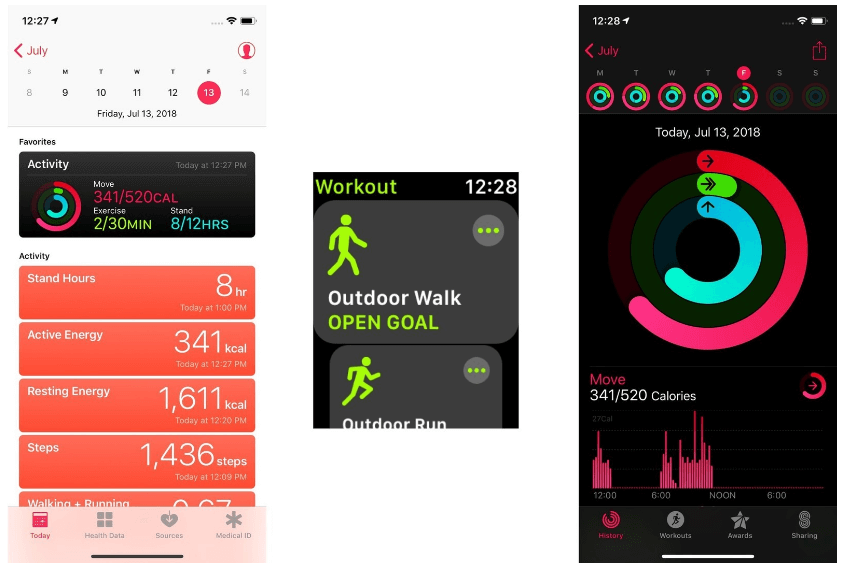 Source: imore.com/apple-watch-and-activity-tracking-what-you-need-know
Unlocking wellness achievements turns into a naturally popular behavior. The wild success of Pokémon Go demonstrated how willingly people play achievement-oriented games simply for the fun of earning points. Importantly, Pokémon Go proved that game playing is not always about passive experience - players are required to walk around and keep moving.
'A lot of fitness apps come with a lot of "baggage" that end up making you feel like "a failed Olympic athlete" when you're just trying to get fit. Pokémon Go" is designed to get you up and moving by promising you Pokémon as rewards, rather than placing pressure on you.'
John Hanke, Pokémon Go CEO
Yet Pokémon Go does get people moving more but the effect doesn't last. In fact, the market offers more than 9.000 healthcare-related apps. Many of them are downloaded, used once or twice, then forgotten.
The exercise-tracking startup Pact pursues a highly-motivating policy among people looking to improve their health. Users make pacts promising to exercise or eat healthier.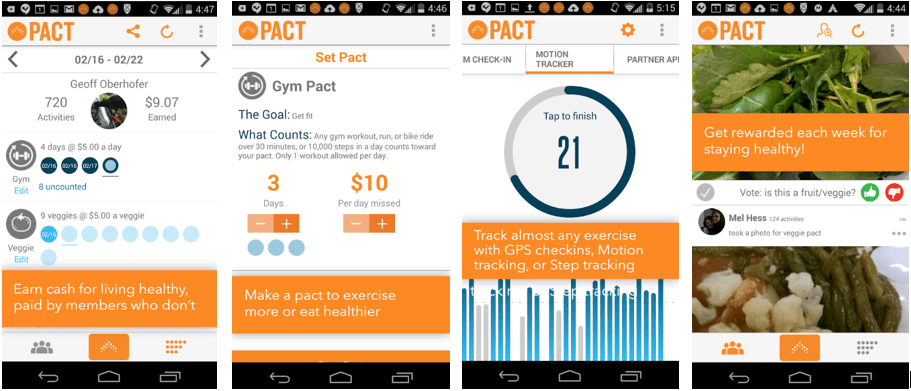 Source: play.google.com/store/apps/details?id=com.gympact.android&hl=en
By failing to meet their target, users have to pay a monetary penalty between $5 and $50, while those who succeed get a part of the payment. Smartphone location data and photos taken in gym serve as the evidence.
Players can specify how much they would be fined if they failed to meet a pact. This money then goes to a collective pool that allocates payouts among those who do reach their goals.
The powerful driving force of this mHealth app is that users can actually lose money when they fall off track. Unfortunately, even when players held up their part of the pact, the company allegedly failed to provide the funds promised. Pact must return about $1M as of September 2017.
Self-management chronic condition and medication apps
By helping patients understand their chronic conditions better and by simplifying medication management using gamification, patient compliance rates can be increased to achieve better outcomes.
Gamification techniques can make the tedious and repetitive tasks of treating a chronic illness rewarding and more engaging.
Diabetes is considered the "the disease of the 21st century". The 2016 study revealed that many experts support the idea of creating an enjoyable experience for patients living with this chronic disease.
'Naturally people like to be rewarded. Thus, if this [gamification] is applied to the self-management of diabetes, it would be very effective. [...] it will change the view and the experience of self-management of diabetes for the patient.'
from Gamifying Self-Management of Chronic Illness: A Mixed-Methods Study
'Positive reward is enjoyable in whichever form it comes. This will help patients' self-esteem.'
from Gamifying Self-Management of Chronic Illness: A Mixed-Methods Study
Indeed, having diabetes requires self-management skills vital to prevent the complications associated with the disease and maintaining the healthy life.
Gamified apps can help patients self-manage in a more efficient and entertaining manner. They also give them the opportunity to be appreciated for their efforts and to positively compete with one another.
Now, what gamification elements are most commonly used?
Tracking measures of blood glucose, insulin, food intake, and other related info.
Getting feedback based on the entries.
Being notified when blood glucose measures fluctuate.
Glooko provides a remote patient monitoring platform for diabetes that enables users to connect any glucose meter, insulin pump or CGM. The company also offers a FDA-approved app to help patients manage their care and control outcomes.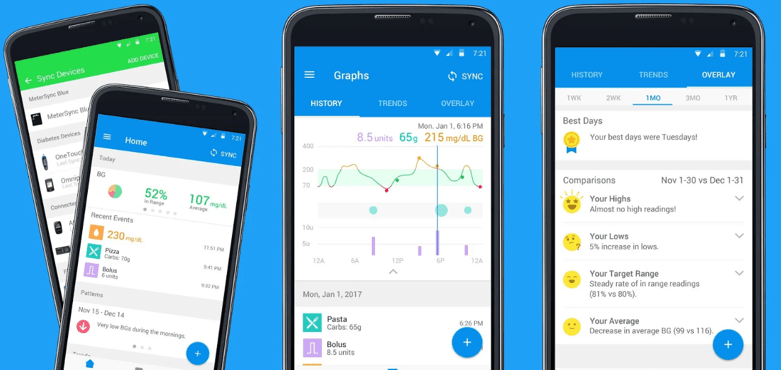 Source: play.google.com/store/apps/details?id=com.glooko.logbook
mySugr is an another example of a gamified solution for diabetes management. The company is remarkable that they developed a separate app for children (mySugr Junior app).
Mango Health mobile app reminds patients when it time to take their medicines and records each dose. It also automatically warns users about dangerous interactions between drugs and supplements or with food and drink. By taking medications properly, patients earn points to be redeemable for gift cards or charitable donations.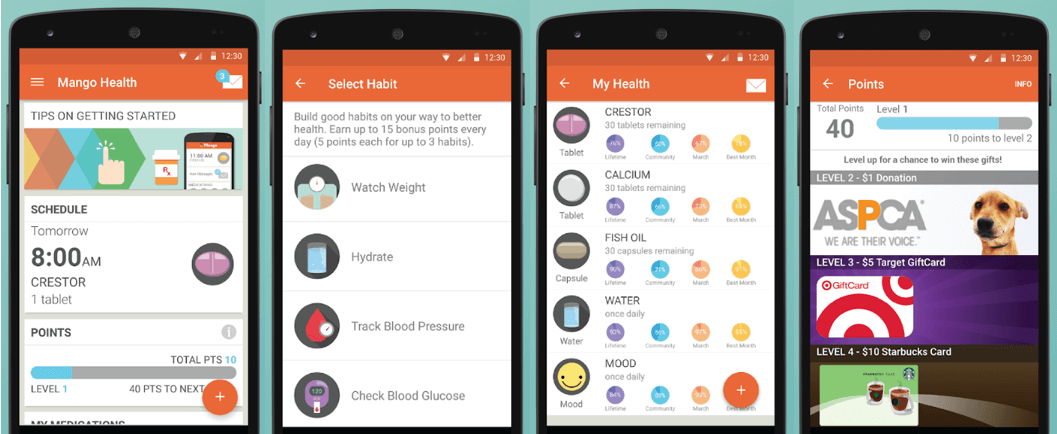 Source: play.google.com/store/apps/details?id=com.mangohealth.mango&hl=en
Unfortunately, gamification cannot diminish the seriousness of diabetes or any other chronic disease. Patients need help not only to enhance their illness self-management but also to be understood and supported by other victims.
Gamified healthcare apps for kids
Younger users usually do not understand the importance of long-term therapies or medications, regarding their illnesses as short-run miseries. They do not want to swallow bitter pills or have shots, do not want to be in therapy or stay in the hospital.
Gamification can help children forget they undergoing medical treatment, teach them responsibility for their health.
Inspired by Minecraft, Pfizer (a pharmaceutical company) launched a video game aimed at educating younger hemophilia patients, aged 8 to 16, about the importance of adhering to their treatment plans.
Hemocratf is a simulated environment where players interact with the "village doctor" to learn how their treatments work. Kids are challenged to monitor factor levels and self-infuse to help control bleeding if needed.
'These new digital innovations can be integrated into everyday routines to help empower people with hemophilia to learn about and track different aspects relevant to their disease so that they can have informed conversations with their healthcare providers.'
Dr. Kevin W. Williams, CMO of Pfizer Rare Disease, said
Zamzee (acquired by Welltock) developed an activity tracker and rewards system for children to get them moving and complete quests based on their physical level. In a randomized controlled study, kids using Zamzee were nearly 60% more active.
Young players collect points by moving and completing challenges. Earned points can be exchanged for virtual rewards, like equipment for their on-site avatars, or physical rewards, like pink duct tape sent to their address.
Physical therapy and rehabilitation apps
After a serious injury, it is difficult and time-consuming to reach even an agreeable level of independence regarding movement or other activity. Gamification takes a chance to reimagine the physical therapy experience.
Reflexion Health offers a patient-facing telerehabilitation solution known as VERA. This platform controls the movements of patients practicing physical therapy exercises. The system works in patients' homes allowing them to watch an animated instructor model on TV or PC.
Motion tracking technology compares patients' performance with the sample and gives guidance and correction suggestions if needed. As VERA helps patients recover function over time, it is essential to encourage, measure and report patient engagement and objective performance of their progress.
'This focus on developing an ongoing relationship with specific patients, along with the framework it requires and the metrics it produces, are major differences from broadly-released, "fire-and-forget" games for health.'
Mark Barrett, Lead Software Engineer at Reflexion Health
The GlassOff program is developed to eliminate dependency on reading glasses by enhancing users brain's image processing function. The recovery process consists of several sessions that are mini visual recognition games.
Working through GlassOff exercises takes about 12 minutes. It's recommended to follow the program 3 times a week for 3 months. The app automatically reminds users when it's time for the next session.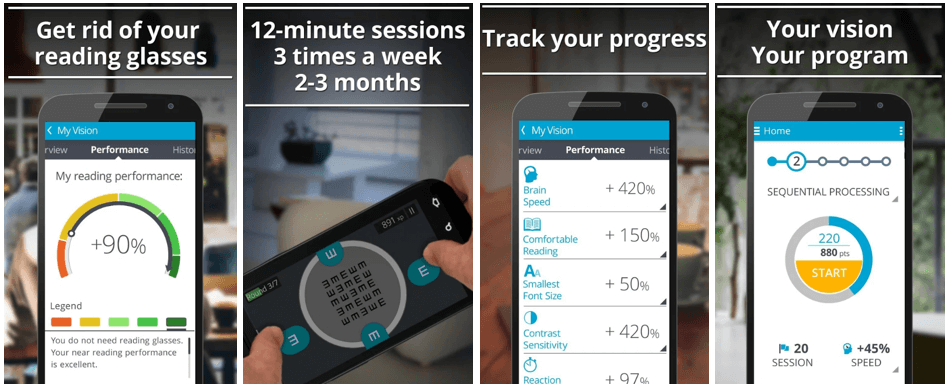 Source: play.google.com/store/apps/details?id=com.glassesoff.android
Emotional health apps
Happify toolset helps users improve their emotional well-being, overcome stress and anxiety that have a negative impact on daily life. Their app has 30+ tracks to choose from and tracks user progress to see how their skills compare. Each track is based on scientific research from neuroscientists and psychologists at Harvard, Stanford or Penn.
'After six to eight weeks, 86% of users who use the program for the recommended time and dosage come back and say they feel happier and much better.'
Ofer Leidner, Co-Founder of Happify

Source: play.google.com/store/apps/details?id=com.happify.happifyinc&hl=en
Looking for an attractive healthcare business model? Find your inspiration in our articles:
How can gamification help your business
Employers, insurers, and healthcare providers are focusing more energy on keeping people out of the hospital by helping them manage their own health. Thus, the market demands high-quality and complex solutions that make getting healthy more fun.
Gamification delivers proven and tangible results. By applying gamification elements into the product, businesses have experienced an increase in engagement across social media and website traffic generated.
To bear all the valuable fruits of gamification, businesses have to understand the environment to which it is applied. In other words, specific gamification techniques need to be tailored and adapted by this specific audiences.
Already in favor of gamification in your healthcare app? Fill our online "get a quote" form to start.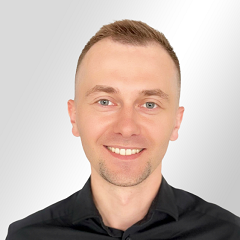 Written by
Deputy Business Development Director at Belitsoft
I am a customer's advocate and a manager of several key accounts.
Recommended posts
Belitsoft Blog for Entrepreneurs