We are seeing a rapid spread of blockchain-based software services, many of them in the medical and pharmaceutical fields. Healthcare stakeholders recognize great potential, and with this comes high expectations. Obviously, Blockchain can increase confidence between patients and healthcare institutions. But is it a panacea for health IT issues? We'll try to myth-bust blockchain technology and show how it may be used in healthcare.
What is blockchain
Blockchain represents a decentralized digital ledger that logs all transaction records and replicates every update across the network. Data captured on blockchains is shared peer to peer between different parties in real time. Every digital event is time-stamped and becomes an inherent part of a ledger.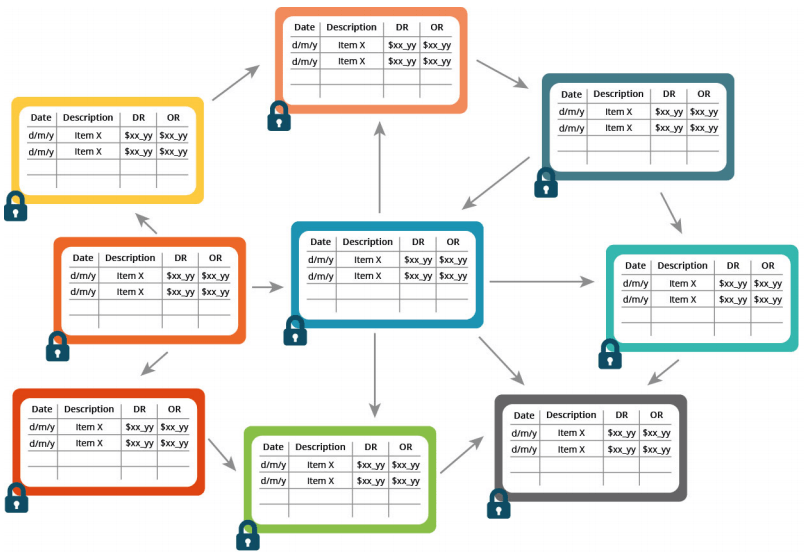 Source: healthit.gov/images/uploads/blog/11-74-ablockchainforhealthcare.pdf
Blockchain principles were first applied in the financial world as the technology that allowed Bitcoin to operate. However, it has developed over the last decade into one of today's biggest ground-breaking technologies with the potential to impact every industry.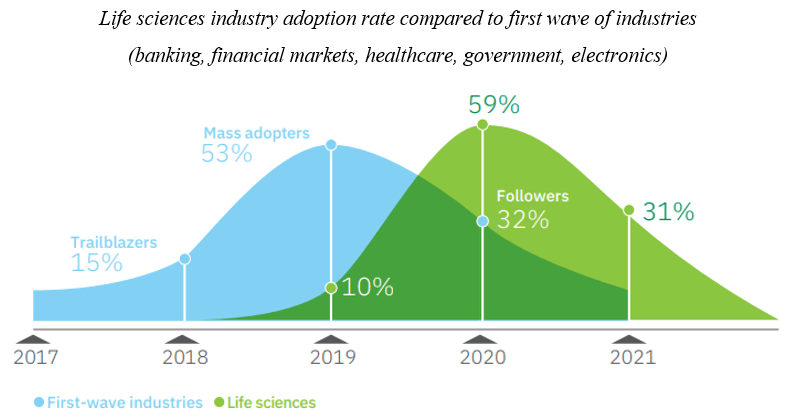 Source: public.dhe.ibm.com/common/ssi/ecm/03/en/03013903usen/team-medicine.pdf
So, what are the Blockchain principles that attract new startups as well as corporate giants?
Сryptographic robustness: blockchain-based network lacks centralized points of vulnerability that hackers can exploit.
Valid data retention: information kept by Blockchain cannot be altered or falsified.
Immutability and integrity of stored data: every approved event is replicated across the network, thus replenishing the existing database.
Accessibility and transparency of public info while at the same time encrypting private data: records held on blockchain exists as a shared database and can be easily verifiable. However, confidential info is stored in an encrypted form, requiring right deciphering keys for each ledger.
An institution that handles a blockchain-based system has nothing to hide. Thus, they enhance confidence and trustworthiness among their customers.
Belitsoft develops secure HIPAA/GDPR-compliant healthcare software. Do not hesitate to check our recent portfolio or contact our specialists for advice!
How healthcare IT can benefit from blockchain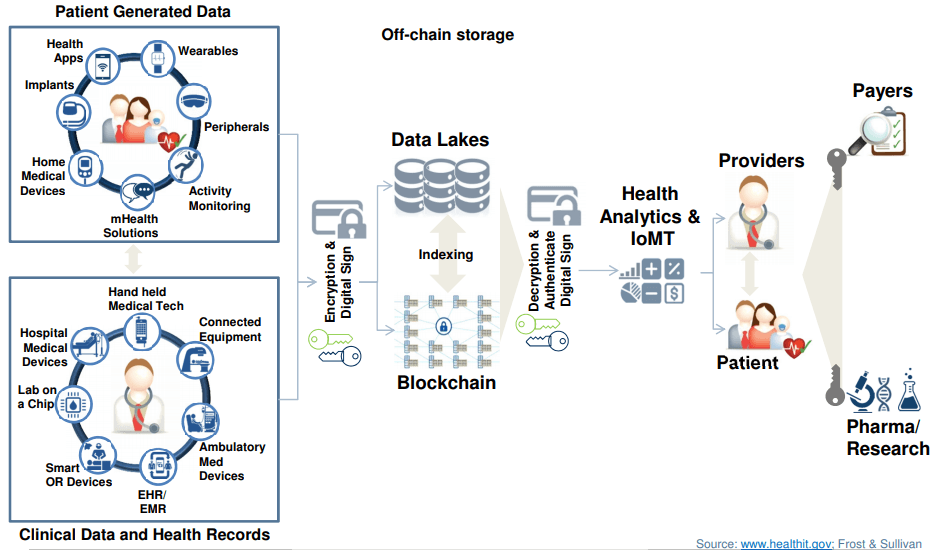 Source: innovationsprint.eu/wp-content/uploads/2017/08/Briefing-Deck-Future-of-Blockchain-Technology-_19th-Sept.pdf
Improve health records exchange
ARRA 2009 requires all eligible healthcare professionals to adopt or demonstrate "meaningful use" of EMR. This legislation stimulated significant growth of EMRs adoption. However, most systems are not able to share their health data. And that is why creating high integrity medical records despite transferring them through different domains and systems is one of the greatest challenges of health IT.
'EHRs were never designed to manage multi-institutional, lifetime medical records. Patients leave data scattered across various organizations as life events take them away from one provider's data silo and into another.'
John D. Halamka, MD, CIO of Beth Israel Deaconess Medical Center
Blockchain technology, for its part, has the potential to overcome interoperability challenges by being used as a common technical standard to securely share electronic health data.
MedRec, a MIT-backed initiative, is a system for managing medical records using the Ethereum blockchain. The key idea is to give patients control of their medical info, including clinical EHR records and data from personal health wearables.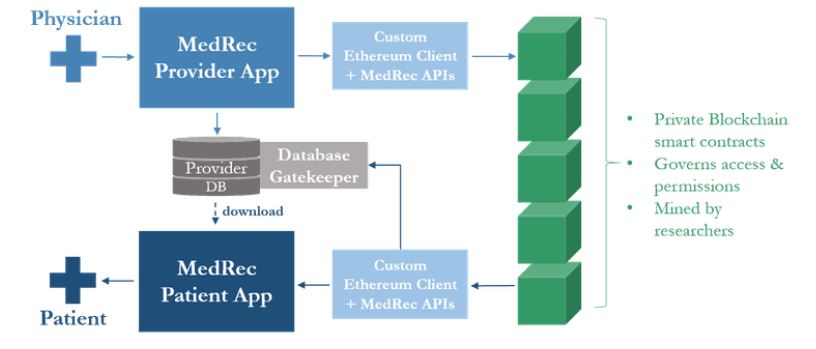 MedRec System Architecture
Source: viral.media.mit.edu/pub/medrec
Healthcare providers and family members can securely access the patient data with the permission of the owner. Medical researches and other healthcare stakeholders act as "miners" when receiving anonymous medical metadata for contributing the computational resources that sustain the network.
'When blockchain emerged as a disrupting technology and has the scalability now to provide solutions for the healthcare industry, I knew that this could provide a fantastic opportunity to involve the patient again in the process of monitoring their own health and how they react to the drugs they pay a high price for [...]'
Robert Chu, CEO and Founder of Embleema
Boost data security and privacy
According to the Protenus Barometer report, 32.9 million patients records were breached between 2016-2017. The largest healthcare data breach reported in May 2018, as stated in HIPAA Journal, was the 538.127-record crack at the LifeBridge Health Inc. In addition to patient names and contact details, clinical and treatment info, Social Security numbers (SSN) were compromised.

Source: hipaajournal.com/healthcare-data-breach-statistics
The information issues hamper meaningful coordination and collaboration in healthcare. The threat of cyber-attacks and confused interoperability standards put data at risk and restrict the ways it might be shared and accessed. However, too often data isn't trusted even though it is exchanged, partly because files are incomplete or include errors, forcing to manually fix them.
Blockchain technology ensures access control via a shared public and private chains. On the one hand, public info is available to all the network participant. On the other, however, private info is encrypted and can be accessed only by authorized users. Thus, blockchain-enabled systems protect EHRs and ePHI as well as enhance privacy covered by the HIPAA.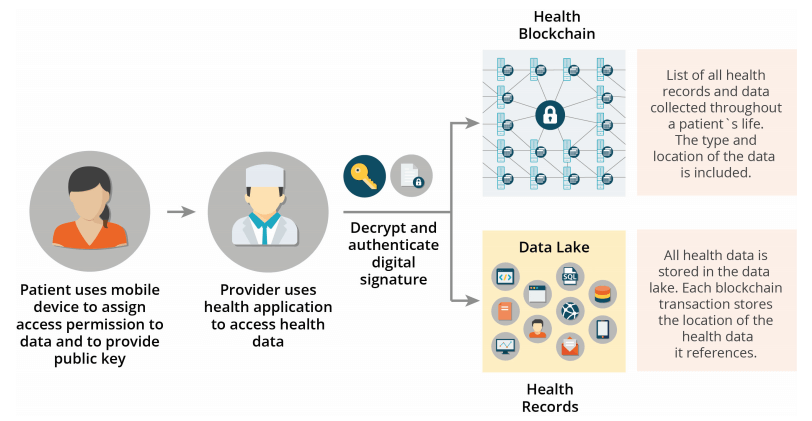 Source: healthit.gov/images/uploads/blog/11-74-ablockchainforhealthcare.pdf
Verify the accuracy of billing management
The enormous complexity of the US health system translates into financial mismanagement and errors. Billions of dollars are spent annually on understanding which patient received what services from which service provider and by whose authority. Thus, both insurance and healthcare parties allocate extra time and money adjudicating these disagreements.
Blockchain's independent architecture provides high-integrity tracking option and allows for updating data instantly. Any attempt of data modification should be reaffirmed by all the blocks in the network. After confirmation, new info becomes an integral part of the Database and cannot be amended or erased.
Simply put, Blockchain can minimize financial errors as well as substantially prevent fraud and unauthorized data shifting.
Empower medical supply chain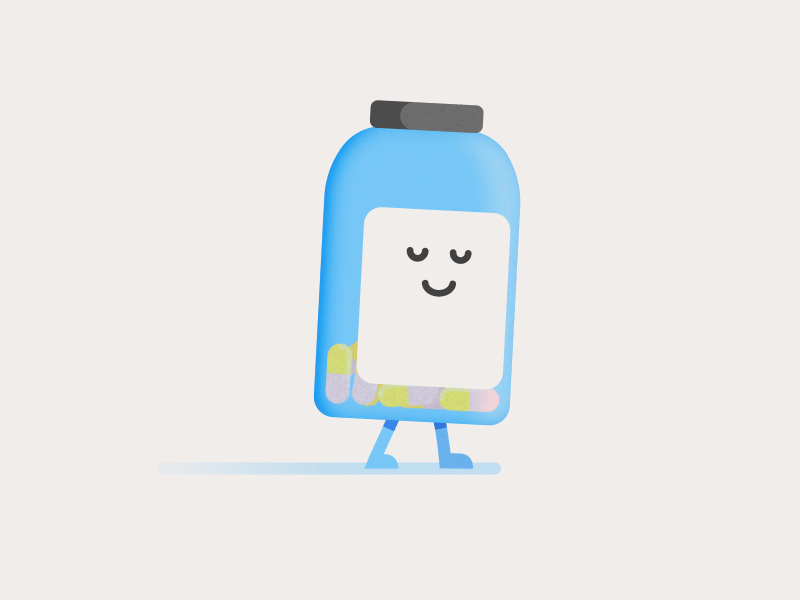 Pass me my happy pills by Chris Lloyd
Source: dribbble.com/shots/3723320-Pass-me-my-happy-pills
According to 2017 WHO research, 10% of medical products circulating in developing countries are either substandard or falsified. Even in the 1st world nations, it is expected that at least 1% of all drugs on the market are fake.
'Many of these products, like antibiotics, are vital for people's survival and wellbeing. Substandard or falsified medicines not only have a tragic impact on individual patients and their families, but also are a threat to antimicrobial resistance, adding to the worrying trend of medicines losing their power to treat.'
Dr. Mariângela Simão, Assistant Director-General for Access to Medicines, Vaccines and Pharmaceuticals at WHO
A blockchain-based system can ensure a chain-of-custody record, tracking each step of the drug supply chain. Besides, add-on functionalities (e.g. private keys, smart contracts) strengthen credibility of the pharmaceutical supplier at any delivery stage and help manage the contracts between different parties.
Streamline medical research. Improve the climate of trust
The 2017 studies showed that 50% of clinical trials go unreported. Even worse, investigators often fail to share their study results: nearly 90% of trials on ClinicalTrials.gov lack results. This causes crucial safety issues for patients and knowledge gaps for healthcare stakeholders and policymakers.
'We are meant to be in an era of "precision medicine," but we should not be satisfied with the vicious circle of suspicion between patients, life sciences and regulators, which often end up delaying the release of life-changing drugs.'
Robert Chu
Blockchain technology can potentially address the challenges of outcome shifting and data snooping. The system allows exchanging time-stamped immutable records of clinical trials and research results, hence, reducing the episodes of fraud and error in clinical trial records.
Is blockchain the future of healthcare?
Blockchain is uniquely suited to host medical transactions and patient data. The technology can improve the efficiency of health information exchange between multiple parties. At the time of unregulated data usage and sharing, Blockchain holds the potential to promote greater data credibility.
The 2016 IBM Institute for Business Value study surveyed 200 healthcare institutions in 16 countries. As it was revealed, 16% of respondents, called the Trailblazers, have already worked on a commercial blockchain solution.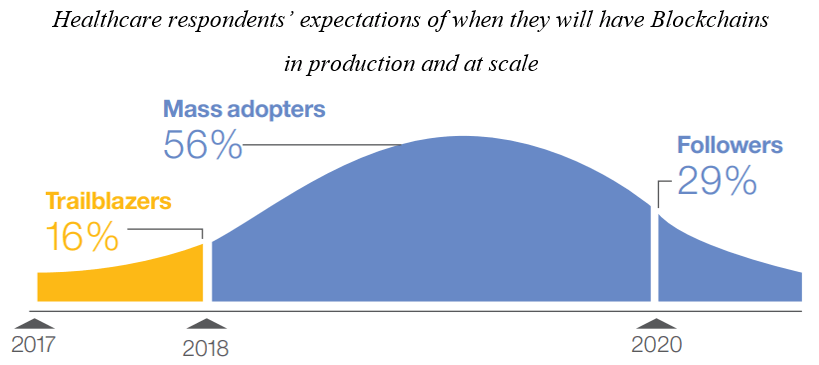 Source: ibm.com/common/ssi/cgi-bin/ssialias?htmlfid=GBE03790USEN&
6 in 10 healthcare Trailblazers have counted on Blockchain to access new markets and to achieve higher levels of data security. In addition, 7 in 10 expect the greatest Blockchain benefits to be in clinical trials data, regulatory compliance and medical/healthcare records.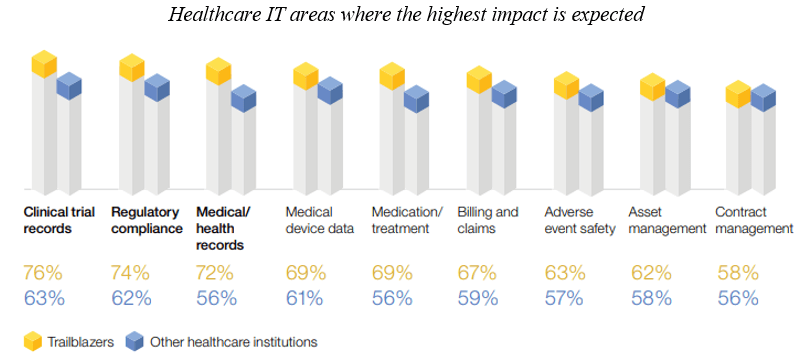 Source: ibm.com/common/ssi/cgi-bin/ssialias?htmlfid=GBE03790USEN&
Healthcare companies using blockchain technology

London-based Medicalchain offers an EHR platform powered by blockchain technology for secure storage and transfer. Therefore, healthcare and insurance authorities should request a patient's permission to access the record. In addition, Medicalchain supports telemedicine allowing patients to communicate with their doctors via online sessions.
The Medicalchain ecosystem revolves around MedTokens (MTN), their own cryptocurrency.

Patientory (Atlanta, GA) developed a blockchain-based platform for securely store, manage and share medical records between patients, healthcare providers, and institutions. Their app lets users create a patient profile to keep track on their health history, including doctor visits, medical bills, immunizations and medication regimen.
'The future of the blockchain is that there will be multiple chains out there. If we're going to use the blockchain to really be the foundational layer for that interoperability, then the chains have to interact with each other and provide the same functionality.'
Chrissa McFarlane, CEO of Patientory
The company released their payment token, "PTOY". They believe that using blockchain for medical payments will improve a traditionally complex and bureaucratic system.

Doc.ai offers blockchain-based conversational AI platform developed to improve genetic data comprehension and to provide decision support. Palo Alto-based agent can advise on disease, traits, pharmacogenomics and family planning.
To begin with, the user is required to permit access to health records, wearables data, or social media accounts. Only thereafter the system processes the info and starts drawing interfaces between the datasets. The AI should ask for additional info where necessary, such as what medications were taken or vaccinations were given.
'If we leave it as it is now, a couple of companies will basically own all the artificial intelligence. We have to decentralise it to the edge device -- that is the phone, it can be a laptop, whatever is at the edge ... [people] used to use their data and now they want to own their data.'
Walter De Brouwer, Co-Founder and CEO of Doc.ai

Blockpharma is a French healthcare startup focused on controlling drug supply chains. They develop an API that can be plugged into pharmaceutical companies' data systems.
The laboratories release meds boxes with QR codes that contain all the product info. At each step of the supply chain (transfer from the laboratory to the wholesaler or vice versa) Blockpharma records those transactions on the blockchain. At the end of each supply, users can check the history of the medicine simply with a mobile app.
'Traceability is one of the most obvious and direct applications of blockchain. [...] Our solution, based on blockchain, brings security. There is no harmony in the processes used along the supply chain. Each actor knows what product they have and where they send it to but they don't have any information on what happens to the drug afterwards. What we do is that we connect all this information together to tell the final consumer if his product followed a normal distribution channel.'
Fanny Roseau, Co-Founder of Blockpharma
The company chose a private blockchain that only indexes trustworthy actors selected by Blockpharma. Thus, their system is protected from undesired drug registrations. That way, they guarantee the medicines followed by Blockpharma are authentic.
Conclusion
In the healthcare realm, fears related to patients data leaks and rampant info misuse have moved from potential threats to daily realities. Given that health IT yet still suffers from lack of interoperability, system improvements are needed.
The time for Blockchain might never be more opportune than now. With adequate effort and expertise, healthcare stakeholders can benefit from blockchain technology.
Belitsoft provides full-cycle blockchain development services. Contact us to estimate your project!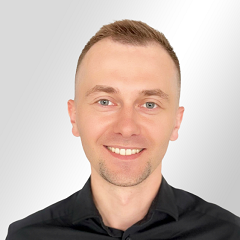 Written by
Deputy Business Development Director at Belitsoft
I am a customer's advocate and a manager of several key accounts.