Custom Software Development Services
Belitsoft is featured among the top custom application development companies with an established reputation for excellence. Our custom software development firm delivers profitable custom software for small business and custom enterprise software in the USA, the UK, Australia, Canada, Israel and Europe.
Custom software product development;
Custom software design;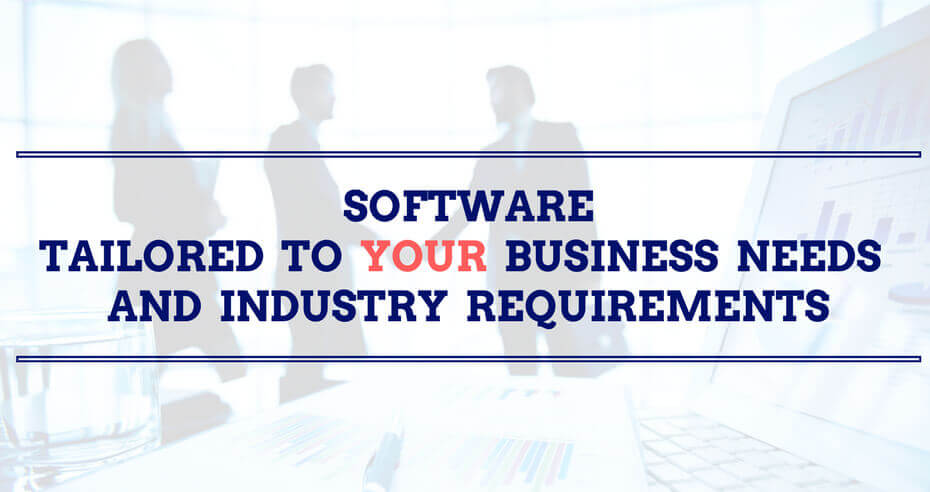 What is custom development? Why is it necessary to customize certain types of software? A custom application is a tailor-made software/app (desktop, web or mobile), which is fully owned by the client and based on his specific requirements. As a rule, custom computer programming is needed when a client wants to customize the existing solutions or build a new application/software from scratch because the available off-the-shelf application (shrink-wrapped, canned) does not meet the client's business needs and specific goals. Custom built programs are best suited for when you need the ability to perform business activities in a different manner to your rivals and be innovate in the area of your company's expertise. If you build your own software, it is designed to be compatible with your vital business processes as well as with your company's values and standards. Custom software for business will allow you to modify easy its functionality (adding new features). The customized application is much more flexible than packaged, off-the-shelf application and can be modified and changed over time as your requirements and business practices change. The custom written software is easy to use because it works the way you want it to work; you are in control since you can make the changes you require when you like.
Are you looking for a partner who understands what you are trying to accomplish and makes suggestions to improve your current plan? You can be sure that you have found a reliable custom programming company who is willing to support your business.
Why Choose Belitsoft Custom Software Development Company
Reliable partner. Our custom app development company has been providing top-quality custom app development services since 2004. We will solve any possible issues that can arise during full-cycle professional tailored software development with our in-house team of 100+ experienced custom software developers.
Affordable pricing! Outsourcing custom software development to Belitsoft will decrease your development cost due to the advantages of the offshore custom software development.
Well-established development process. A successful custom development begins from the idea and implementation planning. Before we offer custom programming services, Belitsoft analyzes the core of your custom project, its goals and perspectives, and individual specific needs. Whatever you may need - mobile or custom website development - we are here to provide you with custom development solutions tailored to your business goals. Here you can get full-cycle custom apps development services – from project idea elaboration and planning to custom software programming, implementation and ongoing support. Send your project's idea to us for a quotation: we respect your privacy, and will not share your information with any 3rd party without your permission. We will give you the starting price and propose to make an agreement for custom development services (or, if you wish, just for requirements gathering). We will start custom software engineering with User Stories gathering. Alongside, our custom software application development company will gathering the software requirement specification that will be based on User Stories and have all necessary details for our custom software programmers. Simultaneously with it, we will begin custom business software programmingt. Our custom software development agency is ready to make contribution to the success of your business with bespoke software solutions.
Agile software development. Do you need custom software? It can take a long time to develop and implement complex custom software. However, it may be absolutely unacceptable because of constantly evolving business requirements. Hence, our custom software development firm uses the Agile methodology to eliminate as many obstacles as possible in the process of custom software development.
Adequate security in place to protect your IP. The ownership of intellectual property assets created by our developers, as a part of the work done for hire, as well as patents, copyrights and all the data related to you and your projects, belongs to you. This is reflected in our custom software development Agreement.
Hight-quality development. The Quality Management System of Belitsoft covers design, development, testing, and technical maintenance of custom software and meets the requirements of Din EN ISO 9001:2008. We provide software with the Bug Free Guarantee.
High-quality consulting. Do you or your team members manually input data into several systems? Are you continuously recreating workflows and processes? If you answered "yes" to any of the above questions, you probably need custom business application development. The customization relative to your day-to-day operations ultimately leds to efficient, automated processes. When and why it is necessary to customize certain types of software? How to determine whether to use pre-built system and customize it or to build fully custom software development solutions? The assistance of Belitsoft's experts guarantees you will choose a winning strategy. Check out how much does it cost to develop a custom application? Before customized software application development, consider using of a "minimum viable product" (MVP) approach. Learn what are the differences between developing a custom build software and buying an off-the-shelf application.
TYPES OF CUSTOM APPLICATION DEVELOPMENT SERVICES WE OFFER
By Platform
By Solution
Custom ERP Development;
Custom CRM Development;
Custoim EDM Development;
Custom BPM Development;
Custom e-Commerce Development;
Custom Media Streaming Development;
Custom Social Communities Development;
Custom Software Examples