Belitsoft, as one of the best custom software development companies, is highly experienced in software development projects' cost estimation. Do you want to know how much does it cost to develop a custom software for you? Send us your requirements and get a free quote!
Are you a web/mobile or any other software startup Founder/CEO? You will be surprised when you compare the prices from various custom software development companies in your country (like the USA, Israel, the UK, and so on) or offshore. They can differ significantly!
What type of price did you get from your potential vendor? A minimum starting price or the total fixed price? Get a clear answer! He may send you a good low price and you may think that this is the total fixed price. You may not know that it is just a minimum starting price.
There are three types of cost estimation based on three types of requirements' completeness. You can find them in the comparison table below. Our experience proves that the most optimal start of your web/mobile startup is based on User Stories document followed by gathering of requirements up to Software Requirement Specification document during the development of software.
Comparison Table: Options For Cost Estimation and Further Work Under the Project (based on an example of 1000 hour project's budget)
Types of documentation
Scope of work

OPTIMAL

User stories
Software Requirement Specification
What is it?
A document that lists all needed features of a product in general terms
A document that describes all needed features of a product in more details than Scope of Work (It captures the "who" will use software's feature, "what" exactly will be used and "why")
A document that describes all needed features of a product in as precise details as possible.
Is it required to create this type of documentation before programming work will begin?
Yes
Yes
No
How much does it cost to write this type of documentation for a software project?
~20h
~60h
~150h
The result of the cost estimation after creating this type of documentation
Min price – and more
Min price – Max price
Exact price
How much time is required from a client to participate in a process of requirement's gathering with this type of documentation?
~4h
~12h
~24h
Level of completeness of this type of documentation?
Low
Average
Hight
What is the probability that the initial cost estimate will be close to the final budget with this type of documentation?
Low
Average
Hight
Options for further work under the project with this type of documentation.
T&M (Time and Material)
Dedicated Team
Fixed price (based on Max price which is calculated taking into account all the risks for a vendor) T&M , Dedicated Team (based on Min. price and more)
Fixed price
T&M
Dedicated Team
What types of risks for himself does a vendor include in cost estimate of a project based on this type of documentation?
Costs of risks are not included, because T&M refers to the estimation of a small part of work just before this work should be done. Hence, a vendor cannot predict the max price corresponding with a final budget. So a vendor needs to control this before each sprint (stage of development during 1-2 week).
Fixed price – cost risks are up to 50% due to the incompleteness of some crucial but not so obvious requirements. T&M , Dedicated Team – costs of risks are not included. In addition, a vendor guarantees, that final budget will never exceed the Max price if new features won't be added during software development process.
Fixed price – cost risks are no more than 10%, because the project's documentation is complete. T&M , Dedicated Team – cost of risks are not included. In addition, a vendor guarantees that final budget will never exceed 10% of the initial estimate.
Is it possible to quickly start coding a project without this type of documentation?
Yes
Yes
No, because writing Software Requirement Specification takes a lot of time – see above.
How to understand: I got only Minimum Starting Price or the Final Total Fixed Price?
Minimum starting price is a type of initial cost estimation for new software projects. It is based on the following:
A brief description of a future software project you want to build (general requirements);
The experience of the team of developers who will estimate and build this project.
Hence, the more general requirements you send, and the less experienced team estimates it – the more likely the actual costs will exceed the initial estimate.
As a result, you will pay an earlier agreed price, but wouldn't get your earlier agreed application. You will be asked to pay more. Not just once.
What next?
You think you have got "the best" price – but you have got the worst one in fact;
You startup will fail, as many others did.
No exact requirements? No total fixed price
Custom software development is a service for creating brand-new products from scratch. A software engineer (or a development team) should know how many hours would be spent to create this software product. For this reason, he should get absolutely precise requirements.
What does this mean?
Absolutely precise requirements describe a future product in such detail as if it has been already developed. Compare with building a house from scratch. Check out, for example, an international standard of writing a software requirements specification;
In 99,9% cases, you never send absolutely precise requirements for a software development cost estimation. In all these cases, the exact price is not possible. Hence, you will get just either a Minimum starting price or even a Maximum starting price.
Maximum starting price is a type of initial cost estimation for new software projects, which includes risks for a software development company. Risks, which may never happen. As a result, with Maximum price you may overpay.
What can be done?
Don't know how to create detailed requirements for the project? It's hard and almost impossible to gather software requirements by not a professional. This job should be done by a specially trained staff, for example by a business analyst.
Software requirements gathering is a work that requires time. Not just the business analyst's, but yours too. A business analyst will answer questions. You will need to have enough time to communicate effectively with him!
If you look for a fixed price then it's better not to start your tech startup at all without sufficient communication for gathering software requirements. You can check out these examples of failed IT projects, which happened because of the lack of proper attention to the collection of requirements.
And yet how much does it cost to develop my web/mobile startup?
To get the exact price it is necessary to pay for gathering absolutely precise requirements;
Precise software requirement gathering's costs is as a rule about 10-20% of the total cost for development of your web/mobile startup;
If you don't want to pay for your software requirements' gathering - you will get just either Minimum starting price or Maximum price.
What We Recommend
Belitsoft Software Development Company has been providing custom software development services for startups since 2004. We have successfully delivered dozens of projects on budget and in time for our clients from the USA, the UK, Israel and Europe. Check out our portfolio, testimonials and reviews.
How did we achieve this?
First of all, our clients trust us based on our expertise;
Second, our clients order software requirements gathering at our place before cost estimation of the project and before its development;
Third, they find time to communicate with us in the process of gathering software requirements.
How to Start with Us
Do you have an idea of a web/mobile or any other software startup? Send it to us for a quotation. We will give you the starting price and propose to make an agreement for development (or, if you wish, just for requirements gathering).
If documentation is not ready then we will start with User Stories gathering. Alongside, we will start to create the software requirement specification that will be based on User Stories but has all necessary details for our programmers. Simultaneously with it, we will start programming.
To sum up T&M/Dedicated team development can be started with Scope of work or just User Stories, however fixed price software development process is strictly based on Software Requirement Specification document. But, to avoid delays in starting programming of your project, we propose to start with User Stories gathering and work on T&M basis.
We are ready to make our contribution to the success of your tech startup.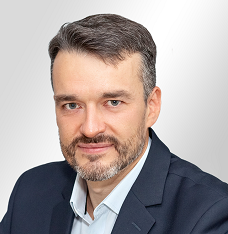 Written by
Partner / Department Head
"I've been leading projects and managing teams with core expertise in ERP, CRM, SaaS development in the Healthcare, Financial and other domains for 15 years."