Estimating the cost of custom software development with offshore software development companies can seem like a complex puzzle. At Belitsoft, we've honed a method that demystifies this process. Our approach is human-centric, eliminating the need for complex calculations, and is grounded in industry best practices. In this article, we'll guide you through our step-by-step journey and the principles that ensure accurate cost estimates.
How to Calculate Software Development Cost: Our Detailed Estimation Process
Every project brings unique challenges. Relying solely on the Ballpark Estimation often yields rough, risk-prone estimates. While quick, we steer clear of this method. Why? Our aim is to offer you precise estimations, ensuring you can plan your budget effectively and mitigate project risks. You can contact me directly right now to discuss your project.
Step 1: Detailed Requirements Gathering
Clear and well-defined requirements are the cornerstone of accurate project costing.
Typically, we commence with 1 to 3 complimentary meetings. During these interactions our business analyst (BA) works closely with the customer to grasp the idea and its intended product outcome. From this collaborative dialogue, a Proposal for Discovery Phase, along with estimates, is prepared, highlighting its projected duration.
Once the proposal receives approval, we launch the Discovery Phase. Depending on project complexity, this phase usually spans between 40 to 160 hours. Drawing from our vast experience, this timeframe ensures a thorough yet efficient process of gathering.
The main goal during this stage is to define the project's scope in detail. The outcome of this effort is that our Business Analyst crafts Vision and Scope document, which sets the stage for accurate cost estimation.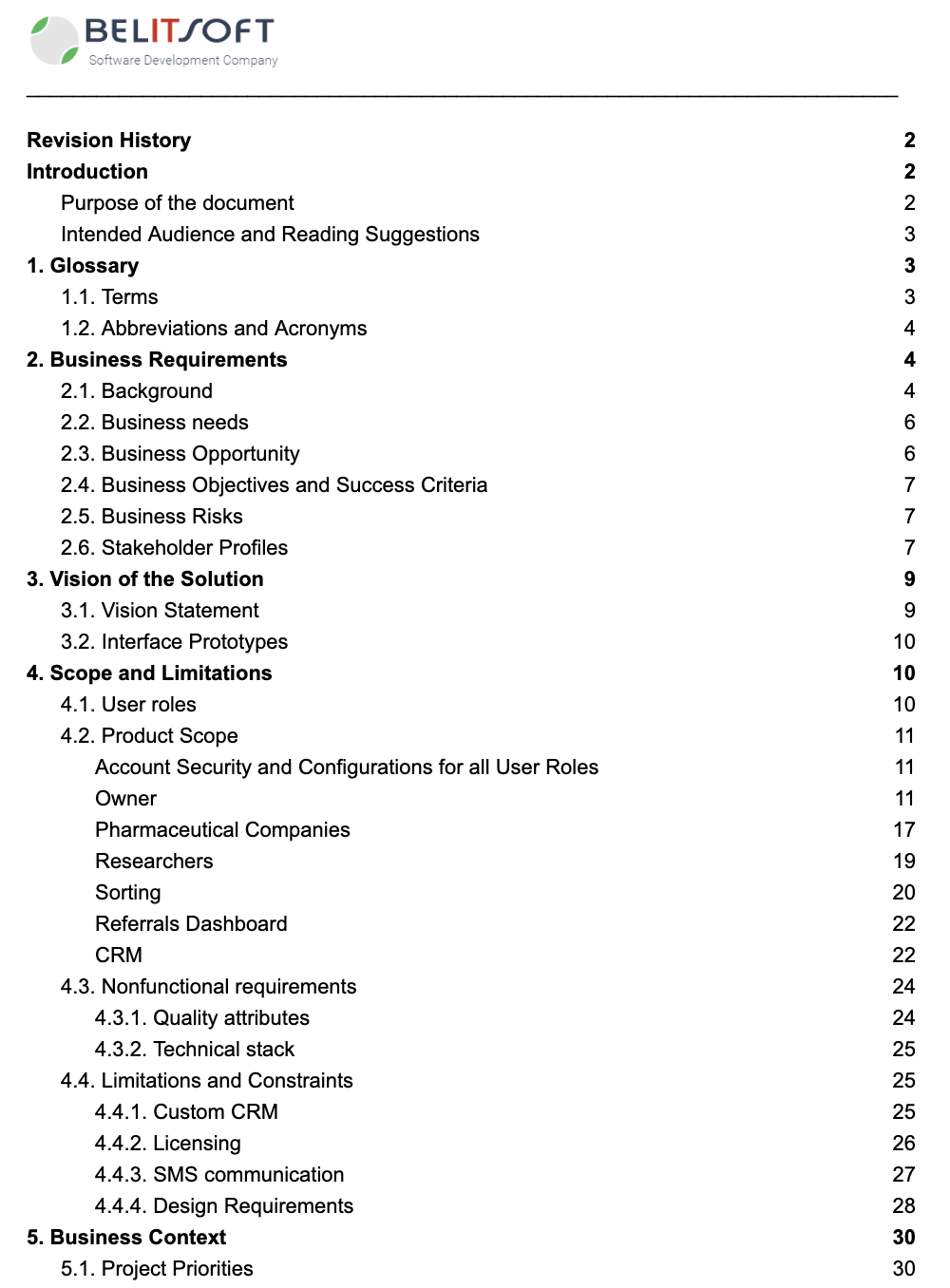 Example of a Vision and Scope document
Following this, the Work Breakdown Structure (WBS) is created— a clear, structured table that serves as the blueprint for project cost estimation.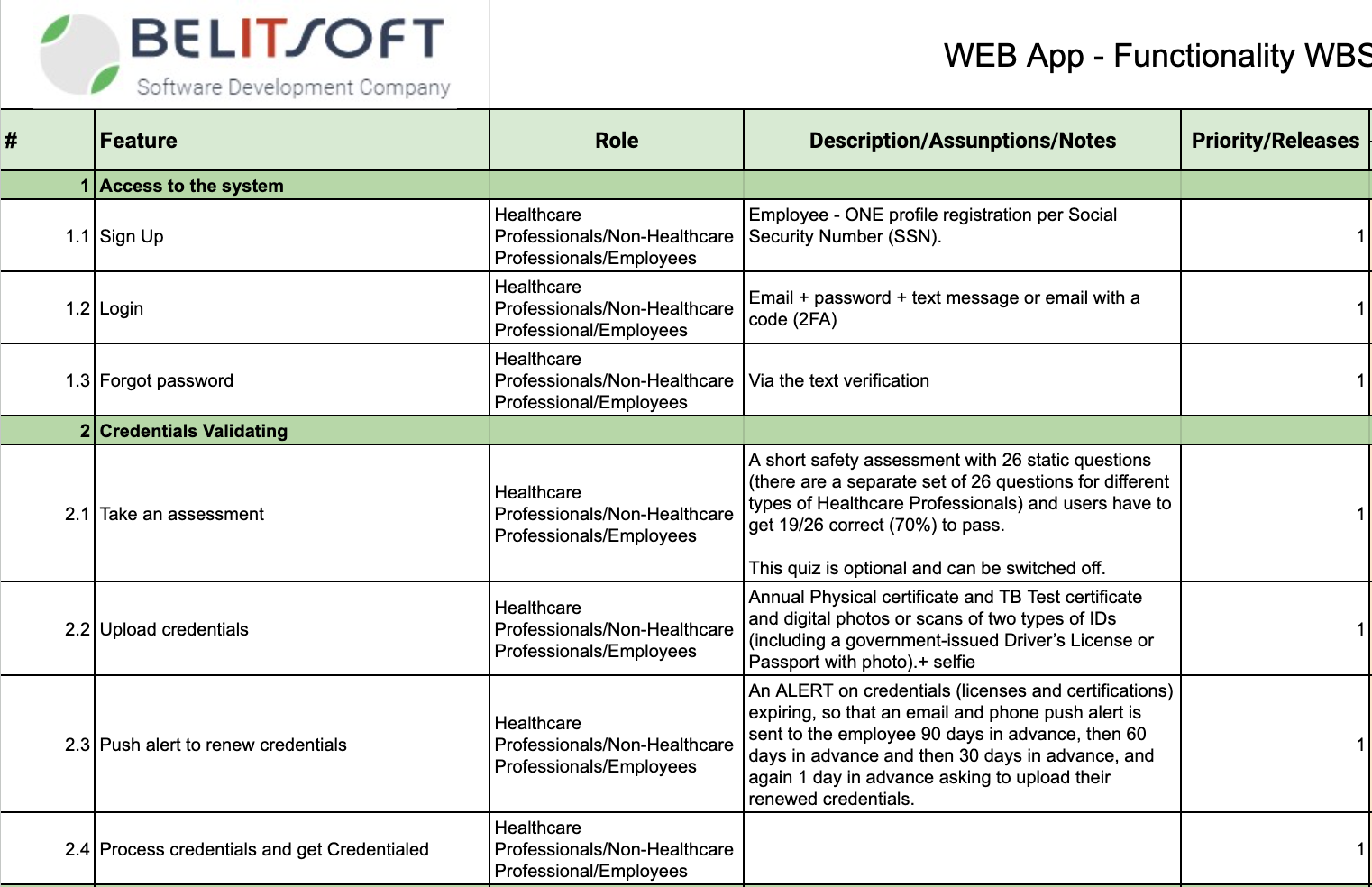 An exemplar WBS table derived from the Vision and Scope
Step 2: In-Depth Cost Estimation by Senior Specialists
Upon gaining a comprehensive understanding of the product vision during the discovery phase, we transition to the cost estimation step led by a specialized team. This team functions like a SWAT unit, comprising senior-level experts.
The core of such a SWAT team is a back-end developer with system architect experience and a front-end developer. Depending on the project's nuances, we may also involve a UX/UI designer, project manager, and business analyst.
With the groundwork laid by the business analyst during the discovery phase, where the BA aids in risk mitigation, our SWAT team refines and finalizes the hours needed for each feature or piece of functionality. Their calculations draw from extensive experience with projects of similar complexity and scope.
Though our methodology finds its origins in the three-point estimation from the Project Management Body of Knowledge (PMBOK guide), it's been enhanced over nearly two decades of practical experience.
We strive for a consistent 20% margin between optimistic and pessimistic cost projections. When risks are higher, this gap may expand.
In such cases, we pair the optimistic value with a risk percentage, and the pessimistic value becomes their product. Whenever risks exceed our 20% target, we pinpoint the cause and suggest ways to mitigate it.
Throughout this process, the project manager communicates with the client, spotlighting risks and presenting alternative trajectories. This collaborative approach ensures that clients remain informed and can make pivotal decisions with clarity.
For clarity, here's a sample cost estimation by a front-end developer based on the WBS
This meticulous approach to cost estimation extends to all specialists involved in the project.
Step 3: Personal Client Demo
To present the cost estimation results, Belitsoft team organizes a video call or a face-to-face meeting, depending on your location and preferences.
This direct interaction lets us elucidate the reasoning behind every figure and discuss all associated risks. It also allows you to verify the expertise of our team and assess their grasp of your project. You're placed in the driver's seat from this point onwards.
We prioritize clarity over complexity. Instead of inundating clients with intricate formulas, we ensure the entire cost estimation process is transparent and accessible.
During the demo, we provide a consolidated table detailing rates and the final cost estimation.
We incorporate an 'Agile coefficient,' set at 20%. This coefficient accounts for sprint planning, daily meetings, reporting, presenting demos, and incorporating your feedback. This approach guarantees you remain informed and actively involved, preventing any blind spots regarding the project's progress.

The example of a final cost estimation table that includes hours, developers' rates, three-point estimation, and Agile coefficient
Navigating High Cost Estimations
If our cost projection seems steep, we usually recommend a phased development approach.
The MVP Strategy
The initiation with a Minimum Viable Product (MVP) is a beneficial method for startups and businesses.
We help prioritize MVP features so that in a few months, you have a functional product to present to investors and gather initial user feedback. This approach not only aids in cost management but also provides valuable insights for further development. Learn more about MVP software development in our detailed post, where we explore feature selection and other essential considerations.
Risk Management
Our primary focus on risk management ensures final project cost aligns with initial optimistic estimates. This commitment reflects our dedication to transparency and trust.
A Practical Scenario
For instance, if tasked with developing a registration form with SMS-based two-factor authentication (2FA) and the client suggests an unfamiliar service provider with limited documentation, this raises potential risks. To address these, we propose:
Switching to a more cost-effective email-based 2FA, generally more economical than its SMS counterpart.
Using Twilio, a platform we're well-acquainted with, which offers comprehensive documentation.
Both options are geared towards minimizing risks and delivering value.
What You Receive at the Conclusion
Comprehensive Documentation. Vision and Scope, as well as Work Breakdown Structure (WBS) documents, meticulously crafted in line with international best practices.
Clear Estimations. A detailed breakdown of hours and corresponding USD rates for the project, coupled with a projected development timeline.
Strategic Recommendations. Insights on segmenting the project into phases (MVP, 1.0, 2.0, etc.) for optimal execution.
Technical Guidance. Expert advice on the ideal tech stack tailored to your project's unique demands.
Team Composition. Proposals regarding the optimal size, scope, and roles of the delivery team for efficient project completion.
Risk Management. Identification of potential risks, accompanied by actionable strategies to mitigate them. This ensures your budget and timeline remain consistent with initial projections.
Our method ensures that its cost estimation will be both accurate and human-centric. Contact me to discuss your project.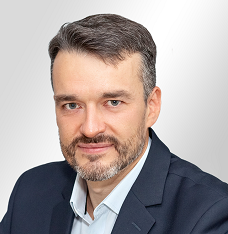 Written by
Partner / Department Head