With the advances in technology and a pandemic raging on, distance learning (including dedicated mobile apps) gained widespread recognition and popularity. The number of orders for mLearning apps increased accordingly. So to give startup founders a better idea of what to expect, I prepared an article describing the popular learning mobile app features.
Before we dive deeper, let's see what is currently trending.
Mobile App Trends
There are several things that have been popular for some time already, others are new additions to the pack.
Personalization. Moving from a "one-size-fits-all" approach to the one that adapts to the needs of each individual user.
Digitization of Instructor-led Training (ILT). Live classes can be dangerous during a pandemic. Moreover, there are only so many students one can teach in class, so in many cases, digitization is based on commercial reasons.
Gamification. Adding game elements to a serious environment as a way to increase engagement.

Microlearning. Breaking the learning content into short chunks. This is especially useful for just-in-time learning and on-the-job aids.
There are more trends that can be mentioned, however, these ones are the most important. For more information on what's in vogue in eLearning, see the relevant article.
eLearning App Types
These are some of the most widespread kinds of apps on the market:
Language learning. As the name suggests, these applications aim to teach users one or more foreign languages. They differ in the teaching approach, features, and language set. Examples include Duolingo, Mondly, Babbel, and others.

Course-based. These apps are based on single or multiple courses. Examples include the microlearning app we've developed for one of our customers, Lecturio, Coursera, etc.

Webinar apps. Software that connects teachers and students and helps conduct online classes. This category has apps like GoTo Webinar, ClickMeeting, etc.

LMS mobile apps. Software to complement learning management systems and make those LMS' more accessible to smartphone and tablet users. The feature set is usually almost the same. See apps like JoomlaLMS, LMS365, OpenLMS, and others.

Exam preparation. Apps that help users prepare for certain tests. Examples include Exams Today, Testbook, IELTS Practice, etc.
Core Features - General
These are necessary for most applications, if not all.
Registration. Creating a new user account.

Sign-in/Authentication. Ensuring that the user is who they claim to be. There are many ways to implement this: through an email-based login, social networks, Google authenticator, etc. The more options you include, the more expensive it will be to develop.

Dashboards. These would be different for teacher and student accounts. The latter could contain a list of available courses, ones that the student is already enrolled in, and other relevant information. The former could have tools for working on courses, grading, communication, etc.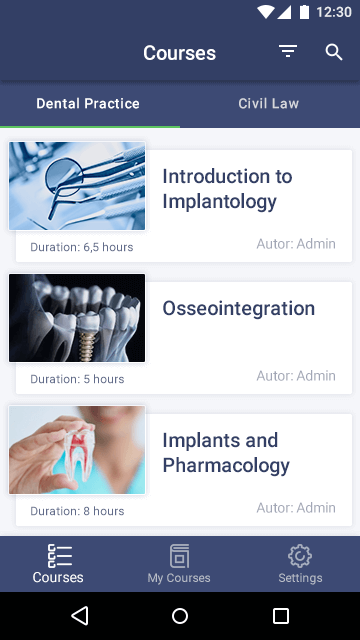 Student dashboard example
Notifications. Push notifications are a relatively simple way to alert users to new in-app events.

Push notifications in JoomlaLMS mobile app
Exercises/Lessons. The "meat and potatoes" of the course, actual learning content in various forms.

eCommerce. Payment options or other forms of monetization.
Core Features - Teacher
These features are important for apps that have a teacher role.
Assignments. Tasks that the students need to do.

Grading. Evaluation of a student's performance.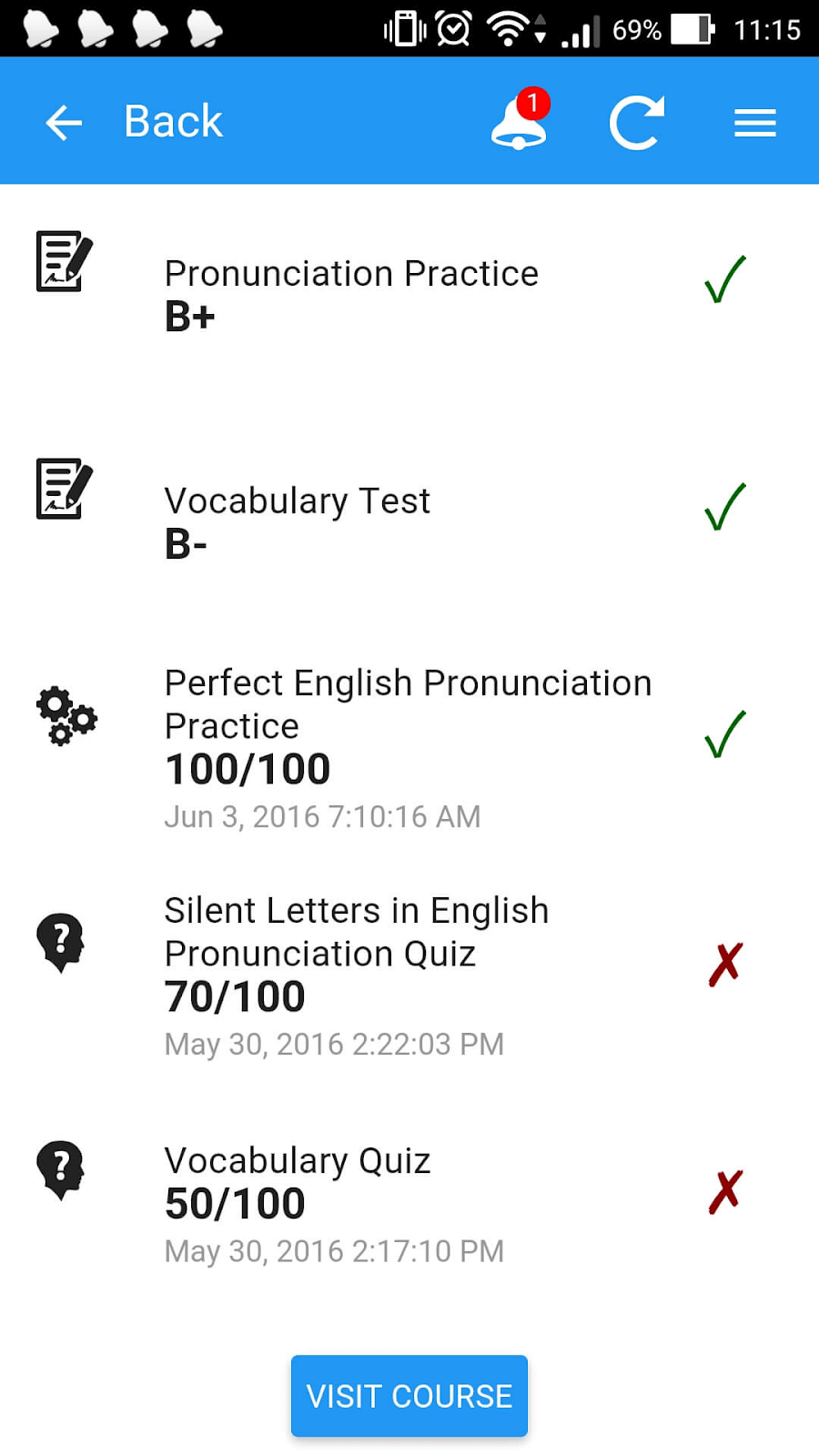 Gradebook in JoomlaLMS mobile app
Scheduling. A special calendar to manage online lessons, deadlines, etc.

Core Features - Administrator
The application can have an admin panel to manage the learning process as a whole and its participants. This is what it usually includes:
User management. Creating accounts, changing access rights, grouping users, etc.

Course management. Creating/updating/deleting courses and individual lessons.

Analytics. Reviewing attendance, downloads, academic results, revenue, and other aspects.

Extras
These features can be included in the app depending on your exact needs.
Gamification. This type of motivational system can really boost your learner's productivity and engagement. However, it needs to be well-designed, otherwise, it might actually harm your app. Read more about gamification, its benefits and drawbacks in our article.
Serious games. Game-based learning could either be an approach that the entire app is based on, or an element of the whole. E.g. Ticken (a touch-typing course) uses learning games to help students unwind and solidify their skills in a fun manner.
Storytelling. Basing your learning course around a single story makes it more engaging.
Offline mode. Let your users study without an Internet connection and update the information once this connection is available.
Feedback form. Gather reviews from your users directly from the app.
Communication/Social. This is a group of features ranging from a simple chat between students and teachers or an in-app email system to clubs and even elements of a social network.
Common UX/UI Design Mistakes for E-Learning Mobile Apps
You assess most of the mobile apps based on the first impression you experience after seeing them for the first time.
What mistakes make it near-impossible for users to love a certain app? How difficult is it to build a UX mistake-free app? What are the most popular mistakes designers commit?
We at Belitsoft work on projects in many domains, including e-commerce, accounting, healthcare, entertainment, and more. But eLearning has always been of special importance to us.
In the first part of the article, we are going to cover the general UX/UI design issues for all kinds of apps.
Then in the second part, we will focus on the graphic design issues E-Learning courses specifically might have.
We've interviewed one of our UX designers who specializes on E-Learning apps and courses to list the most common graphic design mistakes that can ruin the first impression.
Let's dive into the most common mistakes made by UX designers in apps across different industries, including the ones that are connected with E-Learning.
Badly executed information architecture
Building (and maintaining) the correct information architecture of an app is vital for its future (and current) success.
Content and features that are most commonly used should be placed on the top. Prioritizing features by popularity is something all designers should pay attention to.
How do you define which functions would be used more commonly? Well, it starts with using your intuition and researching the best practices of other apps. Then make adjustments according to feedback.
The core of the problem: not putting enough effort on planning information architecture within the app.
While this seems to be an important issue, lack of consistent analysis in planning is an often met thing.
The designers should focus on a mobile platform and what is important to users.
The navigation in the E-Learning app should remain as simple as it gets. Some designers might complain that every app is using a minimalistic approach now, but in most cases, this is just what is demanded.
Learning online is hard enough already, no need to make things more complex.
In short, smooth Information architecture is no rocket science. However, being overlooked, it might cause plenty of troubles in usability.
Consistency issues
As we live in a geeky world, it's fairly easy to find a metaphor for the lack of consistency in UX design.
Imagine there is a battle at the end of another "Avengers" movie. Hulk is smashing some random space invaders, Captain America is "shielding" the snot out of the enemies, the usual stuff.
It all changes when Batman enters the stage and kills Black Panther and Spiderman with Darth Vader's lightsaber. Sounds ridiculous? Sure, just like seven different fonts on a single page of a mobile app.
The core of the problem: using too many font types, different styles on the same page of an app.
It is not just the same font types on a single screen, using different fonts across several screens also confuses users.
It is not just about fonts, color scheme should remain consistent throughout all the pages on an E-Learning app. More on that in the next section.
Aside from simple pieces of advice like "don't use more than three fonts per page", there is nothing to suggest an overall improvement of this component. Overall consistency eliminates users' confusion and helps them save some time on navigation learning.
Wrong colors
Fashion magazines are still printing articles on "bad and good matching colors".
Ironically, as different as they are, E-Learning apps and fashion clothes like bright and catchy colors that are well matched.
There is no such thing as the wrong color. Basic guidelines are to focus on avoiding poisonous green and yellow for your e-learning app.
The core of the problem: selecting "wrong" color combinations
Choosing the correct scheme should not be an issue for the experienced designer and yet those cases are still met.
Some people choose Viber messenger instead of WhatsApp just because they like purple more than green. This doesn't make lots of sense, but, as Kahneman stated in his book "Think Fast, Think Slow" - human beings are not as rational as one might think.
Focus on a nice contrast between the text and background colors. Using some software to select the needed colors might help UX designers get close to the perfect color combination.
Cluttering elements
Do not make the app look like the inside of a stuffed garbage can. Even if the course is fantastic and well-structured no one is going to dive in should it be presented in a cluttered way.
The core of the problem: not making right alignments and overcrowding the information
Certainly, badly-structured E-Learning course is an awful thing. Dealing with an unclear and cluttered UI is also quite bad and users won't take it.
Keep all the important information in user's sight - that is the general guideline here.
Lack of interaction feedback
What brings good applications closer to perfection? Good timely adjustments based on the feedback from the users.
The core of the problem: not gathering feedback on UX/UI
The perfect example of working with the feedback is demonstrated by one of the leaders at E-Learning market - Duolingo.
They have plenty of forums and react to users' requests immediately, making their design responsive in all the senses possible.
For instance, users absolutely love the adorable owl. As an element of gamification, one is able to select a dress for him after completing a certain learning task.
This is not really applicable to UX/UI functions, yet a very illustrative example of reacting on feedback.
Feedback comes in many forms - community messages, visual clues to name a few. The main qualifying criteria for its competence that it has to be natural and come from the users who use this E-Learning app on the regular basis.
Visual Design Mistakes that are Hurtful for E-Learning Courses
User doesn't know what to focus on
The well-structured course is the one user completes in a manner its creators intended. Eye moving patterns aren't something new and certainly aren't something that could be ignored by the designers.
People tend to scan the screen in a Z pattern. However, their patterns might be influenced by changing colors, font sizes, restructuring other elements of the course. This part is often overlooked.
Oftentimes E-Learning courses focus solely on the info that comes the user's way and don't even try to display information in a representative way.
What could be done about it?
As our designer Kate claimed, at the beginning of her career she got acquainted with "The Non-Designer's Design Book". A must-have for designers.
It contained the idea of CRAP - contrast, repetition, alignment, and proximity principles. Should they all be intact, the user will follow the way the designer had prepared for them.
All the things displayed on-screen should be there for a reason: it is called an intentional design.
Poor images execution
Bad images executions is an often-met design mistake that is easily solved.
Sometimes inserted images get "managed" to make them fit, or being moved to another page or side. If it is done carelessly the images get scrunched, but not scaled.
Course designers should keep a close look at the ratio of the images and keep it intact.
The overall inconsistent visual style
We've briefly touched this mistake in the previous article section.
It makes sense to repeat some statements one more time. It would absolutely kill the mood of the user of each screen or slide will be made in a different manner. The slide-to-slide manner of completing the job might lead to this.
This is just a single example of visual inconsistency in E-Learning courses that could be presented in LMS (Learning Management System) for instance.
Other elements of visual inconsistency are:
Using too many fonts and switching recklessly between them
Overcrowding the free space on the page without leaving any white spaces
Using decorative images instead of practical ones (just for sake of filling the gaps)
Not applying any design mapping
Alignment Looks Sloppy
If you are not new to online courses, you perhaps have seen the ones with poor and sloppy alignment. These courses are lacking visual balance if you will.
Online courses, like furniture in your apartments, also need feng shui in terms of alignment and keeping it throughout the whole length of it.
One doesn't need to be a feng shui master to figure out that a lonely chair in the center of the room is not the right furniture placement and bugs out the general impression of the coziness of such room.
It just doesn't look right. It might make an understanding of the course content more complex.
To fix this issue, designers should have consistent margins and align objects in the same manner through the whole course.
Any switch in justification (from left-justified to center) should be reasonable or avoided if it is not really needed.
Grid systems are helpful to keep the objects aligned. The designers in Belitsoft usually use Bootstrap for these purposes.
Consistencies, Functional and External
You might be tired of hearing the word "consistency" across the article as we focus on it a lot.
Goes without saying that having all elements of e-learning app work in a similar way is beneficial for the users. Leaving visual elements aside (we've got it covered in the previous two section with plenty of details), there is also functional and external consistency.
Functional consistency means that every interactive element should work in a similar way within the e-learning app.
After all, the design is not just for making the app look "cool". What matters the most is users' convenience. Feedback from the target audience might help with design as well.
A/B testing comes handy for defining small elements of e-learning app design, If you are uncertain about which of the two options would make a better impact on the learning abilities of users - A/B test it till you get it close to perfection.
As for external consistency, Design must be consistent across multiple products. It is especially important for e-learning products.
One should be able to have access to the learning materials on mobile, laptop or tablet without getting to know each platform's design individually.
As online education should be available from all types of devices, and it's vital for e-learning software to be cross-platform.
As a practical step on the way to keeping this kind of consistency:
Respect platform guidelines
Apple's Human Interface Guidelines and Google's Material Design Guidelines could serve to give a general direction. Users get used to their interaction patterns of each OS (iOS and Android), and anything that contradicts general guidelines could push them away.
What Affects the Cost of Elearning Development?
There is no "average" price for development because there are no "average" apps. Here is what the costs of development depend on:
The feature set and complexity. A simple eLearning course using the standard "video - quiz" format would be much cheaper than a game-based mobile learning platform integrated with social networks.

Cooperation model. If you and your software development vendor agree on a "fixed price" type of contract, expect the quote to include extra costs as a safeguard against unexpected changes.

Supported platforms. An iOS-only app would be cheaper than the one which would run on both iOS and Android. However, there is a caveat: using hybrid development technologies (e.g. React Native or Xamarin) would dramatically lower costs for cross-platform apps.

Developer location. Companies based in Eastern Europe, for example, can afford to charge less for the same level of quality, as the average cost of living is lower in these countries. Moreover, some governments offer IT businesses preferential tax regimes, allowing them to decrease costs even further.

Developer expertise. Companies specializing in eLearning have organizational experience allowing them to be more cost-effective. Moreover, they might have premade code snippets for specific features, which helps their customers get more bang for their buck.

How to Build a Language Learning App like Duolingo
With over 200 million users, Duolingo is the top dog of the language-learning apps. Thanks to its effective curriculum, clean design, and appealing gamification, the app has been able to stay dominant on the market. We have studied the Duolingo's success factors, found its drawbacks and estimated an MVP for a similar e-learning application development.
When Duolingo first saw the world, global mobile education market volume was at 3.4 billion US dollars annually. It was a promising industry, and its volume has grown more than 4.5x times by 2017 to $16.2 billion. According to Statista.com, these numbers will reach 37.8 billion by 2020.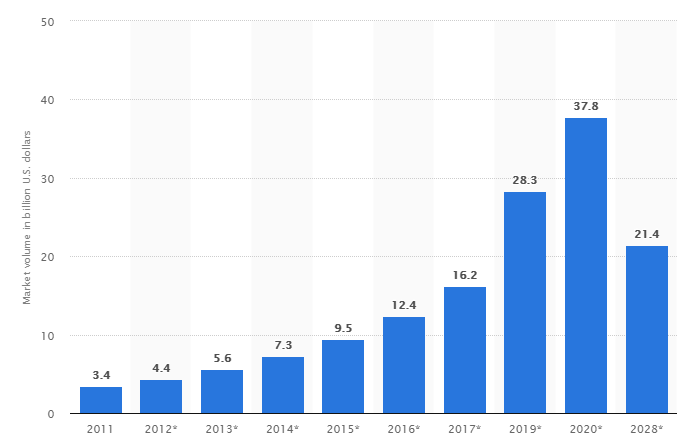 Global mobile education volume (billions USD) Source: Statista.com
The point is, mobile education is thriving and it is not too late to get on the bandwagon even if you haven't really considered making anything even remotely close to such a piece of software.
As for Duolingo, it is one of the most popular apps (currently #1 in App Store and #2 in Google Play in "education" sections) that helps over 200 million users learn more than 30 different languages. It also has a desktop version, but it is out of the scope of this article.
Duolingo has been on the market for 7 years now and has earned a 4.7 stars rating on AppStore and Play Market, in addition to praise from the press.
In this article, we will try to figure out what has made this app stand out from the crowd. Obviously, it will be hard to repeat its way on the path to glory in 2018, but using the best practices of the industry leaders never hurts.
In this article we will tell you about why would anyone need to develop such an app (if all those scaling billions on the graph above didn't persuade you), who were the people who got Duolingo to its current state, which features were the most important (spoiler alert - it is gamification), how long does it take to build those features and more.
Who Were the People Behind Duolingo and Why They Succeeded with This App
AppBrain claims that the total number of educational apps in Google Play exceeds 300,000 and that is more than the number of apps in any other category, including entertainment, lifestyle and business applications.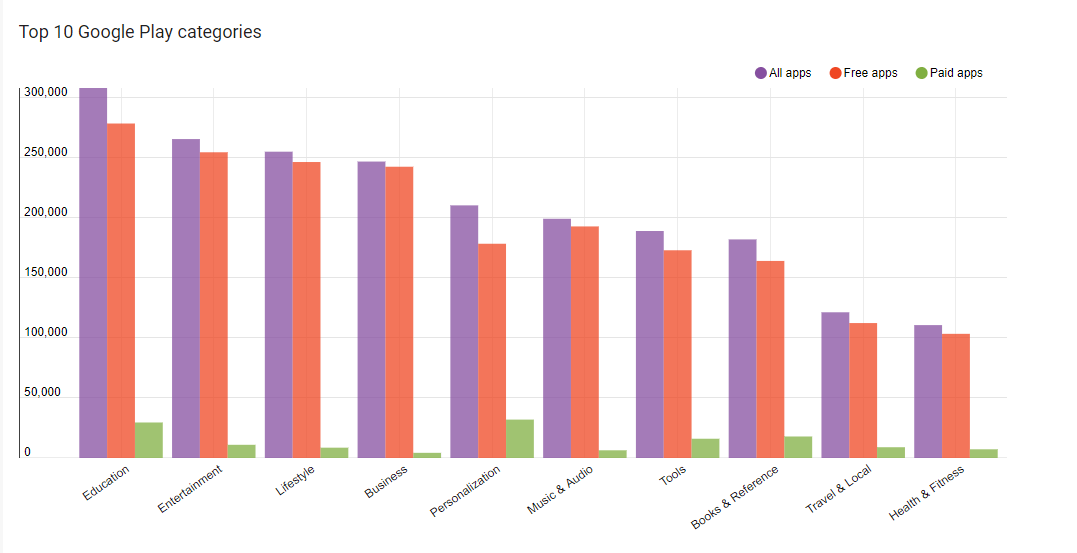 Top categories of Google Play apps. Source: AppBrain.com
It was pretty obvious back in late 2000's that creating a useful app can potentially bring you fame, money and everything one could dream of (it still can).
So let's dive into Duolingo's story of success before the app became so popular and received all these rave reviews:
'Far and away the best language-learning app.'
The Wall Street Journal
'A single app for language skills, self-improvement and digital escape.'
The New York Times
'Duolingo may hold the secret to the future of education.'
TIME Magazine
'...Duolingo is cheerful, lighthearted and fun…'
Forbes
It all started back in the end 2009 of when Luis von Ahn, a professor at Carnegie Mellon University, and Severin Hacker, his graduate student, began the development of an app with the help of several other people.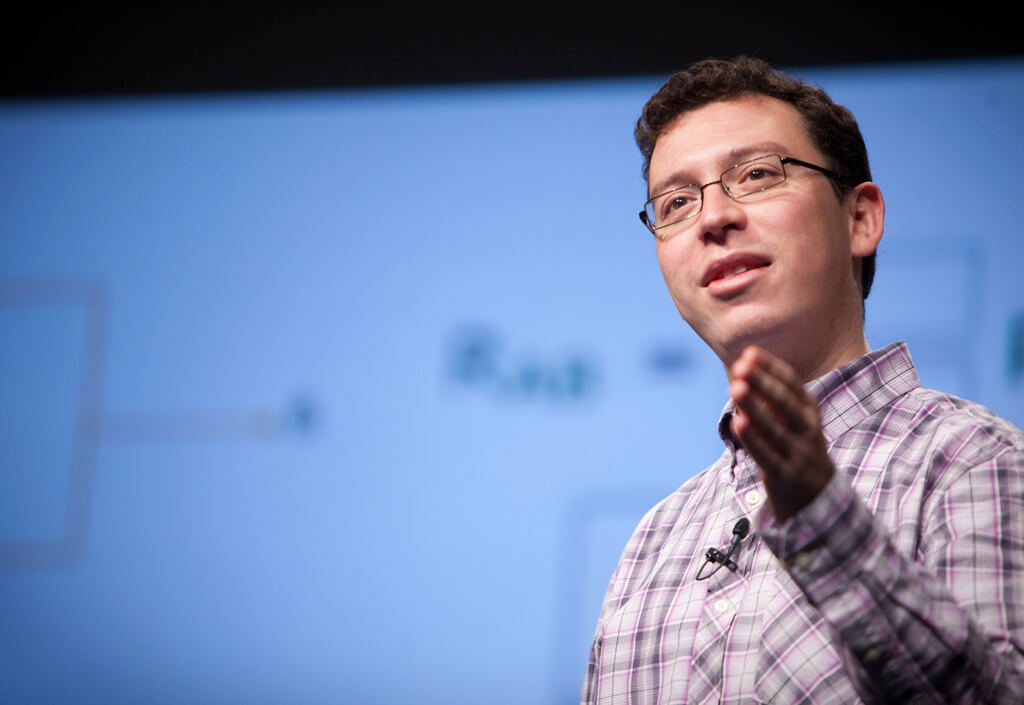 Luis von Ahn, co-creator and CEO of Duolingo. Source: flickr.com
Luis was raised in Guatemala and knew too well that in order to learn English, his compatriots had to spend too much money. His aim was to give people a product that would allow them to learn languages for free.
Advantages and Limitations of Duolingo
There are plenty of good things one can to say about Duolingo. After analyzing plenty of reviews by users and critics we have a more or less firm understanding of the pros and cons of the app.
Pros
Appealing design
Almost every review begins with how wonderfully designed Duolingo is. Even those that try to make Duolingo look like a waste of time admit that design is actually not the reason they dislike the app.
Besides, Duolingo mascot looks adorable.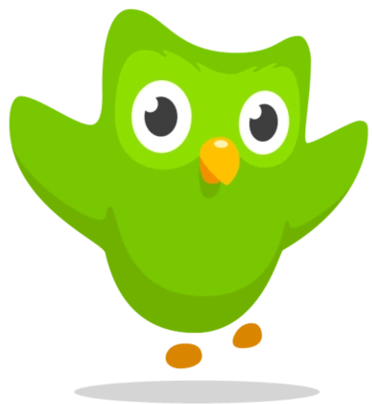 Socialization
Duolingo CEO knows that learning a language is a social process. That is why they've launched Duolingo Language Club in the beginning of 2017. That is an optional social component to the language learning experience.
The clubs are available for both iOS and Android versions of the software. You can have a competition within your family or social group.
People who aren't keen on socializing are able to find something for themselves in Duolingo as well.
AI-driven tutors
You can "communicate" with bots in the iOS version of an app. Chatbots can maintain a conversation for you to practice your speaking skills. It seems like a great way to improve the ability to chat with real people by practicing on the machines.
For now, the function of communicating with bots is being relaunched and they are not available at the moment.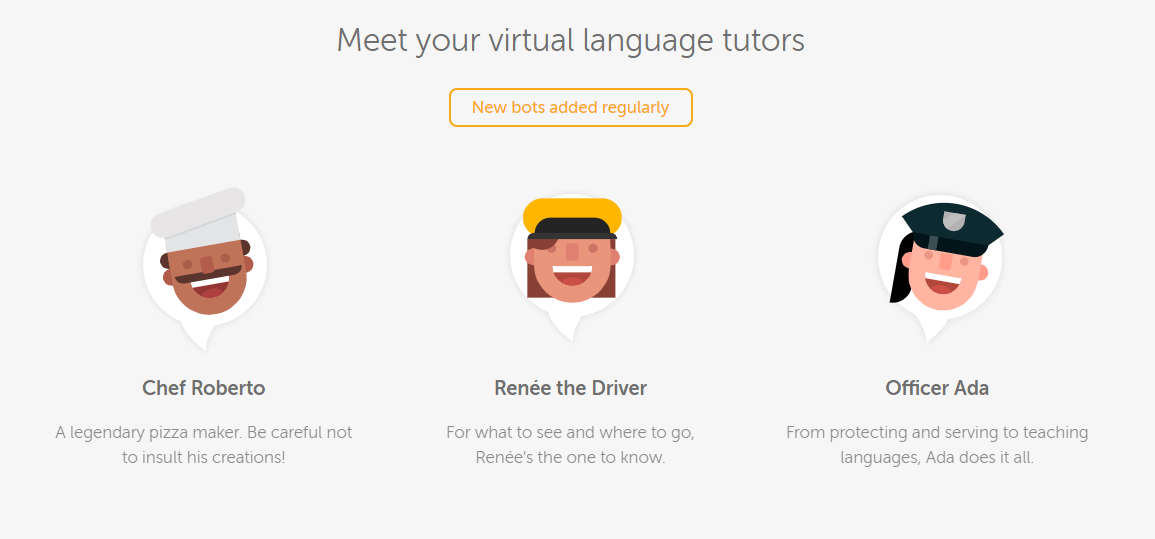 Effectiveness
There are several research papers that prove that the app is helpful in studying languages. It is a scientific fact - one is able to learn a language with Duolingo. It takes time for new projects to earn so much respect, but in the end, it is totally worth it.
Support of multiple platforms
It is available on the Web, desktop, iOS, Android and even Windows Phone.
Gamification
This is the feature that made the software so popular. Let's speak of it in details after listing disadvantages of an app.
Cons
Who would gladly tell you about app developers' flaws? Their direct competitors, of course. We have looked through several reviews and here are the disadvantages that were noticed in Duolingo app.
Lack of personalization
Personalization is one of the biggest trends in E-learning. A one-size-fits-all approach is no longer relevant (if it ever was).
Duolingo doesn't personalize the language learning experience enough according to user's goals or proficiency level. It also won't teach you accents, or tell of any cultural peculiarities of language.
Not the best for speaking skills improvement
While Duolingo has speaking exercises and has voice recognition function, sometimes its assessments are lacking.
Plenty of eLearning platforms allow you to interact with other people. They will gladly assess your pronunciation and will tell you the correct direction to move to.
Other cons
One could find many other potential mistakes of Duolingo team. However, very few people would say that the app is boring or dull. Most of the people who have tried to learn languages using Duolingo were amazed by how addictive they become to it.
What can we say? If you want to build an app as successful as Duolingo, it has to be engaging as hell. Let's speak of that in the next section of an article.
Gamification as the key component of success
Anna Fitzpatrick, a writer from Toronto was by no chance IN NEED to study a foreign language. In her Duolingo recommendation letter for the New York Times, she admits that she got tired of looking through her old acquaintances' Facebook pages and decided to learn Dutch instead.
Have you ever felt awful for endlessly scrolling your Instagram news feed and liking other people's photos till 3 AM instead of doing something more or less useful? I bet you did!
Learning a new language won't give you that feeling of guilt.
"The app eventually became a type of productive therapy, replacing other time-wasters in my life"
Anna Fitzpatrick
She especially enjoyed measuring her progress in terms of winning points, completing levels and outdoing her friends.
Zan Gilani, associate product manager at Duolingo admits that well-built gamification definitely contributed big time to the international success of the company.
Certainly, they A/B tested the app like crazy and continue to adjust it thoroughly.
They've come up with several different user-engaging techniques, including non-monetary in-app currency called lingots as some sort of loyalty points and daily rewards for completing the required sets of exercises.
Duolingo team constantly works on user experience enhancement, though it is already as addictive as Instagram, some users claim.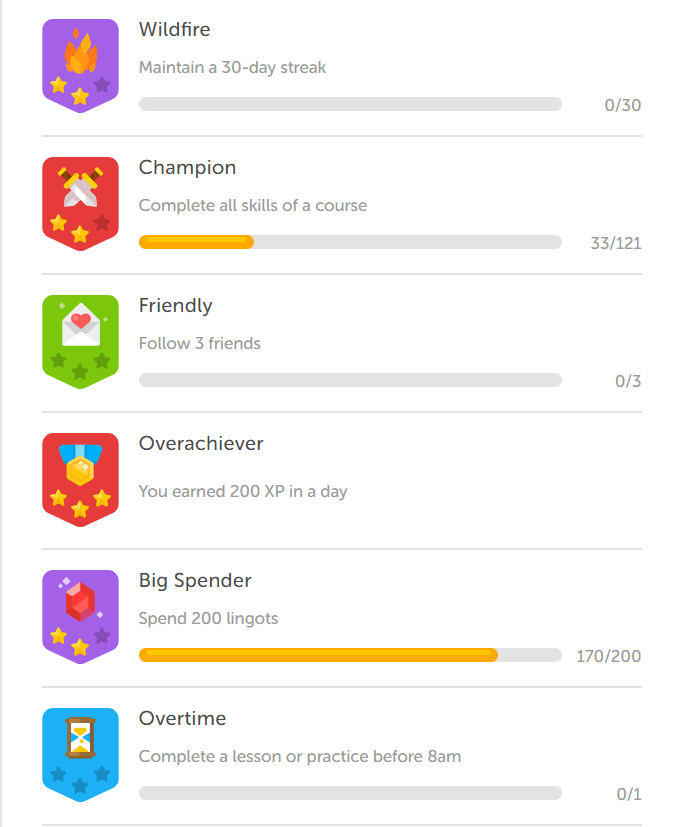 Duolingo achievements
Features Duolingo Already Has and Your Future App Also Should
The course
First of all, Duolingo is a course-based application. Leaving aside all the fancy gamification, social aspects and other stuff that contribute, it is nothing but a set of exercises.
The learning program includes speaking and listening exercises. There are also course parts that require from user making a translation or choosing the correct answer from multiple options.
This is a simple (and more or less standard) set of exercises that can be outsourced to the companies that develop eLearning software.
From the technical standpoint, such an app would require a good voice recognition system to be able to assess the correctness of your pronunciation. Some people find the voices in Duolingo a little bit robotic and even irritating.
As this is an eLearning application, building a great course is vital for the future success of the software.
Duolingo courses include:
Speaking exercises (voice recognition program is employed);
Listening exercises (you listen, you type);
Sentence translation exercises;
Multiple choice exercises (classic tests)
"Tap the match" exercises (combining pairs of words from different languages).
Gamification features - points system
Gamification is a core component of Duolingo app. It is implemented in different forms. First of all, there are lingots - local currency. They can be used to purchase bonus lessons or cosmetic items for a mascot.
Besides, there are leaderboards, badges, challenges and day streaks to earn bonus points. Unfortunately, lingots can't be converted into real currency or withdrawn, or course.
They add to a super engaging learning process, though.
Besides, all the achievements you've earned are saved in the profile. There you can also change your avatar and have a look at your positions on the leaderboards.
The app also has animation and sound effects - once you complete a task, you hear the celebration pipes, and a mascot owl appears to praise you.
One needs a good system of point accumulation for user experience to remain engaging.
Gamification elements in Duolingo:
In-app currency ("lingots")
Experience and levels
Achievement badges
Streaks
Motivation (fanfare and supportive mascot)
Leaderboard
Other features implemented in Duolingo:
Social clubs
Push notifications
Offline mode
Built-in feedback form
Social aspects
Users are able to found or join a social club to communicate and compete with friends, family members or other social groups. Different customized features are available here as well - choosing the emblem and the name of the club, for instance.
In our view, it wouldn't hurt to link the app with social networks to brag about the success in studying languages. This function is omitted in Duolingo.
Push notifications
Duolingo just won't let you go. It would remind you that you have a course to complete if you abandon the app for a day or two. It contributes to the motivation sector of an app by reminding users how lazy they've been recently.
Offline mode
Duolingo doesn't require a stable Internet connection from the user at all times. One is able to complete the courses even in a military bunker if the set of exercises is pre-downloaded. The function is very handy for those who spend many hours in the Wi-Fi-less subway or elsewhere without an Internet connection and with a smartphone in their hands.
In-built feedback form
Duolingo developers react to the feedback from their more than 200 million user audience rapidly. They gather it via Reddit and some other places on the Internet. They also have a form within the app for people to leave their comments.
This is a useful feature for those who are planning to gather feedback.
Monetization of Duolingo-like Apps
There are many ways for eLearning apps monetization. Those include advertising, affiliate management, selling data and many others.
Source: cnn.com
As for Duolingo, it was "lucky" enough to get sponsorship from Luis von Ahn's MacArthur fellowship and a National Science Foundation grant. Then it received extra funding from investments of Union Square Ventures and Ashton Kutcher's firm, A-Grade Investments.
Duolingo users used to worry about the financial well-being of the app, so company's CEO had to make not one but two posts explaining to users that they shouldn't worry - the app will remain free for users.
"...our challenge is to find a way to make hundreds of thousands of dollars per day while still letting anybody who wants to learn to do so entirely for free"
said von Ahn in his first post about Duolingo monetization
Here are the solutions that were found by Duolingo:
Hardly "revolutionary" decisions.
Claiming that running ads has been an industry standard and reassuring users that they try hard for ads to be unobtrusive and non-disturbing to users, Duolingo management uses Google Ad Network now. The ads are shown at the end of lessons. The user can watch more ads to get extra in-app currency.
The blog post by von Ahn says that this is by far the largest source of making money for this app.
As some people can't stand seeing ads, they have a subscription that allows avoiding any advertisement within the application.
The subscription also used to give access to offline lessons, but now they are available for all the users.
What's important here, all these changes never touched actual learning content.
A year ago, the support of Duolingo cost over $60,000 per day and the numbers were rising. The cost of developing and supporting an MVP e-Learning app is way smaller. Once again, to get a more precise quote, contact us here.
How Long Does It Take to Build Such an App?
You might be discouraged by the immense number of money and effort one has to put into such a project like Duolingo app. Have no fear, after doing all the calculations, you can assess whether you are ready to have your own educational app built.
This section includes our estimations on how long does it usually take to build certain components or implement this or that feature into an eLearning app. It is based on our experience with e-learning app development.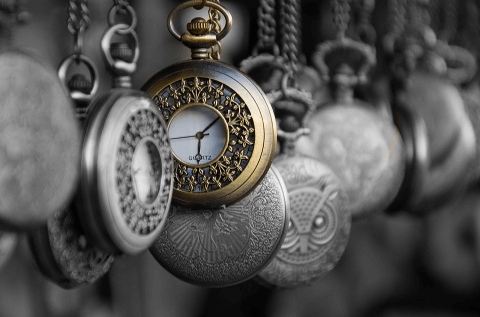 Source: pixabay.com
We have asked our developers to assess how much of their time it would take to build a custom solution like Duolingo. The numbers that will come up below are very rough, but they should give you an idea. For the sake of simplification, the estimations are made for an iOS platform. Android app development takes about the same time, give or take.
So we can conditionally divide the app development into three stages:
The kick-off of the project: architecture creation, SDK, and libraries integration
Major functions development
Stabilization and debugging of an app
We are not taking into account the testing and promotion of an app here. Rough estimation suggests that it would take 516 to 712 working hours to go through all of these stages.
Stage 1: Approximate time - 72 to 108 hours
This stage includes the following:
Project creation. Splash screen, app icon, architecture (8-12 hours)
Integration of network interaction (16-24 hours)
API research and integration (40-56 hours)
Main menu. App navigation realization (8-16 hours)
UI implementation (40-56 hours)
At the completion of this stage, the app will be structured, designed and ready for implementing the main functions (more on that in Stage 2 sections).
As you can see, it only takes a couple of work weeks to get the app to this stage of development.
Main functions implementation takes significantly more time.
Stage 2: Approximate time - 374 to 504 hours
There are plenty of aspects. That is why the minimal and the maximal estimations have 130-hours-differential.
Lessons/Exercises (Including multiple choice exercises, speaking (voice recognition), listening exercises, learning paths, other types of training) - takes 102 to 144 production hours
Gamification (internal currency, experience levels, series for consecutive days, motivation with the help of cheering from the mascot or different sounds etc., leaderboards, progress bars, shop for buying extra lessons) - takes 104 to 136 hours
Duolingo-like clubs creation (40-50 hours)
Push notifications (24-30 hours)
Offline mode (8-10 hours)
Feedback form (8-10 hours)
Monetization (adSense integration, ads integration) (16-22 hours)
Personal cabinet setup (40-52 hours)
Once again, those numbers are approximate. However, you can see the proportions of time-consuming operations.
Stage 3: Approximate time - 70 to 100 hours
We've estimated the time for the app stabilization and debugging at 70 to 100 hours. Every case is individual.
We can't tell you the exact quote in this article. However, you can see the time estimations for building a potentially popular learning app. That should give you an understanding of the cost and time involved.
Final Thoughts
Luis von Ahn was trying to change the landscape of a modern education and make it free. He succeeded in that with one of the most popular applications for studying foreign languages.
However, it is very important to remember that even the most popular educational apps aren't perfect but have features that are standard for the industry.
In this article, we had a look at some of the features and tried to assess them. We also gave some time estimation for developing these features.
In order to start with some of his/her own project in that industry, one doesn't have to copy all the features of a successful app.
Following some of the general guidelines never hurts, though.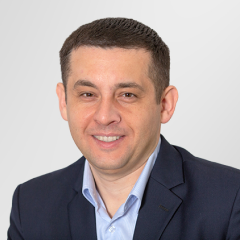 Written by
CTO / Department Head / Partner
I've been leading a department specializing in eLearning applications and Business Intelligence for 17 years.
Recommended posts
Belitsoft Blog for Entrepreneurs












Let's Talk Business
Do you have a software development project to implement? We have people to work on it. We will be glad to answer all your questions as well as estimate any project of yours. Use the form below to describe the project and we will get in touch with you within 1 business day.