In this article, we will explain what social learning is and show examples of platforms that provide it.
How Belitsoft Can Help
We have cut our teeth on eLearning software (110+ projects) and are willing to use the experience we've gained to help you. Here's how:
Custom LMS development. If you don't like the social features in any of the existing systems, we can develop a brand-new one with as much or as little interpersonal contact as you need.
LMS customization. Alternatively, we can use an open-source system and add the features you require, if your budget is tight.
What Is a Social Learning Platform
Today the term "social learning" (SL) covers every educational activity that includes observing and imitating others. This can include eLearning too - no one said anything about SL being a face-to-face only thing.
A social learning platform is a piece of software that heavily uses social learning to improve engagement and motivation. They might include everything from LMS/LXP-type systems to custom online courses. Social learning can be done through many features: group exercises, webinars, leaderboards, etc. The core idea is to enable sharing the knowledge between the users.
Social learning is used in both academic and corporate environments. For example, Deloitte Leadership Academy has dynamic leaderboards and group exercises.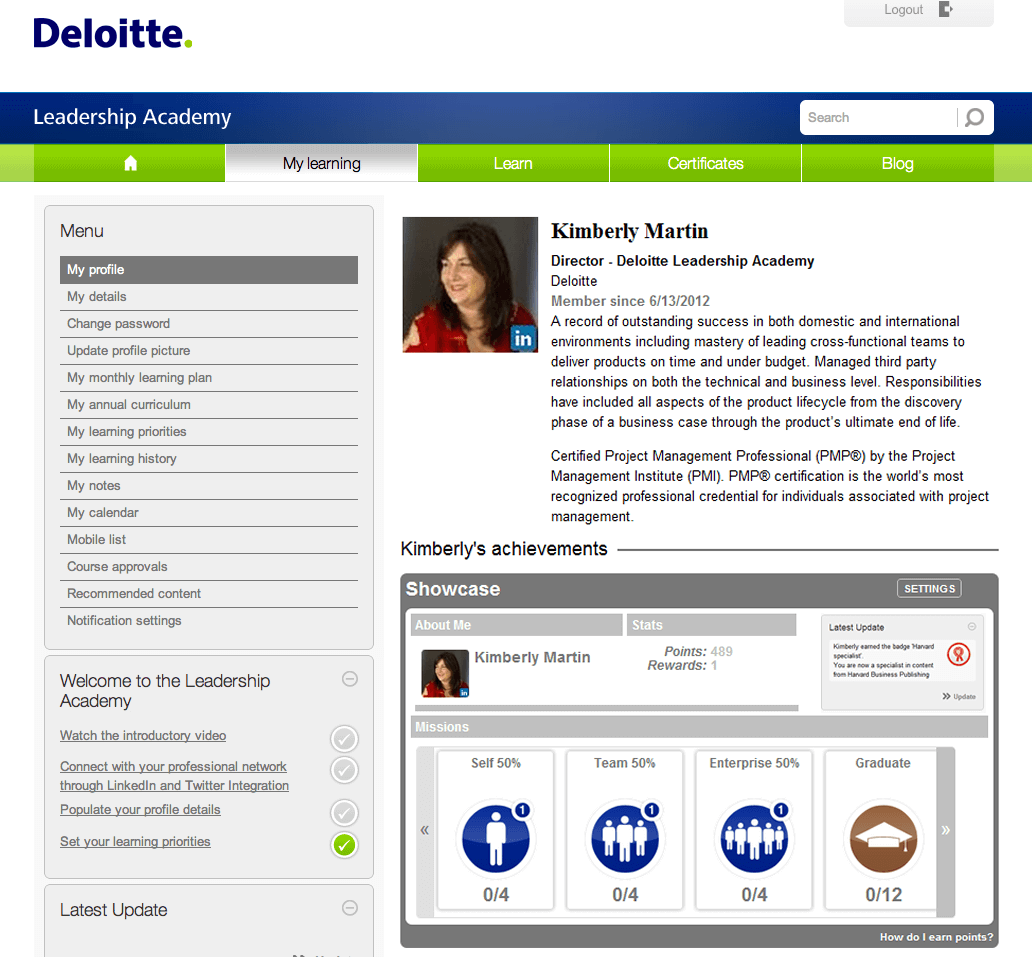 And Yale University actively utilizes it in many of their classes.
Social and Emotional Learning Platforms
This is a different kind of software that focuses on soft skills development. Social and Emotional Learning (SEL) is defined as "the process through which children and adults understand and manage emotions, set and achieve positive goals, feel and show empathy for others, establish and maintain positive relationships, and make responsible decisions."
Notable examples include Kickboard, Everfi, and other similar products.
Social Media as a Learning Platform
Integrations with various social media platforms (Facebook, Twitter, LinkedIn, Pinterest, etc.) are quite common among the learning tools. They allow showing off your success and give the tool itself a bit more brand recognition.
But there are ways to use social media themselves to teach and learn. Ashford University, for example, suggests a number of ways for that, including:
Pinterest for sharing learning materials and inspiration
YouTube for making video content
Twitter hashtags to discuss a relevant topic
And more
There are examples where learning is integrated somewhat deeper.
One is LinkedIn Learning (formerly Lynda.com). It offers online courses on various professional topics from coding to leadership and project management. The system has LXP features that allow it to suggest the most fitting courses to each specific user.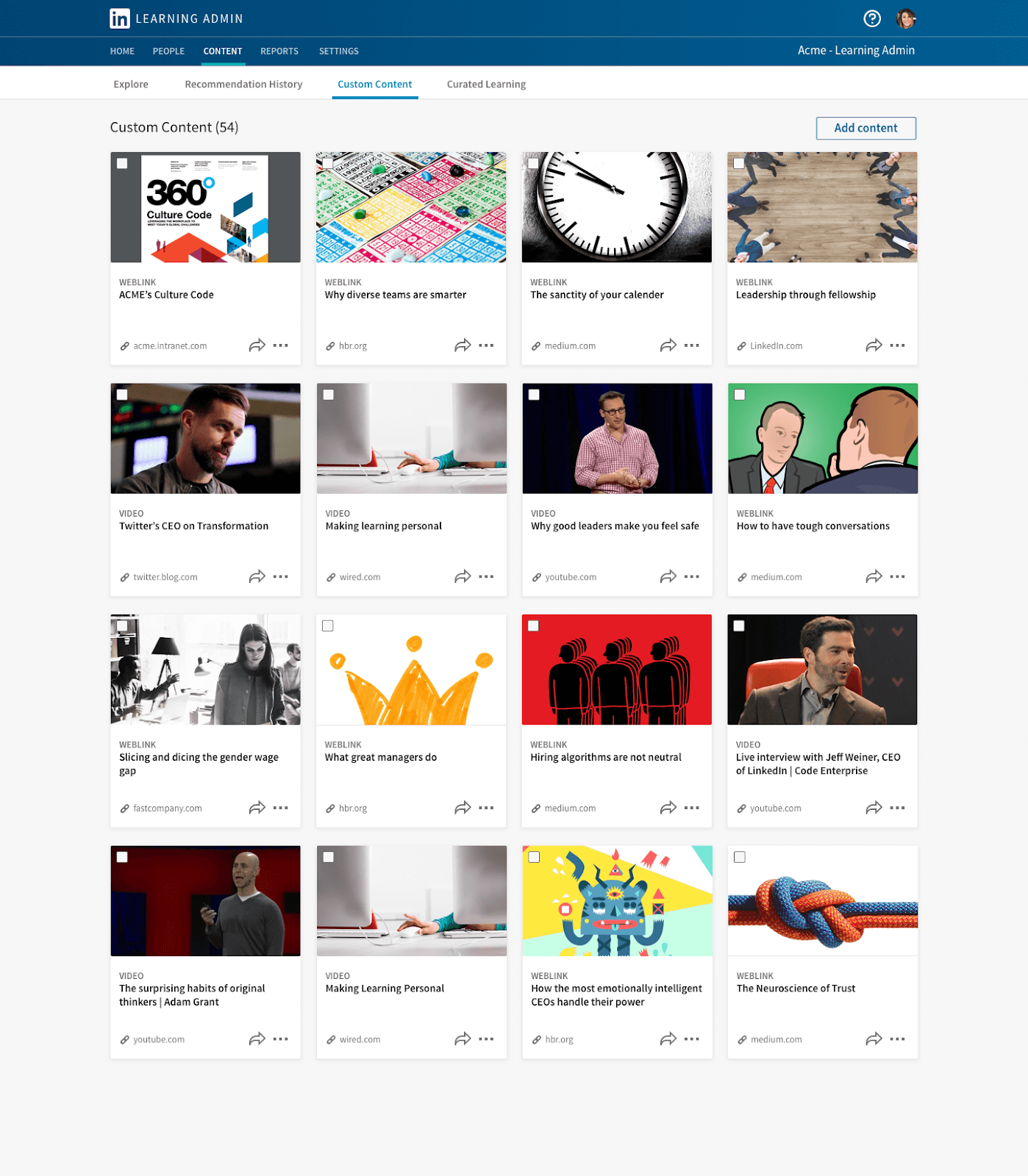 LinkedIn Learning. Source
Another example is a Facebook social learning group. Their functionality is identical to a regular FB group except for three things:
Admins can organize posts into units and change the order in which they appear.
Group members can click the "I'm done" button to let the admin know they've interacted with the unit.
Admins can view group insights and see details on unit and post completion.
While this works for some courses, the functionality is severely limited:
No grading
No gamification
No auto-enrollment
No integrations
Limited analytics
Top Social Learning Platforms
Check out some of the most popular social learning platforms out there.
JoomLMS
JoomLMS is a flexible, feature-rich LMS that is available in both cloud-based and desktop versions. It also offers a mobile app.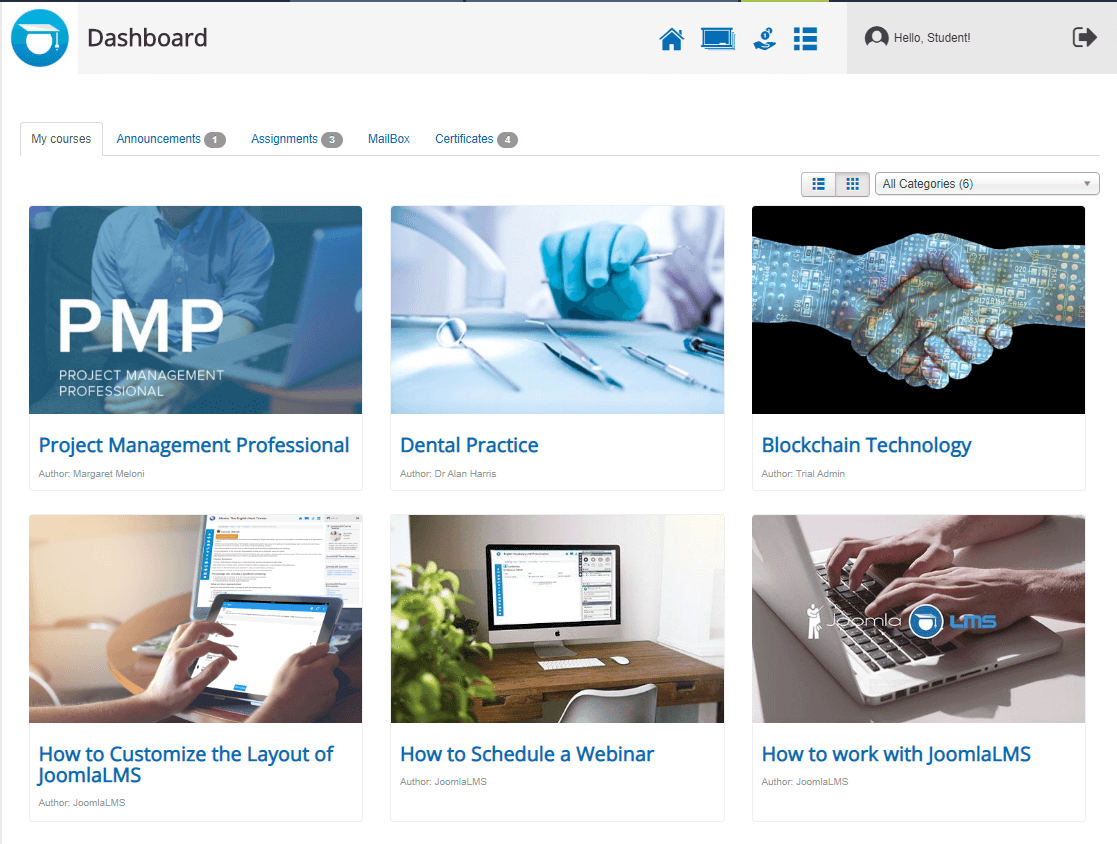 Core features:
Built-in authoring tool
Videoconferencing support
Mobile learning
Learner portal
SCORM compliance
Here's what the users praise it for:
Cost-efficiency. "As a teacher, I appreciate it when a platform I use is very user-friendly and cost-effective. I like that JoomLMS satisfies my professional needs. I am also very satisfied with the support team because they helped me a lot since my IT skills are not outstanding."
Convenience. "Super friendly and modern interface, receives frequent updates including security. It has several free and paid templates to make the look professional. As well as extensions to add features to the website or blog."
Flexibility. "In every instance that we had, where customization was not possible, we were able to find a satisfactory workaround. For example, if students need to sit a final, external exam that is not part of the online training, the results can be manually added via JoomLMS. No other moderately-priced program that we looked at was able to do this. This flexibility makes JoomLMS far more powerful than is seen at first glance."
Blackboard LMS for Business
Blackboard is a venerable company with more than a decade of experience selling LMS' for businesses, universities, schools, and other organizations.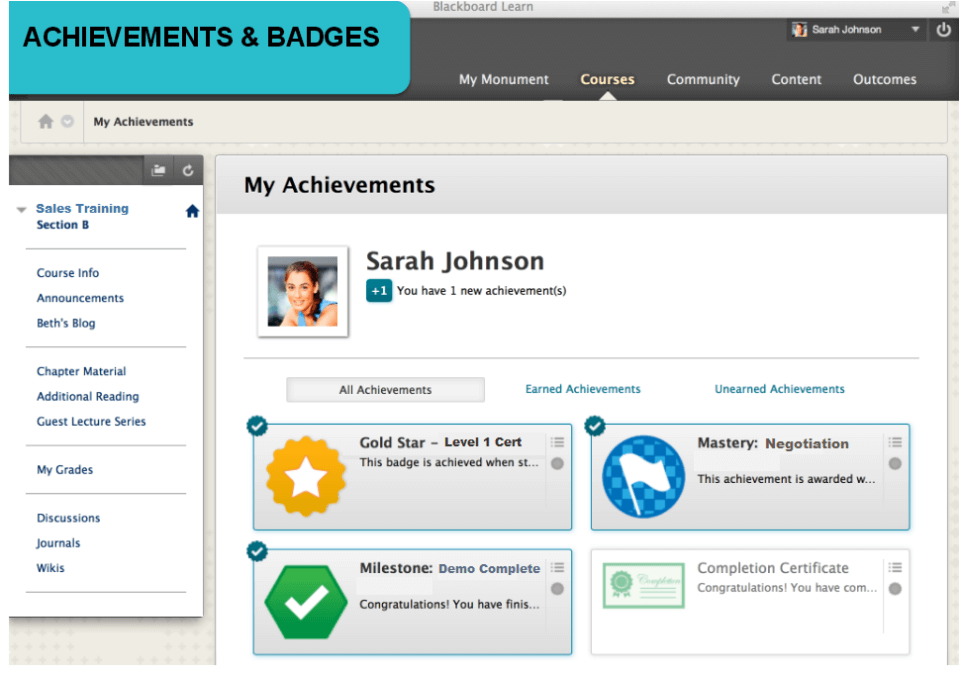 Blackboard LMS for Business. Source
Core features:
Built-in authoring tool
Videoconferencing support
Gamification
Mobile learning
Learner portal
SCORM compliance
This is what the users like about it:
Ease of use. "It is super easy to navigate. You can find all your assignments there. There's a calendar to make when assignments are due. My favorite part, I think, is the fact that you can email another student through blackboard. So if you are doing a project and you've never met your partner, or don't have their information, you can email them through blackboard."
Convenient communication. "What I like most is the fact I can communicate with all my students at the same time and that we are all on the same page. There is no question since it is right there."
Powerful feature set. "Everything is in one space - lots of tools - the sky is really the limit. I also like the Best Practice parts of the help site - it helps you to get ideas of how you can use the tools."
And here's what they don't:
Bugs. "Whole passages of feedback will suddenly disappear if you move the mouse into the wrong area or scroll a bit while you are typing comments on the essay. This is a persistent problem that everyone in our school has verified. In order to use one editing tool (a highlighter), the program locks out the other editing tool (the comment field), unless you refresh the screen, which then erases any comments not held in place by a highlight. I could go on and on and on, but I'm afraid I'd have to type it all over again if this review field is made by the same people who made Blackboard's essay editor."
Outdated Structure. "Compared to other learning management systems (such as Canvas or Schoology), Blackboard reflects the features and structuring of learning management systems of days gone by - specifically, it is structured most closely around a 'document dump' approach to online learning. This approach has been soundly refuted in the research, and while one can certainly design a quality learning environment, many of your end-users will likely not have the discernment to do so. From a student's perspective, it is often difficult to access key pieces such as messaging and grades when enrolled in multiple courses at once."
Incompatible file formats. "Blackboard Learn is a frustrating platform to use. Every page, image, module is saved into a new "Blackboard" format, which is not compatible with anything else. In fact, often it changes the text to an image so that the only way to edit the text is to either start from scratch or go into the coding itself."
Moodle
Moodle is a free open-source LMS that has a large number of modules and add-ons, including ones that support social learning.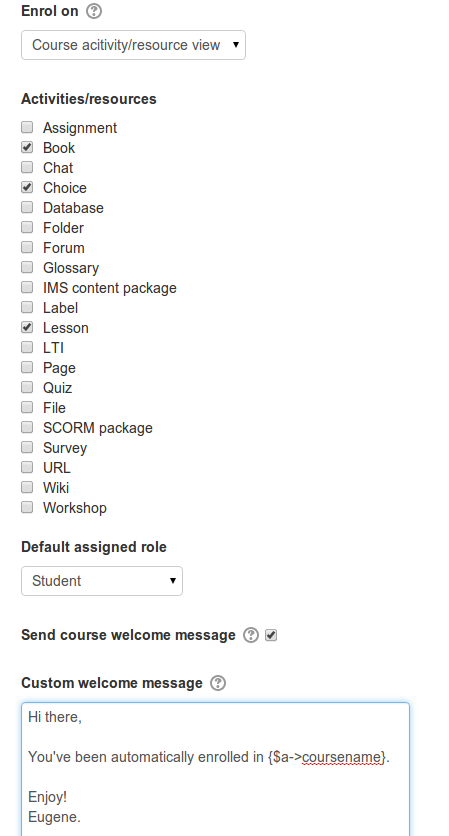 Moodle. Source
Core features:
Built-in authoring tool
Gamification
Videoconferencing support
Mobile learning
Learner portal
SCORM compliance
This is what people consider the advantages of Moodle:
Flexibility. "I have searched for may LMS and finally, I selected Moodle because it's open-source and very customizable for our requirements. While I am using the Moodle I can list down some pros according to my experience - Moodle has a Multilingual capability that allows users to use multi-language it was a great feature for me. - Manage user roles and permission, You can define roles to users and manage user access - Bulk course creation and easy to backup - Customizable or create our own themes - Very useful calendar to track course deadlines, meetings and many more - Admin user can Install and disable 3rd party plugins"
Many features. "It exceptionally manages student learning by offering the tools that educators need to teach in the 21st century. The quiz creation tools are what won me over from a competitor in this space. My reluctance to jump on board was further eased by discovering just how customizable it is. Admins can install new plugins that add extra functionality (and there are plenty of these to choose from) as well as themes that spruce up the interface (it may be necessary depending on your taste)."
Free. "The price (free) is a great start. It gives us all the features we really need in our online courses."
But there are disadvantages as well (that can easily be overcome with the help of professional Moodle developers):
Complicated. "Moodle is a beast in terms of functionality and this, unfortunately, is its biggest drawback. It is not an easy job trying to onboard new faculty members with no background in IT. It has a somewhat steepish learning curve that can certainly be tackled but not without exerting some effort and patience. The UI is also not as inspiring. I am glad that recent updates have really modernized the look and feel of the LMS but other competitors excel in offering an intuitive out-of-the-box experience. This can be easily overcome by theming the LMS and Moodle has done well in allowing this though it needs an experienced professional to do this."
Not very useful for academia. "It lacks features that would make it suitable for (ironically) a school/college/university environment. Notably, it doesn't have a proper grading system for classroom activities such as tests and exams. The only way to grade those (that I know of) is to create an Assignment activity and disable all the submission options, which is a very clumsy workaround (and one that is confusing for students). The enrolment/unenrolment system is a disaster."
Hard to upgrade. "The upgrades are not always as easy as one would hope. If upgrading major versions, sometimes there are other upgrades to consider (PHP, IIS/Apache, MySQL, etc)."
Schoology
Schoology is a K-12 focused LMS that includes many features to engage and motivate students.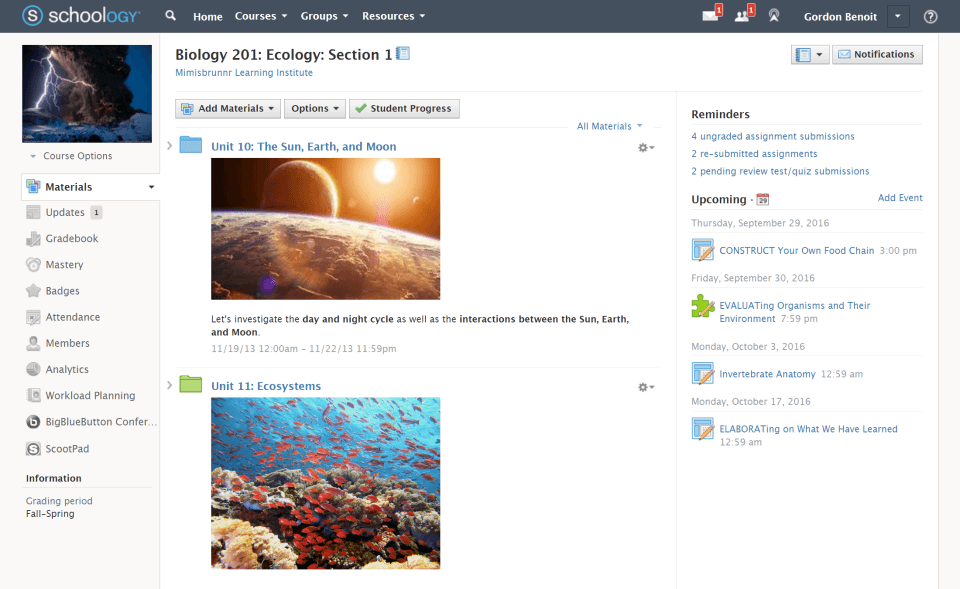 Schoology. Source
Core features:
Built-in authoring tool
Videoconferencing support
Mobile learning
Learner portal
SCORM compliance
This is what the users like about Schoology:
Ease of use. "Schoology feels like a social media platform. It's easy to use and makes sense when you're using it. It has a tremendous ability to be extended with integrations with Google, Microsoft, etc. and connects well with other learning platforms that are important in K-12 settings."
Integrations. "The best features are Schoology's ability to integrate with other tools, as teachers can embed edtech tools such as Padlet, Polleverywhere, Thinglink, etc into a Schoology assignment using their LTI integration. As they continue to partner with other edtech companies, some of these then become options within their platform. I have used their integrated Conferences, LockDown Browser, and more. The ability to transition ownership to the students, monitor their work while letting them work at their own pace is truly remarkable and a game-changer in education."
Personalization."I love that I can use Schoology as a vehicle to personalization--personalization for student learning and personalization for my instruction. I am able to add/delete assignments for students. I can create assignments for specific groups of students. It is easier to use the same rubric for similar assignments because the rubric is already built and saved. I can deliver lessons in various methods. My instruction and assessment have become more transparent (and fairer!) for students due to these features."
And this is what they don't:
Inclusivity issues. "The features that I most dislike about Schoology revolve around the integrations with Google Drive and TurnItIn. While I have long applauded the Google integration, I detest that the Google assignments (when submitted through this integration) are not time stamped. Also, my colleagues and I have found TurnItIn to be a bit more complicated than necessary to use. It is not intuitive, and rather difficult to explain to students. I often end up not using it."
Smaller features set. "Schoology's ease of use does mean some loss of complicated features. At first glance, schoology has a smaller feature set than some LMS's. However, if you are willing to be creative, the platform engages very cleanly with third party tools to accomplish any functionality that may have been lost."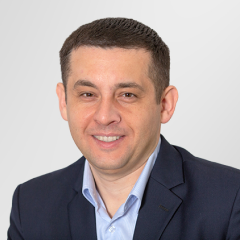 Written by
CTO / Department Head / Partner