The startup culture drives people to release their product ASAP: no matter what you are working on, there's probably 2-3 other teams doing something similar. Having a well-structured training program and a complementary LMS is an advantage in this regard. This article explains how to gain this advantage and use it best.
How Belitsoft Can Help
Boxed LMS. We offer a ready-made LMS that has all the necessary features to get you started.
Custom LMS development. With extensive experience in custom software development for startups, our skilled team will ensure your project is executed to spec, on time, and within budget.
LMS Customization. If there is an open-source LMS that almost fits your business needs we can tailor it so that it is a perfect match.
Product Development. We can use our 15+ years of software development experience to assist you with your product at all the stages - from prototyping and MVP to post-launch support.
Learning content development. If you don't have the time to develop your own learning materials, we can create them for you.
How an LMS Helps Startups Grow Fast
1. Timely Answers
One of the latest trends in eLearning is microlearning: instead of having the educational materials packaged as hour-long lessons, cut them in small chunks and make them instantly available to anyone who needs them. Does a sales rep have a problematic customer? Now they can get the solution to their problem immediately and convert the lead instead of letting him go. Does a developer need to know what a certain piece of code does? Now they don't have to dig into the documentation to find out.
Such an approach increases the team's effectiveness dramatically and directly affects the bottom line.
2. Customer Training and Retention
If your product requires customer training, no one can do it better than your own people. An LMS-based course would both show your clients how to get the most out of your product and save you from having to keep designated trainers on your team. Availability of training is one of the key criteria in choosing software, so having one gives you an edge on your competitors.
What's more, this is also a customer retention tool. According to Salesforce, the clients who buy their training program, are four times as likely to remain clients.
3. Quick Onboarding
While it might take a while for a new hire to understand and adopt your company's culture, they need to learn their responsibilities and duties right now. LMS makes it a breeze: instead of reading through boring manuals or wandering around like a lost puppy, the employee can watch a series of videos, pass quizzes, play games, and so immerse themselves in their new position.
4. Compliance Training
Depending on the domain you work in, your employees might need to undergo compliance training, perhaps repeatedly. LMS can automate this process at all stages. When an employee is hired, the system automatically assigns them a course depending on the employee's position, follows the learning process, and issues a certificate at the end. If your startup is growing rapidly, this is a must - imagine having to arrange classes for people at different learning levels.
5. Reporting and Analytics
An LMS can track the progress of the learners and the way they approach the training process itself. Moreover, thanks to technologies like xAPI it can even monitor the users' interaction with learning content that isn't included in the LMS (e.g. MOOCs, YouTube, etc.). The information that the system gathers can be used to improve the training process later.
6. Scalability
When you have a lot of new people joining the company, an LMS is the most convenient option to scale your training process quickly and cheaply. You don't need to hire extra coaches or allocate classes and printed materials - just have your new hires log in and start. You might need to purchase additional LMS licenses, but that's about it.
Why Startups Should Use LMS'
1. Quick To Start
As a small company on a tight schedule and budget, you need to start training right now. Thankfully, LMS gives you just that. With a cloud-based system, you can get started within a day, as long as you have your learning materials ready. Just upload them and let your employees know about that.
2. Better Engagement
Modern LMS' use a plethora of methods to make sure that users keep learning and enjoy the process. Microlearning, gamification, on-the-job training - all of these approaches help the individual people and the company as a whole.
3. Social Learning
The ability to learn together has a ton of benefits that startups can make use of.
Firstly, it promotes competition. Naturally competitive people will strive to outdo their peers both in learning and on the job. As long as those, who don't want to participate in this, aren't punished, this is a powerful motivation method.
Secondly, it helps your employees solve problems on the go. Learning materials might miss something or your company can grow too fast for them. In these situations, the employees can only rely on each other for help. Once the solution for the problem is created, it can be spread through forums, chats, and other LMS communication features.
Finally, it brings the team closer together. The friendly competition and mutual assistance improve morale and employee retention.
4. Continuing Development
An LMS is the most convenient and functional way to help your employees constantly grow while they're working. Thanks to the multimedia support, connectivity, and analytics, your people will become better at what they do and will be thankful to you for that.
Most Popular LMS' for Startups
JoomlaLMS
JoomlaLMS is a feature-rich yet easy-to-use LMS. It also has mobile apps for iOS and Android.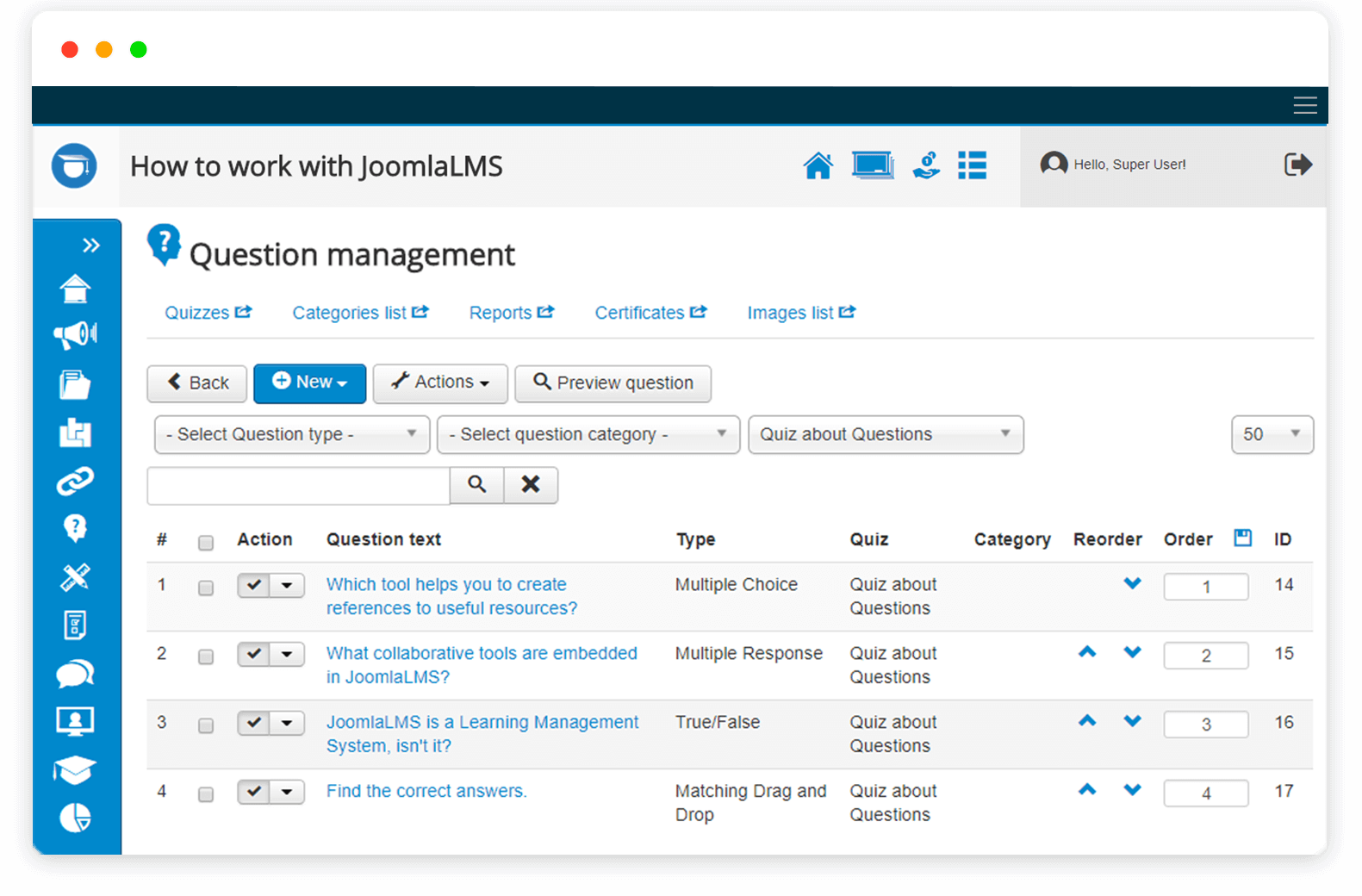 JoomlaLMS has a free trial and both cloud and on-premise versions.
The on-premise version starts at USD 299/yr and the perpetual license will set you back by at least USD 1196.
The standard cloud version costs USD 37/month and covers up to 50 users.
Core features:
Built-in authoring tool
Videoconferencing support
Mobile learning
Learner portal
SCORM compliance


Here's what the users praise it for:
Cost-efficiency.

Convenience.

Flexibility.
But there are some disadvantages too:
Complicated maintenance.
TalentLMS
Talent LMS is used by tens of thousands of people worldwide thanks to its user-friendliness and powerful array of features.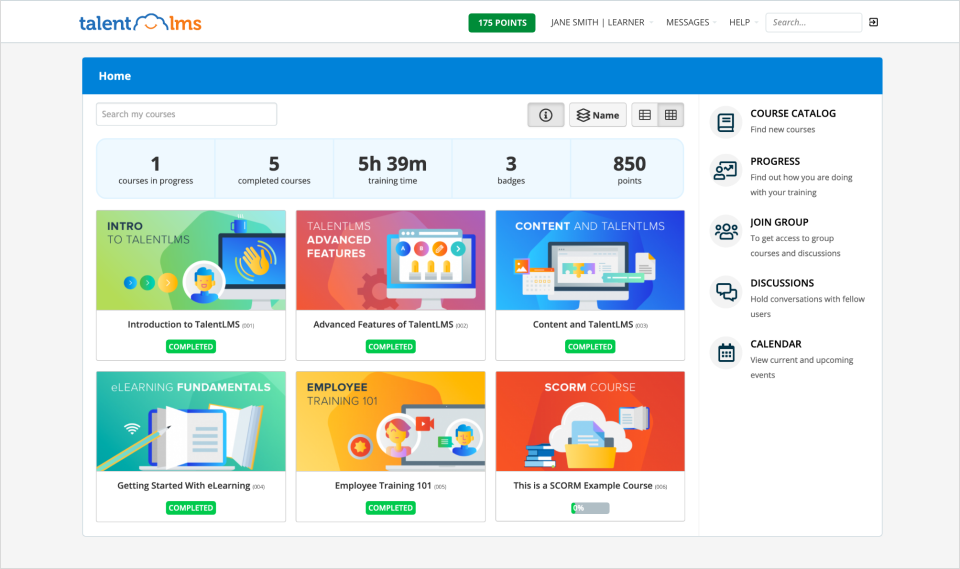 TalentLMS. Source
TalentLMS is free for up to 5 users and up to 10 courses. The cheapest plan costs USD 59/month is paid annually and USD 79/month if billed monthly.
Core features:
Built-in authoring tool
Gamification
Videoconferencing support
Mobile learning
Learner portal
SCORM compliance
This is what its users consider the system's advantages:
Good UI/UX design.

Powerful features.

Cost-efficiency.
And this is what they count as disadvantages:
Requires workarounds.

Limited language options.

Problematic updates.
iSpring Learn
This venerable system has been on the market since 2001 and has both cloud-based and self-hosted versions.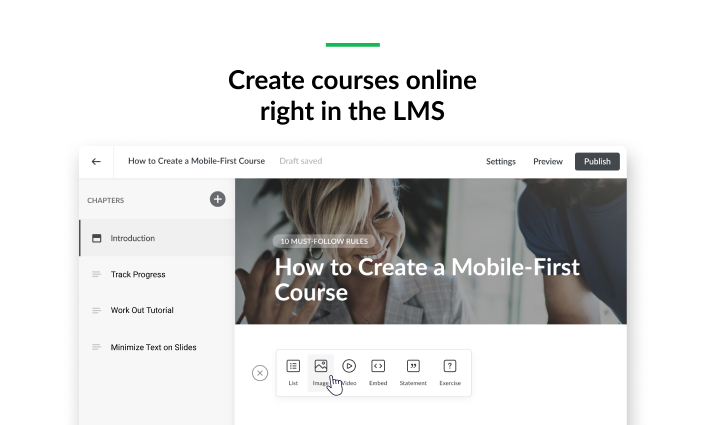 iSpring Learn. Source
For the first 100 users, iSpring charges USD 3.66 per user per month (billed annually).
Core features:
Built-in authoring tool
Gamification
Videoconferencing support
Mobile learning
Learner portal
SCORM compliance
This is what the users like about iSpring:
Ease of use.

Offline mode.

Cost-efficiency.
And this is what they don't:
Slow to improve.

Limited features.

Weak reporting.
Coassemble
Coassemble (formerly eCoach) is a powerful LMS famous for its attractive visuals and smooth UX. It is accessible from mobile devices but doesn't have mobile apps.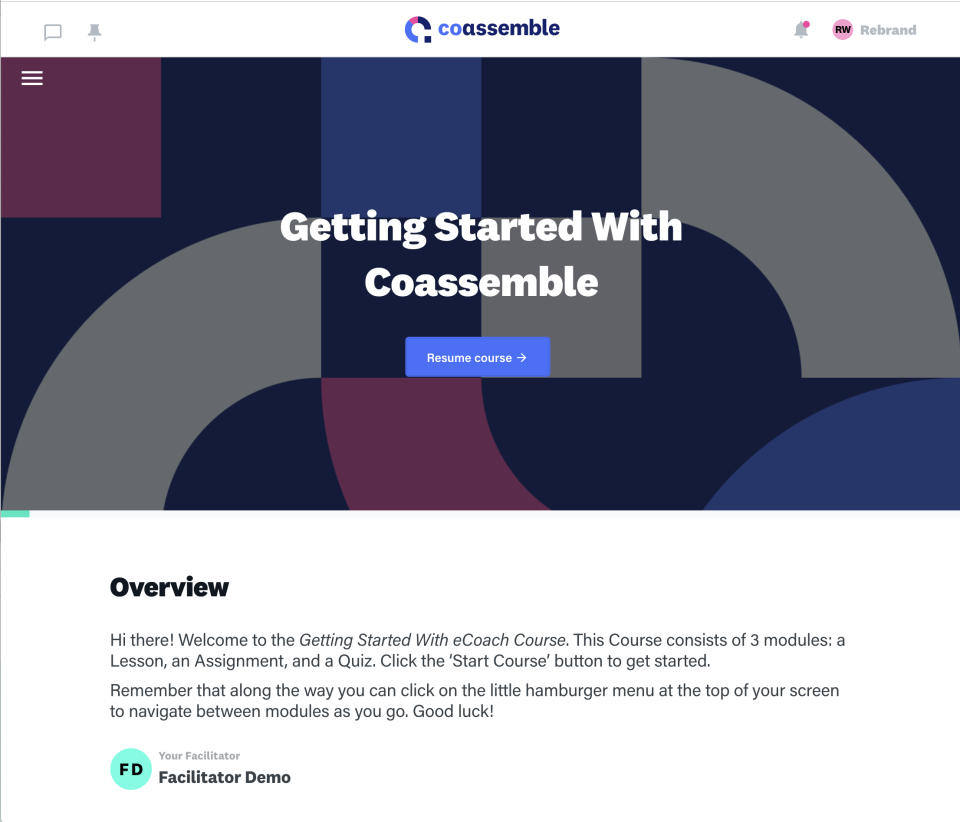 Coassemble. Source
Coassemble costs at least USD 249/month (if billed annually) and USD 299/month if billed monthly.
Core features:
Built-in authoring tool
Mobile learning
Learner portal
SCORM compliance
Gamification
This is what its users consider its advantages:
Ease of use.

Solid customer support.

Rapid course development.
And this is what they consider disadvantages:
Limited feature set.

High cost.
GoSkills
GoSkills is a flexible LMS with great microlearning support.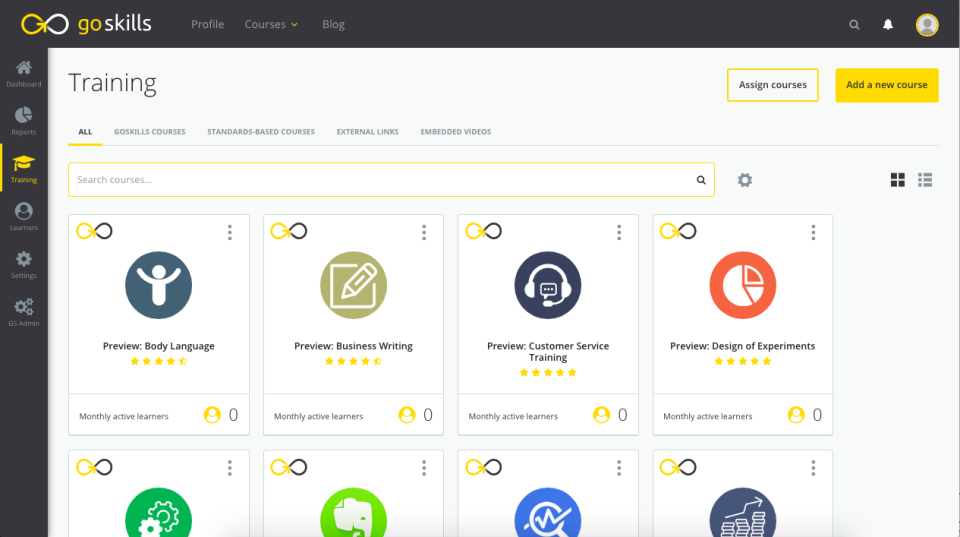 GoSkills. Source
GoSkills has a free trial. The cheapest option covers 2 licenses and costs USD 29 per learner per month if billed monthly or USD 14.5 per learner per month if billed annually.
Core features:
Built-in authoring tool
Gamification
Videoconferencing support
Mobile learning
Learner portal
SCORM compliance
This is what the users like about GoSkills:
Smooth microlearning.

Ease of use.

Mobile compatibility.
And here's what they didn't:
Video playback on Apple devices:

No offline mode.

Limited course creation functions.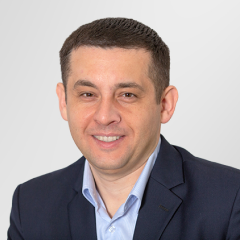 Written by
Chief Innovation Officer / Partner
Recommended posts
Belitsoft Blog for Entrepreneurs
Portfolio
Portfolio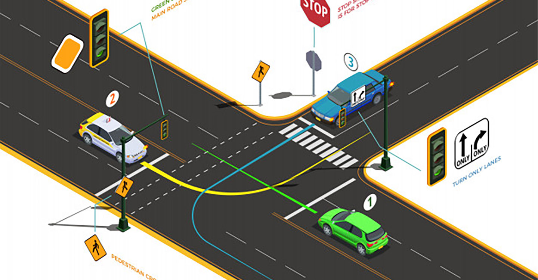 Our Client, the Dutch startup founder Martin Beijer, addressed us to develop a driving theory online course business with automated online payment. The course was aimed to reduce the almost 50% fail rate at driving exams by making learning interactive and engaging. The program has already helped over 22,000 users to pass driving exams.