An LMS can be invaluable when used correctly. This article aims to assist you with that. It will explain how to set clear goals, select implementation strategy, prepare the team, plan everything out, migrate the data, develop courses, and test the new LMS to ensure everything is working as intended.
How Belitsoft Can Help with LMS Implementation
After 12 years on the eLearning market and with 110+ projects delivered we've gathered a vast amount of experience that would help you set your system up with maximum efficiency. Here's what we can do for you:
Custom LMS development. If your company has specific needs that aren't satisfied by an existing system we can develop a turnkey solution tailored to your requirements.
LMS customization. We can modify an open-source LMS so that it fits your workflow and vision.
LMS implementation services. Our specialists will guide you throughout the whole implementation process to ensure its success.
Content development. We can create all kinds of learning content, including videos, interactive tests, and games.
Data migration. We can help you securely and reliably transfer information from your old LMS into a new one.
1. Set Clear Goals and KPIs, Select Strategy
You can't judge whether your implementation has been successful unless you define what success is. This is why you need a clear set of objectives to gauge whether your work is bringing the desired results.
Set Goals
Internal stakeholders (e.g. department heads) are your best source of information on the issues that the LMS needs to address and the business outcomes it should achieve. You should keep them in the loop throughout the whole implementation process for better efficiency.
The goal can start as simple "teach the new employees to use the X tool" - this is what you are trying to accomplish. Narrow it down with indicators like time, completion, graduation rate, etc., so it would look like this: "in two weeks 100% of new employees complete the course on using the X tool and pass the final test".
The SMART approach has proven itself successful in defining goals:
Specific
Measurable
Achievable/Attainable
Realistic/Relevant
Timeframe
Now that the goal is defined, you can track the system's efficiency once it goes live. Moreover, your objectives will be the basis for selecting the right LMS for your organization.
Implementation Strategy
Another thing to prepare in advance is your strategy: how much will the vendor be involved in the process.
If you have selected a popular cloud LMS, you can usually configure it yourself. In this case, there is no implementation per se, you just need to upload the courses and prepare your company for using them. This option fits small companies with straightforward learning needs and objectives.
Your LMS vendor can provide assisted implementation services. This will help you go live faster but at a price. Usually, each customer is assigned a contact person who is responsible for explaining the intricacies of the system and addressing technical issues. Medium organizations might find this strategy to have the best value for money.
LMS vendors can also provide a full-service implementation option. This includes everything, from planning and integration with other software to administration and support of the launched system. As expected, this is the most expensive approach and the one best suited for medium to large companies. It is also typical for custom LMS development.
Minimum Viable Product
The idea is simple: the most important features come first, and the "nice-to-have" wait until later. This lets you spend your LMS implementation budget more efficiently and allows getting meaningful results earlier while allowing the system some room to grow. The MVP approach can be applied both to custom LMS development and to purchasing one with a multi-tiered pricing model.
Below are two of the most common approaches to choosing what to include in an MVP.
The Value vs. Complexity quadrant lets you place each feature on a graph according to the effort it takes and the value it has. Those in square 1 are a must, those in square 2 - should be included, if the budget allows.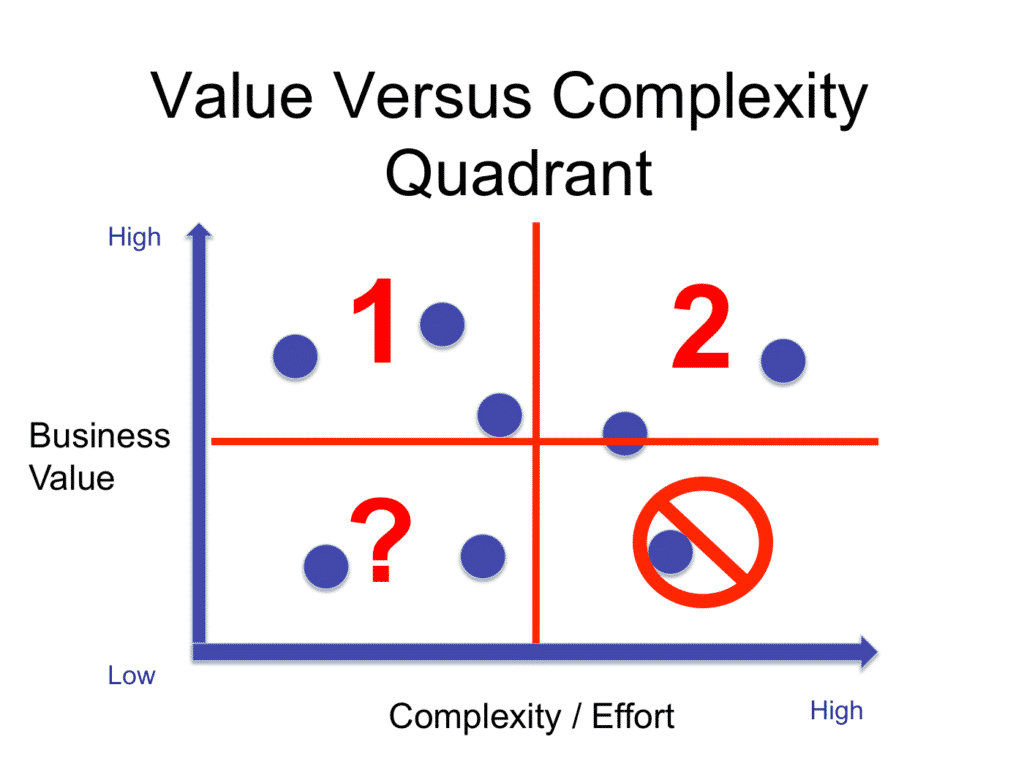 Source: productplan.com
The weighted scoring is another method for selecting MVP features. Write down all the features you want and assign each one a number of points - the higher the importance, the more points it gets. As a result, you will be able to choose the functions that give the most bang for your buck from the list and plan your budget accordingly.
For more information on selecting MVP features and examples of those two approaches in action, see the relevant article.
2. Assemble the Implementation Team
These people will be at the forefront of launching your new LMS. While smaller organizations can do with fewer people on the team, medium and large companies need the whole set to achieve the best outcome.
The implementation team should include the following key positions:
Project Manager
This person runs the daily activities of the team, communicates with the LMS vendor, tracks the implementation milestones and is responsible for the overall success of the project.
eLearning Specialist
This person supervises the migration of your old data into the new system, the creation/transfer or learning materials, and the like. They will also teach the other users to use the system once it goes live.
IT-Expert
This person works on seamless integration of the LMS with other systems (e.g. HRM, ERP, etc.).
Depending on the company, your team can be larger and include other positions like Lead Super User (an employee that will be the first to learn the new system and impart that knowledge on others), L&D Administrator (a person who ensures compliance with the necessary regulations and monitors new course creation) and more.
The fewer people you have on the team, the more focused it is. So it is recommended to keep it lean as long as the workload isn't overwhelming.
3. Create a Plan and Timeline
LMS implementation plan should include all the major tasks on both your and vendor's sides (if applicable). This helps estimate and prepare the necessary resources and track the efficiency of the work once it starts.
Communication Plan
In this regard, LMS implementation is no different from any other project. Here's what a communication plan should include:
Roles. Clearly outline the role of everyone involved so there is no confusion about who is responsible for what.
Tools. List all the means of communication (email, messengers, wiki pages, etc.) that you plan to use and their purpose. Make sure that the stakeholders can use these tools to provide feedback and ask questions, that would dramatically increase the efficiency of the system.
Meetings timeline. Let everyone know about the meetings that are necessary to keep the project moving forward. The participants should know whether their presence is required, when the meetings will be held, and in which format.
Escalation plan. How to forward the issue to someone higher-up if the problem can't be solved at the current level.
If you are working with a vendor, ask for regular progress reports and updates. This will ensure that nothing important will be missed.
Factor in Customization
Depending on your needs, the LMS you are getting can be quite different from the stock version. Customization can include everything from changing the color scheme and adding your company logos to developing new features, not originally present in the system.
If you have a specific learning workflow in mind, make sure that the new LMS can support it and that the customization would be reasonably priced. The truth is in the middle: an inflexible system won't be able to accommodate your learning process, while if it is completely overhauled will be too costly and prone to bugs. Moreover, if you have to change the LMS a lot you might be better off with a different one.
Each change, no matter how minor, takes time. Consult with the vendor about this and make sure your plan includes customization.
Factor in Integrations
Connecting your software to create an ecosystem can save a ton of time in the long run. For example, as soon as a new employee is added to the HRM, the learning management system automatically enrolls them in the relevant course without any extra manual input. However, it requires an upfront investment.
The time it takes to integrate your LMS with another software depends on the data format, the API availability, developers' experience and more. It is in your best interest to provide the vendor with as much information on your planned integrations as possible, so they can give you a realistic estimate and will be ready for the work ahead.
Factor in Training
Teaching people how to use the new LMS is often overlooked during the planning, even though it can drastically increase the time it takes to get any benefit from the implementation. There are several ways to conduct this training:
Super-users. Teach a few select people that will, in turn, teach others.
Formal training. This can be done either by someone on your team or by the vendor's representative. Different vendors can have different training packages available.
E-learning. Creating an effective electronic manual on using the features of the LMS will save time in the long run, although it takes some effort at the start.
Depending on the number of people that need training and the method you choose, the time will vary. Consult with your vendor and adjust your plan accordingly.
Factor in Data Migration and Course Development
Transferring information from your old LMS into a new one can be a challenge. For example, you might have your course in a format that is not supported by the new system or transferring the learner data would be incompatible.
The same goes for implementing an LMS for the first time - digitizing information and developing custom courses takes time.
Factor in a Trial Run
Before you can be sure of the system's readiness it must be tested in real-world circumstances. Allocate some time for a group of users to try the system and get their feedback, as well as making the necessary adjustments.
4. Migrate Data or Develop Courses
Whether you are switching systems or implementing an LMS for the first time, you have to work on the learning materials and learner information. In the first case, you'll need to transfer the existing data to another system, in the second - either adapt your content to the LMS or create a course from scratch.
Data Migration
As the different LMS' can have different databases and workflows, it is important to preserve the integrity of the data when making a transition.
Learning content transfer is greatly assisted by standards like SCORM and xAPI. However, it wouldn't hurt to check whether the new system is really compatible with your course - just try and upload the content.
The training records, being a valuable resource for gauging the effectiveness of the learning program, also need to be moved to the new LMS. Provide your incoming vendor with a detailed description of the information you need to be transferred. This will ensure they can turn it into the format that their database can accept.
If your outgoing system includes user-generated content (even if it is a wiki page or a forum), don't forget to transfer it too. This kind of information eases the burden on the support staff.
Finally, pay attention to the user profiles in the system. Gamification can backfire and demotivate people if the users' achievements are lost in transition. Ideally, you would also want to transfer personal signatures, templates, settings, etc.
Course Development
LMS is meaningless without quality content to populate it. So if you have decided to transition to online learning, prepare the appropriate courses.
The first option is to create the content yourself. Authoring tools (iSpring, Articulate, Elucidat, etc.) allow people without programming knowledge to develop complete courses. Most of them are already designed to create content that is compatible with LMS'. And if you have an instructional designer on staff, they will be able to handle it.
Alternatively, you can order the courses from a specialized company. Ask your LMS vendor, it is likely that they can help in this regard. Even if they don't develop the learning content themselves, they might be able to recommend a trusted provider.
In any case, you should ask yourself the following questions before getting to work:
What kind of content would you need: presentations, videos, interactive tests, learning games, etc.?
Which format would be the best: PPT, MP4, XLSX, etc.?
Should you package your content using one of the eLearning standards (SCORM, xAPI, AICC, etc.?) For more information on eLearning standards see this article.
5. Trial Run and User Acceptance Testing
Before the system is ready for a company-wide rollout, you should try it out on a cadre of users. This would be the LMS' truest test because it would mimic the real-world conditions. This should be done when the system is fully operational, though cosmetic errors can be allowed.
If you intend for your LMS to be used by anyone in the company, prepare your test group accordingly: have representatives from each department, both from management and from the common workers. Have them use the system just like they would in their daily lives. Everyone will contribute their viewpoints that you'll use to make final adjustments to the LMS.
This would also be a good time to market the new system to the employees. Let everyone know about the LMS and the benefits it would bring to them personally. Especially if the software lets them do something more than just learning more about their job.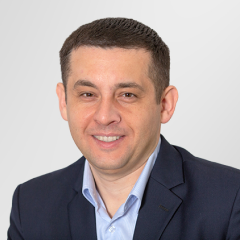 Written by
CTO / Department Head / Partner
Recommended posts
Belitsoft Blog for Entrepreneurs












Let's Talk Business
Do you have a software development project to implement? We have people to work on it. We will be glad to answer all your questions as well as estimate any project of yours. Use the form below to describe the project and we will get in touch with you within 1 business day.