AI use cases in education include such kinds of applications as: Artificial Intelligence in training, learning and development, AI in higher education and Artificial Intelligence in K-12 education. We've gathered and outlined real-life examples of AI in education for each of these three application areas. If you're an L&D or HR pro, you will find insightful the section "AI in talent management and in Learning and development". College and university leaders will discover helpful tools to significantly improve their educational process in the section "AI in Higher Education". For school leaders we've prepared the section "Artificial intelligence in K-12 education".
Attracting and retaining talents, filling in skill gaps, arranging internal mobility is among the biggest challenges of all businesses from small to large enterprises.
The application of Artificial Intelligence in HR and L&D processes resolves these business challenges.
The key advantages that AI-driven software gives your business:
The clear understanding of the skills your employees have or don't have thanks to the accurate skills assessment;
The possibility for the employees to build a career path within your company thanks to the AI-driven LMS or LXP for upskilling & reskilling.
The accurate forecast of talent gaps your company may face shortly and AI recommendations for internal mobility or redeployment strategies.
Discover what AI-driven tools can fit your business in the article AI in Talent Management and in Learning and Development.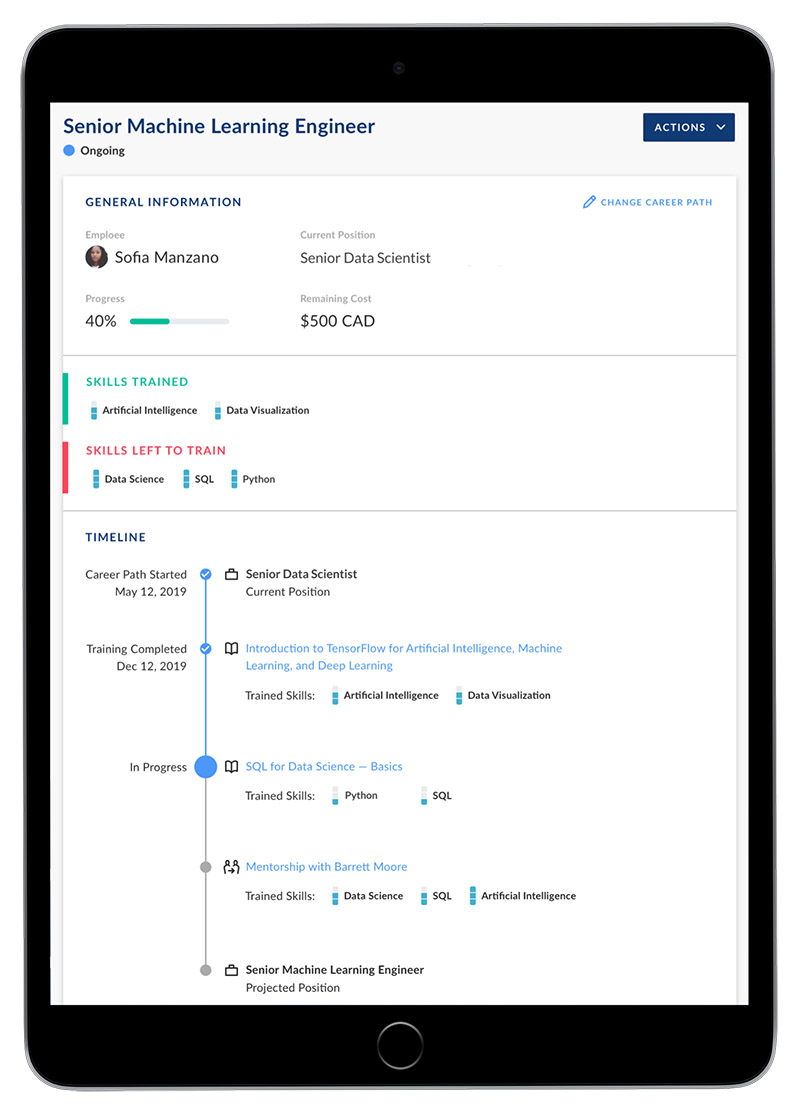 Example of AI-driven career path with integrated LMS/LXP for upskilling & reskilling by skyhive.io
Colleges and universities are increasingly changing their approach to education from "one-size-fits-all" to personalized learning.
AI-enabled software is the key to winning all challenges that students, their parents, and leaders of colleges and universities face.
The application of Artificial Intelligence helps engage prospective students, improve enrollment & retention, decrease time-consuming administrative tasks, and maximize campus security.
The key advantages that colleges, universities, and their students get with AI:
Lower summer melt thanks to the proactive student enrollment.
Accurate prediction of students' retention and the risk to drop out.
Students' progress tracking for identifying knowledge gaps and follow up quickly.
Exam proctoring during remote online tests.
Smart campus with students' security and data privacy in mind.
Find out what AI-based tools can give your college or university these advantages in the blogpost AI in Higher Education.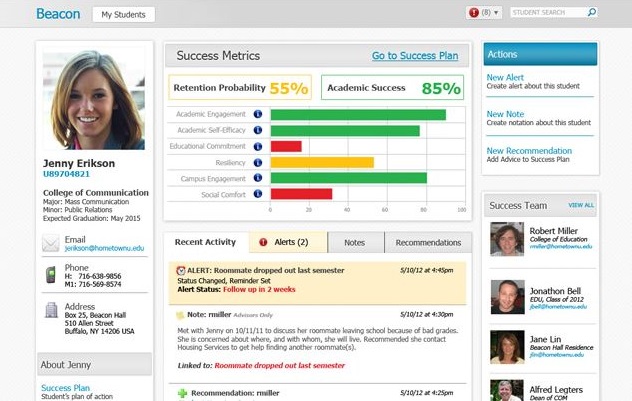 Example of AI-powered tool for students' retention prediction by beacon.io
AI-powered eLearning software is used in schools to personalize the learning process, which leads to decreasing teachers' working time and increasing students' engagement rates.
Such an approach helps school leaders avoid high attrition rates and high teacher turnover and enable effective school security monitoring.
The key advantages of deploying AI-powered software in schools:
Automatic knowledge checking for determining the knowledge gaps;
Predicting students' proficiency to address knowledge gaps;
Building a personal learning path for every student;
School security insurance. It includes web content filtering, suicide and self-harm risks monitoring, and automatic gun detection.
Discover much more about Artificial intelligence in K-12 education and what tools can be helpful for your case.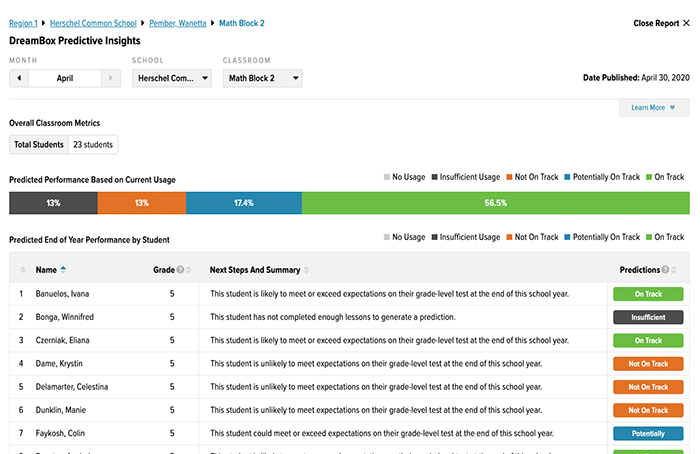 Example of AI-based tool for predicting future students' proficiency by dreambox.com
How to implement AI in your learning process?
Start with easy solutions


To get early results, start with fast and easy-to-apply solutions. Proven technology that can replace simple evaluative tools for formative testing can immediately provide teachers with extra time, making them interested in more holistic solutions.

Get expert eLearning software consulting


Today schools face a myriad of competing solutions, many of which promise much but deliver little. Understanding what is working and what is not is therefore critical.

Integrate AI into your existing eLearning infrastructure.


Districts and schools need to integrate new technologies with existing ones. Teachers should have the freedom and a strong voice in deciding which tools are working in the classroom and should be implemented districtwide. Technology companies, too, need to be better in including the voice of the teacher when guiding product development.
We would love to know whether you have high-priority business tasks which require IT/ development resources with eLearning industry experience?
We provide development of eLearning systems from scratch if the business needs are very specific (for example, require the utilization of interactive game-based learning, adaptive learning using AI, etc). If rational, we can use our own proprietary eLearning platform to cut costs.
Of course, we can digitize the hard-copy curriculum or any other material and migrate it to the e-learning platform.
We can also customize the legacy LMS to fit the evolving needs of your business or help you migrate your elearning content to a new platform.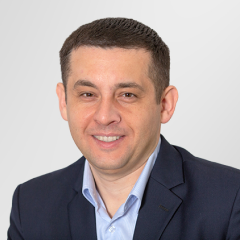 Written by
CTO / Department Head / Partner
I've been leading a department specializing in eLearning applications and Business Intelligence for 17 years.
Portfolio
Portfolio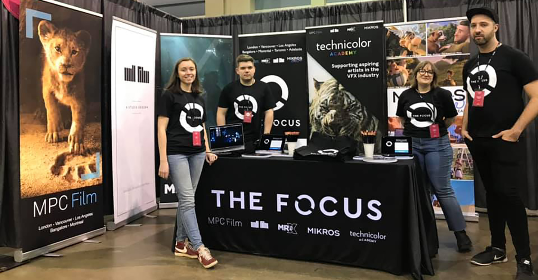 Technicolor SA is a global corporation with over 100 years of market presence. It provides various services in video pre-production, production, post-production, and distribution. Technicolor has a team of 17,000 people across many locations around the world, including the United States (Los Angeles), Europe (Paris, London, Berlin), Canada (Montreal, Toronto), Australia (Adelaide), and India (Bangalore).












Let's Talk Business
Do you have a software development project to implement? We have people to work on it. We will be glad to answer all your questions as well as estimate any project of yours. Use the form below to describe the project and we will get in touch with you within 1 business day.