Rising demand and $20 billion of revenue by 2027 - all of this makes the development and deployment of AI in education the priority for enterprises, training companies, EdTech startups, and educational institutions. Check out this ultimate knowledge hub to see real-life examples, types of AI-powered software and top AI tools for education, the benefits they bring to business and learners, and other insights.
How Can AI Be Used in Education?
AI in education is a global trend. And the application of Artificial Intelligence in eLearning software will be continuously increasing.
The application of AI in education affects 3 areas:
Gathering data about every learner before starting the training. These data are compared with a model (competency matrix) to define the existing knowledge gaps for everyone individually. It enables the creation of a personalized learning path including only relevant topics to be learned instead of passing a generalized curriculum created for all learners. As a result, the learning process gets much faster.
Automated tracking of learner's progress during the training. It helps timely detect gaps in knowledge acquisition by using knowledge assessments created by AI. Also, it allows forecasting the learner's performance to get valuable insight for adjusting personal curriculum or timely intervening in the learning process.
Further increasing the effectiveness of the training. This is achieved by creating a personalized learning path for every learner and its automated adjustments along the learning process based on regular AI-powered reassessments.
Applying AI in education doesn't imply replacing your eLearning software but creating an add-on for your actual LMS, LXP, TMS, or learning application.
Corporations, education tech startups, training companies, universities, schools and students — all parties get a lot of prominent benefits from online learning, like covering larger audiences online. At the same time, AI boosts e-learning to a new level by addressing challenges that are not obvious at first glance.

Dmitry Baraishuk Belitsoft's CTO on Forbes.com
What skills to teach
Teaching starts from revealing skills gaps. However, traditional approaches haven't succeeded a lot in this direction. For example, more than 30% of HR leaders shared that their major challenges include the lack of visibility and understanding of current skill gaps.
Solution
Revealing skill gaps using AI-based skills assessment.
How it works
The process starts from creating a competency matrix that maps required skills for a particular position, project, etc. it's required to create it once manually before AI will be able to parse the competency matrix autonomously.
An AI-based tool for skills assessment automatically grades the current skills of every employee or student by comparing their profiles with the competency matrix. The tool gives the score before the education process starts and after its completion. As a result, stakeholders get visibility and understanding of current skill gaps before any training and after it.
How it may look like
Examples of skills assessment with the help of AI in Talent Management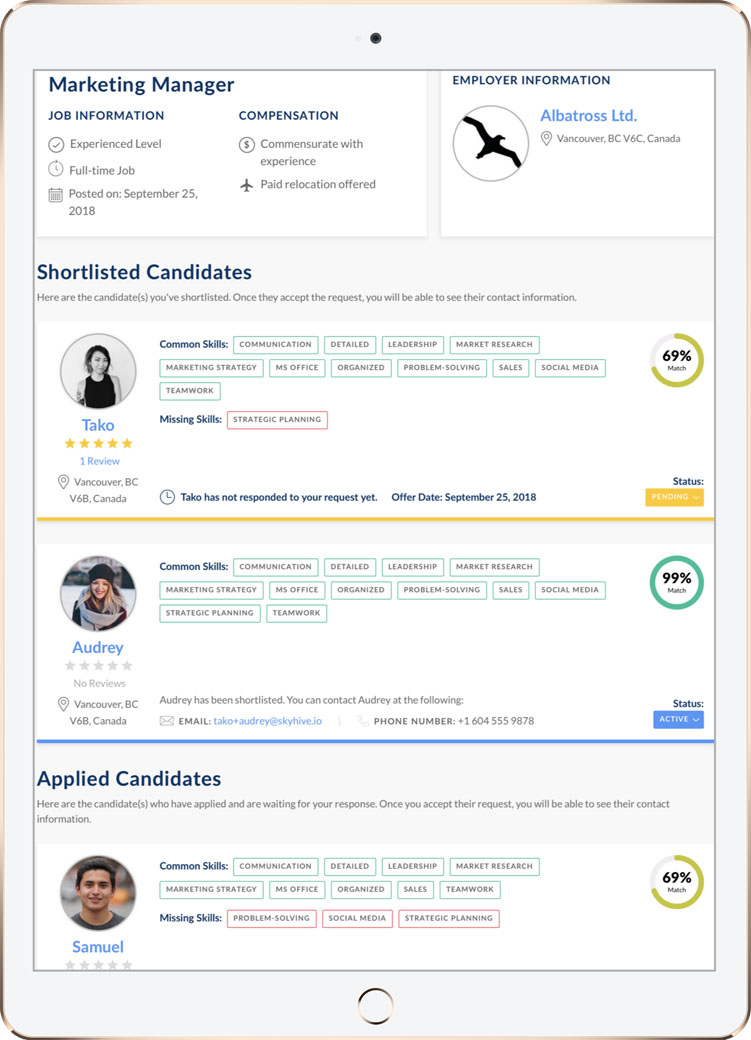 skyhive.io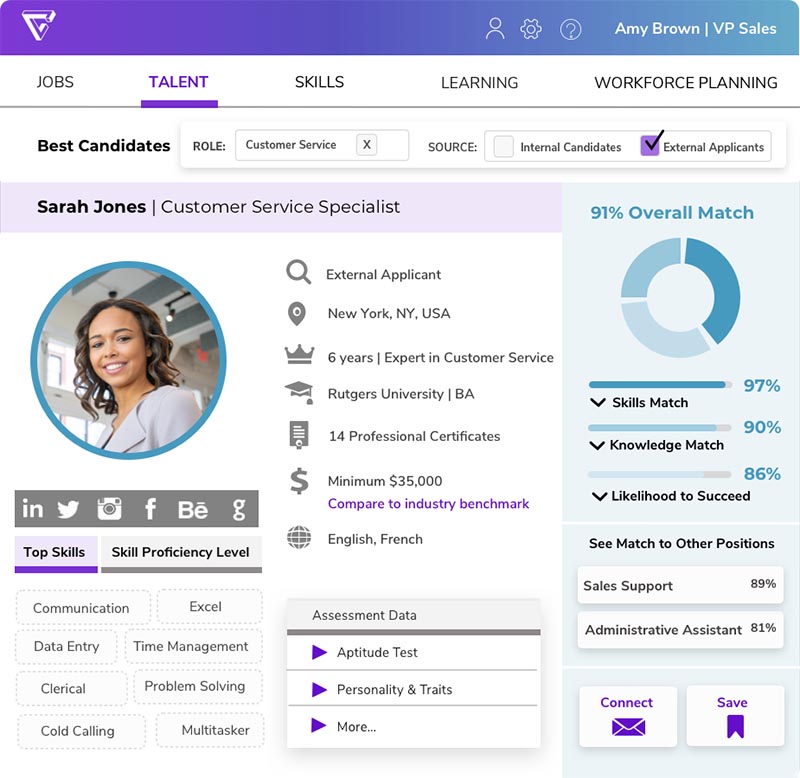 retrain.ai
You can even consider comparing the skills in your organization with the industry average by implementing benchmarking data from special providers.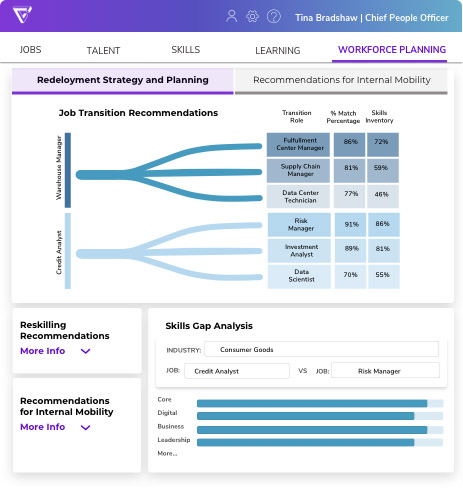 retrain.ai
What to do with this information
After understanding the skills gaps you can provide your students or employees with the educational content that fills these particular skills gaps. You can either create a custom one from scratch or integrate third-party ready-to-use teaching content.
Eventually, you need an eLearning software in place that is capable of revealing skills gaps and pulling out the appropriate learning content from the content library to fill in these gaps.
Regardless of the chosen option, it's also necessary to consider which systems, that have already been implemented in your organization, you'll integrate with your new AI-based tools.
Tracking the effectiveness of training programs
Without a well-structured and accurate measuring system, managers and stakeholders have no idea whether the training outcomes in numbers meet the initial expectations. And if not, where the problem lies and how to fix it.
Some businesses leverage traditional tracking methods. The issue is such measuring methods are manually performed by HR managers or educators, which consumes quite many resources and can be rather biased.
Solution
Tracking the learning progress and predicting learning outcomes using precise AI-driven learning progress tracking and AI-powered predictive learning analytics tools.
How It Works
The software aggregates data about learner's performance from a learning platform, including knowledge assessment scores, missing or past due assignments, etc.
After processing these data, a progress tracking tool powered by AI algorithms starts analyzing them to calculate the level and speed of competencies acquisitions, compares the results of every learner against the learning objectives, and provides the benchmark comparing the productivity of all learners of this course.
With AI algorithms running over and over again, the software starts to identify patterns of learning behavior inherent to each learner. Having the pattern defined, an AI-powered predictive analytics tool can predict the outcomes for each learner individually. Predictive reports with these data are generated automatically.
The cycle repeats, detecting new input data and building new patterns without human intervention. That actually represents the difference between AI and traditional software.
How It May Look Like
Example of performance tracking using a competency matrix
Example of a predictive report built by Artificial Intelligence in K-12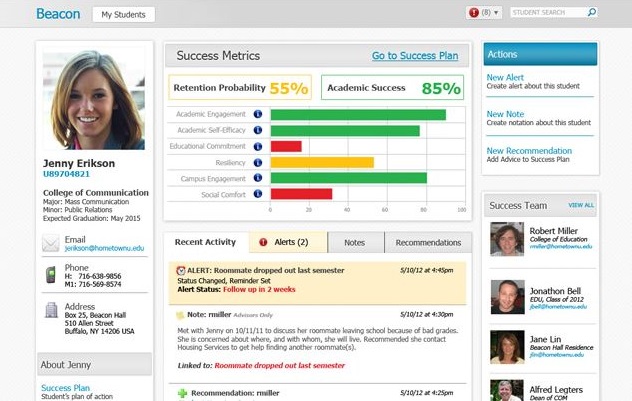 beacon.io
What to Do with This Information
After getting progress tracking results, educators and L&D managers can use it to objectively and without bias identify top performers and flag low-performing learners. It can be especially helpful for verifying who has best mastered new knowledge and can be offered a promotion, and who needs help or follow-up.
Accurately forecasting learners' performance allows predicting the chances for a learner to succeed or fall behind. It leads to timely uncovering pitfalls, enabling early interventions, and as a result, increasing learners' success rate and retention.
By getting well-structured and intuitive reports with timely analytical data, educators or an L&D team get a clear understanding of whether the training program works or fails, and can optimize it accordingly to increase the effectiveness of training.
All in all, the role of AI in education is to favor easy scaling and automating of repetitive processes in education to save valuable time and resources and avoid bias.
Increasing the effectiveness of training programs
Having a vision of current skills gaps and providing the most suitable educational content doesn't guarantee the expected outcomes. Increasing training efficiency is where, probably, all the power of AI reveals.
Solution 1
Increasing the effectiveness of training using a personalized learning path created by AI individually for every learner.
How It Works
After identifying a learner's current skill set and goals, the AI-based software uses these data to build a personalized learning curriculum starting from the topic that most suits to the current level of a particular learner's skills, and not just the common topic for all learners.
While going through the topic, a learner is offered a series of questions with hints and detailed explanations in case of incorrect answers. The difficulty level of every following question is adaptable: it depends on a previous learner's answer. If a learner answers correctly, the difficulty levels up. In the case of an incorrect answer, the difficulty levels down. This is how adaptive learning AI technology works.
After completing a certain number of topics or passing a determined amount of hours in the learning path, the skill assessment tool automatically reassesses learners to see what topics they've retained. As it's close to impossible to make a myriad of tests for checking every mastered skill or piece of knowledge, AI can compile on-demand tests autonomously.
Based on the results of the assessment there are two options. The topics a learner has done well will move to the mastered category. And the topics where a student has struggled will go back to the learning path to be reviewed again.
How It May Look Like
Examples of building a personalized learning path for corporations
fuel50.com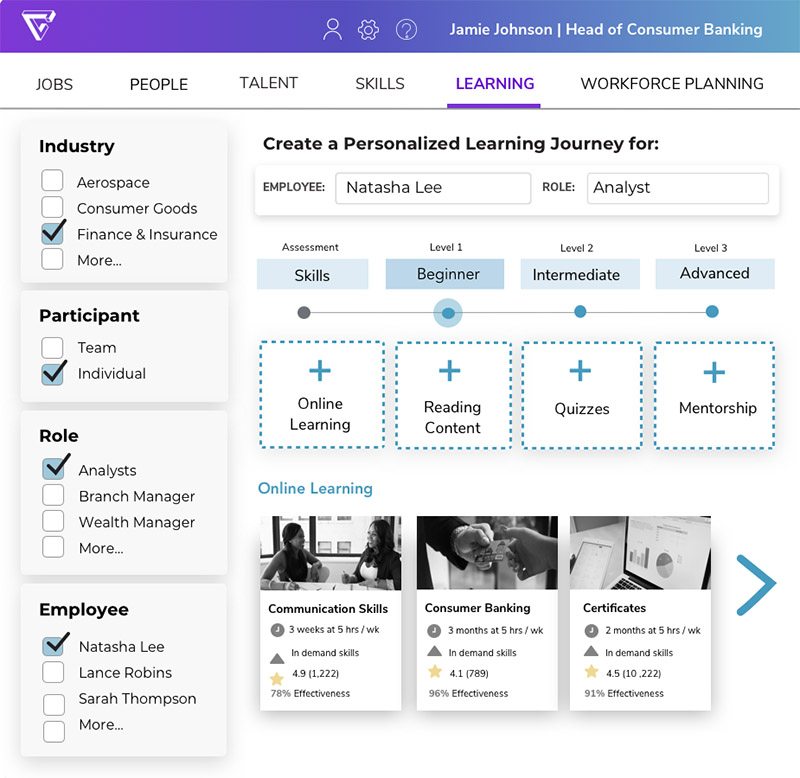 retrain.ai
Example of a personalized learning path built by AI in Higher Education curriculum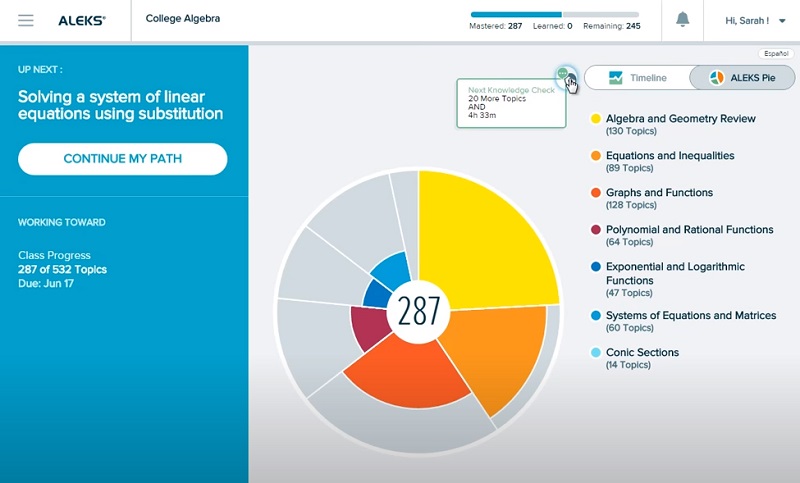 aleks.com
Example of AI-powered language learning application with a personalized learning path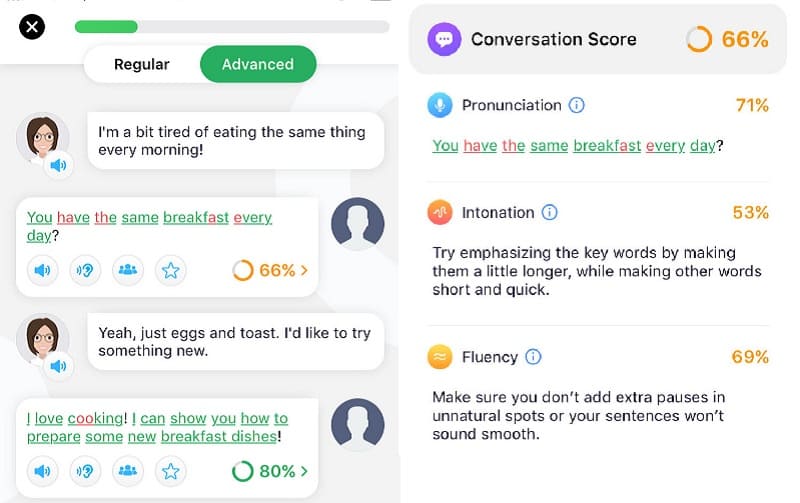 Elsa
Solution 2
Increasing the effectiveness of training using AI chatbots for education.
How It Works
The process starts by creating a knowledge database with real learners' questions and routine situations.
Getting a question, a chatbot responds in seconds if a question is already in its knowledge base.
If a bot doesn't know an answer, the question is sent to a human team.
As a human answers new questions, the AI adds new data to its database to answer it autonomously the next time. So the chatbot is constantly increasing the array of circumstances and questions it can manage without human intervention.
How It May Look Like
Example of an AI chatbot assisting a student during enrollment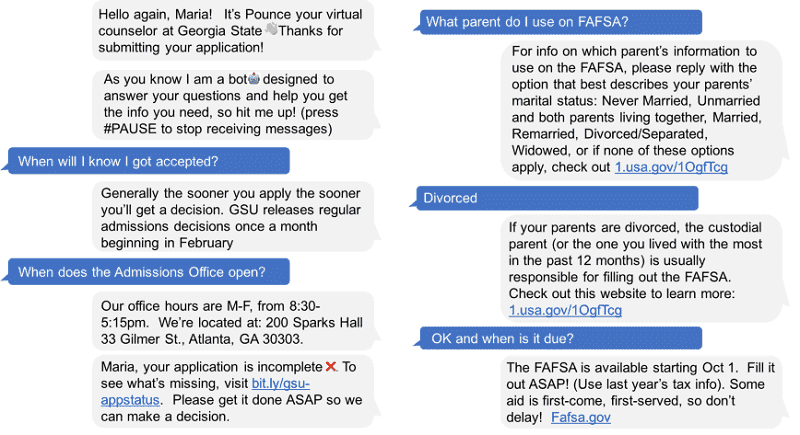 admithub.com
By identifying what skills to teach, how to track and increase the effectiveness of training programs, you resolve the core problems in education and set up the educational process that brings actual benefits that are positively revealed on the bottom line.
Belitsoft eLearning experts can implement AI tools in your existing training program or help you create AI-powered eLearning software from scratch. Let's find the best option for you together!
How to implement AI in your learning process?
Start with easy solutions

To get early results, start with fast and easy-to-apply solutions. Proven technology that can replace simple evaluative tools for formative testing can immediately provide teachers with extra time, making them interested in more holistic solutions.
Get expert eLearning software consulting

Today you can face a myriad of competing solutions, many of which promise much but deliver little. Understanding what is working and what is not for you is therefore critical.
Consider the smooth integration of AI into your existing eLearning infrastructure.

It might be more cost-effective not just to replace your legacy systems with new ones but to think about the opportunities to leverage them in a new environment where it makes sense.
How we can help?
We provide development of eLearning systems from scratch if the business needs are very specific (for example, require the utilization of interactive game-based learning, personalized learning using AI, etc). If rational, we can use our own proprietary eLearning platform to cut costs.
Of course, we can digitize the hard-copy curriculum or any other material and migrate it to the e-learning platform.
We can also customize the legacy LMS to fit the evolving needs of your business or help you migrate your eLearning content to a new platform.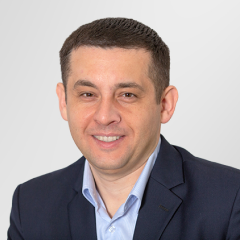 Written by
CTO / Department Head / Partner
Recommended posts
Belitsoft Blog for Entrepreneurs
Portfolio
Portfolio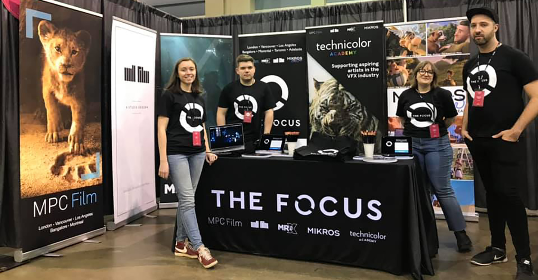 Technicolor SA is a global corporation with over 100 years of market presence. It provides various services in video pre-production, production, post-production, and distribution. Technicolor has a team of 17,000 people across many locations around the world, including the United States (Los Angeles), Europe (Paris, London, Berlin), Canada (Montreal, Toronto), Australia (Adelaide), and India (Bangalore).