AI use cases in education include such kinds of applications as: Artificial Intelligence in training, learning and development, AI in higher education and Artificial Intelligence in K-12 education. We've gathered and outlined real-life examples of AI in education for each of these three application areas. If you're an L&D or HR pro, you will find insightful the section "AI in talent management and in Learning and development". College and university leaders will discover helpful tools to significantly improve their educational process in the section "AI in Higher Education". For school leaders we've prepared the section "Artificial intelligence in K-12 education".
AI in talent management and in Learning and development
The number one threat for CEOs is the "talent risk" or the difficulty to find and keep the right talent and skillsets. Nearly 90% of executives and managers say their companies either already face skill gaps or expect them within the next five years. The most common tactic for addressing skill gaps is upskilling and reskilling for internal mobility (cited by 56% of respondents), and, of course, external hiring. However, almost 70% of HR professionals are still not satisfied with their organization's ability to meet their internal mobility goals. At the same time, top-performing companies such as IBM, Hilton, Unilever, and others already have adopted Artificial Intelligence tools to successfully manage this challenge.
AI-enabled Software to Solve Talent Management Challenges
Attracting and retaining enough employees at all levels to meet the needs of a company's growth, developing a robust leadership pipeline, and transferring key knowledge are among the top talent management challenges.
AI helps to raise to a new level the hiring, upskilling, and reskilling processes.
AI-powered talent management software is often based on three key components:
AI-based tool for workforce skills assessment. Managers use it for a clear understanding of the skills and capabilities of their workforces to be transparent with employees about the skills that are needed, especially when the workers don't possess them.
AI-driven career path with integrated LMS/LXP for upskilling & reskilling. The tool identifies the skill set a person needs to excel in their role and their skill gap, then connects the person with training content from LMS or LXP that corresponds to that gap.
AI-powered workforce forecasting tool. It can accurately forecast talent gaps which your company may face in near future. It benchmarks your employees' skills set with competitors to align with industry trends. AI provides recommendations for internal mobility or redeployment strategies.
1. AI-based tool for workforce skills assessment
AI provides HR managers with a greater understanding of an employee's skill set than they would get by assessing the feedback from manager surveys.
Using machine learning algorithms, talent management software automatically grades and ranks the job-ready skills of every employee based on their profiles and competency matrix. Before the implementation of this approach, skills need to be described only once by humans. And then these descriptions will be parsed by a machine.
Thanks to the implementation of AI, a manager will end up with a list of candidates with their ranked level for the skills the company needs.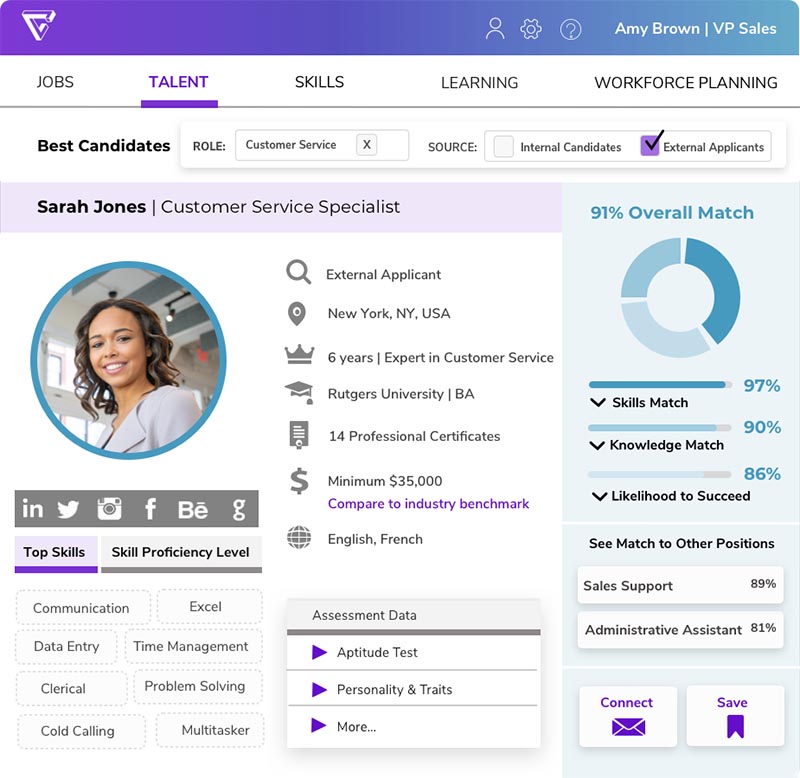 retrain.ai
matrix lms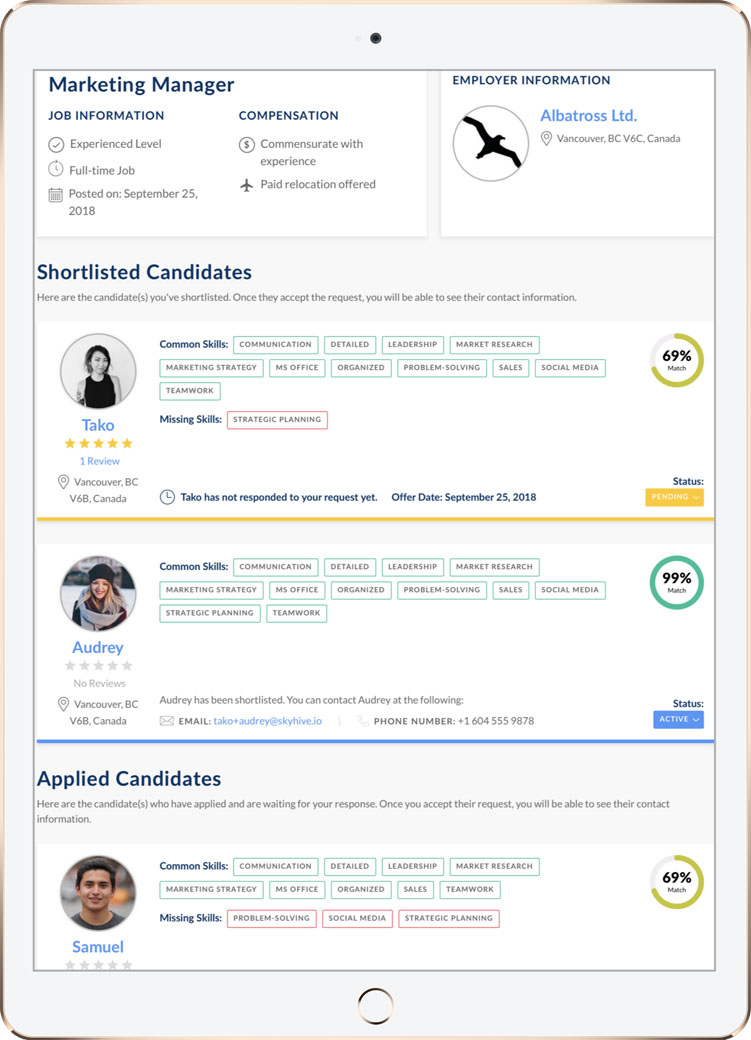 skyhive.io
2. AI-driven career path with integrated LMS/LXP for upskilling & reskilling
AI-powered talent management software integrated with eLearning software such as LXP or LMS is designed to fill skill gaps by reskilling individuals from within the organization (or even outside) to meet the demands of digital transformation and to keep pace with future skill needs.
An employee, when looking for new opportunities, uses the tool for a clear understanding of the open positions within their organization and the required skills for each position.
AI algorithms analyze an employee's existing skillset, match them against the job requirements, highlight the missing skills, and recommend the appropriate courses to acquire these skills.
This approach leads to more effective training because it is based on a high motivation from the outset and supported by a more personalized learning experience.
Implemented this way, internal career growth opportunities enable businesses to more effectively retain top talents.
fuel50.com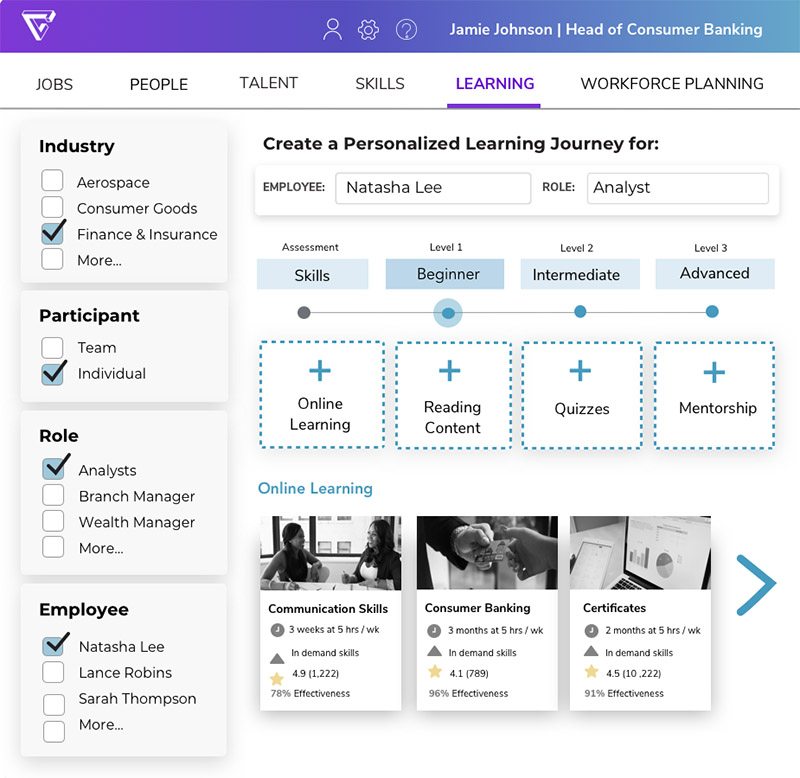 retrain.ai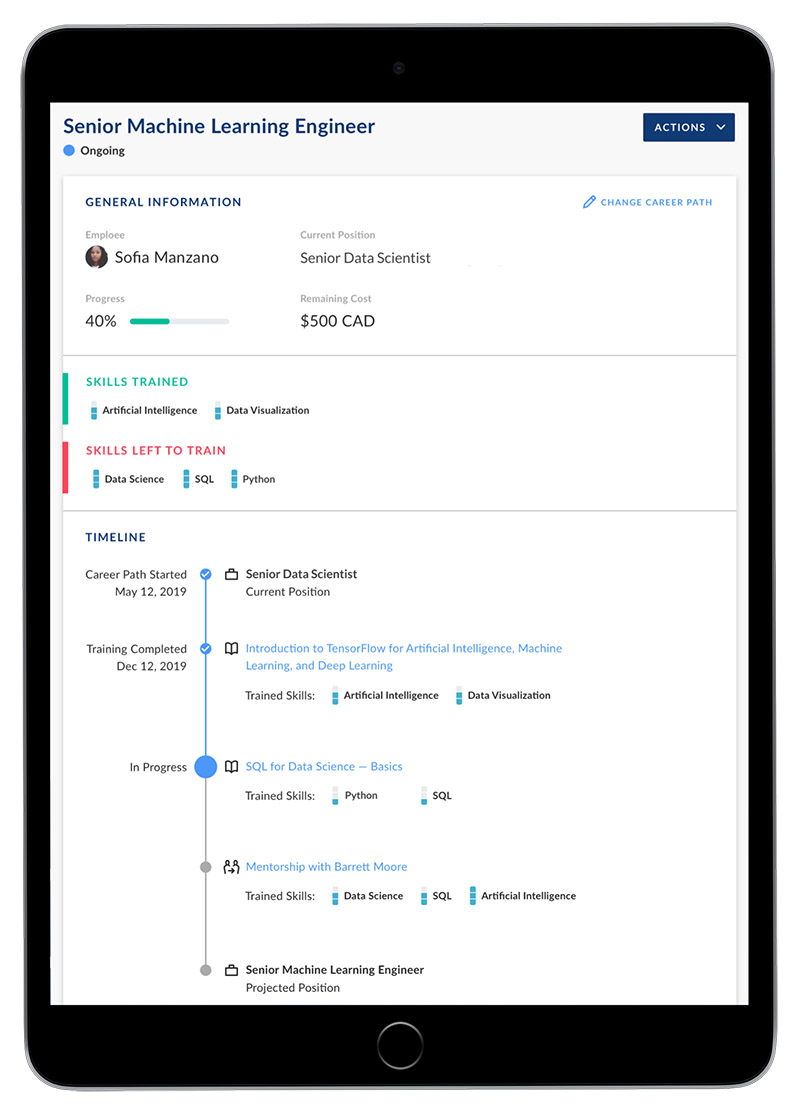 skyhive.io
3. AI-powered workforce forecasting tool
AI-driven workforce and skills forecasting software performs human capital analysis and compares results with the real-time industry average.
It predicts emerging jobs and evolving skills that companies need to invest into their future-ready teams.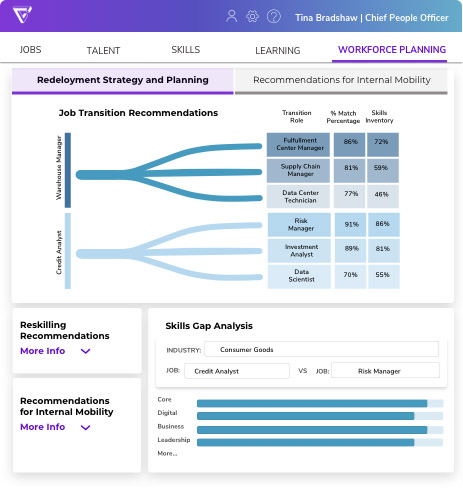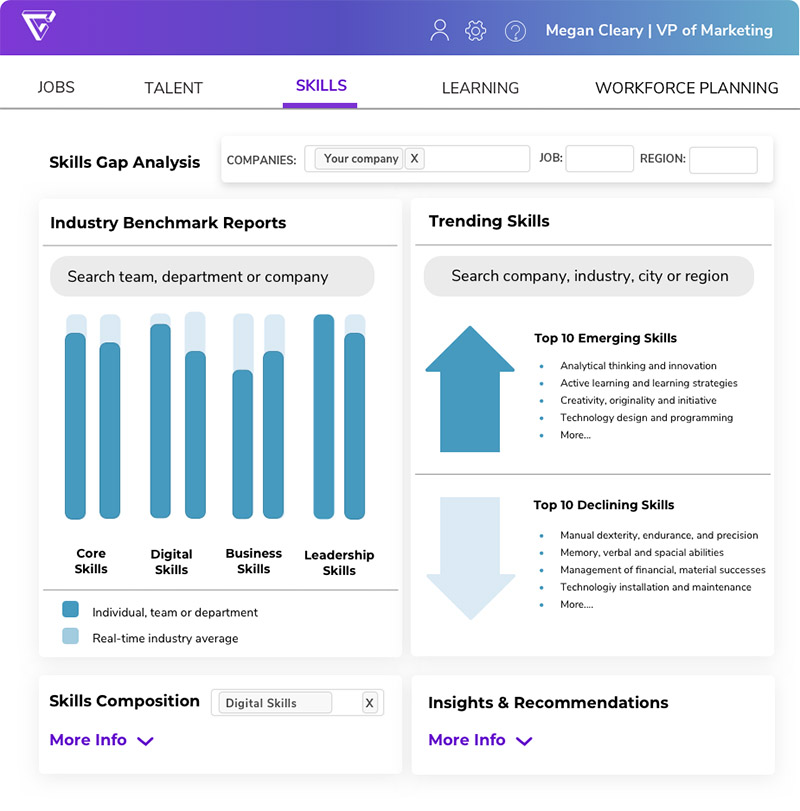 retrain.ai
How to implement AI in your HR and L&D processes?
Companies that are aiming at the more effective strategy to address skill gaps may consider taking these actions:
Start with creating a competency matrix and perform employees' current skill set analysis. Understanding which skills to develop in the workforce requires comparing the supply of each skill with the business's strategic goals.
Integrate your HR software with eLearning software using the Talent Management framework. Organizations will likely need to join homegrown learning resources with eLearning content from multiple providers (online platforms, universities, and eLearning content providers).
Get expert HR/eLearning software integration consulting. They gather business requirements for digital transformation, perform an audit of the current level of workflow automation, help you make the right software decision, and perform implementation using AI where it offers better value for money).
AI in Higher Education
After implementing AI, Georgia State University reported a 21,4% reduction in summer melt and 3,3% higher enrollment rate, resulting in 3 million dollars of tuition revenue. Colleges and universities get from 26 to 35% of revenue from tuition and fees. The greatest challenges that heavily cut their revenue are high dropout rates, summer melt, and ineffective "one-size-fits-all" education. Stakes are too high not to consider AI as a way to reduce costs and improve educational efficiency. Even though the benefits are obvious, only 41% of the institutions have an AI strategy. So the institutions who implement AI first will get a competitive advantage.
AI-enabled software to improve enrollment & retention, exam proctoring, and campus security
Colleges and universities increasingly rely on AI algorithms for engaging prospective students, building personalized learning paths, offloading time-consuming administrative and academic tasks, and even creating a safe campus. And here are the tools designed for these goals:
AI-enabled tool for student enrollment aimed tolower summer melt and raise the enrollment rate.
AI-powered prediction tool for increasing students' retention to identify what students are at risk to drop out and timely support them.
AI-powered learner performance progress tracking tool to find students' knowledge gaps and quickly follow up.
AI-enabled exam proctoring tool to monitor students during remote online tests.
AI-based tool for creating a secure campus to guarantee students' security and data privacy.
1. AI-enabled engagement tool for student enrollment
86% of college presidents say that enrollment numbers are at the top of their most pressing issues.
The impact of COVID-19 backs up the concern:
45% of students report they are not emotionally ready to enroll.
30% report their inability to afford it.
The use of AI tools leads to enrollment going up and costs going down.
A remarkable use case comes from Georgia State University.
The university uses the AI chatbot to proactively send personalized reminders and messages.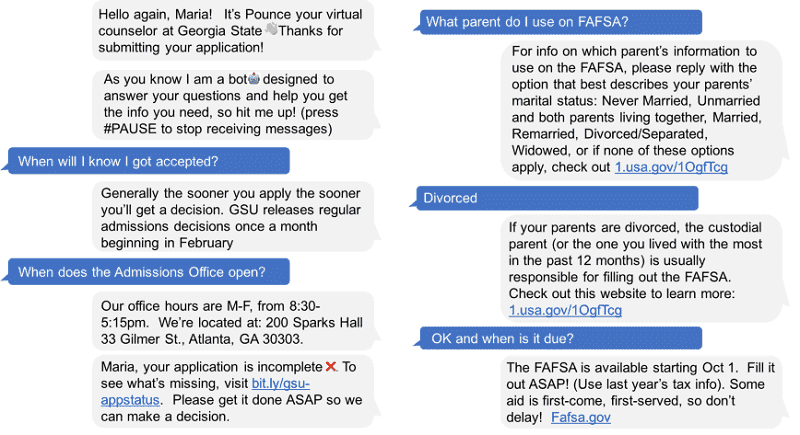 admithub.com
An AI-powered chatbot also answers questions and guides students through a university's admissions and enrollment processes.
it informs prospective students about financial aid programs from the university (e.g. grants, scholarships, loans);
and also answers common questions about deadlines, documents, etc.
The AI-powered chatbot communicates with students through the text messaging app on their cell phones.
An AI chatbot gathers a knowledge database based on students' conversations. After getting a question, a bot responds in seconds. When a bot doesn't know an answer, the question goes to a human. Analyzing human answers, the AI adds new data to the knowledge database and learns this way. As a result, the chatbot can handle an increasing number of questions without human input.
Another example of using AI in higher education is the AI-powered re-enrollment platform used at the Northern Vermont University.
It's used to engage students who have previously dropped out but think about completing their education.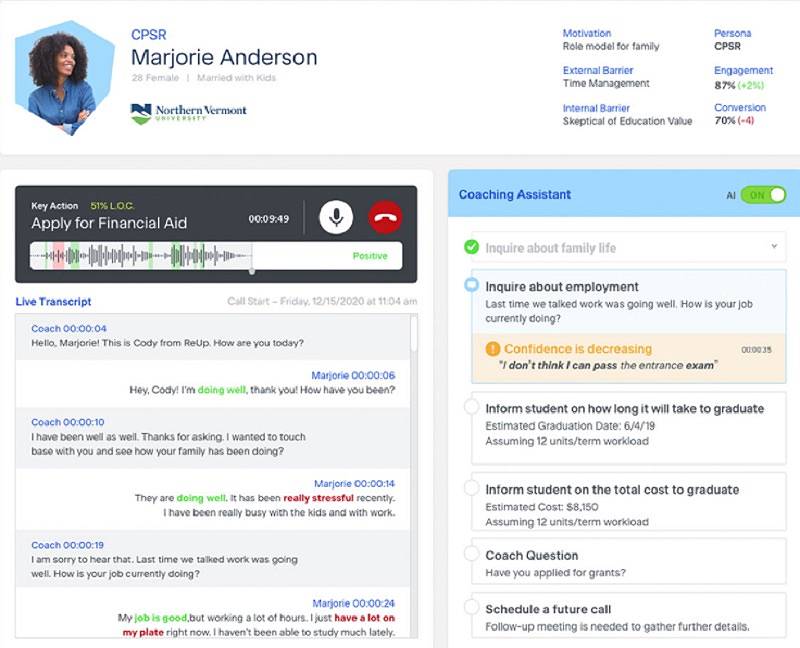 The software records a voice call made by a coach. NLP converts the speech into text. Then AI analyzes the conversation and especially the sentiment, making predictions about the engagement rate of a person.
To understand the sentiment, AI looks for specific nouns or verbs as well as positive or negative words, the frequency of these words to derive the overall tone.
As a result, a personalized profile about each prospective student is created. It includes recommendations for future conversations, such as informing about the graduation period and cost or reminding of applying for grants.
Based on the analysis of the conversations, predictive analytics forecast their chances to enroll and retain.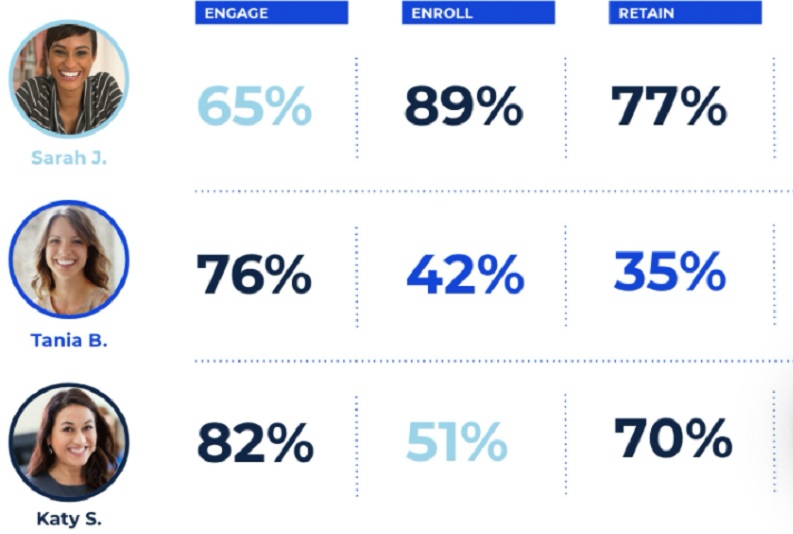 reupeducation.com
2. AI-powered prediction tool for increasing students' retention
The AI-based predictive tool analyzes academic, nonacademic, and operational data to identify students who are at risk to drop out.
Using predictive analytics, the University of South Florida raised its retention rate to 91% and the six-year graduation rate from 68% to 75%.
To increase the retention rate, the predictive tool uses all pre-matriculation data, integrated with the data from the Learning Management System (LMS), the Student Information System (SIS), an online registration system, finance and HR systems.
Based on these data, AI software anticipates what a student's average score for the first semester is going to be. If the model predicts 3.6 GPA, and a student receives 2.6 instead, that indicates that educators' support and intervention are recommended.
The same prediction model improves the graduation rate, with the only difference that an AI-powered prediction tool uses records and data retrieved from all the previous semesters.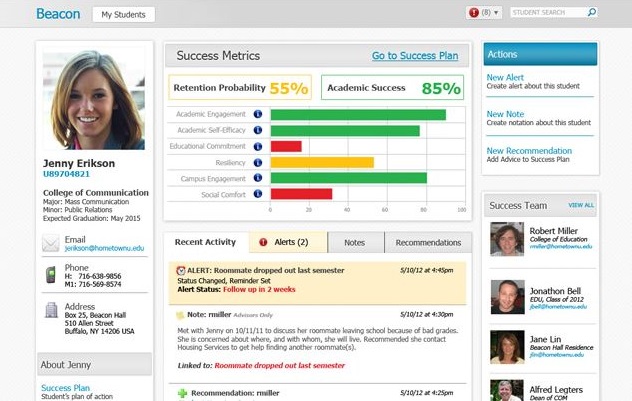 beacon.io
3. AI-powered learner performance progress tracking tool
AI-powered student performance tracking software analyzes the learning performance of every student based on their grades and competencies, and provides educators with an intuitive report.
To receive information about student's performance and their grades, the software aggregates data from LMS and grading systems.
All the gathered grades are available in a single assessment dashboard. The educators are able to monitor the performance progress of the entire cohort or every student individually. Also, the system flags the students at risk, allowing educators to follow up quickly.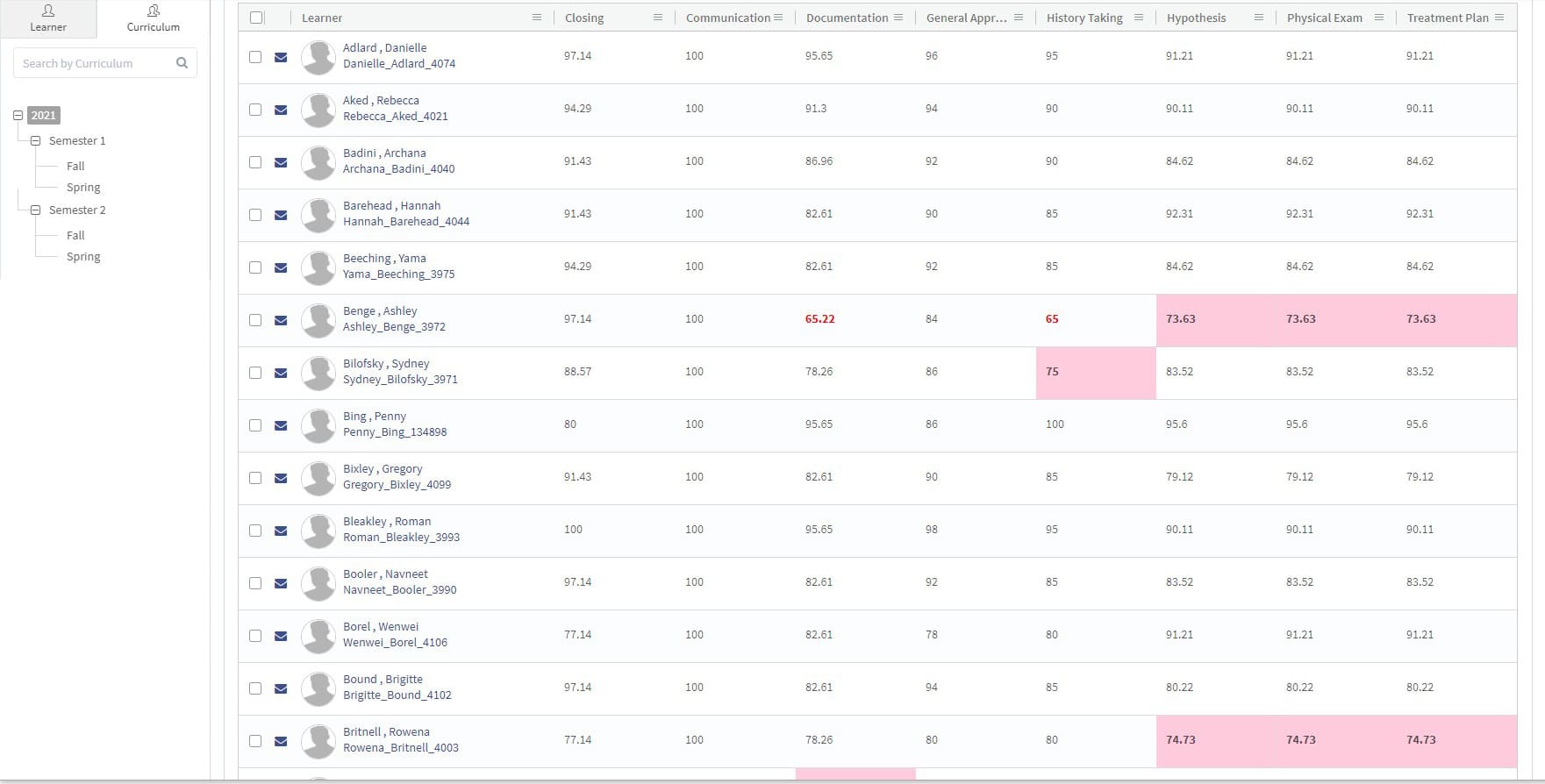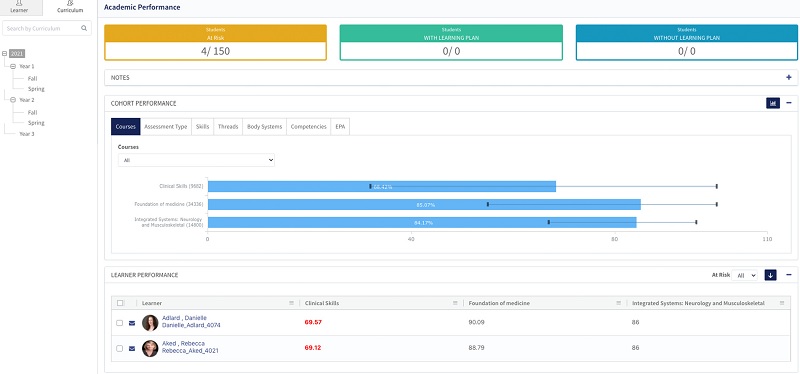 To analyze students' competencies, educators need to gather and rate all the competencies that need to be mastered till graduation. AI parses these data to create a competency map.
A competency map shows what knowledge gaps a student has, which allows educators to detect and resolve the issue as early as possible. The corners of the competency "web" show the maximum level of competencies mastering. Also, the competency map allows tracking the progress over time comparing the student performance during the current year (the current level of mastered competencies is shown in green) with the previous period (shown in blue).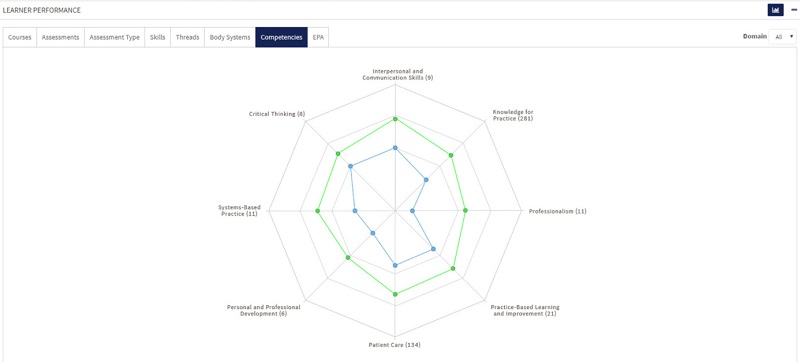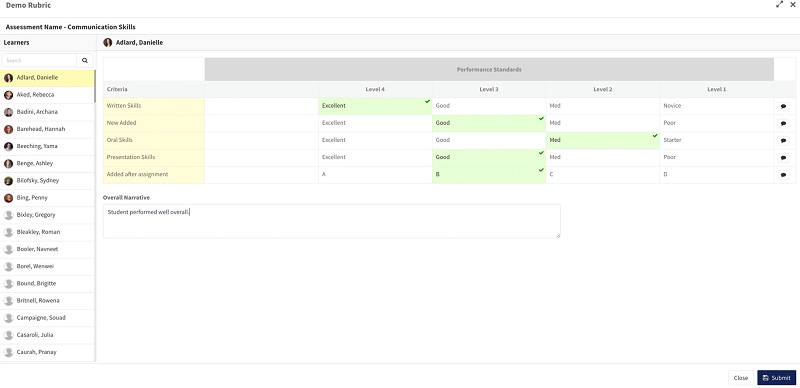 competency.ai
4. AI-powered exam proctoring software
The goal of AI in exam proctoring is to detect suspicious behavior during the test. Especially during remote testing, when a proctor cannot control in person how each student behaves.
The program records test-taker's activity through their computer's camera, microphone, and web browser. The software validates a student's identity using facial recognition or keystroke analysis. It can also scan a room to ensure the student is alone if it's required.
Colleges and universities opt for hybrid models that couple live remote human proctors with AI proctoring intervention in cases of suspicious behaviors, cheating, or the necessity of aid to a student.
The AI software captures compromising events, highlights session issues, analyzes the test results, and provides reports. A human proctor sees all the information in real time, including incidents detected by AI, and can react according to the situation.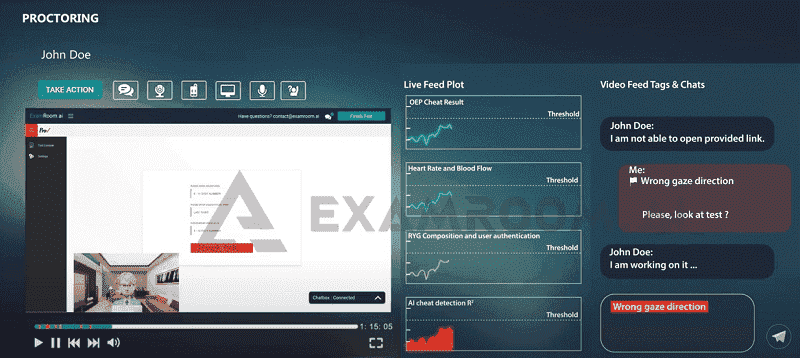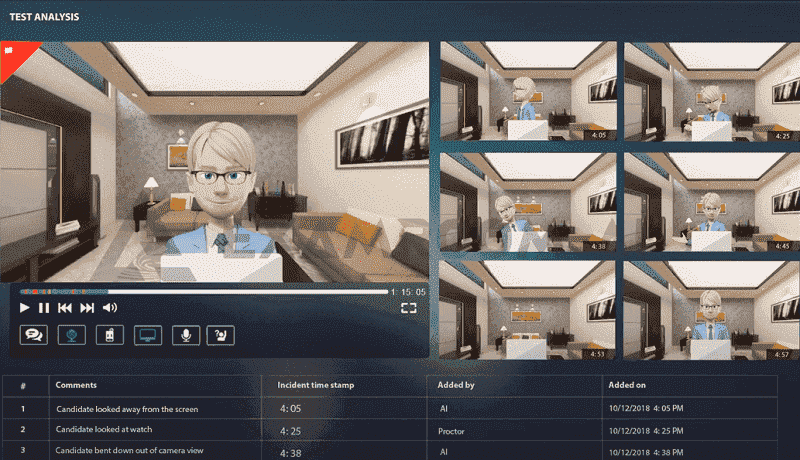 examroom.ai
5. AI-based tool for secure campus
Phishing and ransomware remain key campus threats. Why? Because in colleges and universities, there is a lot of personally identifiable information and intellectual property.
AI can identify networking traffic, assess what "normal" looks like on a university network and do it at a larger scale that humans can accomplish.
For example, if a faculty member normally arrives at 8 a.m. and works until 7 p.m. and then maybe logs on at 9 p.m. from home, you wouldn't expect that individual to be up at 3 a.m. connecting from China. AI can monitor those patterns to finddeviation.
An AI-driven network security monitoring software uses a combination of supervised machine learning to study the actions of analysts from the IT team. It learns not only to detect deviations, but also the attributes within the deviation event that influenced the analysts' actions. Based on what it learns, the AI provides recommendations to the analysts.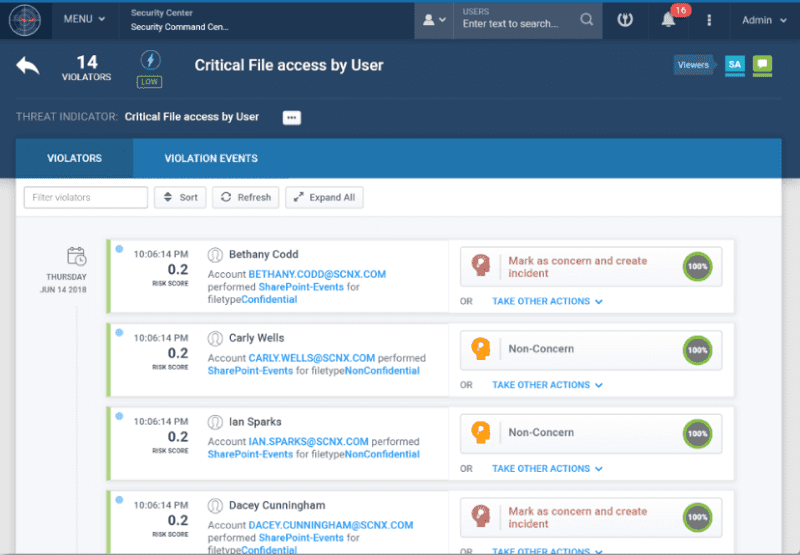 securonix.com
Another real threat is an active-shooter-on-campus. New technologies can help security officials anticipate crisis events and mitigate potential threats to students, staff and property.
Through the use of HD cameras, featuring built-in artificial intelligence and deep learning technologies, colleges and universities can recognize faces and guns, and identify car plates.
The AI-powered video surveillance identifies unauthorized entries, prevents thefts and break-ins, protects perimeter indoor and outdoor, monitors vehicle access.
So it doesn't require constant monitoring by humans.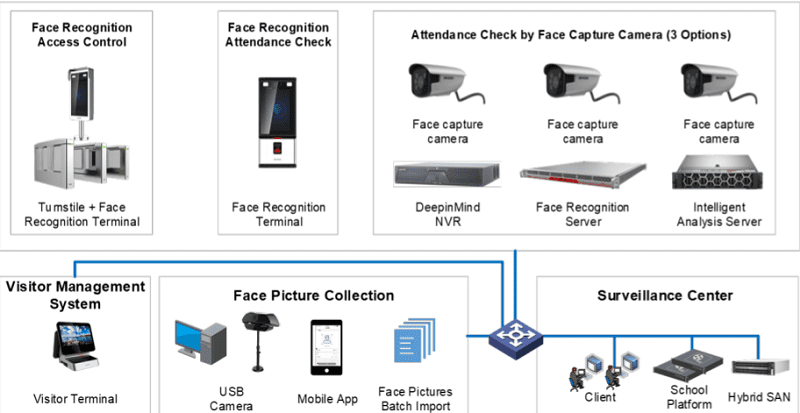 hikvision.com
As security teams collect information in the AI-powered security platform over time, they start to identify trends (by comparing the recognised events with the risk matrix) and direct their staff to respond accordingly.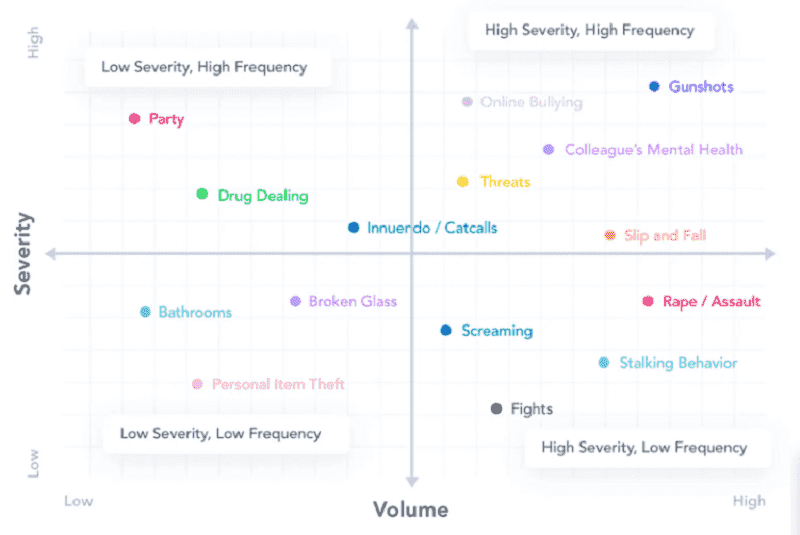 livesafemobile.com
Artificial intelligence in K-12 education
The schools that are currently best in applying technology to save teacher time have often been able to access more funding than the average school. Over the past few years, school districts nationwide started to implement new technologies into the classroom, including AI. CDW and IDG survey findings reveal that IT and business leaders in K–12 understand that technology has the potential to improve workplace productivity and transform the student experience. Data or analytics tools (47%), IoT (37%), and AI (37%) are in plans on investing over the next two years.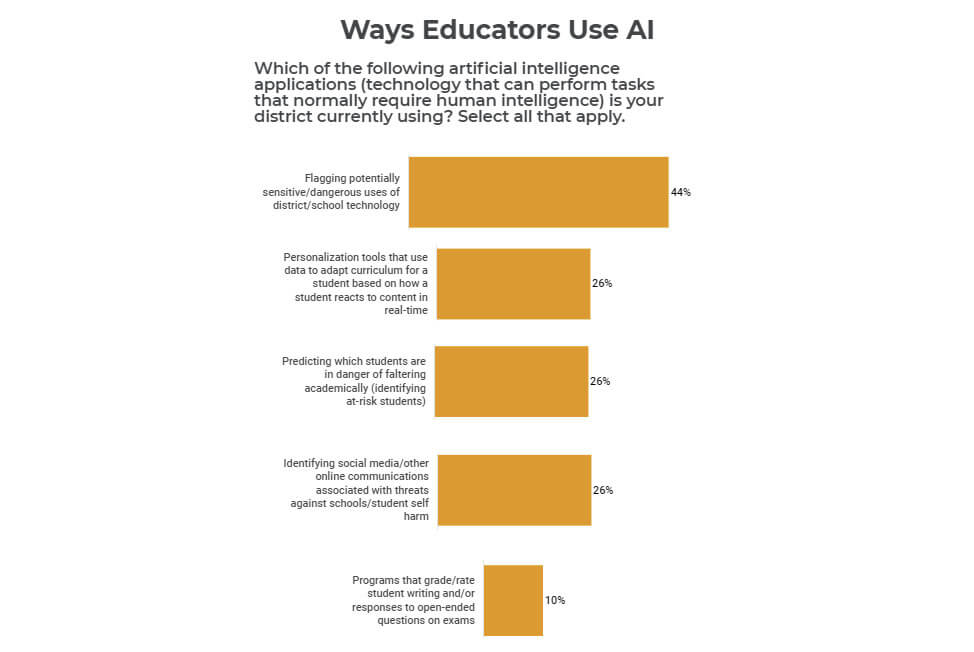 According to the EdWeek Research Center survey (2020) among districts' school leaders, there are two key areas where AI is already used: school security monitoring, and automatization of the teaching process including personalization of learning.
Automatization of the teaching process to decrease teachers' average working time
According to a recent McKinsey and Microsoft survey, teachers' average working time equals 50 hours a week, having increased by 3 percent over the past five years. This results in burnout, high attrition rates, and high teacher turnover.
Also, in the same survey, about a third of teachers said that they wanted to personalize teaching but did not feel that they were doing so effectively at present.
Their biggest barrier is… time.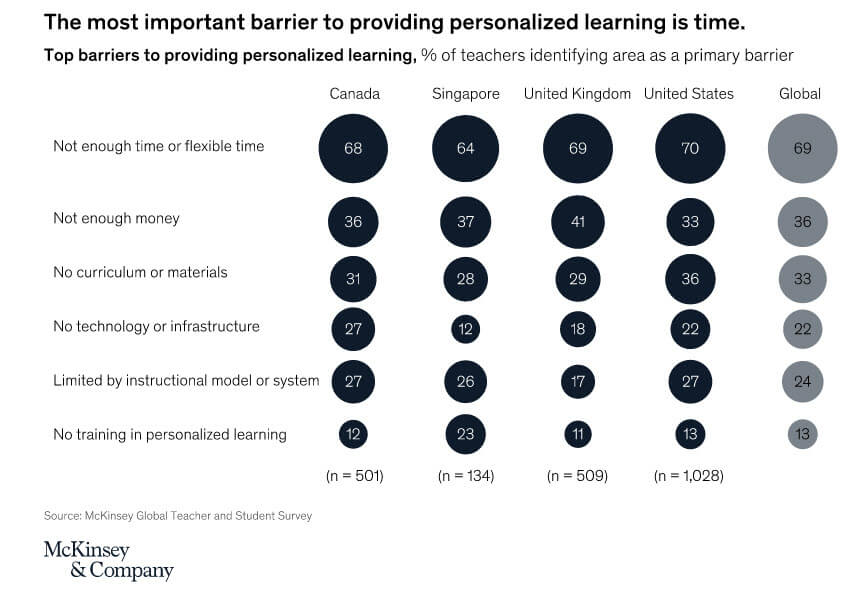 AI-powered elearning software is a great time-saver for the teachers as it is designed for personalization of teaching:
AI-based tool for knowledge checking to automatically determine the topics a student hasn't mastered yet;
AI-based tool for predicting future proficiency to address knowledge gaps among individuals or even groups of students as early as possible;
AI-powered tool for building personal learning paths to master them at their own pace throughout the school year.
1. AI-based knowledge checking tool
An AI-based knowledge checker automatically determines which topics in the course a student knows and which ones they don't know.
A student then can choose which topics they're ready to learn right now from the topics they don't know.
The initial knowledge check is a not set of predetermined questions as it used in traditional elearning software.
Actually, each question is suggested based on how a student answered all the previous questions because the AI-based knowledge checker constantly adapts to a student.
If a student answers a lot of questions correctly they see more challenging questions as the AI algorithm pushes them further into the curriculum to see how far their knowledge goes.
A student who is answering questions incorrectly will see more basic questions, the AI algorithm will shift them back through the curriculum to pinpoint their learning gaps.
As soon as a student completes the initial knowledge check, they arrive at the results page.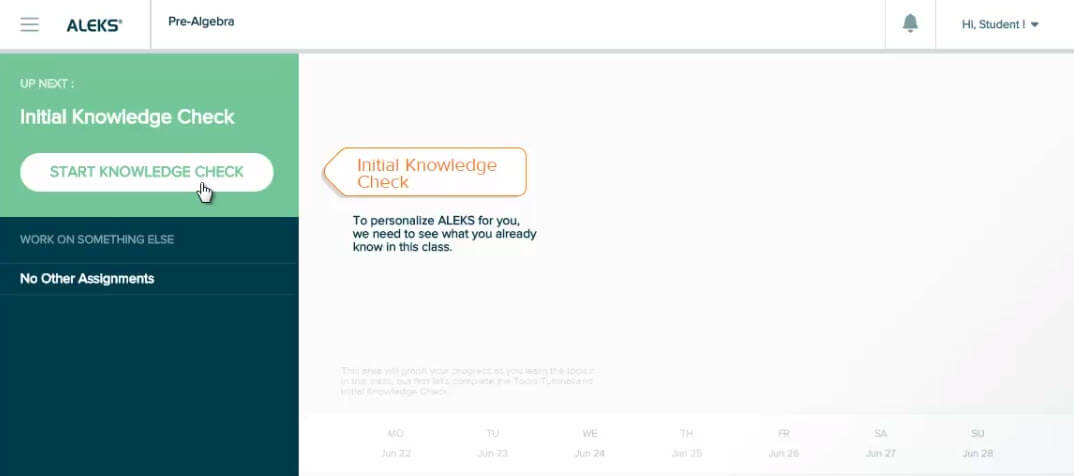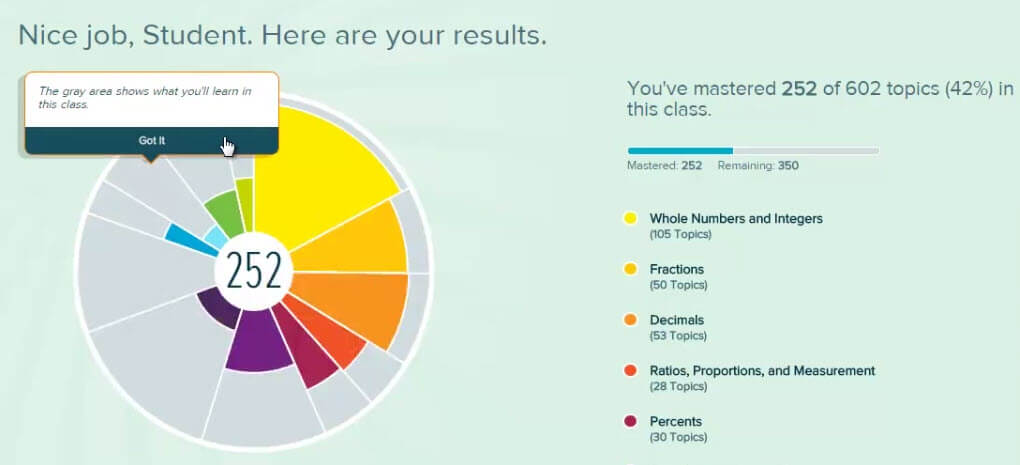 aleks.com
After passing an initial knowledge check, the student can start their own personalized learning path.
2. AI-based tool for predicting future proficiency
This tool can predict future proficiency for year-end state assessments throughout the school year.
Predictions are generated while students are actively engaged in learning, with no additional class time lost to testing.
Teachers can use it to help their students make proficiency gains earlier in the learning cycle, and address knowledge gaps.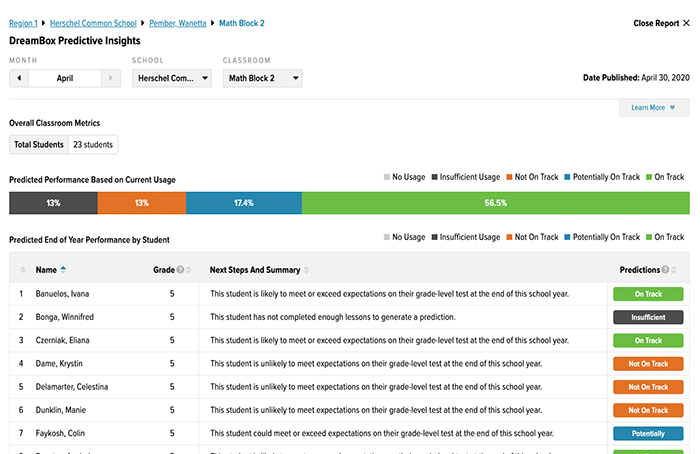 dreambox.com
The system also might provide alerts to human tutors to inform them of significant events (such as students who keep repeating misconceptions) that may require their intervention or support like one-to-one discussion.
Based on the students' scores, a teacher can manually group students according to learning needs and manually suggest lesson plans, materials, and problem sets for each group.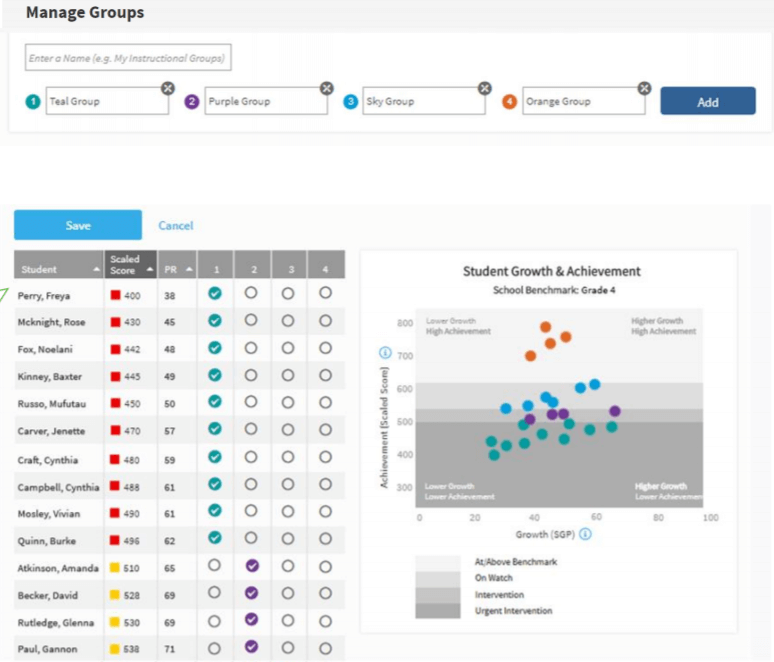 renaissance.com
3. AI-powered tool for building personal learning paths
After passing an initial knowledge check, students select their most ready-to-learn topic and start mastering it.
If a student puts an incorrect answer, the platform offers a hint. The student can also dig into the detailed explanation by clicking on hyperlinked words that lead to the appropriate reference material.
The AI-based knowledge checker automatically reassesses students with knowledge checks to see what topics they've retained. Teachers don't need to assign these knowledge checks, they will occur automatically once a student has learned a certain number of topics or passed a determined amount of hours in the learning path.
The topics a student does well on, will move to the mastered category, and the topics a student doesn't do well on, will go back to the learning path to be reviewed again.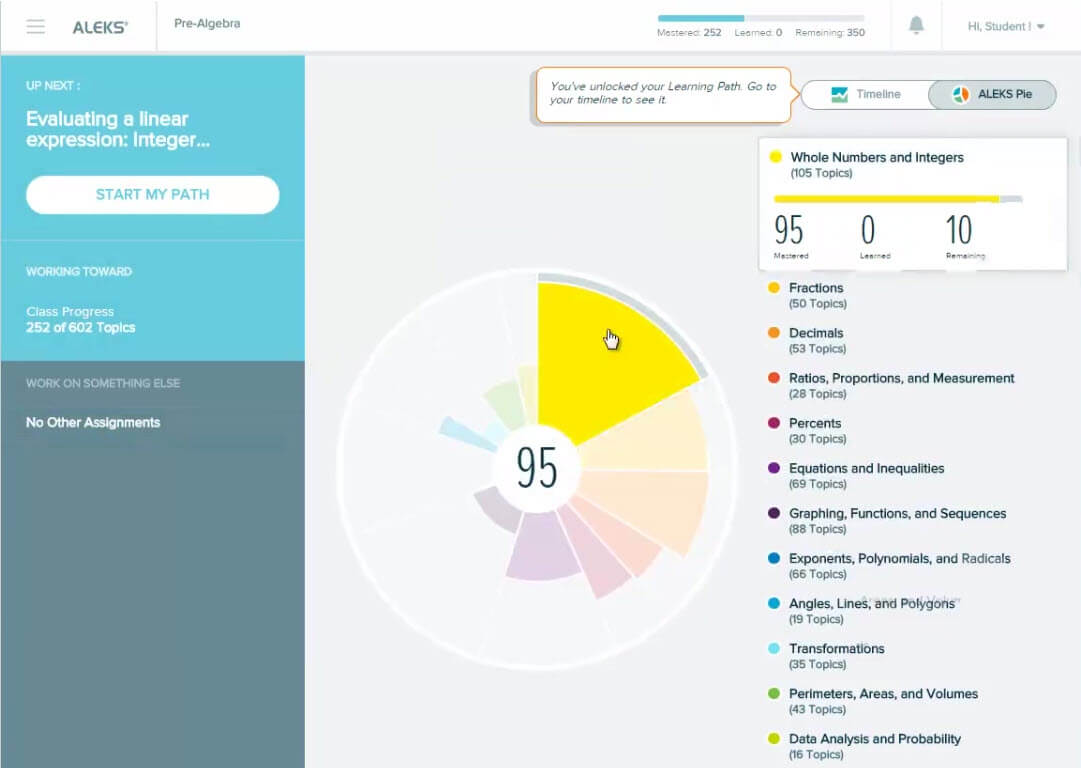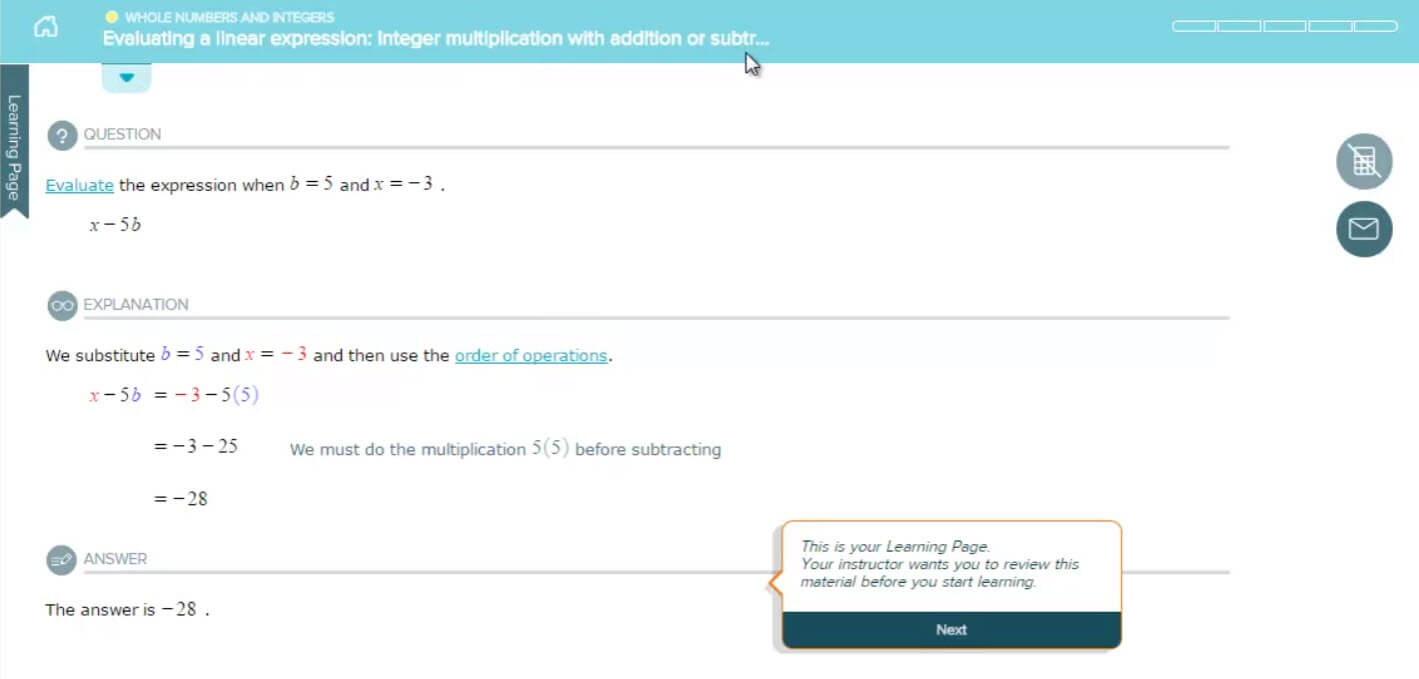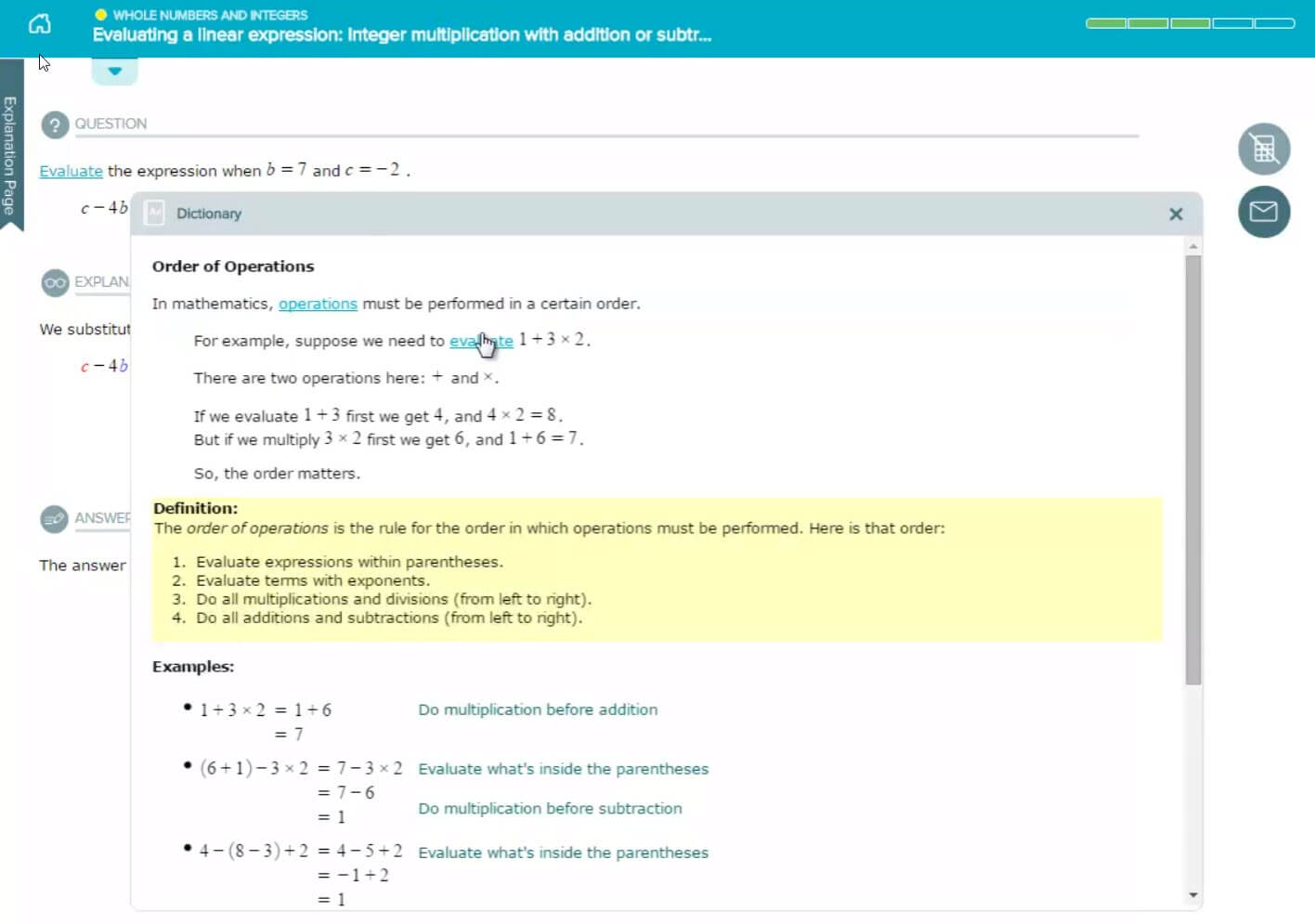 aleks.com
AI-enabled school security monitoring
AI-powered software for schools is designed to help school administration take a more proactive approach in preventing inappropriate students' activities:
AI-powered screen monitoring tool to control students' online activity during the lesson to prevent their distraction from studies.
AI-based content filtering tool to improve the effectiveness and accuracy of human moderators in their efforts on updating their Internet content filters with new rules.
AI-based tool for suicide and self-harm risks monitoring to automatically alert parents and school staff members that certain students are looking for potentially dangerous information on the Internet using school network;
AI-based technology for automatic gun detection to immediately alert the principal, faculty, security, and the police of threats found, before they become violent.
1. AI-powered screen monitoring tool
This type of AI-based educational software helps monitor students during their online classes.
A teacher is able to see exactly what students are doing on their devices in real time, all tabs they have open, and how they interact with the material.
Real-time monitoring of each student's behavior enables teachers to keep students concentrated on their own work instead of spending time on non-academic web browsing or playing games.
When a student goes off-task, artificial intelligence notifies a teacher. AI could be trained to identify students' off-task activities using machine learning models for each classroom subject such as English, History, Math, or Science.
The off-task alerts use AI to scan the content of a student's current webpage and detect whether the content of the page reflects the classroom subject. If the content on a page does not correspond to the classroom subject, the webpage will be considered off-task and a visual alert will be initiated.
This means that even when students are working on homework for another class, AI will identify that a student is off-task.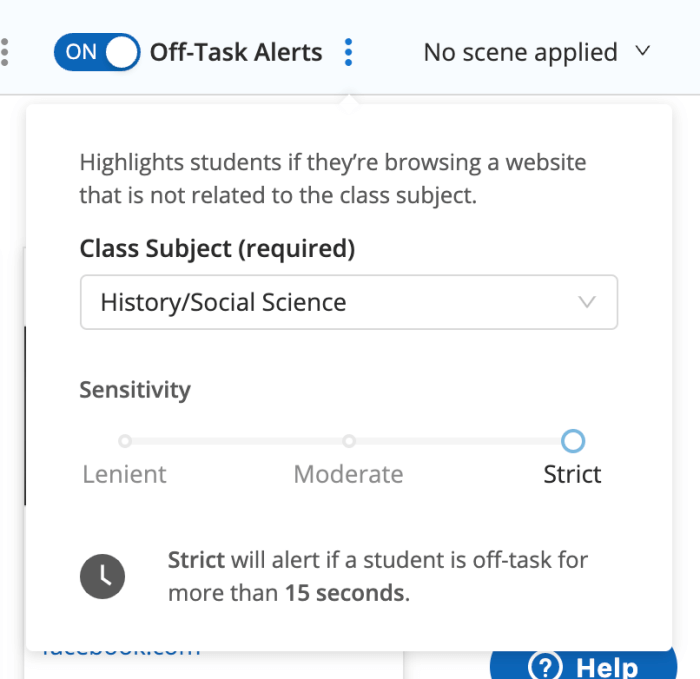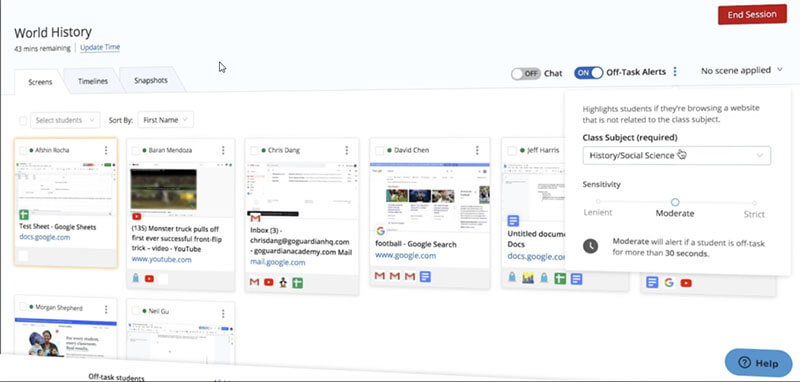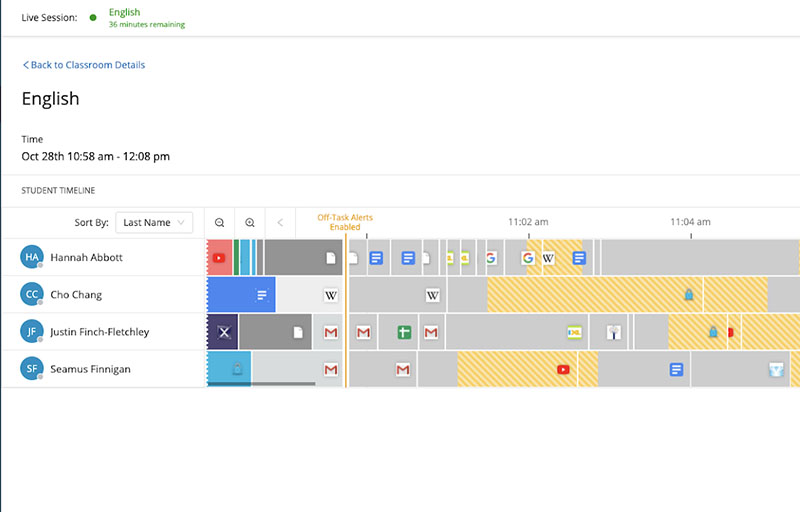 goguardian.com
2. AI-based content filtering tool
Almost all schools have a network-level filter to protect school networks, computer labs, teacher computers, etc.
However, students rely heavily on their personal mobile devices and laptops, creating a challenge for IT teams to monitor and filter internet exploration as mandated under the Children's Internet Protection Act.
The problem can be effectively solved thanks to the AI-enabled cloud-based filtering solution for K–12 schools. It is designed to expand filtering capabilities to all mobile and personal devices connected to school networks.
Unlike traditional content-filtering solutions, AI-based content filtering tools don't require a list of manually gathered websites' URLs or the ones that match masks like *unblock*, etc.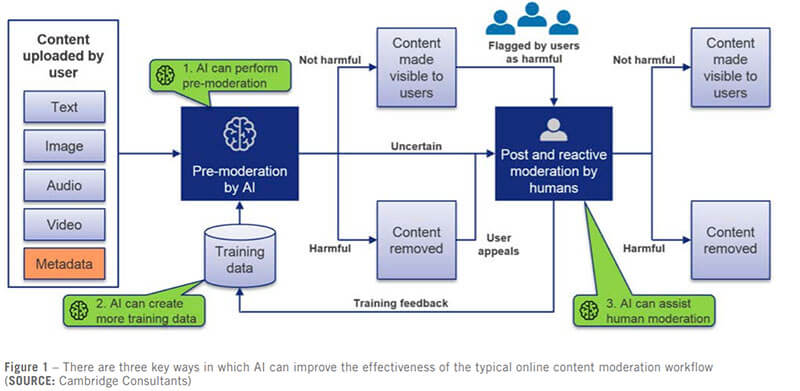 This filter learns to self-update and block new harmful content.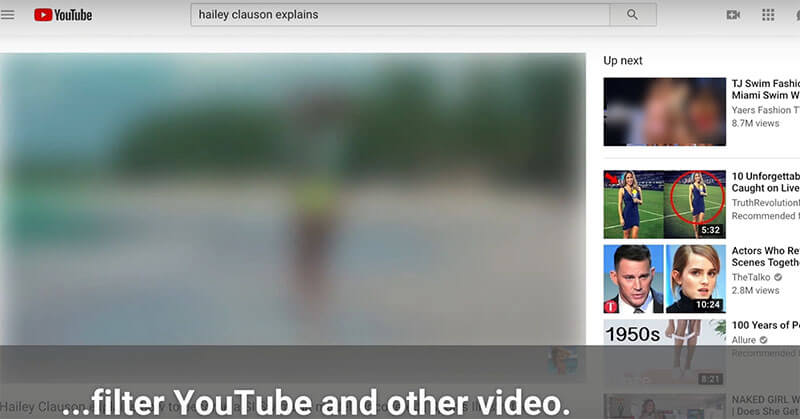 deledao.com
In content filtering, machine learning is used in the phases of proactive detection of potentially problematic content, the automated evaluation, and enforcement of a decision to tag/label and remove the piece of content.
Here is an example of AI-powered content moderation within K-12. The "Snake game" will be blocked, while "snakes reptiles" are allowed.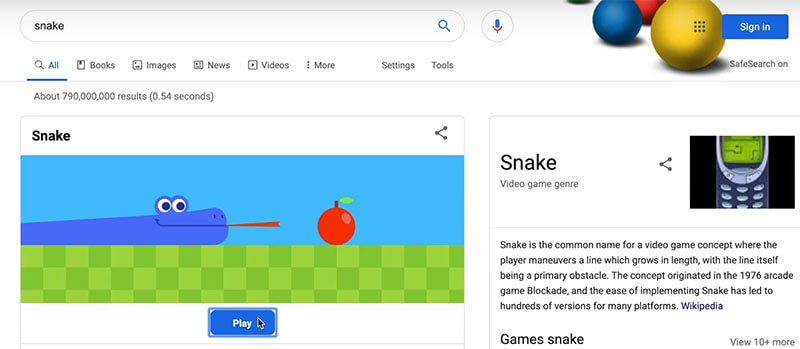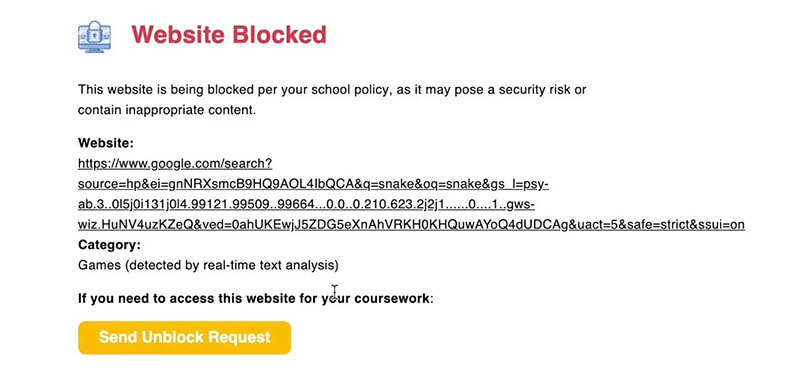 deledao.com
3. AI-based tool for suicide and self-harm risks monitoring
Today suicide is the second cause of death among teenagers. Students may search for suicide or self-harm related content using a school network. When self-harm behavior or suicidal ideation is taking place on school accounts, it may be a headache for school authorities.
It explains a high level of concern (44%) among school leaders related to flagging potentially dangerous uses of school technologies, as mentioned in EdWeek Research Center survey.
The AI-powered security monitoring software is able to detect early signs of suicide ideation from student activities on the net.
It is set up as an additional plugin on the school computers, and AI monitors the status of students' browsing the Internet on PCs inside the school.
"We learned that one child had planned to commit suicide in the next couple of days — because of the monitoring, we were able to intervene and get him the services he needed."
Lenon Harvey, Putnam County School District's director of information services.
The program is monitoring the content of each student's browsing. It automatically captures screenshots and then starts to analyze the content. If it is potentially related to suicide or self-harm, the software automatically generates an appropriate alert for the authorized staff such as teachers, school counselors, etc. as well as parents, if necessary. The educators can also view the browsing history in the screen carousel to review the screens captured before and after the alert was generated.
The AI-powered security monitoring software is also able to recognize the trends related to student's suicide ideation (for example, the number of requests for such kind of information during the past month) and the phase of the threat, for example, "General suicide research", "General suicide ideation", or "Self-harm and active planning".
Well-trained AI is able to differ activities like "searching for 'knot on a rope'" (classified as an Aggressive Plan) and "searching for 'yearly suicidal trend'" (classified as "Searching on suicide as a matter of fact").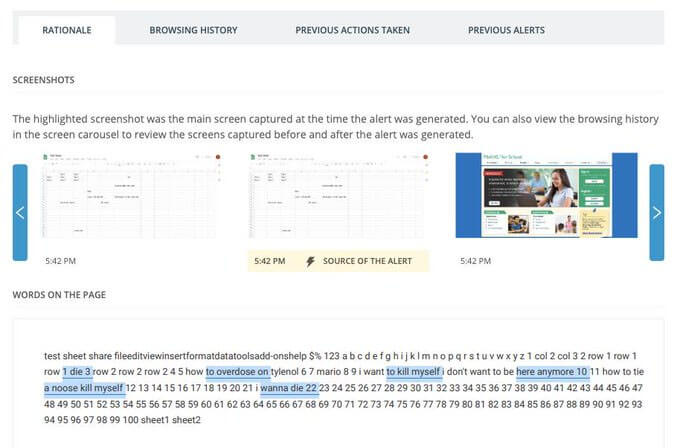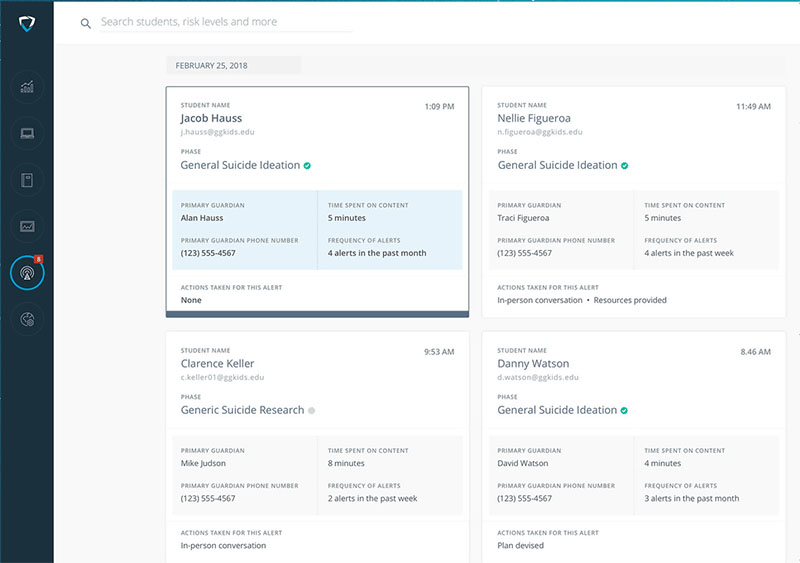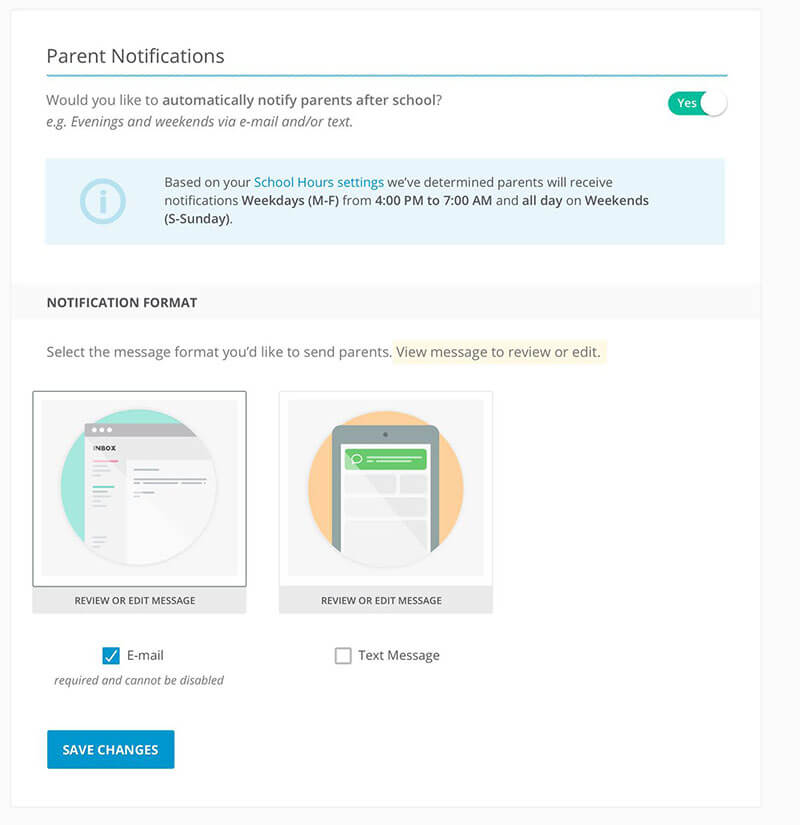 goguardian.com
4. AI-based technology for automatic gun detection
Though cameras are already in place at most schools, they give no clear indications of when a school shooting may occur.
By routing school camera feeds to the AI engine, school leaders and officials will be informed when a firearm is detected in surveillance cameras.
The AI-powered software that is running on school surveillance cameras identifies a weapon and sends an alert in less than 3 seconds to the principal, faculty, security, and the local police. The system reveals a shooter's identity, what weapon they carry, and their location.
Every time a shooter shows up on any camera and a weapon is exposed, this AI technology updates the authorities with a text and a picture of where a shooter is, where the gun is, and how many of them there are.
Such a weapon detection software improves itself with machine learning. It starts to make its own determinations about what is or is not a weapon. The development team actively trains the algorithm, which is going to result in an improved rate of response, and decreased "false-positive" rate.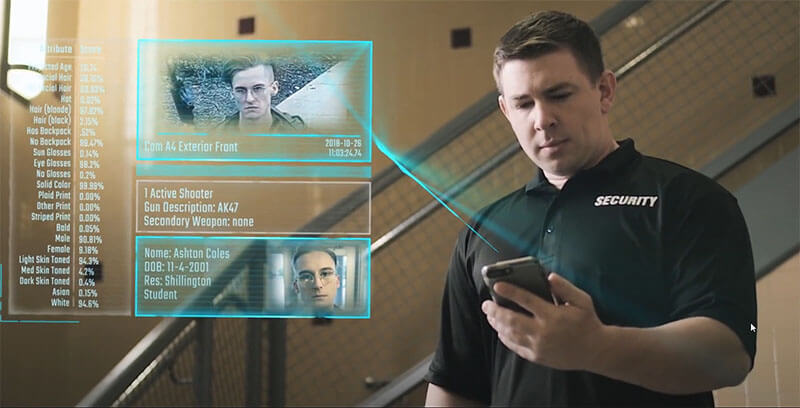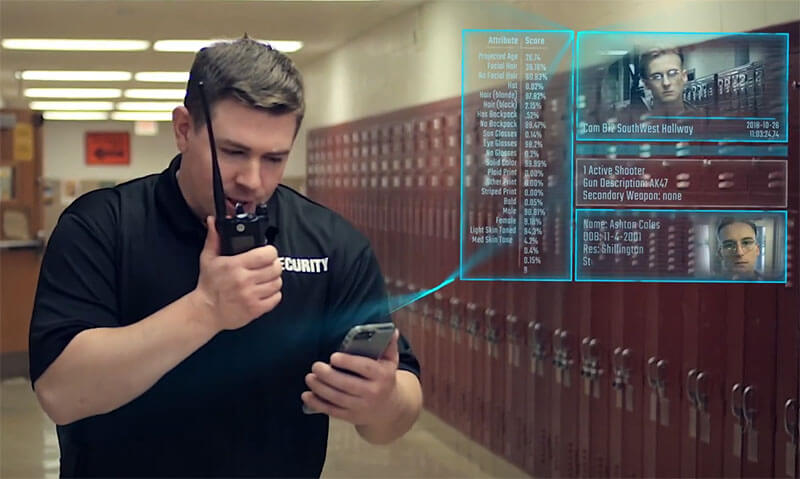 zeroeyes.com
How to implement AI in your teaching process?
Start with easy solutions


To get early results, start with fast and easy-to-apply solutions. Proven technology that can replace simple evaluative tools for formative testing can immediately provide teachers with extra time, making them interested in more holistic solutions.

Get expert eLearning software consulting


Today schools face a myriad of competing solutions, many of which promise much but deliver little. Understanding what is working and what is not is therefore critical.

Integrate AI into your existing eLearning infrastructure.


Districts and schools need to integrate new technologies with existing ones. Teachers should have the freedom and a strong voice in deciding which tools are working in the classroom and should be implemented districtwide. Technology companies, too, need to be better in including the voice of the teacher when guiding product development.
What's next?
During the past years, we have developed tens of complex eLearning apps/sites for clients who are looking for IT/development resources. Check out this case study as an example (Supplemental Education for K-12: Game-based eLearning Platform For Selling Math Training for Kids).
We would love to know whether you have high-priority business tasks which require IT/ development resources with eLearning industry experience?
We provide development of eLearning systems from scratch if the business needs are very specific (for example, require the utilization of interactive game-based learning, adaptive learning using AI, etc). If rational, we can use our own proprietary eLearning platform to cut costs.
Of course, we can digitize the hard-copy curriculum or any other material and migrate it to the e-learning platform.
We can also customize the legacy LMS to fit the evolving needs of your business or help you migrate your elearning content to a new platform.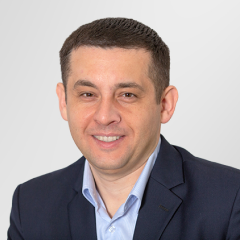 Written by
CTO / Department Head / Partner
I've been leading a department specializing in eLearning applications and Business Intelligence for 14 years.
Portfolio
Portfolio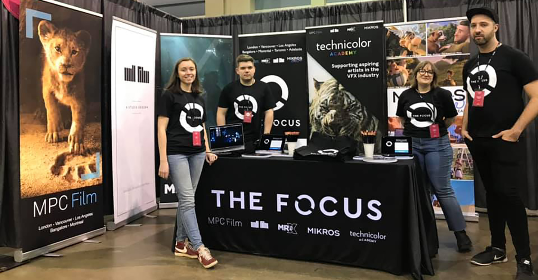 Technicolor SA is a global corporation with over 100 years of market presence. It provides various services in video pre-production, production, post-production, and distribution. Technicolor has a team of 17,000 people across many locations around the world, including the United States (Los Angeles), Europe (Paris, London, Berlin), Canada (Montreal, Toronto), Australia (Adelaide), and India (Bangalore).












Let's Talk Business
Do you have a software development project to implement? We have people to work on it. We will be glad to answer all your questions as well as estimate any project of yours. Use the form below to describe the project and we will get in touch with you within 1 business day.