Rising demand and $30 billion of value by 2032 - all of this makes the development and deployment of AI in education the priority for enterprises, training companies, EdTech startups, and educational institutions. Check out this ultimate knowledge hub to see real-life examples, types of AI-powered software and top AI tools for education, including custom-developed AI chatbots, as well as the benefits they bring to business and learners, and other insights.
How we can help?
We provide development of eLearning systems from scratch if the business needs are very specific (for example, require the utilization of interactive game-based learning, personalized learning using AI, etc). If rational, we can use our own proprietary eLearning platform to cut costs.
Of course, we can digitize the hard-copy curriculum or any other material and migrate it to the e-learning platform.
We can also customize the legacy LMS to fit the evolving needs of your business or help you migrate your eLearning content to a new platform.
Applying AI in education doesn't imply replacing your eLearning software but creating an add-on for your actual LMS, LXP, TMS, or learning application.
Benefits of AI-based Education
The most impressive AI benefits for business and the L&D department are:
L&D experts can better understand learners' behavior patterns. Backed by AI, they can deliver relevant to-the-point learning curriculum.
Companies can receive the same learning outcome in fewer hours compared to a traditional educational approach. When learners complete a tutoring session fast, they put what they've learned to work immediately. It results in huge time and money savings.
The major benefits of AI-based education for training providers:
The e-learning companies can use AI to create powerful software that will stand out and win the market (e.g., use AI chatbots for education or personalized learning using AI).
AI can extract data from multiple sources and analyze it fast. That said, you get in-depth forecasts of upcoming learning trends and events.
How Can AI Be Used in Education?
AI in education is a global trend. And the application of Artificial Intelligence in eLearning software will be continuously increasing.
The application of AI in education affects 3 areas:
Gathering data about every learner before starting the training. These data are compared with a model (competency matrix) to define the existing knowledge gaps for everyone individually. It enables the creation of a personalized learning path including only relevant topics to be learned instead of passing a generalized curriculum created for all learners. As a result, the learning process gets much faster.
Automated tracking of learner's progress during the training. It helps timely detect gaps in knowledge acquisition by using knowledge assessments created by AI. Also, it allows forecasting the learner's performance to get valuable insight for adjusting personal curriculum or timely intervening in the learning process.
Further increasing the effectiveness of the training. This is achieved by creating a personalized learning path for every learner and its automated adjustments along the learning process based on regular AI-powered reassessments.
Corporations, education tech startups, training companies, universities, schools and students — all parties get a lot of prominent benefits from online learning, like covering larger audiences online. At the same time, AI boosts e-learning to a new level by addressing challenges that are not obvious at first glance.

Dmitry Baraishuk Belitsoft's CTO on Forbes.com
What skills to teach
Teaching starts from revealing skills gaps. However, traditional approaches haven't succeeded a lot in this direction. For example, more than 30% of HR leaders shared that their major challenges include the lack of visibility and understanding of current skill gaps.
Solution
Revealing skill gaps using AI-based skills assessment.
How it works
The process starts from creating a competency matrix that maps required skills for a particular position, project, etc. it's required to create it once manually before AI will be able to parse the competency matrix autonomously.
An AI-based tool for skills assessment automatically grades the current skills of every employee or student by comparing their profiles with the competency matrix. The tool gives the score before the education process starts and after its completion. As a result, stakeholders get visibility and understanding of current skill gaps before any training and after it.
How it may look like
Examples of skills assessment with the help of AI in Talent Management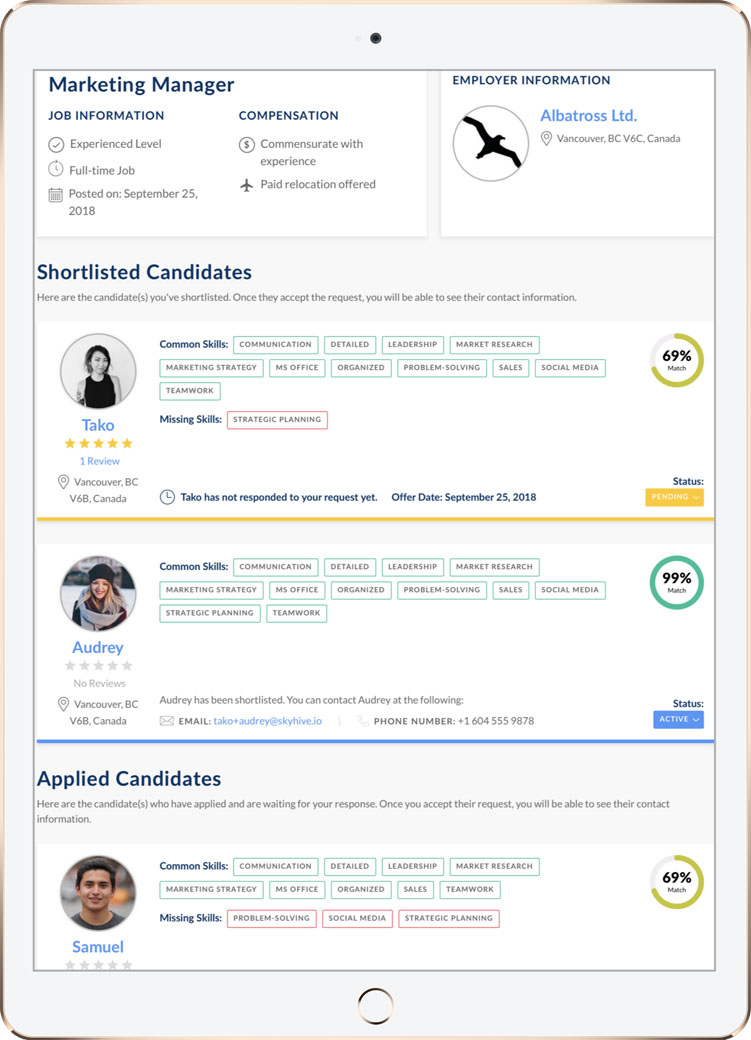 skyhive.io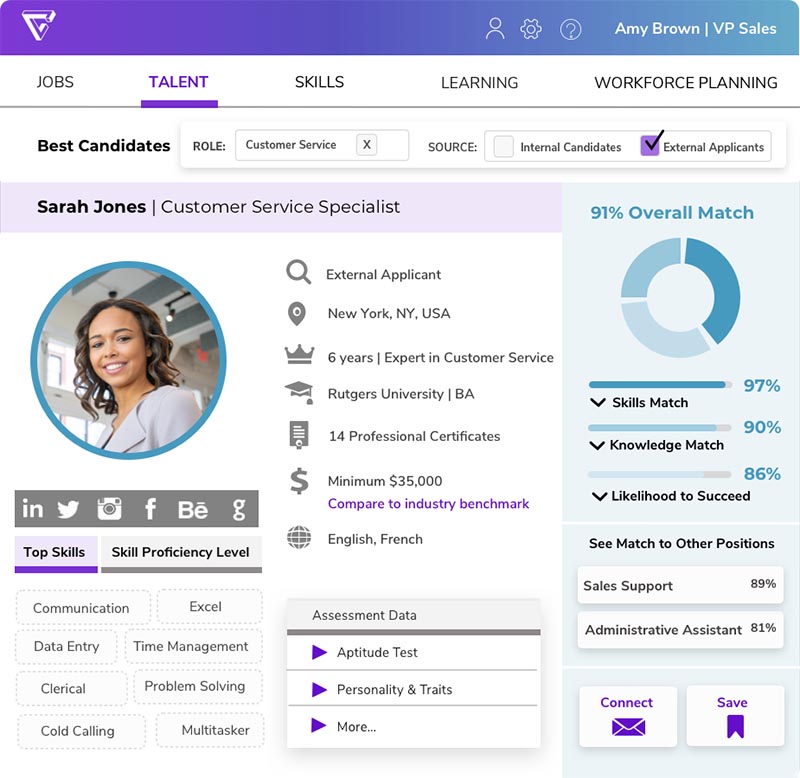 retrain.ai
You can even consider comparing the skills in your organization with the industry average by implementing benchmarking data from special providers.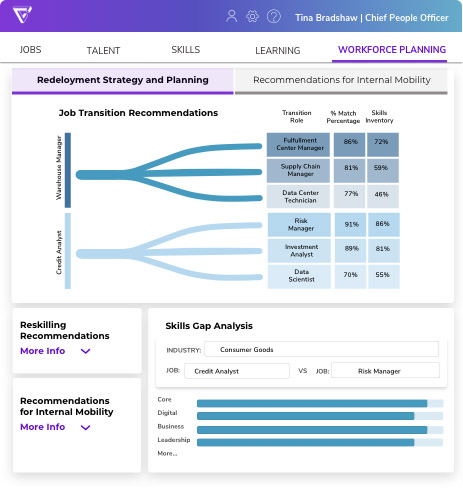 retrain.ai
What to do with this information
After understanding the skills gaps you can provide your students or employees with the educational content that fills these particular skills gaps. You can either create a custom one from scratch or integrate third-party ready-to-use teaching content.
Eventually, you need an eLearning software in place that is capable of revealing skills gaps and pulling out the appropriate learning content from the content library to fill in these gaps.
Regardless of the chosen option, it's also necessary to consider which systems, that have already been implemented in your organization, you'll integrate with your new AI-based tools.
Tracking the effectiveness of training programs
Without a well-structured and accurate measuring system, managers and stakeholders have no idea whether the training outcomes in numbers meet the initial expectations. And if not, where the problem lies and how to fix it.
Some businesses leverage traditional tracking methods. The issue is such measuring methods are manually performed by HR managers or educators, which consumes quite many resources and can be rather biased.
Solution
Tracking the learning progress and predicting learning outcomes using precise AI-driven learning progress tracking and AI-powered predictive learning analytics tools.
How It Works
The software aggregates data about learner's performance from a learning platform, including knowledge assessment scores, missing or past due assignments, etc.
After processing these data, a progress tracking tool powered by AI algorithms starts analyzing them to calculate the level and speed of competencies acquisitions, compares the results of every learner against the learning objectives, and provides the benchmark comparing the productivity of all learners of this course.
With AI algorithms running over and over again, the software starts to identify patterns of learning behavior inherent to each learner. Having the pattern defined, an AI-powered predictive analytics tool can predict the outcomes for each learner individually. Predictive reports with these data are generated automatically.
The cycle repeats, detecting new input data and building new patterns without human intervention. That actually represents the difference between AI and traditional software.
How It May Look Like
Example of performance tracking using a competency matrix
Example of a predictive report built by Artificial Intelligence in K-12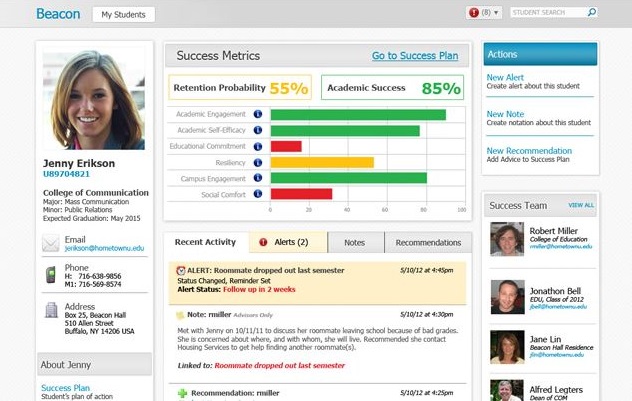 beacon.io
What to Do with This Information
After getting progress tracking results, educators and L&D managers can use it to objectively and without bias identify top performers and flag low-performing learners. It can be especially helpful for verifying who has best mastered new knowledge and can be offered a promotion, and who needs help or follow-up.
Accurately forecasting learners' performance allows predicting the chances for a learner to succeed or fall behind. It leads to timely uncovering pitfalls, enabling early interventions, and as a result, increasing learners' success rate and retention.
By getting well-structured and intuitive reports with timely analytical data, educators or an L&D team get a clear understanding of whether the training program works or fails, and can optimize it accordingly to increase the effectiveness of training.
All in all, the role of AI in education is to favor easy scaling and automating of repetitive processes in education to save valuable time and resources and avoid bias.
Increasing the effectiveness of training programs
Having a vision of current skills gaps and providing the most suitable educational content doesn't guarantee the expected outcomes. Increasing training efficiency is where, probably, all the power of AI reveals.
Solution 1
Increasing the effectiveness of training using a personalized learning path created by AI individually for every learner.
How It Works
After identifying a learner's current skill set and goals, the AI-based software uses these data to build a personalized learning curriculum starting from the topic that most suits to the current level of a particular learner's skills, and not just the common topic for all learners.
While going through the topic, a learner is offered a series of questions with hints and detailed explanations in case of incorrect answers. The difficulty level of every following question is adaptable: it depends on a previous learner's answer. If a learner answers correctly, the difficulty levels up. In the case of an incorrect answer, the difficulty levels down. This is how adaptive learning AI technology works.
After completing a certain number of topics or passing a determined amount of hours in the learning path, the skill assessment tool automatically reassesses learners to see what topics they've retained. As it's close to impossible to make a myriad of tests for checking every mastered skill or piece of knowledge, AI can compile on-demand tests autonomously.
Based on the results of the assessment there are two options. The topics a learner has done well will move to the mastered category. And the topics where a student has struggled will go back to the learning path to be reviewed again.
Speeding up knowledge acquisition using improved learning techniques.
The faster employees acquire new knowledge, the earlier they start applying it in the working process.
To gain this competitive advantage, companies need learning tools for effective knowledge acquisition.
How: personalized learning path, microlearning
A personalized learning path is a unique learning road map built individually for every learner based on their learning objectives. So learners aren't obliged to learn a course from scratch. They start learning exactly what they need, skipping mastered or irrelevant topics.
How does it work?
Firstly, the AI-based recommendation engine gathers data about the learner's current skills and targets (either skills or a job position).
Secondly, AI matches current skills to the required ones, highlighting missing skills.
Finally, AI recommends only relevant bite-sized learning materials (microlearning) for acquiring missing skills and knowledge.
Microlearning is a learning approach based on dividing learning content into relatively small learning units.
Microlearning courses are highly focused, so learning at the workplace becomes shorter, quicker, and sharper. In its turn, less learning time leads to fewer training payroll hours and more working hours for employees.
How does it work?
The entire course gets divided into units or modules from 2 to 10 minutes each. But can reach 20 minutes as a maximum.
Every module covers a specific concept, skill, idea, or topic. And is focused on achieving a unique learning objective.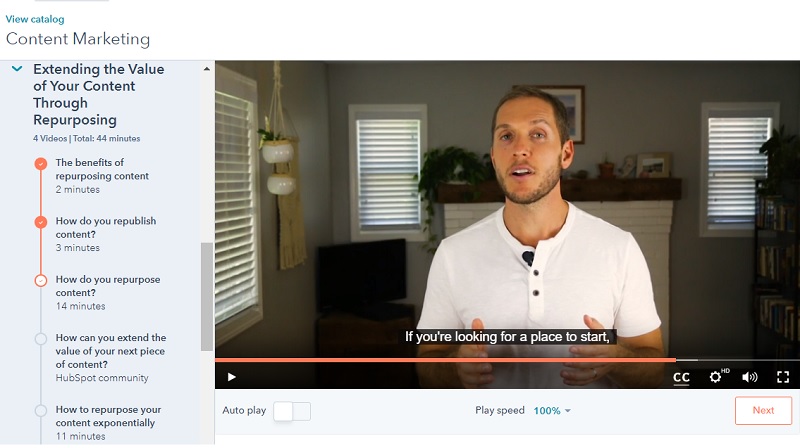 Example of a learning path based on microlearning on Hubspot
How It May Look Like
Examples of building a personalized learning path for corporations
fuel50.com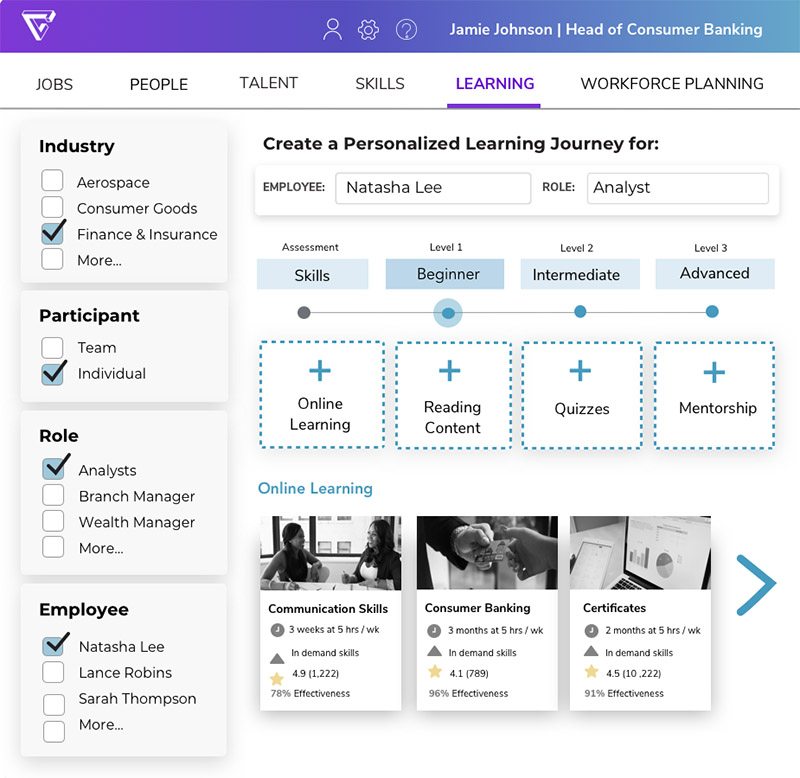 retrain.ai
Example of a personalized learning path built by AI in Higher Education curriculum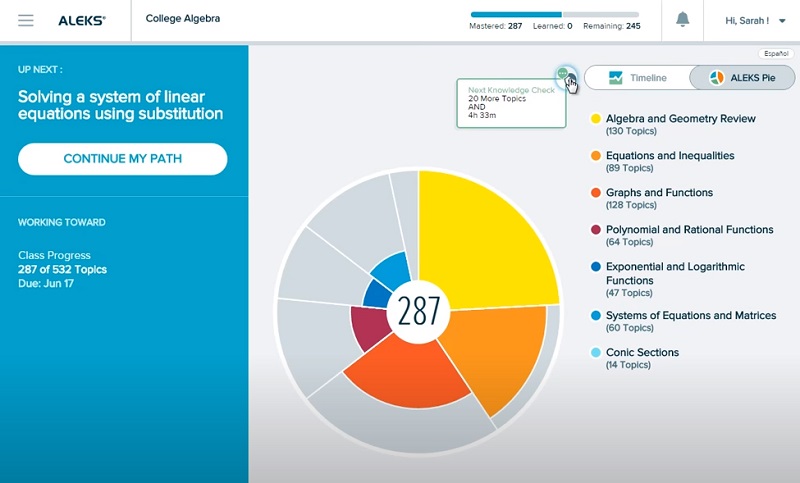 aleks.com
Example of AI-powered language learning application with a personalized learning path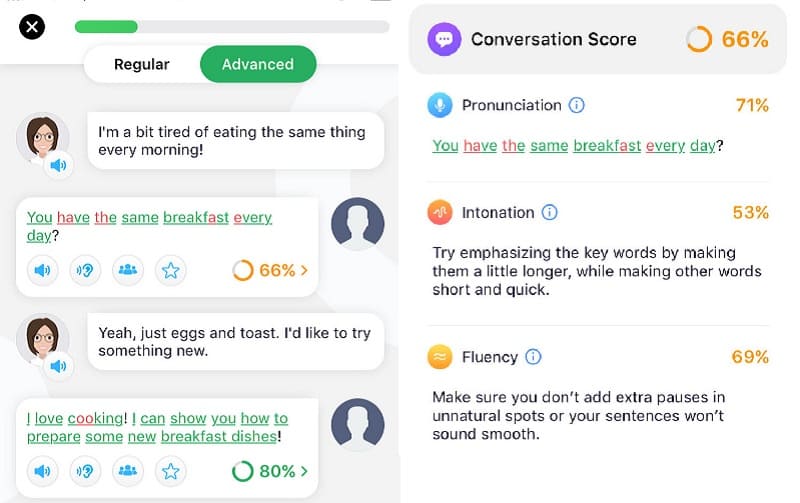 Elsa
Solution 2
Increasing the effectiveness of training using AI chatbots for education.
How It Works
The process starts by creating a knowledge database with real learners' questions and routine situations.
Getting a question, a chatbot responds in seconds if a question is already in its knowledge base.
If a bot doesn't know an answer, the question is sent to a human team.
As a human answers new questions, the AI adds new data to its database to answer it autonomously the next time. So the chatbot is constantly increasing the array of circumstances and questions it can manage without human intervention.
How It May Look Like
Example of an AI chatbot assisting a student during enrollment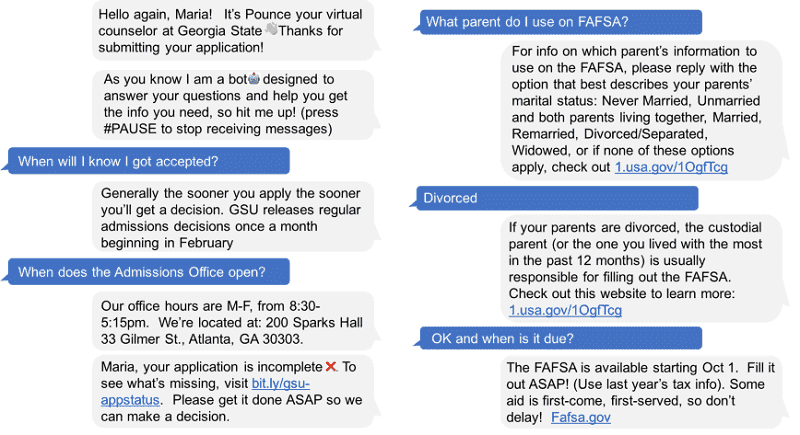 admithub.com
By identifying what skills to teach, how to track and increase the effectiveness of training programs, you resolve the core problems in education and set up the educational process that brings actual benefits that are positively revealed on the bottom line.
Want to develop AI chatbot and implement it in your learning and development process? Our eLearning experts are excited to share their multi-year expertise and provide you with a solution. Just contact us for that!
Tracking employees' skills for maintaining workforce capacity at the necessary level.
By measuring and tracking employees' performance, managers get a clear understanding of:
Employees' strengths and weaknesses;
The best role for each employee and their skills;
Balance between company goals and workforce capacity;
Efficiency of corporate training programs.
For accurate and regular workforce skills assessment and tracking, AI-driven tools are applied.
On the one hand, AI-driven data analysis discovers and highlights the skill gaps that learners need to improve. On the other hand, AI also helps trainers decide on a scale which tutoring courses to assign to specific users to enhance their performance.
How: skills assessment
Skills assessment is an evaluation of current employees and job applicants to see whether they have the necessary skills to perform a certain job.
The most accurate and advanced way to measure it at the moment is an AI-based tool for workforce skills assessment.
How does it work?
To start measuring individuals' skills, a company should create a skill matrix.
Then, the data about employees' skills that are stored in TMS, HRIS, LXP, or LMS user profiles are compared against the skill matrix.
Finally, AI algorithms grade the job-ready skills based on employees' profiles and a competency matrix.
As a result, managers get a list of top-performers and underachievers within a company as shown in the picture below. They can also use a skill matrix to evaluate whether new candidates possess the skills that the company needs.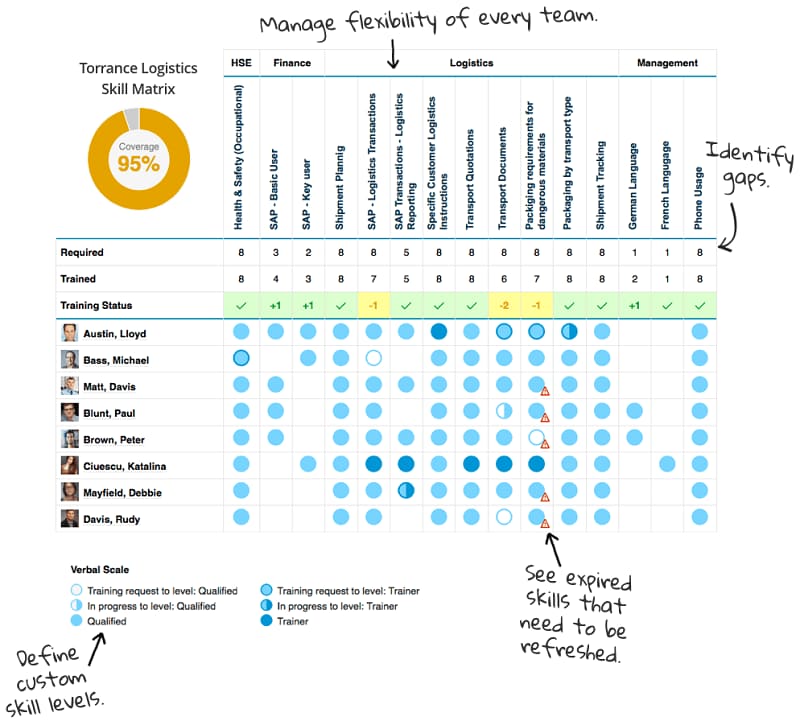 teamguru.com
Facilitating internal mobility processes to avoid talent risk
To avoid Talent Risk, the №1 threat for companies, forward-thinking organizations invest in the Internal mobility processes.
Why is that important?
Internal mobility helps keep valuable talents within the company in the long term. Not only does it give employees new opportunities for advancement, but also reduces recruiting costs and gives HR managers a wider pool of candidates.
The proven tactic of creating internal mobility is upskilling and reskilling the workforce. For that, AI tools are integrated into Talent Management Systems, Learning Experience Platforms, or Learning Management Platforms.
How: integration of AI-powered TMS with LXP or AI LMS
To start, it's necessary to integrate a company TMS featuring available positions and required skills with a learning platform.
When an employee is searching for new job opportunities, they can see all the open positions within their organization and the necessary skills for each position.
After that, AI algorithms analyze the actual skills of an employee. And compare them against the job requirements, highlighting the missing skills.
Finally, AI assigns corresponding tutoring materials from LXP or LMS to close those gaps.
This approach leads to more effective training because it is based on a high learners' motivation and is supported by a more personalized learning experience.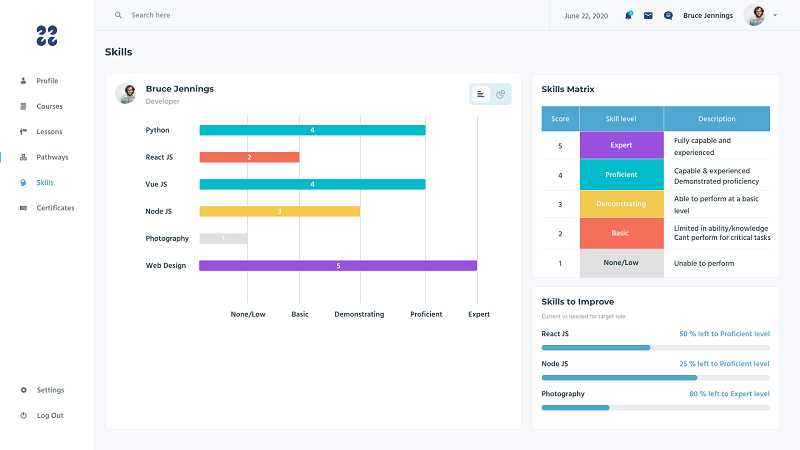 A learner's dashboard showing current skills and the skills to be improved
ddi-dev.com
Automating administrative tasks for reducing the workload of L&D and HR teams
Automation is the reduction or complete elimination of human participation in certain learning processes.
Automation of HR processes saves 14 hours per week for HR managers, undertaking such tasks as generating offer letters, performing competency mapping, collecting and maintaining documents.
By taking mundane administrative tasks off the everyday business life of your L&D team, you refocus them on impactful work, like helping to upskill employees or onboarding new hires faster.
Together with basic eLearning automation features (enrollment, reporting, notifications), AI-powered tools such as chatbots are already in active use.
How: chatbots
The AI chatbot is software that mimics a human-like conversation through text or voice commands.
The primary role of chatbots is answering common questions about onboarding, a learning course, and any other staff.
How does it work?
A knowledge database is created on the basis of real conversations.
If a chatbot gets a question that is already in a database, it responds in seconds. What if not?
If a chatbot has no answer, the question is sent to a human L&D or HR team.
After a manager answers a new question, Artificial Intelligence learns its answer by including new data in the database.
As a result, the AI chatbot boosts its capability to deal with an increasing number of questions without human interaction.
In what situation can AI chatbot be used in the corporate segment?
Actually, in multiple cases. And the most common are onboarding a new employee, sending announcements and proactive reminders to the workforce about a learning course or the working process.
You can also integrate it with other corporate solutions (CRM, ERP) and communication software like Slack.
Or, use a chatbot as an AI-powered tutoring and content recommendation tool during learning, as shown in the picture below.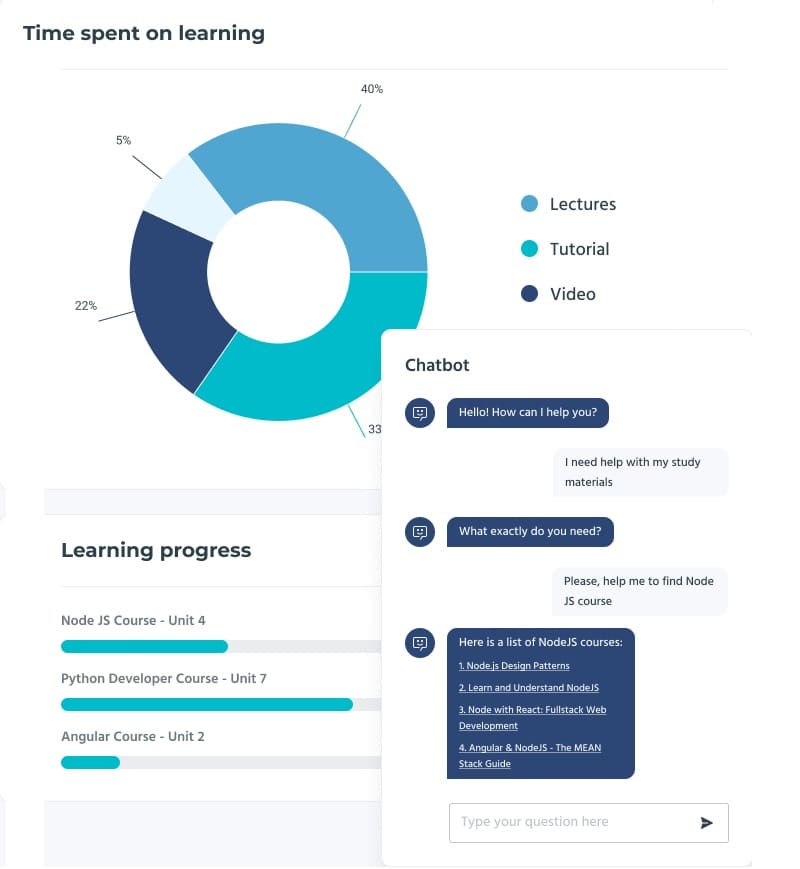 Chatbot providing recommendations on Node.js courses
ddi-dev.com
Forecasting potential skills gaps for timely addressing them
87% of companies report suffering from the skills gaps or expect them within a few years.
McKinsey reports that 75 to 375 million people may need to learn new skills and switch occupations.
To avoid the challenging disruption, farsighted stakeholders are working on predicting emerging jobs and potential skill gaps to have time for addressing them.
How: predictive analytics
The workforce forecasting tool powered by AI can accurately predict skill gaps that your company may face in the next few years.
For that, you need access to the database with average industry trends. That will be a benchmark for comparing the actual state of your company.
The 1st step. AI-based forecasting software analyzes your human capital - actual and required job positions and skills, company trends, etc.
The 2nd step. AI algorithms compare your company's results with the actual industry average.
The 3rd step. AI makes a list of emerging jobs and in-demand skills that your company needs to invest in.
As a result, company stakeholders get AI-driven recommendations for jobs redeployment strategies.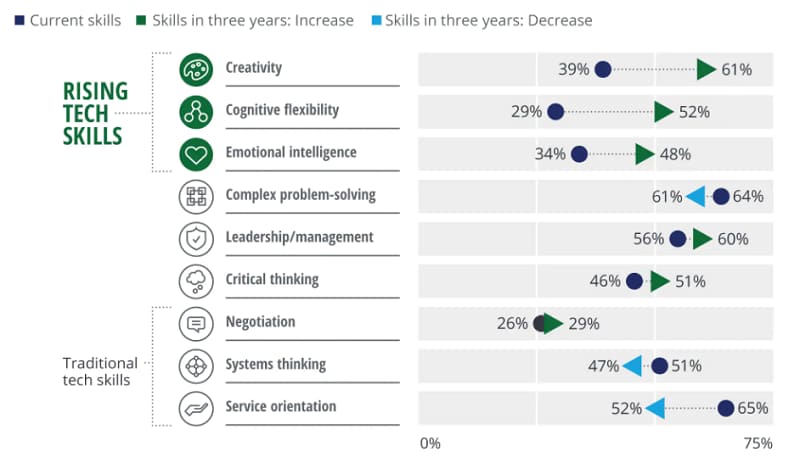 Example of a skills database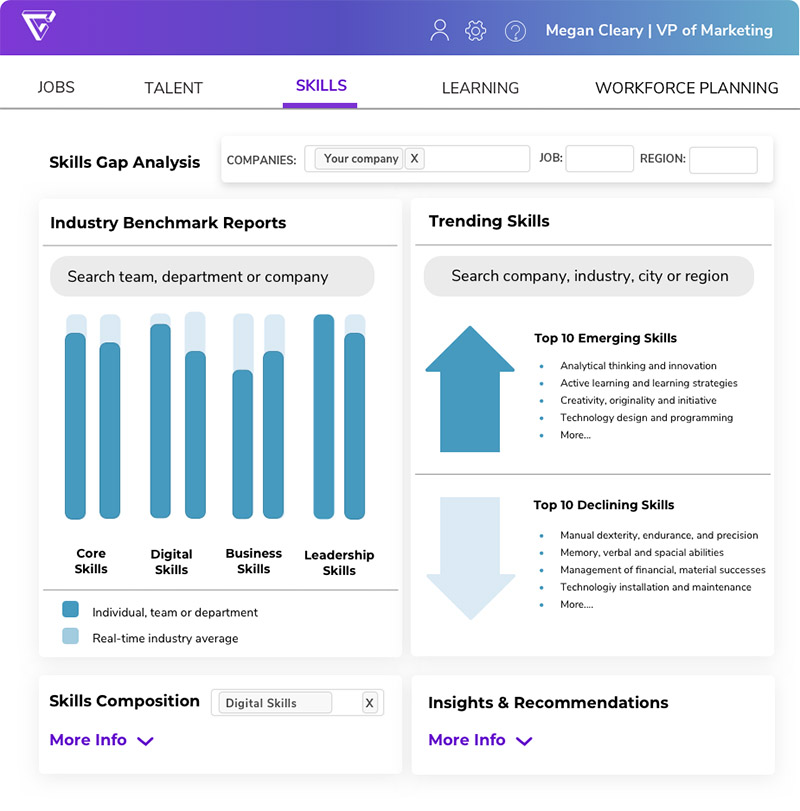 Retrain.ai forecasting tool
Discover what AI-driven tools can fit your business in the article AI in Talent Management and in Learning and Development.
3 types of AI-based eLearning platforms to consider now
Let's now take a sneak peek at the three types of AI-based platforms that training providers and enterprises need to consider for streamlining the L&D and HR processes.
AI-powered Learning Management System
LMS is a learning platform geared to craft, implement and assess tutoring processes in corporate ecosystems.
AI LMS platforms use ML-driven algorithms to learn and analyze educational activities. The more it feeds on data, the more enhanced info the AI engine harvests on users' abilities, learning habits, weak spots, and progress.
It can then provide in-depth forecasts and suggestions tailored to the specific learner's profile.
You can either create an AI-fueled LMS from scratch guided by your business goals or augment an existing learning environment.
Here are AI LMS features that can skyrocket your L&D and HR efficiency:
A traditional LMS, compared with AI-based, is an admin-controlled platform. This person can manually evaluate learners' progress, manage tutoring programs and carry out in-depth analyses.
AI LMS is an LMS with enhanced functionality. It means that it has both proven features for traditional eLearning software and advanced functions.
Personalized learning paths. AI-basedLMS platforms provide unique educational roadmaps tailored to the individual employee's profile.
Advanced analytics and reporting. AI LMS equips you with extensive insights into the HR and L&D environments. It also provides forecasts on emerging skills and jobs allowing businesses to address potential skill gaps in time.
Rock-solid security. You can be sure your data is safe and sound. Modern LMS may leverage biometric authentication, two-step verification, and improved vulnerability management.
Excellent compatibility. LMS ensures rich integration options with third-party platforms. There is full compliance with SCORM, xAPI, cmi5, LTI, and GDPR standards.
Efficient use of resources. LMS automates and optimizes multiple routine activities of the HR and L&D departments. Including administrative tasks management, competency mapping, document maintenance, to name a few. In such a way, your employees can focus on more crucial tasks.
In-built gamification. You can morph your tutoring process into an interactive and engaging experience. Game-based LMS can help you foster a competitive spirit within a company and enable a high level of motivation.
Chatbots. Learners will benefit from immediate and accurate assistance 24/7. While an L&D team will significantly lower the amount of administrative routine tasks and will focus on strategic tasks instead.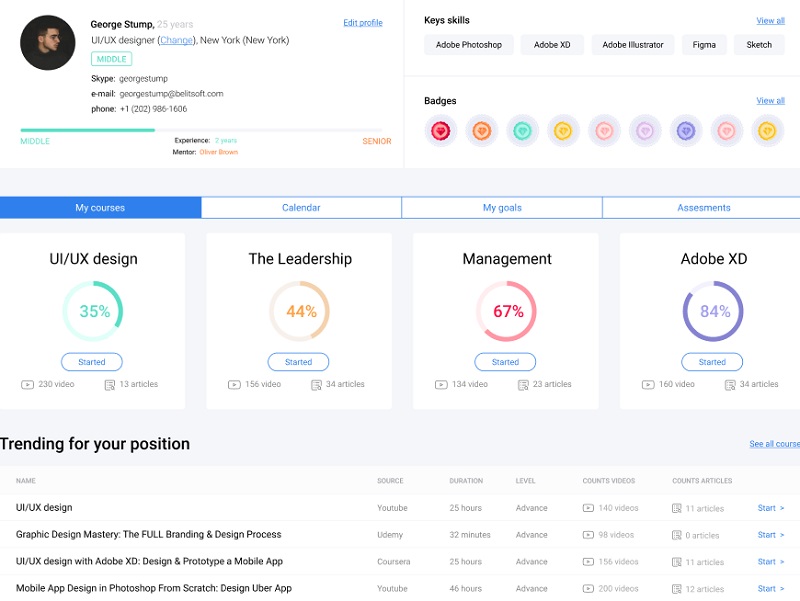 Example of an LMS by Belitsoft
AI-powered Learning Experience Platform
Both LMS and LXP solutions are widely utilized to help employees gain the necessary knowledge and skills in a timely manner. These tools allow experts to excel at their jobs and quickly adapt to a company's ecosystem.
What is the key difference between a standard LMS and an LXP solution?
The first one provides only manually loaded tutoring courses. They are primarily developed by a certain eLearning content provider. And has a rigorous learning path created by instructional designers or system admins.
In its turn, LXP gets its content from different providers via API and provides learners with the ability to study at their own pace, following their own learning paths. Learn more about the key differences between LXP and LMS platforms.
Here are a few compelling features of AI LXP for business:
Personalized content recommendation. The AI-fueled LXP's interface is similar to those of Linkedin or YouTube, to which it's often compared. It's easy to find the tutoring materials you want. And user-oriented algorithms recommend what else you can learn on the subject.
Adaptive learning plans. AI LXP allows learners to develop a wide range of skills while sticking to a customized learning path.
Microlearning. AI LXPs provide snippets or short videos to answer numerous questions (e.g., "How to create a comparison table in Excel"). Tutoring materials are split into small chunks for better understanding. Thus, specialists learn faster and stay as highly motivated and engaged as possible during the entire workday.
Social learning. LXP platforms facilitate collaborative learning and development. Experts can choose any content they like, leave their feedback and send recommendations to their colleagues. Employees can also find out what their senior manager is learning at the moment.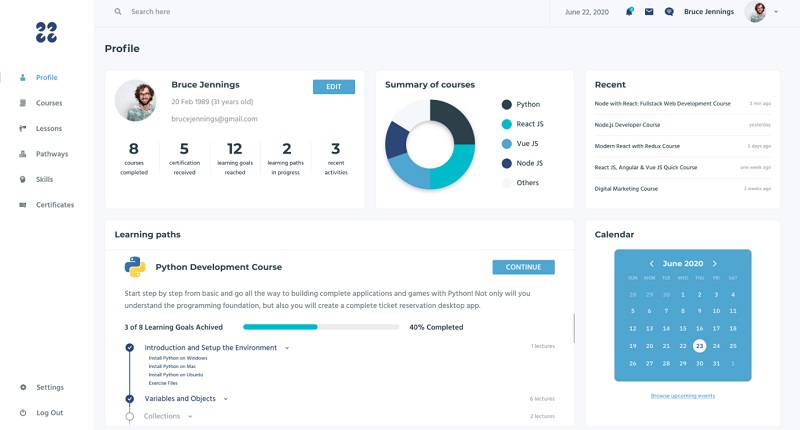 Example of LXP
AI-powered Talent Management System
A talent management system is a platform for HR activities, onboarding, learning and development, skills assessment, and so on.
TMS systems are designed to help companies reach their long-term goals through human capital assets.
In other words, a TMS solution is an employee-oriented software that puts talents at the forefront. It doesn't focus on managing administrative tasks.
You may deploy it as a stand-alone solution or implement it with other L&D and HR systems that you already have. All thanks to excellent compatibility with all the major eLearning standards.
The use of AI in talent management helps resolve the key business issues: finding the right talent, losing key employees, filling skill gaps, and upskilling and reskilling.
AI-fueled TMS is often enriched with the following features:
Chatbot tutor to guide your employees through onboarding and learning.
Skills assessment to help HR and L&D teams evaluate job seekers and employees based on a unified skills matrix.
Tailor-made suggestions to ensure seamless upskilling and reskilling.
Learner profiles to identify users' behavior patterns and keep all the information in one place.
Personalized learning paths (in integration with LMS or LXP) to effectively upskill and reskill employees.
Workforce forecasting based on comparing actual company skill set and job positions against the industry benchmark to predict future-proof skills and jobs.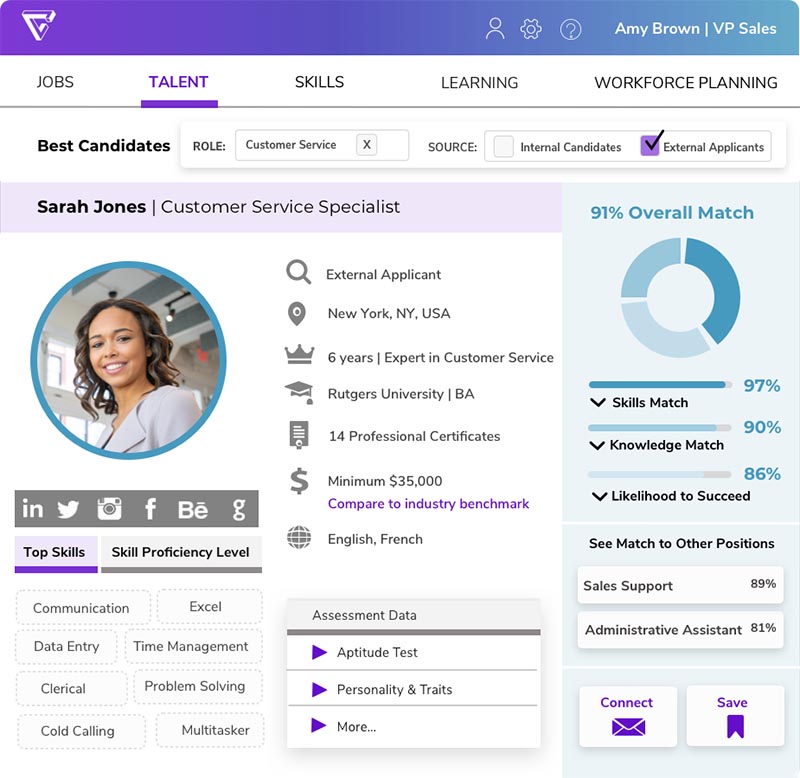 retrain.ai
Our in-house software engineers with over 15 years of expertise in eLearning will analyze your case and audience and recommend the best custom-designed solution. We are ready to put your disruptive ideas in motion. Please don't hesitate to drop us a line any time you see fit.
How to implement AI in your learning process?
Follow your core needs. Define the pain points that AI-driven software can help you cope with. What business goals would you like to accomplish backed by AI-based enhancements? Identify your critical issues and find out how this technology can optimize these processes. Asking the right questions is the key to success, so consider making a development plan based on the answers.
Start with easy solutions

To get early results, start with fast and easy-to-apply solutions. Proven technology that can replace simple evaluative tools for formative testing can immediately provide teachers with extra time, making them interested in more holistic solutions.
Get expert eLearning software consulting

Today you can face a myriad of competing solutions, many of which promise much but deliver little. Understanding what is working and what is not for you is therefore critical. With a plethora of competing solutions out there, it's vital to understand all the functionality features this technology can offer. Consider expert consultation. And find a proactive team of custom eLearning development professionals to carry out your project.
Consider the smooth integration of AI into your existing eLearning infrastructure.

It might be more cost-effective not just to replace your legacy systems with new ones but to think about the opportunities to leverage them in a new environment where it makes sense.
Start with MVP. To get early results and check your project viability, you might want to start with the MVP software development. If you are an education provider, it's a great way to test market demand for your product and draw early adopters.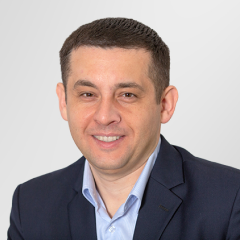 Written by
CTO / Department Head / Partner
Recommended posts
Belitsoft Blog for Entrepreneurs
Portfolio
Portfolio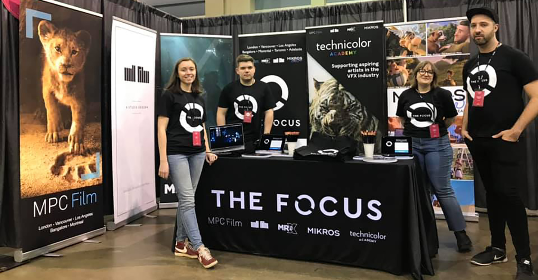 Technicolor SA is a global corporation with over 100 years of market presence. It provides various services in video pre-production, production, post-production, and distribution. Technicolor has a team of 17,000 people across many locations around the world, including the United States (Los Angeles), Europe (Paris, London, Berlin), Canada (Montreal, Toronto), Australia (Adelaide), and India (Bangalore).