years in eLearning
corporate customers
million
users
Choose Your LXP Service Option
Custom LXP Consulting
Whether you're just starting out with LXP or looking to optimize an existing platform, our LXP consulting services will provide valuable insights and recommendations tailored to your case.
Custom LXP Development
Benefit from our proven expertise and time-tested development best practices to craft a custom-made Learning Experience Platform (LXP) for your industry, users, and goals.
LXP Consulting and Development Services
Content creation
We collaborate with you to create a custom content strategy, develop high-quality learning materials, and integrate them seamlessly into your LXP. With a team comprising experienced content creators, instructional designers, and LXP consultants, we guarantee your platform will be enriched with pertinent and captivating content.
Data Migration
Our LXP consulting and development team ensures a seamless migration of your users, courses, history, and other data from your LMS/LXP to a new Learning Experience Platform. We create a custom LXP data migration strategy, prepare your data for migration, and execute the migration securely using advanced tools. Post-migration, we conduct thorough checks to validate data precision and ensure seamless synergy with your current systems.
LXP Optimization and Upgrade
We focus on the functionality and performance of your LXP. We can recommend and develop new features and functionalities, scale your LXP up or down based on your evolving requirements, and continuously oversee its performance for optimal speed and reliability. Our belief in continuous improvement drives us to review your custom LXP regularly for enhancements.
LXP Integration with Other Software
Belitsoft ensures your LXP works seamlessly with your existing systems. For that, we develop an integration strategy, execute seamless system integrations, and if needed, develop custom APIs for smooth data exchange. We conduct thorough testing to confirm everything functions as intended, with ongoing support available for any future adjustments.
Overcoming Learning Challenges with LXP Consulting
Opting for LXP consulting can lead to significant
long-term savings
. Our eLearning experts guide you away from excessive subscription fees and the
limitations
of ready-made solutions, potentially helping you create a unique, sellable product. Together, we can design an LXP that is feature-rich, secure, and user-friendly.
Identify Skill Gaps with Precision
Gain access to an intuitive dashboard that offers real-time insights into skills gaps across your organization.

The LXP benchmarks learning goals and evaluates the existing competencies of learners through a unified skills matrix. Thus, you can make data-backed decisions on instructional content.
Personalize the Learning Experience
Move beyond the constraints of one-size-fits-all traditional solutions and provide each learner with a tailored path.

The LXP adapts to individual skill levels, interests, and objectives, ensuring a more engaging learning journey.
Automate learning progress and results tracking
Utilize real-time analytics derived from automated unbiased knowledge assessments.

This not only facilitates data-driven decision-making but also helps identify high-performers for potential rewards or promotions, and measures the effectiveness of training interventions.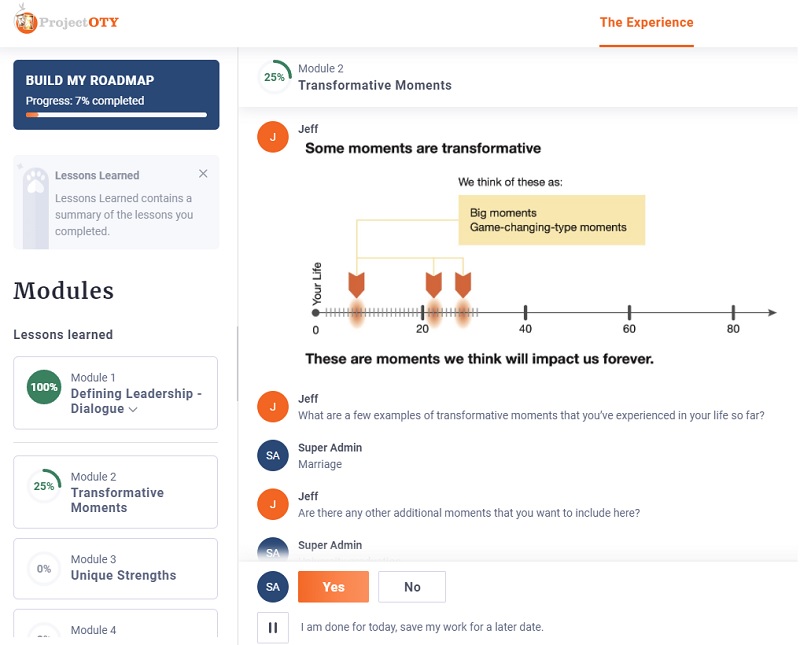 Boost engagement and speed up learning
Strategically align skills for optimal task assignment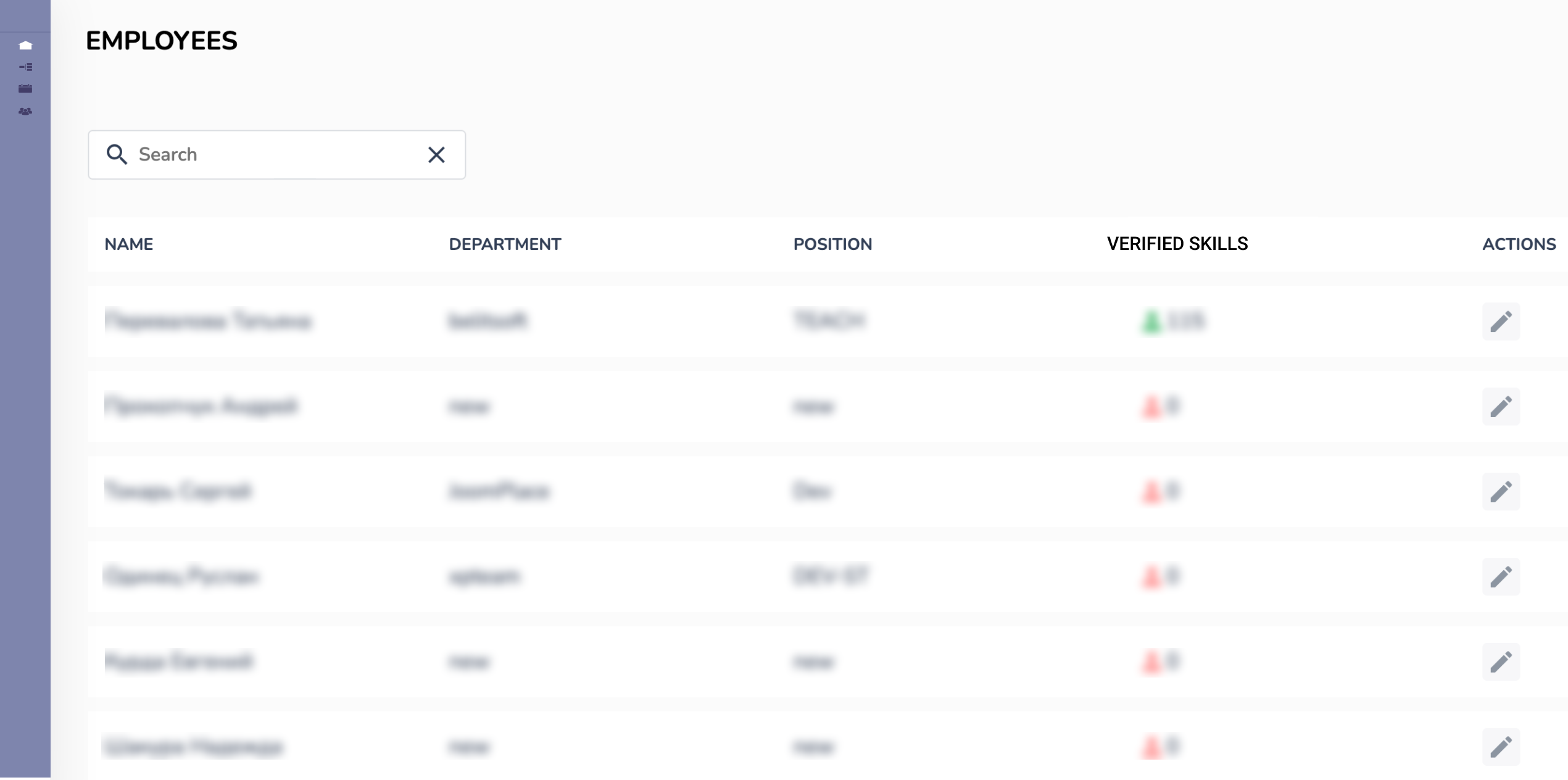 Integrating
skills management software
will give the maximum boost to your LXP. Centralize and structure all employee skills for efficient workforce optimization.
Avoid project hiccups caused by mismatched roles. Our skill management system. It ensures tasks align with individual proficiencies, facilitating optimal planning, team allocation, and on-site assignments. Be confident that each employee is rightly skilled and certified for their role.
---
A Learning Experience Platform, or LXP, represents an
innovative approach to knowledge transfer
and professional development. Infused with AI, Big Data analytics, and a user-centric interface, it adjusts to each learner's individual needs. It results in faster knowledge acquisition, deeper engagement, and actionable insights for leaders. Partner with us to leverage the transformative capabilities of LXP, driving both individual growth and collective business success.
Inbuilt AI Capabilities
LXP utilizes Artificial Intelligence to suggest tailored learning materials based on a user's job title, experience, and previously completed courses, even pulling content from third-party platforms like YouTube.
Focused Microlearning
Quick, to-the-point lessons answer specific queries, such as "How to create formulas in Google Sheets", ensuring efficient on-the-job assistance.
Engaging Social Learning Tools
Features like integration with social platforms, user-generated content uploads, and discussion forums promote collaborative learning and boost team morale.
Gamification
Incorporating playful elements like leaderboards, points, and progress bars enhances user motivation and engagement.
Advanced Analytics
Detailed reports on skill development, ROI, completion rates, engagement, impact on employee performance, and other business data.
Dynamic User Interface
The LXP interface can be personalized, adjusting based on specific content recommendations and user preferences.
Versatile LXP Integrations
LXPs can seamlessly connect with various business software, including HRMs, CRMs, and ERPs, curating training content and offering insights for better talent management.
Universal eLearning Standards Support
Compatibility with both established (like SCORM) and emerging eLearning standards (xAPI, cmi5, LTI) ensures a wide range of educational content is accessible.
Benefits of Learning Experience Platforms
Cost-effective in the
long run
Once your system is fully operational, you can sidestep recurring license fees. Combined with the affordability of cloud hosting, a custom LXP often results in a lower Total Cost of Ownership (TCO) compared to a boxed LXP.
Boosted company valuation
A custom LXP is a significant intellectual asset. Such proprietary software can enhance your company's worth and appeal to investors.
Unparalleled control
While off-the-shelf Learning Experience Platforms can be tweaked to an extent, a custom-built LXP offers you complete control over features, data storage, and learning content.

Stay Calm with No Surprise Expenses
You get a detailed project plan with costs associated with each feature developed
Before bidding on a project, we conduct a review to filter out non-essential inquiries that can lead to overestimation
Weekly reports help you maintain control over the budget
Don't Stress About Work Not Being Done
We sign the Statement of Work to specify the budget, deliverables and the schedule
You see who's responsible for what tasks in your favorite task management system
We hold weekly status meetings to provide demos of what's been achieved to hit the milestones
Low personnel turnover rate in Belitsoft is below 12% per annum. The risk of losing key people on your projects is low, and thus we keep knowledge in your projects and save your money

Be Confident Your Secrets are Secure
We guarantee your property protection policy using Master Service Agreement, Non-Disclosure Agreement, and Employee Confidentiality Contract signed prior to the start of work
Your legal team is welcome to make any necessary modifications to the documents to ensure they align with your requirements
We also implement multi-factor authentication and data encryption to add an extra layer of protection to your sensitive information while working with your software

No Need to Explain Twice
With minimal input from you and without overwhelming you with technical buzzwords, your needs are converted into a project requirements document any engineer can easily understand. This allows you to assign less technical staff to a project on your end, if necessary
Our communication goes through your preferred video/audio meeting tools like Microsoft Teams and more

Mentally Synced With Your Team
Commitment to business English proficiency enables the staff of our offshore software development company to collaborate as effectively as native English speakers, saving you time
We create a hybrid composition with engineers working in tandem with your team members
Work with individuals who comprehend US and EU business climate and business requirements
Frequently Asked Questions
An LXP uses artificial intelligence to curate personalized learning content for users from various sources, like websites, blogs, and online documents. Its strength lies in analyzing users' past interactions, objectives, and inferred learning preferences, delivering a uniquely tailored learning experience.
Both the Learning Experience Platform and the Learning Management System serve educational purposes, but they differ in functionality and approach. LXPs emphasize personalization, microlearning, and social integration, often compared to adaptive systems like Netflix. Below is a detailed comparison between LXP and LMS:
LXP
Supports content from both internal storage and external platforms
Offers flexible learning paths
Content can be curated by the system or the learners
Integrates learning directly into the workflow, enabling users to learn while working
LMS
Primarily uses internal training content
Follows predefined learning paths
Content is curated by the administrators
Separates the learning and working processes
Recommended posts
Belitsoft Blog for Entrepreneurs