years in eLearning
corporate customers
million
users
Get a Custom LXP to Resolve All Typical Learning Challenges
Investing in a custom LXP is a proven way to
save in a long term
due to avoiding high subscription fees, prevent
common disadvantages
that ready-made solutions might have, and get a proprietary, lucrative product to resell. Let's build a full-featured, secure, and easy-to-use LXP that will:
Discover what to teach by revealing skills gaps
Get well-structured, real-time data about skills gaps in your organization in a single analytical dashboard.

For that, the LXP benchmarks learning goals and evaluates current skills of learners using a unified skills matrix. Thus, you can make data-backed decisions about what to teach.
Build a personalized learning path with highly relevant content
Make the learning process quicker and more engaging compared to one-size-fits-all traditional solutions.

The LXP builds a personalized learning path for each learner, based on their current skills level, interests, and goals.
Automate the tracking of learning progress and results
Make data-driven decisions about further learning activities, detect top performers for rewarding or promotion, and analyze if a skills gap gets smaller.

For that, the LXP provides you with real-time analytical data based on automated unbiased knowledge assessment.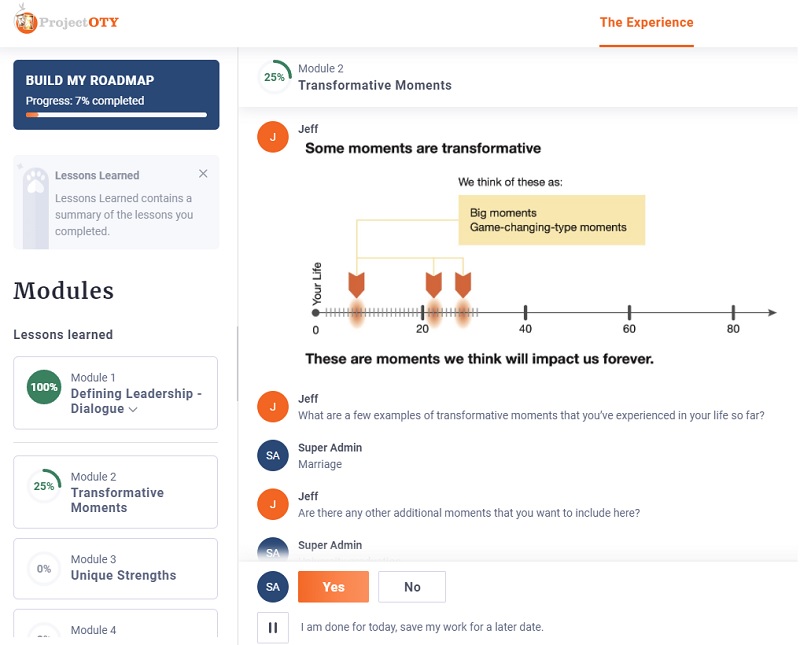 Speed up knowledge acquisition and improve learners' engagement
---
A Learning Experience Platform (LXP) is an
innovative approach to knowledge transfer
and professional development. Thanks to AI, Big Data analysis, and flexible interface it automatically adapts to each user's needs and preferences. This helps learners gain more knowledge faster, and gives managers better business insights.
Custom LXP consulting
Sharing our knowledge to help you create the best Learning experience platform for your specific business needs.
Custom LXP Development
Creating a product for your startup or an advanced learning system for your employees. Adding new features to an existing open-source LMS to transform it into an LXP.
Content creation
Populating your software with clear, interesting, and useful learning materials.
Data Transfer
Migrating all the important information from your old LMS/LXP to a new system.
Support
Developing new functionality, up- and downscaling, optimizing performance - anything to keep your system at top performance.
Integration
Making your LXP exchange information with other systems: CRM, ERP, Talent Management Software, etc.
Inbuilt AI
An LXP automatically recommends specific learning materials to each user based on his job title, experience, previously completed courses, and other relevant information. This includes lessons from third parties and "non-learning" systems (e.g. YouTube).
Bite-sized lessons
LXPs tend to include brief learning materials that answer specific questions precisely (e.g. "How to create formulas in Google Sheets"). This improves employee efficiency by giving them useful assistance at work.
Social learning
Integration with social networks, ability to upload user-generated content, forums/discussion boards, and other features that promote teamwork and improve the employees' morale.
LXP Gamification
Adding the elements of play (leaderboards, points, progress bars, etc.) gives the learners extra motivation.
Analytics
Detailed reports showing the growth of learners' skills, ROI, completion rates, engagement, impact on employee performance, and other business data.
Flexible UI
The user interface of an LXP can dynamically change from user to user. This is based on specific personalized LXP recommendations and individual preferences.
LXP Integrations
LXPs connect to many other kinds of business software: HRMs, CRMs, ERPs, and others. LXP solutions let gather the information it needs to better curate content and provides valuable data to improve employee management.
Standards
Support for older popular content standards (e.g. SCORM) and newer ones (xAPI, cmi5, LTI). This lets LXPs use and reuse a lot of educational materials and connect with external learning tools.
What's the Difference Between LXP and LMS?
Learning Experience Platform is similar to the
Learning Management System
but tailored LXP solutions focuse on
personalization, microlearning, and social integration
. Some compare it to Netflix, referring to the system that can adapt to every individual's preferences. See the difference between LXP and LMS in detail below.
Benefits of Learning Experience Platforms
Cheaper in the
long run
After the system is up and running, there are no license costs. Together with reasonable pricing of cloud hosting services, this makes a custom system's TCO lower compared to a boxed LXP.
Higher valuation
A custom LXP is a valuable intellectual property. It will add to your company's valuation and please your investors.
Total control
While you can often adapt off-the-shelf Learning Experience Platforms to better suit your needs, with custom LXPs you have total control over the feature set, stored information, and learning materials.
Recommended posts
Belitsoft Blog for Entrepreneurs