Cost-effectiveness, availability, increased flexibility, and better training consistency are a few of the key benefits that eLearning offers L&D through a focus on people, personalization and automation of processes, technology, and big data. Read a complete guide to major eLearning trends 2023 that will define the eLearning industry in the next 5 years.
As per Gartner, developing critical skills and competencies is the top priority for HR leaders. Why? Consider the manufacturing industry. By 2028, it stands to lose over $454 billion in GDP due to improperly skilled staff. Having the right talent is crucial for all businesses. Fully realizing this potential is the promise of the leading-edge eLearning trends of 2023.
ELearning Trends 2023: What Is in the L&D Focus?
Continuous Learning to Prevent Employee Turnover
As a response to high employee turnover rates, companies are ramping up their investments in continuous learning to both retain their existing talent and attract new professionals. Encouraging a culture of ongoing education where employees feel recognized, appreciated, and inspired leads to enhanced performance and more cohesive teams. Crafting programs with the employees' future in mind shows commitment to their growth.
Personalization in Learning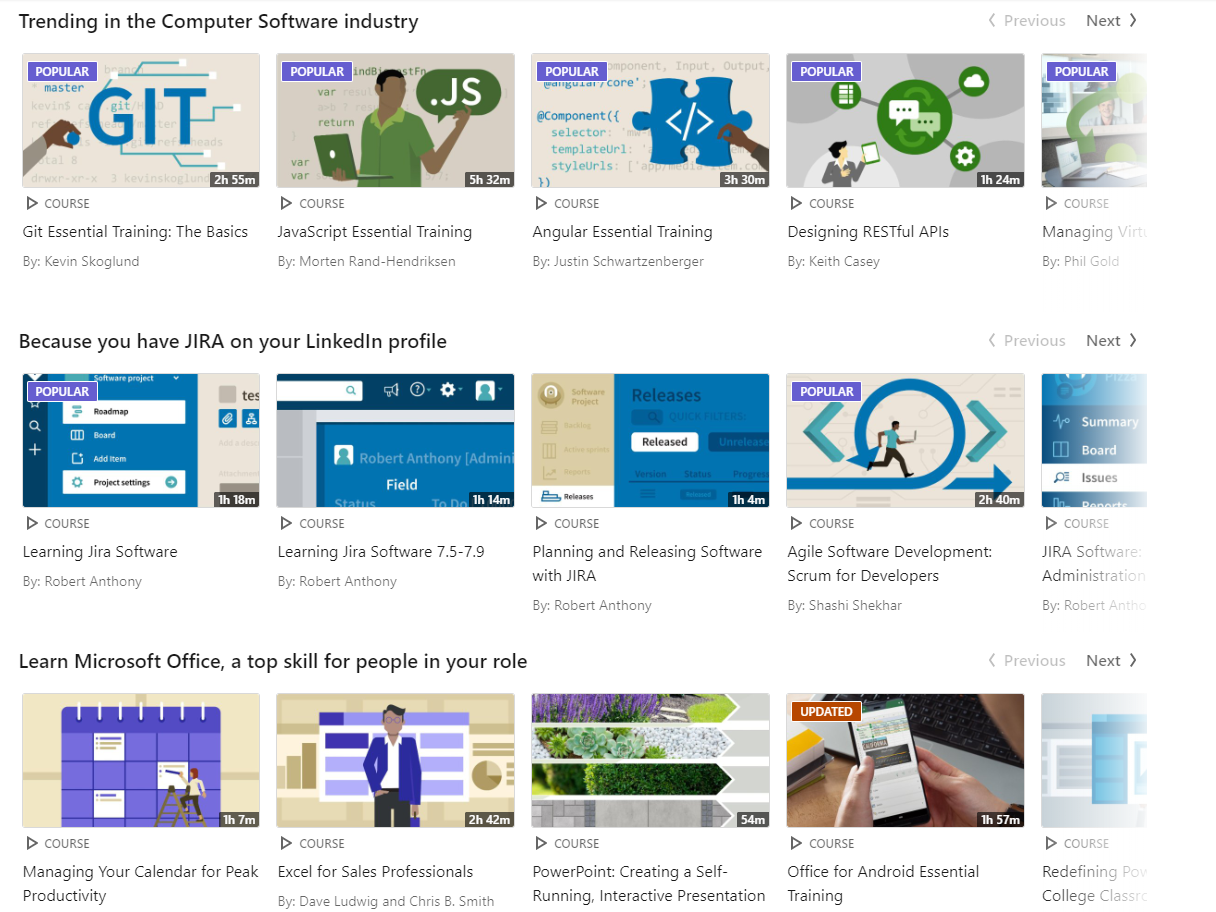 LinkedIn Learning
According to the think tank, Towards Maturity, 55% of learners prefer customized content and teaching methods. This indicates that learning systems should adapt to individual needs, rather than the reverse.
Personalization hinges on three key factors: pace, approach, and content.
Learners should have the freedom to progress at their own speed. If they find the content easy, they can move through it more quickly or even skip it.
Using an approach that suits each learner's preference is vital. For example, if one person enjoys game-based learning and another prefers videos, each should be able to learn in the way they like best.
Focus should be on what learners need to understand, not how. Even two newcomers might have different interests and areas of challenge, necessitating custom content. Learning Experience Platforms (LXP) exemplify this personalized strategy.
Similar to how Netflix recommends shows tailored to a user's preferences, an LXP suggests courses most relevant to a specific individual. For instance, LinkedIn Learning offers classes influenced by a user's profile information, trending industry topics, software usage, desired skills, and even location (with geofencing enabled).
LXP is an excellent tool for continuous learning. It allows users the freedom to deviate from a set curriculum. Alongside just-in-time learning aids, users can chart their own development path.
Upskilling and Reskilling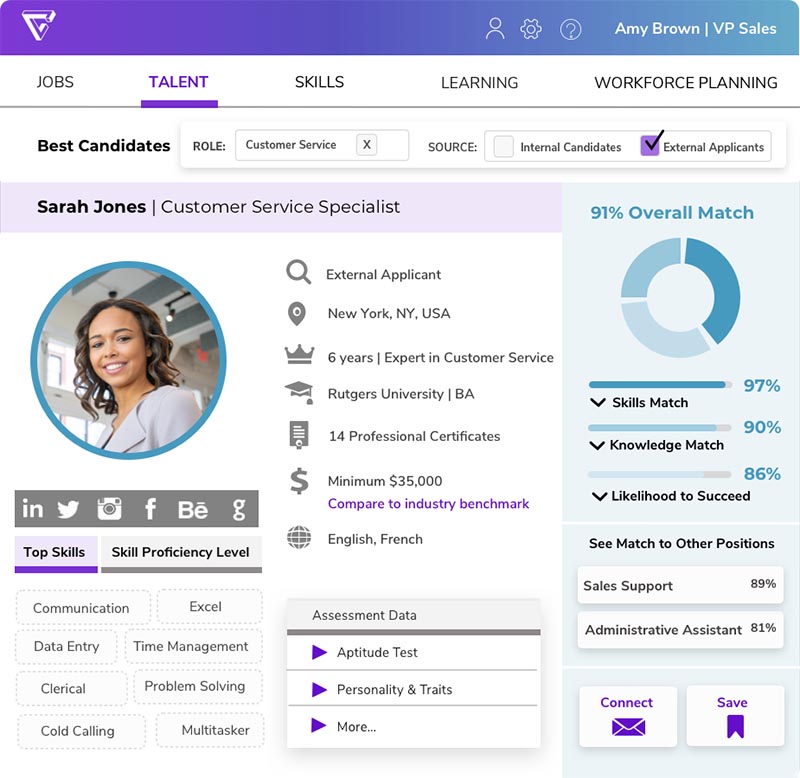 Pinpointing appropriate training content is key to upskilling and reskilling. This extends beyond just functional, domain, or technical competencies. Micro-skills and specialized knowledge are becoming increasingly important. Given the high demand for multi-talented individuals with specific knowledge, training content must be tailored to ensure learners can apply it to their roles.
Skill mapping benefits not only the individual but also the organization by revealing avenues for profit and growth. Using skill mapping as a foundation for education enables a more individualized and continuous curation of training material, as opposed to a rigid and sporadic approach.
Automated Targeted Assessment
Targeted assessments are gaining traction as a tool to identify effective learning strategies and content. Organizations find this trend beneficial, as it aids in crafting personalized learning solutions for their employees. By collecting data on learners' knowledge, skills, and comprehension, trainers and content creators can better assess outcomes and develop relevant content. This not only eliminates misconceptions but also fosters a positive rapport between learners and Learning & Development teams.
Social Learning
Humans naturally learn well in groups. However, this doesn't mean online environments can't support social learning. It includes all educational activities that involve observing and imitating others.
The first step in this approach is community building. When learners can turn to each other for help, it enhances knowledge and camaraderie.
The second step is promoting healthy competition. The right incentives can motivate people to strive for excellence (see our article on gamification for examples).
Finally, social elements contribute to a culture of continual self-improvement, benefiting both employees and the company's bottom line.
Only 10% of our learning occurs in formal settings. Recognizing this, many companies now support informal training.
Soft Skills Training
While job-specific training has always been crucial, there's a growing emphasis on soft skills in today's corporate landscape. With current technology capable of automating up to 50% of work activities, companies are now focusing on enhancing employees' soft skills, which machines can't replicate.
Soft skills typically include:
Leadership
Problem-solving
Communication
Teamwork
Adaptability
Organization
Time-management
And more
Leadership training, in particular, is garnering special attention. Effective leaders are vital to retain employees, especially as silent resignations are increasing. This has spurred organizations to invest more in leadership development.
In 2023, we anticipate more companies prioritizing leadership training programs. These programs aim to equip leaders with skills to inspire their teams, manage conflicts, delegate tasks effectively, and make informed decisions. By fostering strong leaders, businesses can keep top talent and drive their success.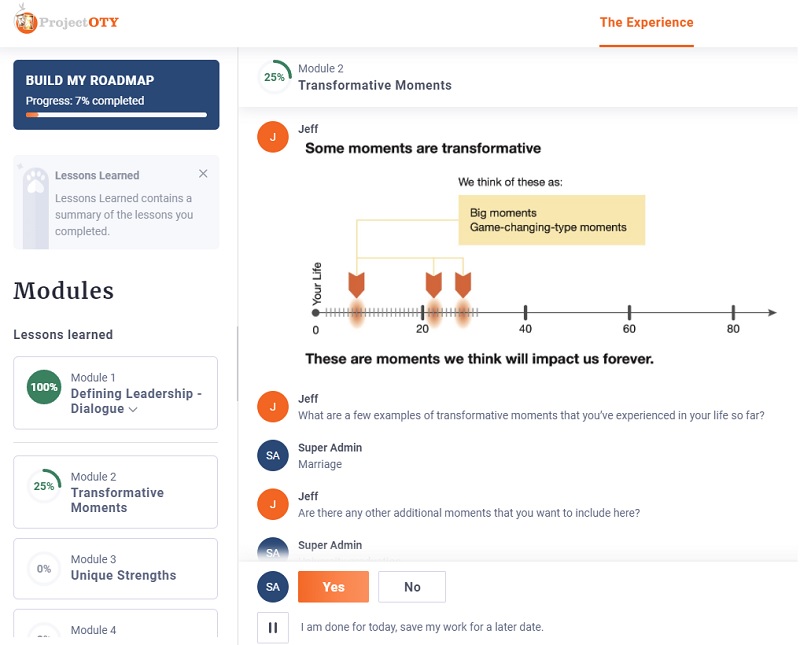 Check out Belitsoft's portfolio to see how we've designed custom software for leadership skills development.
Improving Communication Skills through eLearning
While it may seem counterintuitive, companies like Deloitte have shown that eLearning can indeed enhance communication skills. Businesses can measure soft skills to a certain degree, and the benefits are tangible. Indicators might include less time spent in meetings, reduced employee turnover, and increased customer and employee satisfaction, among others.
Emphasizing Well-being Training
Alongside soft skills, forward-thinking companies are introducing well-being training in 2023. Companies are rolling out courses that focus on mental, physical, and financial well-being to tackle issues like burnout, work-life balance, and financial health. These programs cover personal development topics such as productivity strategies, mindfulness, taking time off, and managing personal finances to reduce stress. This shift underscores the importance of work-life balance and helps mitigate burnout risks.
User-Generated Content
In the workplace, employees are more receptive to learning when their peers create the content. Referred to as user-generated content (UGC), this process involves employees actively creating learning material for themselves and their colleagues. The popularity of UGC is growing, as employees seek more interactive and personalized learning experiences.
The benefit of UGC is that it fosters employee agreement and engagement, resulting in higher participation rates and more effective peer-to-peer training. Learners can contribute in various ways, such as through Q&A forums, short videos, case studies, and reviews. Showing the power of UGC and motivating employees with rewards are key to successfully recruiting people to contribute.
With UGC, employees have first-hand information on both the problems they face and their corresponding solutions, so using this information is as close to teaching-by-doing as it gets in an online environment.
Just-in-time aids are the main area where UGC thrives. When a person has successfully shown others a way to complete a specific task or an efficient workaround, everyone benefits.
Personal stories. Not only are they fun and relatable, they are also engaging and useful. Users or the L&D team can create learning content from these anecdotes.
Focus on Employees' Digital Skills
As we move into 2023, one of the key eLearning trends is the need to enhance digital literacy among employees, especially as organizations continue to adapt to remote and hybrid work models.
In order to keep pace with the relentless evolution of technology, organizations are prioritizing investment in digital literacy training for employees across all levels. It's no longer just a nice-to-have skill; it's a prerequisite for success in today's digital workplace.
Priority of Data Security Training
In the coming years, companies will have to make data safety instruction a priority. With the rise of cyberattacks like ransomware and malware, it is essential for employees to stay vigilant and be aware of potential threats. This responsibility goes beyond just the IT security team and extends to the entire staff. Companies will focus on cybersecurity training to teach people about the best practices and ensure that all staff members know how to prevent cyber risks.
Creating awareness about the importance of data privacy and protecting critical assets such as people's identities will be a top preference for organizations in 2023 and beyond. By implementing these training programs, companies can prevent brand reputation loss, financial losses, and other detrimental outcomes.
ELearning Trends 2023: Tech Tools to Achieve L&D Goals
The Increased Use of AI
There are several possibilities for Artificial Intelligence (AI) to improve the eLearning experience. Think of it as your own virtual teacher that assists in your training.
The advantage of AI mentors is that they are available for learners via any device to provide help and the info required round-the-clock. It is easy to integrate a cloud-based LMS with AI-powered robot assistants like Temi for home learning. This robotic tutor can move autonomously, sense its environment, and keep track of your movements. Learners can use voice instead of typing their queries.
Right now, we are talking not just about an artificial teacher who would talk to students throughout the training, but also can help to choose the most correct paths of learning.
AI can facilitate the creation of highly customized training routes by analyzing the patterns and data it collects from the activities of every learner. The system will provide a more comprehensive course for those with a lack of basic knowledge and skip some modules for more advanced trainees.
Availability and affordability, speed, effectiveness, and personalization are a small part of the benefits expected from the deployment of the AI into the studying process. AI's data analysis can make platforms more engaging for effective training.
The Adoption of AR/VR Technologies
The eLearning industry is witnessing a surge in the adoption of VR and AR technology, which is increasingly affordable and accessible.
With VR, learners can undergo simulations of real-world situations, resulting in a highly engaging and immersive learning experience. Meanwhile, AR enables a more flexible and contextual learning environment by superimposing digital content on the real world. Both VR and AR offer stimulating and captivating learning experiences and allow for personalized and interactive learning.
Learners will experience an immersive journey with VR and AR eLearning courses by 2023.
Mobile Learning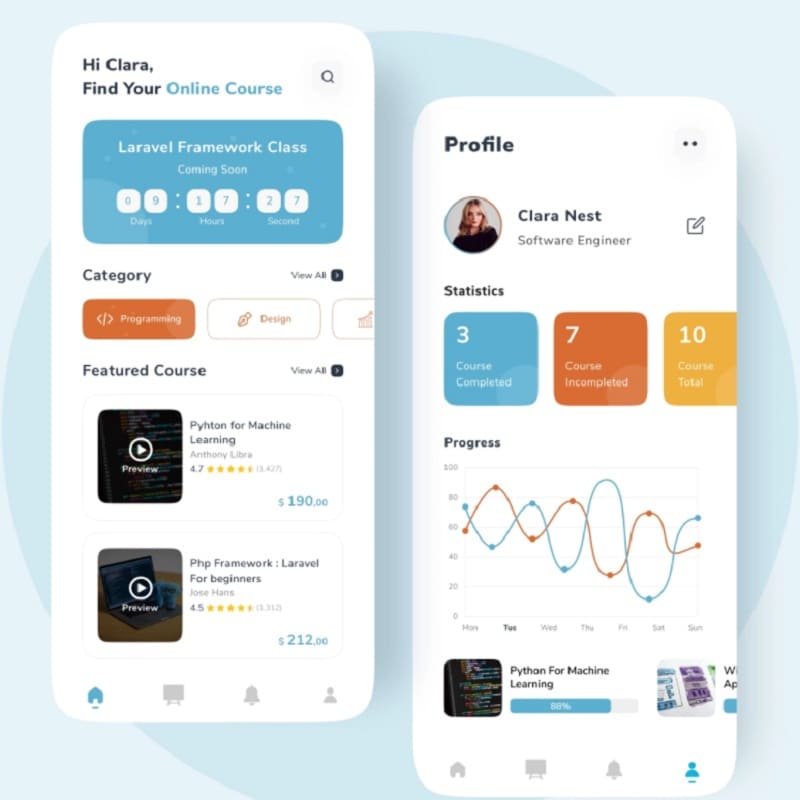 The importance of m-learning has been growing for a while now. In the COVID-19 pandemic, the market is positively exploding: various sources project growth from USD 80 billion to USD 280 billion over the next seven years.
It is easy to see why this happens. Initially, it provides versatility and covers nearly every learning approach, such as virtual instructor-led training (VILT), blended learning, online-only training, just-in-time learning help, and more. Second, it is beneficial for the learners, as they are already familiar with smartphones and feel comfortable working with them.
The mobile learning domain encompasses all kinds of training done via a smartphone or a tablet. This includes dedicated m-learning apps. We have previously covered some prominent examples in our blog (e.g. Duolingo).
Performance support tools (PST - learning aids designed to help employees whenever they need help) are currently the most popular niche for such applications. They help solve problems that the learners can encounter in their daily work and teach them at the same time. This kind of teaching is much more effective than simple repetition. That is why PSTs are a must-have for any company which cares about L&D.
A mobile app that we have made for our customer's LMS is an example of this trend. The original system was desktop-based, but the usage of smartphones has increased, so the customer has adapted. As a result, he got a flexible and reliable app that kept pretty much all the functions of his LMS but allowed them to be accessed on the go. See the relevant showcase for details.
In order to enhance the mobile learning experience, it has become essential for learning apps to provide users with the option to download content and access it offline. This trend is gaining popularity as it allows learners to access course materials anytime, anywhere, with no internet connection.
Microlearning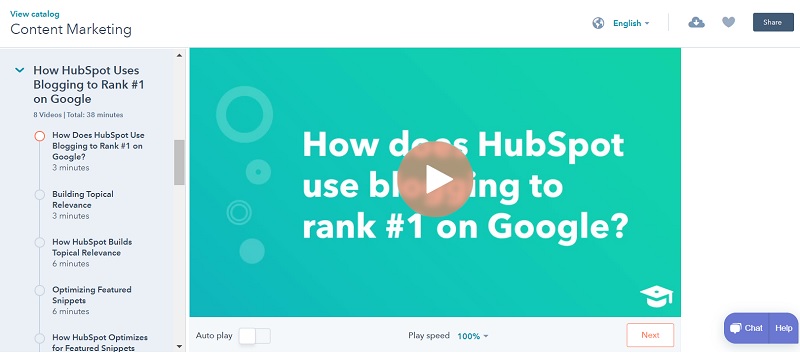 Modern learners are short on free time and even shorter on attention spans. That's why microlearning (delivering educational material in bite-sized chunks) is growing in popularity.
Microlearning content can come in any format (text, video, pictures, etc.) and is relatively cheap to make.
A quick answer that solves a pressing problem is exactly what microlearning is all about.
Sometimes people are just looking for an answer to a specific question, like "How to install a WordPress plugin?" Or they might be too busy to sit through the whole hour-long lecture.
Making bite-sized learning materials available to be accessed quickly when required is a fundamental component of the LXP strategy.
We have delivered a microlearning app for one of our American customers. It had both mobile and web versions, with phones being a priority platform. The idea was to make a tool that would help qualified professionals get continuing education on the go. It started with courses in law and dentistry and is expected to expand further.
See our showcase to learn more.
A recent approach that emphasizes even shorter learning sessions is nano learning. Some nano learning sessions are as brief as 3-5 minutes. Despite their brevity, these sessions are easier to remember than longer lessons, particularly when learners lack the time to sit through hours of content and must repeatedly pause the course.
Gamification
Gamification involves the use of game elements outside of a game. For example, giving an app user a badge as a reward for studying 10 days in a row is gamification.
Schools, Fortune 500 businesses, and even the military use gamification and game-based learning. Integrating it into an organization's employee training strategy can improve engagement and retention rates. Research shows that game-based learning is more enjoyable and engaging for 80% of US workers. Studies suggest gamification combined with reading can boost outcomes by 45.5-60.67%.
This process can include fostering competitive spirit ("The average score for your job position is 67%. Can you beat that?") or suggesting the most useful content ("PHP developers find chapter 9 the most interesting").
We have been making gamified software for quite a while now. Take, for example, Ticken - an online touch-typing course. Besides having an innovative teaching method, it uses points and leaderboards to further motivate learners to excel. And when they need to relax after a lesson, there are learning games that are both amusing and effective for knowledge retention.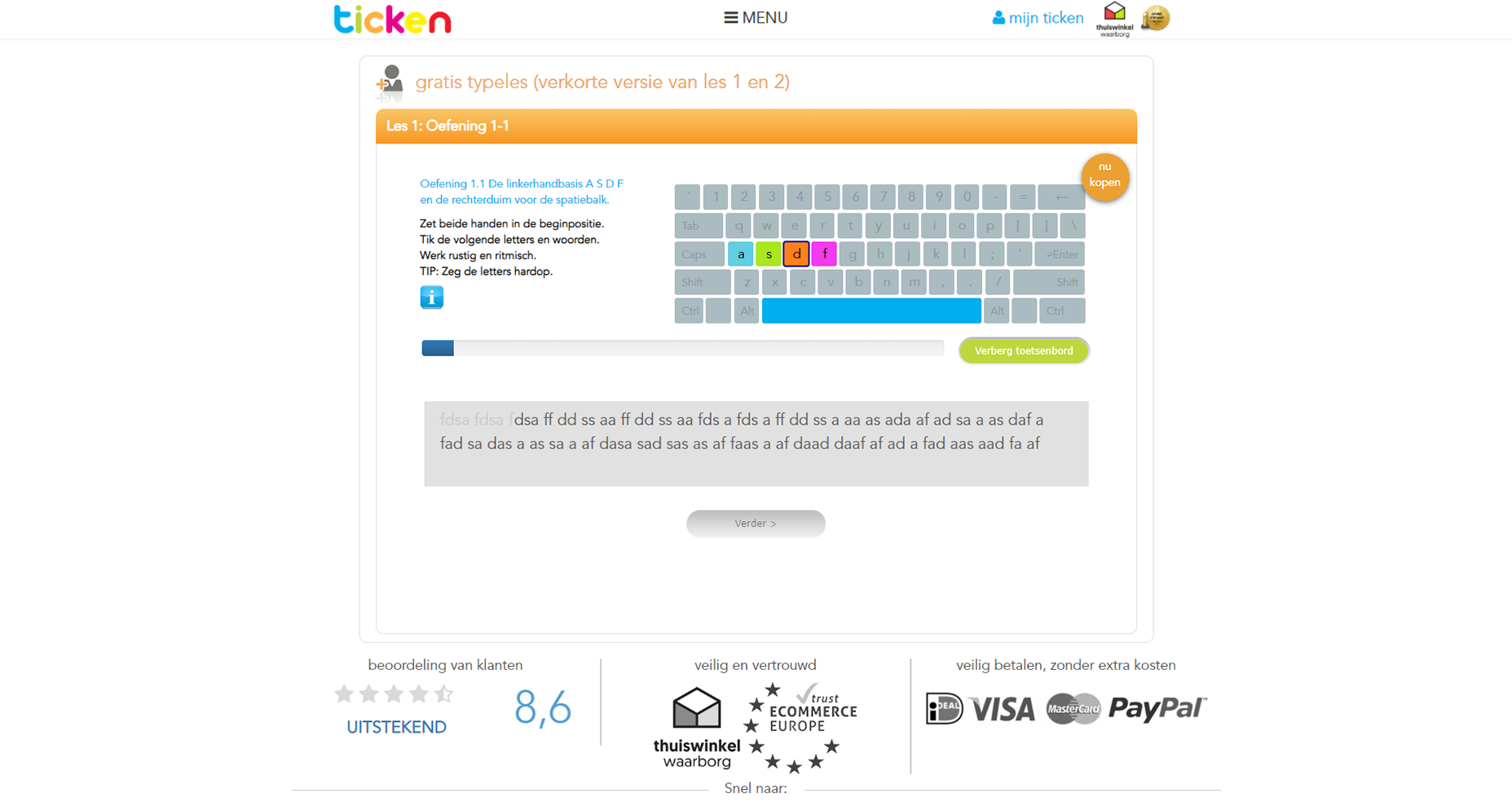 See the Ticken case study in our portfolio to learn more.
Game-based Learning
What do you need more as a training manager? Creating functional content and delivering it on a basic learning platform? Or engaging your learners with their training and increasing their educational performance?
Based on sound instructional design, the learning game approach increases engagement (stimulates interest) and boosts motivation to learn the topic.
Students are more involved in game-based learning significantly longer than in non-game-based training. Effective serious games form a positive mood to encourage players to continue the play.
Visual learners prefer to see rather than read. Augmented (AR), Virtual (VR) and Mixed Realities (MR) have offered immersive learning experiences for a long time. Let's consider the usefulness of all of them from a corporate point of view.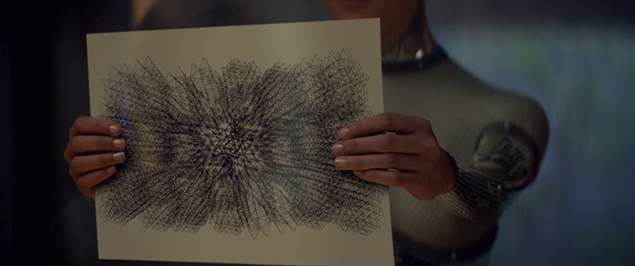 AGCO was one of the first large manufacturers to use AR Glass, a hands-free device, as part of their workers' training to get step-by-step instructions. The company has reduced the time needed for inspection, production, and initial education.
Yes, VR has been associated with gaming, but according to a survey by Greenlight VR, the desire for study exceeds the desire for gaming content (63.9% to 61%). Several Fortune 500 companies, such as Boeing, UPS and Walmart, have introduced VR into worker education programs on a wide scale. And some have been happily impressed with the results.
With the help of MR, trainees can interact with surroundings created by a mix of real and virtual worlds. They also can approach and manipulate things, leading to a more proper understanding of how things work.
High price and substantial lead time to develop these technologies have been two factors that prevent the evaluation of immersive learning strategies. But with main authoring tool providers like Adobe and Trivantis getting into VR solutions, the price points will eventually drop.
Our latest game-based learning project was Extraas - a powerful platform that teaches Math and Dutch to high school students. Serious games are at its core, so to use the customer's budget more efficiently, we even developed a custom game engine. As a result, the platform has already gained thousands of users and raving reviews.
Game-based eLearning Platform For Selling Math Training for Kids
See the Extraas showcase in our portfolio to learn more.
Converting Instructor-led Training to eLearning
There is a reason the most effective companies include eLearning methods in their learning and development (L&D) programs. Several of them, actually.
The fact of the matter is, eLearning is much cheaper than live training due to the lack of many expenses: teacher salaries and related costs (benefits, taxes, etc.), classrooms, and other factors.
eLearning is much easier to scale than ILT - just have the extra people access the same materials.
eLearning is superior to traditional training for using advanced instructional strategies.
This is what we did for our customer when building TET - a custom driving theory course. The whole point of the project was to get away from the outdated and inflexible live and DVD-based classes.
As a result, the students learned whenever and wherever they wanted, achieving better results. And our client got a successful and profitable business.
Elearning Platform For Selling Driving Theory Online Course
For more information on TET, check our case study.
Interactive Video Learning
According to a survey by Wyzowl, 69% of consumers prefer video over any other form of content to learn about new products and services. This trend has made video-based learning a tough competitor for static e-learning content. Today, learners prefer to watch demos, explainers, interviews, and how-to in video format as opposed to reading plain text instructions.
Making a video interactive boosts its efficiency and reduces the issues it may have from a user being unable to interact with the information.
Popular editing software and authoring tools can create interactivity:
Branching. A "choose your own adventure"-style materials that allow users to set up their own learning path as they watch a video. For example, giving them a job-related problem and asking for a solution. The user will see the results of their decision. This is a great way to drive engagement, as well as providing the learner with the knowledge.
Quizzes. It is possible to pause the video automatically at a predetermined point, pose queries, redirect the user based on their response to the question, and display their score in real time. You can also set pass/fail criteria, time limits, and more.
Direct downloads. Allow users to access additional educational materials without leaving the video page.
Embedded elements. Incorporating a variety of elements, such as links, maps, widgets, calendar invitations and images, can enhance the learning experience.
Video conferencing tools are also increasingly being used by companies, with 78% of them using such tools in 2022 and growing in 2023.
Data Analytics in eLearning
Learner analytics are used to review student behavior and improve training. There are countless tools available for that, from Learning Management Systems with xAPI to intelligent tutoring systems with the eye-tracking feature.
Remarkably, most information for learner analysis is so simple that top-end technologies are not even required. At such a basic level, even a modern LMS can solve most of your L&D woes, as long as it can track and recover the data you need. In most cases, the information you need is as simple as:
Completion rates of courses.
Who are the most proactive learners?
What do your learners choose to learn and why?
Where are students struggling?
What are their strengths and weaknesses?
Who is the best fit for a certain task?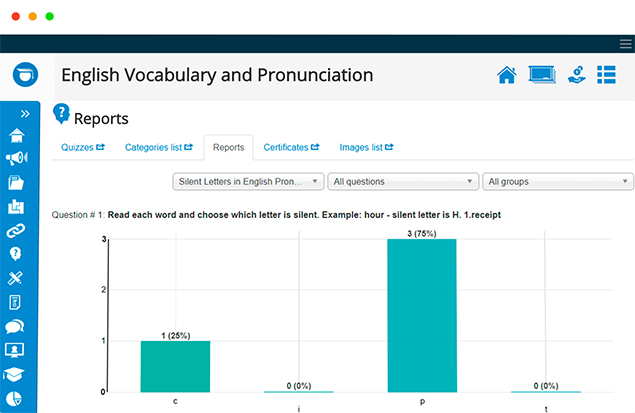 For example, JoomlaLMS allows tracking learners' performance to identify ways to improve your eLearning course. With its reporting functionality, you can define gaps in students' knowledge and skills, determine the organization's compliance level and overall learners' performance.
From the eLearning point of view, "Big Data" is data collected from students' activities and their performance, but the volume of this data is beyond the ability of traditional databases to capture, manage and process with low latency. So Big Data Analysis helps to structure and present the data in suitable formats.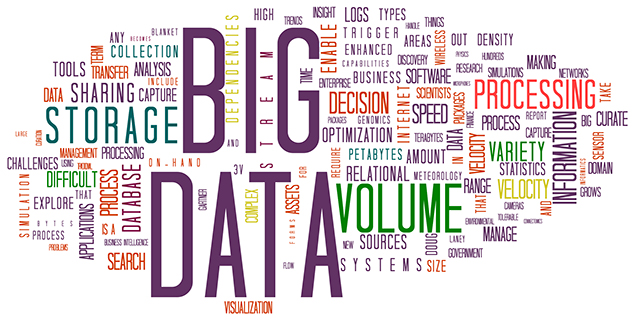 With Big Data analysis tools, you can track the performance of each student to make learning more personalized. Also, big data analysis can provide information on how the training affects your ROI.
You will know when a student makes mistakes or simply doesn't receive knowledge properly. Then you can make the adjustments to correct common problems. Besides, it can help to choose the most suitable study route for each student.
Research on the adaptive eLearning model, which relies on Big Data by using competency-based knowledge and social learner activities, shows that the analysis transforms the training paradigm and provides an effective learning rhythm.
Chatbots in Learning
Chatbots For Bringing New Staff Into an Organization
The chatbot can guide an employee from job acceptance; getting them excited about joining and validating their decision, through the initial on-boarding process where they can learn about processes, team structures and brand values. Nothing beats the feeling a new employee gets when they receive a personal message from the company founder or their manager! Millennials (Generation Z) will make up 50pc of the global workforce by 2020.They like messaging platforms, so companies probably should use chatbots to engage these employees.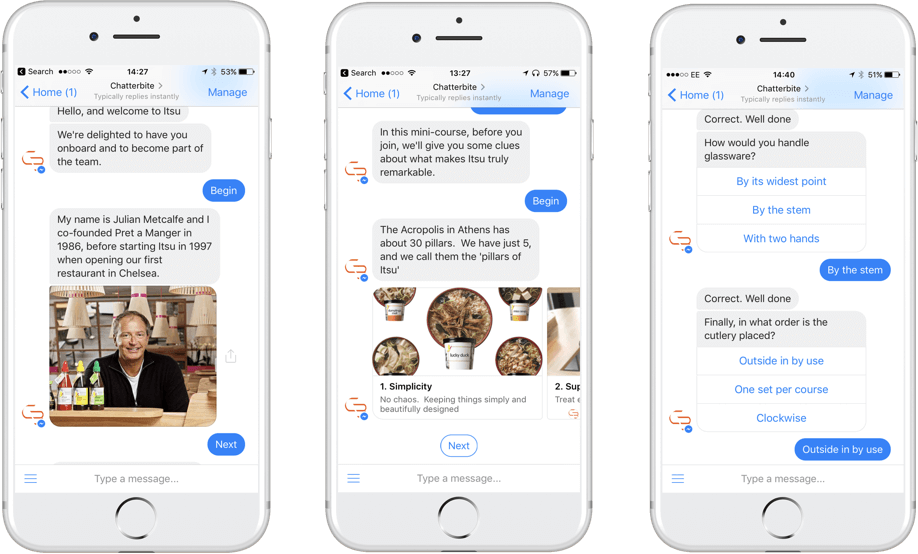 Example of a Conversational interface (chatbot) - Chatterbite - for a Corporate eLearning. Source: http://www.chatterbite.com/internal-comms/r
Chatbots For Skills Gap Analysis
Employees should have the skills to do their job. Skills gap analysis is evaluating their skills to find out where they currently are and where they should be. The paperwork in doing a skills gap analysis in the traditional way is overwhelming. So they don't happen as often as they should.
As Sam Hennessy from Filtered (a UK eLearning publisher) noted, "Using a chatbot you could roll out the questions little by little. Then deliver feedback as insight based on the previous batch of questions. This will actually create a positive feedback loop. People will want to give excellent answers because they are now interested in the results".
Chatbots For Microlearning
Bite-sized learning (microlearning) is text or video that teaches something in under 5 minutes, like "how to protect a spreadsheet". Corporations have adopted microlearning and are delivering it through chat interfaces. Harvard Business Review has created something close to this using a Slack chatbot. Every weekday it picks a random article from a curated pool and sends a summary to you via chat. This is a great example of being proactive.
Chatbots For Getting Feedback
Once someone has taken a course, have the chatbot ask them some quiz questions. Do this over a few weeks. Doing the same thing over and over can help you learn.
Then look to see if anyone keeps getting the question wrong. If they are, then the corporate learning department can step in and give those people a little extra help. You can also get feedback on how well the course was.
Chatbots for Search Needs
Imagine a machine that could access your company wikis or knowledge bases and serve up information in real time, in a context that's helpful to the employee who needs it—much like the computer on Star Trek's "Enterprise."
Chatbots can learn to personalize data for employees and filter irrelevant data. Rather than sifting through work data to complete daily tasks, workers can simply ask individual chatbots for the information they require.
Chatbots will do the acts of Googling and searching. Chatbots are the ideal way to achieve any task using the internet, as they help to avoid unnecessary data.
'Enterprises are increasingly turning to web applications to streamline their processes and make collaboration easier. Still, applications are siloed and unable to communicate with one another. A chatbot could one day render apps obsolete. Chatbots can conduct the same tasks as most applications in one integrated system and tailor the results to the user.'
Daniel Newman, CEO of USA-based Broadsuite Media Group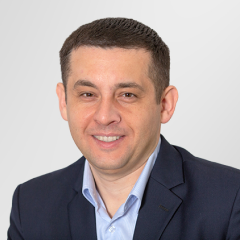 Written by
Chief Innovation Officer / Partner