Should you already invest in AI-powered LMS or not yet because it is still hard to recognize tangible benefits behind it? If yes, does it make sense to integrate AI into your existing LMS or you need to build such LMS from scratch. Keep on reading to find all the answers and discover how exactly AI tools in your LMS can streamline the processes of onboarding, upskilling & reskilling, boost internal mobility, reduce training costs, and ensure the acquisition of future-proof skills by the employees.
Should you require AI chatbot development or custom LXP development, elearning software development company Belitsoft may be the solution you're seeking. Our eLearning specialist is open to discuss your challenges and goals in detail.
What is an AI-powered LMS?
AI-powered LMS stands for the Learning Management Platform with the support of Artificial Intelligence. Often AI LMS is named as LXP but we will use AI LMS to simplify it.
When learners create profiles and start learning, an LMS gathers data about their skills, preferences, time spent on learning, performance data, etc.
Then the AI engine processes the data gathered by your LMS and builds patterns of the learners' behavior.
The more data it analyzes, the more AI learns about learners' needs, preferences, strengths, and weaknesses, continuously improving.
So AI performs as a suggestion engine providing relevant content recommendations and highly personalized learning paths based on the skills, goals, and preferences of a learner.
The major business goal of implementing AI in L&D is increased velocity of information processing and understanding. If learners complete the course fast and get more useful information from it, they start applying new knowledge faster, which leads to increased productivity.
The AI LMS can be separate software or a part of the company's L&D infrastructure together with TMS, HRIS, HRM systems.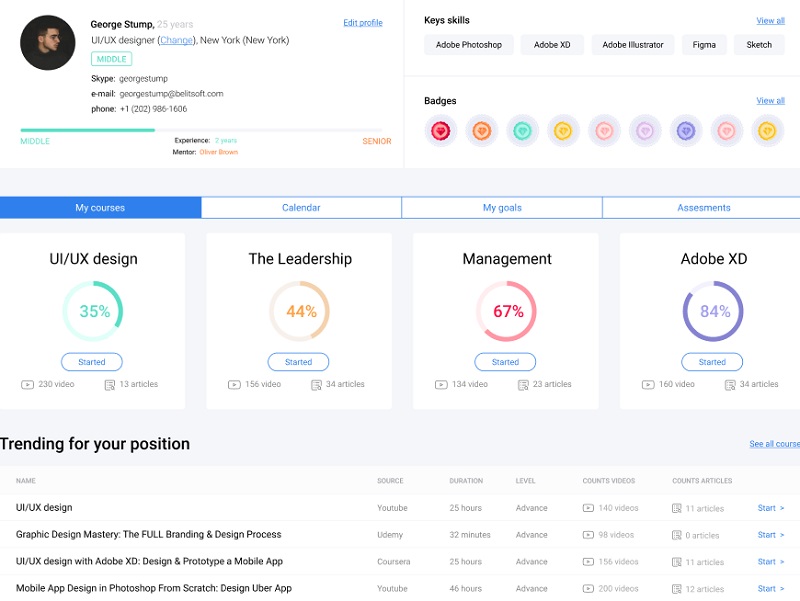 Standard LMS vs AI LMS
An AI-based Learning Management System can be made from scratch by your requirements or built on the basis of a standard LMS you already have.
Here are the key differences between both types of LMS.
| | |
| --- | --- |
| Standard LMS | AI LMS |
| The learning path is predefined by LMS administrators and cannot be personalized for each learner. | AI tracks previous learner's performance to identify areas where a learner lacks in skill and recommends the appropriate materials. The learning path for each learner is built individually. |
| Learners depend on the admin or curator to get feedback about their tasks, which takes time and restricts communication to working hours only. | AI provides learners with real-time assistance acting as a virtual tutor, answering questions anytime. |
| The learning process is fully managed by an administrator who creates and delivers content to learners. Often, the course creation is done manually. | AI automates the admin's job doing all the routine tasks (knowledge checks, grading, grouping, etc). It saves the admin's time and company resources. |
Our eLearning team, with extensive experience in LMS development, can upgrade your standard LMS into an AI-based LMS. Let's discuss which AI tools will bring the maximum benefit to your business and employees' training experience.
Business Benefits of AI in Learning Management System
With AI in Learning Management System, your business gets the following benefits:
Fast and simple onboarding
The AI-based social learning feature enables new hires to share their experience and interact with peers and managers who will support a newbie and answer possible doubts.
AI detects people with similar interests, positions, and skills. And suggests the list of colleagues to choose from. A learner can even choose a team to invite to the discussion if they coincide in the areas of interest.
By interacting with others, new employees can learn a company's policy, rules, information about departments and processes, etc through an LMS in an interactive and engaging manner, which leads to faster and better results.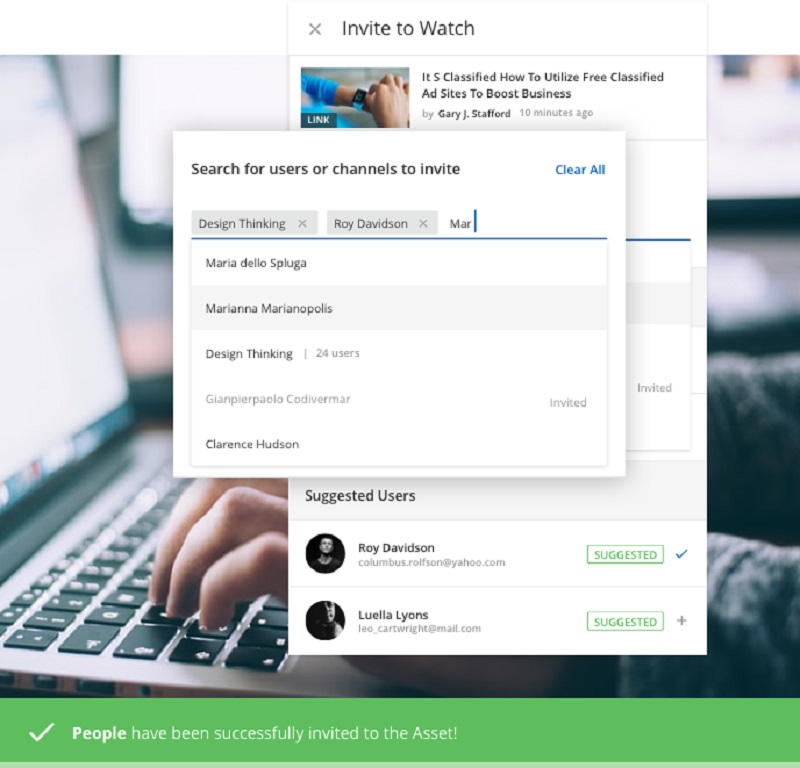 docebo.com
Effective upskilling & reskilling
When employees create a profile, they choose their current skills. Based on this information, AI in Learning Management System finds the closest job opportunities by skills. The learner can also see what skills to master for the desired position.
This allows L&D leaders to cover competency gaps within the company they may not even realize exist by upskilling and reskilling the staff. It creates stable internal mobility processes that lead to a better company image and saved money.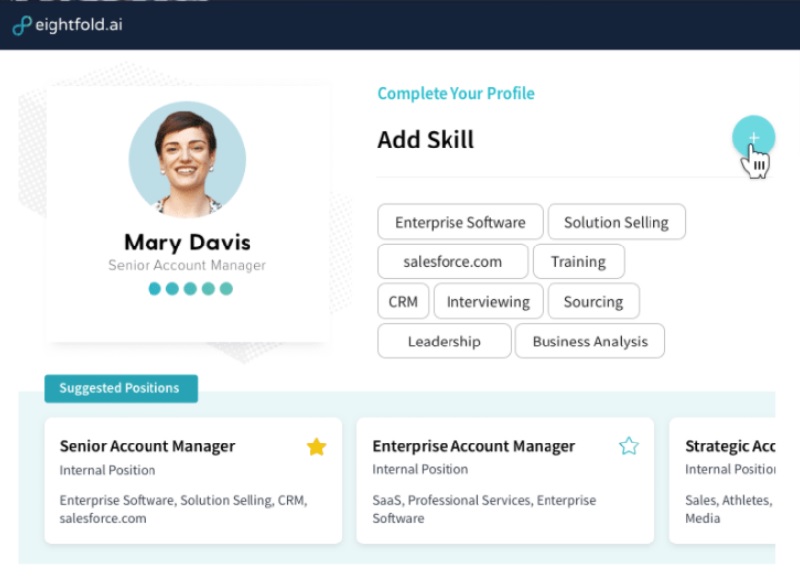 eightfold.ai
Improved resources allocation
Smart resource management with the help of an AI-based Learning Management System brings 2 advantages at once:
AI automates repetitive tasks of HR and L&D teams, such as generating offer letters, collecting and maintaining documents, manually assigning tasks, creating curricula, etc. The AI LMS can manage content scheduling and delivery instead of admins.

Also, the AI engine analyzes learner's skill gaps and the required job competencies to find and deliver targeted recommendations, taking the load off the admins to manually perform competency mapping.

Thanks to the targeted content recommendation by AI, your employees save many training hours, bringing a resource advantage to the company.
Improved employees' motivation and productivity
AI-driven personalization facilitates high engagement between the learner and the recommended training materials.
AI refines results with every new inquiry making content search much easier for learners.
And when people find the relevant and bite-sized content, they find it easy to understand and learn quickly. It leads to faster acquisition of the desired skills and the feeling of motivation to return for more.
Increased ROI
An AI-based LMS saves training hours thanks to delivering only relevant and personalized content to learners. As a result, the same learning outcome is received in fewer hours. And every saved hour employees spend on the company tasks.
Moreover, the acquisition of skills that a company needs transforms into profit and future competitiveness of the company.
5 AI tools that fully change the learning experience
AI tools and technologies, like Machine Learning, NLP, Data Analytics, Chatbots, and Deep Learning algorithms help LMSs to provide a highly personalized learning experience, make employees' training more engaged and effective, bringing major benefits to the business.
Discover what AI tools you need to rocket up the outcomes of employees' training.
1. AI-based tool for content recommendation
AI tracks the progress of learners within the course and their previous learning behavior and performance. Based on the gathered data, AI can detect interests and the level of a learner's proficiency.
Then AI finds and recommends optimal learning material and starts the course from the tasks corresponding to the learner's knowledge level.
For example, the learner is repeatedly passing the section "Social Media Marketing Tools", the system suggests that the learner finds this topic difficult to understand or is specifically interested in it.
Accordingly, the AI engine in LMS recommends new modules around "Social Media Marketing" to either aid in resolving any confusion or for further exploration.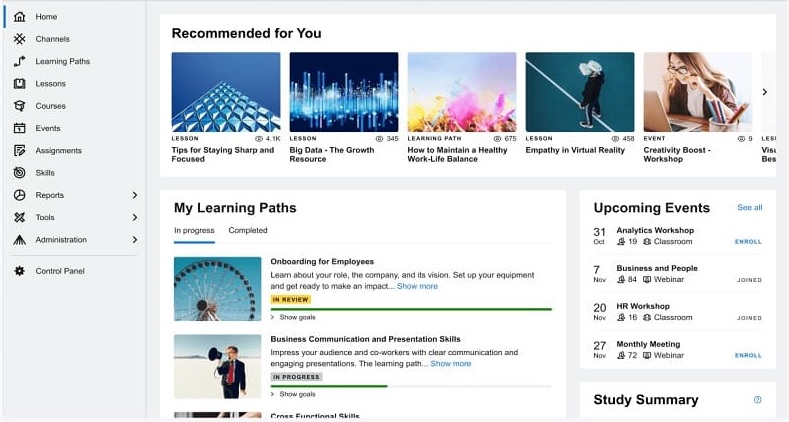 valamis.com
2. AI-driven tool for building a personalized learning path
The AI-powered recommendation engine gathers data about an employee's current skills and the skills that an employee needs to acquire for the desired job position.
Then Artificial Intelligence matches the current skill-set to the job requirements, highlights the missing skills, and recommends the relevant courses for getting the required skills.
Having these data, the AI-powered recommendation engine creates a smart individual learning journey. Relevant content is suggested to the learners automatically by constantly gathering data from user performance, skill-sets, and preferable content.
As a result, a learner dashboard displays trending topics with suggested popular content, and the recommendation list with a curated list of relevant courses to each learner. When a course is completed, your learners will see recommendations for a new training course according to their needs.
Together with helping users find better learning paths, AI can also help L&D teams understand what their employees need to learn.
fuel50.com
3. AI-powered Chatbots in Elearning
AI coaching chatbots are the future of employee engagement. These AI-powered chatbot tutors enhance student engagement throughout their learning lifecycle – from recruitment and onboarding to learning, assessment, and alumni engagement. By delivering personalized content tailored to individual learners' needs, progress, and preferences, these chatbots offer a unique learning experience. Furthermore, they ensure higher completion rates by streamlining assessments across various skills and experience levels, posing non-Googleable, skill-specific questions in a conversational format.
AI-powered virtual tutors can interact not only through text messages but also by voice commands.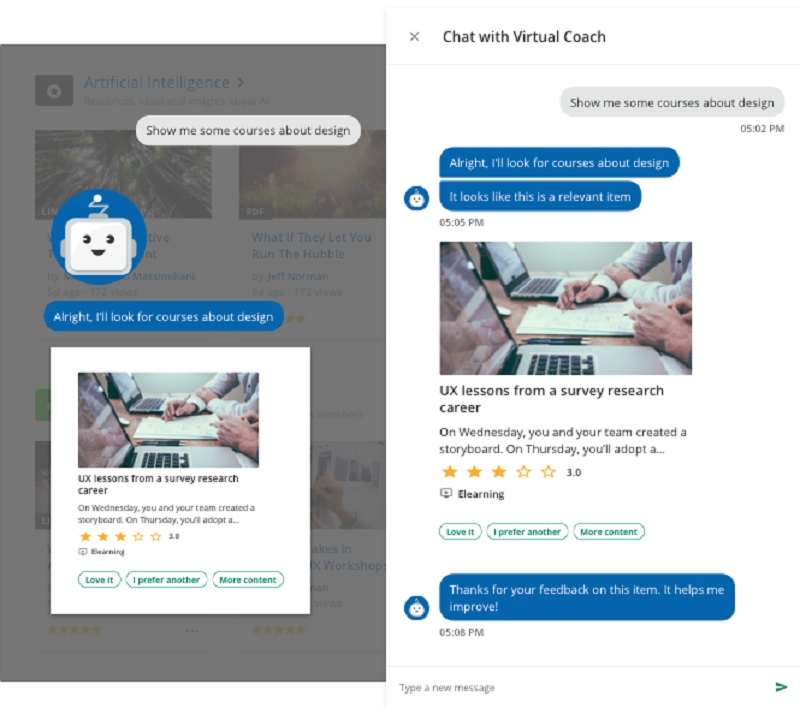 valamis.com
4. AI-based tool for automated knowledge checks
After a learner completes a course, an AI-based tool automatically runs the checks of the training results.
Depending on the performance during knowledge checks, the LMS can pop up an automated report highlighting strengths and weaknesses.
Then the AI engine recommends modules to re-take to address the weaknesses.
All the further recommended content and learning paths will be composed depending on the knowledge check results.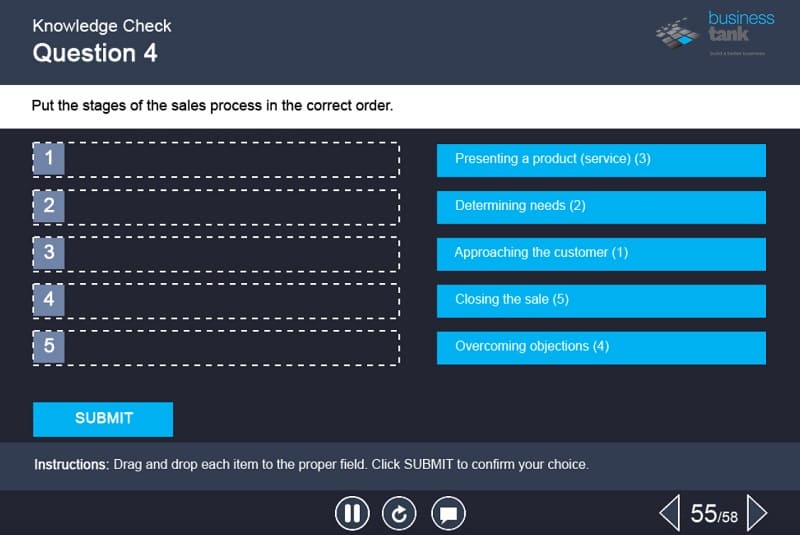 aurameir.com
5. AI-powered tool for monitoring & reporting
The AI-based Learning Management System provides your L&D leaders and business stakeholders with such data as the list of best and worst performers, employees' mastered skills, completed modules, and many others.
The company's managers can view the statistics within the company and compare them with the industry benchmark. It gives a possibility for bridging potential skill gaps in the company by arranging timely internal mobility.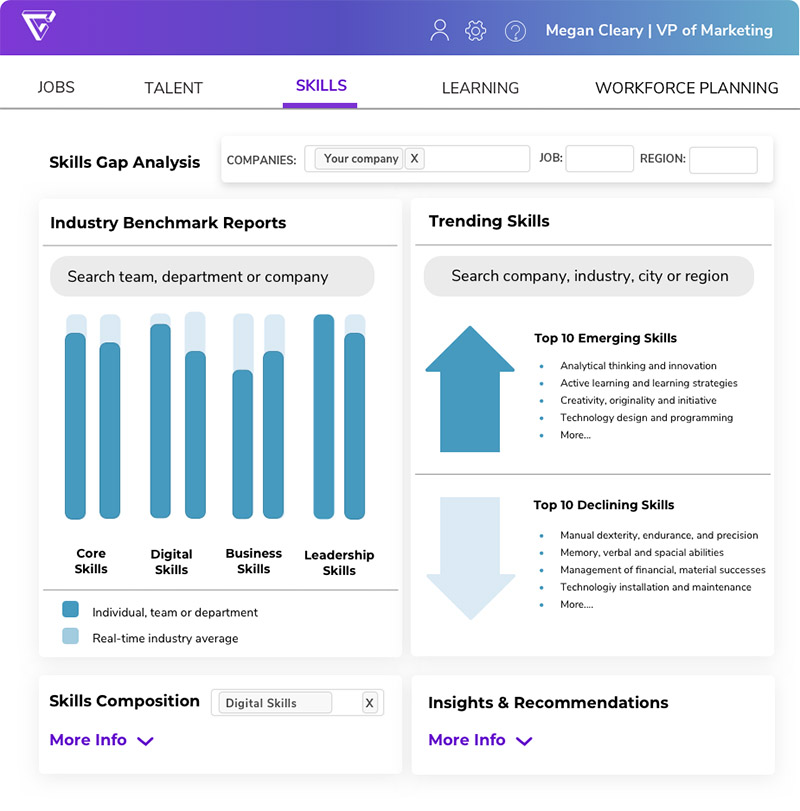 retrain.ai
How to get and deploy the best AI-based Learning Management System?

Once you have realized what AI tools you want to implement, here are the steps to follow:
Build or choose a highly customizable LMS to add AI capabilities
In case you don't have an LMS in your company, the perfect idea will be to develop an LMS from scratch. In this case, you'll be able to add the AI tools you want from the very beginning.
Or you can choose a ready-made LMS with high customization possibilities that could support advanced AI add-ons.
Choose the AI tools to deploy.
Based on the information given above you can choose which AI-powered tools will bring the major benefit to your company's learning experience.
Launch a trial run.
Before deploying the AI LMS to your workforce, launch a trial run for a selected group of users who will pass the course and share their feedback. This approach helps detect possible weaknesses and gaps.
Deploy and improve on a regular basis.
After launching the AI LMS, start collecting the results. The helpful data may include how often and how long your employees complete a course, what skill gaps your company experiences, or what content type is the most popular among your workforces.
All these data collected and managed by AI, help continuously improve the course and focus time and resources on the future-proof skills to ensure the competitiveness of your business.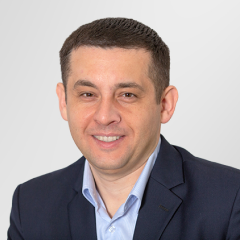 Written by
Chief Innovation Officer / Partner
Recommended posts
Belitsoft Blog for Entrepreneurs