Running an eLearning program can require significant time and effort. And even if the payoff is worth it, there is nothing wrong with automating the boring stuff. In this article we will explain how to make software do routine things for you so you can focus on more creative tasks.
How Belitsoft Can Help
We have a treasure trove of experience in the eLearning domain and are ready to use it for your benefit. Here's what we can assist with:
Consulting. Our business analysts can study your eLearning processes and suggest the ones that should be automated for maximum value.
Ready-made LMS. We have developed a flexible yet simple to use LMS that automates many of the routine tasks and makes training easier and more cost-effective.
Custom courses. Making turnkey learning courses that use innovative teaching methods and instructional design approaches is our strong suit. Let us know what you need and we will develop a quality solution that handles most of the menial tasks.
What Is eLearning Automation
Automation means minimizing or eliminating human participation in any specific process. We have been doing it since our ancestors started using water and wind to help them mill grain, and now the scale of it is unprecedented.
Some of the automated things are so common, we are taking them for granted. Examples include enrollment, payment processing, PowerPoint slide conversion, and more.
eLearning Automation Features
In regards to eLearning, automation is often used to generate quizzes, check the results, draw conclusions from the data, and curate courses. We will list some of the more popular ways to use it effectively.
Automatic enrollment. Different software that you use in your business can be integrated to speed up the processes. For example, once your human resources manager adds a new employee to the HRM, the LMS can pull this information and assign courses appropriate to the new hire's experience and job position.
Single sign-on. This is a useful and simple quality of life improvement. Single sign-on allows your employee to access your LMS if the user is signed into one of the connected systems. Take a look at Google suite, for example. Once you've logged into your account, you can access your drive, docs, spreadsheets, and everything else without reentering login and password.
Reporting. There are typical reports (billing, completion, academic results, etc.) that don't need to be collated manually - the system makes them for you. Same goes for customized reports that are needed regularly. Some LMS' allow you to automate them so you only need to work on them once.
Notifications. Once a predetermined event happens in the system, the relevant users automatically get notified. Both the trigger, the user, and the notification type can be changed. For example, a learner can get an SMS reminding of the new lessons they need to work through, an instructor can receive an in-system message with new questions from the students, or a resource manager can get an email when an employee gains a new skill.
Certification. Many LMS' can automatically issue customized certificates to the users once they've completed certain courses. More advanced ones can attach the certificates to the learners' social network profiles and accounts in integrated systems to save employees' time and improve their motivation.
Authoring automation. Before a learner starts taking lessons, the system can gauge their skill level and adjust the difficulty level of the learning material and quizzes.
Content Curation. A more advanced feature that is typical for LXPs, it uses artificial intelligence to suggest the best courses for each particular user. The system can use all kinds of things to narrow down the list: the learner's position, experience, interests, and even courses popular among their colleagues.
Customer support. Instead of keeping a dedicated support specialist, implementing an advanced chatbot could solve 90% of your learner support needs. The typical questions can be published as a FAQ and the bot can answer most of the remaining ones.
Benefits of eLearning Automation
Automation can provide you with a host of advantages:
Time savings. If a computer handles the creation of quizzes and adaptation of the learning materials to the user's skill level, you won't have to do it by hand. Moreover, you will have all the necessary reports on hand whenever you need them. The time you save can be used for more creative purposes like making new content or planning the gamification strategy.
Data gathering. Automated systems can gather large amounts of data and process it into actionable reports. This includes both the general metrics (e.g. completion rate) and the feedback that the users give during the surveys. The information can later be used to improve the course.
Personalization. Tailoring your content to the needs of each specific learner optimizes both their time and the use of your system. For example, you have a manager that completes the assignments faster than the others in similar positions. Leaving them to their own devices can lead to boredom, as the tasks are too easy. But if you give them extra tasks that provide an appropriate challenge, the employee will remain engaged and will continue to improve their skills and your bottom line.
Better ROI. Personalized learning experience and saved time both contribute to one important metric: return on investment. On the one hand, creating learning content now takes less time and the content itself is more fun and engaging. On the other hand, the students enjoy the process more and get better results. Ultimately this allows you to either decrease your L&D budget or get more from the same amount of investment.
Examples of eLearning Automation
Many well-known companies are already using automation to the full extent of its capabilities.
1. LinkedIn Learning
LinkedIn Learning used to be known as Lynda.com before being bought by Microsoft. Now it leverages the capabilities of AI and other forms of automation to provide solid learning experience.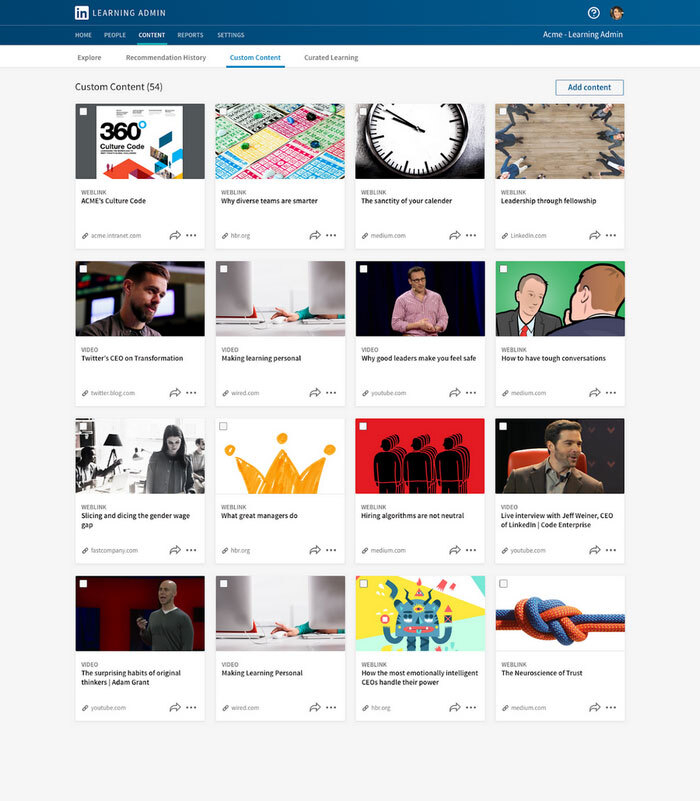 LinkedIn Learning
The most notable feature is its automatic curation system. It has access to the user's LinkedIn profile and all the relevant information: job title, skills, groups, etc. All of this, as well as the user's activity, is noted by the system and processed to show the courses that are the most relevant to this exact person.
In addition, the system can automatically post the information about the completed courses to the user's profile, gather data for course administrators, and assist in user's search requests.
Due to the extended feature set, LinkedIn learning is often called a cross between a MOOC platform and an LXP.
2. Blackboard
Blackboard is a well-established LMS that has been on the market for decades. It is regarded as a high-end product (both in price and in value) partially due to the system's use of automation.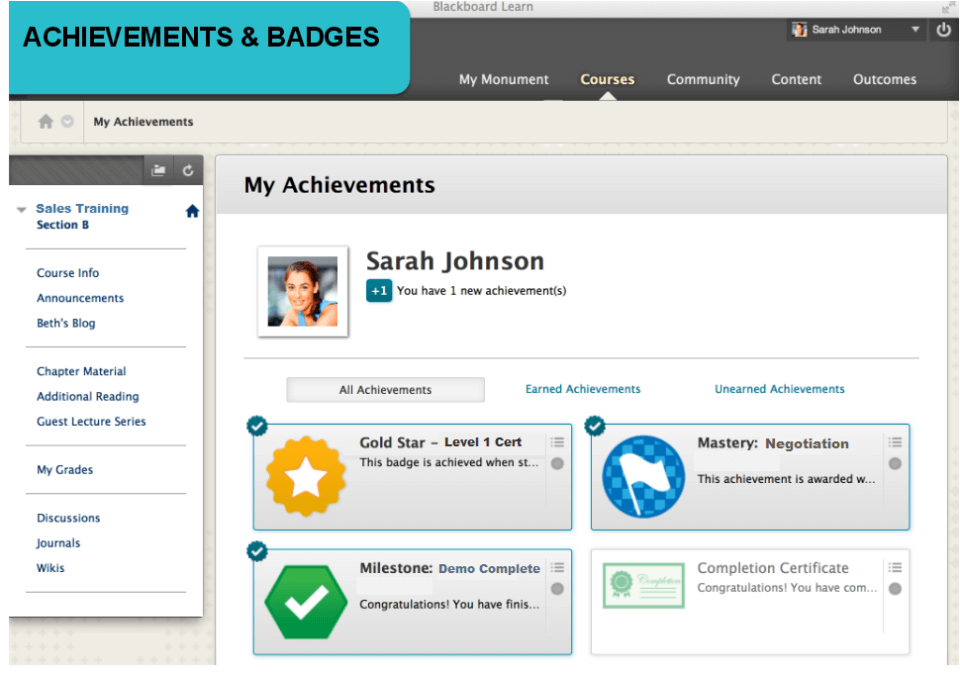 Blackboard scheduled reports. Source
Report scheduling is one example of it. Some reports need to be collated and updated regularly. Blackboard allows users to set the type of the assessment and its periodicity ensuring that the data will be available on time and allowing administrators to focus on other tasks.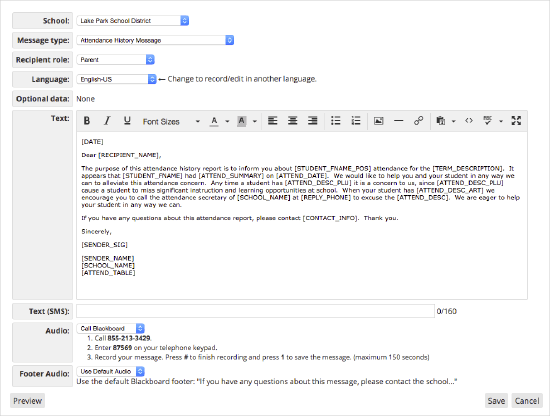 Blackboard automated message. Source
The LMS also allows for mass sending messages be it emails, SMS or in-system notification. They can be made in advance so that the system can automatically fill the necessary fields (see picture above) or created on the spot, for example to warn the students in the case of an emergency.
3. Moodle
Moodle is a free open-source LMS that is well-known for its modular structure and many available extensions. Some of these extensions automate certain features.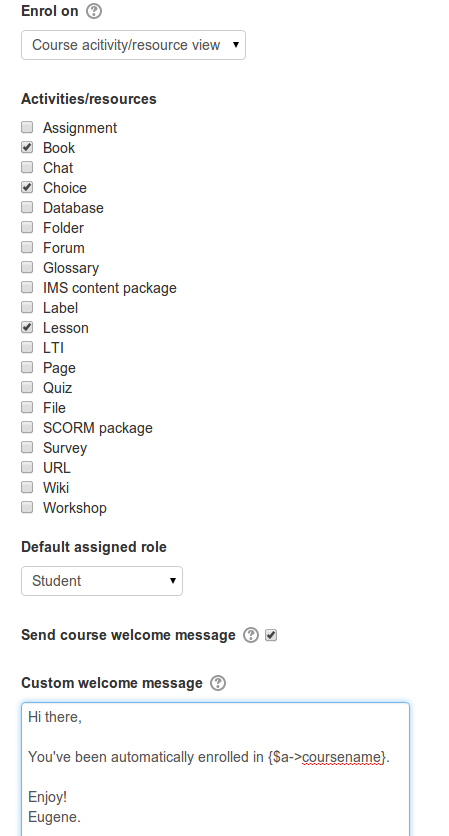 Moodle Autoenrollment Plugin Source
When a user takes a certain action (logs in for the first time or views a certain activity) the module adds that user to the specific predefined course and sends a custom pregenerated welcome message.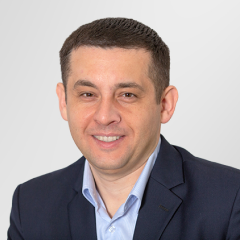 Written by
CTO / Department Head / Partner