This is it. You have a big idea that will disrupt education and propel you to the top of the eLearning industry. Now you just need to... do what exactly? A good first step would be to read this article and learn the steps to launching your own learning software.
The term "custom eLearning solution" can be used to describe a piece of software that delivers knowledge via electronic means. There are many variations: marketplaces (Coursera, Udemy), Learning Management Systems (Docebo, JoomlaLMS), custom courses (Duolingo, Mondly) and more.
While investments in e-Learning are constantly increasing, the time is right for new companies to enter the market. Owners might be thinking of an app for K-12, corporate training or just a cool original course. No matter what, the steps to creating each of the above-mentioned projects are similar.
We are about to take a little journey to revise those steps and help the reader understand whether custom eLearning software development is something worth investing in. Here is what we are going to cover in this article:
How to choose the platform
How to create digital content
Which design features should e-Learning software have
Which non-design related features do the most successful e-Learning solutions have
In-detail look at gamification as one of those features
Some thoughts on marketing and monetization of the future software
Custom E-learning Solution: Platform
It all starts with the platform for the future educational application. For instance, we are willing to develop a learning management system (LMS). We have two options here:
Creating a new LMS
Customizing an existing LMS
There is a quick way of selecting which option is a better fit for your interests.
Choose a new system for eLearning if you prioritize:
Scalability. If you expect millions of users on your product, you can design the architecture and structure the code to ensure it is ready for the high load;
Unique features. A project utilizing rare features (e.g. virtual reality or artificial intelligence) should likely be developed from scratch;
Few budget constraints. A completely new eLearning system is expensive and takes months to build.
Customizing an existing LMS (JoomlaLMS, Moodle etc.) is right for you if you have:
Lower scalability requirements. The LMS would have features that are excessive for your product. This tends to make customized solutions more "heavy" and harder to scale than their turnkey counterparts;
Unique process. An eLearning project which differs from the competitors primarily by teaching methods would be easier to implement by customizing an existing solution;
Limited budget. Existing LMS' already have most (if not all) of the functionality a learner and instructor might need. This helps cash-strapped startups save money on development.
Either way, the circle of the development process will look pretty much the same and will include the following:
Requirements analysis. Preparing a detailed specification takes a lot of time. But there should be at least a set of basic requirements so the team knows what do they need to build.
Design. Organise and draw the visuals for your product.
Implementation. The stage where the programming work is done.
Testing. It is needed to make sure everything works as it should.
Evolution. After the product goes live, it's time to listen to the feedback and add new features.
Today most software development teams use agile development methodologies which means these steps are done over 2-3 week cycles called "sprints". The client or their representative often participates in meetings with the team and demo sessions to review the current work. It is done to speed the process up, make it more transparent to you as product owner and improve quality.
You will definitely need a solid development team for your product. Creating it from scratch will take months and cost accordingly. Besides, you will lose time while your competitors invade the market or grab a larger share of it.
Belitsoft specializes in custom e-learning development, so let's discuss your project.
Custom E-learning Solution: Content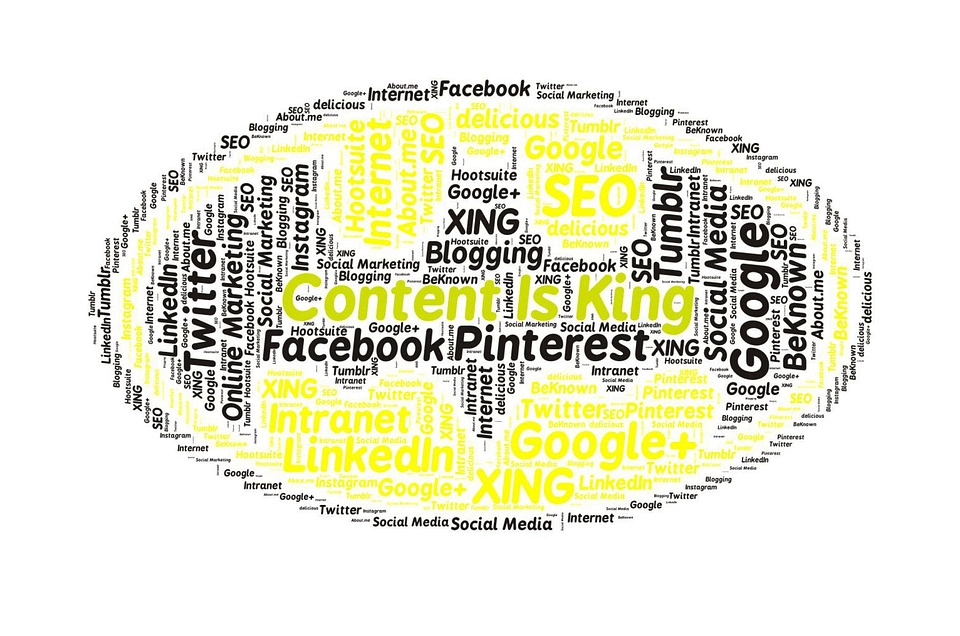 Content is the essence of your project. It includes the learning materials, quizzes, exercises - everything a user needs to study productively.
The easiest way to convert them into digital materials (if you have these exercises in some other format) is by applying the industry standards. They are there to save you a ton of money and present with a wide range of options in terms of choosing authoring tools.
Among the most popular standards are:
SCORM in its many versions is the most popular set of guidelines for the content. It is a standard for packaging learning courses into special files which can be read by any compliant application.
xAPI is newer (latest version released in 2017) and is better suited for mobile learning (mLearning), game-based learning and latest trends like mixed reality and blended learning.
LTI. It is mostly used for connecting a third-party cloud-based course or tool ("tool provider") with another learning system ("tool consumer").
AICC. It is a standard initially created by aviation companies, but open for use by other industries. For a time it has been widely adopted, lagging only behind SCORM. This standard is still used but is no longer being improved.
For more information, read this detailed eLearning standards review.
Authoring tools are just what you need to create content yourself. Their purpose is to help users prepare all kinds of learning materials, games, animations, and tests. Some of the more complex ones can be tricky to use. But they are a great way to translate your knowledge into a digital format. Many LMS' include some kind of authoring tools to help users get started faster.
Alternatively, there are companies specializing in eLearning content development. Hiring one might be a good decision if you need specific skills (e.g. voice acting) and/or want quicker results. It also tends to be cheaper than recruiting your own team.
On the other hand, you are giving up some control over the project. Which means that sometimes the results might be different from what you've expected. To prevent this you should clearly state your preferences and goals and participate in regular meetings with the team to make sure everything goes as planned.
Anyhow, it's up for you to decide which way is nicer for you to get the content for e-Learning decision. You have to remember that is the key component to success as even the most appealing design and attracting platform are useless if there are bad learning materials.
Custom e-learning solution: Design
Learner side of your project is the most demanding in terms of design. On one hand, it should provide easy access to all the necessary features. On the other - it should be unobtrusive and help avoid distractions.
The centerpiece of learner's experience is their dashboard.
It should provide easy access to courses, stats and other features that the user might need. Following your company style guide and adapting the design to the course will help reinforce your brand and make learning more interesting.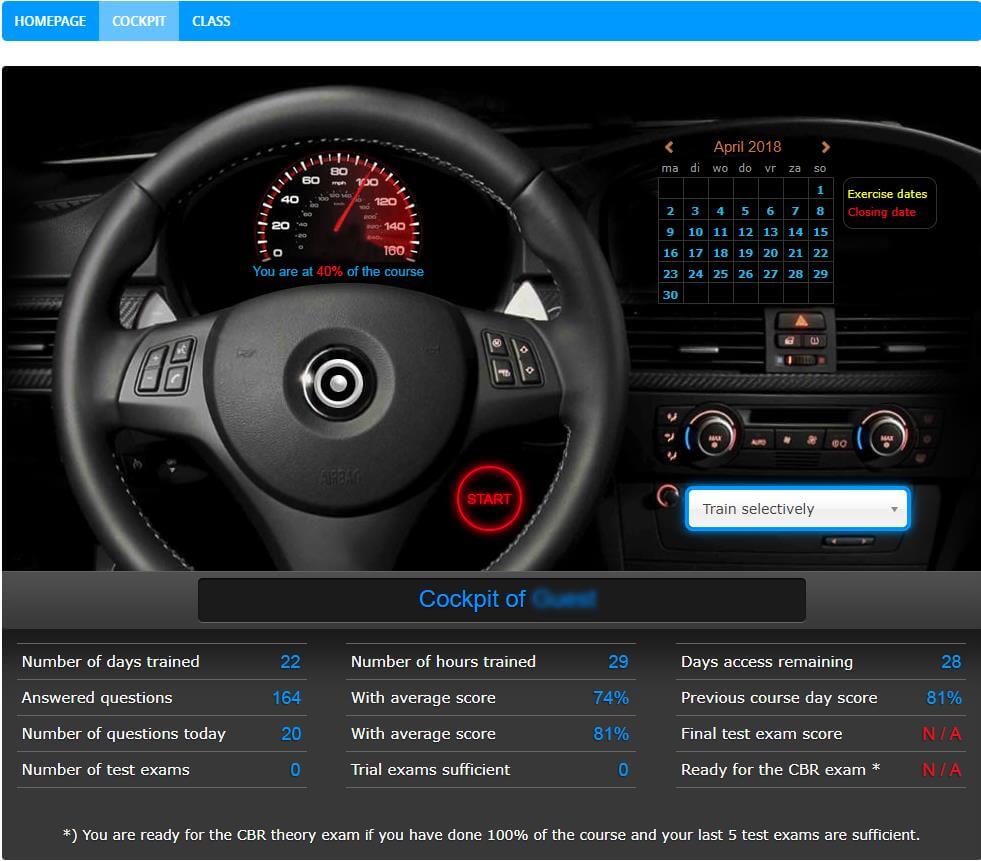 Custom dashboard for a driving theory course
Custom lessons need to be designed in a way that doesn't distract the learner from the exercise.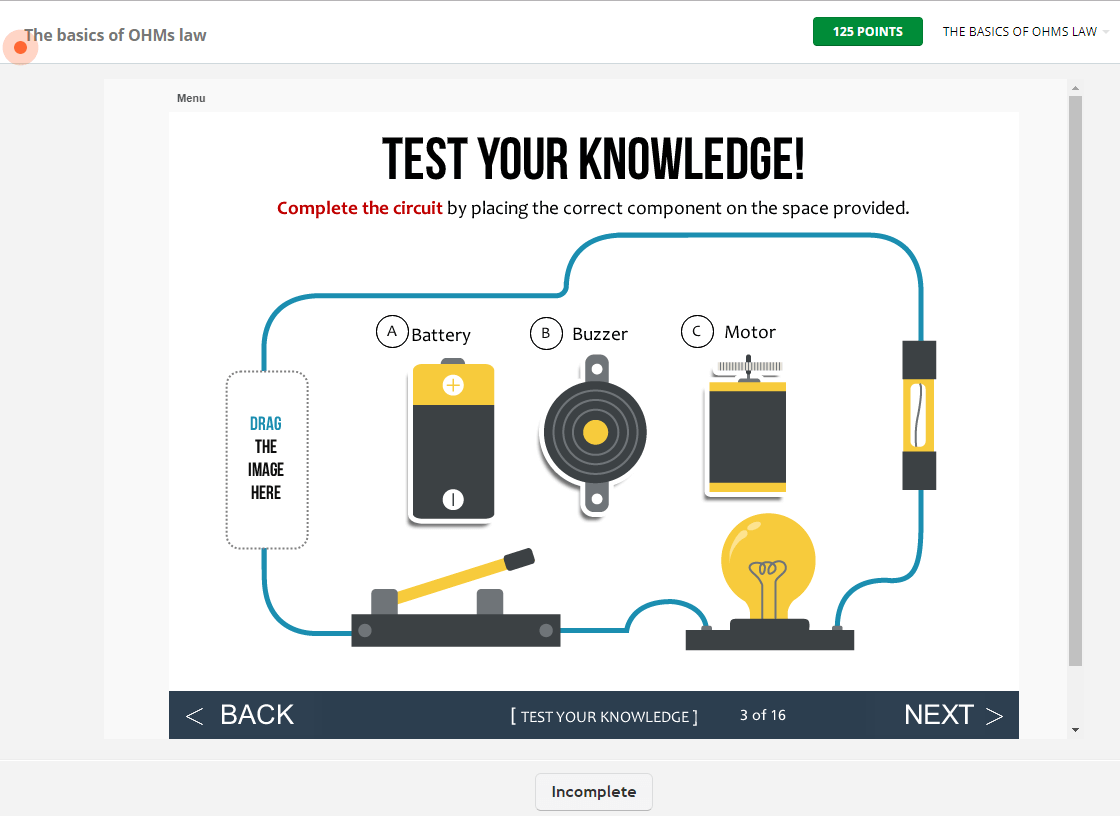 A mini-game from TalentLMS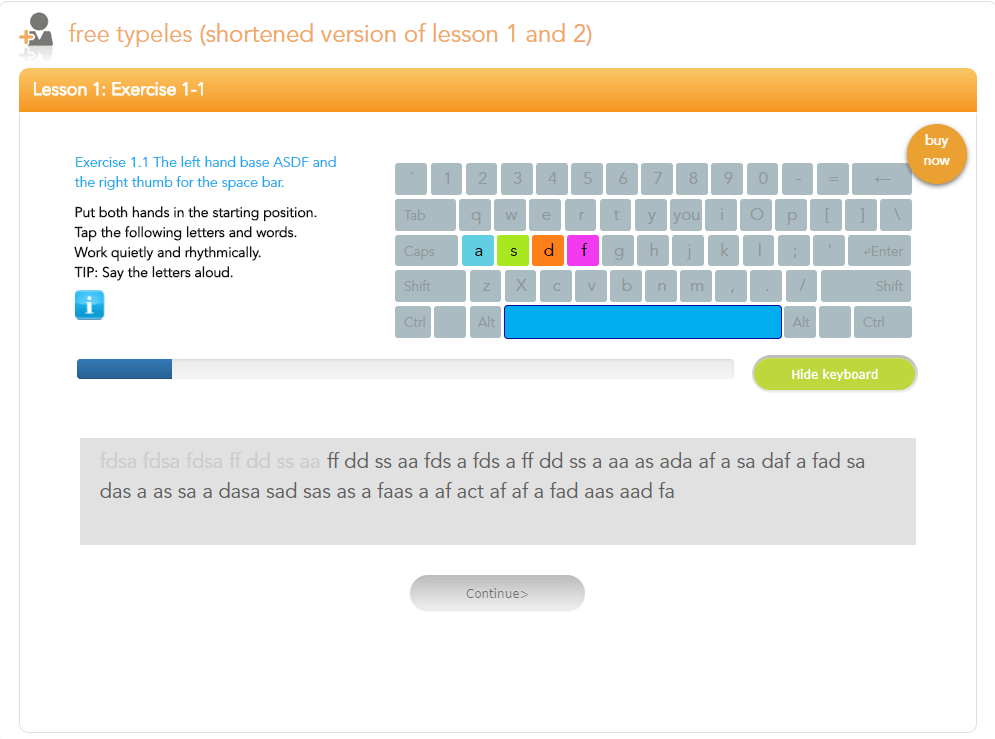 Custom typing exercise
All-in-all, learner experience is paramount for a custom e-learning project.
On the other hand, administrators and instructors need access to many features and they need it quickly. So the rule of thumb for an admin panel is "help the user do what they want with as few actions as possible".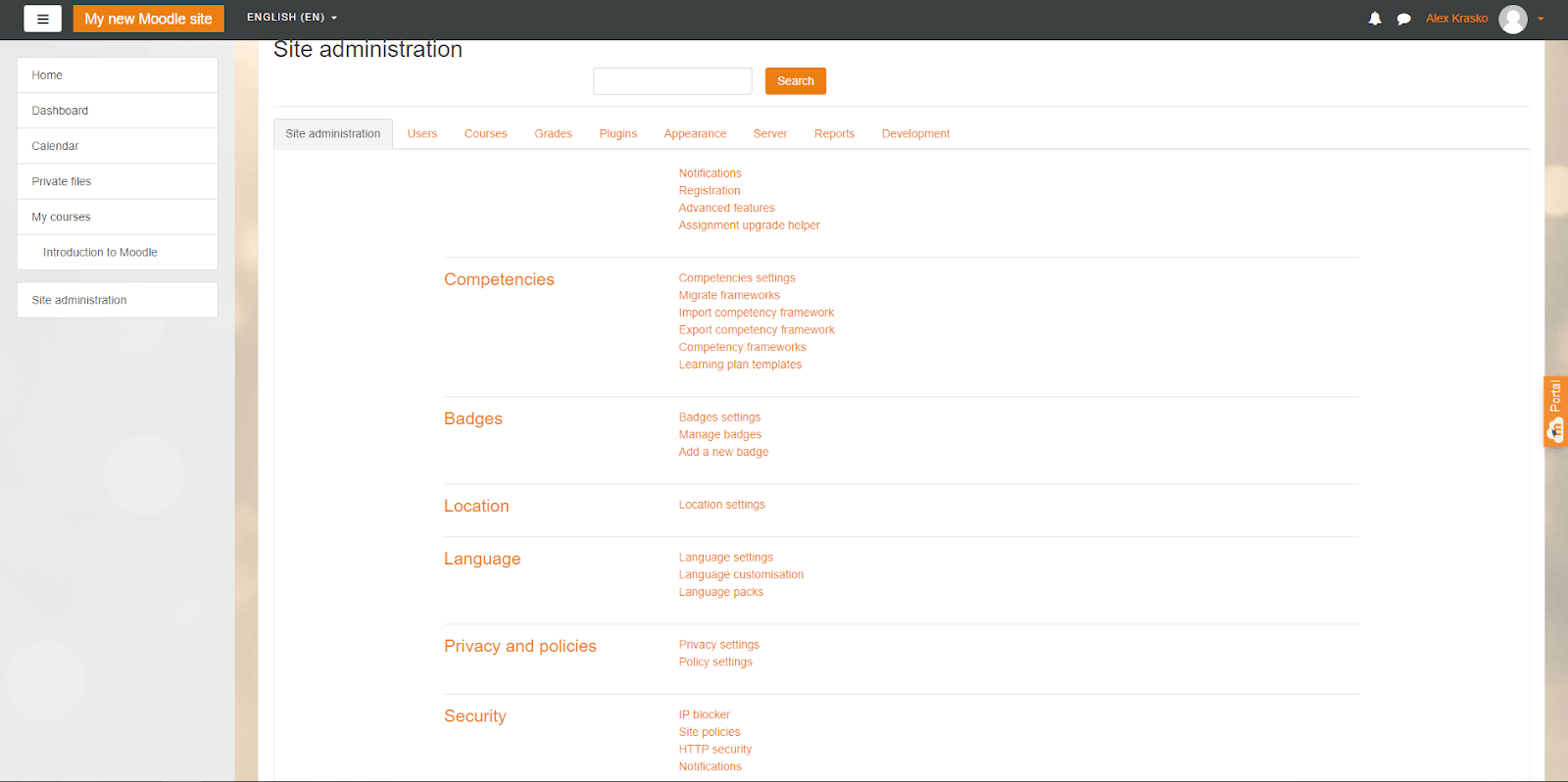 Moodle Admin Panel
Here is how it works. Design of an e-Learning application should help with:
Creating focal points
Navigation between the courses
Improving overall readability
This is not the hardest part of the development. There are plenty of freelance graphic design marketplaces (Upwork, Designhill), not to mention different design forums, job boards, etc. Hiring an established team of professionals is also a viable option.
Check out the examples of what an e-learning development company can do.
Custom E-learning solution: Gamification
Gamification includes elements that motivate users by making learning process fun and competitive. The approach has proven to be effective and is widely accepted among the top e-learning companies.
Some of the popular features are:
Progress bar showing how much the learner has already studied;
Badges as a reward for achievements, like 10 successful answers in a row or 5 tests passed.
Leaderboard which lets learners compete with friends
Experience points and levels showing user's expertise in given class;
In-app currency which could be spent on bonus lessons or cosmetic elements.
DuoLingo, one of the most popular and praised educational apps on the market, is a fine example of using those features. Gamification has been their leading success factor.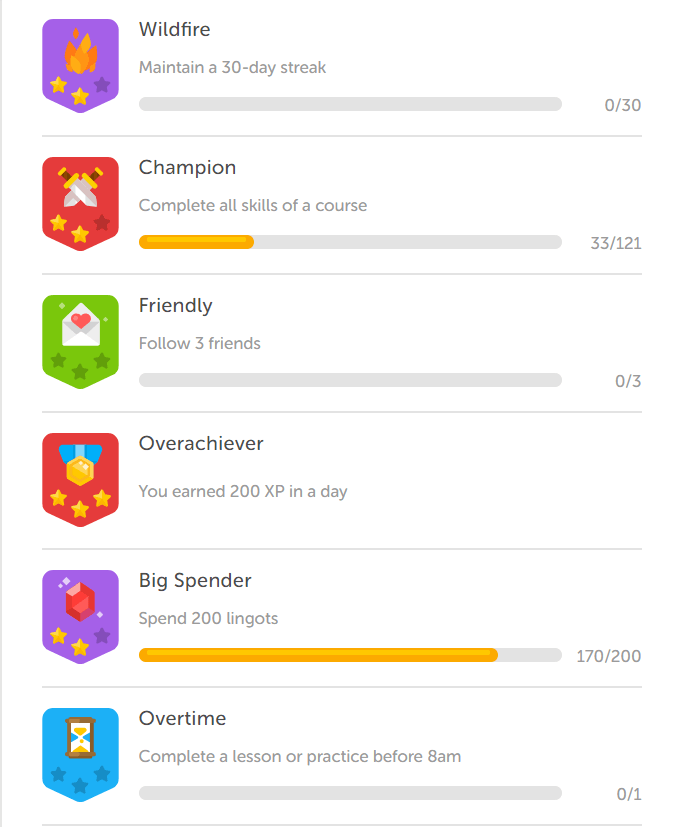 Duolingo achievements
Some features are not directly connected with e-Learning software but are used in many other industries. We can highlight those gamification features as well:
Rewarding users for creating content or ideas
Motivating them for linking to your app
Awarding for the comments and overall social activity
Those gamification features will be a plus for promoting the app. But we'll talk of that in the following section.
As each product is unique, the exact details of your gamification system will have to be developed from scratch.
Custom E-learning solution: Marketing & Monetization
You know how they say: build it, and they will come… to your competitors, who have invested in promotion. To achieve success, make sure people will hear about you.
There are several major options for marketing your e-learning product:
Ads. It includes contextual advertising on search engines, banners and promotion blocks on social media. There are tons of available tools and the costs are reasonable. For example, advertising on Google for the keyword "learn German online" costs $3-5 per click. Compare that to the "offshore software development" at $104 per click.
Social media marketing. Choose the social network(s) where your prospective clients gather and build a community around the product. Besides attracting new customers, social media can help track what people want and gather feedback.
Content marketing. Making useful content and promoting it demonstrates your expertise and helps you rank higher on search engines. A blog of an e-learning company, for example, might have advice about teaching/learning methods, research, stats and more. Don't limit yourself to text - videos and infographics are also quite popular.
These are the most obvious ways to promote e-Learning software.
As for monetization, there are many ways of earning money with the help of ready products in e-Learning, including:
Paid lessons. The whole course could be a product that the users can buy and access at will. Having a free trial version showing off your advantages will be useful to bringing learners.
Freemium. The product is free but has one or more paid versions offering extra benefits: no ads, personalization, priority service and more.
Subscription. This model is similar to the first one but offers users temporary access to the product for certain payment.
Ads. If your e-learning app has a free version, it can bring revenue through ads. The tricky part is finding the balance between earnings and user satisfaction. Nothing irritates a user more than nagging ads everywhere.
Commission. This model suits marketplace. If a learner pays a tutor or a course vendor through your system, you can take a cut of the transaction.
The list is not full, there are many other ways to monetize an e-Learning product. Choosing the right one is important, but this is not the first thing you should think of while starting to develop and e-Learning project.
Conclusion
The infographic below is a brief summary of what we've written above.

Custom e-learning solution is like a puzzle: when all the pieces fit, it's beautiful and cool. Quality content presented in an engaging manner, based on a reliable software platform and promoted with efficient marketing will achieve success.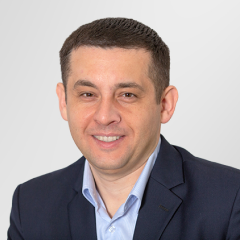 Written by
CTO / Department Head / Partner
I've been leading a department specializing in eLearning applications for 14 years.
Let's Talk Business
Do you have a software development project to implement? We have people to work on it.
We will be glad to answer all your questions as well as estimate any project of yours.
Use the form below to describe the project and we will get in touch with you within 1 business day.