With over 1 billion installs, TikTok is the key player in the social apps arena. Its friendly UX, cutting-edge features, and effective short-form video format make it a force to reckon with.
In this article, we talk about the idea of TikTok, its success factors, sources of revenue and the most prominent features.
What is the idea of Tik Tok?
TikTok is a mobile service for creating and posting short videos. Today, the app is available in two versions: Douyin, which was launched by ByteDance in 2016 for the Chinese market, and TikTok - its international version launched in 2017. In 2018, Tik Tok acquired Musical.ly - an app with similar features and 100 million users, mostly in the west - to strengthen its reach on the US market. Existing accounts of Musical.ly users have been migrated to TikTok.
According to Sensor Tower, by the Q1 2019, TikTok has surpassed the 1.1 billion installs mark both on the App Store and Google Play globally. TikTok was also the third most downloaded app during Q1 2019 across both platforms, coming ahead of Instagram, Youtube, and Snapchat.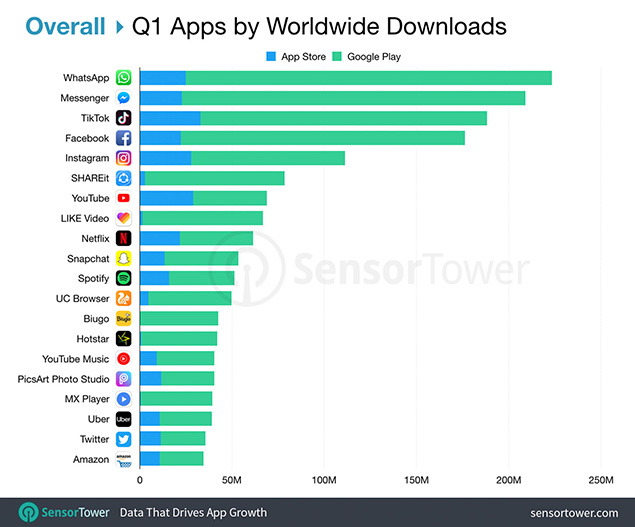 The basic idea of an app is to give users a tool to share their creativity, knowledge and precious life moments. The videos should fit within a 15 seconds limit (but users can clip together several pieces for up to 60 sec of recording or upload longer videos that were recorded outside the app).
While Tik Tok is primarily associated with lip-synching, it is actually widely used for act-out memes with favorite background music. You may even think of it as a massive newsfeed of short user videos that aim at gaining likes through their visual appeal, often with a comic effect. Dance, Comedy, Vlog, Food, Sports, DIY, Animals are just some of the categories users can discover along the journey.
Apart from creating standalone videos, users are also actively encouraged to leave feedback in the form of video reactions, duets, mirrors, clones, etc. For this, Tik Tok offers users a huge music library, countless face filters, beauty effects, emoji stickers as well as tools for painless trimming, cutting, merging and duplicating video clips.
TikTok success factors
Short-form content that is easy to build. According to some research, the age of the smartphone with information overload has led to decreased attention spans as people lose interest more quickly. TikTok made a wise move by limiting video duration. Once you open TikTok, you get straight to a full-screen video that is replaced by another 15-second clip from a seemingly endless feed. Also, it is extremely easy to create videos on TikTok, not just because of mobile-oriented editing tools, but also because of a large selection of prompting ideas (sounds and clips collections, challenges, memes, etc.)
Right target audience. Unlike other social platforms that try to cover different age groups and overtake giants like Facebook, TikTok aims at younger generations, that express themselves more on social media and are believed to be the most addicted to their smartphones. Those aged 15-24 check their phones every 8.6 minutes plus an average of 4 hours of active daily phone usage, which is more than any other age group.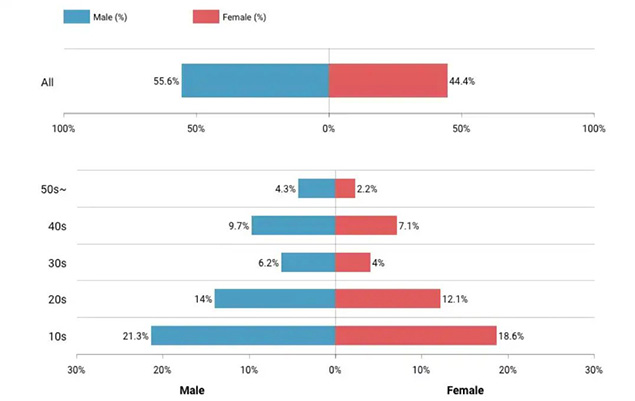 Source: www.businessofapps.com
Brands and celebrities. Many big-name brands like Coca Cola, Guess, and Michael Kors are flocking to TikTok as a powerful social media platform to run their influencer marketing campaigns for a "cut-price rate" while potentially reaching millions of users.
"Young people are incredibly hard to reach and brands need to be seen where these people are, to connect with them, form a bond and ultimately want them to buy their products. Given the platform is so new, there isn't really a set pricing model," James Hacking, founder and head of innovation at Socially Powerful, said.
To attract a larger audience, the app has also partnered with prominent Instagram influencers to introduce other audiences to their style and community. Celebrities like Ariana Grande, Jimmy Fallon, and Khloe Kardashian can also be found among TikTok users.
For TikTok, the presence of well-known names means a surefire way to spread app awareness and engagement. It creates an image of an app where celebrities are sharing their content and gives a sense of involvement by using celebrity-generated soundtracks.
Money-earning potential for individual users. TikTok gives its fans and followers a range of opportunities to make money from using an app.
One of them is the live-streaming feature (which is visible to those with more than 1000 followers though). Their viewers can buy and send them virtual gifts as a sign of appreciation. Gifts will on the receiver's account as Diamonds that can be exchanged for cash once the total sum reaches US$100.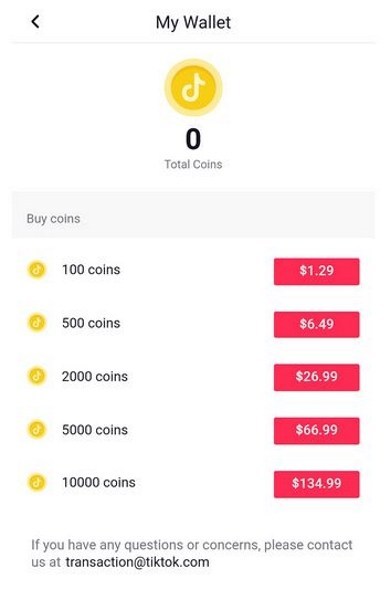 Source: techjunkie.com
Other chances to make money on TikTok include winning prizes in the challenge contest, receiving sponsorship from brands and taking part in promotion campaigns.
TikTok prominent features
AI-based recommendations. TikTok leverages artificial intelligence to automatically analyze users' interests and preferences based on their previous interactions. The most obvious hint is the "For you" page that caters the most relevant content to a certain user. Tik Tok starts making its guesswork from the first time you open the app and builds the intricate model of what you presumably tend to watch.
The app has also taken the lesson of Vine, its direct forerunner, and allows you to start exploring without a single account in the "following list".
"What Tiktok does really effectively is reduce the distance and friction between people, other people and information. You download the app and you're instantly engaged," Dan Patterson, CNET producer, said.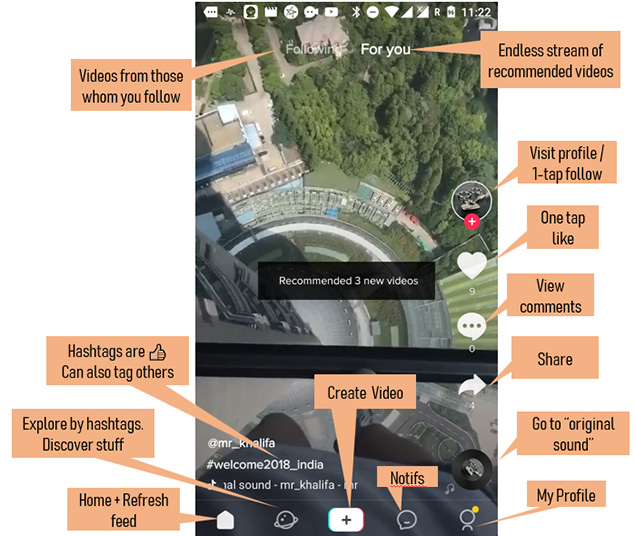 Source: https://factordaily.com
Hashtag challenges. On TikTok, hashtags are actually not for trending news, but for various challenges, that serve as a uniting force for the app community. As you might have guessed, challenges encourage users to compete for the best video in response to a certain topic.
The feature is widely popular among brands as a tool for viral content promotion.
For example, #InMyDenim challenge launched by Guess asked users to share their short videos of them flaunting their fashion outfits with the branded hashtag. Launched in September 2019, it boasts 38 million views now.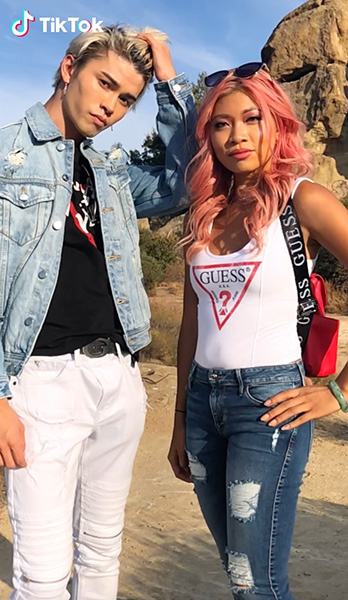 Source: businesswire.com
"As the platform is still populated mostly by organic content, users are open to ads that fit with the app's participatory nature," Katy Young, a behavioural analyst at Canvas8, explains.
Most TikTok challenges are not sponsored. They are created by the app community or seeded by TikTok itself to give creators something to post about and ensure the content is fresh and relevant. For example, in the #faketravel challenge users pretended to be on a luxurious vacation, while #unmakeupchallenge speaks for itself.
Duets and Reactions are a core part of the TikTok experience. Using Duets lets users to appear on the same screen with a person they want, be it a celebrity, their loved one or just a random person. Imagine that you come across some funny clip or other quality content and want to add your touch to it. You can do it with Duets by creating a side-by-side video.
Reactions are similar to Duets, but allow to record a video of you while watching a clip, change the shape and size of the reaction window and move it around the screen.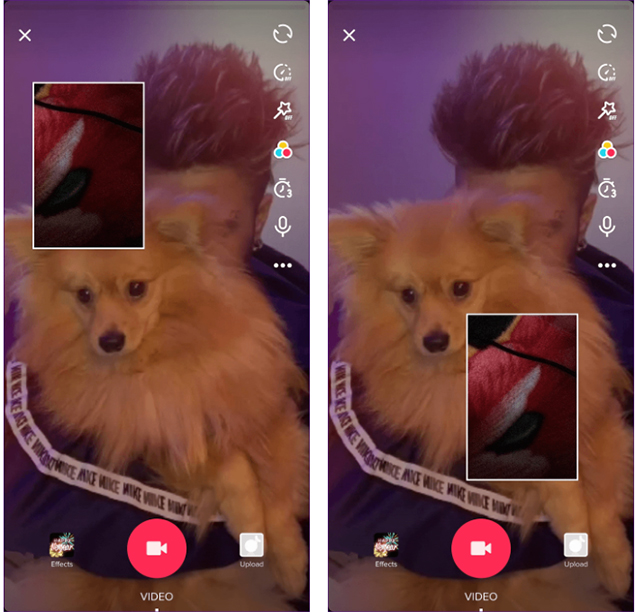 https://www.guidingtech.com
In-Built Video editor and music library. The app offers up-to-date means to showcase their creativity without using third-party editors. The toolset includes a selection of filters, AR effects, animations and stickers, intuitive editing tools, and a large music library of any genre. A user chooses a song to lip-sync, dance, or skit along with the music before starting the recording. If you want to capture something right at the moment, you can add the background music later.
How does TikTok make money?
Tik Tok has not yet publicly released its ad platform, but have been spotted testing native ads continuously in 2019. Currently, advertisers collaborate directly with TikTok to buy ads.
For now, TikTok gets its revenue by selling virtual gifts and brand partnerships such as Guess "fashion takeover" campaign. According to SensorTower, its in-app user purchases have reached 9 million worldwide on May,2019 outside of China's third-party Android stores. This is a 500% increase from May 2018. At the same time, the gross revenue of TikTok is projected to cross the $100 million mark in June 2019.
How long does it take to develop a MVP for an app like TikTok?
We've asked our developers to assess how much time does it take to build a custom solution like TikTok. The numbers presented here are approximate and aim to give you a general vision of the project. The information is based on our experience with video streaming and entertainment app development.
For the sake of simplification we can split the development into three common stages:
The project launch: we design software architecture, integrate needed SDK and libraries
Major functions development
App debugging and stabilization
Stage 1
Approximate time: iOS: 116-164 man-hours , Android: 127.6-180.4 man-hours, backend & design: 11-147 man-hours
This stage includes the following:
Project creation. Splash screen, app icon, architecture:
iOS: 8-12 man-hours,
Android: 8.8-13.2 man-hours,
backend & design: 10-13 man-hours
Integration of network interaction:
iOS: 16-24 man-hours,
Android: 17,6 - 26.4 man-hours,
backend: 12-18 man-hours
API research and integration:
iOS: 40-56 man-hours,
Android: 44-61.6 man-hours,
backend: 30-42 man-hours
Bottom menu. App navigation realization:
iOS: 12-16 man-hours,
Android: 13.2-17.6 man-hours,
backend & design: 13-16 man-hours
App registration (email, phone, FB, Google):
iOS: 40-56 man-hours,
Android: 44-61.6 man-hours,
backend & design: 46- 58 man-hours
The work performed during this stage will give your app a structure and design vision and get it ready for implementing the main functions.
Stage 2
Approximate time: iOS: 956-1310 man-hours, Android: 1051.6-1441 man-hours, backend & design: 1026-1320 man-hours
Broadcasting music videos (including live streaming): iOS: 60-80 man-hours, Android: 66-88 man-hours, backend & design: 76-96 man-hours
Uploading videos:
iOS: 40-60 man-hours,
Android: 44-66 man-hours,
backend & design: 56-76 man-hours
Slideshow videos maker:
iOS: 70-100 man-hours,
Android: 77-110 man-hours,
backend & design: 58-76 man-hours
Video-editing with effects, speed adjustment, background music sounds:
iOS: 140-180 man-hours,
Android: 154-198 man-hours,
backend & design: 108-132 man-hours
Integration with other social platforms:
iOS: 60-80 man-hours,
Android: 66-88 man-hours,
backend & design: 36-56 man-hours
Hearts, comments, private messaging, hashtags:
iOS: 160-200 man-hours,
Android: 176-220 man-hours,
backend & design: 192-232 man-hours
Music library:
iOS: 60-80 man-hours,
Android: 66-88 man-hours,
backend & design: 84-104 man-hours
Profile setup:
iOS: 30-50 man-hours,
Android: 33-55 man-hours,
backend & design: 36-46 man-hours
Geolocation-based videos:
iOS: 24-32 man-hours,
Android: 26.4-35.2 man-hours,
backend & design: 38-48 man-hours
React and Duet videos:
iOS: 40-60 man-hours,
Android: 44-66 man-hours,
backend & design: 56-76 man-hours
Personalized recommendations:
iOS: 40-60 man-hours,
Android: 44-66 man-hours,
backend & design: 64-84 man-hours
Implementation of the main functions of an app like TikTok takes much more time and depends on a lot of factors. That's why the minimum and maximum estimation of needed man-hours can vary significantly.
Stage 3
Approximate time: iOS: 150-200 man-hours, Android: 165-220 man-hours, backend: 120-160 man-hours
As seen, it will take about
1222-1674 man-hours to deliver a fully-functional app for iOS
1344.2- 1841.4 man-hours for Android version of an app
1257-1627 man-hours for backend and design development.
Once again, we can't tell you the exact quote in the article, as every project case is individual. However, you can see how time-consuming building an app like TikTok is based on our estimations and will be able to calculate the costs depending on the rates of your provider.
Key takeaways
TikTok is an international version of the Chinese app Douyin
The standard video duration is 15 seconds, which makes it easier to keep viewers' attention and use the app on the go.
TikTok target audience is millennials and Gen Z due to their higher propensity for sharing on the internet and greater mobile usage time.
Brands and celebrities presence and helps TikTok to draw a larger audience, increasing awareness and engagement.
TikTok allows individual users to earn money through receiving gifts, winning prizes and collaborating with brands.
The app leverages artificial intelligence to offer users personalized content and stimulate them to explore more content.
Hashtag challenges are the core tools to engage users and create viral promotion campaigns for brands.
Duets & Reactions feature allows users to appear on the same screen with the people they want to.
Users can edit their videos with cutting-edge tools without leaving the app as well as select from a huge selection of background music.
TikTok makes its revenue through gifts payments and brand partnerships. The app does not have an ad platform now, but is actively testing native ads.
It will take from around 3823 to 5142 man-hours to build a video streaming network like TikTok both for Android and iOS (including backend and design).
If you want to build your own Tik-Tok-like app, get in touch with our mobile application development department.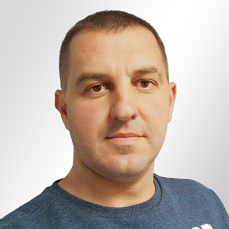 Written by
Senior Business Development Manager