57% of tech executives report in the CNBC survey that finding qualified employees is the biggest concern for their company. To resolve the issue, organizations worldwide are increasing the reallocation of their budgets to outsourcing. One of the popular outsourcing models is IT team augmentation for software development. It covers skill gaps, increases the capacity of their in-house IT team, and decreases development costs. See further how it works in real-life use cases, what benefits it has already brought to other companies and can bring you.
What is IT staff augmentation?
IT staff augmentation is an outsourcing cooperation model when a company hires tech specialists individually or through IT staff augmentation providers for software development services.
It not only gives you extra hands to build software faster or get specialized tech skills that your development team lacks. It also significantly reduces development costs for businesses, especially in the US, UK, Israel, Canada, and Australia.
Such cooperation may last for a certain project or for an ongoing period.
Two Key Challenges IT Offshore Staff Augmentation Resolves for Businesses
1. Talent shortage.
There is a large IT talent shortage in the US, Western Europe, and other countries with the fast-growing tech industry.
Here is how the situation looked like in the US before the pandemic.
BUSINESSES' NEEDS:
918,000 unfilled IT jobs in the US companies in 3 months.
IT JOBS MARKET:
RESULT:
Over 750,000 positions are still missing.
The talent gap that existed before the pandemic has worsened due to an acceleration of cloud-native adoption as remote work has gone mainstream. Now finding qualified tech specialists is the #1 concern of tech executives.
"In tech alone, the US could lose out on $162 billion worth of revenues annually unless it finds more high-tech workers."
Korn Ferry survey
In the meanwhile, the global pool of software developers comprises 24 million specialists with the expectation to reach 29 million by 2024.
As you can see, there are enough specialists, and IT outsourcing services to help your business connect with them.
2. High local salaries.
The average annual salary of software developers in the USA equals $107,510. As for Western Europe, skilled specialists ask for over €90.000.
Let's compare with the Eastern Europe software development outsourcing niche. The average salaries of developers in the region vary from $25,958 to $41,170 a year.
Besides, your software vendor will take full responsibility for creating and maintaining the infrastructure.
For your business, it means an approximately 40% decrease in development costs if you opt for IT staff augmentation services.
The phenomenon of the IT sphere in Eastern Europe is that due to a relatively low standard of living the best minds choose software development as the most forward-looking sphere.
For you as a client, it means that together with savings on software development you get highly-motivated team members who bring great results as they are eager to master their skills and continuously expand their knowledge.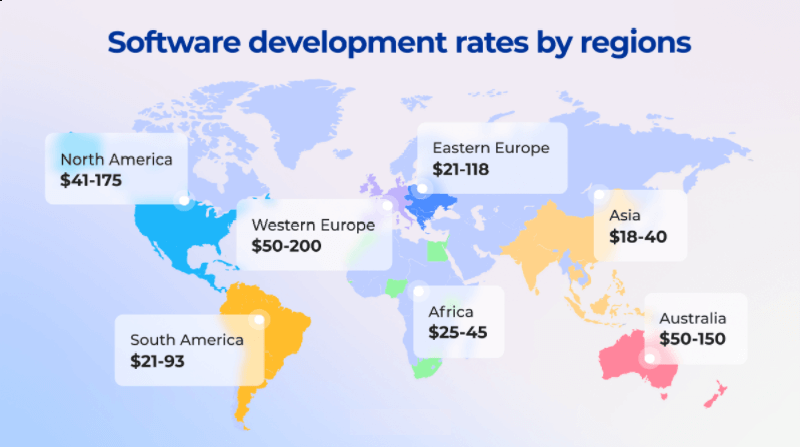 Average hourly rates for software development outsourcing by regions
4 Scenarios When Companies Need Staff Augmentation [+ Real-Life use cases]
Scenario #1.
The company already has a development team working on the project and wants to extend the team to launch faster.
Real-Life Use Case for Scenario #1.
Belitsoft was contacted by a founder of an information security startup from London who had a skilled in-house development team.
The company had a vision of a system for preventing data leaks and mismanagement. And they needed extra specialists to release the product faster while maintaining an affordable development cost.
The result of the mutual work of the client's software development team with our IT staff augmentation is a simple-to-use and flexible application. This app has gained recognition right after its release. Our cLient was also shortlisted for "Most Innovative Cyber Company".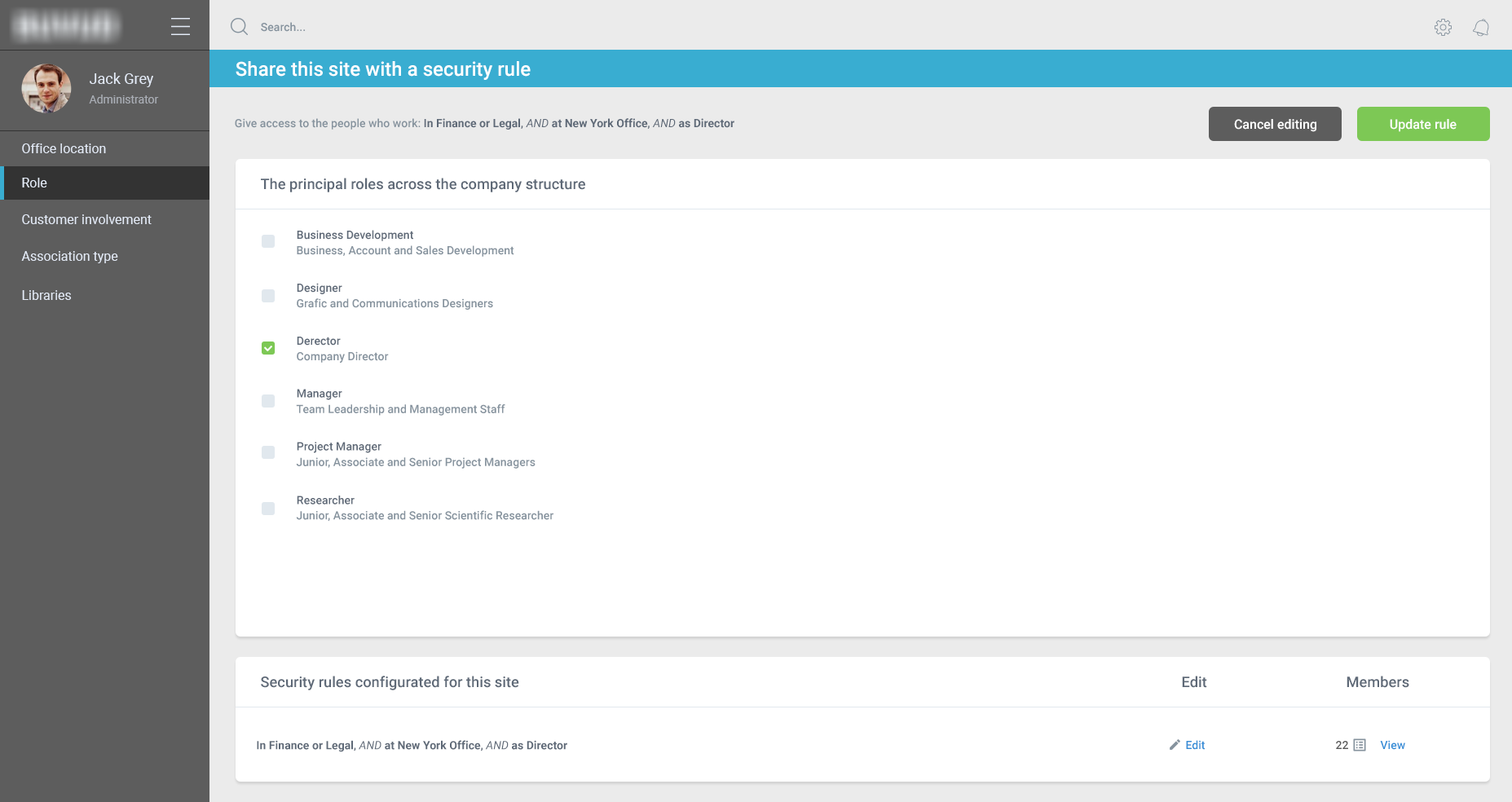 Page sample of custom software developed by Belitsoft for an InfoSec company
Scenario #2.
The company is launching a new product or planning to improve existing software with the help of a remote team.
Real-Life Use Case for Scenario #2.
Belitsoft developed a Sharepoint LMS for a Microsoft Partner. The company has evolved from a startup to an international enterprise thanks to this world-class product.
Since starting cooperation in 2007, Belitsoft managed to decrease yearly development expenses of the client by 40-50%, which is over 600,000 USD.
The custom LMS has 5+ million users in businesses, governmental and educational institutions, including JFK School of Business at Harvard and Florida Department of Agriculture.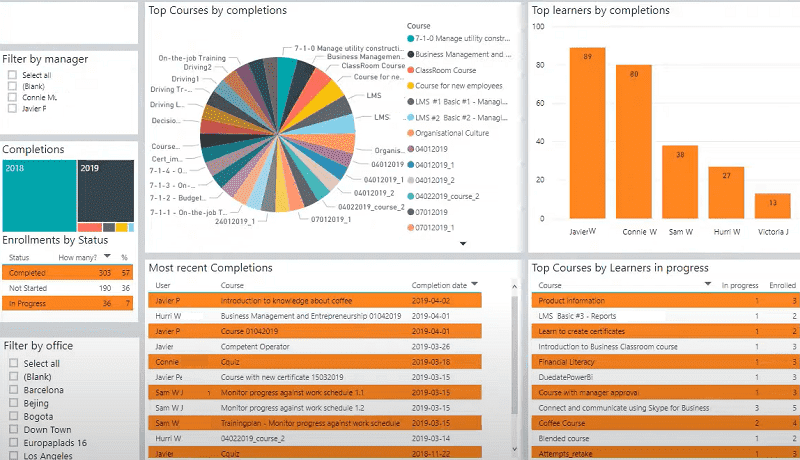 Example of Sharepoint LMS tracking tool designed by Belitsoft
Scenario #3.
The project requires specialized skills and knowledge that the company lacks.
Real-Life Use Case for Scenario #3.
Belitsoft was contacted by an NYC-based company that owns a cloud-based IoT app. The software is meant for asset and personnel tracking (RTLS), secured location sharing, and navigation.
The company had its own R&D labs but their idea required some specialized skills. They wanted to create detailed and accurate navigation inside the corporate buildings. And add a series of helpful features, such as location sharing, geofencing, and proximity triggers.
The final version of the app is successfully released and meets all expectations of the client and its customers.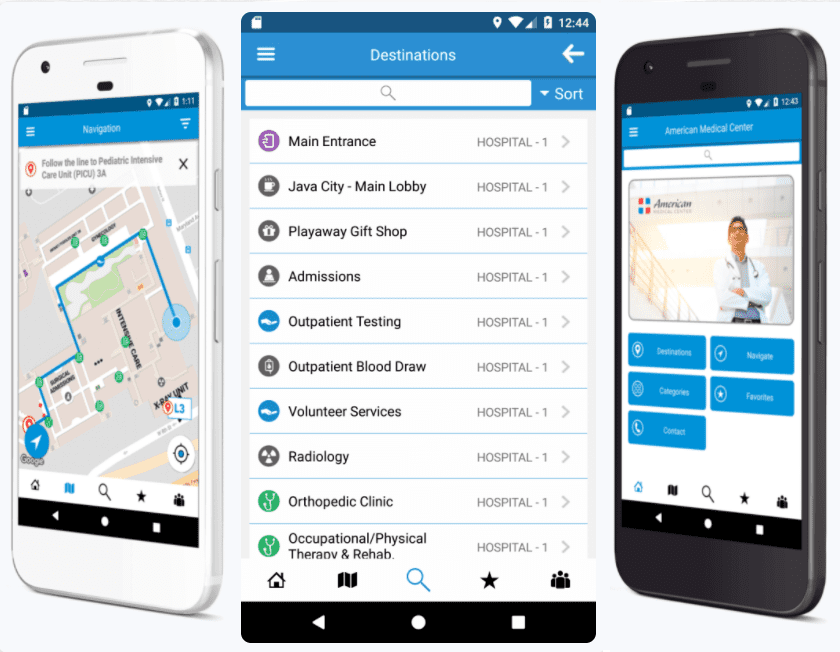 Example of a mobile indoor positioning app built by Belitsoft
Scenario #4.
The company is scaling fast and needs to speed software time to market but lacks the resources to do it.
Real-Life Use Case for Scenario #4.
An Israeli high-tech company faced a situation when it had a queue of orders for customization for years to come. The in-house product development team was performing well but could not cope with the workload.
Belitsoft provided a dedicated team of 100 people, set up an effective workflow, and let our Client timely deliver products and save 40% on software development and testing.
We'll be happy to apply our expertise for your business benefit. Contact our business development manager for more details.
Software Development with IT Staff Augmentation: Pros & Cons
Tough competition has led many IT staff augmentation agencies to raise the skill level and increase their talent pool to meet the most complex and diverse technical or industry-specific needs. However, some bottlenecks still exist.
Benefits of IT Staff Augmentation Model for Software Development
1. You can add or remove specialists quickly.
Technical staff augmentation is literally your access to a large pool of IT specialists, which allows scaling up and down according to your current project requirements.
"I find it reassuring to work through Belitsoft because I know that whatever happens with the individual developers, they have always been very good at finding replacement developers that meet our needs and also good at scaling them up… We have been able to increase or decrease the hours depending on our workload which has been very useful for us."
Pooka&co Ltd., Director (UK)
2. You save resources on getting new hires.
Instead of spending the time and efforts of your HR team and top managers, you get a shortlist of specialists with the required skills. On top of that, an IT staff augmentation model removes the need for training new hires, onboarding, and employee retention efforts.
"They presented us with three possible candidates and we interviewed them and chose the one we took on. It was all very efficient. All three could have done the job, but one was just outstanding."
Lightmaker Lotto, Managing Director (UK)
3. You save money by choosing a team with affordable rates.
The significant gap is salaries between regions lets you save about 40% of the budget if you hire a dedicated team in Eastern Europe. Besides, you avoid all organizational or administrative expenses such as setting up and maintaining office space, infrastructure, and other facilities. Your expenses get reduced to paying a fee to a vendor who takes care of arranging everything.
"[Our goal was to] decrease costs for development and increase the team on demand... So we worked directly with developers which were provided by Belitsoft."
HotelsBI, CEO (Israel)
4. You get proactive professionals who can bring valuable ideas.
Software engineers in outsourcing companies are usually high-level, mature, and proactive professionals. They are eager to influence the development process and tend to offer valuable ideas that may make your product even better.
"They're clearly dedicated to making the project work, and I like that they offer ideas and alternative solutions... Moreover, they're results-oriented, offering critical counsel where necessary."
Interprobe, Project Manager (Germany)
5. You benefit from working with a high-performance team
IT offshore staff augmentation model implies that your remote dedicated software development team will fully work only on your project. 100% of their time and effort will be dedicated to it.
"Belitsoft's resources were praised for the excellent quality of their development, meeting the client's expectations. They delivered on time and within specifications — they were outstanding project managers. Overall, their team was professional, dependable, and communicative."
Food Consulting Company, Development Manager
Possible Bottlenecks of IT Offshore Staff Augmentation
You may face a language barrier. The inconsistent level of English may lead to misunderstandings during development. To avoid this problem, a reliable vendor will rigorously screen every candidate before shortlisting them for your interview.
You need to consider a time gap. The time difference between Europe and the US, for example, can equal 6 hours or more. However, this issue is easily solved by establishing a suitable meeting schedule and a communication plan that determines overlapping hours, roles, and responsible members. This allows setting up regular and transparent communication.
You should foresee and eliminate security issues. Engaging a third party and integrating them in internal business operations is often engaged with security risks. Make sure your vendor of an augmented team undertakes frequent security audits. Also, follow all protocols for obtaining NDAs signed after employing the augmented staff.
You may face difficulty finding a team with the proper expertise. Hiring a remote team without proper interviewing may lead to a situation when the performance and technical expertise of your augmented team are worse than expected. Only meticulous personal interviewing and further regular communication will help. Start with examining candidates' portfolios, pay attention to their experience in the domain, etc.
"A reliable vendor knows how and will diminish all the common risks and bottlenecks. How? Let's take Belitsoft. For 17+ years, we've been building and managing dedicated software development teams for all types of businesses - from startups to global enterprises. We not only know how to create a highly-performance team for your project, but also can consult and help you resolve any collateral issues. The extremely positive evaluation of our customers - 4,9 out of 5 starts on Clutch - proves that we've succeded in it."
Alex Kom, Head of Sales at Belitsoft with 14+ years of expertise
Let's sum up major IT staff augmentation pros & cons in a chart:
PROS

CONS

You save resources on getting new hires.

You may face a language barrier.

You can add or remove specialists quickly.

You need to consider a time gap.

You benefit from working with a high-performance team.

You should foresee and eliminate security issues.

You save money by choosing a team with affordable rates.

You may find it hard to find a team with the proper expertise.

You get a fresh pair of eyes in your project that can bring improvement.
IT managed services vs Staff Augmentation vs IT Outsourcing
IT managed services vs Staff Augmentation
IT managed services are often misinterpreted as an alternative to IT workforce augmentation. However, they are applied in different scenarios.
IT managed services is a perfect solution for small and medium businesses without in-house teams, technical and managerial expertise who need network and infrastructure maintenance.
Managed services imply IT maintenance on a routine basis. The services may include:
upgrades,
system monitoring,
network and infrastructure management,
security,
issue resolution, etc.
Outsourcing IT maintenance to a managed service provider instead of hiring their own IT team helps businesses significantly cut costs. Most managed service providers bill an upfront setup or transition fee with a further flat or near-fixed monthly fee.
The top managed service providers are Avanade, Ensoso, Catapult in the USA and Q.beyond AG, SCC, Trustmarque in Europe.
"Large outsourcing companies like Belitsoft focus on software development. However, when our client needs further support or upgrades after getting their software, we provide IT maintenance for them."
Alex Kom, Head of Sales at Belitsoft
Staff Augmentation vs IT Outsourcing
IT outsourcing services take place when you outsource a full project or aspects of a project to a third party.
Staff augmentation is when you add remote resources to your in-house IT team to help manage the workload.
The core difference between staff augmentation and IT outsourcing is who is responsible for project management and who is responsible for results.
If you choose to outsource, the outsourcing company manages a project and takes responsibility for results. If you opt for staff augmentation, you need in-house project management and make your company responsible for results.
"Belitsoft also suggest a third option as our priority is to become a reliable partner for our clients. Within the framework of staff augmentation, we provide our Project Managers. These specialists favor setting up a fast and effective workflow. Then a client's PM takes over the already streamlined process to work further."
Alex Kom, Head of Sales at Belitsoft
IT project outsourcing is considered more efficient for small & short-term projects, while staff augmentation is more cost-effective for major projects.
One of the most popular hubs of IT outsourcing vendors in Eastern Europe. Among the top-performing companies in the region, according to Clutch, there are Belitsoft, iTransition, and others.
Other alternatives
In case you need a large number of developers - 40 and more - you can consider opening your own R&D center in a country with a wider tech talent pool and lower salaries. In this case, be sure to delve into the legal system of the selected country and learn its cultural specifics to minimize the risks.
Hiring freelancers may be cheaper than hiring tech resources at an IT outsourcing company. In addition to salaries, companies also need to cover benefits, management, and administrative charges.
However, you will need to dedicate much time to the process and take responsibility for everything: searching for suitable candidates, interviewing, onboarding, managing, and checking the work quality regularly.
What's no less important, experience shows that working with freelance developers increases security risks and issues, while working with vendors lowers them due to a well-established and controlled workflow with frequent security audits.
Forward-looking executives prefer choosing a vendor that provides a full cycle of outsourcing services. Thus, they get a reliable partner and a single point of contact for all software development, testing, and maintenance needs of their business. It favors long-term and highly-productive cooperation with a high level of trust, performance, and specialists' retention. Read more about How to сhoose a vendor with a top-performing dedicated software development team? Or contact our expert directly to discuss your situation.
How Does Belitsoft Build a Win-Win Staff Augmentation Process?
Step 1. We gather your requirements, make a cost estimate, and sign documents.
When you come to us, we listen to your needs, goals, budget limitations, and expected release time. Then our business development manager finds a suitable solution that satisfies your request. We prepare all the necessary documents, such as an NDA, SLA, to start working ASAP.
Step 2. We find the most effective candidates for your project specifics and domain.
Based on your requirements, our HRs find suitable specialists, interview them, and shortlist the most relevant ones. You can interview each specialist to take the reasoned decision in hiring the best ones for you.
Step 3. We manage the development and testing processes.
We supply developers with working facilities and other utilities necessary for productive work. We also take care of recruiting, onboarding, and all other administrative hassles.
Step 4. We provide you with ongoing support.
We assign a team leader who works alongside your developers and engineers to ensure a productive relationship within an augmented team. Moreover, we make sure your data are secure with the help of control access systems.
What Can Belitsoft's IT Augmented Team Do for You?
Belitsoft is a team of 400 specialists with high-level skills. By hiring developers at Belitsoft, you get proactive, mature, and thoughtful professionals who will be fresh eyes in your business can offer insightful ideas and alternatives that might be better for your product development.
Use our IT team augmentation services to:
Develop custom software from scratch.
Customize your proprietary software.
Modernize your software fully or partially.
Benefits you get with Belitsoft:
Work with developers who have the same technical knowledge and skills as your top-skilled in-house engineers.
Add or remove new employees in your team according to your actual project needs.
Get a fixed, predictable development cost without hidden expenses.
Get recruitment, HR, payroll, accounting, team management, infrastructure covered.
Manage and communicate with your augmented team directly to get honest and direct feedback and be aware of every step in the development process.
Make use of Belitsoft's large talent pool, extensive expertise, and good rates to scale up faster, reduce development expenses and deliver your product earlier than competitors.Talk with our business development manager to estimate how fast and at what cost we can implement your idea.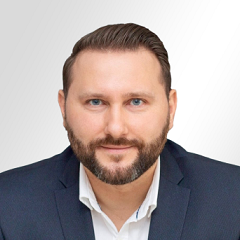 Written by
Business Development Director at Belitsoft
I build dedicated teams and manage a vendor network.
Recommended posts
Belitsoft Blog for Entrepreneurs