One of the popular outsourcing models is IT team augmentation for software development, including QA staff augmentation services. It covers skill gaps, increases the capacity of their in-house IT team, and decreases development costs. See further how it works in real-life use cases, what benefits staff augmentation services have already brought to other companies and can bring you.
What is IT staff augmentation?
Software development staff augmentation is an outsourcing strategy that enables businesses access additional tech talent and capacity for their team when needed. This approach is beneficial for filling difficult or temporary positions, which can help enhance project development scalability and efficiency.
Custom software development and IT staff augmentation company gives you extra hands to build software faster or get specialized tech skills that your development team lacks. It significantly reduces development costs for businesses so far, especially in the US, UK, Israel, Canada, and Australia.
This partnership with a staff augmentation company could be for a particular project or for a continual duration.
Characteristics of Software Development Staff Augmentation Model
On-demand service on an as-needed basis
Payment only for the best talent without recruitment or infrastructural costs
Access to diverse, rare, high-qualified talents
Flexible hourly rates adjusted to match your needs
Rapid scaling up or down to match changing demands
Seamless integration into your existing team and workflow
For a staff augmentation model, use the skills and expertise of external resources (hire dedicated development team or several dedicated developers) with no hiring and onboarding full-time employees for your IT projects. Let us help with your project.
Why Companies Choose IT Staff Augmentation Model
1. Talent shortage.
There is an enormous lack of IT talent in the US, Western Europe, and other countries with the fast-growing tech industry.
Here is how the situation looked like in the US before the pandemic.
BUSINESSES' NEEDS:
918,000 unfilled IT jobs in the US companies in 3 months.
IT JOBS MARKET:
RESULT:
Over 750,000 positions are still missing.
The talent gap that existed before the pandemic has worsened because of an acceleration of cloud-native adoption as remote work has gone mainstream. Now finding qualified tech specialists is the #1 concern of tech executives.
"In tech alone, the US could lose out on $162 billion worth of revenues annually unless it finds more high-tech workers."
Korn Ferry survey
Meanwhile, the global pool of software developers comprises 24 million specialists with the expectation of reaching 29 million by 2024.
As you can see, there are enough specialists and IT outsourcing services to help your business connect with them.
2. High local salaries.
The average annual salary of software developers in the USA equals $107,510. As for Western Europe, skilled specialists ask for over €90.000.
To compare, the average developers' salaries in Eastern Europe vary from $25,958 to $41,170 a year.
Besides, your software vendor handles creating and maintaining the infrastructure.
For your business, it means an approximately 40% decrease in development costs if you opt for IT staff augmentation services.
Benefits of Software Development Staff Augmentation
Top tech talents and expertise to fill in skills gaps. Staff augmentation companies have a reserve of top-tier professionals, such as software engineers, UX designers, SCRUM masters, and developers with expertise in .NET, Java, PHP, Python, React Native, Xamarin, Node.js, and many more. When you identify the lack of specific skills, staff augmentation is a quick way to integrate the appropriate specialist directly to your internal team's processes to contribute to your project.
Fast Recruiting and Onboarding. You pay for the service you need and turn it on or off as required. As the staff augmentation company provides experienced developers mostly, onboarding them is usually a straightforward process.
More Control over Development. In staff augmentation, the added developers become a part of your internal team, being supervised by your management and engaged in regular project status meetings. Since the developers work in-house, they can handle concerns like IP security through your internal governance procedures.
Scalable Resources. The software development staff augmentation model allows you to add or remove existing team members with the skills easily. They only charge you with the resources you use.
Cost-Effectiveness. The staff augmentation model reduces the development cost compared to hiring in-house developers full-time due to the lower salaries of the specialists and skipping recruiting and onboarding processes.
Meeting Tight Deadlines. We speed up your technical capacity to match narrow time-limits by leveraging our team of dedicated developers who put forth their best efforts to ensure project delivery on time.
Possible Bottlenecks of IT Staff Augmentation
Language barrier and Cultural Clash. The inconsistent level of English may lead to misunderstandings during development. Onboarding new remote developers can be a challenge for companies with a unique culture or business context. To avoid this problem, top staff augmentation companies rigorously screen every candidate before short-listing them for your interview during a hiring process.
A time gap. The time difference between Europe and the US, for example, can equal 6 hours or more. However, this issue is easily solved by establishing a suitable meeting schedule and a communication plan that determines overlapping hours, roles, and responsible members. This allows setting up regular and transparent communication.
Security issues. In situations where a company hires dedicated remote developers through staff augmentation, it is important to take additional measures to secure IT resources and infrastructure. This could include implementing stronger cybersecurity measures and remote working security protocols to ensure the safety and protection of sensitive data. Also, follow all protocols for obtaining NDAs signed after employing the augmented staff members.
Difficulty finding a team with the relevant expertise. Hiring a remote team without proper interviewing may lead to a situation when the performance and technical expertise of your augmented team are worse than expected. Only meticulous personal interviewing and further regular communication will help. Start with examining candidates' portfolios, pay attention to their experience in the domain, etc.
"A reliable vendor knows how and will diminish all the common risks and bottlenecks. How? Let's take Belitsoft. For 17+ years, we've been building and managing dedicated software development teams for many of businesses - from startups to global enterprises. We not only know how to create a highly performance team for your project, but also can consult and help you resolve any collateral issues. The extremely positive evaluation of our customers - 4,9 out of 5 stars on Clutch - proves that we've succeeded in it."
Alex Kom, Head of Sales at Belitsoft with 14+ years of expertise
What to Look for in Your Software Development Partner
Workflow Processes. Fluent and transparent communication, along with automation and data control capabilities, are essential components of successful IT project management. It is important to establish clear policies and expectations regarding deadlines, resources, and cooperation to ensure a smooth and efficient project delivery process. By prioritizing these key factors, businesses can optimize project outcomes and achieve their goals efficiently.
Security Protocols. Standardized procedures, policy awareness and enforcement, and disaster recovery management are critical components of effective IT management, letting businesses mitigate risks and ensure business continuity. By establishing standardized procedures, businesses can ensure consistency and efficiency across all IT projects. Policy awareness and enforcement help ensure that all team members follow company policies and best practices, promoting security and compliance. Disaster recovery management helps prepare for and recover from unexpected events that could affect their IT infrastructure or operations.
Talent Pool. Hiring top talented engineers in the market leads to high productivity and performance in IT projects. These professionals often have a knack for innovation, bringing fresh ideas and alternative approaches to problem-solving. By prioritizing these qualities when building an IT team, businesses can optimize project outcomes and achieve their goals efficiently.
Time Zone. Real-time communication abilities, managing remote teams with efficiency, and having an international presence with multiple locations are all important elements of IT project management that leads to success. Taking advantage of real-time communication tools and creating effective management systems for remote teams in different places and time zones, businesses can ensure effective collaboration and project completion. An international presence with multiple locations can provide access to a broader talent pool and help businesses to serve global clients efficiently.
English Proficiency. Fluent, transparent, and constant communication is essential for successful collaboration in IT projects. Hiring English-speaking and multilingual employees with regional language proficiency levels facilitates effective contact, and teamwork across different cultures and geographies. Easy communication ensures smooth project execution and minimizes misunderstandings and delays caused by language barriers.
Effective project management. Utilizing effective frameworks, such as Agile and Scrum, can improve IT project management significantly. Hiring professionals with real-world experience on different projects and industries brings valuable insights and knowledge to the development process. Building strong relationships between the development team and the customer is another crucial factor for project success. Staffing solutions allow businesses to ensure efficient project execution, high-quality deliverables, and satisfied customers.
How to Adopt Software Development Staff Augmentation Model
Choose the Right Partner
To establish a successful partnership, it is important to evaluate a potential outsourcing company based on several important aspects: their industry renown, history, hiring policies, and areas of expertise. A thorough assessment resolves the right choice for the staff augmentation company, being capable of meeting and achieving the specific needs.
Define Your Goals
Setting clear goals and expectations is crucial for project success. Establish these at the outset and continuously monitor progress to ensure that the project stays on track and any necessary adjustments made in time before too many resources are committed. Working with a nearshore software development vendor can help identify any gaps and ensure that the project is aligned with your business objectives.
IT staff augmentation teams can provide valuable insights and recommendations based on their expertise and experience. By setting expectations from the start and regularly reviewing progress, businesses can optimize their project outcomes and achieve their goals efficiently.
Set Up Transparent Communication
It is crucial to communicate effectively with an outsourcing software company when working with IT staffing services in order to ensure a successful project. Staff augmentation typically involves the recruitment of experienced professionals who have had a broad range of experience across different projects and companies. To fully benefit from their expertise, be open to listening to their ideas and suggestions and implementing them where appropriate.
It is essential to establish clear channels of communication and a feedback cycle to facilitate collaboration between team members. Working closely with project managers settles workflows and message channels, contributing timely updates, feedback, and issue resolution. If communication is a priority throughout the project lifecycle, you mitigate risks, ensure alignment, and achieve project success ultimately.
Empower new team members
To ensure a smooth transition for new team members in the staff augmentation model, it's essential to onboard and integrate them into the company culture and processes. Provide them with access to necessary information and resources, such as a knowledge base or library, for their efficient professional services alongside full-time employees.
Win-Win Staff Augmentation Process
Belitsoft carries out the entire arrangement and working processes of IT staff augmentation services in the next steps.
Step 1. We collect your requirements, make a cost estimate, and sign documents.
After your reference, we start with the research of your needs, goals, budget limitations, and expected release time. Then our business development manager discovers a suitable solution that satisfies your request. We put together all the documentation, including a NDA and SLA, as part of our staffing solutions for immediate use.
Step 2. We find the most relevant candidates for your project specifics and domain.
Based on your requirements, our HRs will find suitable specialists, interview them, and shortlist the most qualified ones. You can interview each specialist to make the reasoned decision in hiring the best match for you.
Step 3. We manage the development and testing processes.
We supply developers with working facilities and other utilities necessary for productive work. We also take care of recruiting, onboarding, and all other administrative hassles.
Step 4. We provide you with ongoing support.
We assign a team leader who works alongside your remote developers and engineers to ensure a productive relationship within an augmented team. Moreover, we make sure your data is secure with the help of control access systems.
Software Development Staff Augmentation Services
IT Consulting
Transition from another vendor
Database Architecture
Project Management
UX and UI
Data Science
Testing
DevOps
Security
Support
What Can Belitsoft's Software Development Team Do for You?
Belitsoft is a team of 400 specialists with high-level skills. By hiring developers at Belitsoft, you get proactive, mature, and thoughtful professionals who will be fresh eyes in your business and can offer insightful ideas and alternatives that might improve your product development.
Use our IT team augmentation services to:
Develop custom software from scratch.
Customize your proprietary software.
Modernize applications fully or partially.
Benefits You Get with Belitsoft:
Top developers with required skills sets. Work with developers who have the same technical knowledge and capabilities as your top-skilled in-house engineers.
Team scalability. Add or remove new employees from your team according to your actual project needs.
Transparent pricing without hidden expenses. Get a fixed, predictable development cost without latent expenses. The recruitment process, HR, payroll, accounting, team management, and infrastructure are covered.
Direct and effective management. Manage and communicate with your augmented team directly to get honest and direct feedback and be aware of every step in the development process.
KPI-based quality control. Belitsoft uses KPI (key performance indicators) metrics, such as lead time, cycle time, deployment frequency, and customer satisfaction to track project progress and ensure quality control. We are also open to using any specific KPIs requested by our clients.
Transparent communication and regular reporting. We utilize up-to-date communication tools and daily reporting mechanisms. In case needed, we can establish a secure VPN connection to our client's systems.
Optimal pricing models. We individually assess each case. Suggest the following pricing models:
Fixed price model: suitable for collaborations up to 6 months with well-defined requirements.
Time and Material (T&M) model: suitable for long-term collaborations that prioritize flexibility.
T&M with a cap: suitable for long-term collaborations that prioritize reducing cost risks.
Make use of Belitsoft's enormous tech talent pool, extensive expertise, and good rates to scale up faster, reduce development expenses and deliver your product earlier than competitors. Reach out our business development manager to estimate the cost and time for your idea implementation.
4 Scenarios When Companies Need Staff Augmentation [+ Real-Life use cases]
Scenario #1.
The company already has a development team working on the project and wants to extend the team to launch faster.
Real-Life Use Case for Scenario #1.
Belitsoft custom software development and an IT staff augmentation company were contacted by a founder of an information security startup from London who had a skilled in-house development team.
The company had a vision of a system for preventing data leaks and mismanagement. And they needed extra specialists to their in-house team to to expedite the product's release while still keeping a reasonable development cost.
The result of the mutual work of the client's software development team with our IT staff augmentation services is a simple-to-use and flexible application. This app has gained recognition right after its release. Our client was also shortlisted for "Most Innovative Cyber Company".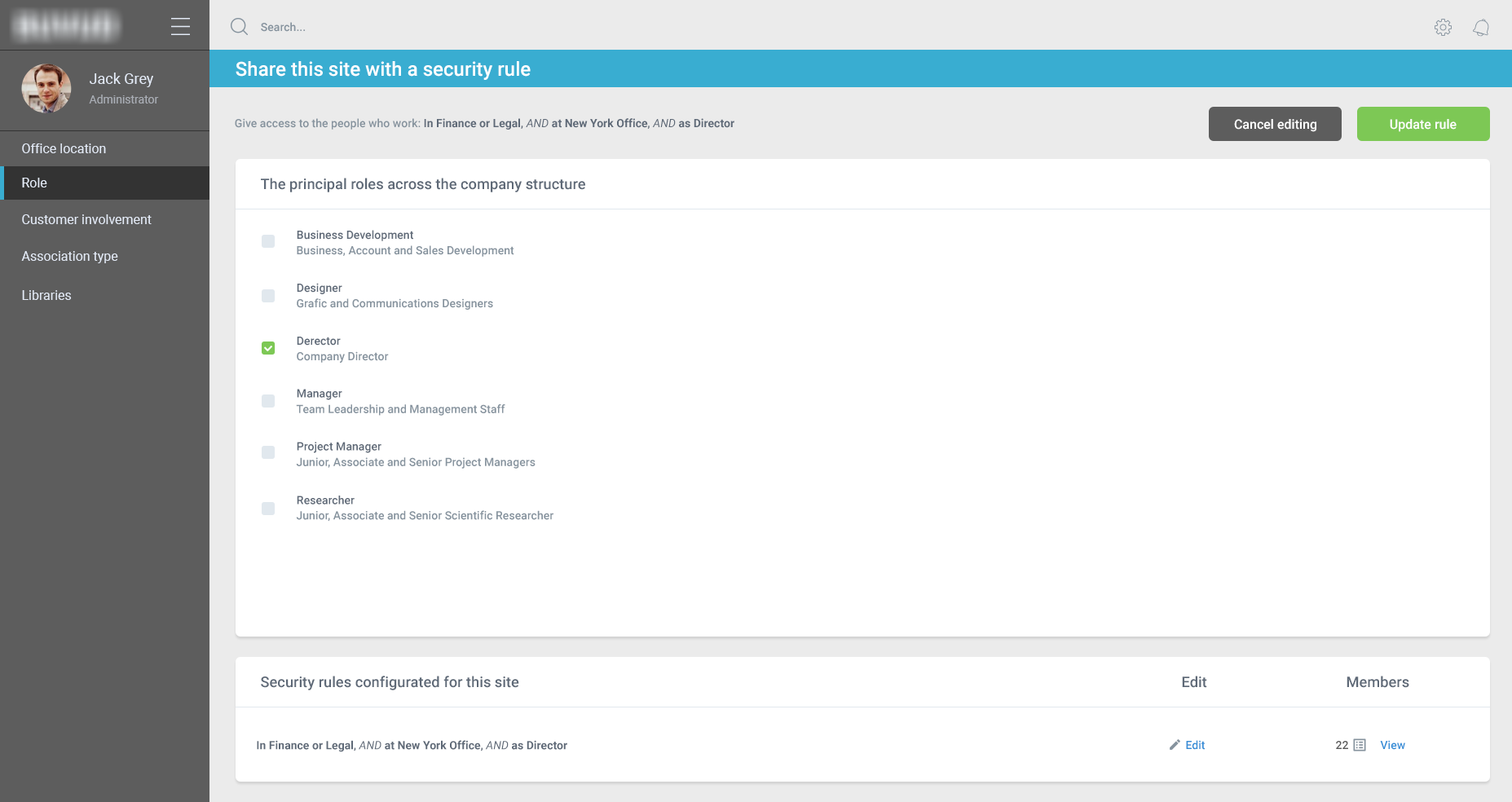 Page sample of custom software developed by Belitsoft for an InfoSec company
Scenario #2.
The business is launching a new product or working to enhance existing software with the help of remote team augmentation services.
Real-Life Use Case for Scenario #2.
Belitsoft developed a SharePoint LMS for a Microsoft Partner. The company has grown from a startup to an international enterprise thanks to this world-class product.
Since starting cooperation in 2007, Belitsoft decreased yearly development expenses of the client by 40-50%, which is over 600,000 USD.
The custom LMS has 5+ million users in businesses, governmental and educational institutions, including JFK School of Business at Harvard and Florida Department of Agriculture.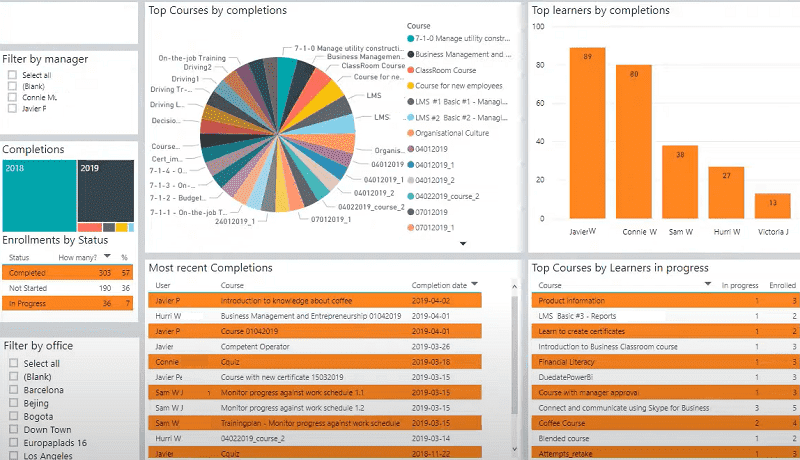 Example of Sharepoint LMS tracking tool designed by Belitsoft
Scenario #3.
The project requires specialized skills and knowledge that the company lacks.
Real-Life Use Case for Scenario #3.
An NYC-based company that owns a cloud-based IoT app contacted Belitsoft. The software is meant for asset and personnel tracking (RTLS), secured location sharing, and navigation.
The company had its own research development (R&D) labs and in-house team, but their concept required some specialized capabilities. They wanted to create detailed navigation inside the corporate buildings. And add a series of helpful features, such as location sharing, geo fencing, and proximity triggers.
We successfully released the final version of the app and met all expectations of the client and its customers.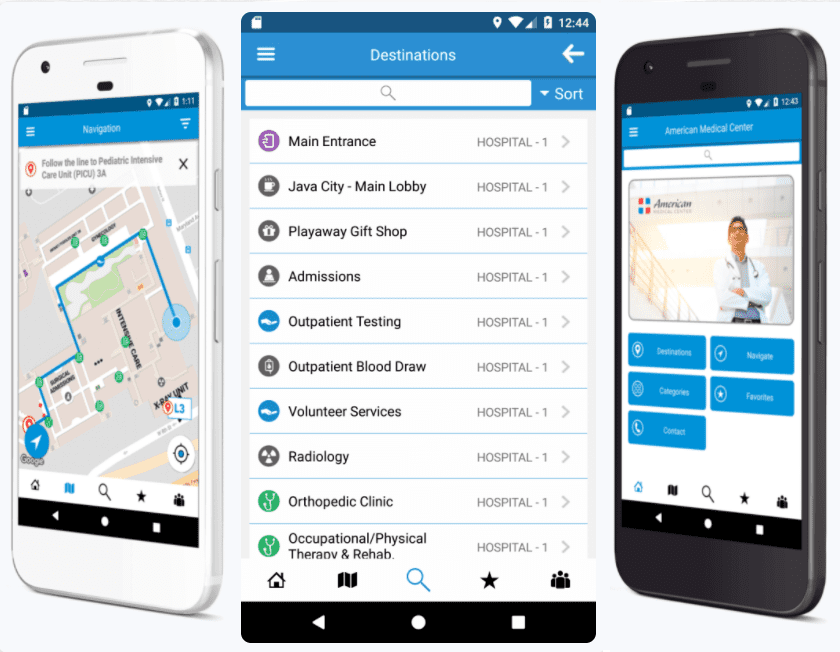 Consider the example of a past client who opted to hire a dedicated mobile app developer from Belitsoft, resulting in the successful creation of a mobile indoor positioning app.
Scenario #4.
The company is scaling fast and needs to speed software time to market but lacks the resources to do it.
Real-Life Use Case for Scenario #4.
An Israeli high-tech company faced a situation when it had a queue of orders for customization for years to come. The in-house product development team was performing well but could not cope with the workload.
Belitsoft provided a dedicated team of 100 people, set up an effective workflow, and let our client timely deliver products and save 40% on software development and testing.
We'll be happy to apply our expertise for your business benefit. Contact our business development manager for more details.
How Much Does Staff Augmentation Cost?
In software development staff augmentation, the contract is based on time and materials, with the labor hours being determined by the level of expertise and market pricing, including international markets. The rates can vary widely, starting from as low as $18 per hour and going up to several hundred dollars per hour for specialized roles or temporary CTO/CIO positions.
Staff Augmentation vs. Other Contracting Models
IT Staff Augmentation. IT staff augmentation services are a flexible solution that offers companies access to skilled software engineers who can work on an hourly or part-time basis to support the in-house team's software development cycle and IT projects. This approach helps businesses to avoid the time-consuming and challenging process of sourcing and recruiting the best talent, while also enabling them to fill high-demand roles to achieve development goals more efficiently. IT staff augmentation is ideal for businesses that already have a development team in place but face challenges like tight deadlines or skill shortages.
Dedicated Teams. This model involves the software outsourcing team working as a cohesive unit. A highly skilled and independent team, usually made up of a project manager, software engineers, quality assurance engineers, and other specialists, can quickly and effectively provide comprehensive technology solutions and value. The development team members interact as often as necessary to ensure that they achieve the best possible results by the deadline. Ideal for projects that involve multiple teams and require centralized project management to ensure smooth progress and timely delivery.
Outsourcing. When people refer to the outsourcing model, they think of an isolated outsourcing team that acts independently to deliver software development projects without the involvement of in-house specialists.
In-house recruitment. Enlarging the current team by directly hiring programmers can be costly and take a considerable amount of time. Starting a recruitment campaign to fill a position may not align with project deadlines or budget constraints. In contrast, utilizing external resources to augment the development team would allow for a faster and more cost-effective scaling of the team.
Project outsourcing. Full project outsourcing service allows you to delegate the entire software development project to us, saving up to 30% in development costs by not hiring and training a full-time development team. This service is ideal for businesses with overloaded or absent tech teams who want to minimize their involvement in project management.
Hiring freelancers. In situations where companies need to fill skill gaps, independent contractors (freelancers) can be a helpful resource. However, if the project requires multiple additional skills, relying on several freelancers may not be a viable solution. This is because freelancers can be unreliable, and there is a risk of talent churn, skill mismatches, and delays. In these instances, staff augmentation presents outstanding programmers within a predictable and reliable framework controlled by the nearshore staff augmentation company.
IT managed services. Managed services are used to handle routine IT procedures under an SLA, but team augmentation services are more suitable for a custom software MVP project. With the use of dev team augmentation services, the new developers join forces with the existing dev team and maximize their abilities, instead of being bound by a rigid SLA. This is beneficial to those companies who do not have the resources to keep their IT infrastructure running smoothly, and require a vendor to do so.
Executives favor staff augmentation providers with a complete cycle of outsourcing services. They have one reliable contact for software development, testing, and maintenance. It encourages long-term, high-level cooperation. Read more about How to сhoose a vendor with a top-performing dedicated software development team? Consult with our expert to discuss your situation.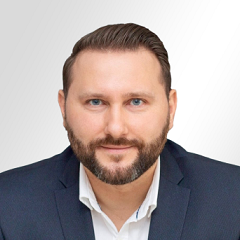 Written by
Business Development Director at Belitsoft
Recommended posts
Belitsoft Blog for Entrepreneurs