Hiring an offshore software development team is a time-tested way to find top talents at a reasonable rate to scale your business fast, complete a project in time, or deliver a product in tight deadlines. Keep on reading to find out the top reasons and benefits of working with an offshore developers team, and get a guide on setting up fruitful cooperation.
What is an Offshore Development Team?
Offshore software development refers to the practice of engaging a third-party provider from a different country or location to develop software.
Offshore Development Models
Custom Software Development Team Extension. To align with the current project scope and stage, consider expanding your team by incorporating experienced technical professionals. This will enhance the capabilities of your in-house development unit.
Managed POD team. Consider delegating your product development tasks to a Product-Oriented Delivery team and focusing on priorities and results instead of managing individuals.
Remote Development Center. Think of relocating your software development operations to any location to work with highly skilled developers.
Dedicated Development Team. Assume the possibility of building a remote development team and utilizing your preferred tools and methods to collaborate with your software engineers.
In-House vs. Offshore Development Team
With the advancements in technology, outsourcing software development has become a viable option worth exploring, and offshore development has emerged as a well-established business model.
A growing number of businesses, regardless of their size, are leveraging outsourcing for their software development needs. The global outsourcing market has seen a significant increase in size every year. About 64% of businesses outsource some or all of their software development projects to third parties.
Offshore development can be an excellent choice for startups and mid-sized businesses looking to create robust mobile applications and expand their operations. While larger businesses may afford an in-house development team and invest resources in its management, they can benefit notably from working with offshore software development team as well.
Nearshore vs. Offshore Development Team
IT outsourcing offers the flexibility to opt between nearshore and offshore outsourcing, providing high-quality work while saving costs. Nearshore outsourcing involves partnering with development companies in neighboring countries, bridging the gap between offshore and onshore outsourcing.
Working with a nearshore development team contributes to:
minimal time zone differences
reduced development costs due to lower salaries
minor cultural differences and language barriers
better chances for regular visits for a transparent relationship
Offshore outsourcing refers to the practice of delegating work to an overseas team by the in-house business. Despite the distance, offshore software development teams offer several advantages, including:
access to a global talent pool
experienced specialists at lower costs
availability of experts for a full range of services
high quality within timelines
Who Usually Hires an Offshore Dedicated Development Team
Startups.
Start-ups may face challenges in certain areas of development due to limited knowledge and experience. Offshoring is a viable option to address these challenges by hiring team members with specific skills.
In addition, start-ups typically have limited budgets, which can make it difficult to hire local experts at affordable rates. Offshore software development teams help overcome this by providing access to top talent at lower costs compared to local hiring.
SMEs.
Outsourcing can be a cost-saving solution for medium-sized businesses that often undergo product testing or upgrades. By hiring an outsourcing team, businesses can attain a team of professionals or specialists for a specific period to accomplish a particular goal and move forward.
Besides, for medium-sized businesses with existing internal staff, offshoring can be valuable when they require a specialist with a particular skill set. By choosing to go offshore, companies can access a vast pool of skills from around the world.
When You Should Use Offshore Development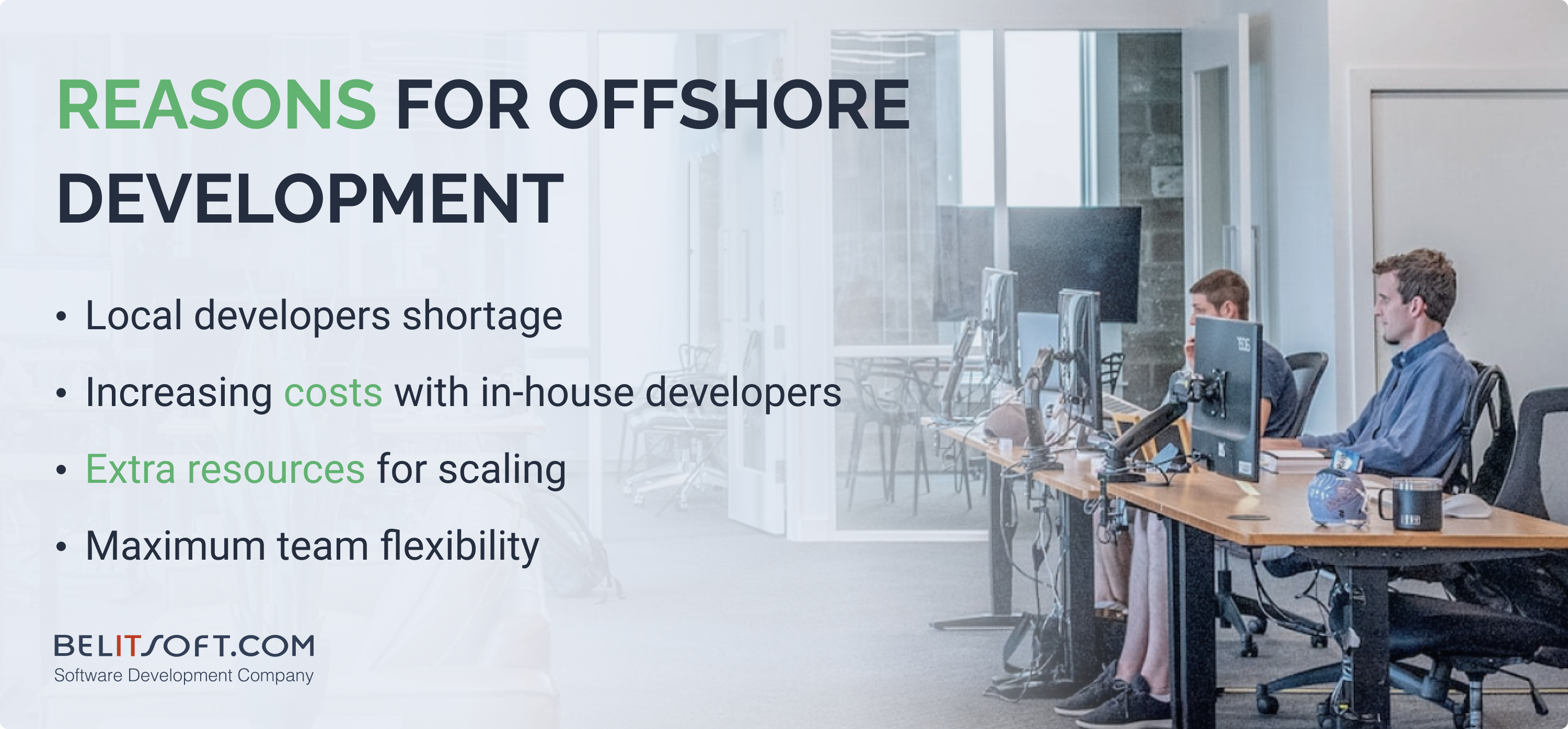 1. You are struggling to find the required developers locally.
Whether you are building a new software product or need to maintain your existing development capacity, you need a team of the right talents in your field.
However, finding the developers in the current alarming situation is as hard as ever. A third of U.S. companies are reporting difficulty in finding the talents they need. The numbers are enormous in over a decade.
The global pool of developers is extremely far-reaching for acquiring offshore dedicated developers with the tech skills. And that smart companies do to win the competition today.
2. You are overspending by augmenting your in-house developers.
When working on your project, you are searching for the best developers to get the job well done. However, the rates of senior-level developers in the USA or the EU are likely to be very high and affect the budget.
So if you want to get an expected high-quality result yet stay within the planned budget, outsourcing your project to an offshore team of dedicated developers in more cost-effective destinations is a solution.
Here is the proof. The high-tech enterprise from Israel saved up to 40% of the company budget by hiring Belisoft's offshore dedicated team for testing and custom development.
3. You need extra resources for fast and effective business scaling.
In line with growing your business scale, your infrastructure, software, expenses on recruitment, support, etc. This all makes your up-front investment so high that scaling turns into a slow and ineffective process, with no margin for error.
Hire an offshore software development team, and your vendor handles all operational processes. You don't need to invest a lot up-front. Instead, you just pay a relatively low monthly rate.
As a result, no burden to strategic growth and agility. Allocate the available financial resources to marketing and product or service improvement wisely, while a team of dedicated developers will remotely benefit you.
4. You need maximum team flexibility because of the specifics of your project.
For a short-term project, there is no need to spend on hiring the specialists for a few months.
Yet with a fast scaling complex project, your daily routine will boil down to a never-ending recruitment and onboarding process.
If you cannot deliver quality software in tight deadlines before your competitors do, you are likely to lose money.
Working with an offshore team of dedicated developers handles all these issues. When you address an offshore software vendor, you get access to the required talent pool worldwide, settle the tall developers' rates and avoid the long hiring and onboarding process.
To get a fast project completion or product delivery, and cut off time and money expenses, opt for a viable strategy for augmenting your team with offshore dedicated developers at Belitsoft.
Offshore Software Development Team Services
Custom Development from Scratch
IT professionals help start any project and develop it from the ground up. The IT team assists with the entire development cycle, from business analysis and POC to support and maintenance.
Application Modernization
It often makes no sense for businesses to hire an internal team when they need to enhance, upgrade, or add new functionality to their software. Hiring an offshore software development team for project results is the most cost-effective, quick, and effortless.
Cloud Migration
Getting help from a remote development team is a go-to solution for businesses that are planning cloud migration of their application or the entire IT infrastructure to the cloud. Offshore developers can optimize the software for the selected cloud, perform the migration, and take on its further support.
Close the tech talent gap with an offshore development team. Let's discuss your case.
The Benefits of Hiring an Offshore Dedicated Development Team with Belitsoft
1. Cost Reduction
We take care of all the routine: recruiting, onboarding, accounting, team management, and creating local infrastructure. You save time and expenditures on it while working with Belitsoft's dedicated developers team.
Spare your budget on development and testing expenses with high-skilled specialists from Eastern Europe, since their salary is approximately twice lower compared to engineers in the USA or Western Europe.
2. Top Talents
Our company has a sufficiently large team of developers to meet the needs of both small and large businesses. In case we need an extra workforce, we launch the hiring process. The average time to hire a new developer is 4 weeks.
The offshore dedicated developers at Belitsoft work on your project just like an in-house software development team would do without switching to other tasks and projects.
3. Quick Request
Once your project requirements change, the budget lowers, or the market performance requires improvement, we bring the development team rearrangement at any project stage to fit your actual goals and needs. Notify us and we'll adjust the dedicated developers team accordingly in a short term.
With flexible and transparent management, you are confident in the successful completion of your project within the agreed budget and term.
4. Full control and transparency
You get regular detailed reports from a Project Manager assigned by an outsourcing company. So you are always aware of the project progress and collateral processes and can influence them when needed. The entire development process is fully transparent to you. It doesn't require your constant attention, which saves your time.
5. Value-added Services
A vendor with a full scale of software services is effective in performing, even if the client's demands and ideas have changed.
Along with building a team of dedicated developers, we offer Consulting, Software Testing and QA, Maintenance and Support - a one-stop-shop that saves your time and enables cooperation with a single vendor to cover all your growing projects and needs.
6. Years-Long Experience
For over 17 years, we have been building offshore development teams for businesses. Most of our clients are from the USA and the EU, while we've expanded our services globally. The rich portfolio demonstrates we know how to recruit, manage, and keep the right specialists for each project.
7. Agility
Offshore services are based on agility, and we recognize the level of adaptability necessary to surpass and beat the competition in today's ever-changing business landscape. Our offshore development services guarantee a proficient and well-organized team that aligns with your business goals and operates within your work hours.
8. Access to Cutting-Edge Technology
Outsourcing offers a competitive advantage by providing access to cost-effective innovative technologies that enable companies to transform digitally. Offshoring to a product development team equipped with state-of-the-art technologies, agile methodologies, high-quality software, and a project management system ensures a seamless development process and delivers an exceptional end-user experience.
9. Complete Support
At Belitsoft, we prioritize support as the cornerstone of our philosophy. We provide unrivaled support that transcends time and time zones. Our exceptional support team is available 24/7, 365 days a year to tackle any challenge that may arise.
Where To Look for Offshore Software Development Team
The rising need for IT outsourcing has resulted in South America, Asia, and Eastern Europe becoming leading offshore locations.
Eastern Europe
Eastern European countries, like Poland, have become established in the IT outsourcing industry due to their cost-effectiveness, skilled workforce, cultural and language similarities, and convenient time zones. Although Eastern European developers may not be as affordable as their Asian counterparts, they make up for it with their high-quality work, reliable communication, and timely delivery.
South America
South American countries have emerged as significant players in the IT outsourcing industry as their proximity to US startups. Brazil, Argentina, Chile, Colombia, and Mexico offer a vast pool of over 500,000 IT experts in various disciplines, with the number expected to increase in the coming years. Moreover, developers in these countries have excellent English proficiency, and the IT industry enjoys robust government support.
Asia
The Asia region has been a popular destination for outsourcing app development due to its abundance of over 4 million skilled IT professionals. Cost is often the major factor driving outsourcing to Asian countries, as developers in countries like India typically earn lower salaries than their US-based counterparts, with an average of $20,000 per year. However, when outsourcing to India, China, or Vietnam, be mindful of potential language and cultural barriers.
How to Hire Offshore Dedicated Development Team
Step 1. Search for a reliable software partner.
Check the reviews of past clients and company information for evaluating a potential vendor.
Look for the potential developers via:
contacting software development vendors directly
using B2B social media like LinkedIn or Twitter
freelance websites like Upwork
Step 2. Collect requirements and set up communication.
When you first contact a selected offshore software development company, share your vision of business needs with your partner. Consider, if the vendor appreciates your goals and has a clear idea of how to deliver the expected outcome.
A vendor learns all the data to get a full picture of your requirements and to identify your expectations. This establishes a set up for selecting an accomplished size and structure of a dedicated developer's team and providing highly accurate job descriptions.
Step 3. Choose the best developers for your team.
Initially, the software vendor finds and interviews candidates to create a shortlist of the best-fit developers for your project and demands.
Then, you interview shortlisted candidates personally. Conduct it with your own testing assignments, live coding sessions, etc.
The involvement in the hiring process contributes to a clear and complete vision of your future dedicated developer's team.
Step 4. Set up effective management and regular communication.
Settle the method (Agile, Scrum, Kanban, Waterfall) and communication tools that are convenient for both parties (Zoom, Jira, Skype, Trello, ClickUp, etc) before the team starts operating.
Usually, development is an iterative process. Get a detailed report regularly. Share your feedback and make any necessary changes.
Regular communication and detailed reporting with feedback give 100% transparency in the development processes.
The final stage is the product release when you get the expected result and can deliver it to the end users. Further support, maintenance, or customization are optional if you request.
How To Check The Quality Of An Offshore Development Team
Pay attention to the following aspects:
Portfolio. To start with, it is essential to assess the portfolio of the team. Examine the projects the team has worked on, the industries they have served, the outcomes they have delivered, and other relevant factors.
Reviews. To gather feedback on the team's previous work, search for testimonials from past clients. A reliable source for reviews is the rating website Clutch.co, where companies share their projects and clients can post reviews of their experiences.
Recommendations. Consider references when selecting a team. However, inquire about the team's strengths and weaknesses, the quality of their work, their ability to meet deadlines, and any other factors that are significant to the decision-making process.
The project complexity. Analyze the level and complexity of the team's past projects. Evaluating the success of these projects and whether they achieved the desired results for clients is also important. Study the complexity of the projects the team has handled as it may offer valuable insights into their capabilities.
Team composition. Recognize the composition of the team, ensuring there is sufficient for specialists to complete the project. Each team member possesses the required knowledge and skills in their respective field.
Workflow. Assessing the effectiveness and accuracy of the team's workflow is crucial to the project's success. The workflow should incorporate a well-built Software Development Life Cycle (SDLC) that includes the necessary processes we previously described.
How to Manage Offshore Development Team
Choose effective means of communication

Having a specified communication platform for the team has been highly beneficial in avoiding communication conflicts and ensuring that all necessary information is easily accessible.

Use task management tools

To organize the project tasks and monitor their progress, use a single tool for management of all tasks or separate tools for various stages of product development, such as design and development.

Set priorities and KPIs

Setting Key Performance Indicators (KPIs) for your team members and prioritizing tasks within the project can be effective in achieving success. Settle primary objectives for each stage of product development and motivate the team to accomplish them.

Set up a clear team structure

Establishing a clear team structure is important. This involves identifying each team member's role, building the hierarchy of the team, and promoting cooperation among the members.
Challenges You May Face with an Offshore Development Team
Time zones. When hiring offshore developers, time difference may be a challenge, as it can cause communication issues, such as difficulty addressing real-time problems or understanding certain issues.

How to resolve: We recommend scheduling regular meetings and workshops in advance to discuss tasks, progress, and other influential matters with your team.

Cultural difference. Cultural differences may impact the effectiveness of an offshore software development team.

How to resolve: Conduct a thorough analysis of candidates before making a selection. This will help you identify any cultural differences that may affect the success of your project.

Lack of personal contact. Lack of personal interaction with your offshore development team may hinder mutual comprehension and the achievement of the expected outcome.

How to resolve: To prevent this, favor frequent team communication. Schedule weekly calls or video conferences to stay connected.
The Cost of Hiring an Offshore Software Development Team
The cost of remote development specialists stands on:
The location of a business can significantly influence because of various factors such as living costs, business taxes and regulations, market demand, and currency value. These factors can affect the salary rates in a particular location, resulting in increased or decreased development costs.
The more experienced the developer is, the higher is his rate. Senior developers, especially those who have completed many projects and have leadership skills, often command higher charges. It is important to monitor the development market as even junior developers may have high rates nowadays.
Language proficiency of the engineers affects their pay rate significantly, while for your business, English knowledge guarantees smooth communication.
Tech stack, in terms of compensation, or combination of skills required for a project can impact the cost. A rare tech stack or specific set of skills, either a 5+ years of experience requirement may have hardships to find the right fit and lead to a higher compensation.
Type of employment determines the cost of hiring. In-house hiring may appear cheaper initially, as salary information platforms typically show base salaries that don't include taxes, benefits, vacations, office costs, and other expenses. Freelance, staff augmentation, and outsourcing dedicated teams vary price ranges depending on the services provided.
Our Offshore Development Team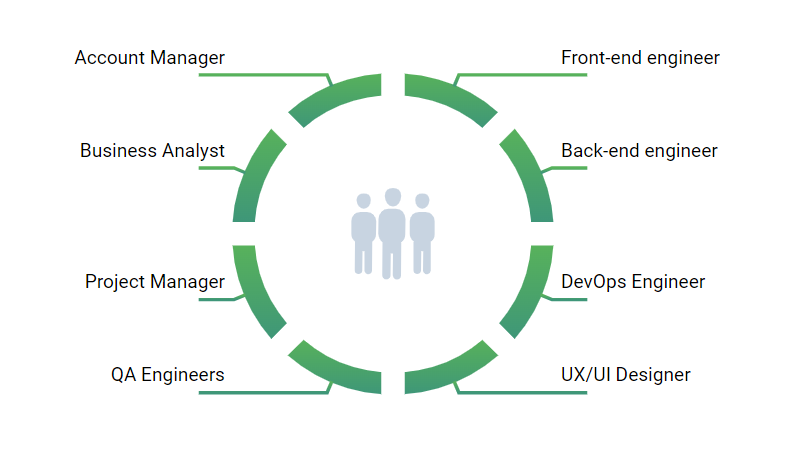 Each dedicated team varies for its consistency and scale on the project. We are flexible in building the team on your specific demand. Your offshore development team may comprise, but is not limited to the following specialists:
Front-end engineer codes and checks the functionality of a user interface.
Back-end engineer builds the inner part of the software and the background elements.
DevOp manages the development and testing process together with collateral operations. They coordinate the work of the development and IT operations teams.
UX/UI designer creates an easy-to-use, intuitive, and responsive user interface.
QA engineer ensures the top quality of the end product and its bug-free functioning.
Project manager plans, tracks, and optimizes all the processes and communication during development, mitigating all the ongoing risks.
Business analyst identifies the client's requirements, creates a clear project vision, communicates, and makes reports to a client.
Account Manager seeks how to grow a client's business by discovering business goals, creating strategies, and helping to achieve them.
Scale your business, create new products, and gain a wider audience with a reliable partner. Contact us to save and avoid multiple collateral risks and deliver the result on time.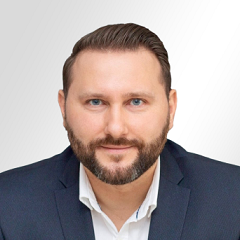 Written by
Business Development Director at Belitsoft