Hiring an offshore software development team is a time-tested way to find top talents at a reasonable rate to scale your business fast, complete a project in time, or deliver a product in tight deadlines. Keep on reading to find out the top reasons and benefits of working with an offshore developers team, and get a guide on setting up fruitful cooperation.
Top 4 Reasons to Consider a Dedicated Offshore Development Team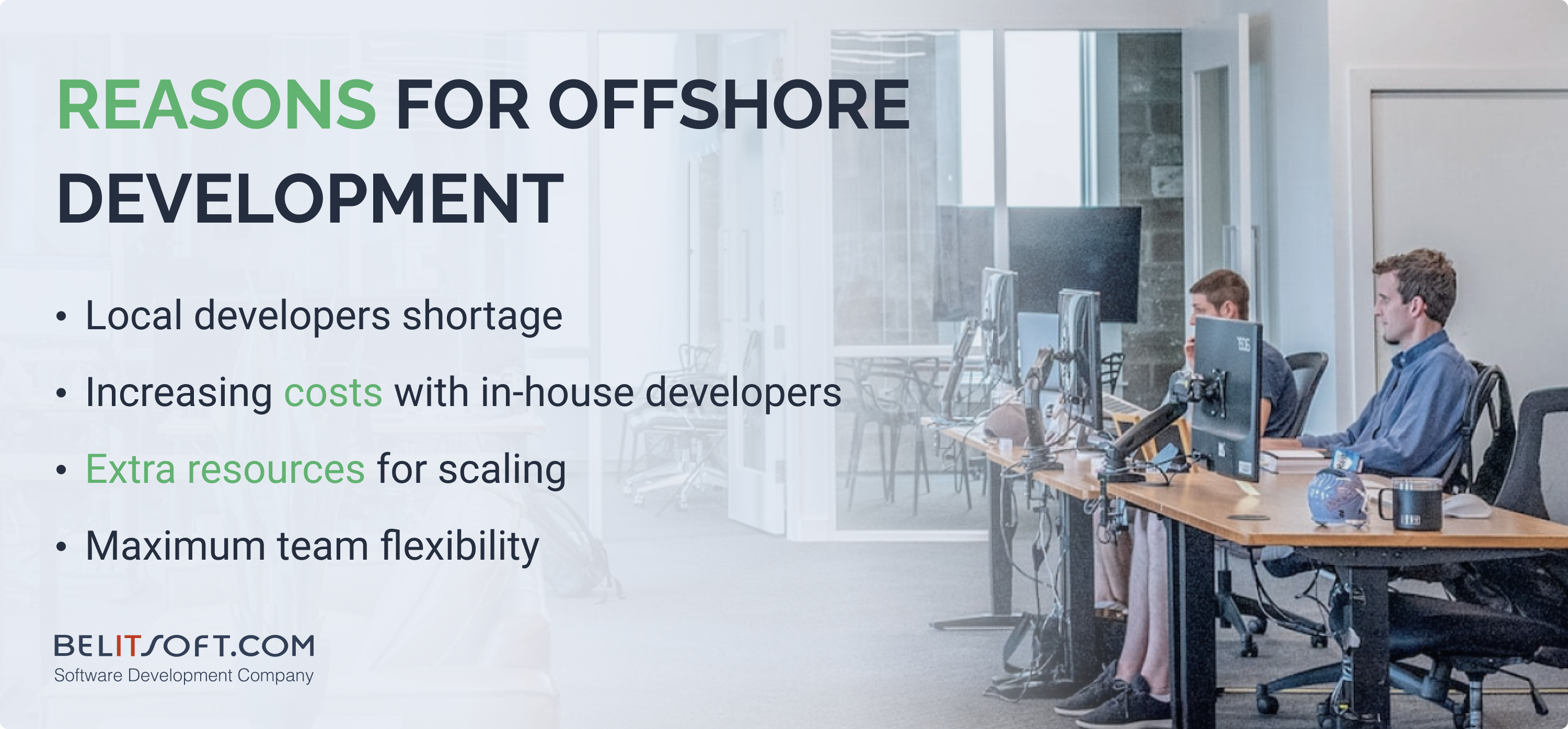 1. You are struggling to find the required developers locally.
Whether you are building a new software product or need to maintain your existing development capacity, you need a team of the right talents in your field.
However, finding the necessary developers in the current alarming situation is as hard as never before. A third of U.S. companies are reporting difficulty in finding the talents they need. The numbers are at the highest level in over a decade.
As the global pool of developers is significantly richer, there are high chances you will find offshore dedicated developers with the required tech skills. And that is what smart companies do now to win the competition.
2. You are overspending by augmenting your in-house developers.
When working on your project, you are searching for the best developers to get the job well done. However, the rates of senior-level developers in the USA or the EU are likely to be very high, which negatively affects the budget.
So if you want to get an expected high-quality result yet stay within the planned budget, outsourcing your project to an offshore team of dedicated developers located in more cost-effective destinations is a solution.
Here is the proof. The high-tech enterprise from Israel managed to save up to 40% of the company budget by hiring Belisoft's offshore dedicated team for testing and custom development.
3. You need extra resources for fast and effective business scaling.
In line with growing your business, you have to scale your infrastructure, software, spending on recruitment, support, etc. This all makes your up-front investment so high that scaling turns into a slow and ineffective process, with no margin for error.
But when you hire an offshore software development team, your vendor handles all operational processes. This means you don't need to invest a lot up-front. Instead, you just pay a relatively low monthly rate.
As a result, your business faces no impediment to strategic growth and agility. You can wisely allocate the available financial resources to marketing and product or service improvement, while a team of dedicated developers will remotely work in your favor.
4. You need maximum team flexibility due to the specifics of your project.
In the case you have a short-term project, it's illogical to spend time and money on hiring specialists that won't be needed in several months.
On the contrary, with a fast scaling complex project, your daily routine will boil down to a never-ending recruitment and onboarding process.
Or when you face tight deadlines. If you fail to deliver quality software before your competitors do, you are likely to start losing money.
Working with an offshore team of dedicated developers resolves all these issues. When you address to an offshore software vendor, you get access to the required talent pool worldwide, resolve the issue of sky-high developers' rates and avoid long hiring and onboarding process.
Dealing with these issues impedes fast project completion or product delivery. Let us suggest you a viable strategy for augmenting your team with offshore dedicated developers to save both your money and time.
How to Hire Offshore Dedicated Development Team
Step 1. Search for a reliable software partner.
Having access to the reviews of past clients and company information, you can evaluate a potential vendor. For that, Google works great, as well B2B portals such as Clutch. If all the information is clear and provides a good overall impression, pass it to the next step.
Step 2. Collect requirements and set up communication.
When you first contact a selected offshore software development company, it's recommended to have a vision of your business needs to share with your partner. At this step, you will see if the vendor understands your goals and has a clear idea of how to deliver the expected result.
A vendor usually gathers all the available data to get a full picture of your requirements and to identify your expectations. All of that will be a basis for selecting an optimal size and structure of a dedicated developers team and providing highly accurate job descriptions.
Step 3. Choose the best developers for your team.
At first, your software vendor finds and interviews candidates to create a shortlist of the best-fit developers for your project and demands.
Then, this shortlist goes to you. And you can interview candidates personally. You are free to conduct interviews in any way you like: with your own testing assignments, live coding sessions, etc.
Being involved in the hiring process will give you a clear and complete vision of your future dedicated developers team.
Step 4. Set up effective management and regular communication.
The team starts working according to the previously agreed methodology (Agile, Scrum, Kanban, Waterfall) and using the communication tools that are convenient for both parties (Zoom, Jira, Skype, Trello, ClickUp, etc).
Usually, development is an iterative process. And at the end of every iterative cycle, you get a detailed report. From your side, you can give regular feedback and make any necessary changes.
Regular communication and detailed reporting with feedback give 100% transparency in development processes.
The final stage is the product release when you get the expected result and can deliver it to end users. Of course, further support, maintenance, or customization are possible if needed.
5 Benefits of Hiring an Offshore Dedicated Development Team with Belitsoft
1. We will reduce your expenses
Working with Belitsoft's dedicated developers team, you avoid multiple time-consuming and costly administrative routines such as recruiting, onboarding, accounting, team management, and creating local infrastructure. Instead, we will take care of all these routines.
Another aspect that significantly reduces your development and testing expenses is the salary of IT specialists in Eastern Europe that is approximately twice lower than in the USA or Western Europe, which means you'll get a high-quality result and save your budget.
2. We will find you top talents
Our company has a sufficiently large team of developers to meet the needs of both small and large businesses. In case we need an extra workforce, we launch the hiring process. The average time to hire a new developer is 4 weeks.
The offshore dedicated developers at Belitsoft work on your project just like an in-house software development team would without switching to other tasks and projects.
3. We will quickly adapt to your requests
Once your project requirements change, the budget lowers, or the market performance requires adjustments, we are ready to reconfigure the development team at any project stage to fit your actual goals and needs. Just notify us and we'll adjust the dedicated developers team accordingly in a short term.
Such flexible and transparent management gives you confidence in the successful completion of your project within the agreed budget and term.
4. We will give you full control and transparency
You get regular detailed reports from a Project Manager assigned by an outsourcing company. So you are always aware of the project progress and collateral processes and can influence them when needed. The entire development process is fully transparent to you. At the same time, it doesn't require your constant attention, which saves your time.
5. We will provide you with value-added services
It's quite a common situation when a client's requirements, needs, and ideas change over time. That's why it's recommended to find a vendor with a full scale of software services.
Together with building a team of dedicated developers, we can suggest such value-added services as Consulting, Software Testing and QA, Maintenance and Support - a one-stop-shop that saves you time and permits working with one vendor to cover all your evolving projects and needs.
Our Offshore Development Team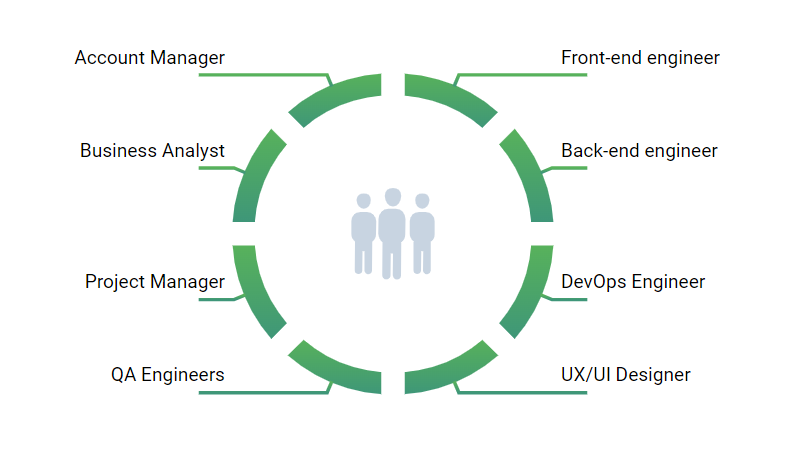 The contents and scale of every dedicated team vary from project to project. We are fully flexible when creating a team based on your individual needs. Your offshore development team may include but is not limited to the following specialists:
Front-end engineer. The developer who codes and checks the functionality of a user interface.
Back-end engineer. The developer who builds the inner part of the software and the background elements.
DevOp. The person who manages the development and testing process together with collateral operations. They coordinate the work of the development and IT operations teams.
UX/UI designer. The specialist who creates an easy-to-use, intuitive, and responsive user interface.
QA engineer. The person who ensures the top quality of the end product and its bug-free functioning.
Project manager. The specialist who plans, tracks, and optimizes all the processes and communication during development, mitigating all the ongoing risks.
Business analyst. The one who identifies the client's requirements, creates a clear project vision, communicates, and makes reports to a client.
Account Manager. The person whose aim is to grow client's business by discovering business goals, creating strategies, and helping to achieve them.
Scale your business, create new products, and gain a wider audience with a reliable partner who will let you save, avoid multiple collateral risks and deliver the result in time. Let's discuss how we can help your business.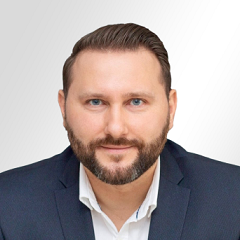 Written by
Business Development Director at Belitsoft
I build dedicated teams and manage a vendor network.