The expertise of front-end developers with a diverse set of programming skills is a driving force, whether you expect a simple corporate website or high-performance software applications. In case you need to expand your web development team, there are some points you want to acknowledge before. To help you make the right choice, we have prepared this article highlighting the benefits of hiring dedicated developers with Belitsoft. Our front-end engineers deliver dynamic web solutions with the optimal design and the responsive mobile-friendly interface. Over the past 17 years, Belitsoft has been providing innovative and efficient front-end solutions, based on the best frameworks for businesses across industries such as Education, Healthcare, IT, Travel, Sports, and more. We offer flexible hiring options, either as a dedicated development team of front-end developers or as an additional support for your in-house team. More than 1000 digital product companies and startups trust Belitsoft's dedicated front-end experts with their key software projects.
When to Hire Dedicated Front-end Developers
Are you looking to optimize your budget for front-end development while maintaining quality in the short and long term?
Consider building a dedicated team for long-term collaboration. To amplify your core business product, Belitsoft offers dedicated web development teams for continual cooperation. Whilst your project managers supervise them.
Do you require additional front-end developers but internal recruiting efforts have been unsuccessful?
Assume hiring team extension resources. Belitsoft enables you to enlarge your current in-house team or department with one or multiple front-end developers and full management support.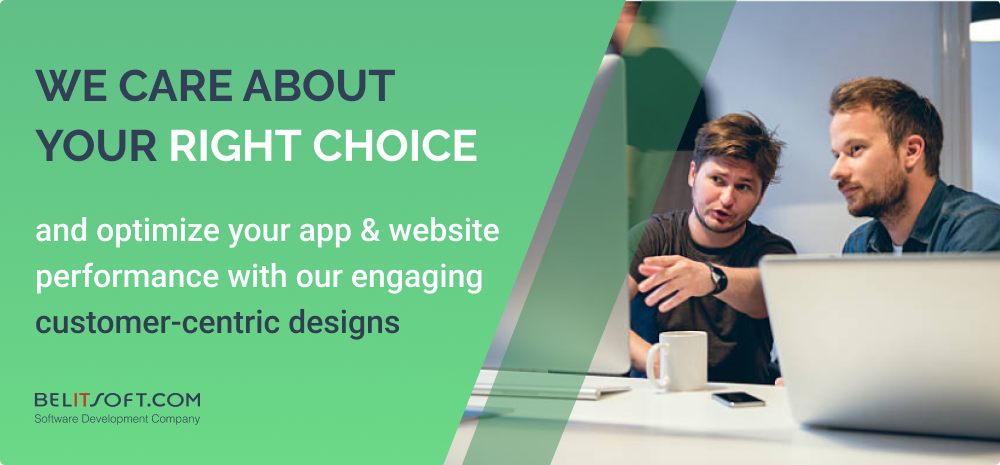 Is your internal programming team facing an urgent problem and has no expertise?
Hire a dedicated team on a project basis. Belitsoft offers dedicated front-end development teams with support in elaborating project requirements and management. Delivery is based on a well-defined project plan.
Why Hire Dedicated Front-end Developers from Belitsoft
Cost-Effective Solution
Competitive prices are available for hiring talented engineers at our front-end development company in Eastern Europe, where we specialize in React.js development services, Vue.js development services, and Angular development services. With access to its front-end developers pool, which is known for its strong technology ecosystem and mathematics background, we offer the prices 2 times lower compared to Western countries. Located in different time zones (along with the USA, UK, Germany, Israel), our developers meet the project requirements on schedule.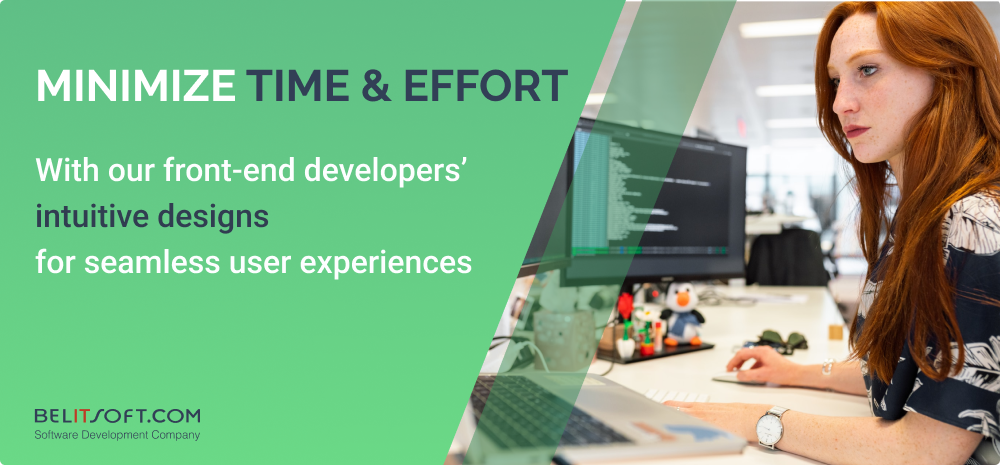 Experienced Team
Our developers are seasoned experts who incorporate into your team and strengthen it. Each of the senior front-end developers has the expertise in web applications of varying complexity, functionality, and requirements across various business domains. Based on a proven track record, you access the best match for your project needs.
There are rigorous tests we use to find a dedicated front-end developer who will fit your company's culture best. During the assessments, we verify the candidate's skills and interest in working for your team and elicit the command of technical expertise and developer's problem-solving approach. With the detailed feedback on the estimate, you can interview the shortlisted candidates to ensure they meet your requirements and are a good cultural fit for your company.
Scalable Team
Hire and adjust the size of your team in line with your needs. Keep it enlarging while your company grows.
Streamlined Operations
Assign us to handle all aspects of billing, payments, and NDAs, so you can focus on building great products. Belitsoft deals with all taxes too, you pay the service fee only.
Flexible Engagement
Choose the engagement type that best fits your needs, whether it be part-time or full-time, with the ability to change.
Dedicated Support
Concentrate on your project while benefiting from the support of a dedicated account executive and a knowledgeable talent-matching specialist.
Check our portfolio to see the proficiency of front-end development in our web and mobile applications. From single-page applications (SPAs) to hybrid and cross-platform mobile apps, we've got you covered. Areas of expertise of Belitsoft extends to creating cloud software-as-a-service (SaaS) solutions. They cater to diverse end-user groups, including B2B, B2C, B2E, custom enterprise platforms, and corporate apps. We have succeeded while working on challenging projects with varying levels of complexity, from large and intricate applications to minimum viable products (MVPs) with multiple integrations.
Maximize Authenticity with a Professional Appearance! Our UX designs will excite your end-users. We'll help you create an interactive prototype. Developers support integration of the UI into your backend web application with Java, .Net, or PHP. Enhance your existing solution with modern tools and technologies - contact us.
How to Hire Dedicated Front-end Developers through Belitsoft
Submit your request to us.
We sign an NDA.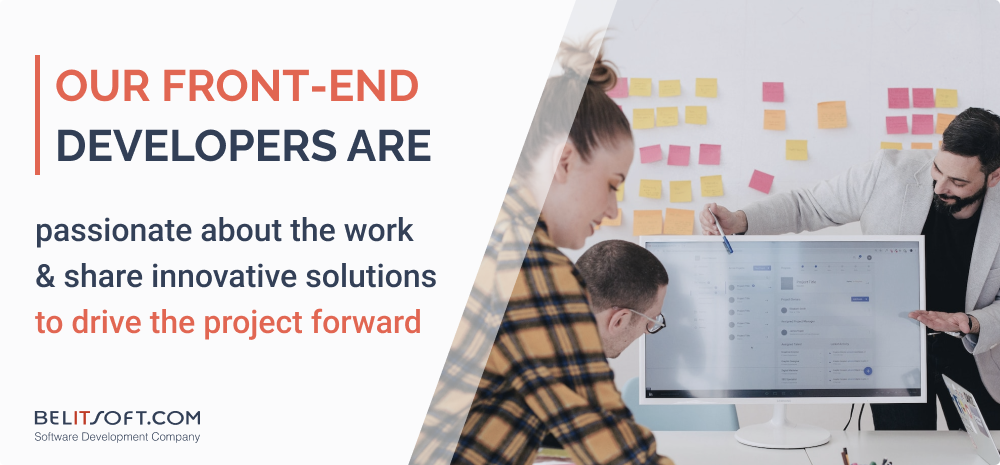 Schedule a call with us to discuss project details
To find out your goals, technical requirements, and team dynamics, the director of engineering will work with you. Engineering experts will partner with you, so no general recruiters or HR reps will contact you.
Within days, we may introduce you to the right candidate for your project
Get a front-end specialist from the pool of pre-screened, high-caliber front-end developers ready to join your project shortly.
Based on your project requirements, we evaluate the coder's soft and hard skills and provide you with an assortment of best front-end developer CVs.
After that you may take time to select the relevant candidate and schedule an interview.
Once you have determined the developer, we'll agree on the work process, and the performance scope, and sign the documents
Start with a trial period to ensure the fit before committing to the engagement. In case you're completely satisfied, continue the engagement for as long as you need. If the candidate isn't a good fit, we'll repeat the recruiting process to find the best front-end developer for your project.
The result is a custom-matched talent to fit your business needs.
How Much does it Cost to Hire Dedicated Frontend Developers?
Points to consider the hiring cost
skill set
experience
location
time zone
project scope
full-time or part-time dedication
duration
The more experienced the developer, the higher their rates may be. However, the ultimate cost is determined by the number of agreed hours and the target completion date for the website project.
Skills to look for in Dedicated Front-end Developers
In searching for dedicated front-end developers, it is important to look for individuals with experience in designing and developing front-ends for complex web solutions. Essential skills and qualities to screen for include:
Familiarity with various front-end frameworks like React, Vue.js, and Angular. They can choose the proper framework.
Ability to use asynchronous JavaScript for non-blocking communication with the server and seamless updates to the webpage.
Proficiency in coding best practices, including XML, SAAS, CSS3, HTML5, and JavaScript, and adhering to SEO and WCAG2 guidelines.
Knowledge of network security, including SSL certificates and HTTPS protocols.
Writing code that is well-commented, split into focused units, and easily maintainable. Ability to write clean, modular, and scalable code, as well as experience with code review practices and performance optimization. Familiarity with code quality metrics such as Maintainability Index and Cyclomatic Complexity.
Familiarity with code version control tools like Git, enabling efficient management of the web development process.
Proficiency in testing, including familiarity with TDD, BDD, and unit testing tools like Jest and Enzyme. Implementing unit testing and conducting thorough code reviews for quality assurance.
Staying updated with the latest UI design standards and trends in web development.
Development with cross-browser and cross-platform compatibility in mind. Knowledge of responsive design and related principles, allowing them to create cross-platform websites that function efficiently on mobile devices and computers.
Strong collaboration skills, as front-end developers frequently work with UI designers, web designers, and back-end developers.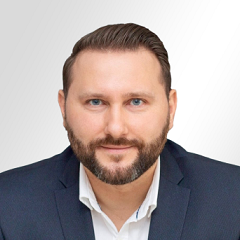 Written by
Business Development Director at Belitsoft