Companies that hire remote (distributed, virtual, dispersed, or dedicated) workers and do it well seem to have a huge leg up on the competition. Let's learn how these successful SaaS companies use global talents to increase software quality and reduce the cost of rent and office supplies: Basecamp, Buffer, Chargify, Convertkit, Ghost(pro), Groove, Hubstaff, Invision, Olark, and Zapier. As the company where you can find a remote PHP developer, we believe that you could utilize their experience and expertise to build your own full remote SaaS company.
1. Fully Remote SaaS Company INVISION
Clark Valberg (a software developer) launched his SaaS startup Invision in 2011. Today, InVision is a fully remote company with the team members in 19 countries and nearly 100 cities (175 employees). It included in the Forbes' list of best cloud companies in the world.

Clark Valberg: "Every day, every department has a 45-minute "scrum" style meeting. The meeting is always at the same time. Each employee briefly describes three things: what he/she's working on now, what he/she's working on next, and what his/her biggest constraint is. The daily scrums help teammates build collaborative chemistry and continuity. Which means, instead of being off on their own all day, remote employees have at least one real-time interaction with colleagues. Between scrums, they use communications software like Slack and Trello to assist each other and address whatever constraints arise".
Futher Reading
2. Fully Remote SaaS Company HUBSTAFF
Hubstaff SaaS company was started by Dave Nevogt (a non-tech founder) as 100% remote in 2012. Today, 25 employees are working in 9 countries.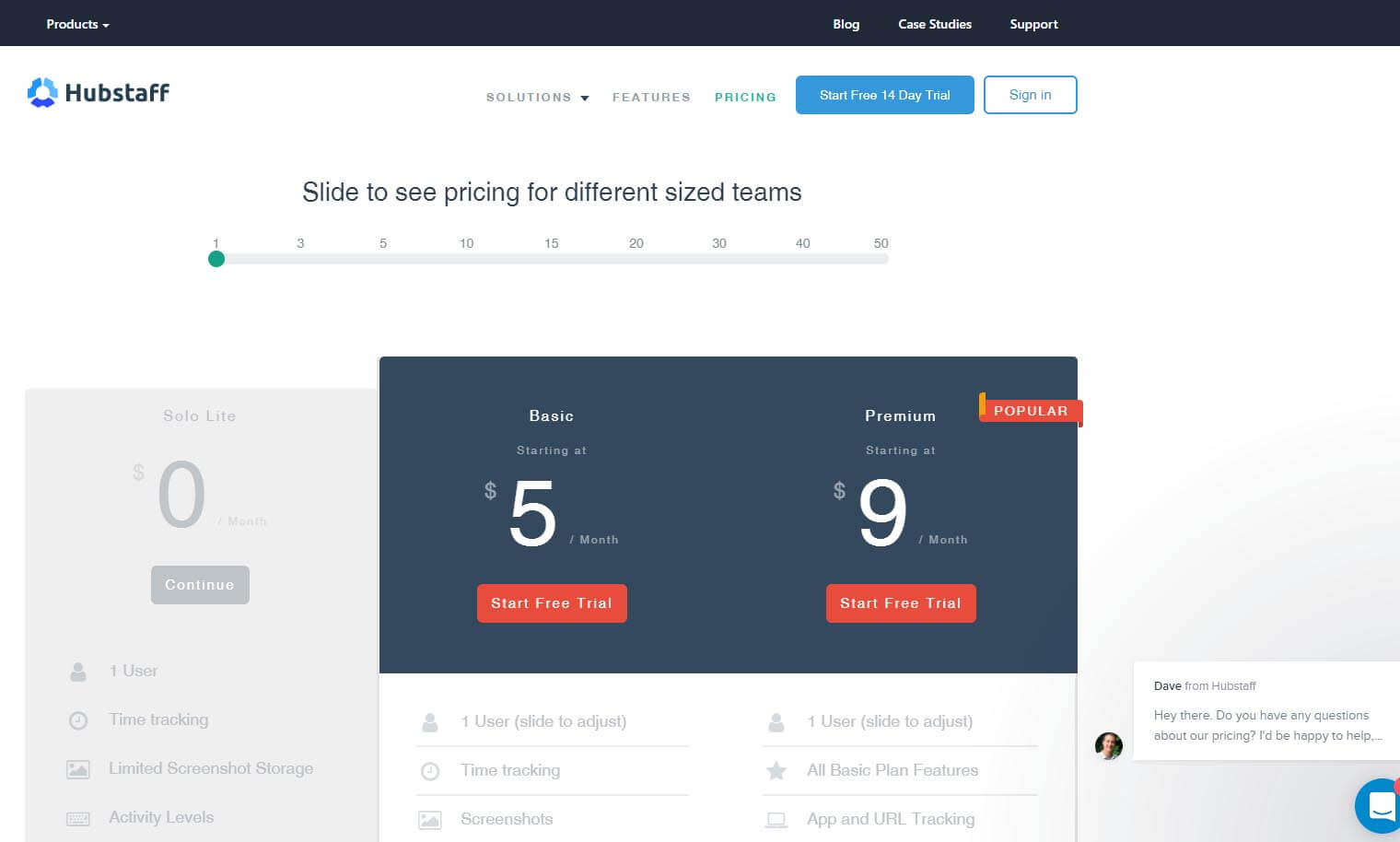 Dave Nevogt: "After three years and $2.53 million in revenue since launching Hubstaff in 2013, I can honestly say that the decision to build a remote team has been the single biggest factor in our success. We personally invest time to find the right team member and then work with that person usually for several years. Hiring involves thorough research and extensive communication with candidates. You might have to go through 500 resumes to find the right person. When we're in hiring mode, I may end up spending 80% of my time on it.
The challenges of remote Work: 1. You Have to Monitor Virtual Teams More Closely. 2. Sometimes, Remote Workers Don't Have Time for You. 3. Virtual Teams sometimes have a Lower Commitment Level. Why do we think remote is better for startups? 1. Larger Pool of Talent (biggest reason). 2. Virtual Teams Save Money (a close second). Cost-efficient quality could make the difference between success and failure for a startup. 3. Virtual Teams are Flexible. 4. Virtual Teams Offer Freedom. 5. Hiring and Onboarding is Easier. 6. We Hate Wasting Time".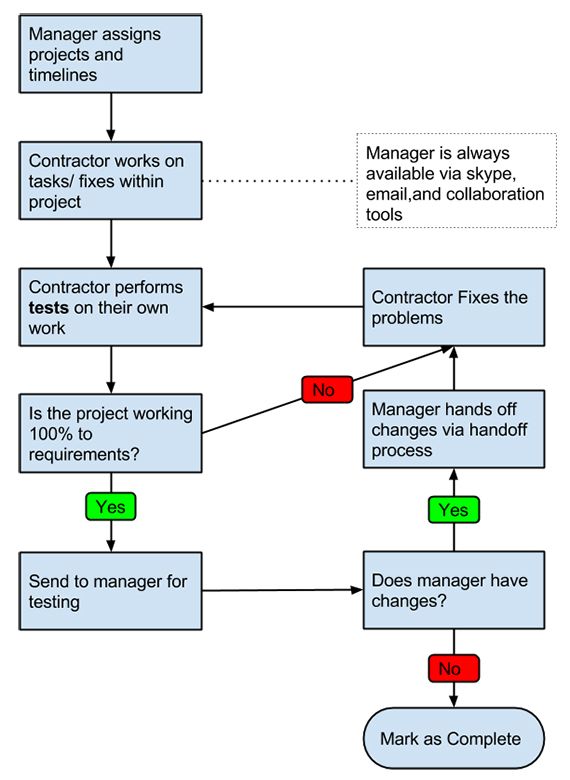 The flowchart below comes from HUBSTAFF's "No Excuses" guide to remote management and outlines the progression of a task, from assignment to completion.
Futher Reading
3. Remote SaaS Company BASECAMP
Basecamp SaaS company was founded in 1999. Its CEO Jason Fried (a non-tech founder) started out with 3 people, and today, they're a company of about 50 people spread out across 32 different cities around the world. Their headquarters is in Chicago, but everyone at Basecamp is free to live and work wherever they want.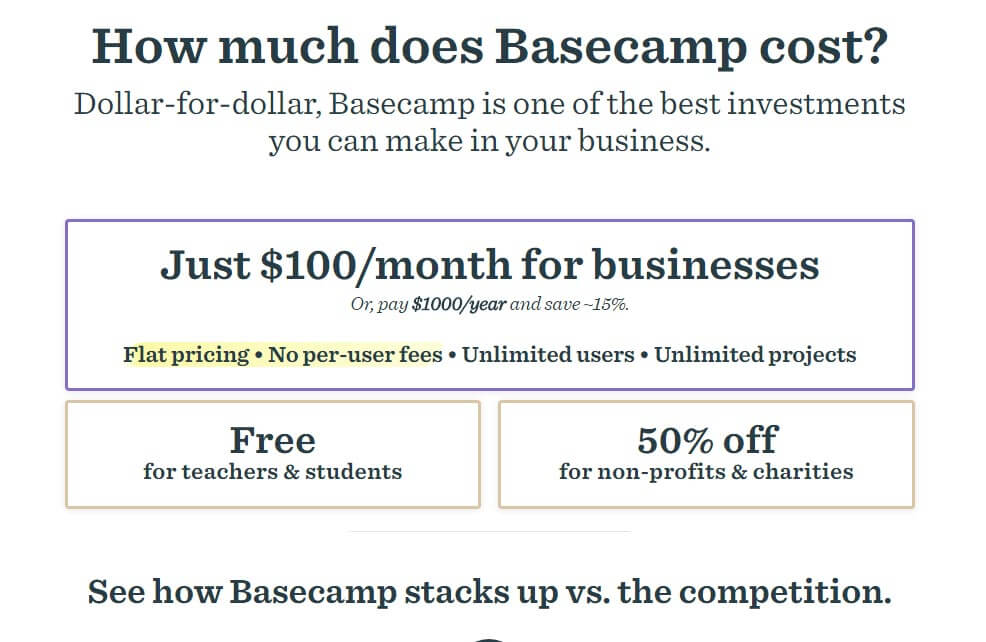 Jason Fried: "Instead of asking a remote worker "what did you do today?", you can now just say: "Show me what you did today." As a manager, you can directly evaluate the work - the thing you're paying this person for - and ignore all the stuff that doesn't actually matter."
Futher Reading
4. Fully Remote SaaS Company OLARK
Ben Congleton (a software developer) and his friends built Olark app in 2009. Today Olark SaaS company is a 100% remote team of 40 people that spans three continents.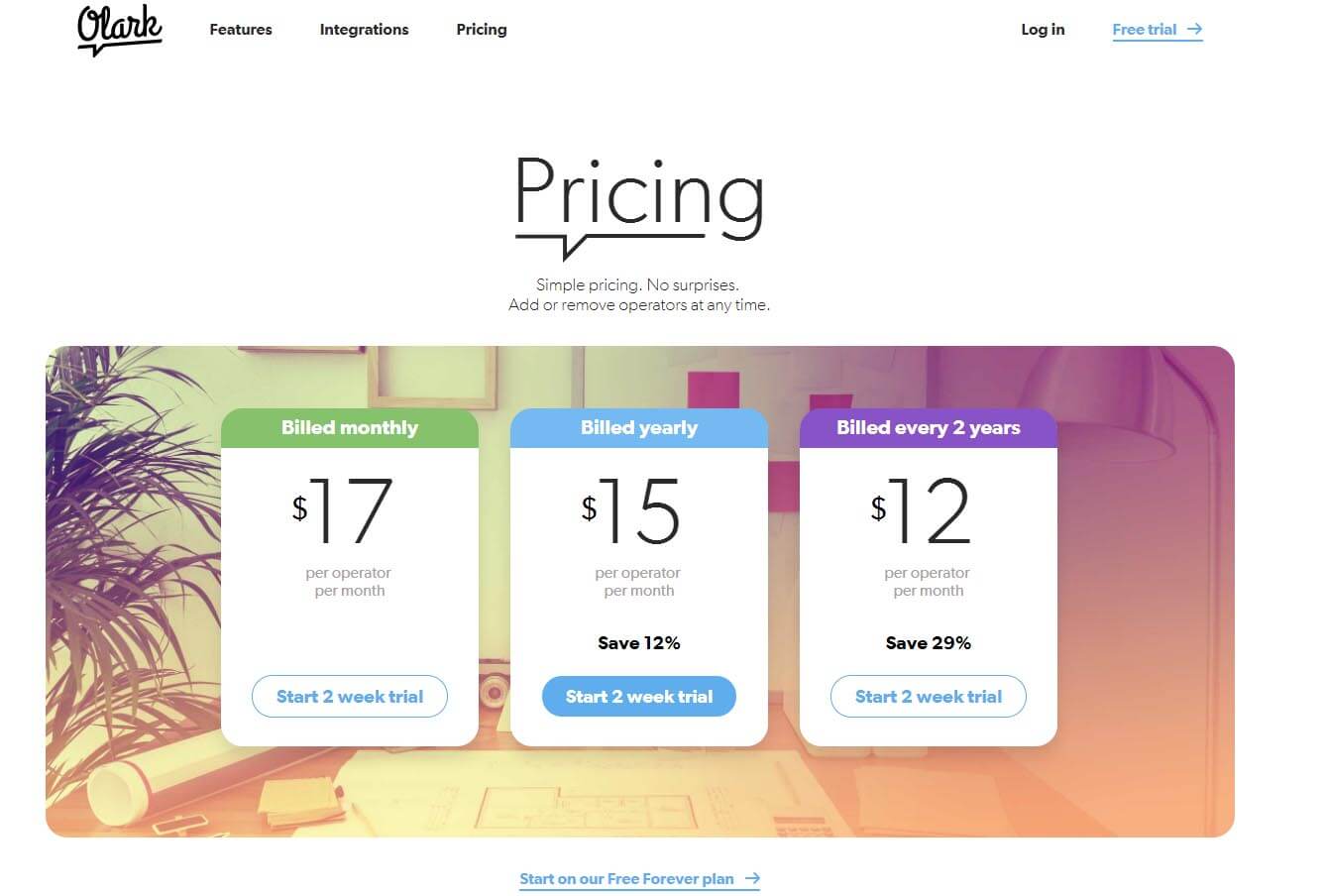 Ben Congleton: "When you're building a remote team, you need to be very good at communication and, in particular, written communication. One way that we do that at Olark is everyone on the team goes through customer service training. Everyone has a shared experience of being customer service, understanding our product, talking directly to our customers, and working with people they wouldn't normally work with, which also prevents a little bit of siloing. The other thing that we do is we try to add accountability so you're accountable to your team like the people you're working with on a day-to-day basis".
Futher Reading
5. Fully Remote SaaS Company CHARGIFY
David Hauser (a non-tech founder) launched his SaaS startup Chargify in 2009. Chargify has been a 100% remote team since inception.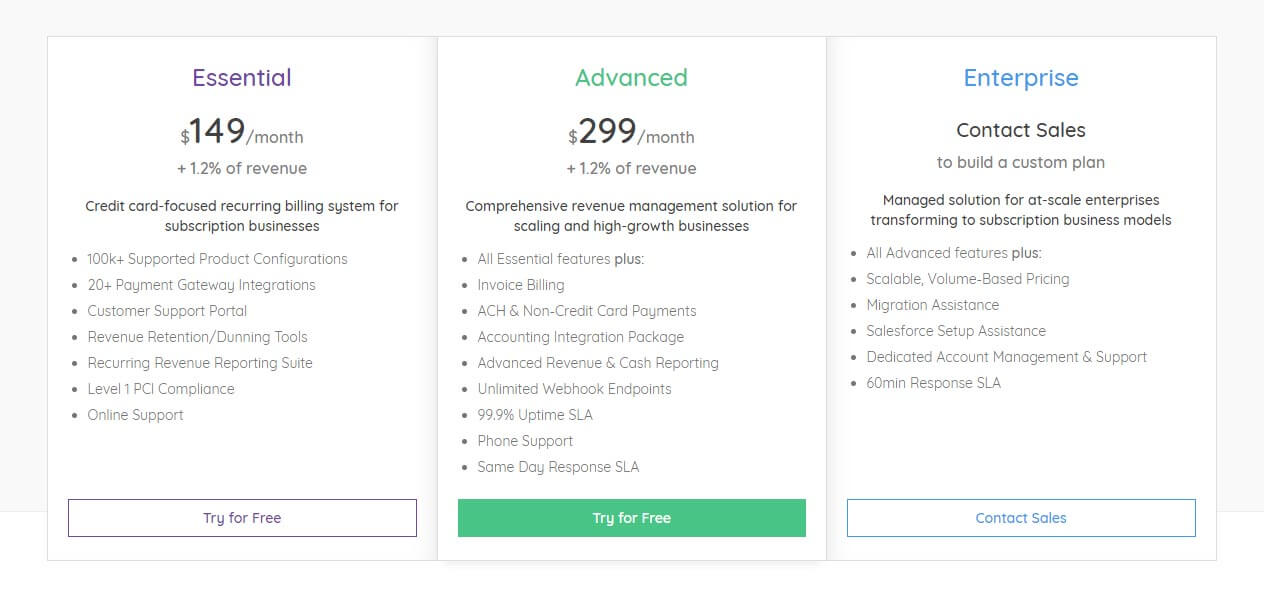 Lance Walley: "Our 100% remote team works really well together. We use online tools to stay in constant contact with each other, and we meet 2–3 times a year. But our remote structure makes the following hire/fire traits even more important. Hire people with these traits: Doers, Finishers, Sharpness, Humility, Good Work Habits, Enjoys Learning, Optimism, Interested, Nice, Humorous Friends & Relatives (just be careful). Fire (or beware of) people with these traits: Bullies, Prima Donnas, Liars, Pessimists, People who think everyone else (or the world) is bad, Gossip Conduits".
Futher Reading
6. Fully Remote SaaS Company ZAPIER
Mike Knoop (a software developer) along with two other cofounders launched their SaaS startup company Zapier in 2011. Now, Zapier's 100% remote team of 100 people live and works in 13 countries.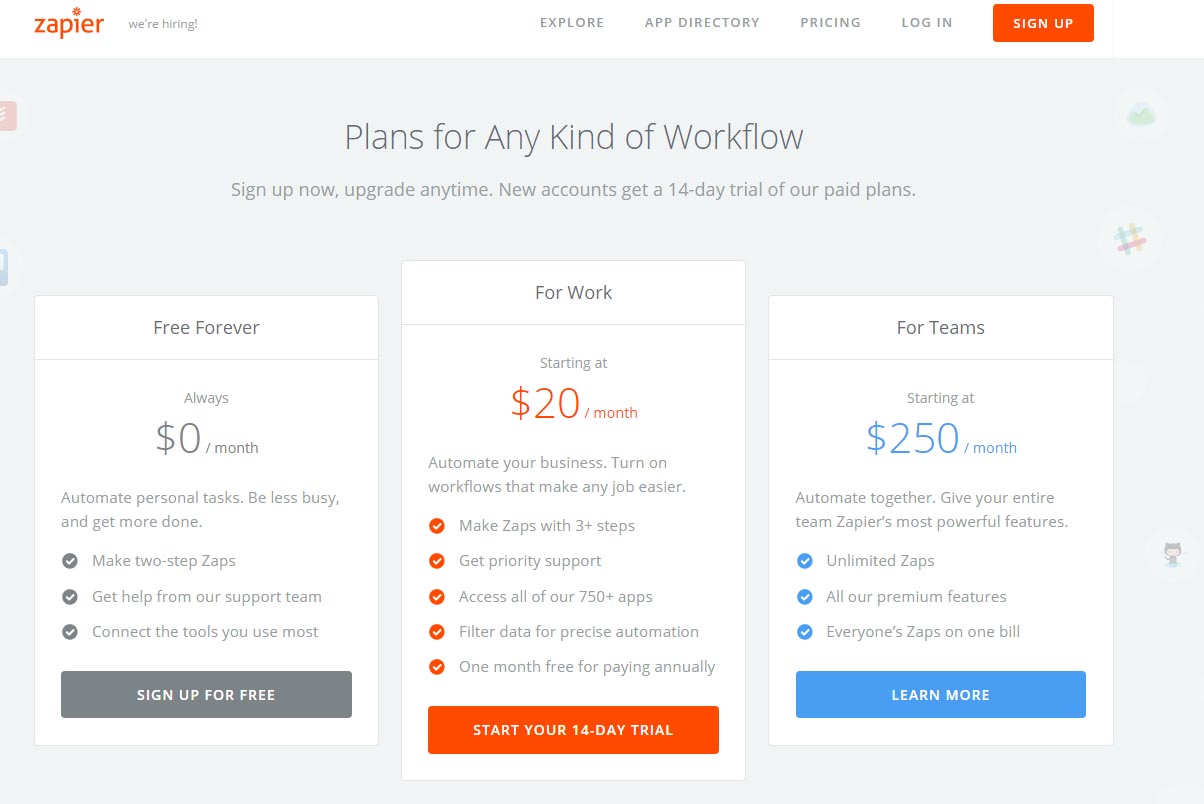 Wade Foster: "We've found there are three important ingredients to making remote work: 1. Team (Hire Doers, Hire people you can trust, Trust the people you hire, Hire people who can write, Hire people who are ok without a social workplace); 2. Tools (Slack, Async, Trello, GitHub, LastPass Enterprise, Google Docs & Hackpad, GoToMeeting, HelloSign); 3. Process (Everyone does support, A culture of shipping, Weekly Hangouts, Pair Buddies, Monthly One-on-Ones, A culture of accountability, Building culture in person, Automate anything that can be automated)."
Futher Reading
7. Fully Remote SaaS Company BUFFER
Joel Gascoigne (a software developer) launched his SaaS startup company Buffer in October 2010. After growing to 50 people, it became a fully distributed team without an office.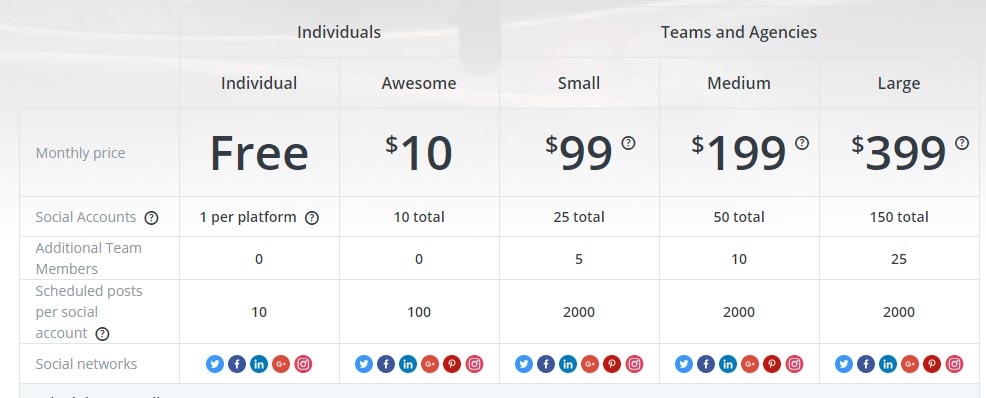 Joel Gascoigne: "We've been remote from the beginning, and we have recently launched and grown a new product (Respond) to around $15k MRR with a small fully remote team of 4 people. Meeting in person regularly is a key for bonding and longer term productivity as a result. That said, I fully believe it is possible to create great culture, collaborate effectively and have fun while working remotely. You certainly have to change the way you work to make it happen, so that is perhaps a barrier when you're used to working in the same place. You can't be remote and try to work in the same way, but once you make the leap and change the way you work, it can be awesome. Obviously a bunch of long-term benefits for the company and for the team, too".
Futher Reading
8. Fully Remote SaaS Company GROOVE
Alex Turnbull (a non-tech founder) launched his SaaS startup company Groove in 2011. He hired an agency to build the first iteration of the product. After that, he began building out his own team: first, with part-time contractors, and then he hired those who fit best as full-time employees. Today, Groove consists of 100% remote team (across 9 time zones).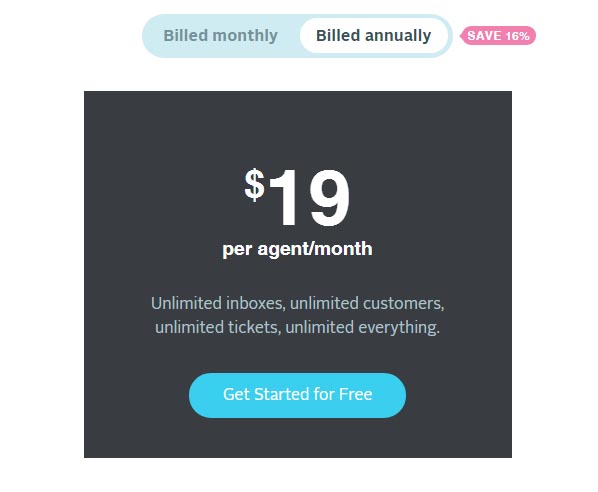 Alex Turnbull: "After nearly five years of learning ⁠— and often, stumbling ⁠— there are three key "wins" that help our remote team stay productive and connected across nine different time zones: 1) Have One Time Where Everybody Meets, 2) Get Asynchronous Communication Right, 3) Encourage Water Cooler Chatter. I'm sharing the tools that our remote team uses every single day. 1) Slack ⁠— our headquarters. 2) Zoom ⁠— video calls and screen sharing. 3) Groove ⁠— customer support collaboration. 4) World Time Buddy - know what time it is anywhere in the world. 5) Trello ⁠— staying on the top of things. 6) Teamweek - tracking high-level team tasks. 7) Google Drive - keeping content and other company docs in one place. 8) Music Streaming Apps ⁠— the service that divides our team."
Futher Reading
9. Fully Remote SaaS Company GHOST
Ghost(PRO) is a hosting platform like Wordpress for hosting open source Ghost-based blogs. Ghost was founded by John O'Nolan (a product designer) in April 2013 after a very successful Kickstarter campaign. Today, Ghost(PRO) SaaS product is developed and maintained by a fully remote team of 8 peoples (5 continents). Ghost's Annual Run Rate was $780,528 (on June 2017).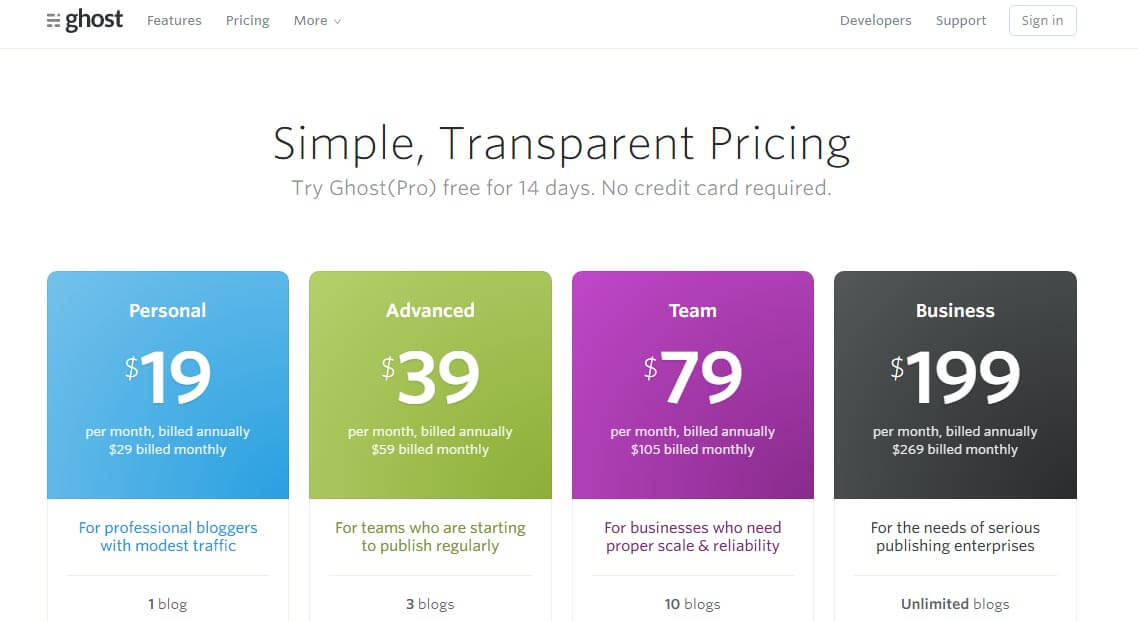 John O'Nolan: "Be careful how you hire. Remote work is not for everyone, it relies on self-motivated individuals who are capable of getting things done without the need to be supervised".
Futher Reading
10. Fully Remote SaaS Company CONVERTKIT
Nathan Barry (an app designer) launched his SaaS platform Convertkit in 2013. Today's ConvertKit consists of 22 team members across 17 cities.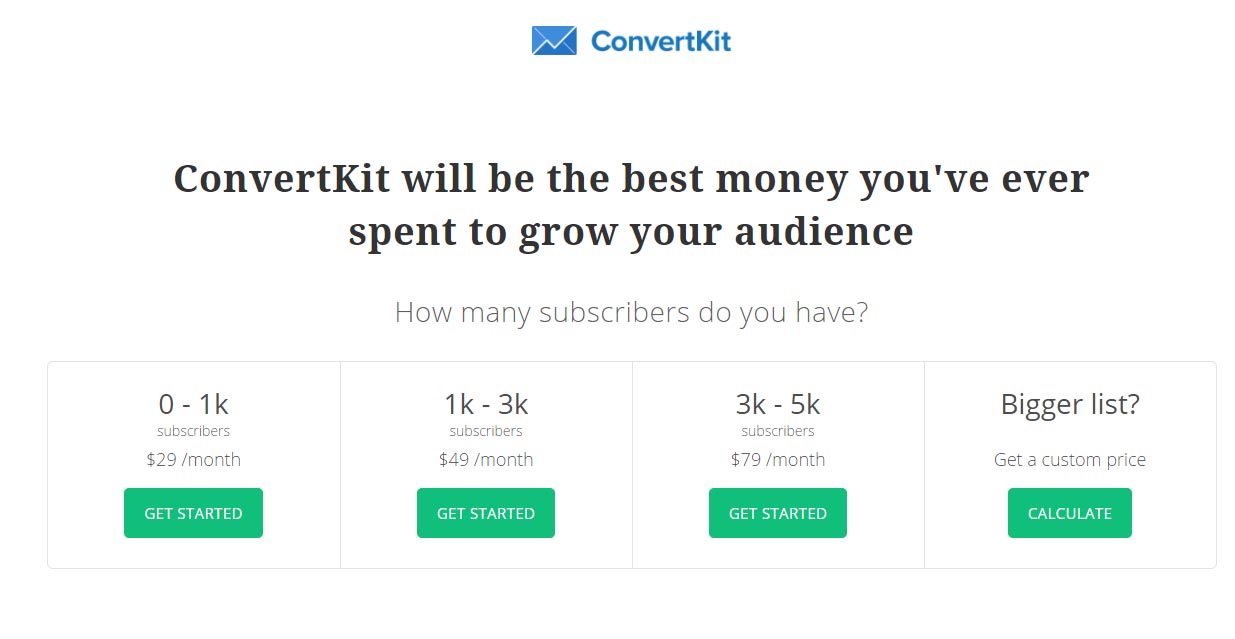 Nathan Barry: "Running a remote team isn't for everyone, and even in-person teams use a lot of these tools and procedures (Slack, Baremetrics, Intercom, Zoom, Base CRM, Internal trainings, Daily standups) to organize their businesses. And we certainly don't believe we have all of the answers either. We know that as we grow and evolve, we'll continue to learn new ways of operating and how we could run more efficiently — continuing to work smarter and not harder.
Futher Reading
THE BOTTOM LINE
Belitsoft created 14+ remote teams of developers for our happy clients who hired them over 7 years ago and still work with them today.
Since May 2016, Belitsoft has been successfully providing a team of remote software developers for Insly SaaS (a global insurance software development company (1.6M+ EUR in revenues in 2016) with a team of dedicated insurance and IT professionals working in London, Tallinn, Riga, Vilnius, Warsaw and California, USA) - check out this case study.
Written by
Partner / Department Head
I've been leading projects in Healthcare, Financial and other domains for 14 years.
Let's Talk Business
Do you have a software development project to implement? We have people to work on it. We will be glad to answer all your questions as well as estimate any project of yours. Use the form below to describe the project and we will get in touch with you within 1 business day.