Over time, healthcare management systems grow inherently more complex. Keeping them unchanged for decades can compromise not only their performance but also the efficient use of medical records. Recognizing the evolving needs, Belitsoft, a dedicated healthcare software development company, provides expert EHR application migration services, to enable healthcare organizations to utilize medical records with maximum efficiency. We focus on seamless transitions, ensuring minimal risk and optimal operational effectiveness.
The Limitations Leading to The Need for EHR Migration
Rising subscription costs from third-party EHR vendors
Increasing subscription costs can strain a healthcare organization's budget, potentially diverting resources from crucial areas like patient care and infrastructure development. Migrating to a more cost-effective Electronic Health Records (EHR), either in-house or through another vendor, can optimize resource allocation and improve financial stability.
Adherence to new regulatory standards
Current EHR solutions, if outdated, may not align with the most recent healthcare and data processing regulations. In such cases, EHR migration to a compliant system becomes a viable solution.
Request for modern, advanced EHR features
For organizations wanting advanced EHR functionality, EHR data migration can be more effective than updating legacy systems.
Healthcare acquisition facility
When two healthcare organizations merge, the acquiring organization typically dictates operational standards. In these cases, your entity might need to undergo the EHR data migration process to synchronize with the larger provider and consolidate data into one unified system.
"EHR transitions are remarkably expensive, laborious, personnel devouring, and time-consuming. Prudent planning may streamline EHR transitions and reduce expenses. Mitigating strategies, such as preservation of legacy data, managing expectations, and hiring consultants can overcome some of the greatest hurdles," National Library of Medicine, the US
EHR Migration Services
New Tech Stack Migration
An organization may opt for application modernization through the upgrade of its tech stack instead of transitioning to the cloud. For instance, they may choose to shift from a legacy Electronic Health Records system to a modern, highly adaptable, and scalable system built on a different technology stack. This process may entail switching databases, programming languages, or other fundamental technologies.
On-Premise EHR Migration to Cloud
Healthcare organizations are increasingly favoring cloud-based EHR solutions because of their scalability, accessibility, and cost-effectiveness. In this case, they migrate existing data from a local server to a cloud-based EHR system. EHR migration to cloud actively improves data sharing and collaboration, reduces reliance on in-house IT infrastructure and support, and offers greater flexibility. Some might adopt a hybrid approach, keeping specific data on-site for immediate access while leveraging the cloud for other data. This strategy represents a practical compromise, combining the security and control of an on-premises system with with the benefits of a cloud solution.
From Standalone to All-in-One EHR
In certain situations, an organization may transition from a standalone EHR system to a comprehensive healthcare software that incorporates EHR as well as other functionalities, like practice management, billing, telehealth, and more. Such a transition could also entail the adoption of a new technology stack.
5 Steps for Successful EHR Migration to the Cloud
When Belitsoft handles EHR data migration to the cloud, we follow a proven process based on our expertise, ensuring secure and quick migration, all without interrupting your daily activities.
Step 1. Assessment and Planning
➤ Evaluate the current system
We comprehensively assess your existing Electronic Health Record system.
To achieve this, we delve into its architecture, conduct a thorough analysis of the patient data it handles, and pinpoint any customizations made over its lifespan. Such thorough scrutiny offers a detailed insight into the system's capabilities and constraints.
➤ Engage stakeholder groups
Our process is inclusive. We consult your IT team to grasp technical specifications, interact with clinical staff to address workflow intricacies, and liaise with administrative personnel to understand their specific demands.
This approach captures the comprehensive impact of migration.
➤ Set clear objectives
We define clear objectives for your EHR migration - whether it's cost savings, improved system performance, scalability, or enhanced security and compliance - to ensure everyone is on the same page.
If, for instance, your current system faces compliance challenges, we'd emphasize achieving superior security and adherence to regulations. For that, we will focus on implementing data encryption, strict access controls, audit trails, training for staff, and vendor compliance.
Step 2. Data Preparation
➤ EHR data cleaning
Before migration, we meticulously review and refine your EHR data, eliminating inconsistencies and removing any duplicate entries or errors. This ensures a seamless transition with optimal data.
➤ EHR data mapping
We determine how data from your current EHR will align with the new cloud-based EHR system. This may involve format changes or data transformation to ensure all data points align seamlessly.
Step 3. Choose the Right Cloud Provider
➤ Security and compliance
We help choose a cloud provider that adheres to key healthcare regulations, like HIPAA, safeguarding EHR data and patient privacy.
➤ Scalability
Anticipating future growth, we favor a cloud provider with scalable solutions. As your operations expand, your EHR system should scale effortlessly to accommodate the increased EHR data and demand.
➤ Support and SLAs
Confirm that your chosen cloud provider offers favorable Service Level Agreements (SLAs) for responsive and efficient support, both during migration and in the long run.
Step 4. Executing Migration
➤ Pilot testing
Before the full-scale migration, we run pilot tests with a subset of data, such as patient records, medical practice and histories, and treatment plans, to detect potential challenges.
This entails replicating the data structure in the cloud and running various simulations, like accessing patient records or generating reports. Testing also figures performance during high-use periods. Findings from this phase guide necessary refinements.
Data is first extracted from existing servers, ensuring its safety and completeness. This data is then transformed into a cloud-compatible format, which might include file type conversions or structure updates.
Once the data is prepared, we load it into the cloud environment. We use healthcare data migration tools to automate the transfer, continuously checking for data consistency and ensuring a complete, accurate migration.
➤ Validation
Post-migration, we apply a rigorous validation process to confirm data integrity. Using a sampling method, we select a subset of records and compare them to their original counterparts for accuracy.
Automated scripts further scrutinize for inconsistencies, and any flagged discrepancies undergo manual review.
As a result of the validation process, any necessary adjustments are made promptly, safeguarding data accuracy and completeness.
Step 5. Training and Further Improvement
➤ Staff training
To ensure a smooth transition, we facilitate extensive training sessions for all users to acquaint them with the new EHR system.
Employee training sessions can be in-person, online, or a blended approach. Interactive modules allow users to familiarize themselves with the system, promoting both confidence and proficiency.
➤ Monitor and innovate
We continuously monitor the system's performance to make requisite enhancements. Cloud deployment brings your EHR and data close to advanced tools like artificial intelligence, natural language processing, text analytics, and workflow analysis.
➤ Feedback loop
We help to establish a robust feedback mechanism, setting up a channel for users to communicate challenges and suggest improvements, fostering enduring success.
"Working with the right partners is key to achieving increased agility, security, innovation", HINA PATEL, Chief Growth Officer, US Health and Life Sciences, Microsoft
Top Reasons for Migration from .NET to .NET Core
The major reasons why you might want to consider migrating from .NET Framework to .NET Core.
Faster Performance. Benchmarks show that .NET Core applications can be significantly faster than equivalent .NET Framework applications.
Cross-Platform Support. NET Core is a cross-platform framework, supporting development and deployment on multiple operating systems, such as Windows, macOS, and Linux.
Long-Term Support. While Microsoft declared .NET Framework 4.8 as its final major release, the focus has shifted to innovations on .NET Core and its successors, such as .NET 5 and .NET 6, which will receive continual enhancements and security updates.
Cloud-Ready for Azure. .NET Core and Azure are both Microsoft technologies designed to work together seamlessly. Azure features tailored services, like Azure App Service, Azure Functions, Azure Container Instances, and Azure Kubernetes Service to streamline the deployment, management, and scaling of .NET Core applications.
Future-Proof Features. .NET Core offers several advantages over the .NET Framework. Firstly, it embraces a microservices architecture, allowing for modular and scalable development. Its synergy with container tech like Docker and orchestration systems like Kubernetes ensures efficient app management and deployment. Additionally, .NET Core provides modern development tools such as command-line interface (CLI) tools and offers smooth integration with contemporary integrated development environments (IDEs) like Visual Studio Code, accessible across Windows, macOS, and Linux. Moreover, .NET Core stays up-to-date with the latest language features, ensuring developers can leverage the most recent advancements in their projects.
Use Case: How Belitsoft Migrated EHR from .NET to .NET Core
The US-based HeathTech company has been selling EHR solutions to healthcare organizations globally. To grow their sales and attract new clients, they needed EHR data migration experts to migrate the EHR from .NET Framework to .NET Core. This move, driven by .NET Core cross-platform capabilities, aimed to make their EHR accessible not only to Windows users but also to healthcare entities employing MacOS.
Preparation Phase for EHR Data Migration
Comprehensive review of the current application, its dependencies, code complexity, and tight integration with .NET Framework-specific features.
Assessment of third-party and NuGet packages in the application to determine their compatibility with .NET Core or find suitable alternatives.
Employment of tools like the .NET Portability Analyzer to generate a detailed report on how flexible the assemblies are.
The EHR Data Migration Process
Updating all NuGet packages to the most recent versions for enhanced compatibility with .NET Core.
Targeting .NET Standard for maximum code reuse between .NET Framework, .NET Core, and Xamarin.
Migrating the code, fixing build errors, replacing .NET Framework-specific code with .NET Core compatible equivalents.
Replacing APIs that aren't available in .NET Core, with possible refactoring.
Testing the application to ensure error-free builds.
Deploying a new .NET Core application to a chosen environment (on-premises servers, Azure, Docker, etc.). Monitoring the app for any issues that may not have shown up during testing.
Post-Migration Improvements
Code refactoring to significantly improve application performance.
Implementing asynchronous programming, which can help improve application performance by reducing blocking on I/O operations.
Optimizing dependency injection to reduce tight coupling between classes and their dependencies, which improves code maintainability and testability.
Updating libraries and packages, which might not have been compatible with the older .NET framework.
Enhancing security by leveraging the built-in security features of .NET Core, such as identity and access control, clinical data protection, CORS support, and anti-forgery protection.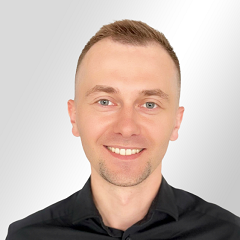 Written by
Deputy Business Development Director at Belitsoft
I am a customer's advocate and a manager of several key accounts.