The primary motivation for offshore healthcare software development is cost savings as well as instant access to skilled resources on an as-needed basis. Offshore software development outsourcing also can free up internal IT resources to focus on strategic tasks. Healthtech firms can significantly boost their technology-driven offerings for remote patient treatment, digital monitoring, and streamlined patient data processing by embracing offshore outsourcing.
Benefits of Hiring an Offshore Healthcare Software Development Company
Creating an in-house team for custom healthcare software development comes with drawbacks, including financial burdens, the need to hire specialists, expenses for office space and employee training, a limited pool of local talent, and a lengthy hiring process.
Working with freelancers for healthcare app development has potential downsides such as unverified skills, difficulty in ensuring adherence to industry regulations, lack of prioritization, and communication challenges.
Working with an app development agency for healthcare app development offers several benefits, including the flexibility to hire contract workers on a pay-as-you-go basis, the ability to work with a team from anywhere, the option to set the scope of work and assess progress, and assurance of software developer's skills and quality of work through the vetting process. The offshore agency can handle the entire project or provide dedicated developers with the required skills.
Common Offshoring Challenges and How to Fix Them
Communication Barrier
Effective communication in software development is not so dependent on physical proximity as it may seem. It is achieved when developers prioritize the needs of customers and adhere to established processes for documenting, negotiating, and fulfilling customer requirements.
Lower Productivity compared to on-site Workers
It is important to partner with an offshore software development company that invests in finding and training top talent. A good indicator of a company's commitment to this is the number of certified developers they have.
In-house IT Department Resistance
Outsourcing can be introduced gradually, starting with smaller projects that are not desirable for the in-house IT department. As benefits become evident, resistance is likely to diminish.
Time Zone Differences
Time zone differences can be both a blessing and a challenge in offshore development. It's important to find a partner with overlapping work hours to balance the advantage of round-the-clock work with effective communication.
Which Health Companies Benefit the Most from Offshore Software Development?
Digital health startups with a limited budget
Startups often have innovative ideas for the digital world but struggle with a limited budget. Many of them get stuck at the MVP stage with a product that falls short of its potential. Outsourcing to offshore software developers helps them build the product at a lower cost.
Healthcare businesses lacking technical expertise
Founders with great ideas may not have technical expertise, making it necessary to partner with a software development company that has the required skills. This way, businesses can find and hire the best team.
Healthtech product companies looking to speed up time to market
Time is critical in the software industry. If a company takes too long in the development stage, they risk losing its edge to competitors who launch similar products. Offshore outsourcing eliminates the time required for hiring and training, allowing businesses to have the best team working on their project from day one.
When to Outsource Healthcare Software Development from an Offshore Vendor
Brainstorming phase
If you have a general idea for the medical app but need help with the technical aspects, partnering with healthcare software consultants can be beneficial. They provide businesses with a dedicated and reliable team for the idea and product consultation.
Development stage
Once the idea and structure of the healthcare app are in place, it's time to connect with a software development partner to start the journey.
After development
Even after the health app has been released, maintenance support may still be needed. Partnering with a development firm can help with app updates and maintenance.
How to Hire a Good Offshore Healthcare Software Development Company
Offshore software development companies build custom healthcare software solutions including patient portals, EMRs, clinical decision support tools, and mobile apps for patient engagement, remote monitoring, and telemedicine. They use programming languages such as Java, C++, and Python and databases such as MySQL and Oracle.
When it comes to offshore healthcare software development, it is important to look for the right developers who have both coding skills and healthcare business domain expertise. Consider working with a reputable healthcare app development company that can help you navigate the industry trends and compliance requirements.
Compliance and Security
To ensure compliance with laws, regulations, and standards, look for developers familiar with HIPAA (for US market), GDPR (for EU data exchange), and PIPEDA (for Canadian data privacy).
For the safety of your business, its stakeholders, employees and clients, it's vital to choose a trustworthy vendor who follows the widely recognized security protocols. Verify the location of their servers and enforce stringent security policies.
Sign an NDA before your first interaction with a team. This will ensure that they do not share your ideas with a third party. Have a contract that outlines the transfer of IP rights and code ownership upon the project completion.
Knowledge of integration standards
For a smooth integration with healthcare systems, look for developers with knowledge of integration standards such as Health Level 7, HL7 Fast Healthcare Interoperability Resources, ANSI X12n 5010, NCPDP SCRIPT, DICOM, and HL7 v3 Clinical Document Architecture. Additionally, look for developers with expertise in semantic vocabularies like ICD9/10, LOINC, RxNorm, and SNOMED-CT, and integration frameworks like Healthcare Information Technology Standards Panel and Integrating the Healthcare Enterprise.
Deep Expertise
Choose mobile developers who have cross-platform expertise, as this will ensure your app runs on major platforms and reaches a wider audience. Consider a full-service app development provider that includes design, programming, testing, deployment, and maintenance. A competent project manager is also key to the success of the development team, so consider a reliable technical partner with comprehensive project management capabilities.
For revenue cycle management, look for developers with an understanding of billing schedules, payment models, and denial workflows. In terms of data security, look for developers with experience in encryption tools, libraries, secure coding practices, and standards such as SOAP and REST frameworks.
One-on-One Meeting
When selecting a development team, request a one-on-one meeting to discuss their expertise, experiences, and portfolios. Negotiate and sign a contract that covers confidentiality, software development life cycle, troubleshooting, after-sales support, availability of developers, payment terms, property rights, and usage of the project in the company's portfolio.
Why Offshore Healthcare Software Development with Belitsoft
Belitsoft boasts 17+ years of experience in providing technical solutions for healthcare startups and enterprises of all sizes. From idea evaluation to design, development, deployment, and maintenance, our team offers a full-service approach, helping companies incorporate transformational solutions and focus on their priorities, while handling complex technical tasks efficiently.
Full Range of Services
A typical healthcare software project may require designers for intuitive design, QAs for testing and debugging, and developers. If the project is complex, you may need to find an architect. We'll provide any tech talent required for a successful project outcome. We provide all types of programmers, including cloud computing, big data analytics, IoT, AI, and ML developers with relevant experience.
Our recruitment team conducts technical interviews and evaluates soft skills to ensure the right candidates are selected.
We'll assemble the required specialists and organize the workflow in a way that's convenient for you. We also handle all secondary activities (such as training recruits), making it easy for you to manage and communicate with the developers even if they're located in our office. This saves you time and resources compared to local recruitment.
Flexible Teams
We can help you hire a healthcare software developer or build an offshore team to manage your healthcare application development.
Our offshore teams are easy to scale up or expand with additional IT specialists as needed.
Affordable Offshore Developers
Location is crucial for successful offshore software development. You hire developers in countries with thriving IT industries in Eastern Europe, giving you access to a large pool of professional software development specialists. Contact us even if you need someone with unique skills or industry-specific experience.
By hiring in countries with lower rates, you can save on salaries, taxes, and operational costs. Our location and professional recruitment team allow us to provide top-notch tech talent at affordable rates, often reducing project development costs by up to 40%.
How Much Does Offshore Healthcare Software Development Cost?
The cost of offshore healthcare software development varies based on several factors such as the app type and complexity, platforms supported, UI/UX requirements, and back-end processing. A simple app with minimal features will cost less compared to a complex app. The cost also depends on the technical complexity of the project, project scope, deadlines, and tech stacks used. The vendor may offer additional services such as QA testing and post-release support, but these are usually charged separately. The more resources required for a project, the higher the cost will be.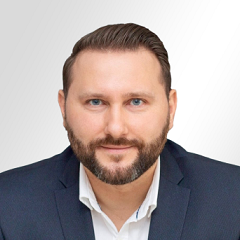 Written by
Business Development Director at Belitsoft
Recommended posts
Belitsoft Blog for Entrepreneurs