Java Development Services
Java development services from Belitsoft include the full cycle of software development from consulting to product support. Our top Java programmers can make high-end applications that conform to your plans and business goals.
Java web development;
Java product development;
Desktop applications development;
Java mobile application development;
Lifetime project maintenance, including customer support.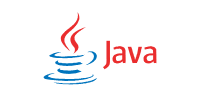 Custom software development using Java is aimed to build web, mobile, and desktop applications right for your specific requirements. Java software can facilitate business management and make it more productive and priority-driven. Due to a high level of security and data protection, Java solutions are remarkable tools for enterprises as they give protection to all confidential information and data both for offline applications and during an online exchange. Java software runs almost on every OS, existing today, both for PC and mobile devices.
WHY CHOOSE OUR JAVA DEVELOPMENT SERVICES
If your organization needs a custom Java-based solution to be implemented and integrated but has no in-house programming department to do it, hire Java programmers here at Belitsoft. Outsource Java development - it's a cost-effective way to get Java application development services of high quality.
We are a full stack Java developer company where you can get everything from Java application development to the delivered product's ongoing support.
Our Java app development experts are well-versed in Java SE, Java ME, and other Java solutions. Our Java development firm has Java enterprise developers too.
Do you need to develop a brand-new mobile Java application? Hire Java developer from Belitsoft to implement your idea and help make it as creative as possible based on professional Java development.
Using Java, we can develop a custom application for systems and websites used within your company, including networking and collaboration tools like chats, online conferences applications.
Our Java development team produces Java solutions for a wide range of industry verticals: Entertainment (games), e-Learning (web and mobile apps), e-Commerce (retail apps) and much more.
Team of our Java application development company consists of passionate programmers, who are always pursuing new skills to remain highly professional and relevant. Well-versed Java engineers of Belitsoft are specializing in front-end and back-end (Hibernate, Spring etc.) development services;
Offshore Java development with Belitsoft means no risk collaboration for our clients.
Our top Java programmers are capable of creation robust business applications uniting all elements of business environment:
Business process management;
Electronic document management;
Customer relations management;
Business management applications;
Enterprise resources management;
Data mining and reporting;
Business intelligence management;
Customer service management;
Corporate intranet and internet portals;
Online orders processing and payments;
Media streaming.
Middleware.