Get your own cost-effective Business Intelligence (BI) solution that fits your unique business processes and includes all the necessary KPIs.
Quickly derive meaningful insights out of your raw data from all the necessary sources, using a single business intelligence data warehouse (DWH).
Predict trends, be informed on any potential business challenges and make well-informed decisions.
We have developed and successfully implemented BI solutions for standard business processes fitting your industry, department or business function.
Contact us to learn more
Our services include
Executive Analytics Solution
Helps you to assess the current state of your business efficiency: all important management KPIs in a single place, insights for executives of all levels.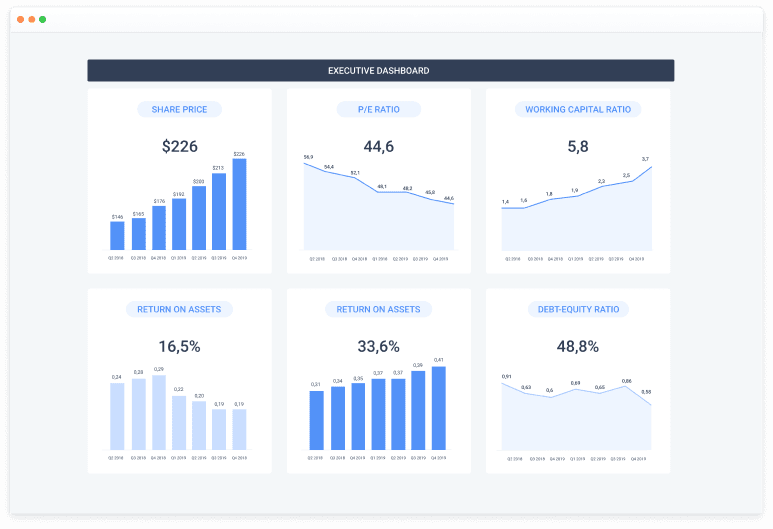 Sales Analytics Solution
For in-depth sales analytics with details by time periods, channels, customers, nomenclature, divisions, managers, suppliers, documents, lots, etc.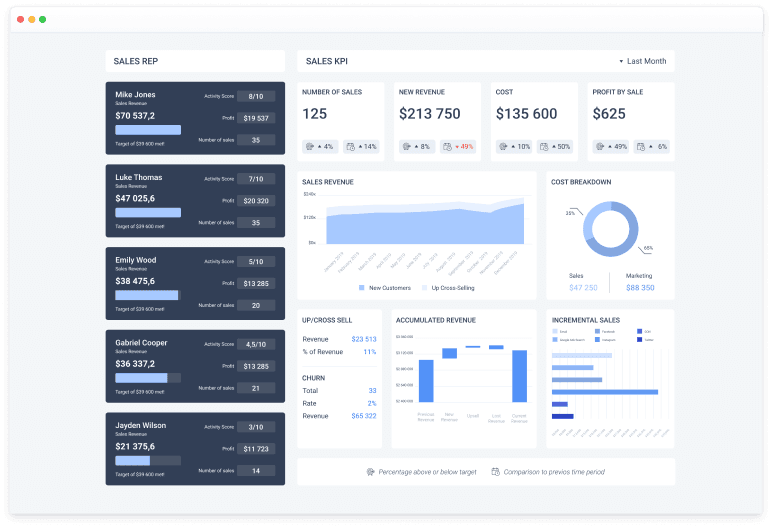 Customer Analytics Solution
Allows you to monitor all relevant customer KPIs and manage the customer base. Provides for the possibility of segmentation and analysis by channels, customers, sales funnel.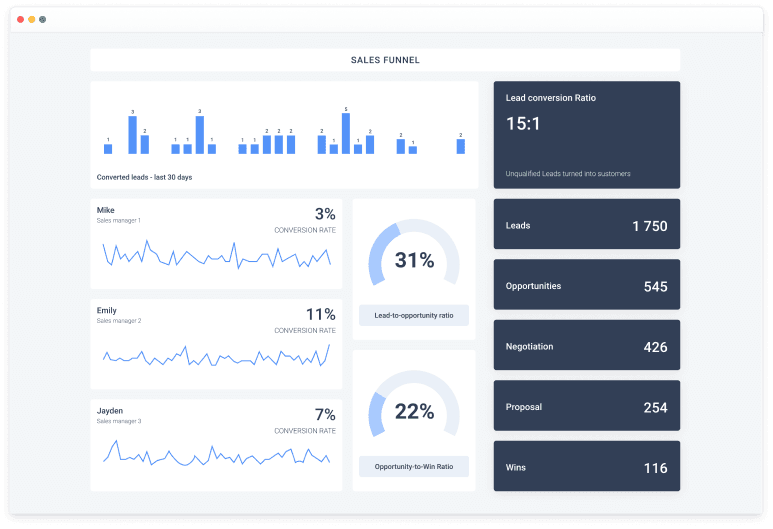 Financial Analytics Solution
Allows you to make sales and budget forecasting (by sales channels, assortment structure, cost structure), analyze the financial indicators (cost, discounts, margins, profits, etc.) and generate standard financial reports (P&L, CF, BS, etc.)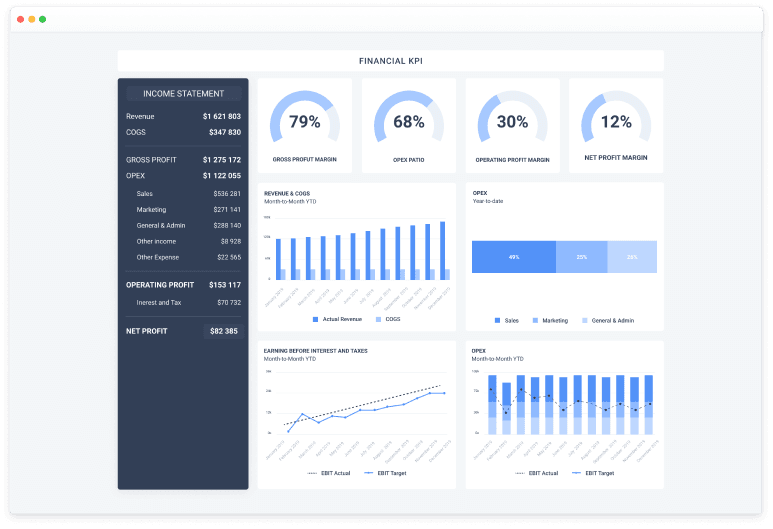 Accounts Receivable & Cash-flow Analytics Solution
With in-depth analysis of cash-flow and receivables detailed by types and categories of debts, amounts and terms of debts, the ratio of normal and overdue receivables, receivables turnover, etc.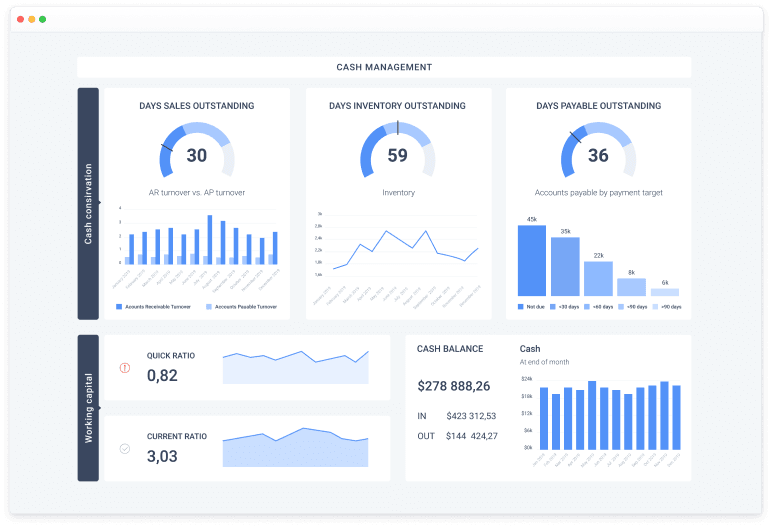 Supply Chain Analytics Solution
Supply Chain Analytics Solution (Vendors, Logistics, Inventory) with in-depth analysis of supply chain and inventories: cost, illiquid assets and goods with expiration dates; turnover, average balances in days of sales; insurance stocks and stock shortages.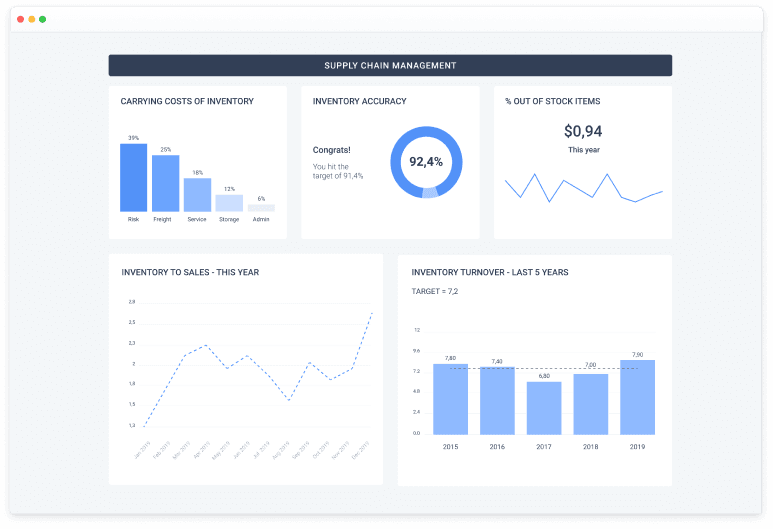 Marketing Analytics Solution
Created to analyze the effectiveness and further development of the marketing function in the organization. The analysis is carried out through promotion channels and events in relation to commercial and financial indicators.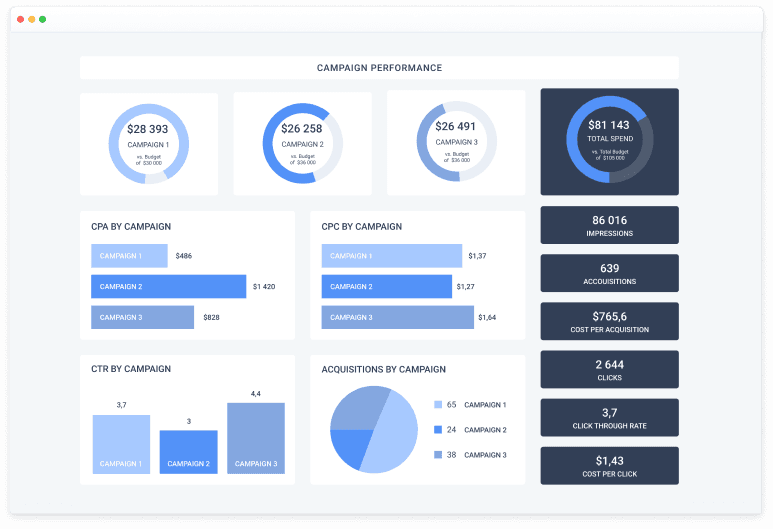 HR Analytics Solution
HR Analytics Solution allows you to plan, select, hire, and motivate staff. In-depth analysis of motivation, salary, staff turnover, the effectiveness of training procedures, etc.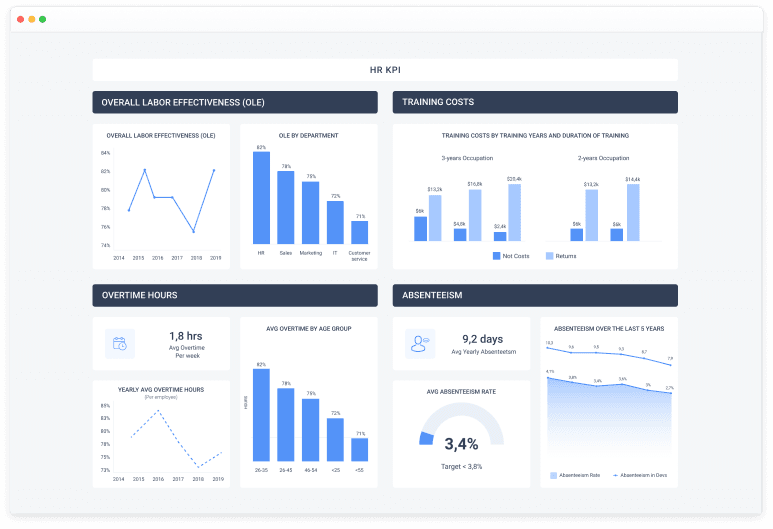 Analytics Solutions by Industry
Help you to enrich your analytics with all the necessary specific industry KPIs
Manufacturing & CPG Analytics
Supply Chain & Logistic Analytics
Marketing & Advertising Analytics
Distribution, Retail, E-commerce Analytics
Travel & Hospitality Analytics
Education Analytics
Software & IT Services Analytics
Healthcare Analytics
BFSI (Banking, Finance, Insurance) Analytics
BI and Data Warehouse consulting services
We analyze your business workflow and technology infrastructure to understand what you can get with your BI solution.
We prepare documentation on the business, functional and infrastructure requirements for your BI solutions based on the results of the previous analysis.
You get the BI solution roadmap with a data warehouse project implementation plan (schedule and budget) and specification (metrics and indicators for monitoring and evaluation).
DWH, ETL, OLAP Design and Implementation
Data Warehouse
Get a single data warehouse with the necessary databases tailored to the analytical needs of your team and based on your existing technology landscape.
ETL
Get the preconfigured automated ETL processes to eliminate the necessity of using human resources for the routine tasks connected with extraction and data mining, data quality assurance, and processing of various types of data from multiple sources and storing them into the data warehouse.
Data Enrichment
Enrich your data with measures and dimensions that aren't included in the initial data sets but is required for advanced analytical tasks such as ABC(XYZ)-analysis, ranging, categorization, forecasting, modeling, etc.
OLAP
Get an OLAP database (OLAP cube) - the powerful online reporting and visualization analytical processing system optimized for the fast generation of multidimensional reports by using pre-calculated and pre-aggregated data..
ETL - Real Time
Data Warehouse
Data Marts
Provides data structure for the reports
Simplifies DB queries
Transformations depend on the reports
Warehouse Core
Data storage model
Ensures data quality
Purified data
Complex transformations
Primary data
Provides raw data upload
Decreases system load
Simple transformations
OLAP — Dashboards
Data Visualization
BI Reporting & Visualization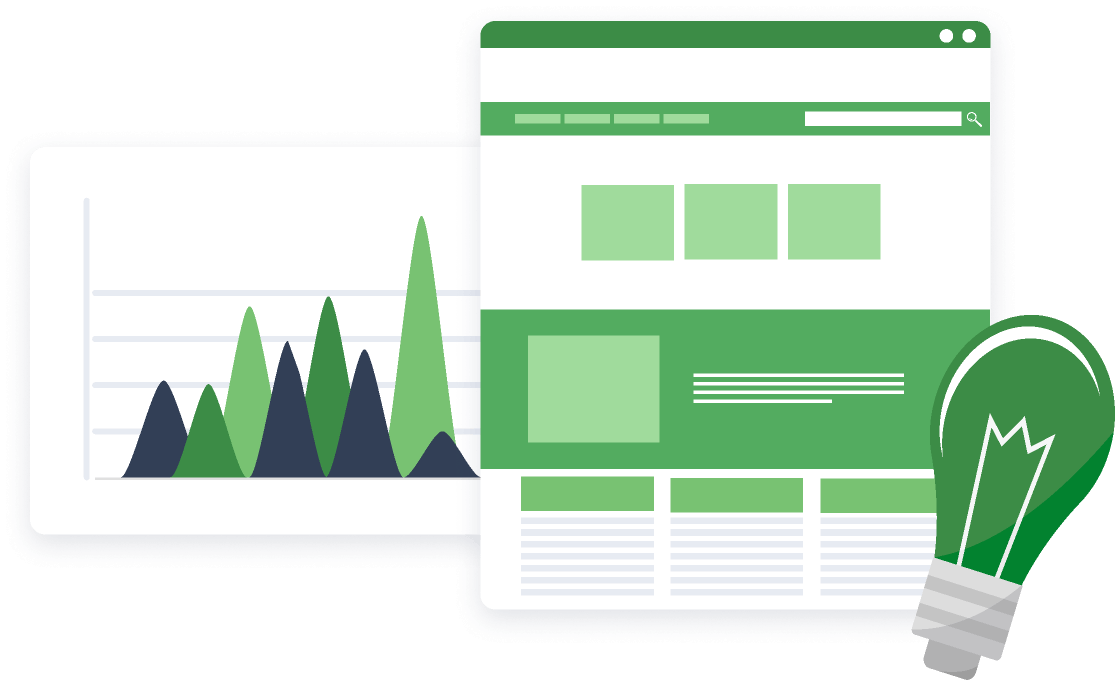 Get multidimensional reports and visualizations with the required measures and dimensions generated from multiple databases using OLAP technology.
Use preconfigured reports' and dashboards' templates (BI solutions) adapted for your industry's business processes with metrics and indicators, including KPIs, in accordance with your requirements.
Give your business users the possibility to utilize self-service BI tools for ad-hoc requests, reducing the reliance on IT resources.
Use advanced analytics based on statistical and mathematical methods to uncover upcoming trends and risks that are not apparently visible through standard analytics.
You will not be left alone with your new BI solution with our rapid BI training for different kinds of users including data engineers, business analysts, and business users.
Power BI Services
Hire Power BI developers at Belitsoft to transform raw data into meaningful and actionable information, empowering better decision-making and driving business growth.
Power BI Dashboard Designing
Power BI Development
Integration with Power BI
Power BI Consulting Services
Power BI Predictive Analytics
Support and Maintenance
Not happy with the performance of an implemented BI solution? You need BI performance tuning for every phase of the BI lifecycle.
We are here to help you with:
Tuning Techniques for the ETL Phase.
Tuning Techniques for the Query Phase.
Tuning Techniques for the Reporting and Visualizing Phase.
You get the highly performant and scalable BI solution that reduces the time for creating complex reports and visualizations and runs as fast as possible.
BI Security implementation
Be assured that sensitive information from your BI solution is protected from hackers, leaks, and thieves.
With the role-based security, your BI solution will offer different levels of access to users, depending on whether you want to allow them to view all the dashboards/reports, or just some of them, to create dashboard/reports, and so on.
BI Features
Request a custom price quote for your BI System. Use the Features list below
to describe the project and we will get in touch with you within 1 business day.
Portfolio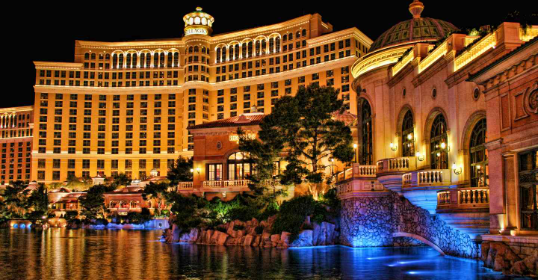 Our client is a startup owner who came to us with the idea to develop a new Business Intelligence System for hotels. He needed more than just senior-level experts who are able to choose the right architecture of the new system - he needed a team that could deliver enterprise-level analytical products.
Recommended posts
Belitsoft Blog for Entrepreneurs